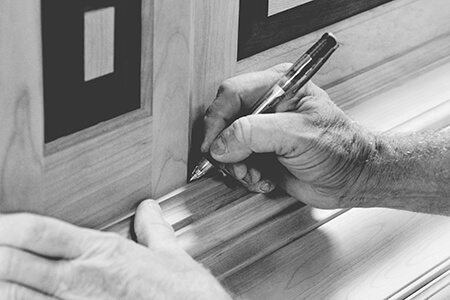 Position Overview:
Job Summary
The Master Builder is responsible for coordinating the manufacturing of "high-end" and/or complex special cabinets and components. 
Duties and Responsibilities
Provides input and suggestions for manufacturing capabilities of producing "high-end" special cabinets.
Consults with R&D Technicians and/or production personnel about machining, material, and procedure problems. 
Reads prints for manufacturing special cabinets. 
Uses various wood working equipment including saws, sanders, shapers, small hand tools, etc. to crease special cabinets. 
Coordinates parts to be sent to the finish area, received parts back from finish area, and completes final assembly on finished product as needed. 
Verifies items are of correct size, fit together properly and of good quality before sending to the next area. 
Ensures product has proper job number, item number, and production date and is delivered to the designated areas for further assembling or finishing.
Participates and contributes to a Work Team environment and follows Quality Control checks.
Follows all Safety Rules and contributes to a safe work environment.
Other duties as assigned.
Parts to be Assembled
Frame and Decorative Items                         
All Hoods (other than INT hoods)
Islands/Tables                                                
Mantles
Hall Trees                                                       
Square Corner Base Cabinet Drawers
APV/KPV                                                       
Mirrors (all families)
Curved Doors                                                 
#4 and #5 family Vanities
Slatted Floors                                                 
Bow Fronts
Base Pull-Outs           
Knowledge, Skills, And Abilities:
Knowledge, Skills, and Abilities
1 Year related training or experience, or equivalent combination of education and experience.
Able to read a tape measure in standard and metric units
Able to read shop prints or job tickets
Shift Details and Location:
Shift Hours: 1st Shift (6:00 AM to 4:30 PM) Monday – Friday
High demand times may require overtime. (Over time pay at 1 1/2 hourly wage after 40 hrs)

Hourly wage is based on position and experience.
Opportunity for advancement and wage potential with greater responsibility at Dura Supreme.
Occasional Friday off (three-day weekends).
Benefits:
Dura Supreme has a full benefits package including:
Paid Vacation, Holidays, and Personal Time
Health, Dental, and Vision Insurance
401(K) with Company Match
Bonuses Based on Annual Performance
And more!