Cabinetry Finish Team Member
Job Location: 300 Dura Drive | Howard Lake, MN 55349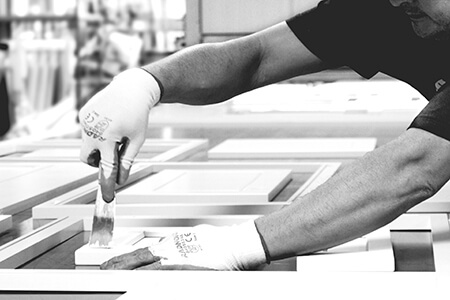 Position Overview:
Dura Supreme Cabinetry currently has positions open in our Finish Department. These positions include preparing parts for the finishing process, applying stains and paints to the product, and preparing the finished parts for the assembly process. This position is responsible for handling a large number of product materials and should be detail-oriented with a keen eye for defects ensuring the products meet Dura Supreme's quality standards. The Finishing Department uses various equipment including hand tools, spray guns, staple guns, and other equipment or machinery. The Finish Wiper is responsible for wiping stain and glaze to match Dura Supreme standards and ensuring doors and cabinet parts meet Dura Supreme quality standards. The Finish Seal Sander is responsible for seal sanding and ensuring doors and cabinet parts meet Dura Supreme's quality standards prior to topcoating.
Duties and Responsibilities
Wet wipes and final wipes product to finish line flow.
Reworks defective parts ensuring the most urgent parts are reworked first, then distributes reworked product to designated areas. 
Checks quality to Dura Supreme standards.
Assures all dirt and dust is removed from parts and checks and ensures all tags and parts are correct passing through the booth.  Checks the quality of doors and cabinet parts and rejects those not meeting Dura Supreme specifications.
Seal Sands doors and cabinet parts to assure good adhesion and quality prior to topcoat.
Touches up doors and cabinet parts utilizing materials available.
Maintains stocking of sandpaper daily.
Resands defective parts, ensuring the most urgent parts are sanded first, then distributes resanded parts to the designated location.
Cleans and maintains the area daily.
Uses master samples to ensure color accuracies.
Participates and contributes to a Work Team environment and follows Quality Control checks.
Follows all Safety Rules and contributes to a safe work environment.
Other duties as assigned.
Knowledge, Skills, And Abilities:
The Cabinet Finisher should have:
Knowledge of various wood species and cabinet finish colors.
No experience needed, we'll train you!
Shift Details and Location:
Shift Hours: 1st Shift (6:00 AM to 3:30 PM) Monday – Friday
High demand times may require overtime as production demands and extend the work hours to 4:30 PM for 1st Shift.

Hourly wage is based on position and experience.
Opportunity for advancement and wage potential with greater responsibility at Dura Supreme.
Occasional Friday off (three-day weekends).
Benefits:
Dura Supreme has a full benefits package including:
Paid Vacation, Holidays, and Personal Time

Health, Dental, and Vision Insurance

401(K) with Company Match

Bonuses Based on Annual Performance
And more!