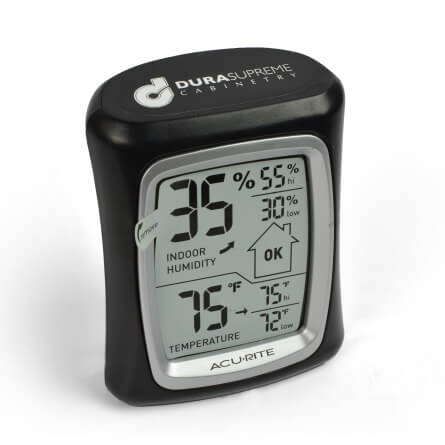 Humidity & Temperature Meter
This Dura Supreme branded AcuRite Indoor Humidity & Temperature Meter (THMETER) is the perfect tool for check and tracking humidity levels in a room. Humidity is an important factor for ensuring the quality of wood products like cabinetry.
The AcuRite Digital Humidity & Temperature Meter allows you to check your room's environmental conditions at a glance with this indoor humidity gauge and thermometer combination. The bold, easy to read LCD screen displays current humidity and temperature, daily high / low readings, and a comfort level icon to easily convey a low, high or ideal humidity level. Compact and portable, the monitor comes with a magnetic backing to stick on the fridge or stands upright for tabletop use. It's more than accurate, it's AcuRite.