Mirror, Mirror and More
Since we are on the topic of mirror (referencing Wendy Anderson's last blog post), let's explore the use of mirror within cabinetry as a creative alternative to regular clear glass.
Mirrors have been used as a decorative accent in home interiors for a long time.  They add a reflective quality and can make a room feel lighter and brighter and even more expansive.
Mirror used within cabinetry doors (behind mullions or simply in place of a glass door) is another wonderful way to add light and reflectivity within a kitchen.  For many homeowners, glass or mullion doors don't hide what is stored behind the doors, but a mirror gives the look and feel of glass and yet hides the cabinet interior.
Mirror has an obvious use and function within a bathroom and can add an additional place to get ready in the morning, or near a closet, it provides an additional place to get dressed.  In the kitchen, mirror can be used within a cabinet door, or as a backsplash or in the back of a cabinet.  Shown below are several great examples and ideas for using mirror within cabinetry.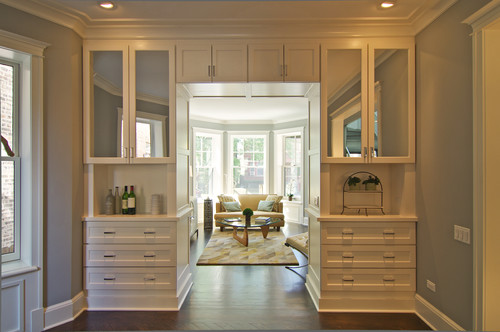 Authored by Karen Wistrom on July 7, 2014 - 8:00am