In many of today's kitchen designs, organization and storage is one of the main influencers when it comes to planning out the space. But let's face it, those same elements are also needed in our bathrooms as well, and should not be overlooked when it comes to designing or remodeling a bathroom space. 
In this article, we will take a look at 10 different storage and organizational must-haves for any bath and hopefully, you will be inspired to include these in your next bathroom project!
Vanity Sink Base with Bottom Drawer
This makes perfect sense in smaller bathrooms when there is only room for a single cabinet.  A standard 36" wide vanity would have a false drawer front at the top and only have a single shelf for storage behind the doors. By reversing the face frame you are now able to have a working drawer at the bottom and a shelf above behind the doors. Voila! Additional storage!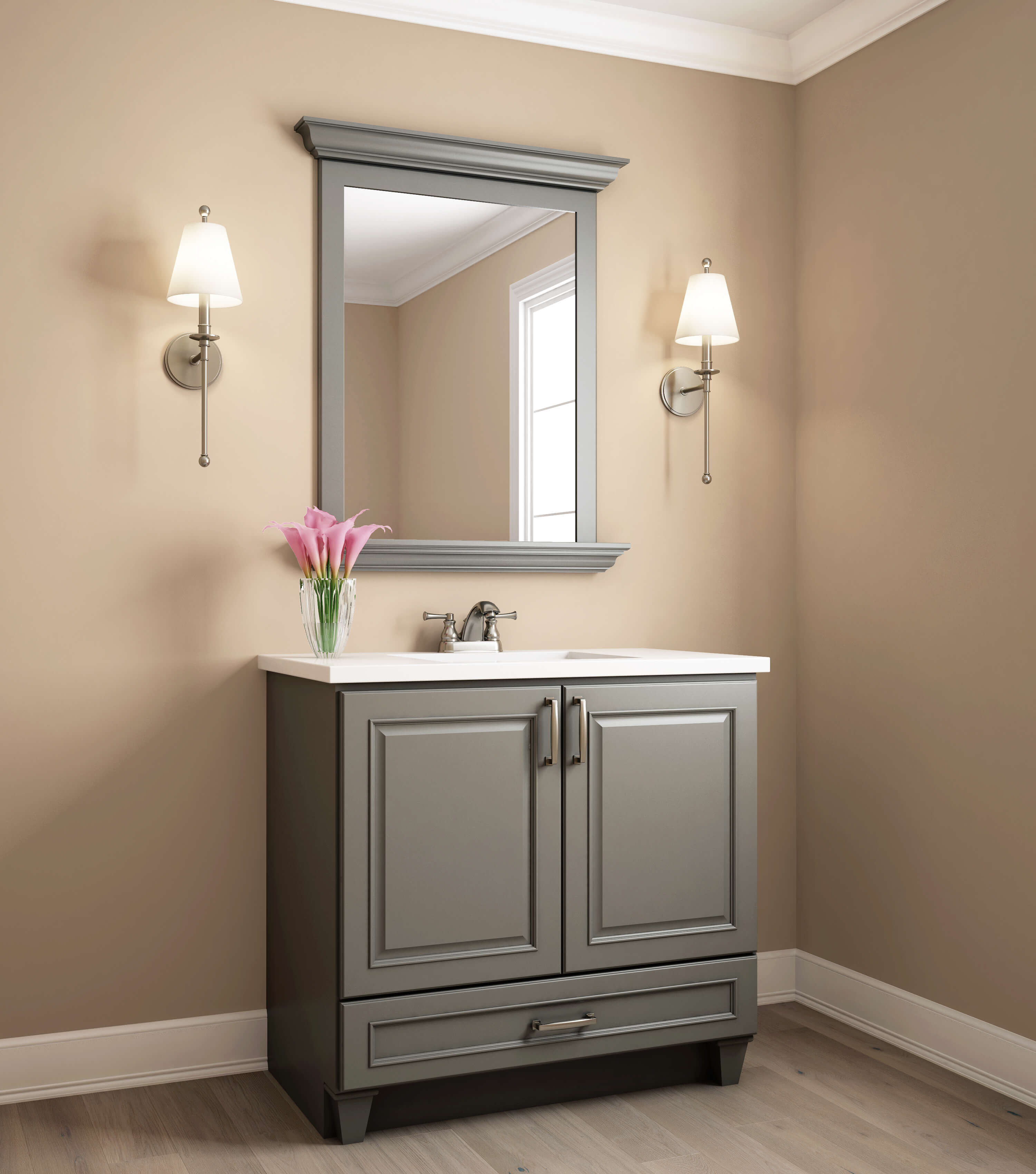 Open Shelving for Linens and Baskets
Keep linens and other bath essentials within reach by having open shelving. Floating shelves offer a spa like feel while removing doors from tall linen cabinets help open and soften the space.  Adding baskets can help sort and hide items will still adding visual texture.
Bathroom Drawer Storage
Drawers are a great way to utilize storage space as they help to keep items a bit more organized.  Designing with a vanity combo unit that offers both doors and drawers fits the bill perfectly when working with small spaces.  Even adding small apothecary drawers where space is tight can help keep you bathroom neat and organized.
Drawer Partitions and Dividers for Bathroom Drawers
Now that you have those drawers keep them organized by using dividers or partitions.  You typically see these in kitchen drawers but they work just as well for bathrooms, especially if you are sharing the space.  It is perfect for organizing drawers in Jack n Jill baths as each child can have their own section. Just make sure they keep it clean!
Plumbing Drawers
We have shown how drawers have become more popular in cabinet design and plumbing drawers enable you to have drawers directly under the sink.  Unlike the bottom drawer vanity, this modification allows you to have all drawer storage on a vanity sink base which means easier access.  In fact, throughout this blog you will see several examples of drawers under the sink. Dura Supreme offers our Furniture Vanity series of cabinets with the plumbing drawer included on any drawer base sink cabinet. Plumbing not centered? We can modify the drawer cut out for that!
Tall Linen Cabinet Storage
Larger bathrooms have the luxury of having room for tall storage, but did you know using a linen cabinet rather than a built in linen closet can give you more storage?  It's true. When you remove a wall that is typically around 4.5" thick and replace the closet with a linen cabinet, you have just gained a few more inches of storage space! Linen cabinets come in varying widths to fit most spaces, and Dura Supreme offers several styles, including those with drawers in the bottom section.  How's that for convenience?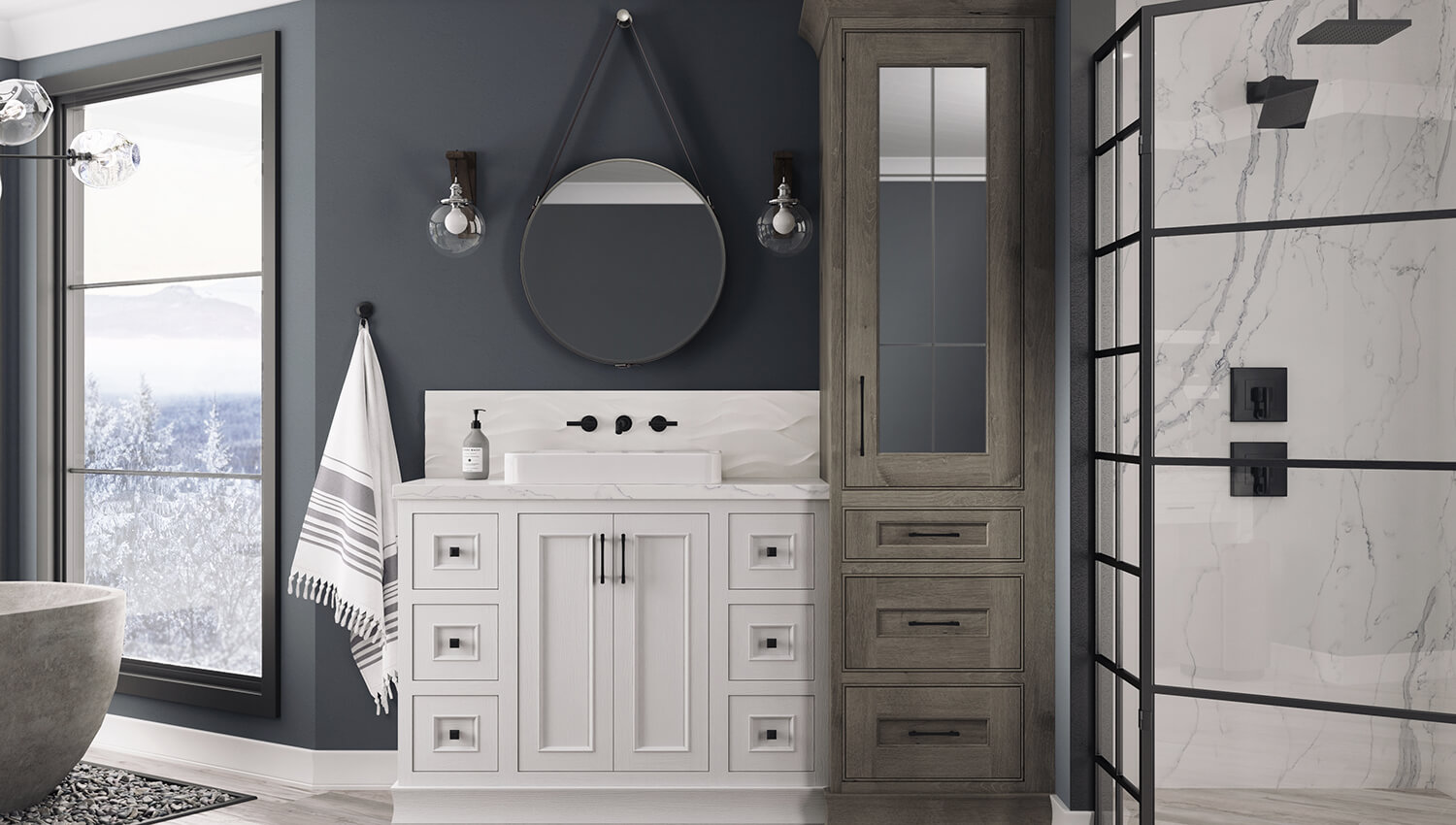 Pull-Out Grooming Storage Cabinet
This awesome cabinet accessory can help keep products you use regularly easy to access and within reach without cluttering your counters.  Small appliances such as hair dryers, curling irons and electric toothbrushes are safely stored, and with the addition of a built in outlet, you keep all the cords hidden as well!
Wall Counter Storage
When space is tight for a tall linen cabinet, consider using a wall storage cabinet set on the countertop instead. They take up less room and also provide separation between sinks when dual vanities are being used.  Wall counter storage cabinets are offered in several styles including a bottom drawer option. (Because, drawers, right?)
Pull-Out Hamper
Hampers full of dirty clothes and linens can be an eyesore, so why not hide it inside cabinetry?  Pull-out hampers are a great way to hide the mess while being easy to access. Dura Supreme offers them in both base and tall linen cabinets.
And Finally…
Over the John Storage
Let's not forget utilizing the wall space above the toilet.  Sometimes this is the only option for additional storage in a small bath and matching it to the vanity door style and finish pulls it all together to complete the look.  Get creative with either a full height door, or doors with an open shelf.