When it comes to cabinetry many people assume that "custom" means they are crafted at a local shop.
The word custom is defined as "made especially for individual customers; dealing in things so made, or doing work to order", so in other words "custom" means cabinetry is designed and built to suit a specific situation/space for a specific customer/client in a specific home or office.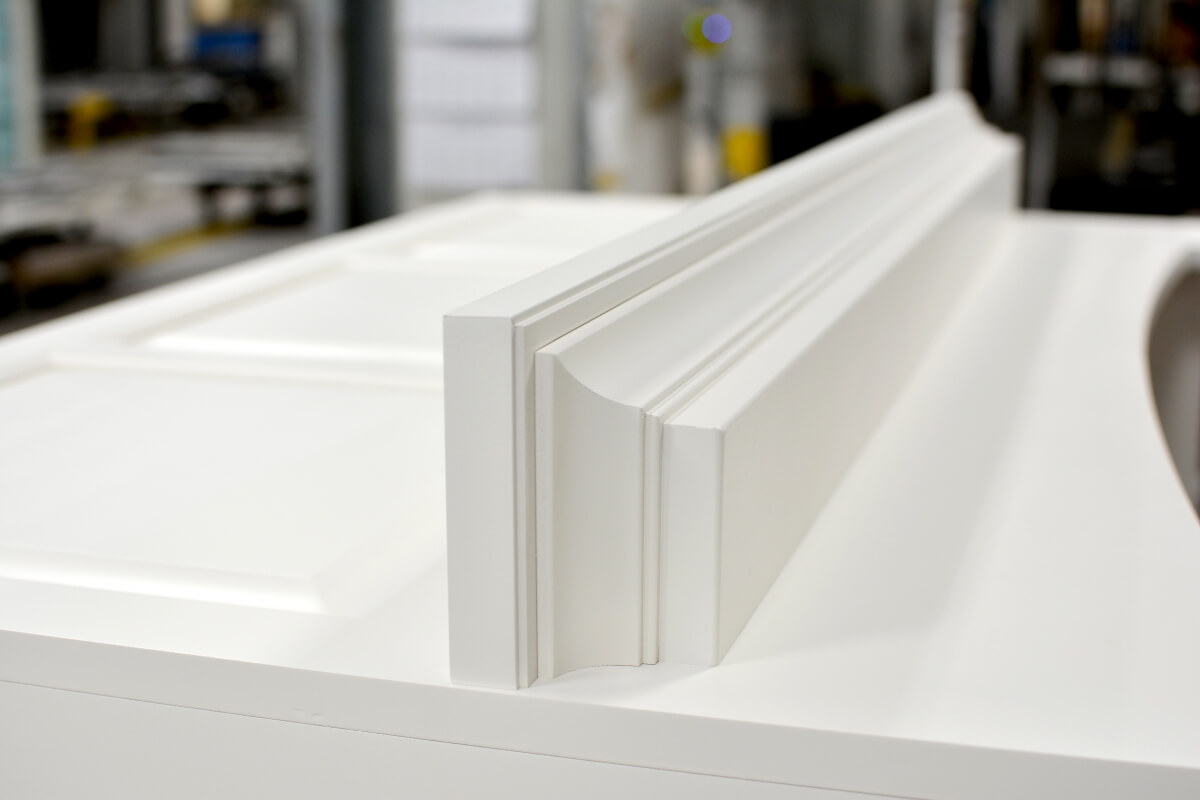 A close up of a wood hood being assembled on the Dura Supreme Cabinetry factory floor.
With over 60 years of experience in manufacturing fine custom cabinetry, we understand the importance of providing products and services that deliver quality, value and reliability.  Hand-crafted quality, state-of-the-art machinery, precision joinery and the commitment to exceed our customers' expectations.  Dura Supreme expertly blends modern technology with time tested woodworking practices to create cabinetry with excellence.  Excellence in quality, craftsmanship, and service.
Just in Time Cabinet Manufacturing
At Dura Supreme we don't begin building your new cabinetry until an order is placed.  Every piece and component is manufactured just for your project.
It all starts with the raw materials.  At our rough mill, kiln-dried lumber is processed into stile and rail stock, panel insert blanks and other solid wood cabinetry components.  By processing these materials in house, we gain greater control over the quality and supply of these important building materials.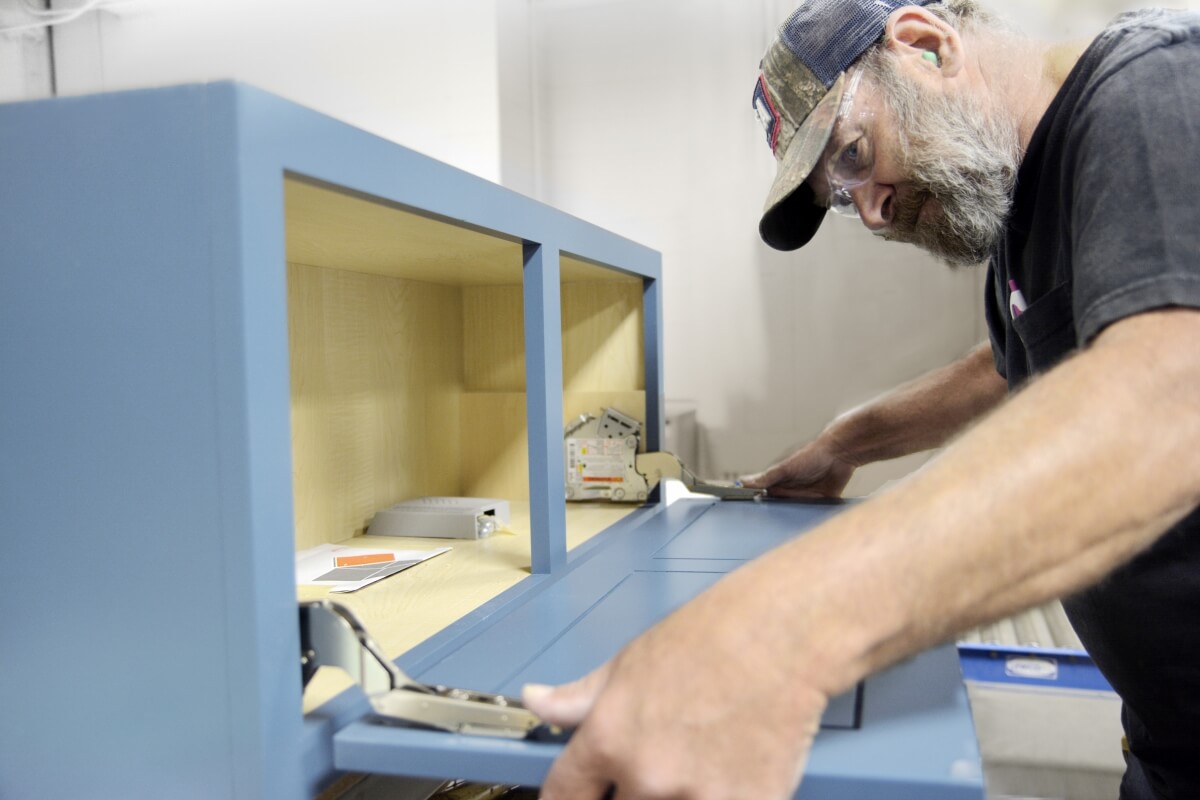 Our cabinet builder team carefully constructs each and every cabinet.
In addition, at Dura Supreme we manufacture our own wood doors in house, which gives us complete control over the quality of the wood used and its moisture content.  This is another detail that sets Dura Supreme cabinetry apart from others.  Because we manufacture our own doors we are able to pre-finish solid wood center panels before the doors are even assembled.  When wood naturally expands and contracts with seasonal changes in humidity, there will never be raw wood exposed.  Most other cabinet manufacturers and local cabinet shops purchase their doors from another vendor and are unable to pre-finish their panels.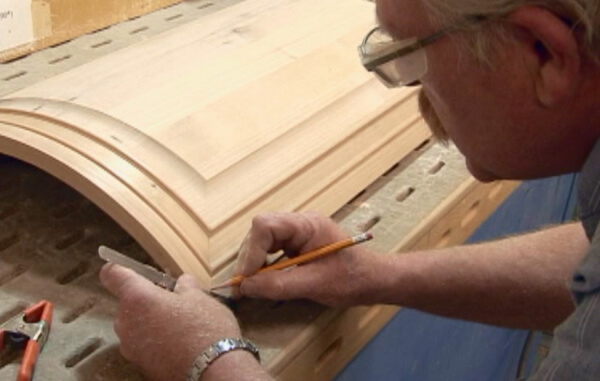 Our beautiful curved wood doors are hand-crafted one at a time.
Cabinetry Materials, Quality, and Construction
We only use the finest quality materials and construction methods available.  This makes a difference in the overall quality, performance, and value of our cabinetry.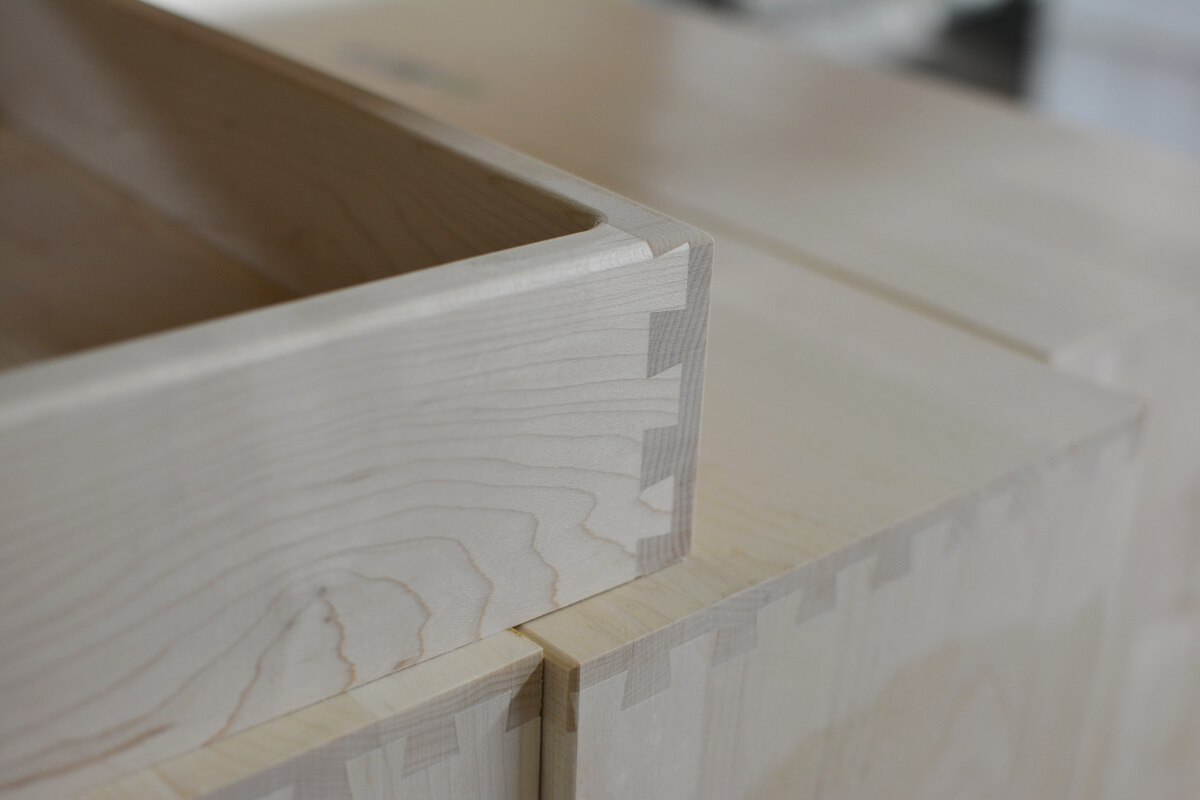 A dovetail drawer box from Dura Supreme Cabinetry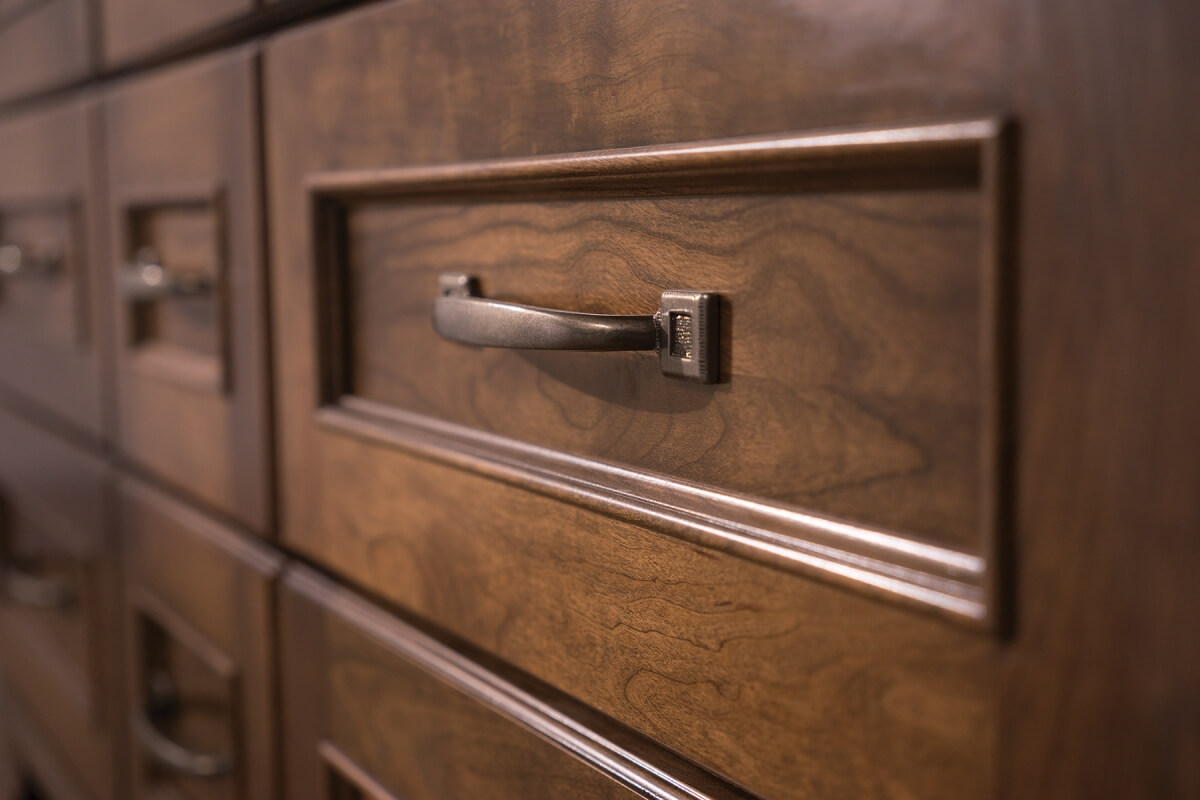 Wood is measured for moisture content and it is monitored throughout the production process.
Our Master Craftsmen build each piece one at a time using a combination of high-tech machinery with time-honored, hand craftsmanship.  These individual pieces are truly one-of-a-kind.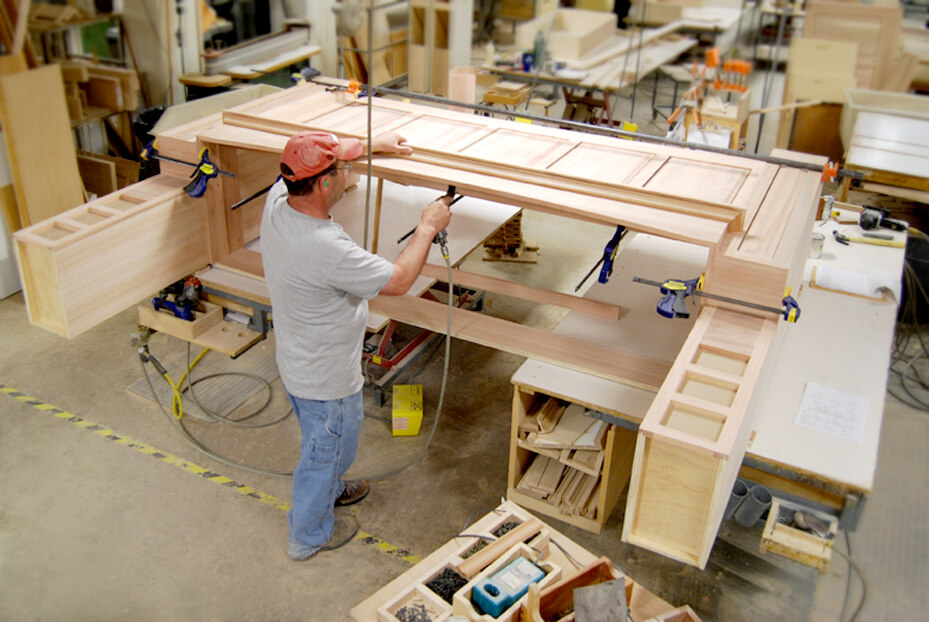 One of our Master Craftsman constructing a Dura Supreme Wood Hood.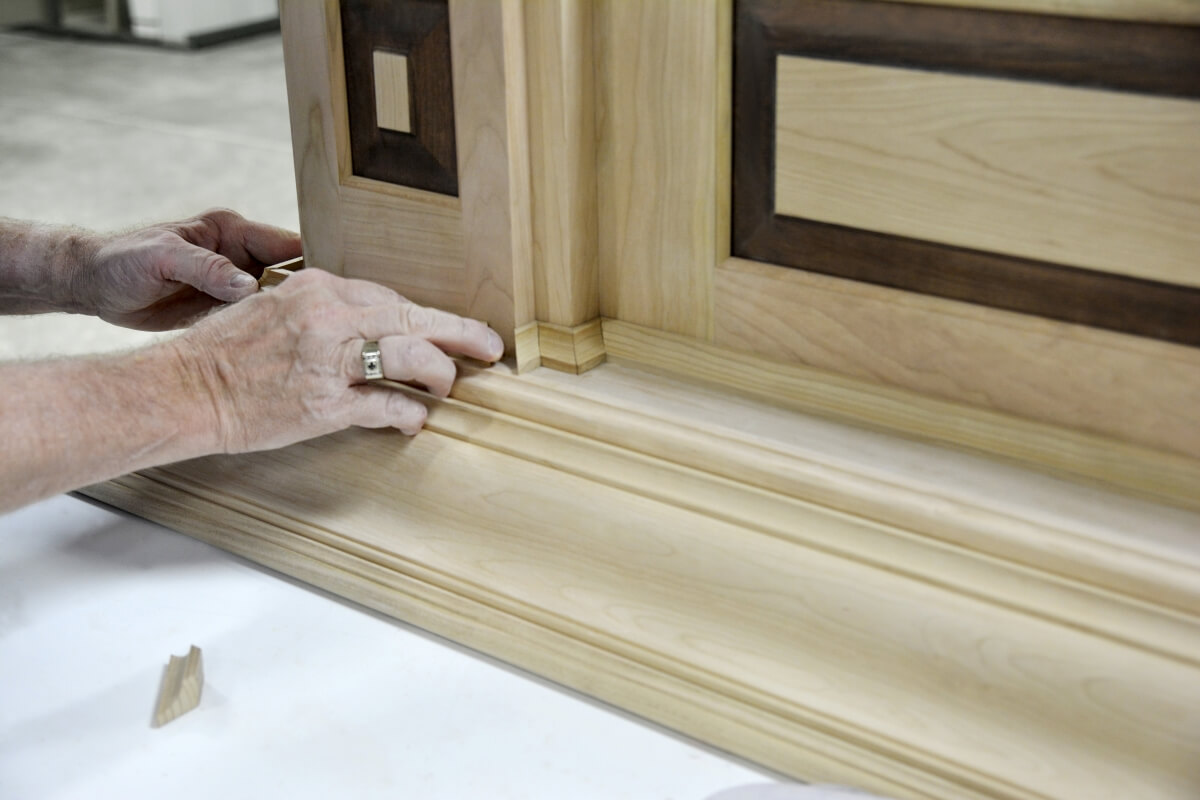 Dura Supreme Master Builder working on the molding details of a large wood hood.
Custom Flexibility
Many people assume that factory-built cabinetry cannot be customized to fit a specific space or unusual configuration.  That is simply not the case with Dura Supreme.  Our cabinets can be customized down to 1/16 of an inch in width, height, and depth.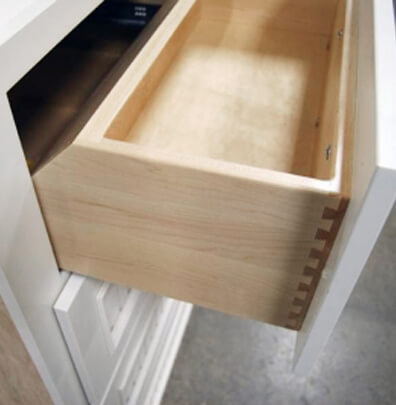 Notice how the drawer box is also customized along with the Dura Supreme Cabinetry.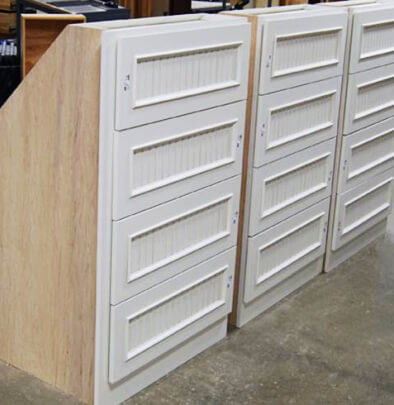 In addition to custom sizing, we can custom quote cabinetry in all sizes and configurations to meet your needs. For example, these cabinets above were customized to fit perfectly in an angled wall space of a home.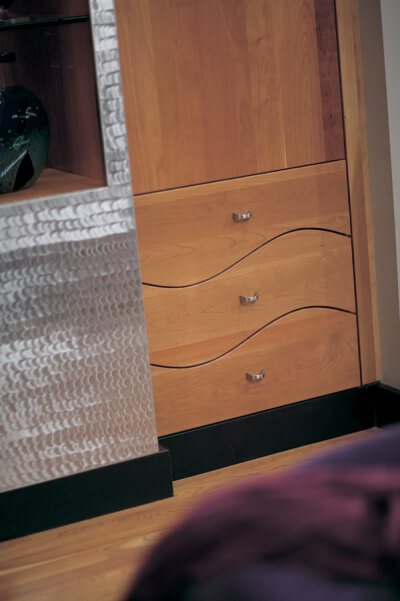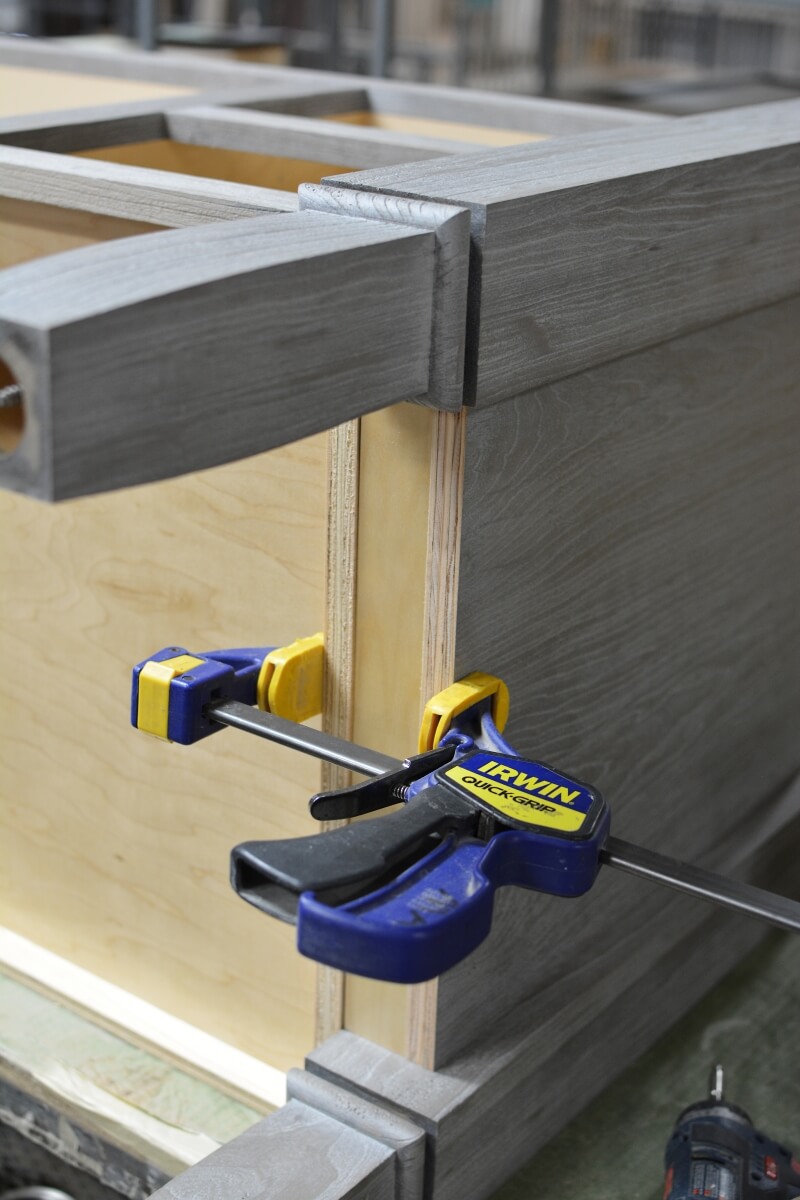 In our Master Assembly area, we create beautiful kitchen island tables.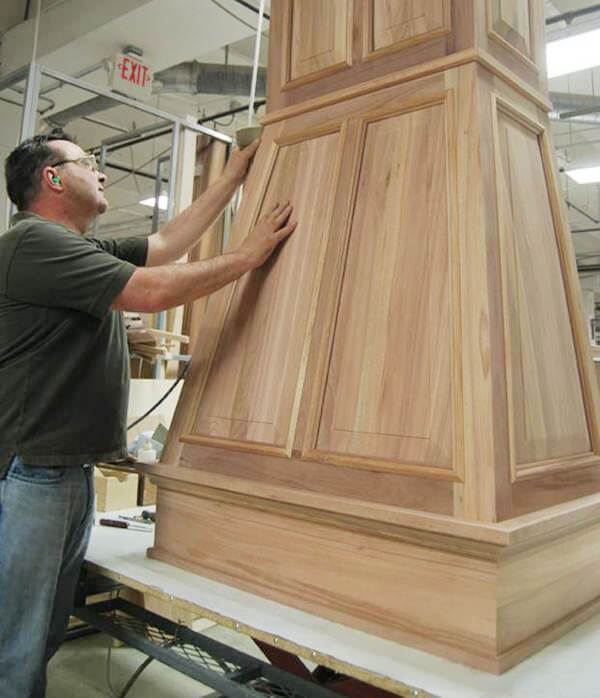 One of our Master Builders doing a final sanding on this custom-designed wood hood prior to finishing.
Durable Hand-Crafted Finishes
Dura Supreme's finish palette is expansive and fashion-forward.  Our rich, hand-wiped stains and color-saturated paints are beautiful on their own or enhanced with layers of glaze and hand-detailing to create an antiqued appearance.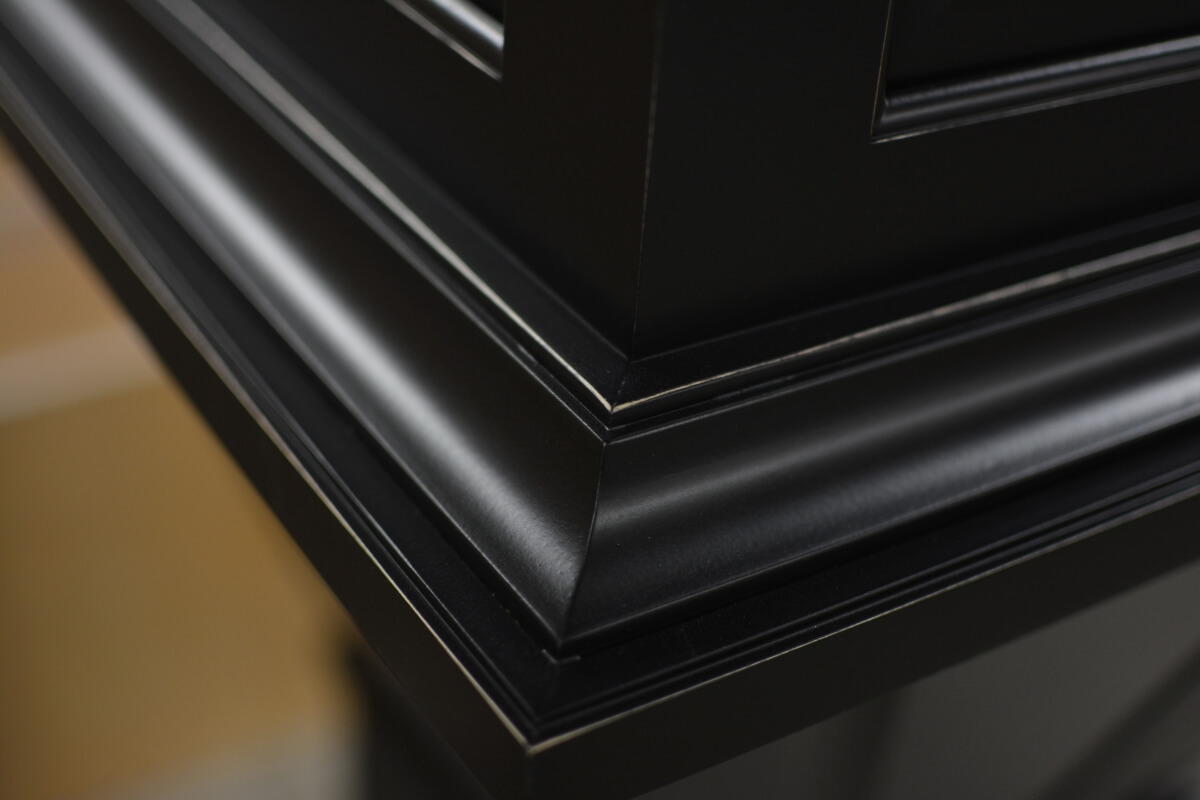 Dura Supreme factory floor shot of an artisan, hand-detailed cabinet finish.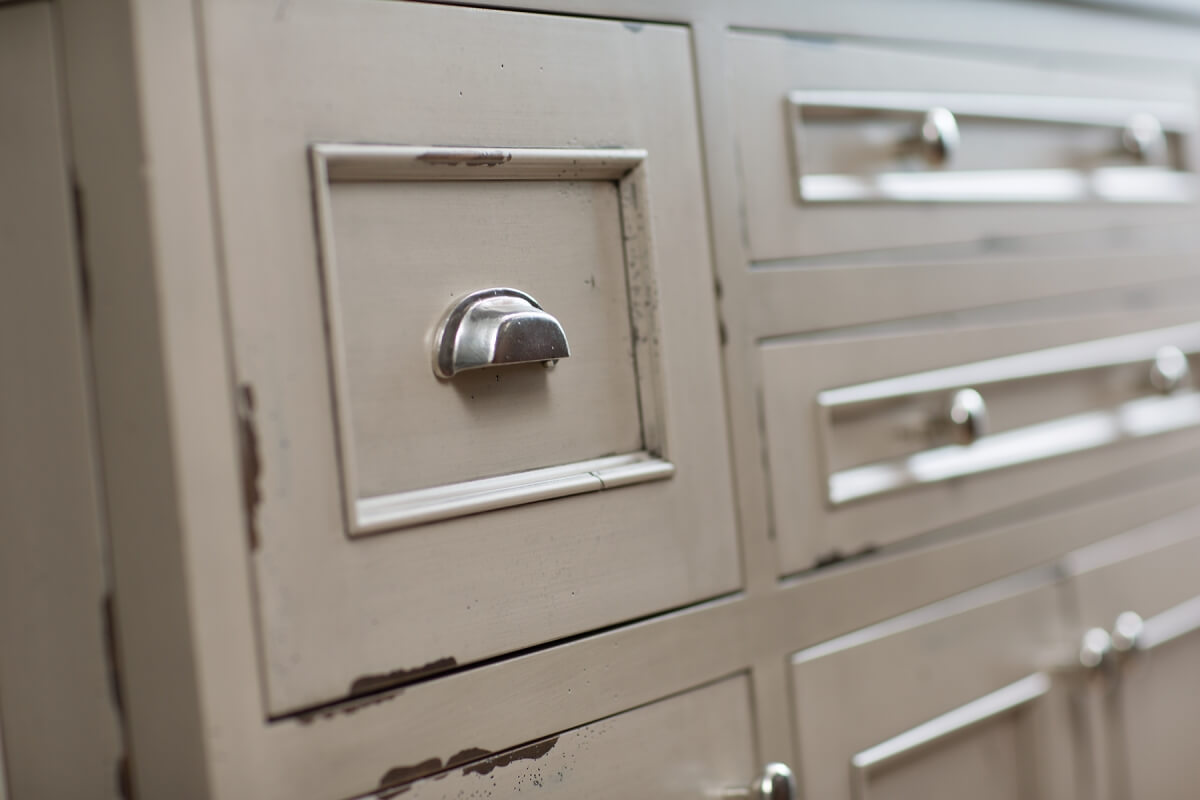 Dura Supreme's Heritage Painted finish is hand-detail to create the look of time worn distressing.
If you're looking for a unique painted finish that is not found in Dura Supreme's color palette, you can try our Personal Paint Match Program to select from the entire Sherwin-William's and Benjamin Moore paint palettes, over 5,000 colors.  Or if you are looking for a unique stain or artisan crafted finish, we'll custom match that finish for you in our state-of-the-art finish lab with our Custom Finish Program.
Cabinetry Warranty
All Dura Supreme cabinetry products are backed with our limited LIFETIME warranty – your assurance of exemplary quality and a solid investment!  For over 60 years, our dedication to excellence has defined Dura Supreme Cabinetry and our core business values.  Our cabinetry reputation has been built on a foundation of quality, solid construction, precision joinery, sound design, craftsmanship and excellent service.
With Dura Supreme Cabinetry, there is no compromise between beautiful styling and quality construction.  This is the best of both worlds!  Precision-built cabinets made just for you in all the sizes, oven-cured finishes/colors, and the special shapes that you want, and the benefit of long-term experience, high-tech facilities, and hand-finished detailing that custom cabinetry offers.