The bathroom is one of those rooms in a home where you can push the envelope a little further with design. It is already a small space, everyone who enters knows it's a small space, so don't worry too much about trying to make the space feel bigger, it is what it is. If you are considering redesigning a powder room or master bathroom, here are a few tips:
1)  Don't be afraid to go bold on the walls
Do you have a patterned wallcovering that you love, but might be too much for a family room? Consider it for a powder room. At first glance, it seems there isn't a whole lot of opportunity for style points in this small space.  However, the perfect wallcovering– whether it be a bold geometric pattern, shiplap below a chair rail, or textured grasscloth can send the design in the right direction. In the case of a powder room, no one takes showers there, so humidity with respect to wallcoverings is not an issue. If you are planning wall space in a bathroom where humidity will be an issue, you can still go bold. Many more homeowners are opting to take either tile or countertop material all the way up the walls of their bathrooms, creating a stunning, impermeable backdrop for the space. Most of the images here incorporate this aspect of design.
2)  Stylize the One Piece of "Furniture" in the Room
In addition to eye-catching wallcoverings, this is the perfect space for a vanity with style. Dura Supreme's Furniture Vanity Collection is a perfect choice for a bathroom. These vanities incorporate turned posts, decorative toe spaces, and moldings and can be specified in any of our dozens of door styles and finishes. Creating dedicated sitting areas to apply makeup or style hair is also becoming more the norm, especially in a master bath. Tying this sitting area into the vanity while bringing in furniture styling is a beautiful way to score a "10" here!
Below we see a stylish sitting space boasting natural light as well as show-stopping light fixtures all paired with a vanity embracing furniture styling using turned posts and decorative toe spaces.
And below another makeup/hair station married up to a vanity that has furniture styling with equal height drawers and inset cabinetry.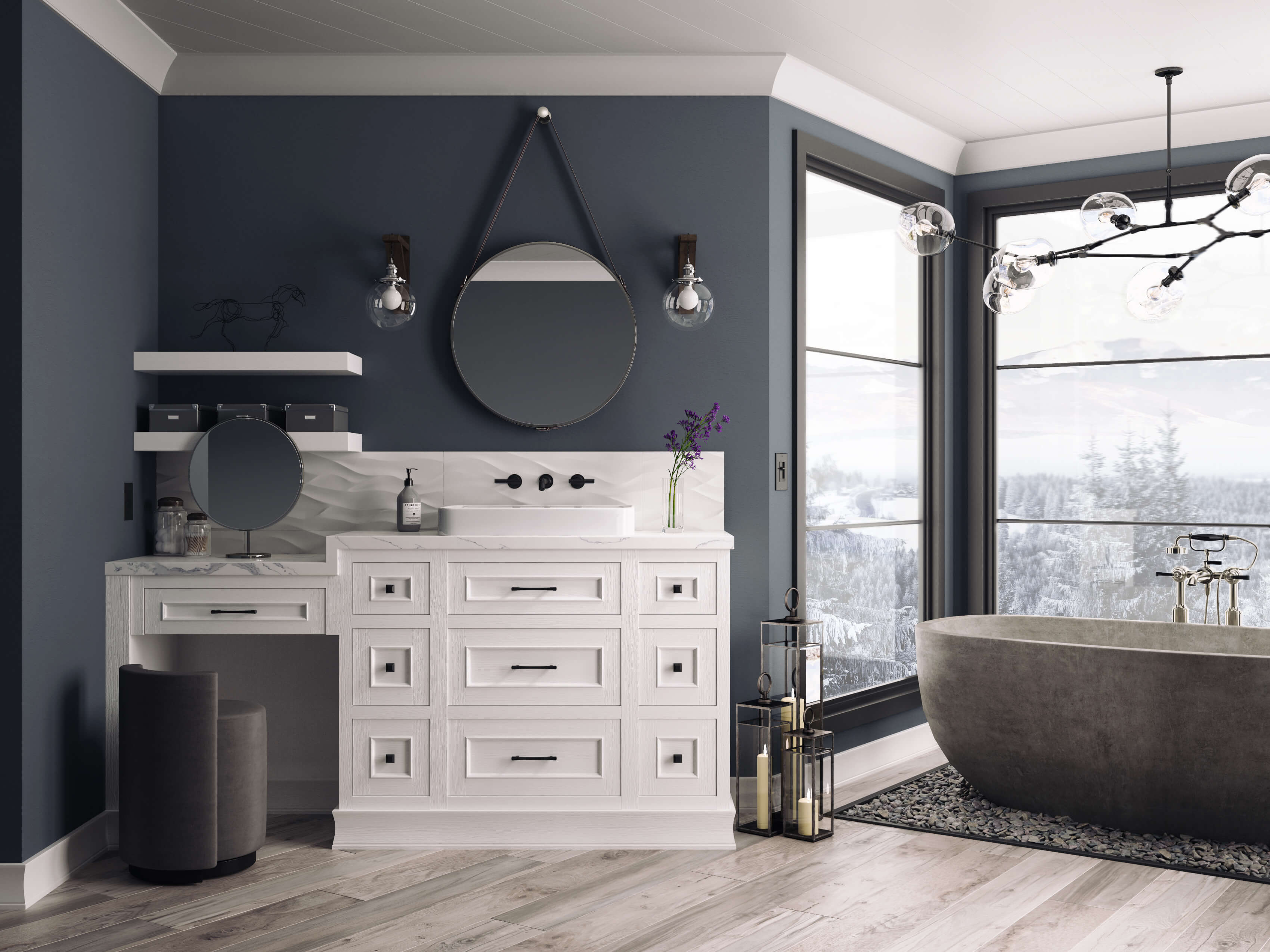 3)   Fixtures- have fun and mix metals
Bathrooms also offer the perfect opportunity to incorporate decorative faucets, vessel sinks, sconces, and more. Regarding mixing metals, it works best if the metals are either very different (i.e. matte black and chrome), or if they have some similar backgrounds (i.e. a burnished bronze and black). As you can tell from these two examples, black metal is hot right now and rightly so, it can successfully bridge between many design palettes. You will also see more black in shower enclosures and window trims.
Here is a great example of a nice collection of fun details- a vessel sink installed on a live edge countertop, a corner-installed faucet along with a statement wallcovering in a farmhouse in New York.
Above we see a great mix of metals using black and chrome.
4) Float it-
Floating vanities are seeing an uptick in popularity for a variety of reasons. First, depending on the species, door style, and finish, a floating vanity can lean more transitional, appealing to a wider swath of homeowners. It is not only for ultra-contemporary sleek homes. Second, the open space below serves many purposes- a great place to install ambient lighting, a smart way to future proof the home to accommodate aging in place, and aesthetically gives the room a more visually expansive feel, extending the flooring below.
5)  Max Your Mirror Style
Have some fun with the mirror as well.  With the space being as small as it is, this will act as potentially the only piece of art in the room.
Below is a fabulous choice for a powder room in a beach house.
And here we see an intricate black frame surrounding a powder room mirror, what a beautiful artistic statement!
This final image below incorporates many of the bathroom trends we've been discussing- a tile wall, mixed metals, fun plumbing fixtures (that swan!) and an artistic mirror. Flowers cut from the owner's garden complete the look.
While bathrooms may not have a lot of square footage, they absolutely have a lot of potential!  By really thinking through the walls, vanity, mirror and fixtures you can create opportunities to make this room sing!  So have fun and let the owner's personality shine through.