This modern farmhouse kitchen features a beautiful combination of dark blue painted and gray-undertone stained Hickory cabinets that's sure to be an eye-catcher.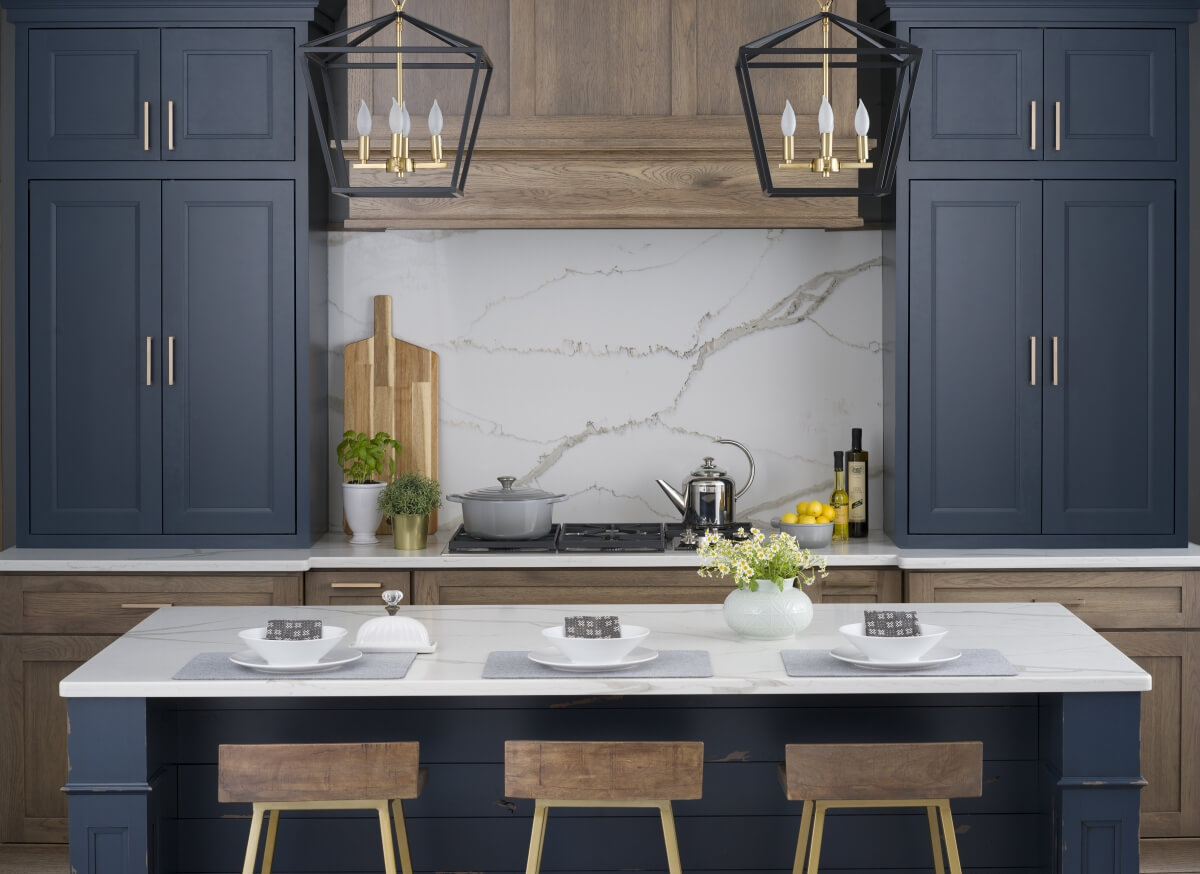 The elegant "Morel" stain pulls the blueish-gray grain out of the Hickory that beautifully coordinates with the cool, deep blue paint.  The "Gale Force" blue paint from Sherwin-Williams (SW 7605) is a stunning deep blue paint color that is sophisticated, fun, and creative. It's a statement-making color that's sure to be a classic for years to come and represents the latest in color trends. It's no surprise this beautiful deep blue has been a part of Dura Supreme's Curated Color Collection for several years, making the top 6 colors for 2017 through 2020.  Beyond the beautiful exterior, there are loads of well-thought-out storage and function behind each and every cabinet door. The two beautiful blue countertop towers that frame the modern wood hood and cooktop are two intricately designed larder cabinets built to meet the homeowner's exact needs. The larder cabinet on the left is designed as a beverage center with apothecary drawers designed for housing beverage stir sticks, sugar packets, creamers, and other misc. coffee and home bar supplies.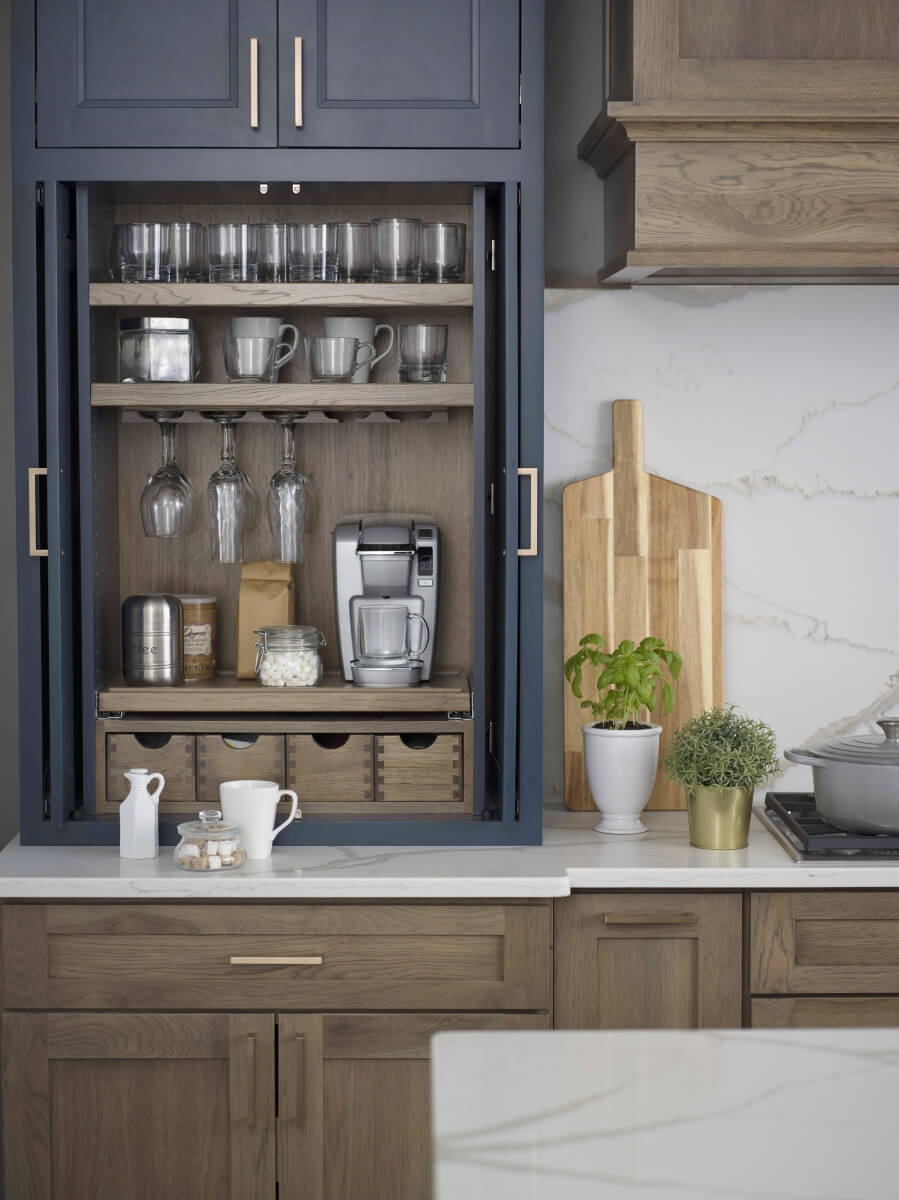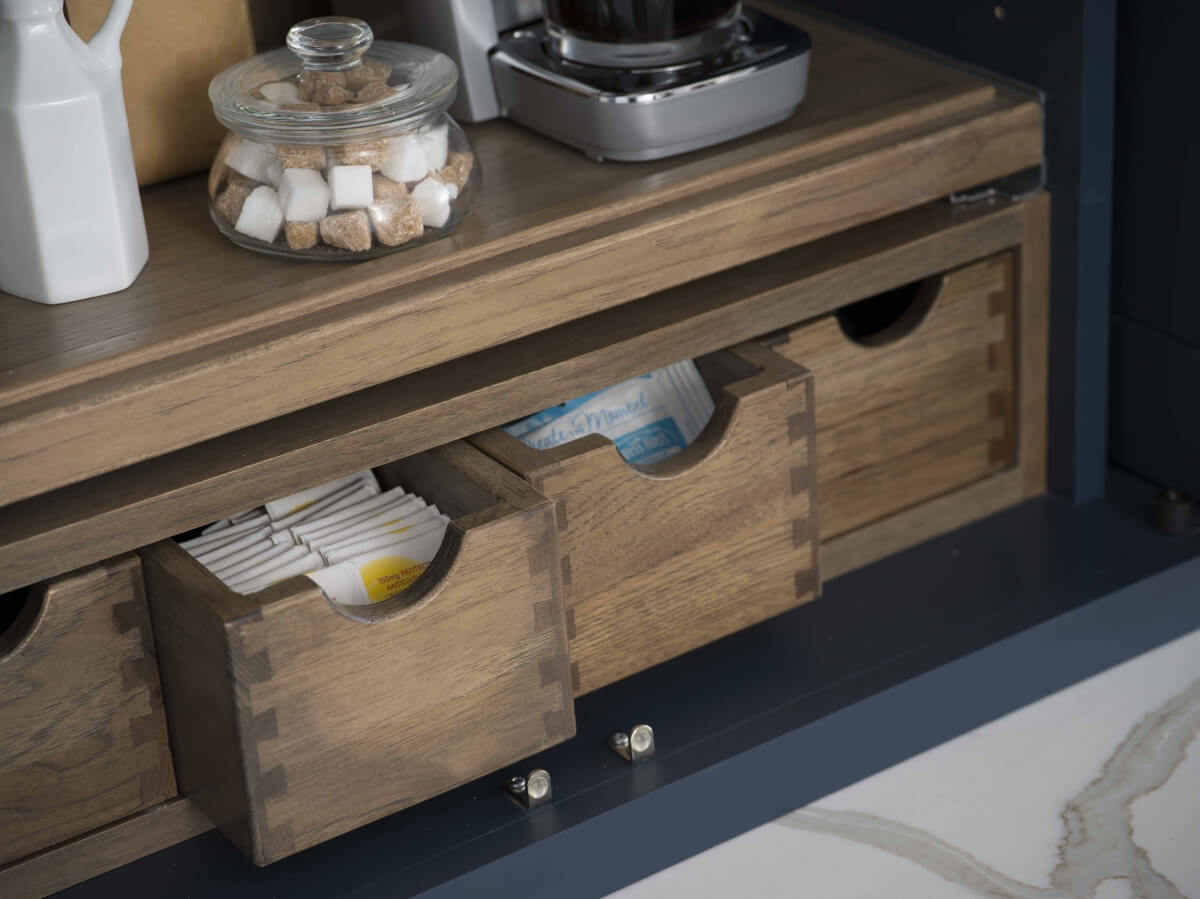 A wine glass rack and shelves provide optimal storage for a full collection of glassware while a power supply in the back helps power coffee & espresso machines, blenders, grinders and other small appliances that could be used for daily beverage creations.  In addition to being a coffee center, this could also be used in a bar application.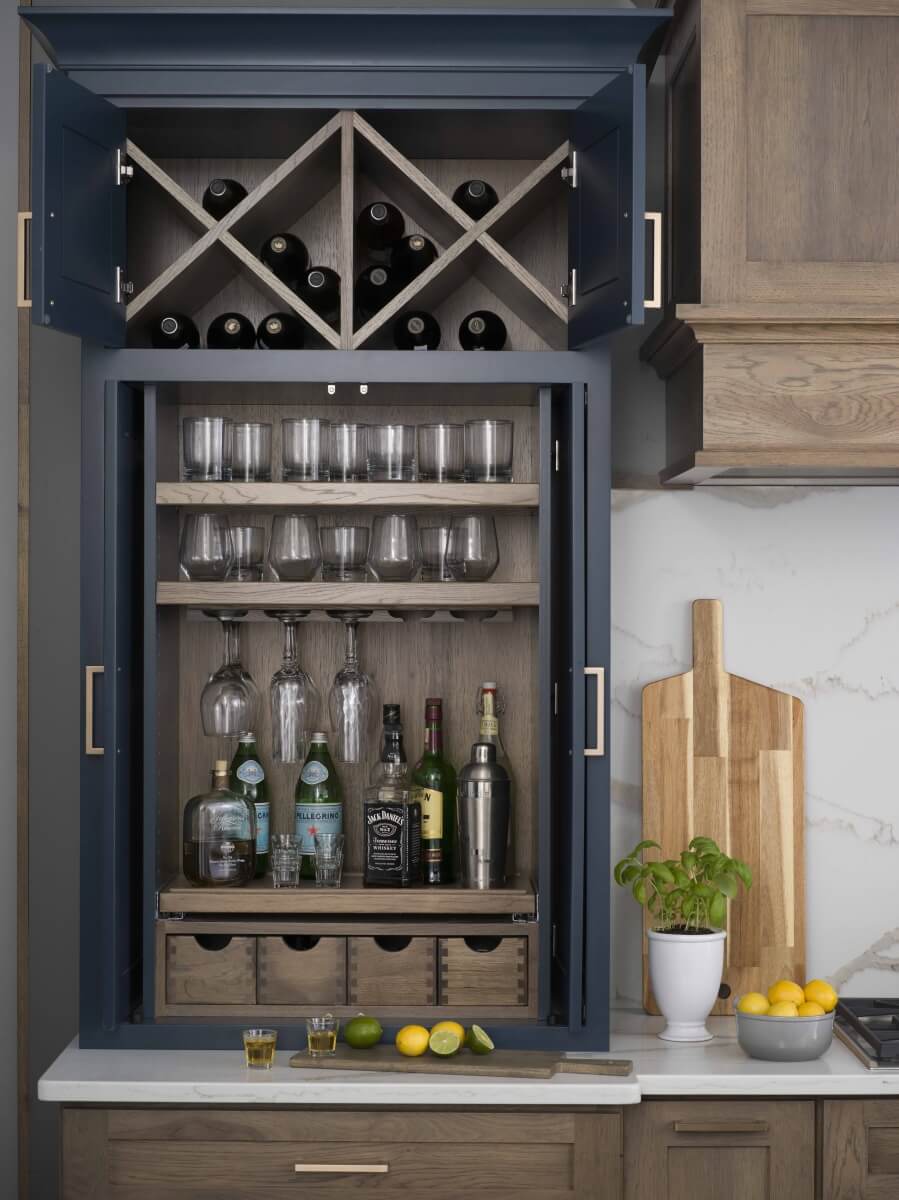 The roll-out shelf makes it easier to fill, clean and operate each appliance while also making it easy to put away. Pocket doors tuck out of the way and into the cabinet so you can easily leave open for your household or guests to access, but easily shut the cabinet doors and conceal when you're ready to tidy up. Beneath the beverage center larder is a drawer designed with 2 layers of multi-tasking storage for utensils and additional beverage supplies storage with space for tea packets, and a full drawer of K-Cup storage.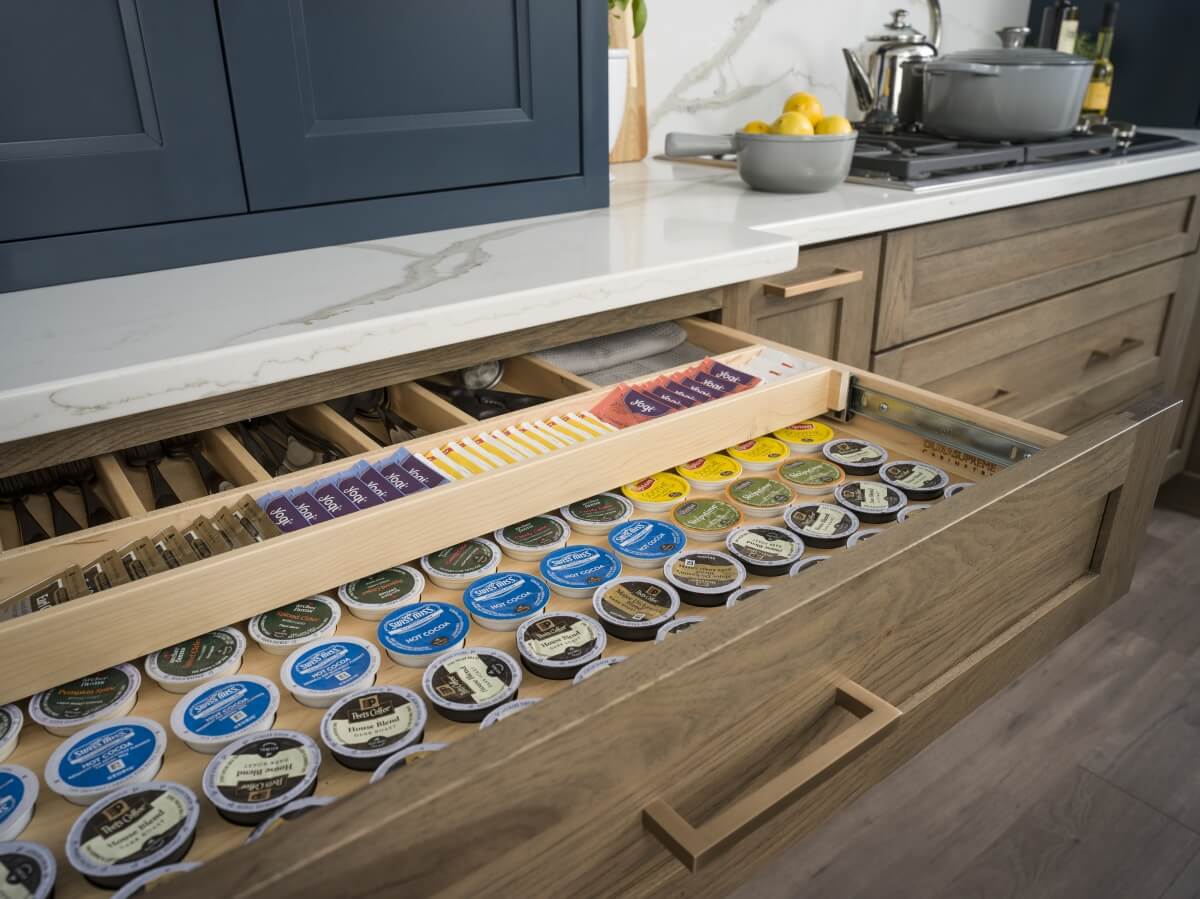 The cabinet below has 2 roll-out shelves to create the perfect breakfast center with power for a toaster and divided storage to organize all the daily fixings and pantry items the household needs for their morning routine.
On the right, the second larder is the ultimate hub for the homeowner's baking tasks.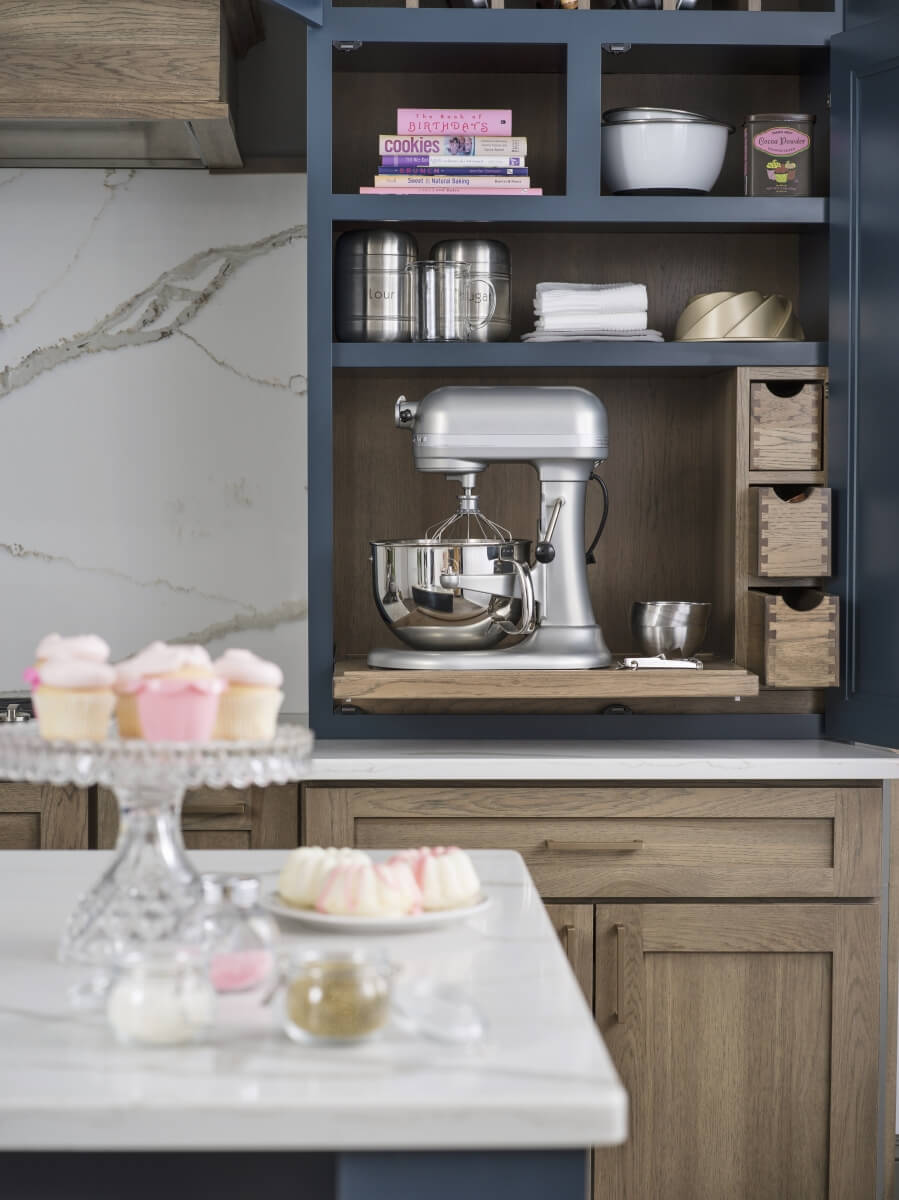 A wide roll-out shelf helps store heavy small appliances like a KitchenAid mixer while making them easy to use and put away. Shelves and a set of apothecary drawers help house an assortment of baking tools, ingredients, mixing bowls and cookbooks. If you look up top, you can also see the vertical partitions helping to organize cookie sheets and platters.
Beneath the counter a drawer and a set of roll-out shelves in various heights provide more easy access storage for pantry items, misc. baking accessories, rolling pins, mixing bowls, and more.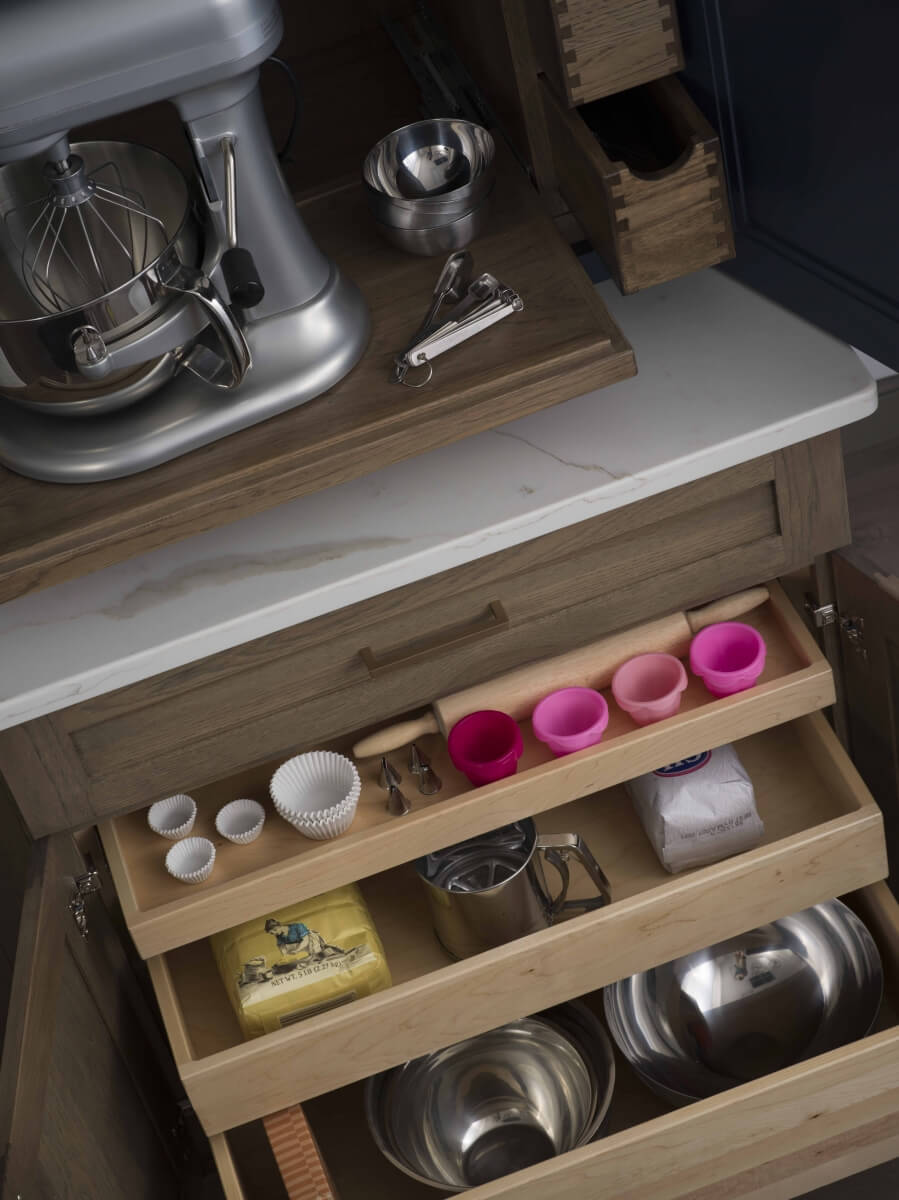 The kitchen island provides a large worktop, seating for 3-4 guests, and even more storage! The working side of the island includes an appliance lift cabinet used for a sewing machine for the homeowner's beloved hobby, a deep drawer built for organizing a full collection of dishware and a waste recycling bin. All and all this kitchen is as functional as it is beautiful!