Today we are going to take a look at a home that was recently remodeled with a masculine, modern sense of style.  Designer Jennifer Ferson, of Ferson Kitchen & Bath Design, Iowa channeled this style through the use of some great textures and colors.  Let's start with the big picture. Here we see the entertainment wall, the bar and a peek towards the bathroom.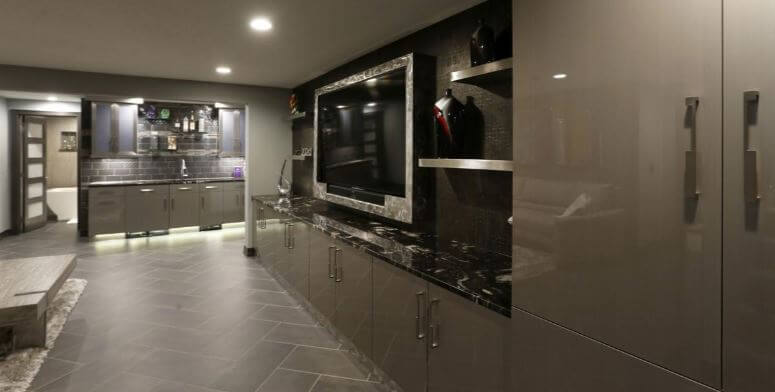 Ferson spent half a year with the homeowner working through a very detail-oriented design that would embody her client's preference for a modern, clean-lined aesthetic.  The Dura Supreme cabinetry in this space is from our Frameless line of cabinetry, done in a high gloss "Wired Gloss" foil with a "Wired Mercury" finish.  Surrounding the TV is a custom surround made of stainless steel, playing off of the cabinetry finish and the silvers in the Titanium granite countertops.  Toe kicks are also stainless steel.
Stepping closer to the bar, we see some more features echoing the artistic, metals-inspired vibe– aluminum framed doors on the upper cabinets, and some gorgeous substantial hardware.  Notice the warmth of this space.  Even though a high gloss foil was used, along side metallics, the space does not feel cold or sterile- a credit to designer Ferson on achieving that.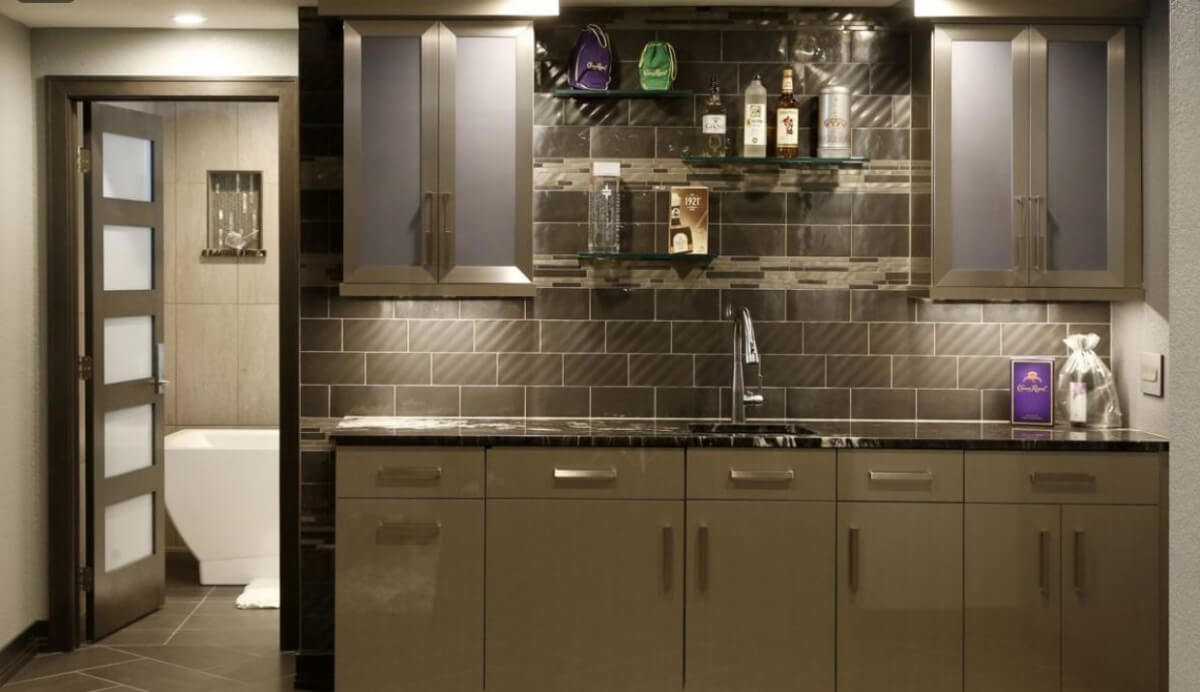 Off to the left we see the door to the bathroom.  Once we step inside we see a free standing tub, and a shower with an artistically carved glass enclosure.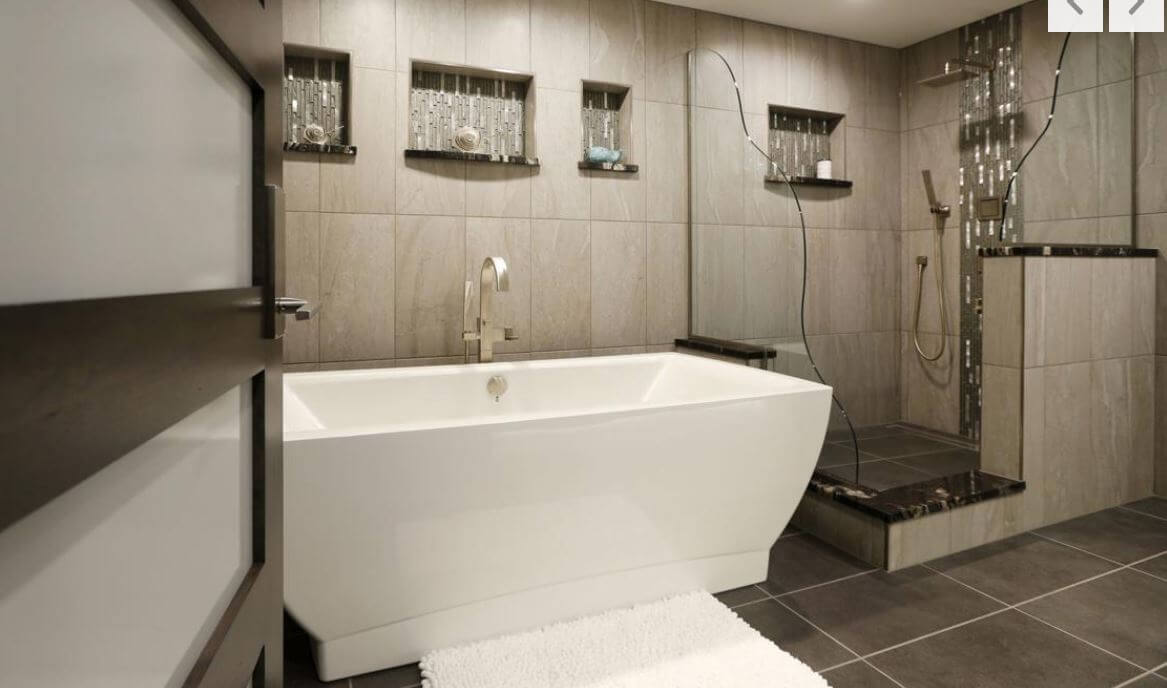 On the opposite wall we find a Dura Supreme floating double vanity in a "Carrara White" Textured TFL finish, and a backsplash with glass and stone accent tiles tying it all together with the mosaic niches above the tub and in the shower.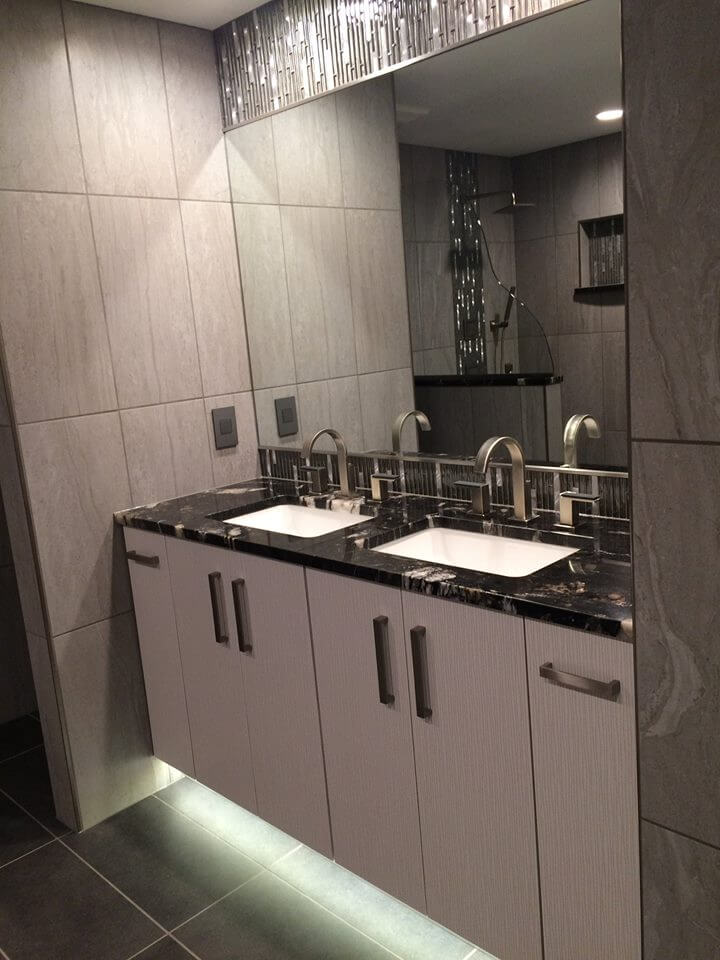 The trend towards more Contemporary styling has been slowly gaining in popularity. Homeowners are craving the clean, unfussy lines found in Contemporary spaces like this as well as what is found in Transitional design. The growing selection of materials and finishes available is making this type of design easier to visualize in more and more spaces.