Here we are, in the thick of summer, lots of comings and goings with family gatherings, sports, summer camps and barbecues with friends. This time of year, our house entries- front/side/back door- can take a beating and become an eyesore even without all the boots, scarves and mittens. Today we will take a look at some great entry solutions, all designed with Dura Supreme Cabinetry, to keep the summer clutter at bay.
In this area of the house it is important to provide a place to sit in order to take off or put on shoes.
This can be achieved multiple ways with Dura Supreme Cabinetry. Our Boot Bench can be configured to have drawers below or a decorative panel. Both options offer additional storage, either within the drawers or underneath a stay-lift hinged wood top (also offered by Dura Supreme).
Adding ship lap strips or a full ship lap panel can contribute to the style of the space, as can be seen above with the white, and below with the knotty alder.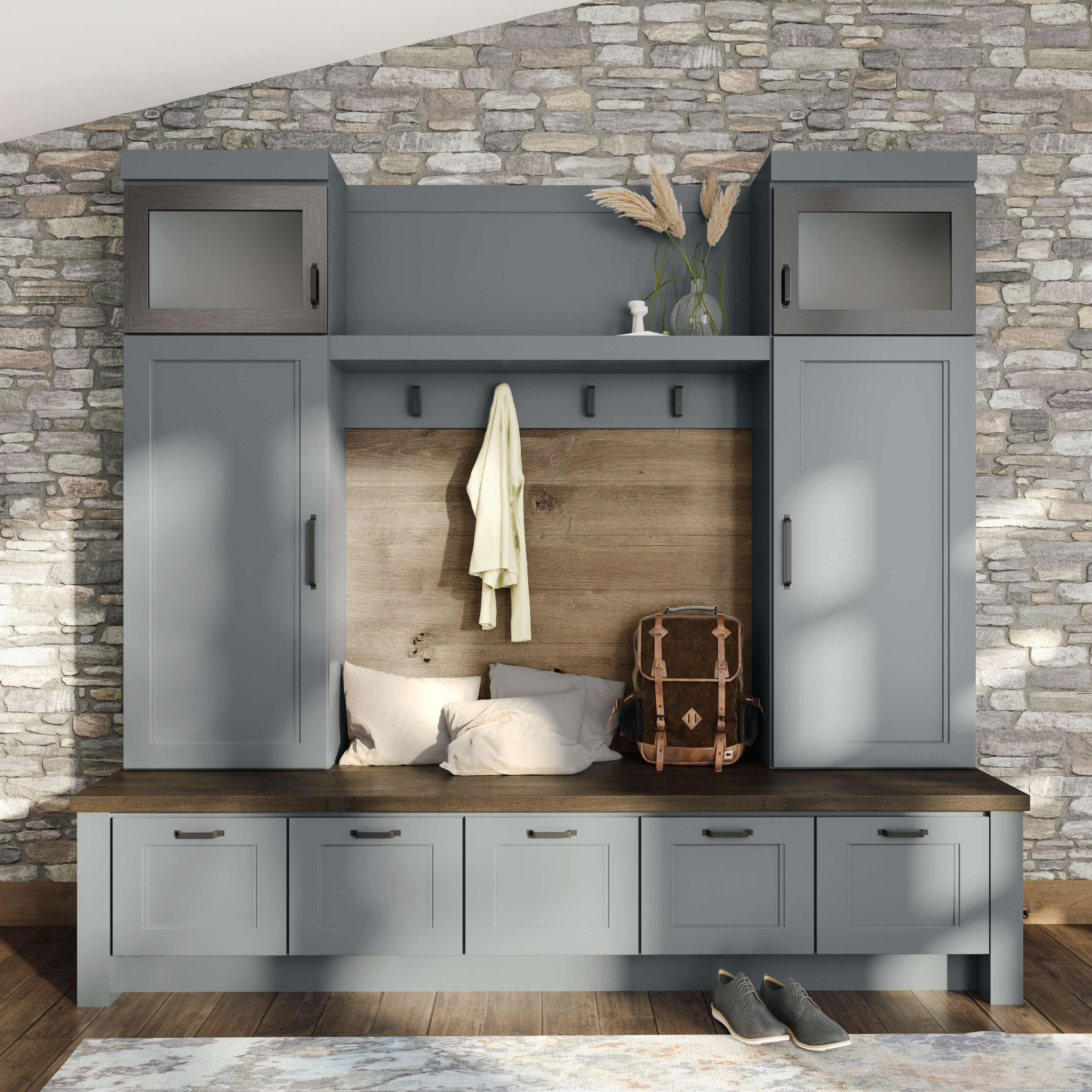 Oftentimes, the entry/mudroom space is limited, and corners need to be turned. Below are some creative examples making the most of a tight space.
In the examples above and below, notice how they are achieving the best of both worlds, with drawer storage below for smaller items, and open space below for boots, shoes, baskets.
Turning corners can be tricky. But as long as door swings and drawer clearances are taken into account (using extended stiles or fillers), it can be done beautifully, as in the example below.
Dura Supreme also offers Lockers to set upon the Benches in multiple configurations with open cubbies, cubbies with doors, or a combo of both. Between the Bench storage, Locker storage and color combo finish options there are dozens of configurations, guaranteeing a personalized solution to fit any space.
Sometimes, the seating can just be as simple as a horizontal panel or wood top. This paired with our Coat Hook Rack, Lockers or tall storage is super functional as well.
We also offer Floating Shelves and Coat Hook Racks if that is all that is needed for a space, as in the examples below.
Also consider using Dura Supreme's wire mesh inserts in locker doors to increase ventilation, especially if sports equipment is being stored inside.
With all of the options Dura Supreme offers for entryways and mudrooms, designing this space can be fun- and what a great add-on project for any kitchen or house remodel, a space that improves quality of life every day for every inhabitant of the home.