When planning your dream kitchen it's important to go beyond the door style, wood, and finish.  Don't forget to consider what goes inside the cabinetry!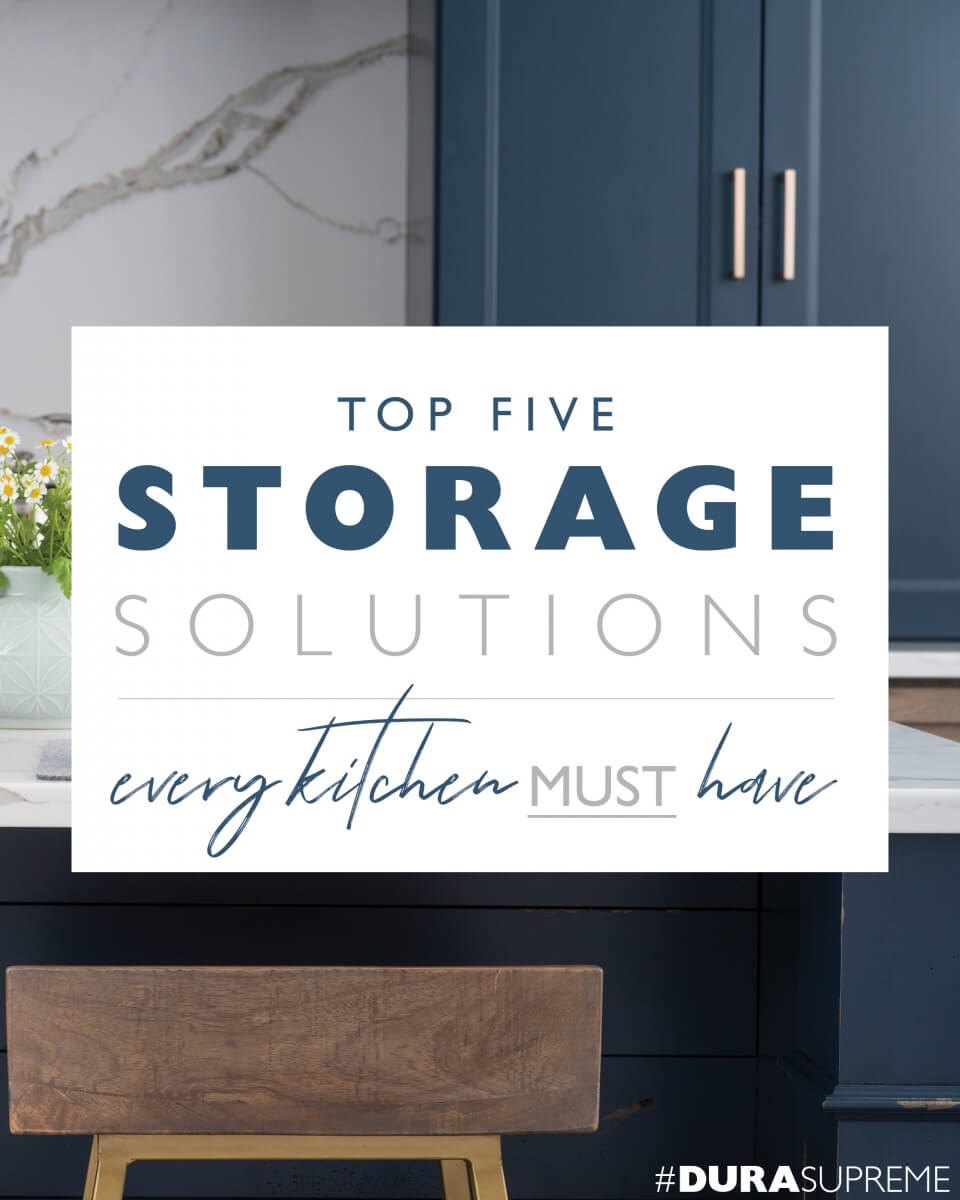 1.Trash and Recycling Pull-Out Cabinet
Every kitchen can benefit from a dedicated trash and recycling cabinet. One of my personal favorite features for this cabinet is the inclusion of a Touch Latch mechanism (with Soft Close) which comes as a standard with all of Dura Supreme's Base Recycling Centers (BRCs). With a nudge from the knee, the cabinet will automatically open without having to touch the cabinet hardware. This provides a hands-free solution for those times when your hands are filled with wet vegetable scraps or meat wrappers. Add even more functionality with Servo-drive so that the cabinet electronically opens entirely with a tap of the knee.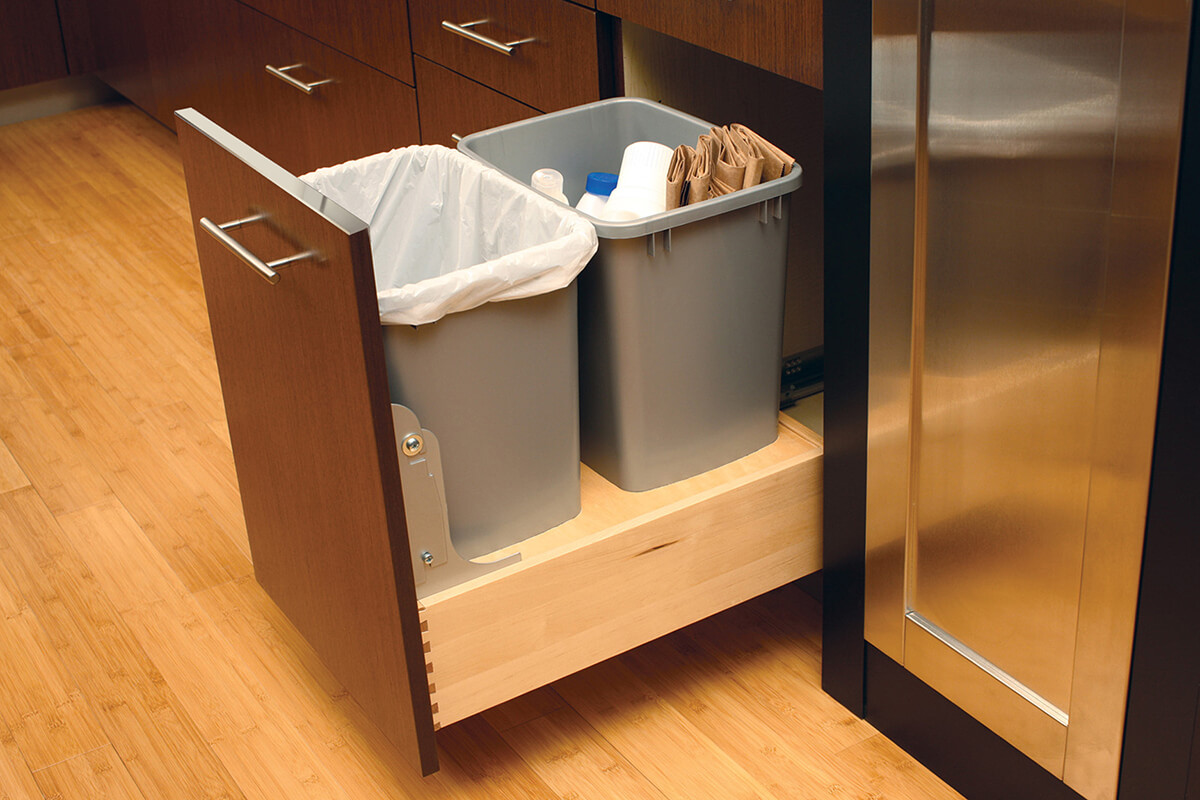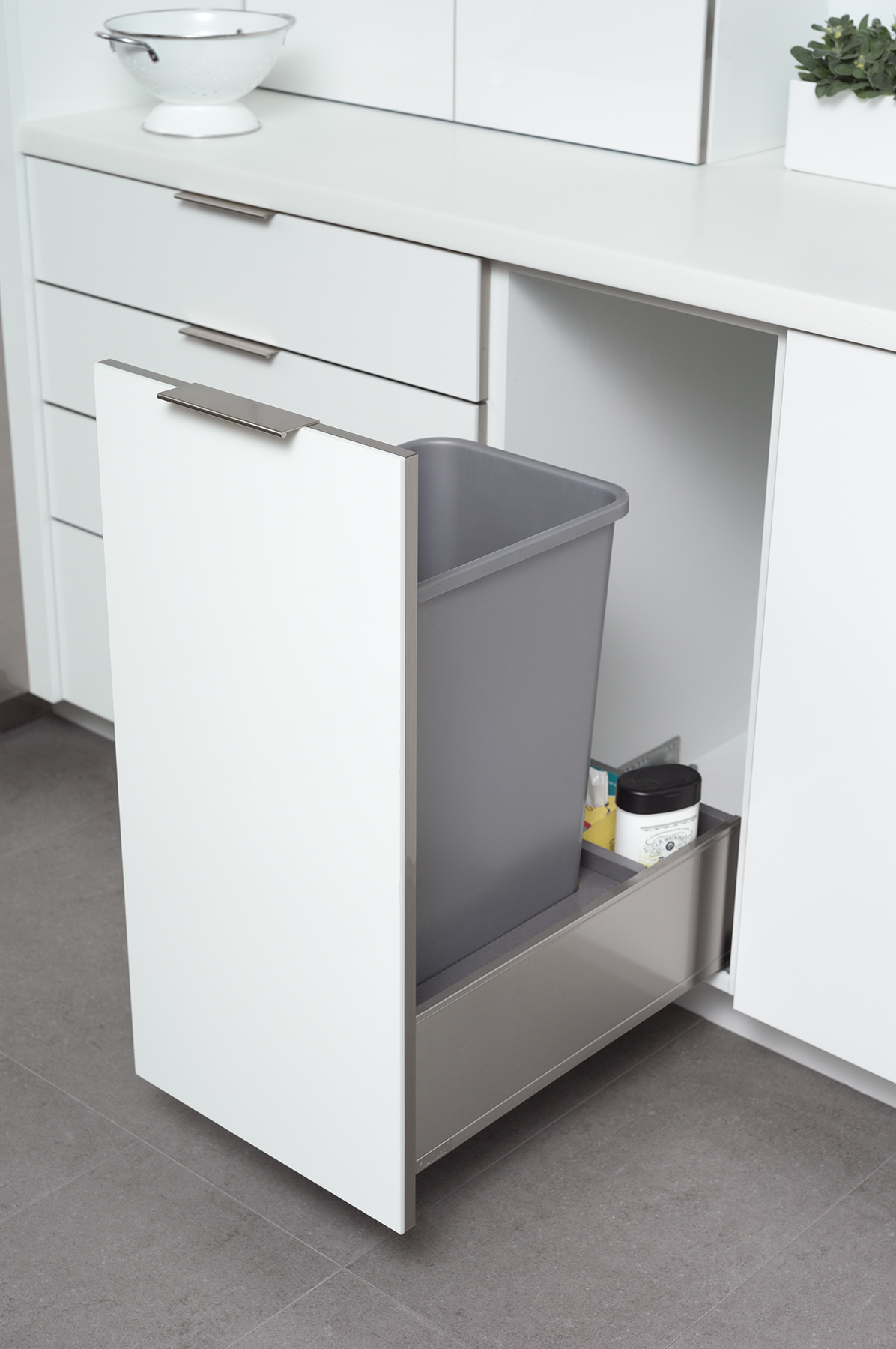 2. Organized Silverware and Utensil Storage
Everyone has silverware and kitchen utensils, and when stored in drawers, the addition of drawer partitions or cutlery dividers make organization easy and efficient.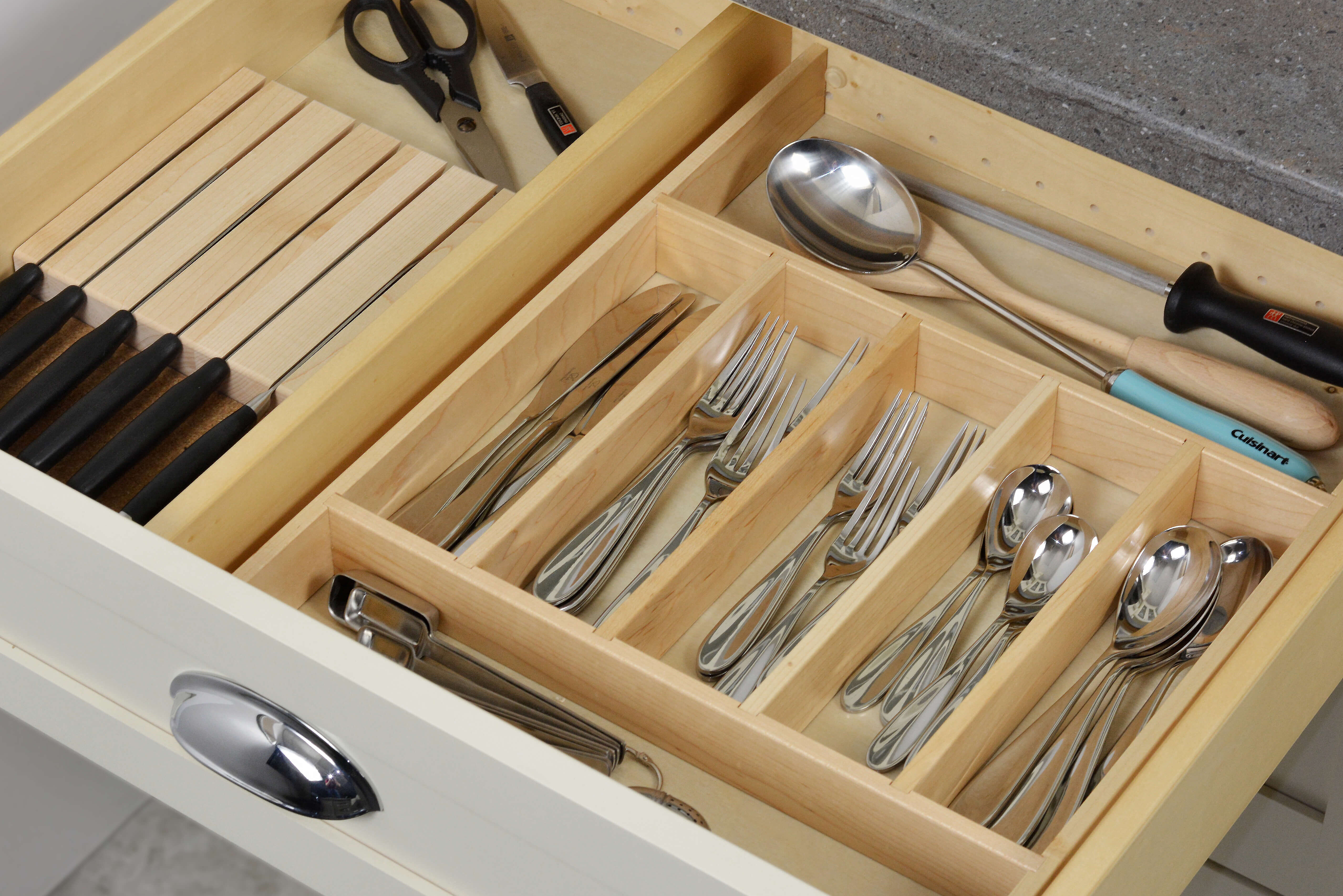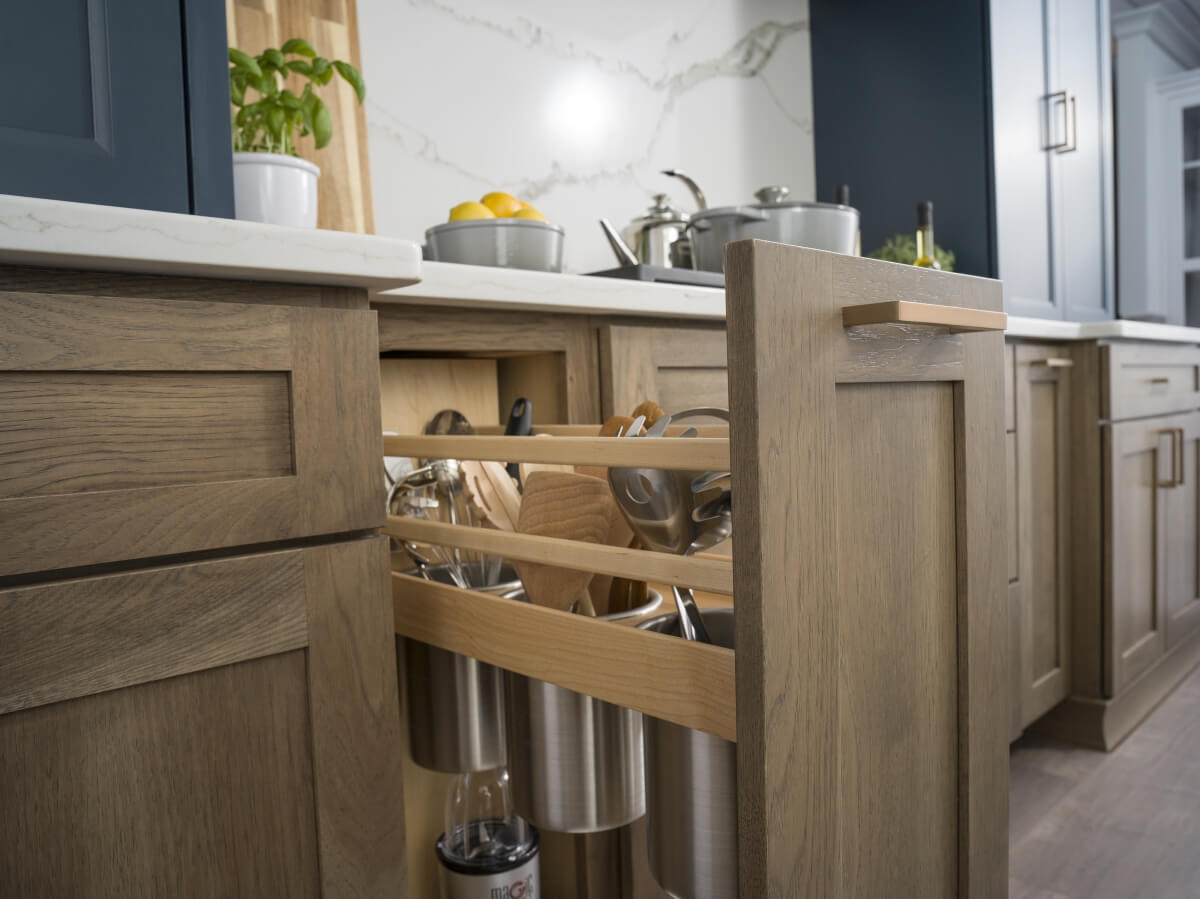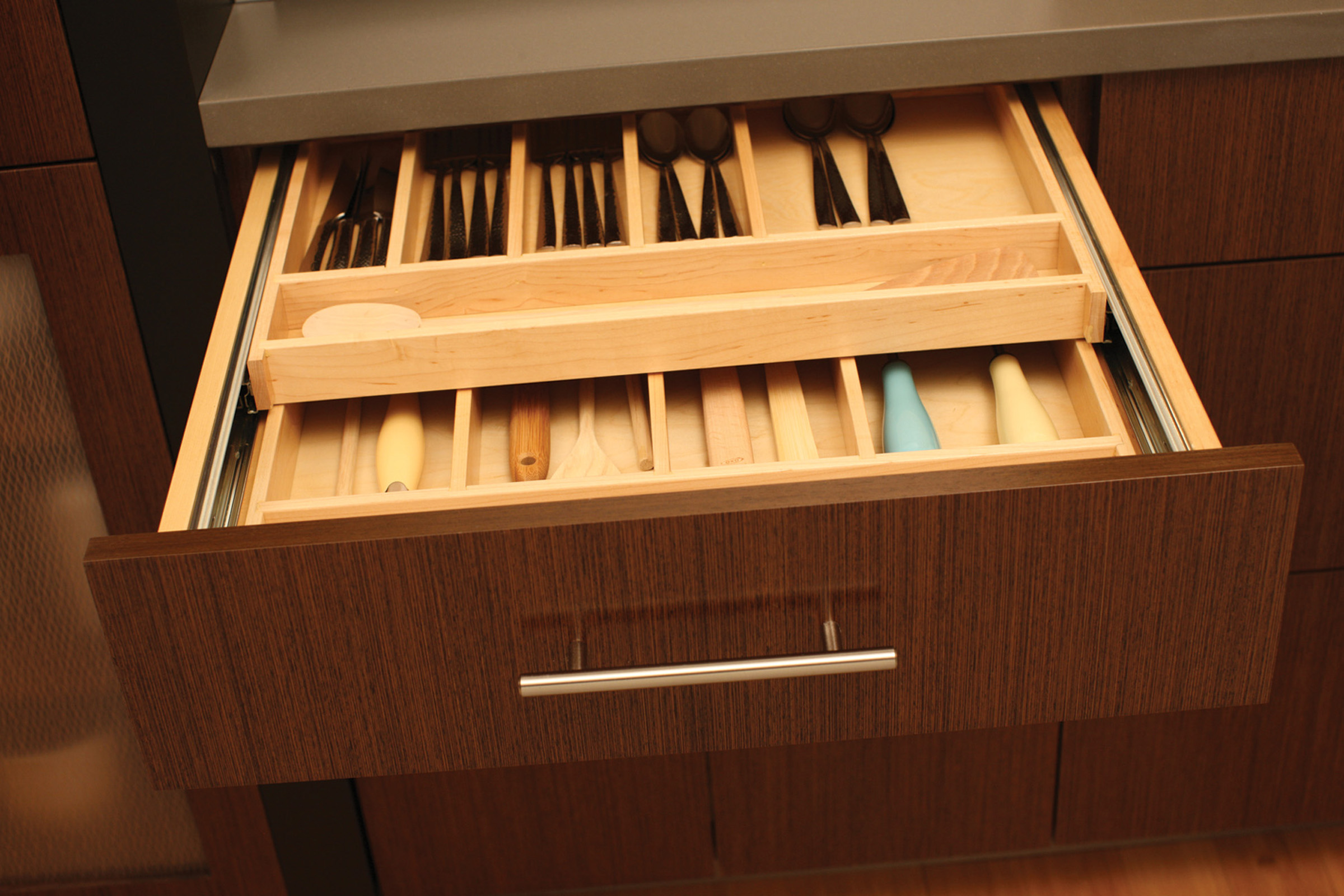 Maximize drawer space with a Two-Tier Wood Cutlery Tray (TTWCT-A) to organize silverware and utensils on two levels within the drawer.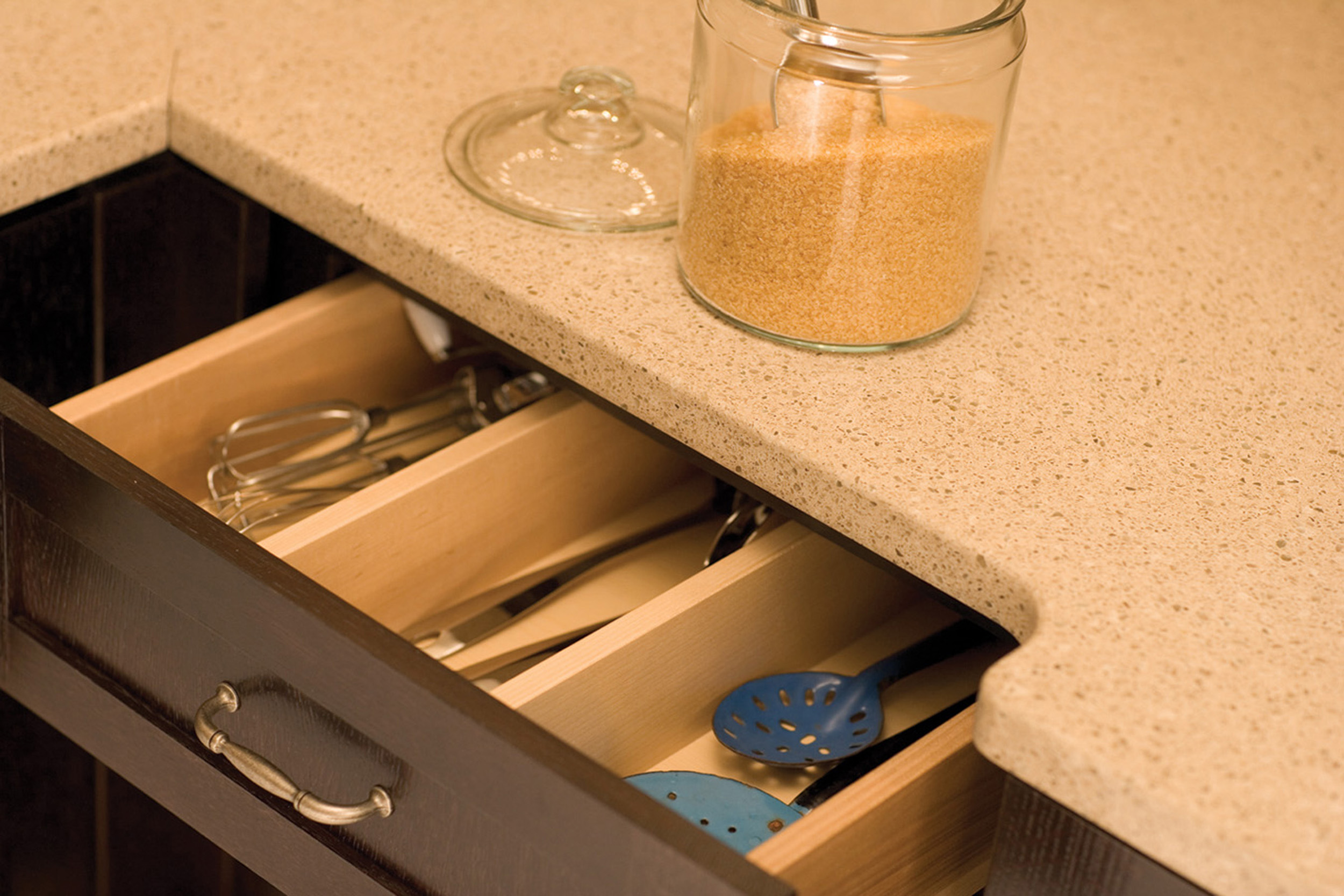 Drawer partitions can be specified to divide a drawer based on your personal preferences.
3.
 

Dedicated Spice Storage

Whether you prefer to locate your spices in a wall cabinet or a base, Dura Supreme offers multiple options for spice storage.  From door-mounted racks, drawer inserts, or pull-outs, there is a solution for every chef. Including a dedicated space to store your spice collection will help make food prep a breeze.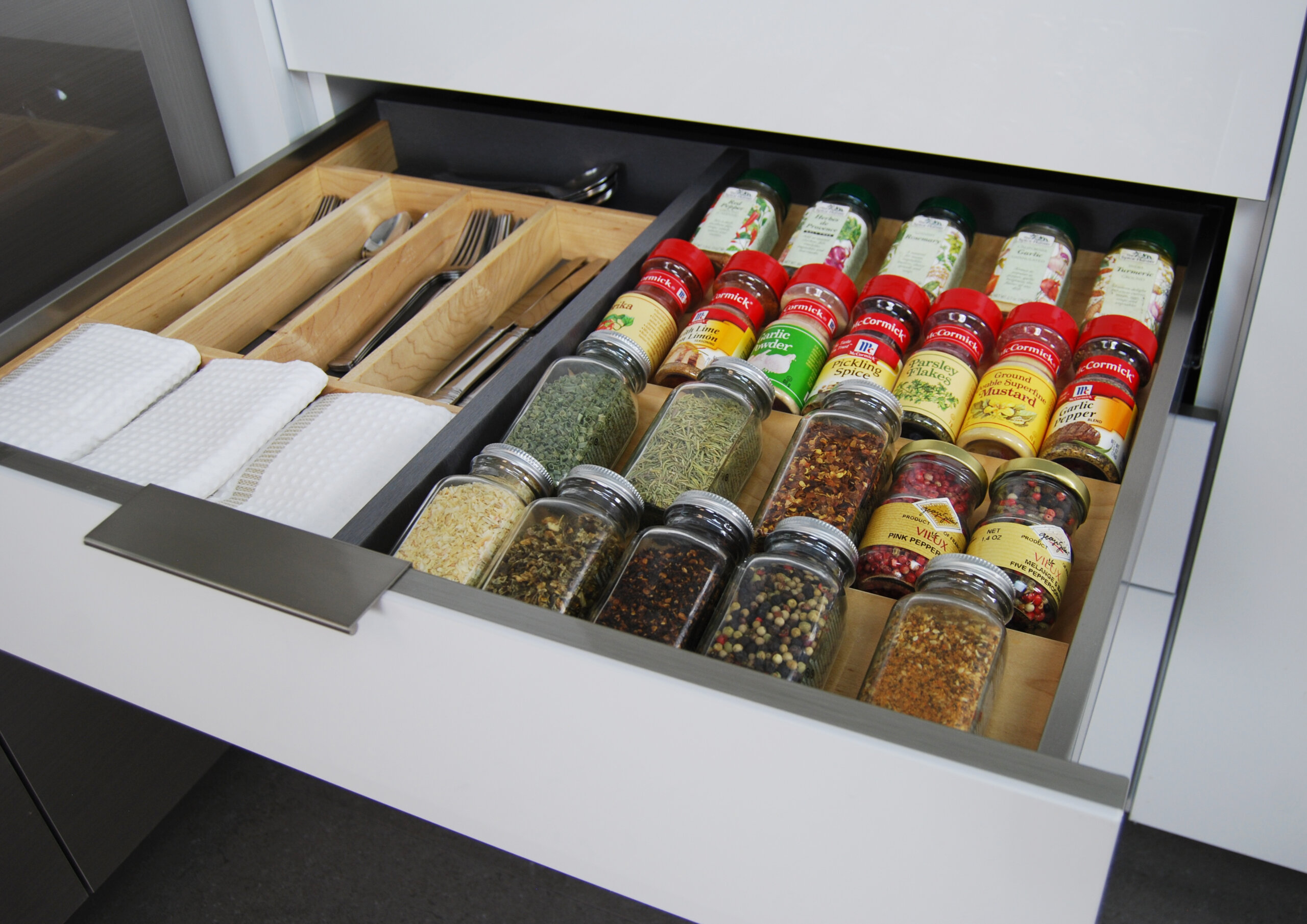 Dura Supreme's wood Drawer Spice Rack can be used in combination with our stainless steel drawer options.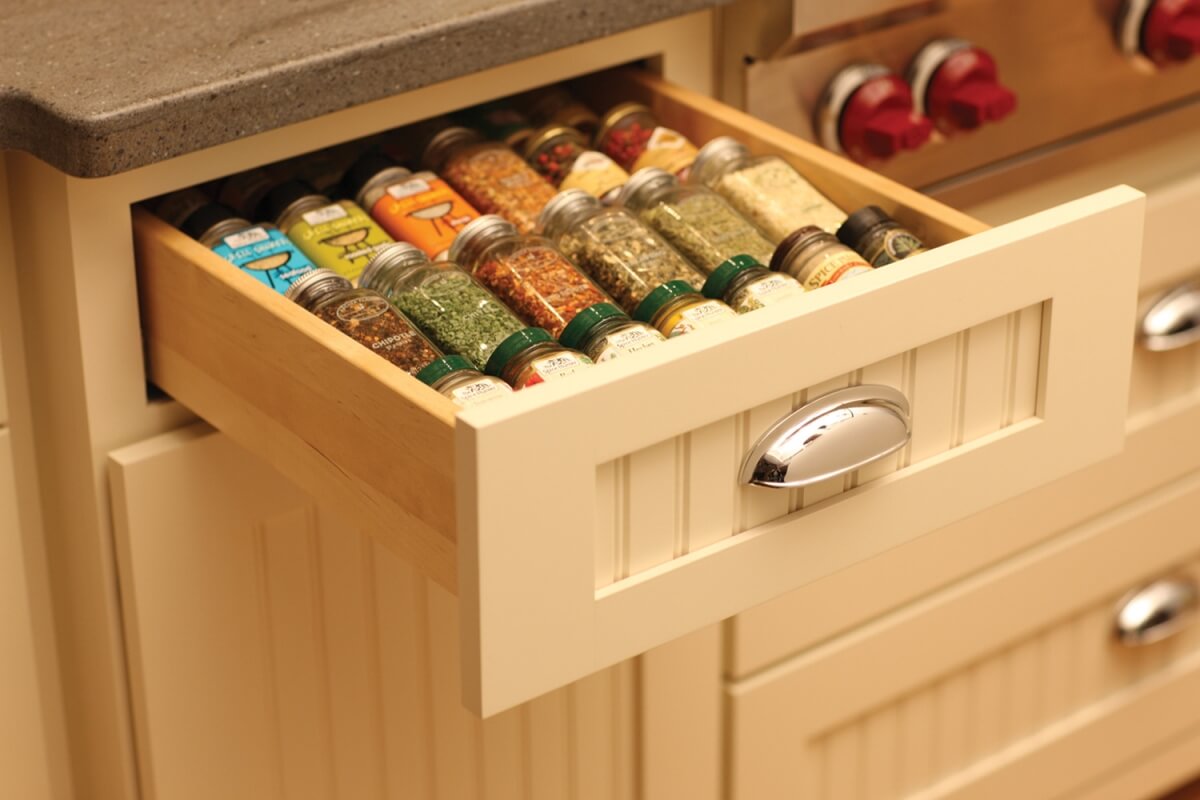 Keep your spices at your fingertips in this convenient, wood Drawer Spice Rack next to an oven or baking center.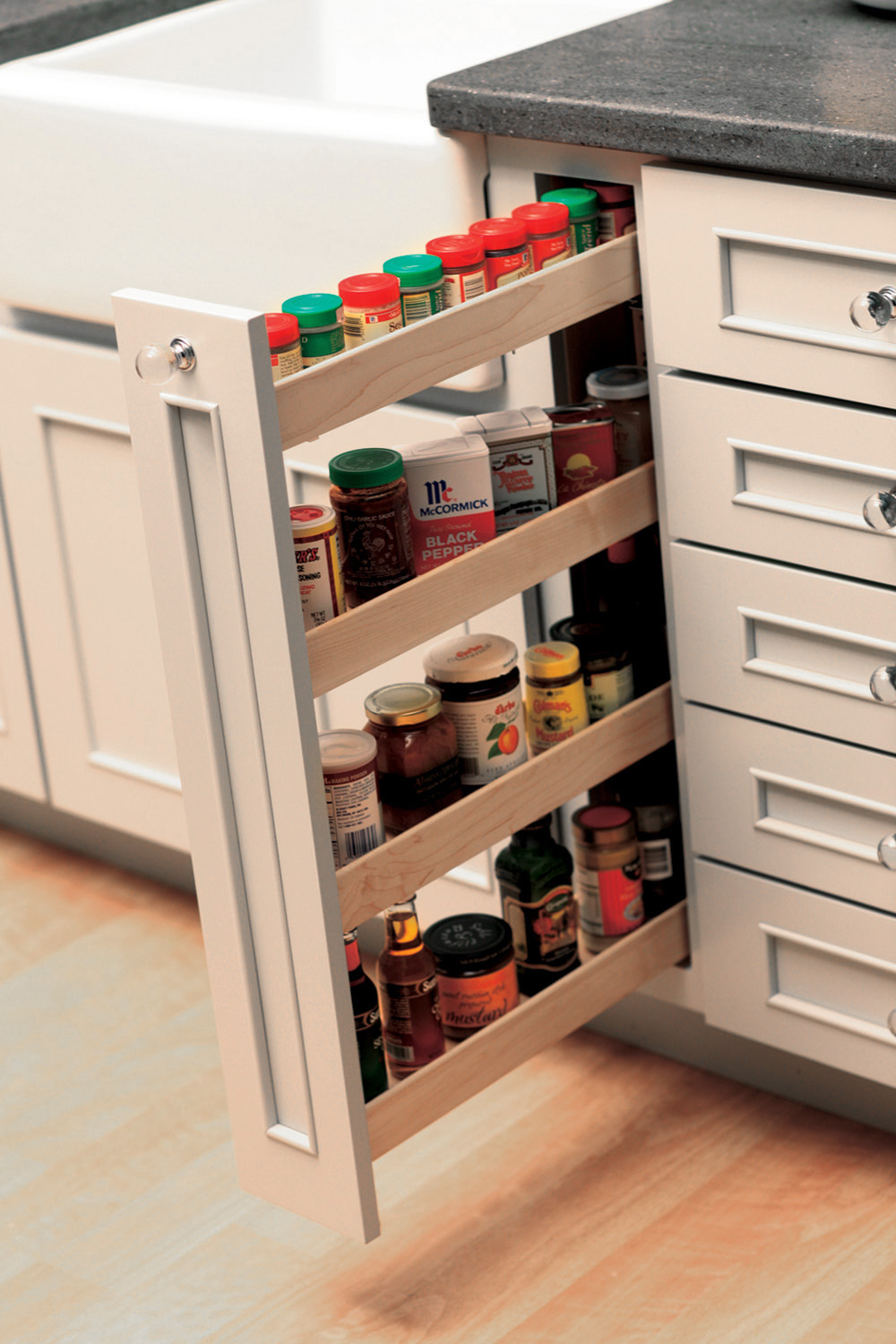 Small spaces offer a surprising amount of spice storage with a vertical Pull-Out Spice Rack.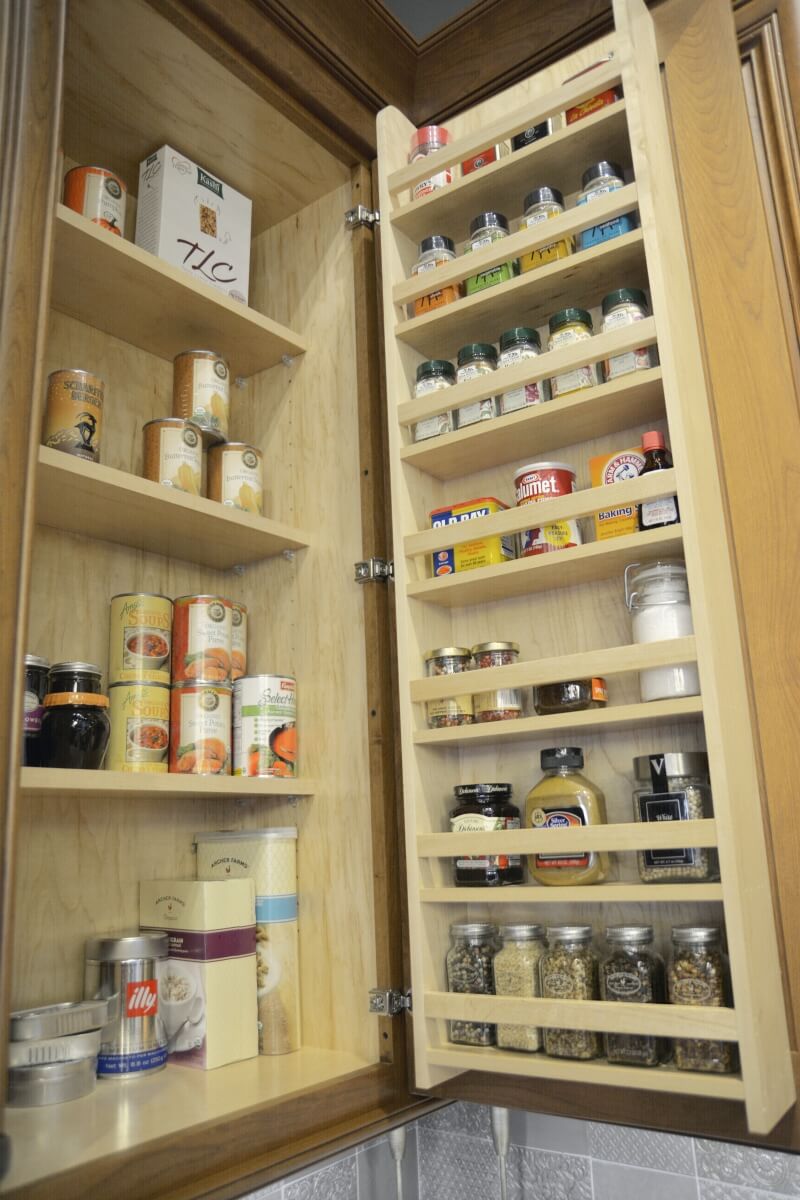 A traditional Door Spice Rack from Dura Supreme offers convenient kitchen storage in a wall cabinet.
4.
 

Convenient Roll-Out Storage

Base and Tall cabinets provide lots of storage, but sometimes accessing the back of the cabinet can be a challenge.  Roll-out shelves, with full extension guides and soft close, are available in multiple heights from flat to 8".  Roll-outs offer customizable and convenient accessibility to the entire cabinet.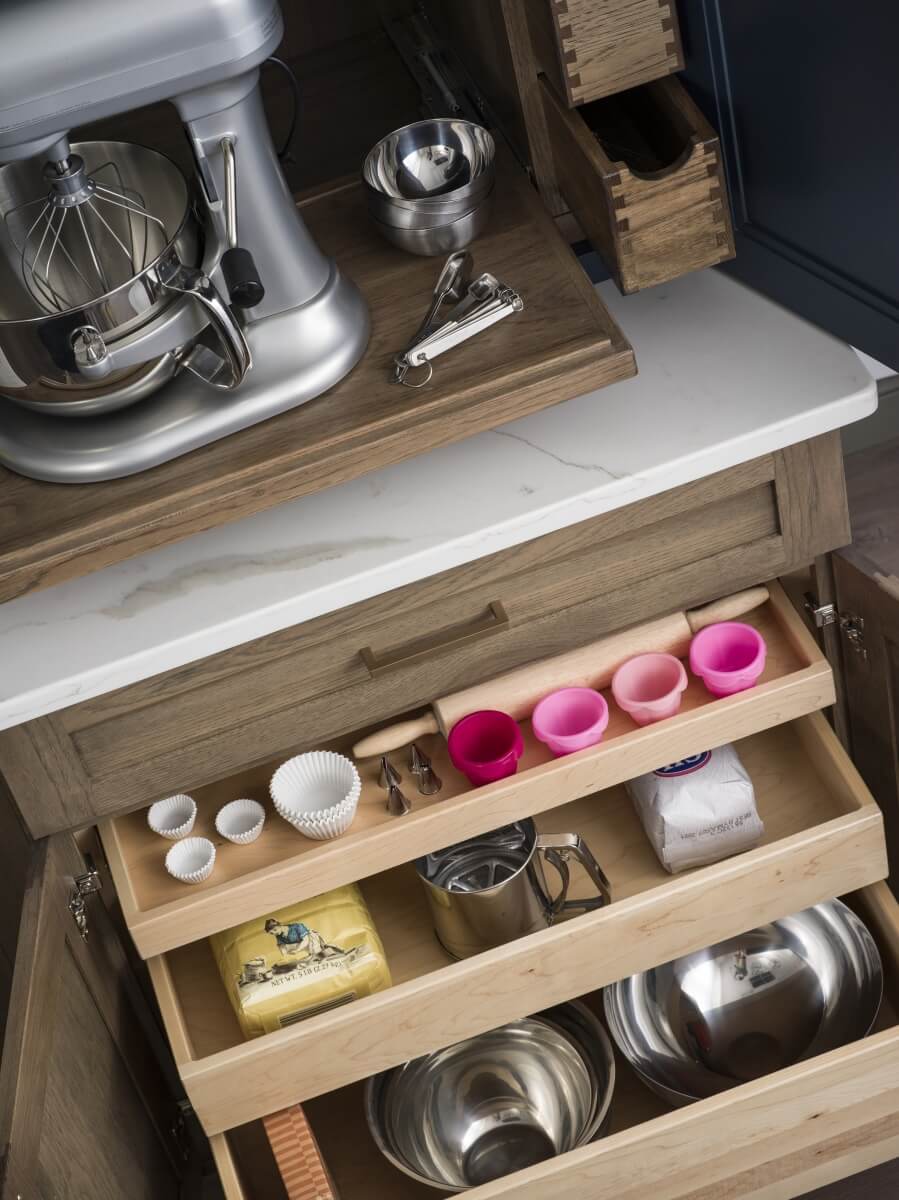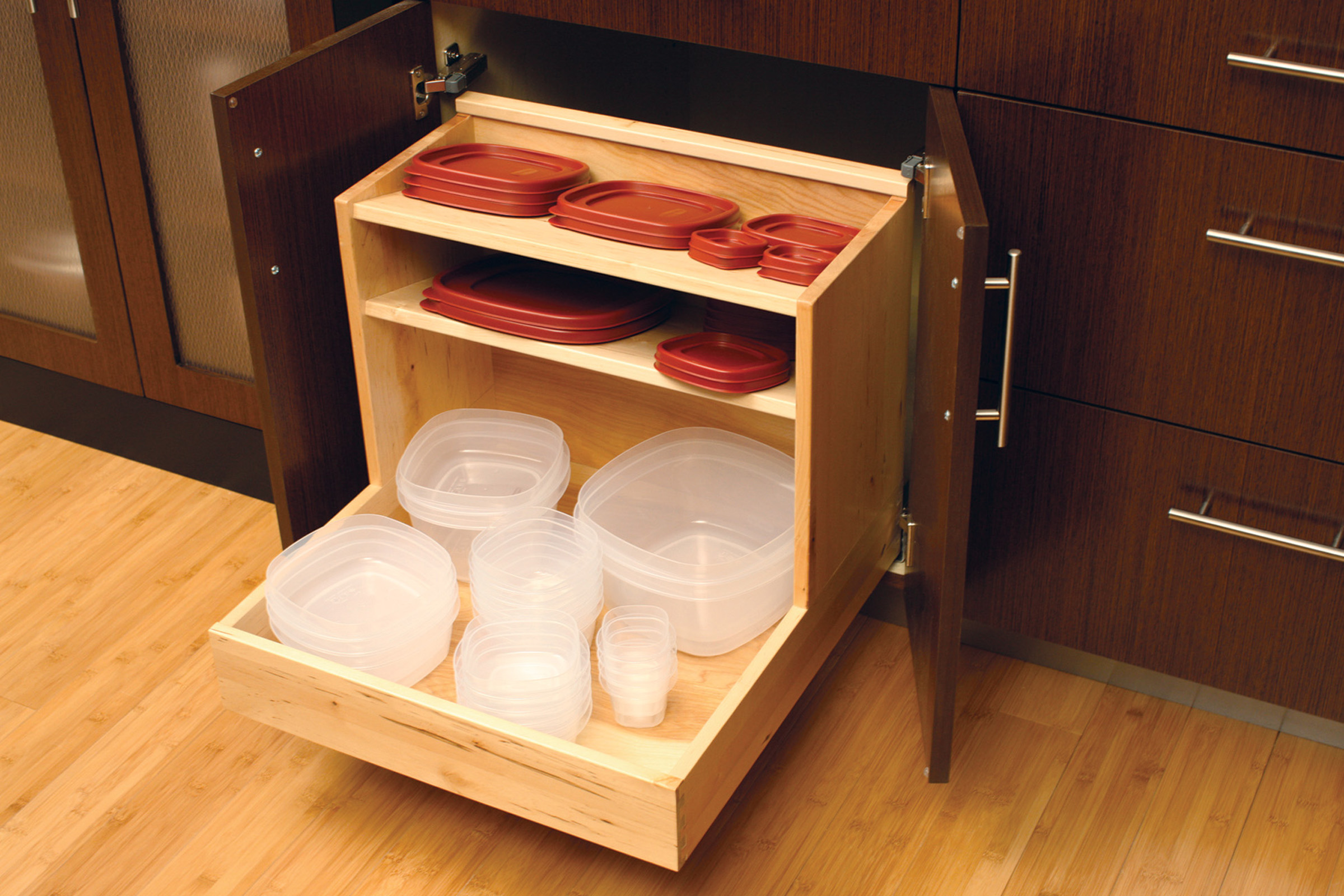 Neatly store your plastic storage containers and lids in this convenient roll-out accessory from Dura Supreme Cabinetry.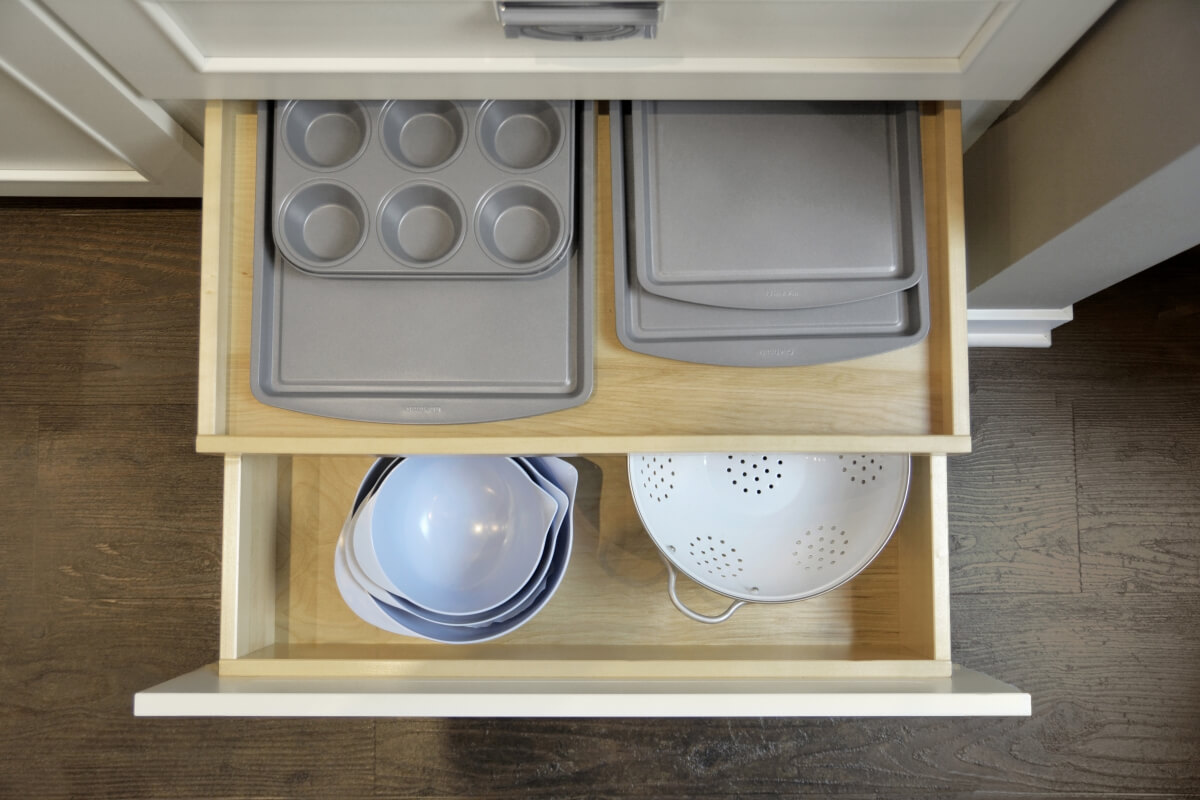 Roll-outs can be incorporated inside a drawer to create an added level of organization.
Dura Supreme's Roll-outs can be customized with adjustable dividers, fixed partitions, or even a power or charging station.
5.
 

Corner Storage

Many kitchens have a corner or two and making the most out of the awkward space can be a challenge. Dura Supreme offers multiple options to make those corners function as valuable storage space.  Turntables in a wall or base spin with ease. Gliding trays or swiveling shelves allow easy access.  Corner storage made easy!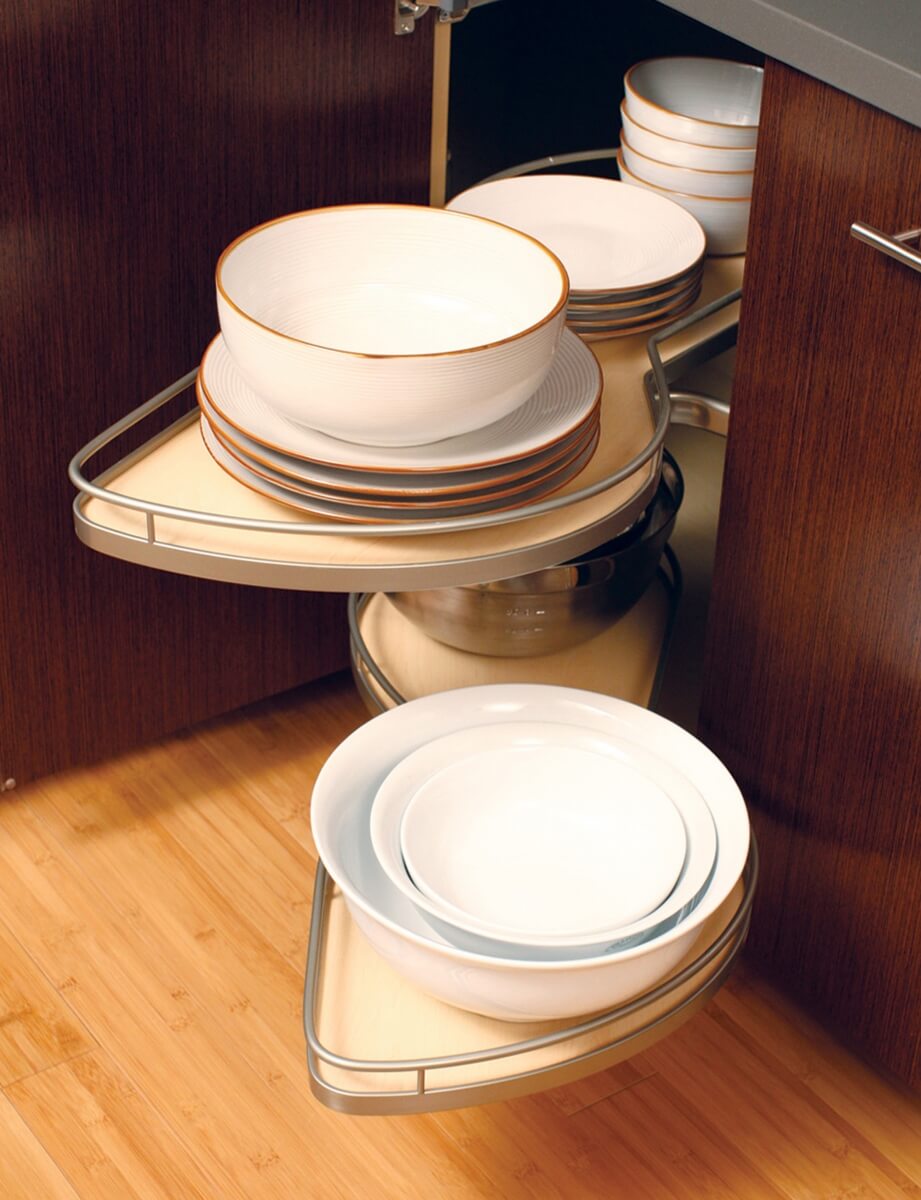 These uniquely-shaped shelves pivot and glide out of the cabinet for complete access to items stored in the farthest corners.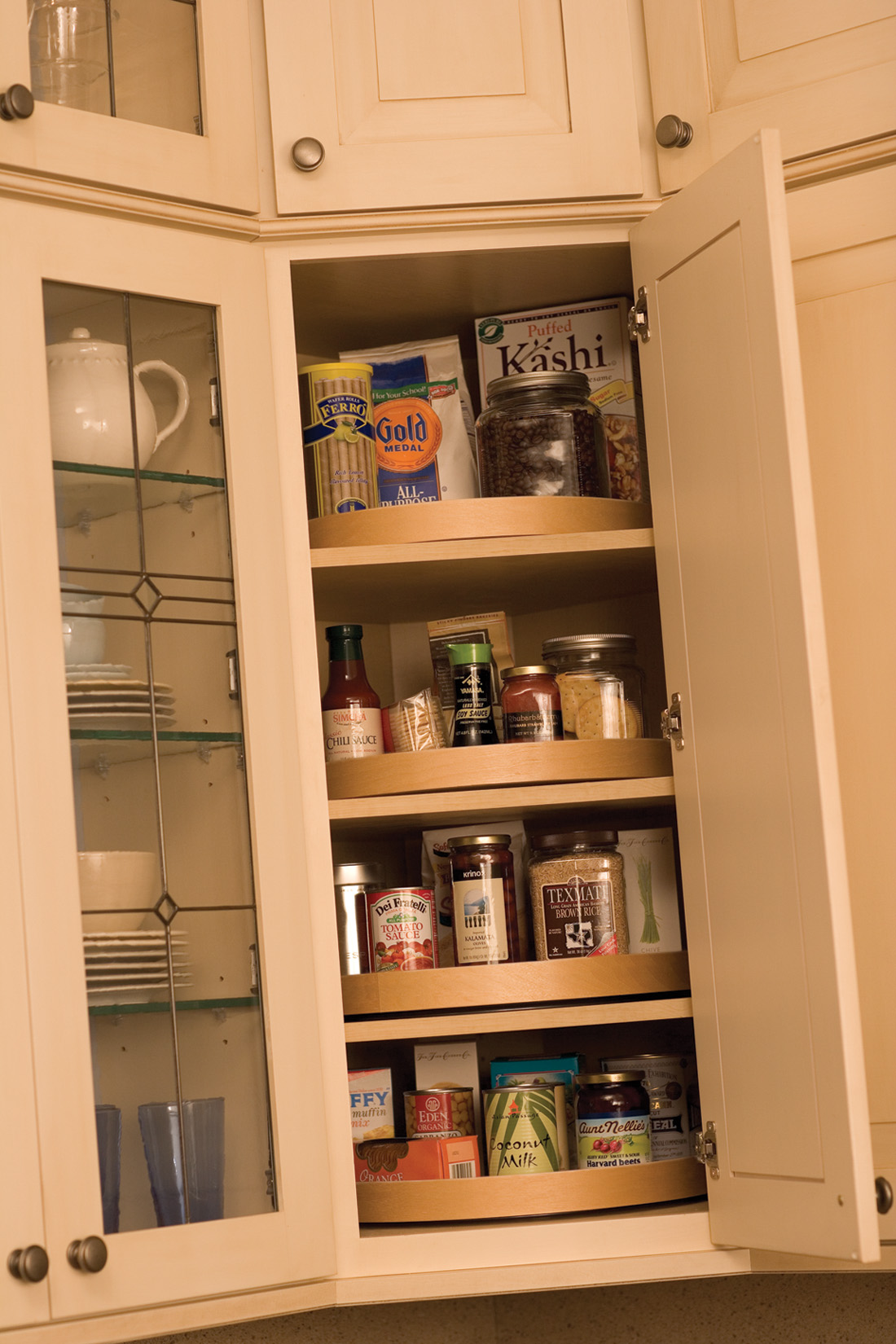 A Lazy Susan with turntables in a corner wall cabinet.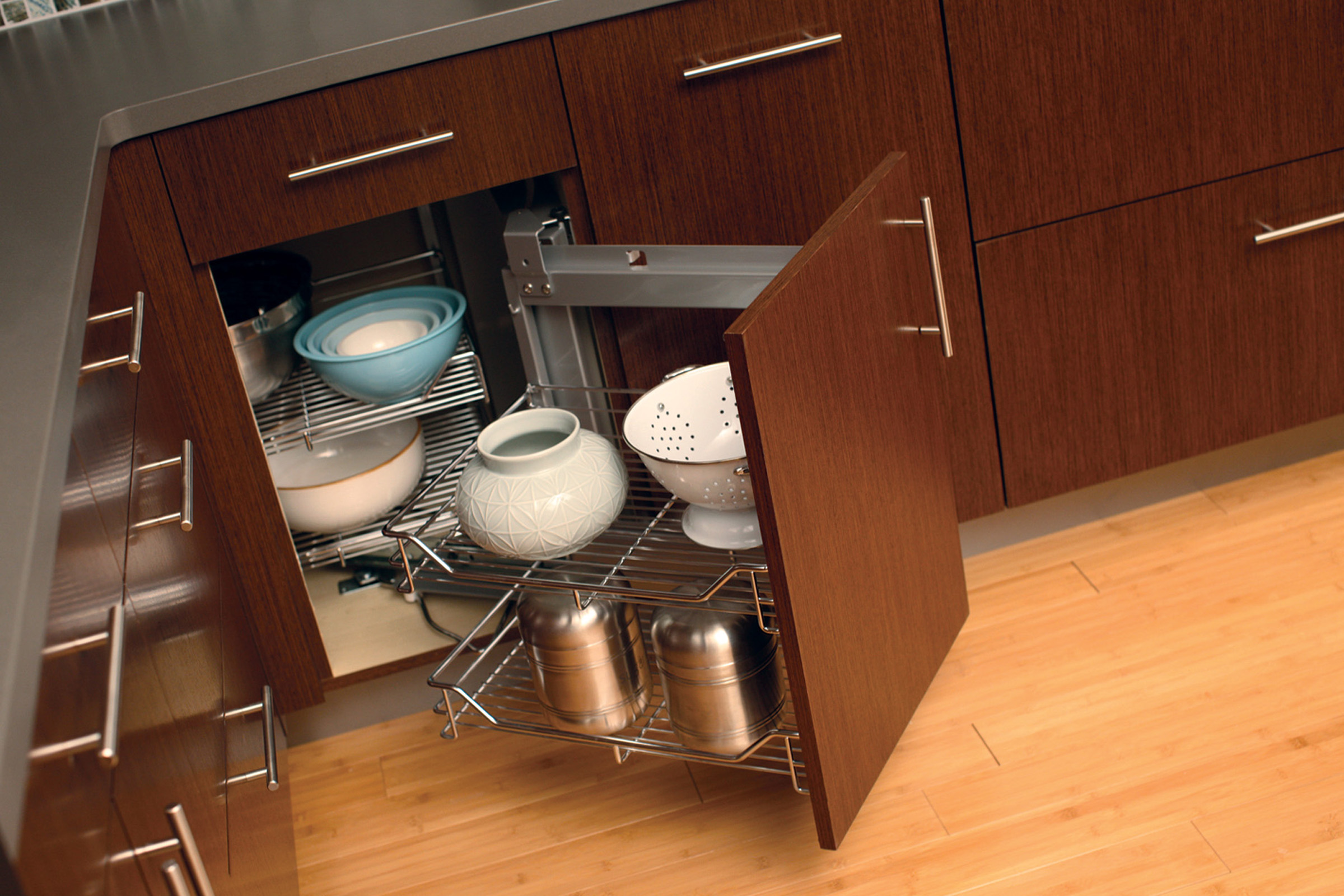 Wisely use the storage space within our large corner cabinets with Dura Supreme's convenient swing-out wire baskets.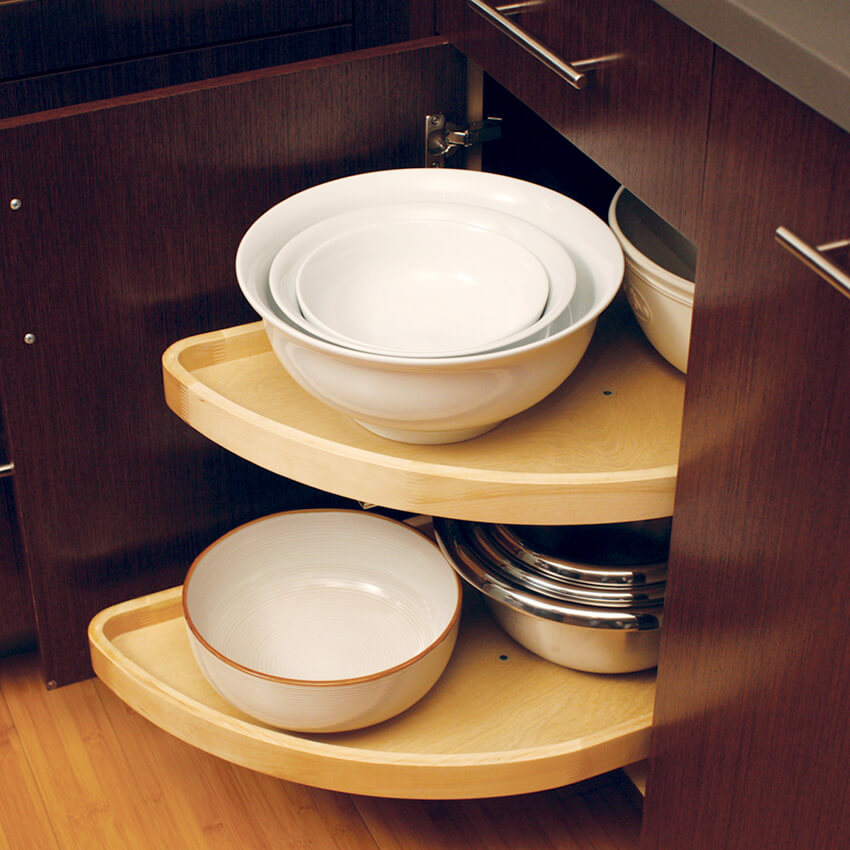 This corner storage solution features two half-circle shelves pivot and pull-out for convenient access.
What storage solution is on your "Must-Have List" for your kitchen design?