Contemporary kitchen designs continue to have a strong following, and they have several elements that are used to create a modern look, including what is used for surfaces.  When it comes to the look and feel of natural woods, exotic veneers are at the top of the list.  Exotic Veneers utilize both real wood and engineered wood veneers to achieve a consistent color and graining. Despite the word "exotic" in the title, they do not necessarily come from lands far away!
At Dura Supreme Cabinetry we offer an Exotic Veneer in the form of our Metro door style. The Metro door can be found in our Bria line of frameless cabinetry. The Metro door offers a premium wood veneer applied to a durable MDF core with a 2mm thick, matching species, solid wood edge band on all four sides of doors and drawer fronts. The veneers are offered in vertical and/or horizontal graining that is dependent on the wood species. Metro's distinct graining and smooth, durable surface makes it a popular choice for those looking to for a contemporary and modern look to their cabinets.
With the exception of Bamboo and Walnut, which are natural veneers, our Exotic Veneer program utilizes engineered real-wood veneers to achieve consistent color and graining. Natural veneers exhibit color and grain variations which are not always appreciated for contemporary design themes which require sleek, consistent color. For this reason, engineered veneers have been developed, specifically to address this need and desire for very consistent veneers. Additionally, engineered veneers are an environmentally friendly choice because they utilize sustainable wood species that are in abundant supply and readily available.
Many of our engineered veneers are produced from plantation-grown, European Poplar. With its overall light coloring and subtle grain pattern, it is ideally suited to create distinctive colors and patterns for engineered veneers.
Our Straight Grain Oak in natural finish is an engineered exotic wood and comes in both horizontal and vertical graining. Engineered Straight Grain Oak is very consistent in color, with a straight, "combed" grain pattern characteristic of "rift" or "quarter-cut" veneers. An attractive golden-brown color, the veneers offer a pleasing range of light to medium brown tones within the distinctive texture of the grain. With age and exposure to sunlight, the color of Straight Grain Oak will slightly mellow over time.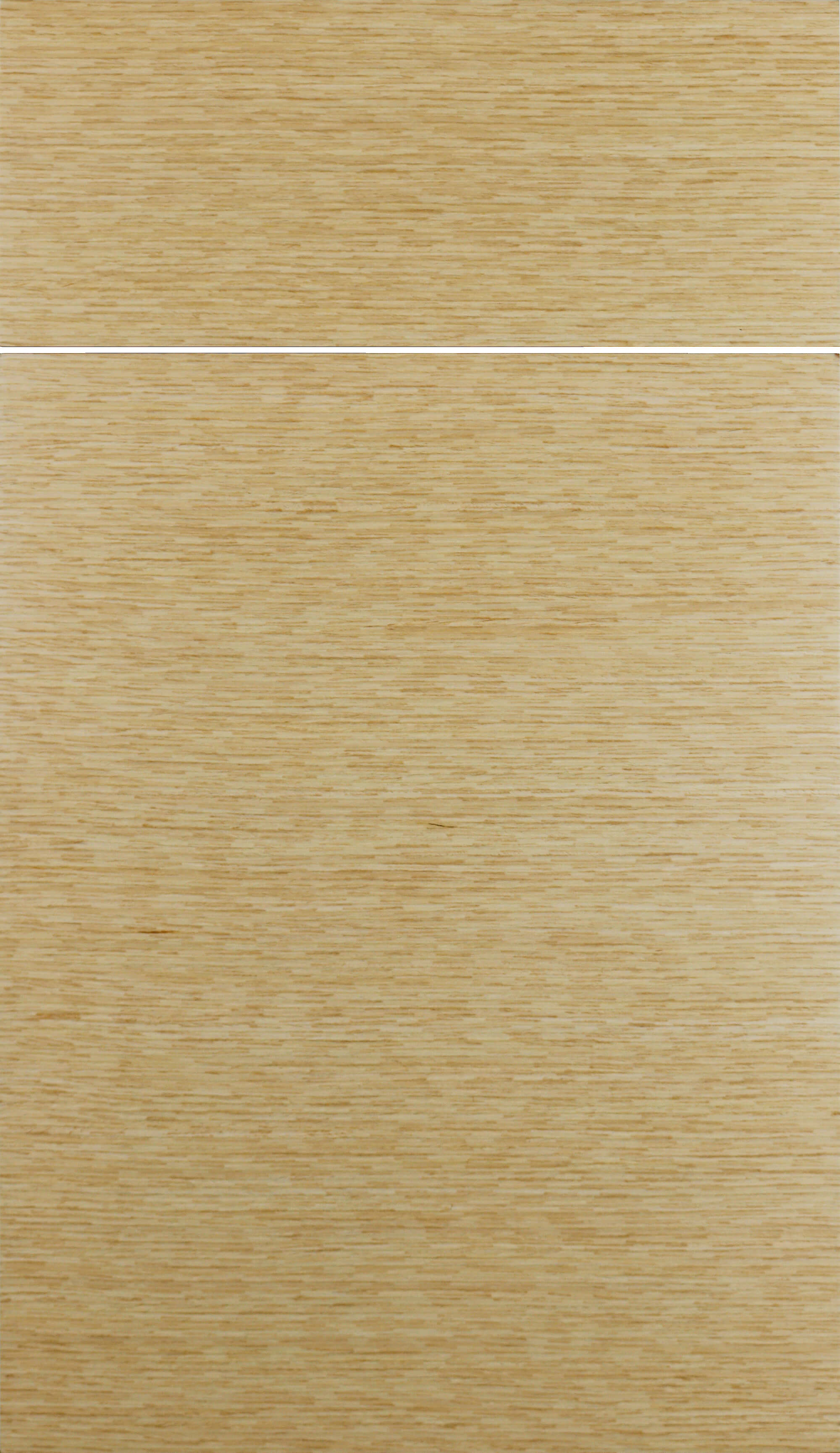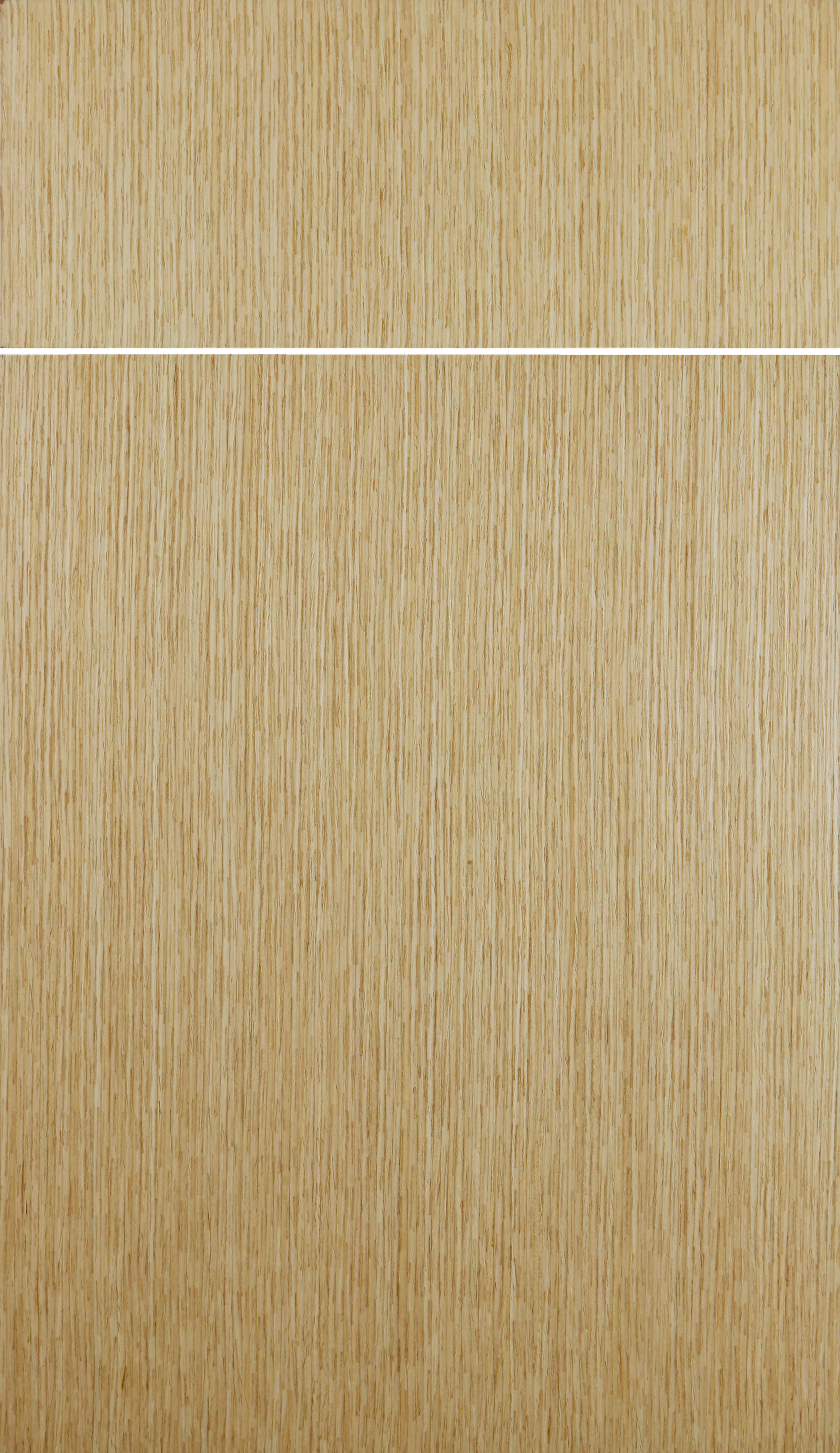 Bamboo veneers are natural and known for their characteristic color and graining, with the recognizable knuckles at the growth joints. Our Bamboo veneers are sliced to feature a straight, narrow-stave grain pattern, and are steamed to create a warm, brown color (caramelized). The steaming process naturally darkens the sugar compounds present in the plant to create a warm, brown shade without the use of stains or dyes. Bamboo is an extremely fast growing grass, reaching maturity in 5 to 7 years for sustainable harvesting. Bamboo is an extremely stable, dense and strong material (25% harder than oak, 12% harder than maple), that remains very color stable with age and exposure to sunlight.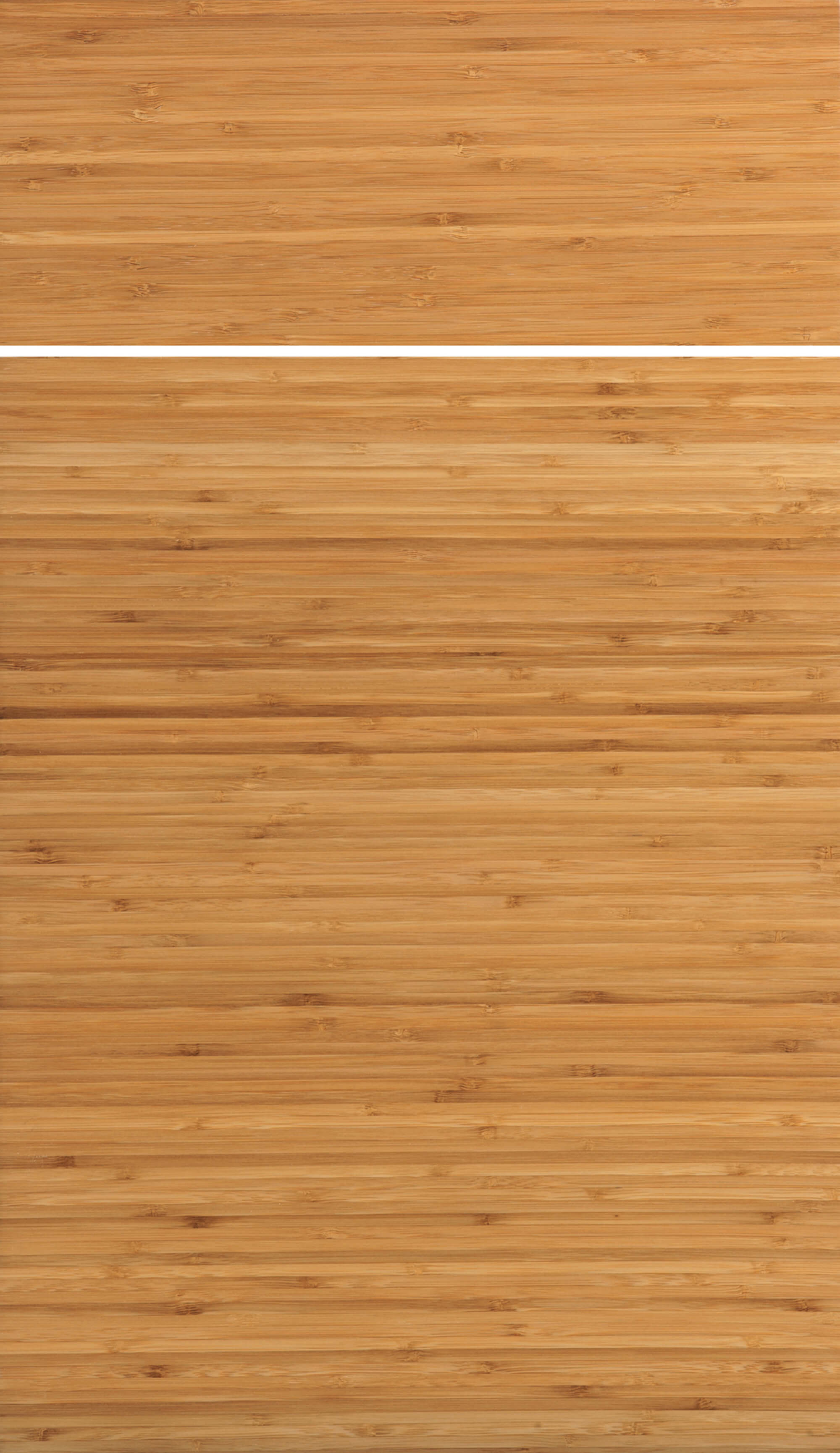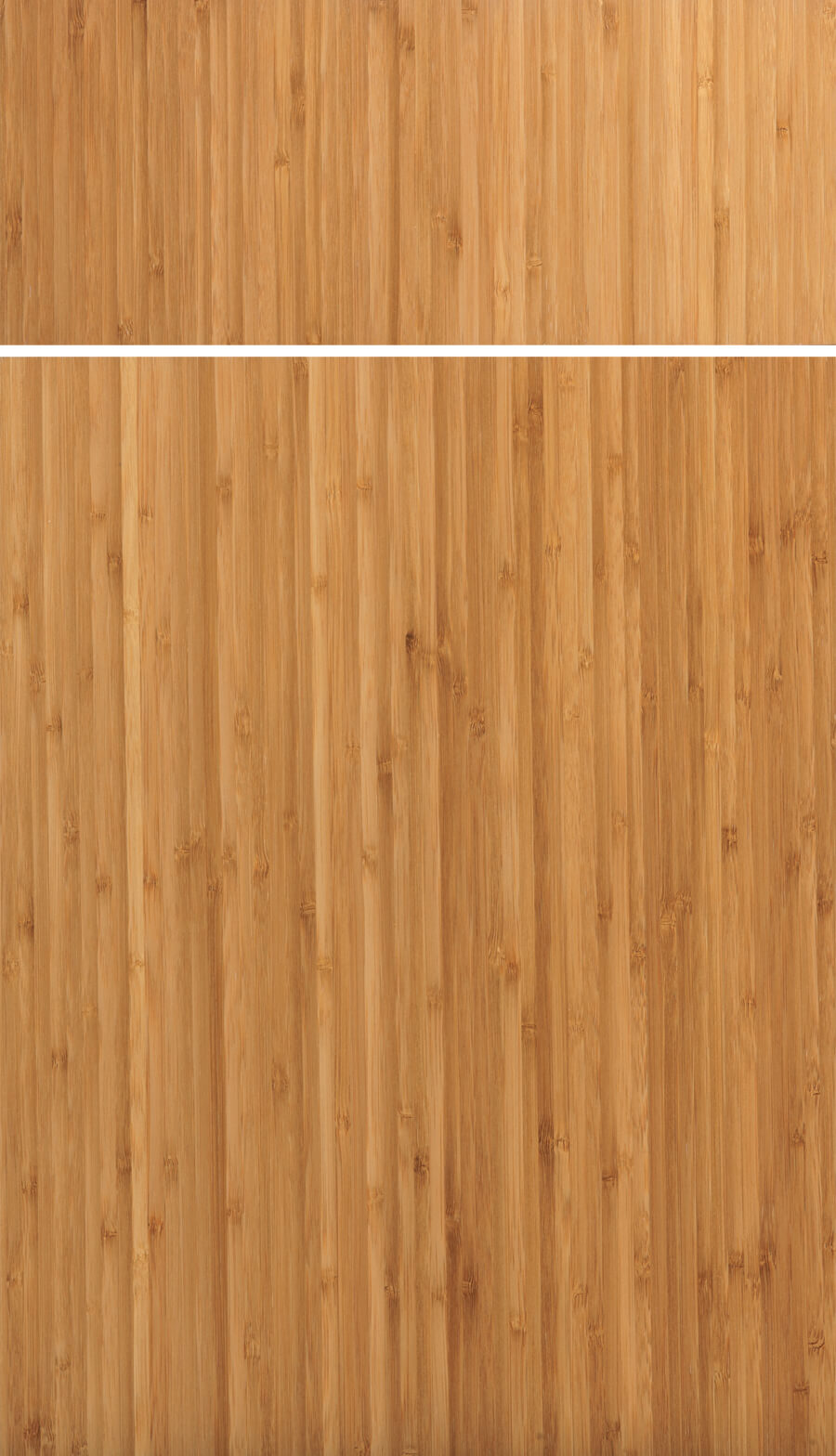 A master bath and closet featuring Metro doors in the vertical Bamboo add warmth with a modern vibe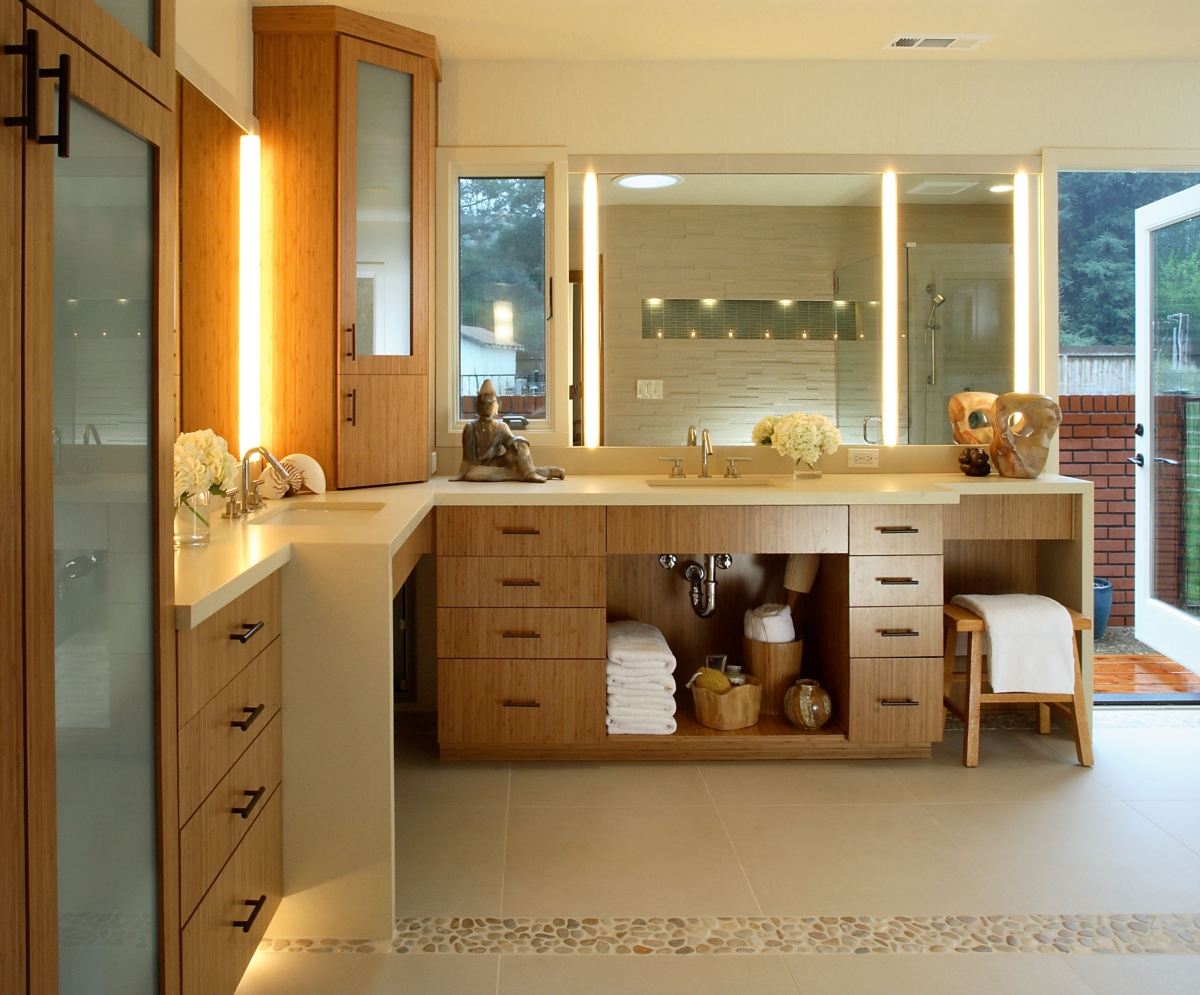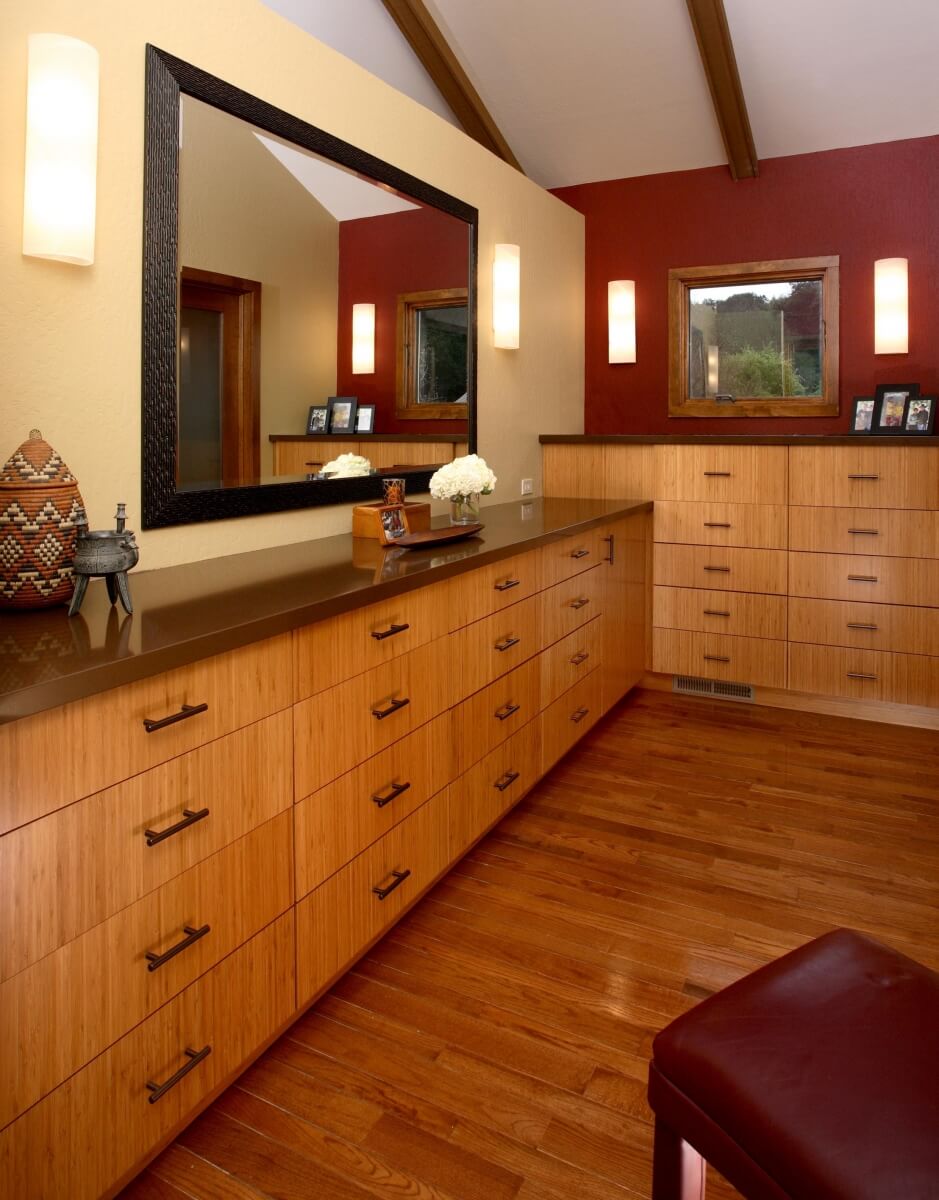 The Shale species is an engineered Exotic Veneer with a straight, consistent "combed" grain pattern. Color range includes medium browns and grays with an attractive black grain pattern. Available with a Natural finish only. With age and exposure to sunlight, Shale will lighten slightly.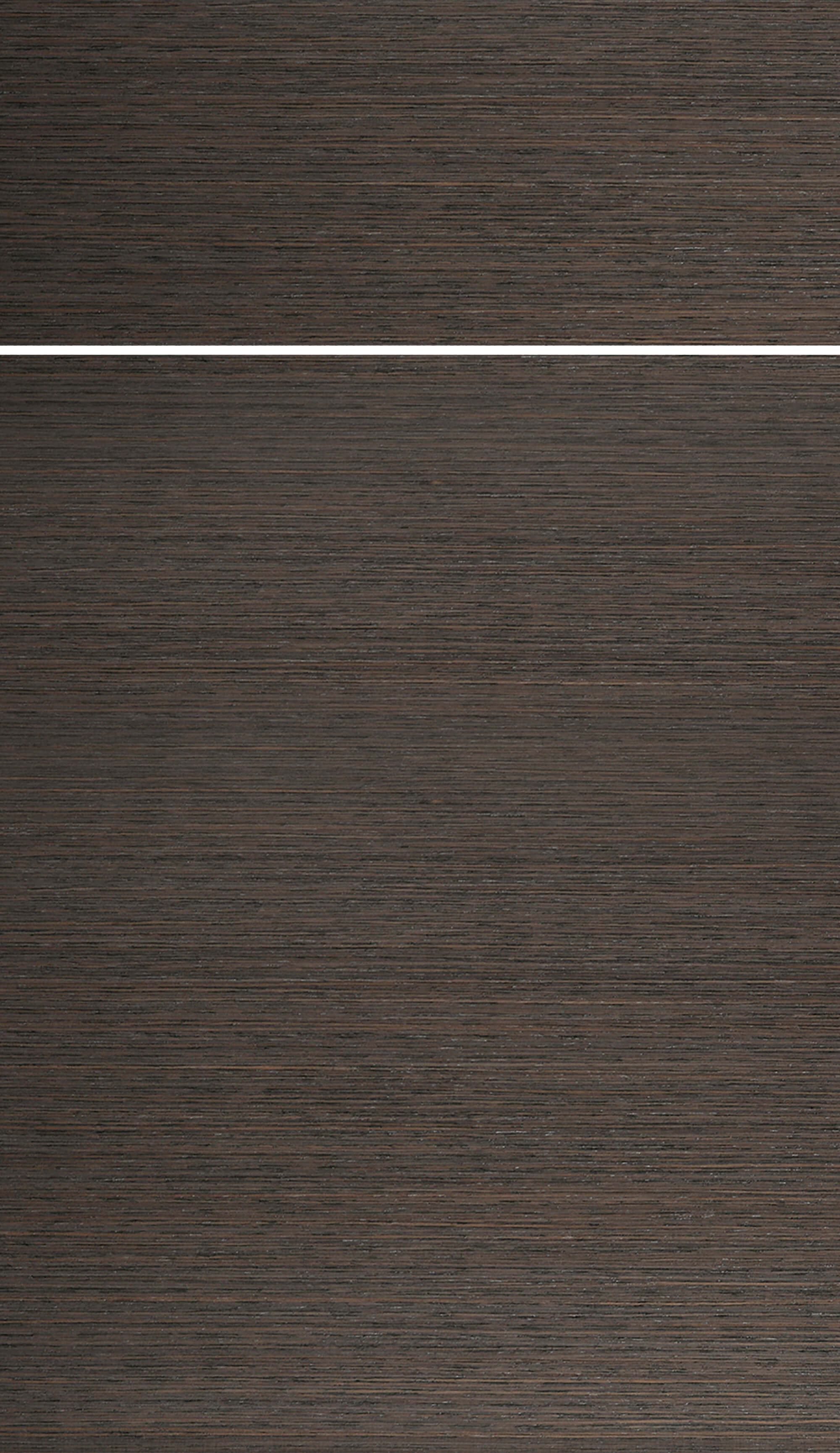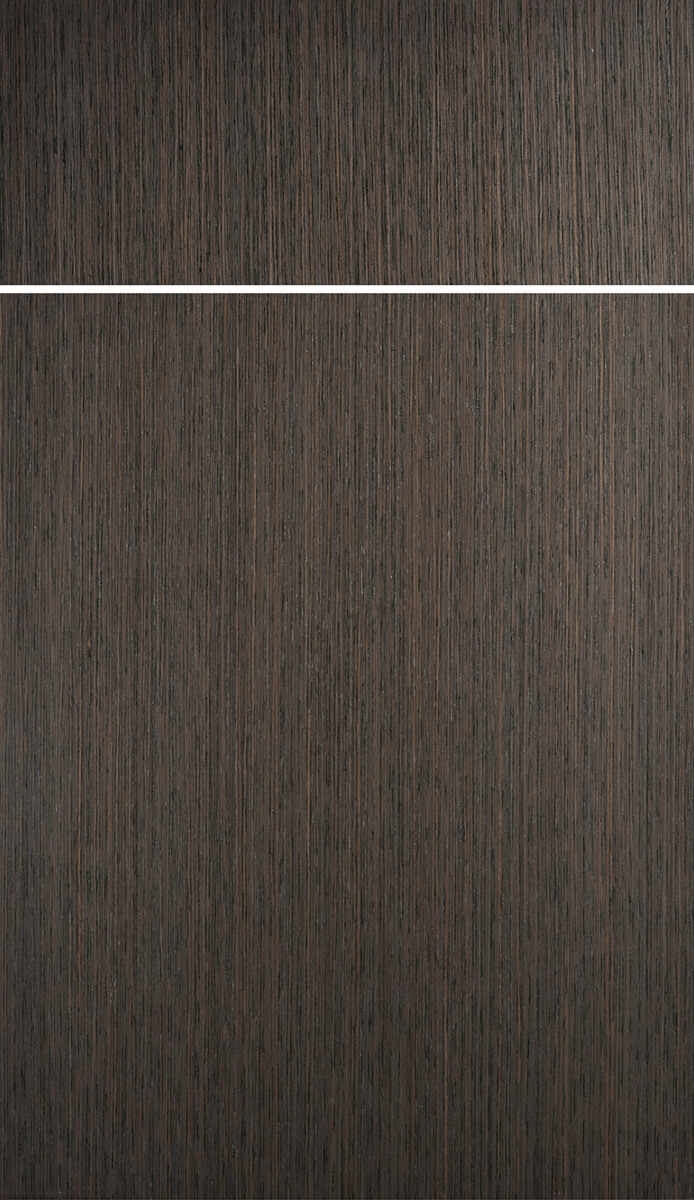 Metro in Walnut is a real wood veneer with an attractive flowing grain pattern and rich brown coloring.  Color can range from a medium brown to a dark chocolate brown, sometimes with streaks of purple and green hues.  With age and exposure to sunlight, Walnut will lighten significantly. Our Walnut is stained which helps make the color variation more consistent. Note that Metro Walnut comes in a vertical grain only and has three finishes available: Toast, Morel and Hazelnut.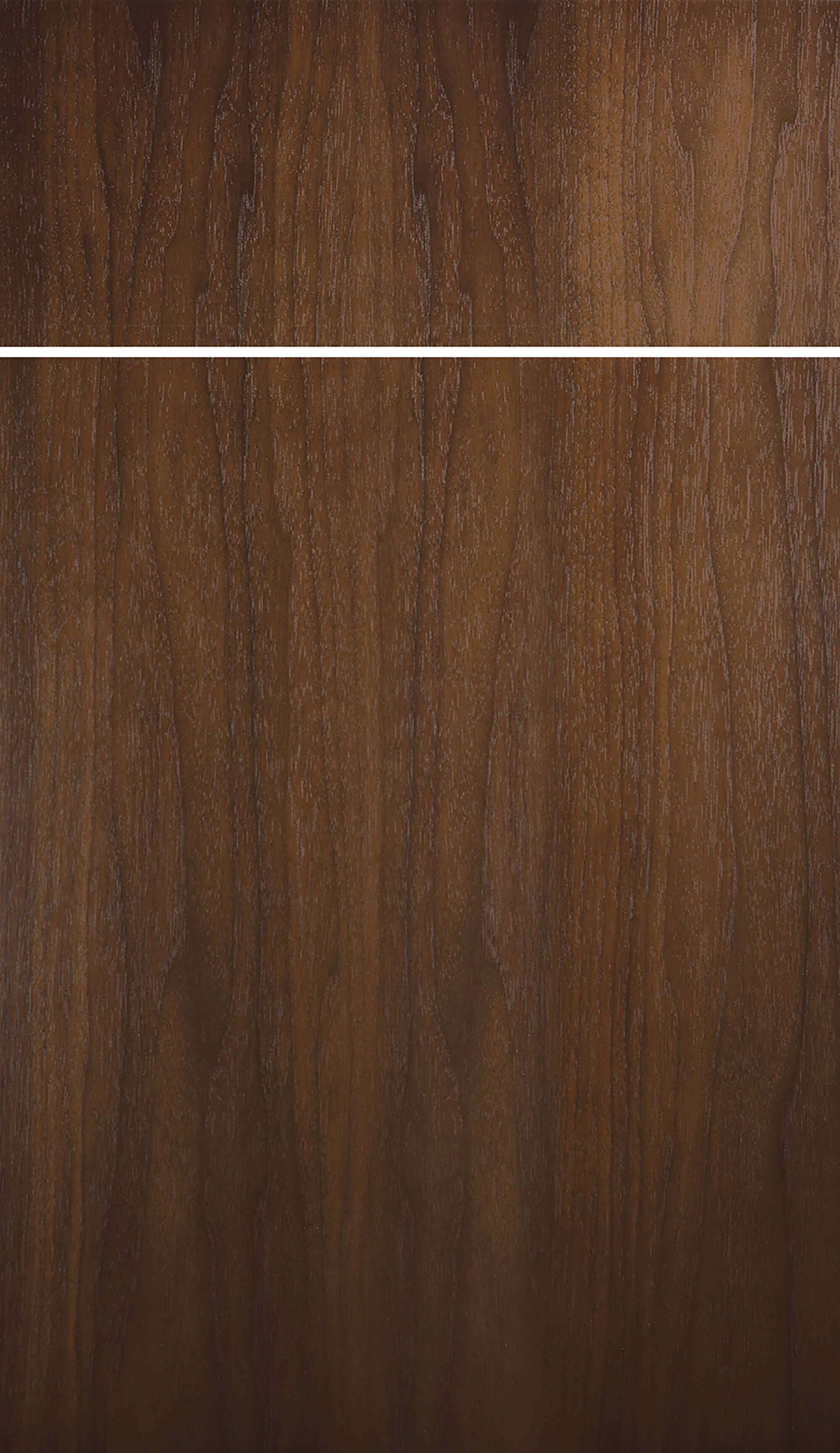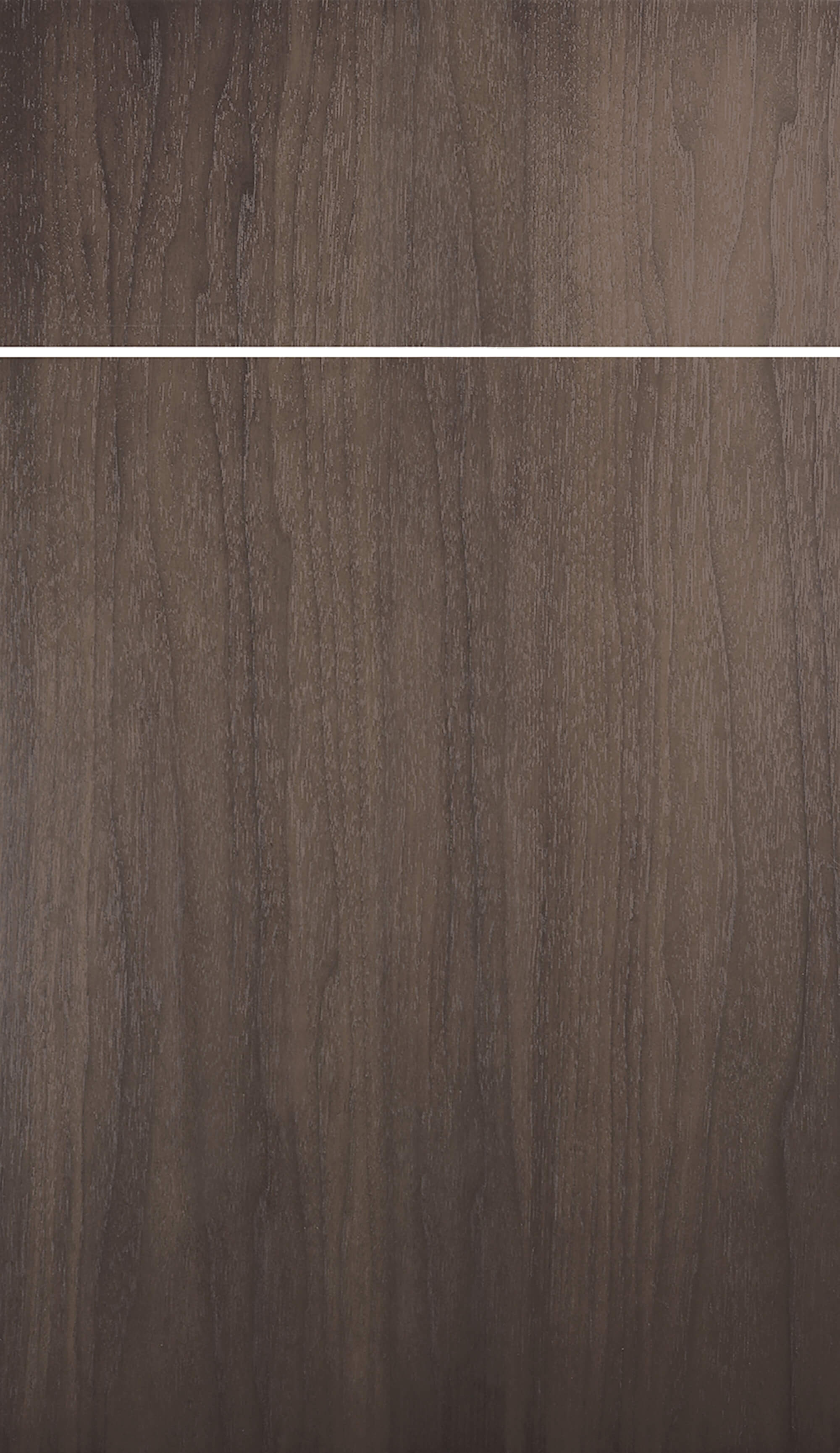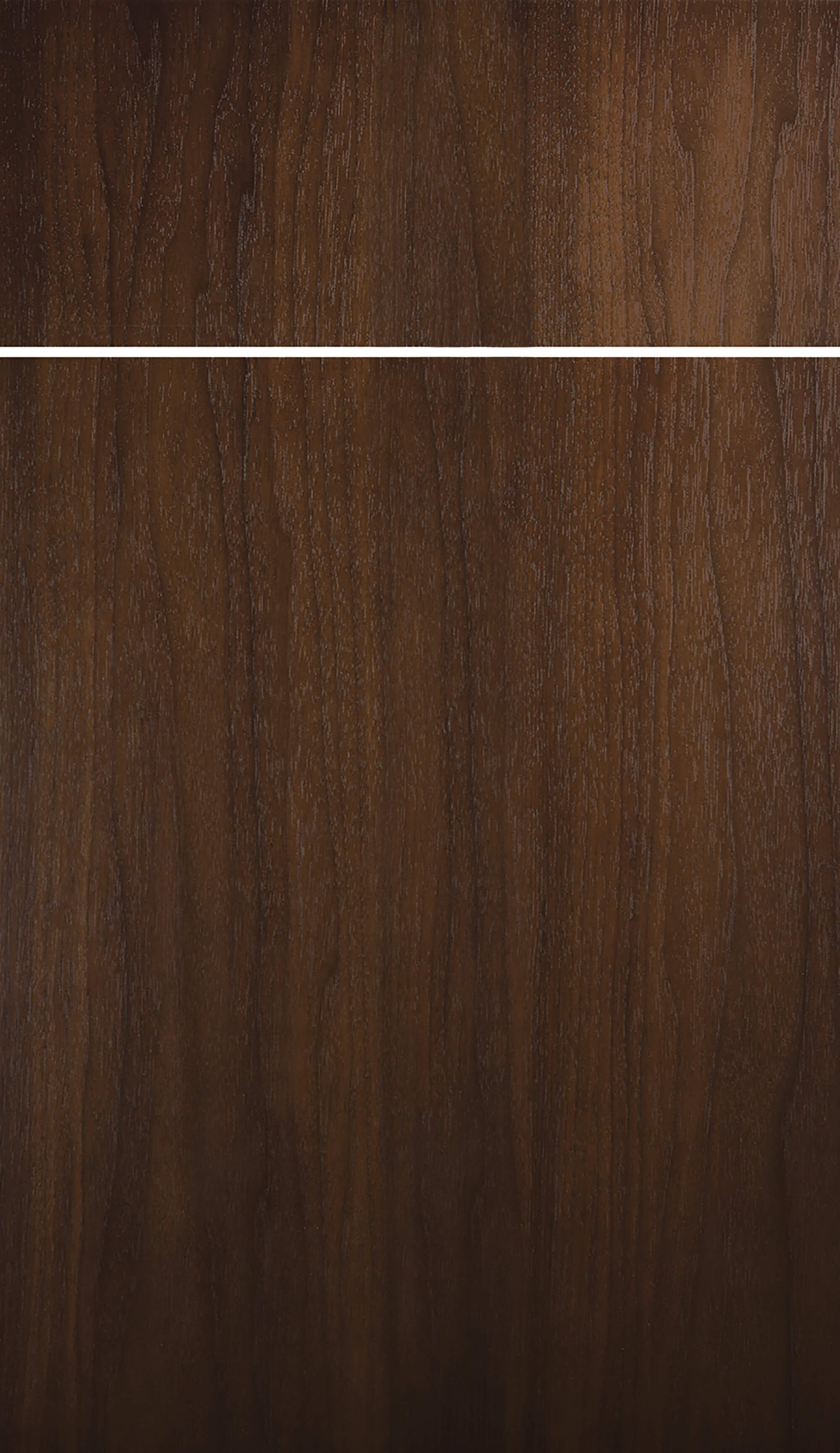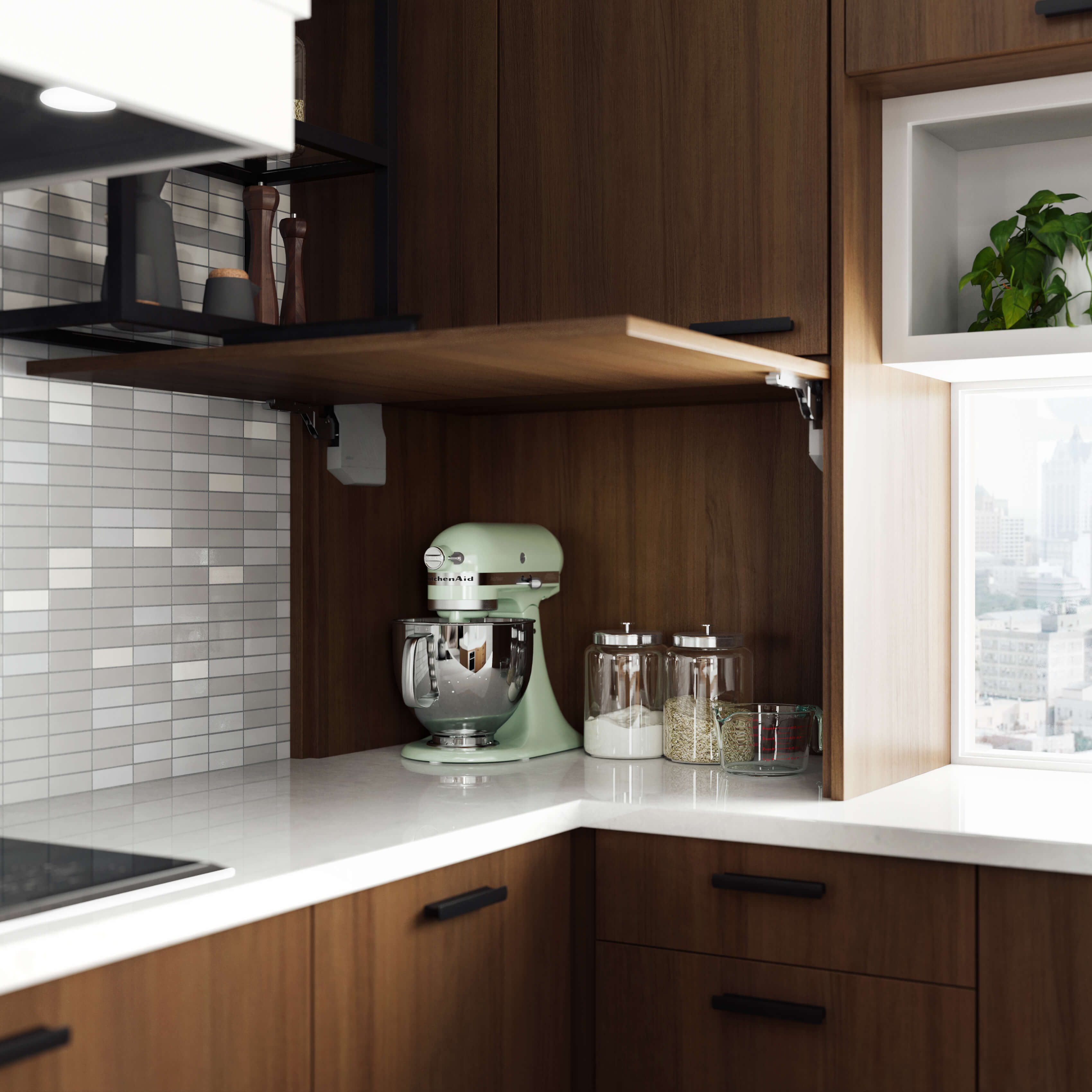 Storage and room for entertaining abounds in this kitchen featuring the simple yet rich look of Metro Walnut in Morel paired with Dempsey in Paint White