In fashion, color trends vary with the seasons but for interior design, we look for long-term classic colors that will stand the test of time and add lasting value to an investment.  Navy Blue is currently one of those colors that is very fashionable in soft goods and fashion, but it's also a long-term classic color whose peak in popularity will last for a long time. 
Why is Navy Blue a long-term color trend for home interiors?
Navy blue is one color to specifically take note of as it continues to make its way into more and more home interiors. It continues to be a go-to color for nautical and coastal inspired decor, which is perhaps a nod to its longevity and why it persists in fashion and interior palettes year after year. 
One of the reasons this color will stand the test of time is that it works so well with popular neutral color schemes of gray, white, taupe, or beige. It can work well with traditional-inspired interiors, as well as transitional and modern styles.
The dark blue hues of Navy Blue offer a stunning contrast to timeless white painted cabinetry.
How to use Navy Blue in an interior design
Within all areas of the home, Navy Blue is beautiful as an accent or as the main color.  Hardware and metal finishes in either a nickel or a brushed brass finish look stunning with Navy Blue cabinetry and furnishings. Accordingly, on-trend brushed brass finishes are consistent with a nautical appeal.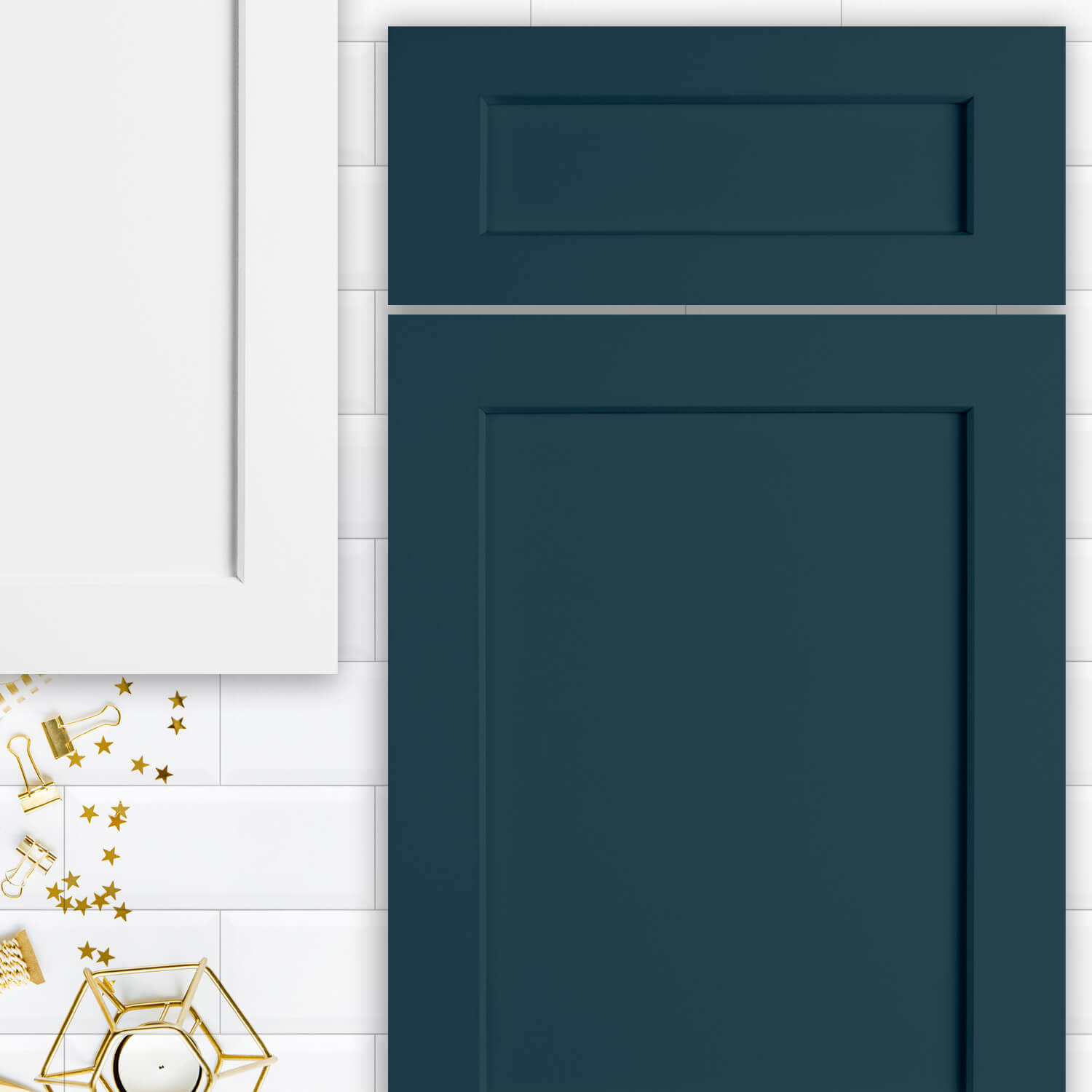 Paired with a white or gray paint, along with a medium true-brown stain like Dura Supreme's "Morel", "Toast" or "Cappuccino", Navy Blue is destined to be a popular theme in home interiors!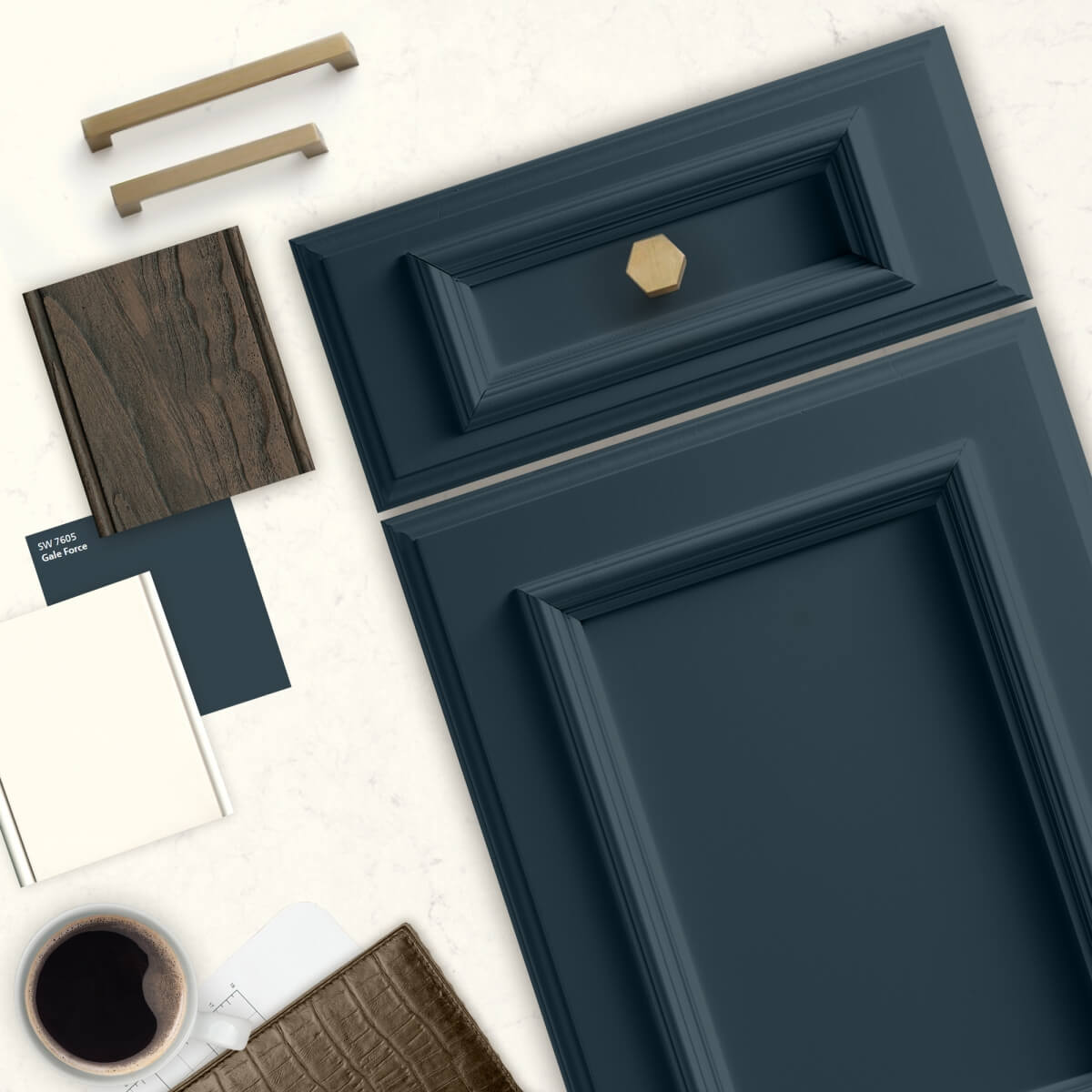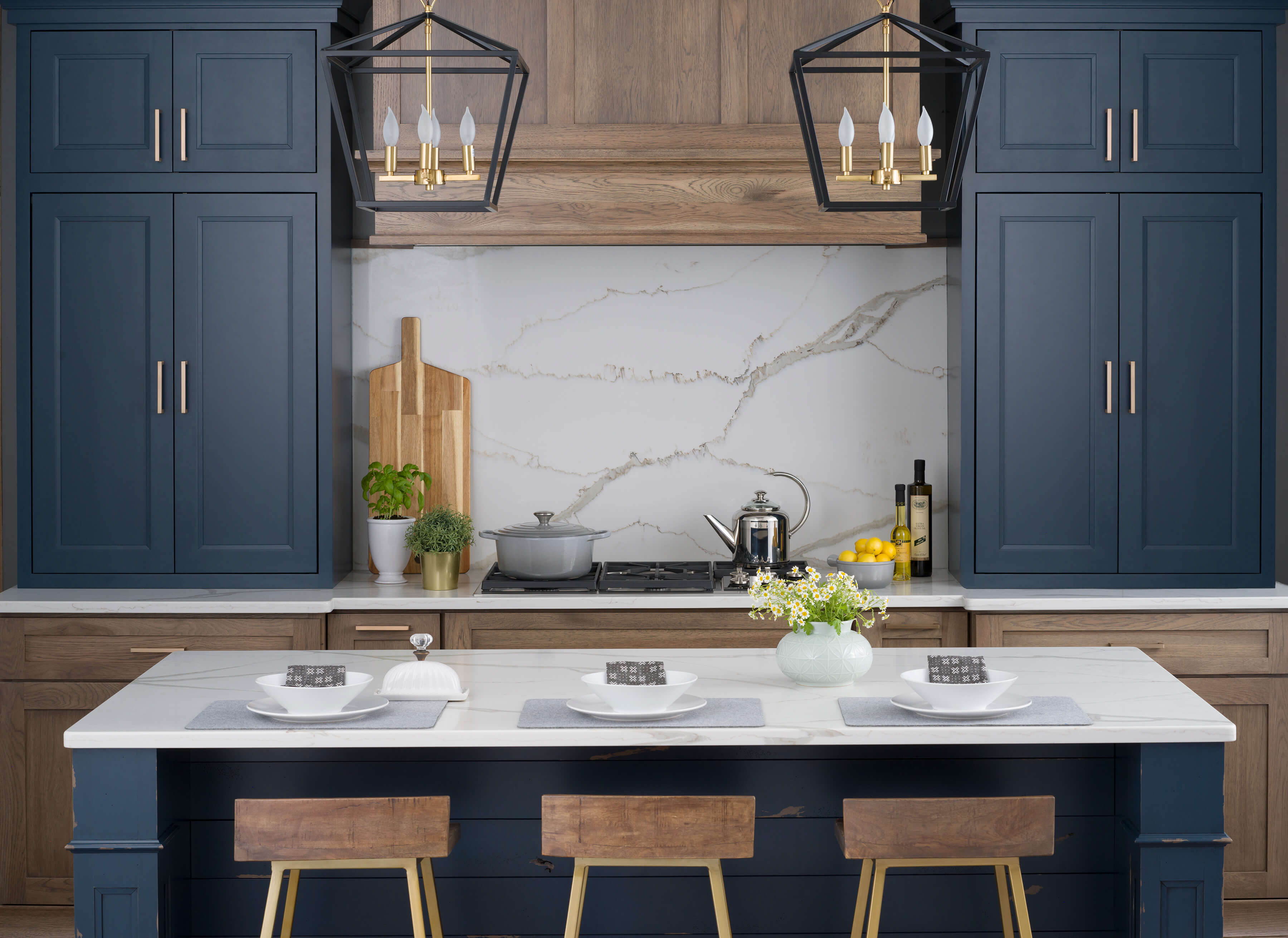 Within kitchen cabinetry, Navy Blue is most commonly used as an accent color within a small area of cabinetry (i.e. a hutch or an island), an accent wall color, or throughout the stoneware and decorative accents.
In this design below the designer accented the walk-in butler's pantry behind the main cooking area of the kitchen to call attention to the unique space.
This master bathroom pictured below contrasts the bright White vanities and black architectural details with a stormy  blue painted wall, adding to the nature vibes of this mountain retreat.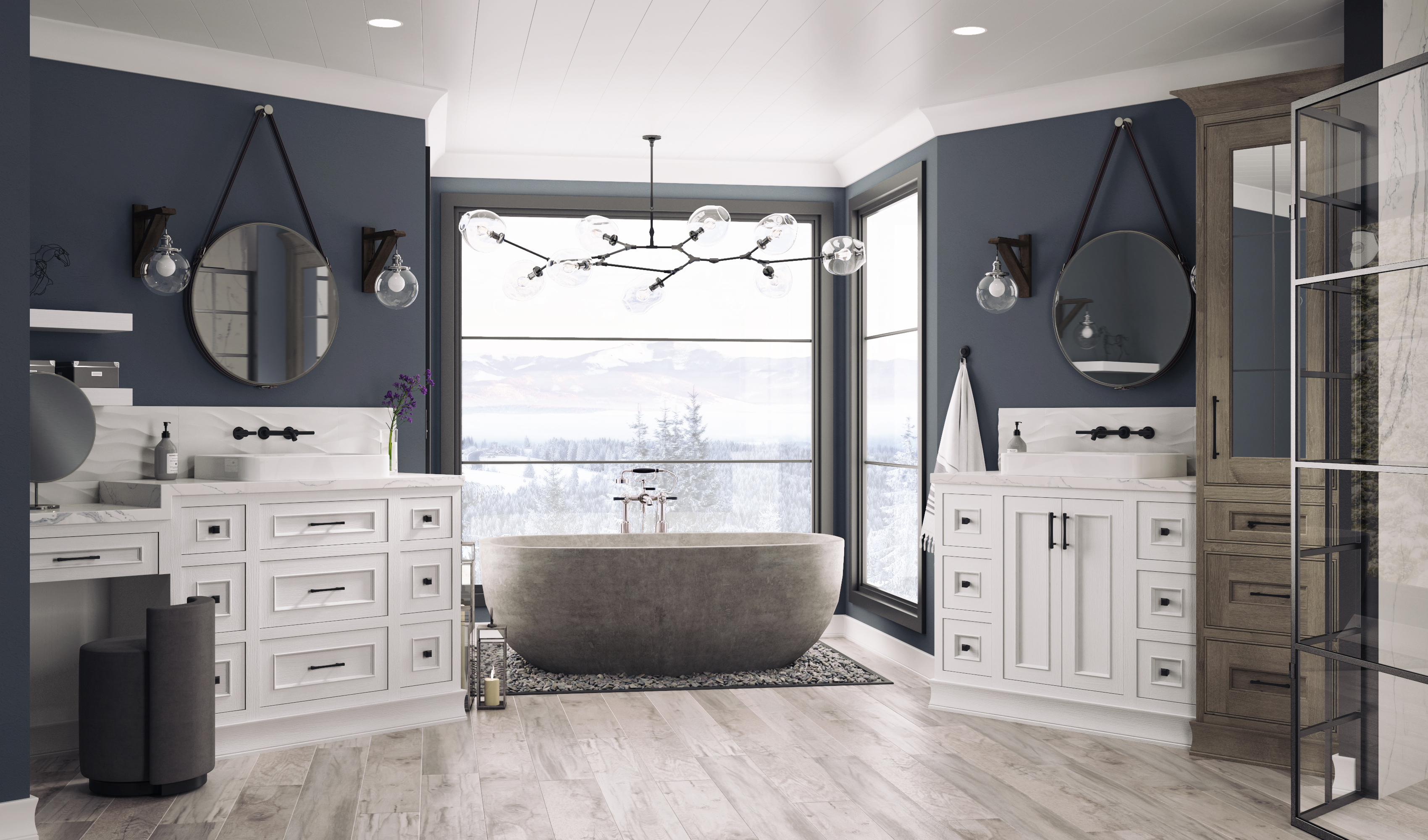 A nautical flair is emphasized in this kitchen with the shiplap wrapped peninsula in a deep dark blue painted finish.
The modern kitchen design below emphasizes this area of cabinetry with a row of base cabinets in Dura Supreme's "Navy" Matte Foil to emphasize this sophisticated breakfast station.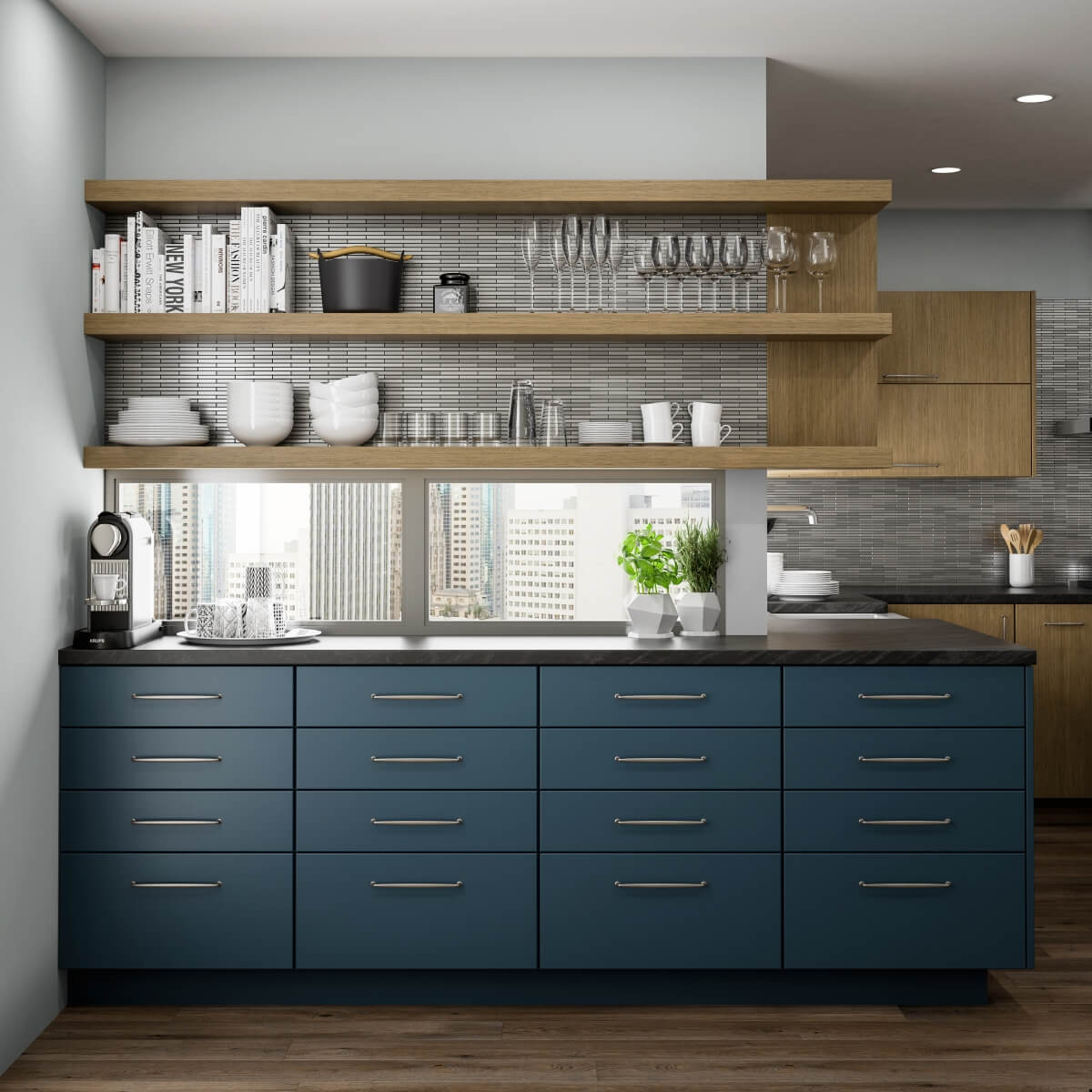 How will you use Navy Blue in your kitchen or bathroom design?