The open floor plan, where the kitchen and the main living area become one large space, continues to fill the need for the way the average family lives today. Gone are the closed-off kitchens and the formal living rooms used only on holidays or for entertaining special guests.
When you are planning the kitchen in your open space, consider what other architectural elements will be visible in addition to the cabinetry.  Often times in a great room living space there is a fireplace, and typically there is a mantel of some type.  The idea of having the kitchen cabinetry coordinating with the other architectural elements, such as a fireplace mantel, can bring a cohesive look to a large space.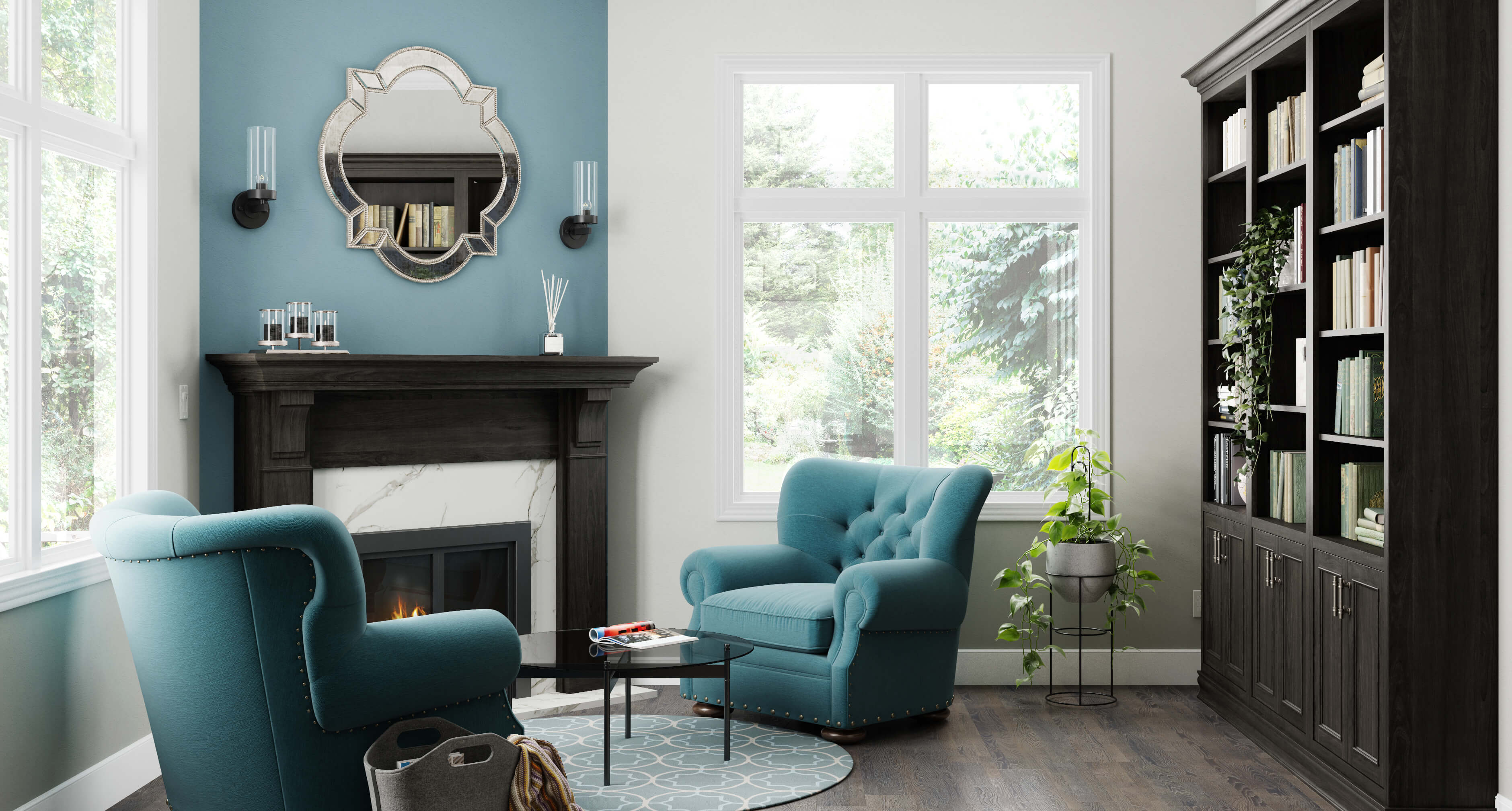 Dura Supreme offers two distinct fireplace mantel styles and stand-alone mantel shelves each with multiple styling options allowing the homeowner and designer to create a unique look that will coordinate beautifully with all of the other design elements in the room.  Mantels are available in all wood and finish combinations that are currently offered.  Items that can be customized include the width, height, and depth.  Styling options include a variety of molding choices, column and frieze styles, and corbels.
Carved corbels are the defining architectural element for this fireplace mantel from Dura Supreme.  With crisp white paint and a simple design, this mantel fits right in with its cottage surroundings.  Dura Supreme's fireplace mantels can be selected with a variety of woods and finishes to create a look that is just right for your home.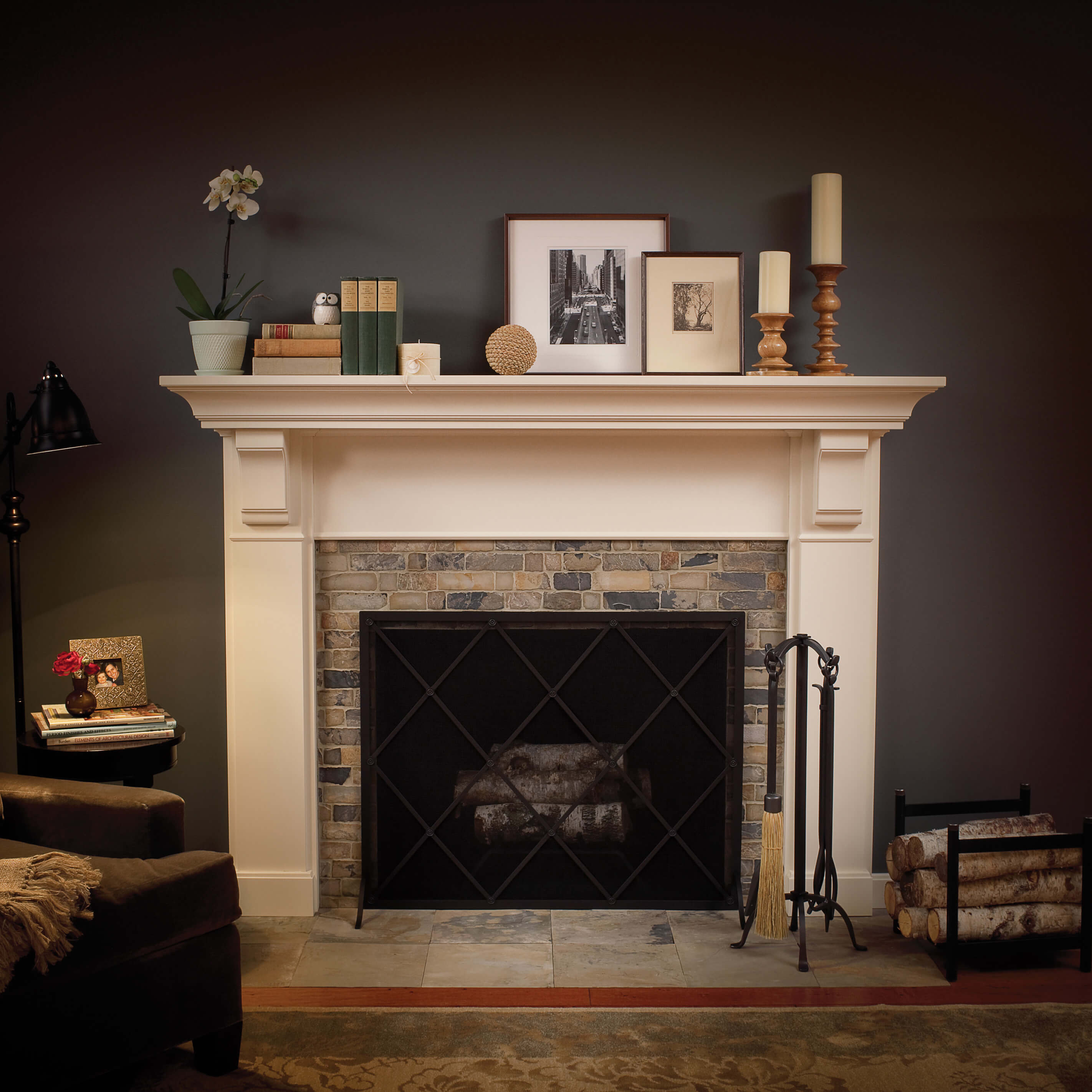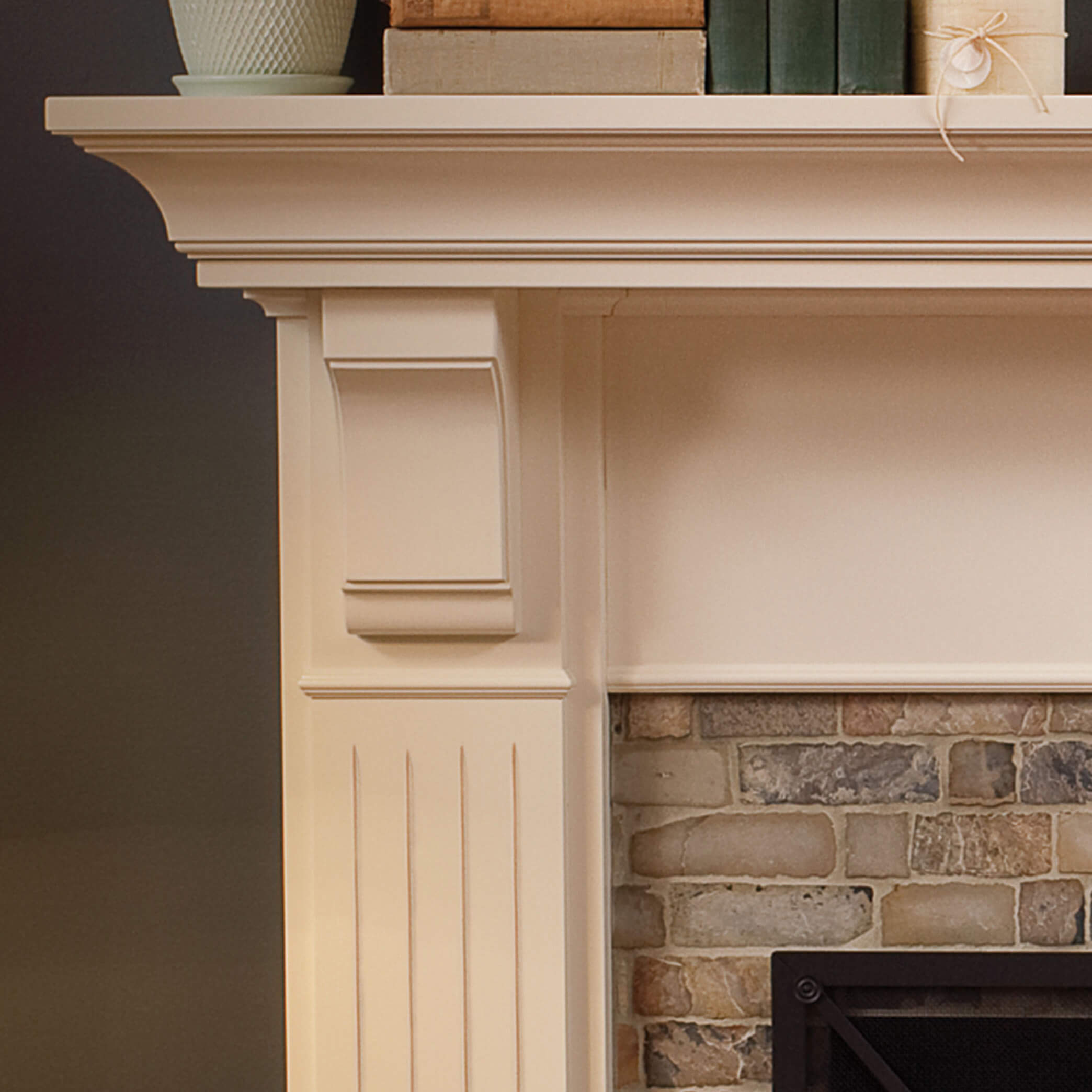 Who wouldn't want to spend time in this dreamy open concept home? This living room features Dura Supreme's Homestead Panel door style in "White" paint for the entertainment center and fireplace mantel.
Traditional Cherry hardwoods look rich and elegant framing a fireplace, especially when the styling and finish complement the cabinetry in the rest of the home.  For this fireplace mantel, "Transitional" styling was selected for the refined cove moldings used to create the mantel shelf.  Decorative panels selected for the columns blend perfectly with the cabinetry door style in the kitchen.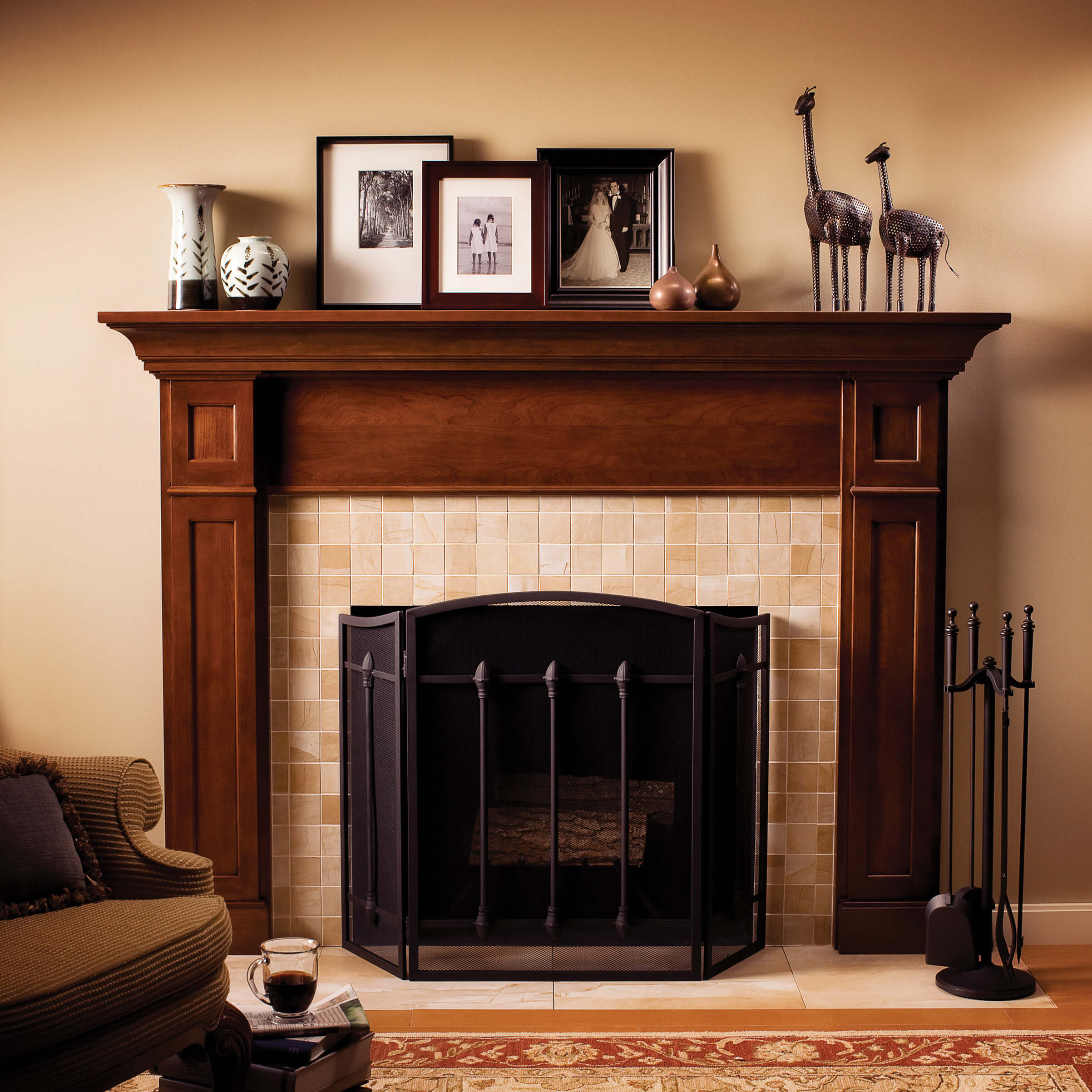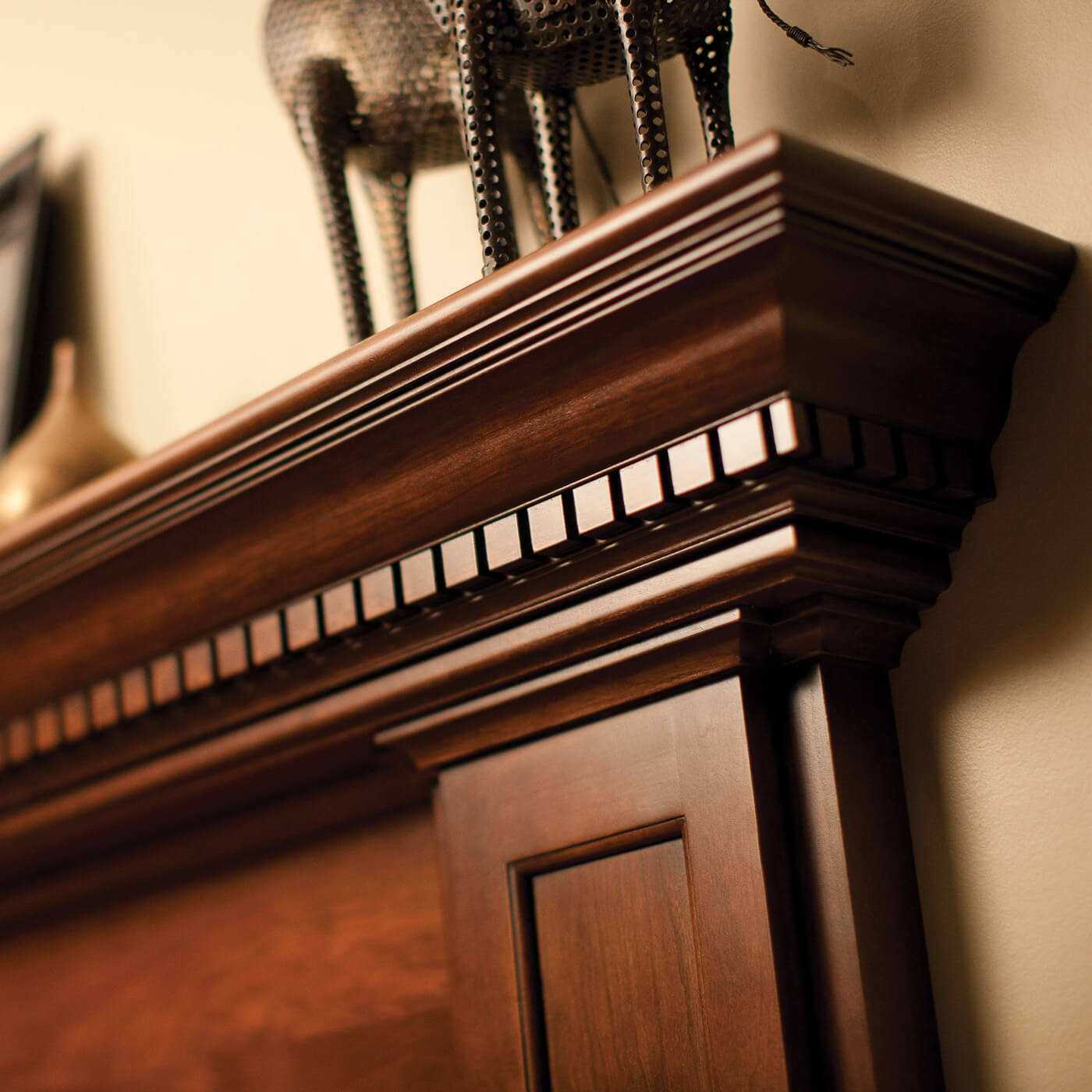 Stand-alone mantel shelves are great for creating a fireplace framed by stone or quartz, for smaller applications, and minimalistic designs.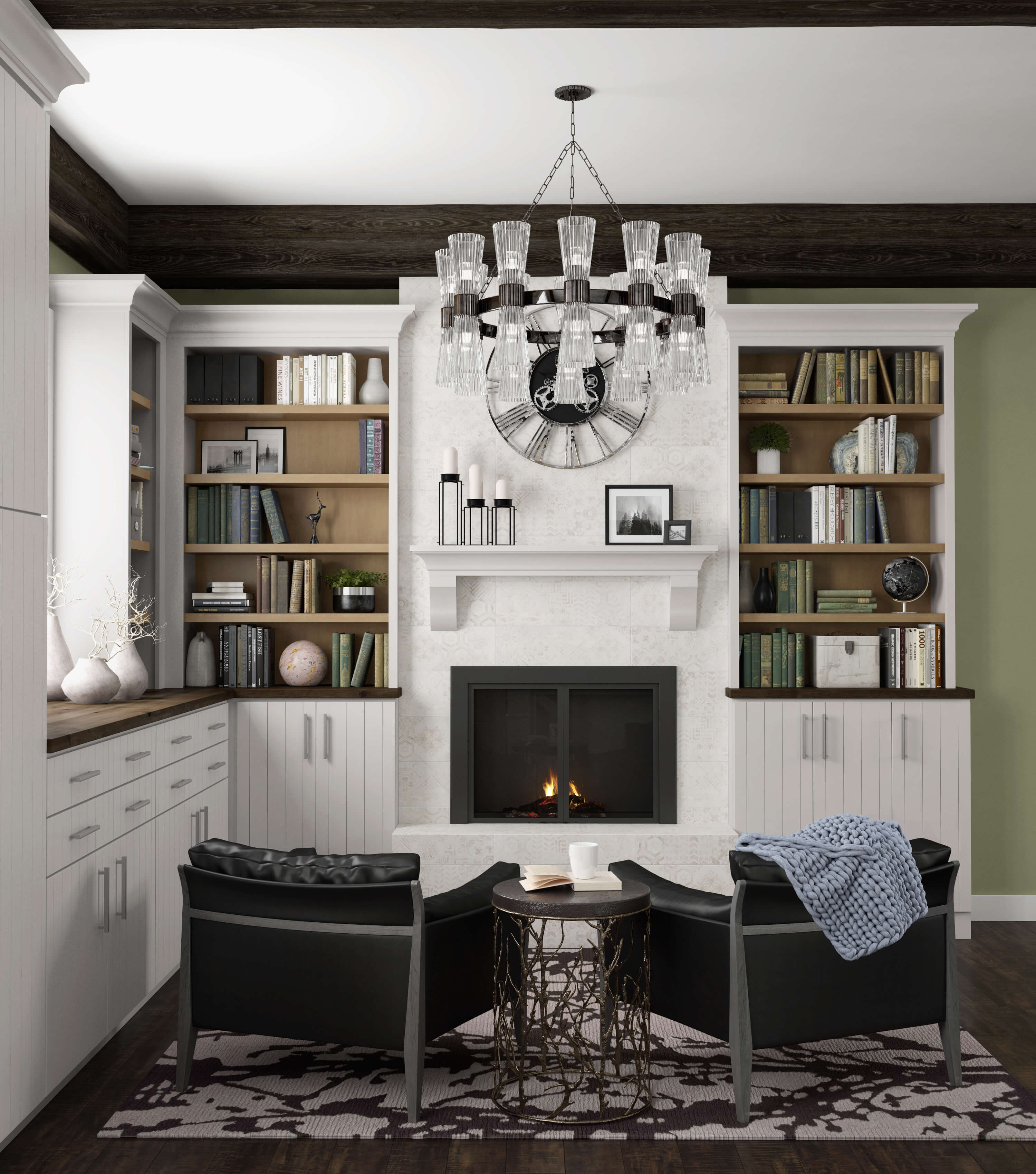 The two-toned cabinetry in this inviting Minnesota living room adds contrast and emphasizes the fireplace mantel. This living room features Dura Supreme's Fireplace Mantel "B" with decorative Columns "B", and Decorative Frieze "B" with Transitional styling in the "Classic White" paint.  
With so many possibilities, creating the perfect mantel to reflect your personal style has never been easier.