In my discussions with homeowners and other designers around the country, there has been a growing interest and I will go so far as to say demand for designing intentional spaces for pets in the home. While a comfortable resting spot or well-placed feeding station may seem like a borderline frivolous perk for a furry friend, there is actually a lot to be said for how these types of accommodations can make life easier for the humans in the house as well. Consider a feeding station… food and water bowls smartly tucked in the lower portion of the cabinetry with food storage, treats and other pet supplies organized nearby all in one area. The convenience of this, not to mention no longer potentially bumping the bowl while walking by is priceless. The bowls can also be set at a height that is ergonomically and digestively better for the animal. Countertop material can be used as a base surrounding the bowls to ensure everything looks as nice in 10 years as it looked on day one.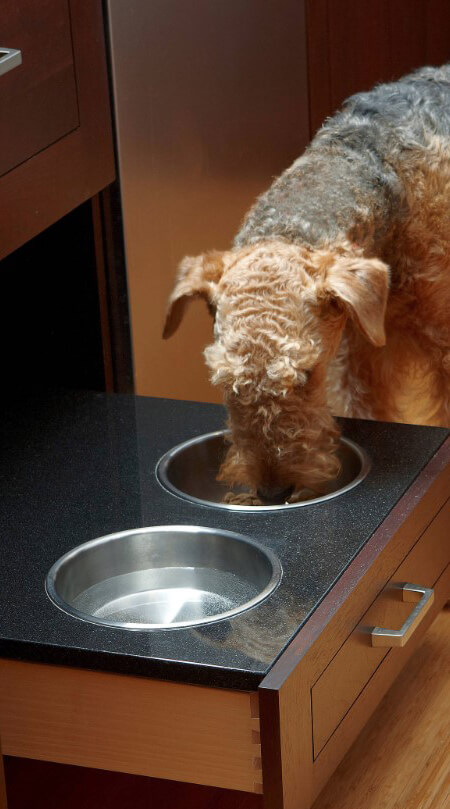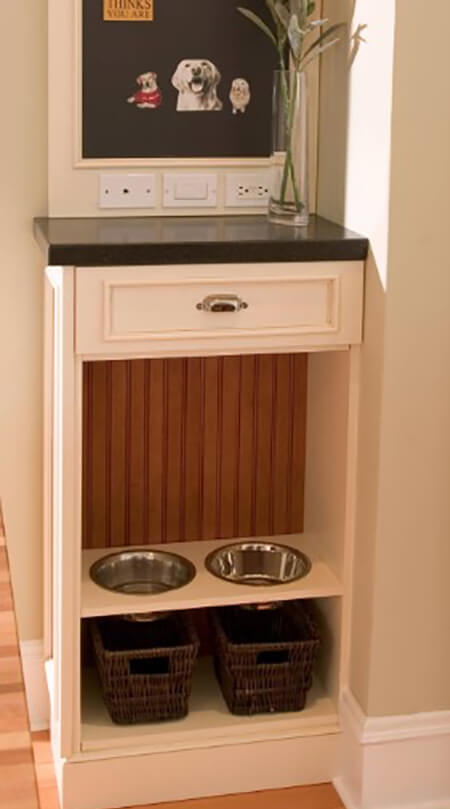 I love the stainless steel surround in the example below, and bulk food storage in the adjacent cabinet.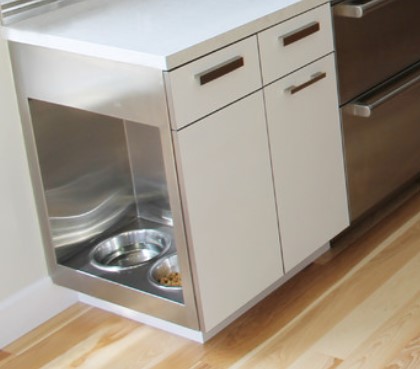 Below is a home with 2 dogs, two bowls for food and one for water, notice the thoughtful lighting tucked up above the bowls and the creative handle cut-outs, keeping leashes and snacks close.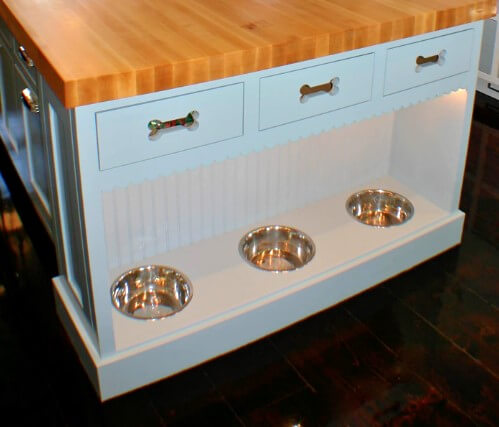 How many people use the laundry room or mudroom to contain their pets while away? Why not integrate pet space into these rooms? Not only will this make the space feel larger (no pet beds/toys taking up floor space), but it is safe, secure, and beautiful.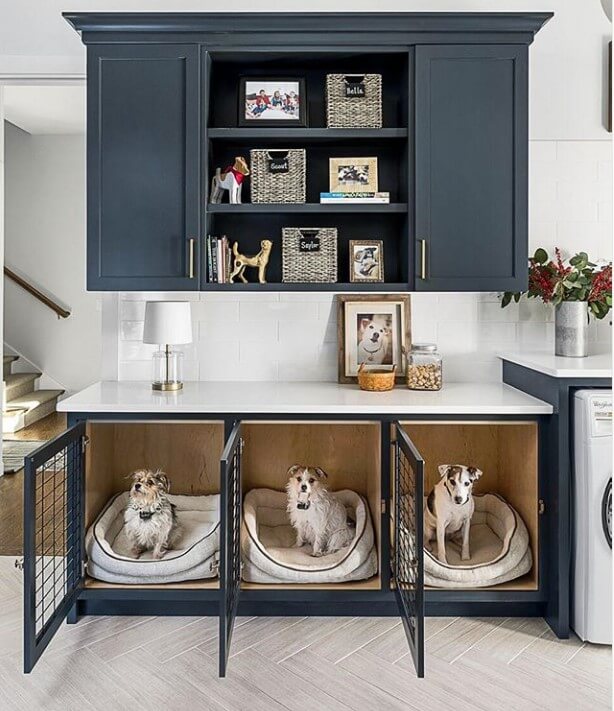 Notice the dog wash station below in addition to the bed.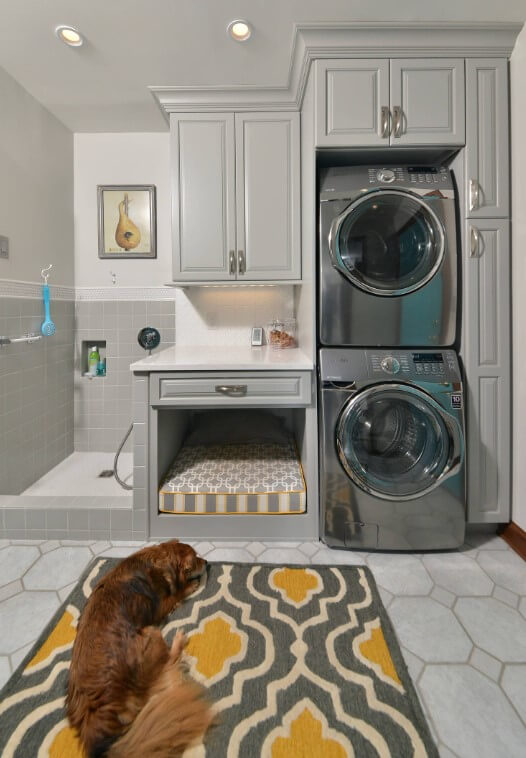 Many pets really just want to be near their 'pack', so maybe instead of having your dog lay on your feet while you prepare a meal (like mine do!), consider giving them a dedicated spot in the kitchen or nearby. Below, I love how they incorporated a decorative valance and repeated that arc in the paneling in the back of the bed. No sacrificing style here!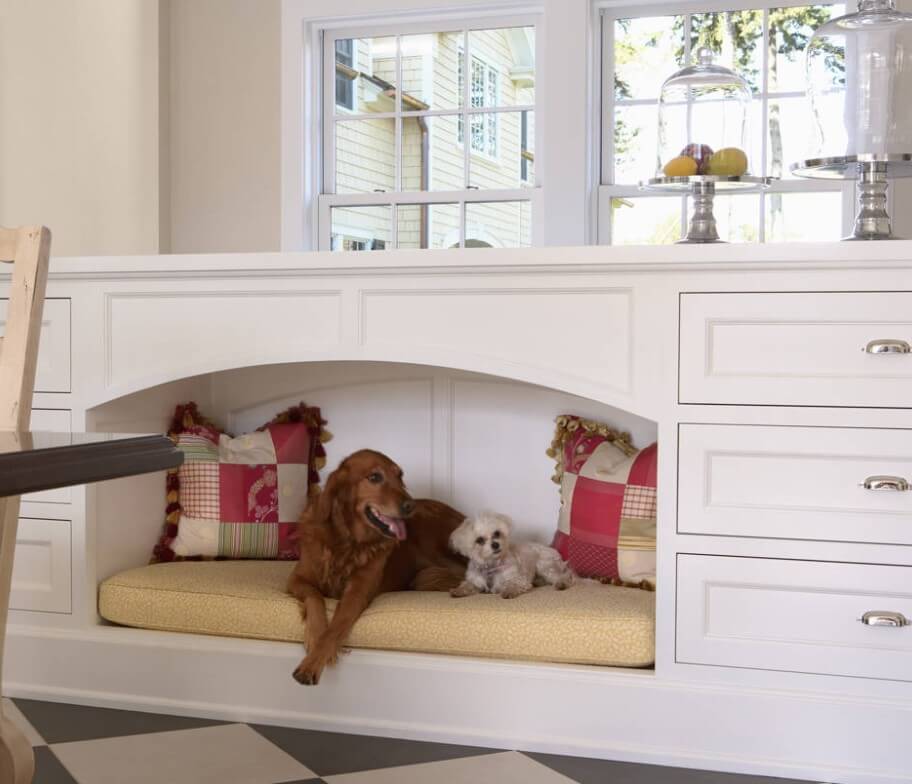 Even something as easy as repurposing the boot space below tall storage or lockers can be beautiful and functional as seen below.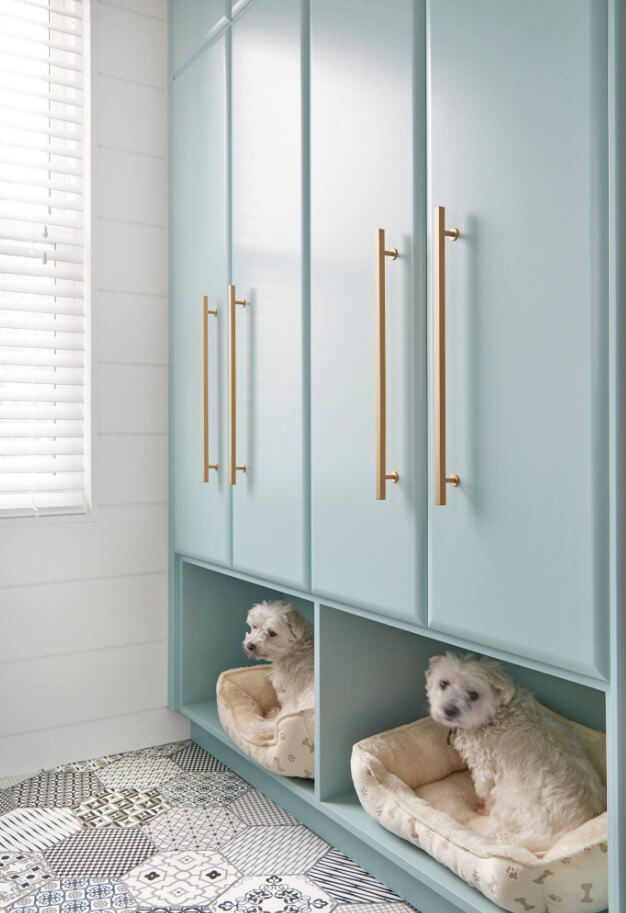 Or, the often unused wealth of space under the stairs can be easily turned into a pet studio apartment! Notice how the designer matched the balusters in the staircase to those on the gate.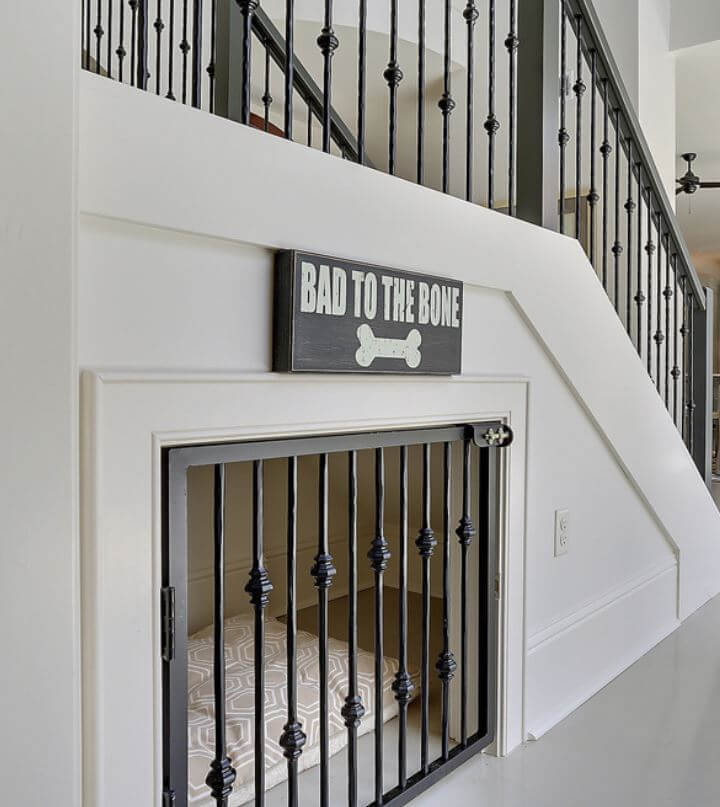 So many of these ideas for our furry friends are fairly easy, they just require a little forethought. Another bonus, if you look through these ideas, they would be easily convertible to a bookshelf or more storage, should a future homeowner not have a pet. A lot of pet areas begin with a door-less cabinet and go from there regarding modifications, it really isn't all that difficult to design. This can happen in the mudroom near lockers, in a bedroom built-in, a kitchen island, or a laundry room.
Incorporating pet spaces into your cabinetry designs not only gives pets the comfort and proximity they love, but it also improves the owner's quality of life from a functional/organizational standpoint and in the love of having our fur-babies nearby. Think about how often pet feeding stations, beds, kennels, supplies, leashes, and litter boxes are used every day (a lot!).  It seems silly to not design for that, as we design around things that are used with less frequency all the time.
So go on- design for your pet! They are members of your family too!