Like classic black and white photography, interior design that utilizes a black and white color scheme (or its slight variation of gray and white) will always be an iconic look. Dark shades of gray will continue to be a popular look in home interiors for years to come because they are a shade off from black and are considered a softer, subtler look.
Let's explore some beautiful examples of kitchens and baths with classic gray and white color palettes using Dura Supreme Cabinetry.
Classic Gray and White Painted Kitchen Cabinetry
This beautiful historic home was remodeled with our Hudson Panel door style in "Linen White" paint (for upper cabinets) and a Personal Paint Match to Sherwin Williams "Sensuous Gray" (for the base cabinets). This renovation adds a modernized look while still reflecting the historic style of the building.
"Storm Gray" is one of our darkest gray paint colors (our "Graphite" paint is a charcoal gray that is almost black). For those that like the popular contrast between light and dark finishes, "Storm Gray" pairs beautifully with lighter paint finishes. This kitchen below fully embraces the "Storm Gray" paint color throughout the entire kitchen. The overall design is brightened with white subway tile, white trim, white farmhouse sink and white countertops. For the adjoining garage entry, white painted cabinetry was selected adding contrast to the dark gray cabinets.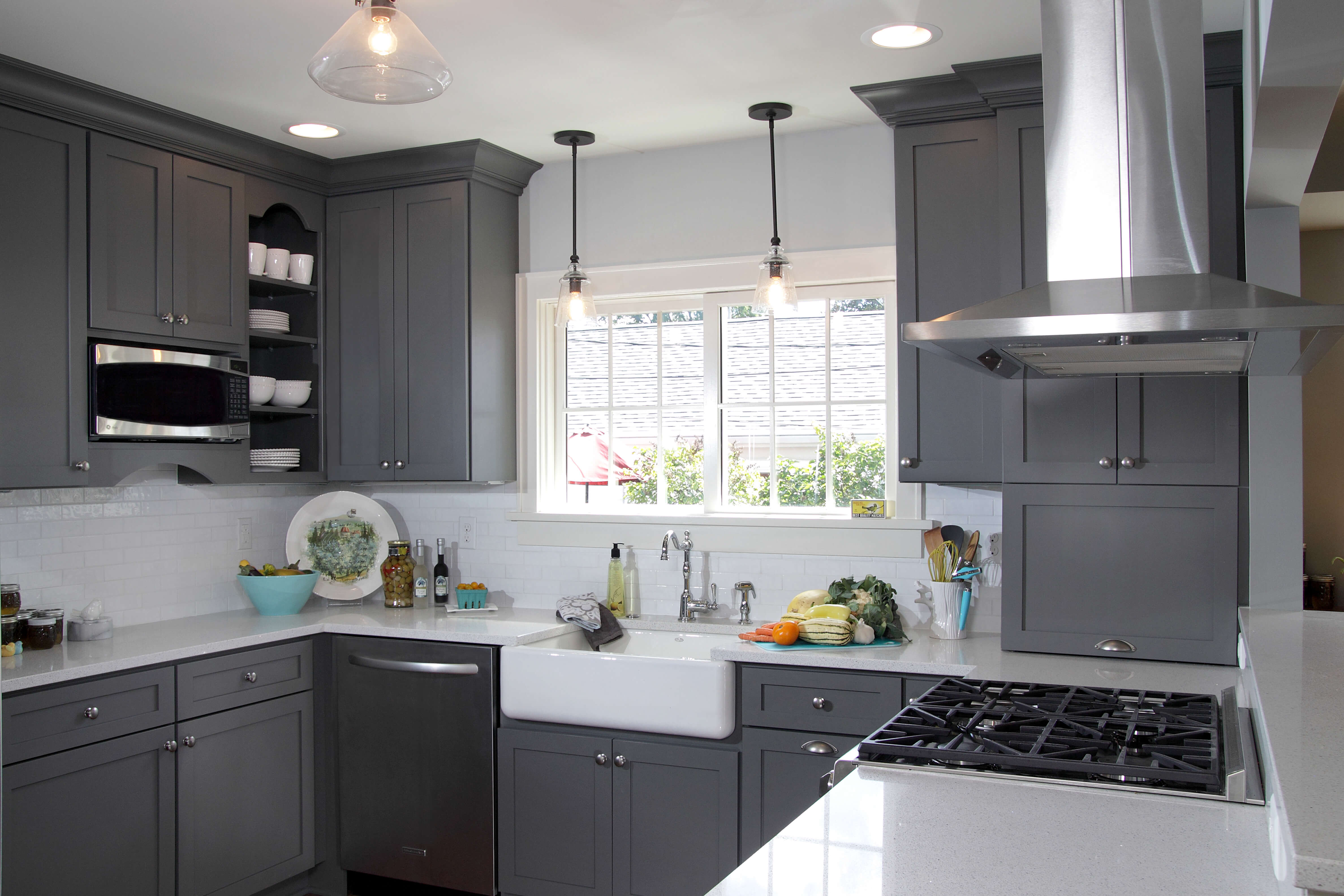 To create the iconic color scheme in the bathroom below, the designer combined "Silver Mist" painted cabinets with white and light gray tiles, and finishes. Again, a classic mix of gray and white that looks stunning together!
The kitchen below is designed with our "Zinc" gray paint finish as an accent on the kitchen island and the adjoining butler's pantry paired with our "Classic White" painted finish for the perimeter. Many designers will mix the two colors together within the same space, but this color combination is equally appealing when used in adjoining spaces to accent each other.
Timeless Gray Stained and White Painted Cabinets
Gray cabinetry doesn't necessarily have to be a painted finish. Dura Supreme Cabinetry offers a large array of gray stains and gray-hued contemporary finishes.
This kitchen has such a strong grayscale color palette, that the photo almost looks like a black and white photograph… but it's actually full color photo! The modern kitchen gets its look by combining Dura Supreme's "Sterling Ash" textured laminate cabinetry with "Black" and "White" painted accent cabinets. 
This kitchen features one of my favorite gray stained finishes, "Shell Gray", shown here on the rustic Knotty Alder kitchen island. The gray island cabinetry adds a dramatic, cozy look to the space and beautifully contrasts the "White" painted cabinets.
Will you choose a Gray and White color palette for your interior design?