For hundreds if not thousands of years, mankind has been altering their environment to cure sicknesses and improve health. Architecture, infrastructure, and interiors have been re-imagined while entire cities have been redesigned as humanity battled the plague, cholera, typhoid, tuberculosis, etc. Minimizing the risk of infectious diseases has informed not only the types of spaces we create but how we interact with those spaces, whether it be self-quarantining, bathing, or cooking, to name a few.
4In our global society, the spread of something- whether it be a germ, an idea, or a style- can occur very rapidly with a transcontinental flight or the click of a mouse. Because of this, with respect to germs, the most effective means of defense is quarantine. Geoff Manaugh, and his wife Nicola Twilley, are currently writing a book about quarantine, due out in spring 2021, where they explore the idea addressing that "We have to return to this kind of medieval spatial response to disease control, which means that architecture and urban design suddenly become medical. There's something totally fascinating about that—that we can use the built environment as a way to control epidemic spread."
Some of these environmental design elements are obvious such as indoor plumbing and modern sanitation. In the photo below we see what life was like in the tenements of NYC with no indoor plumbing. As you can imagine this was not conducive to stemming the spread of the diseases of the day.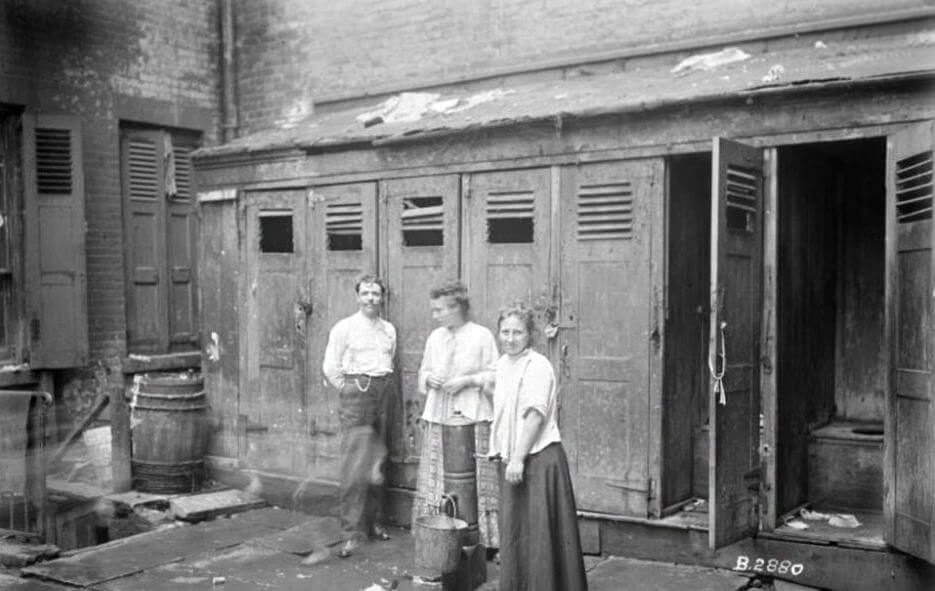 However, some home design improvements are not so easily recognized as stemming from epidemics. Let's look at a few examples.
Check out this Victorian-era bathroom from the late 1800s. Notice the wood walls, carpeted floor (with a rug too!), and the multiple upholstered furnishings.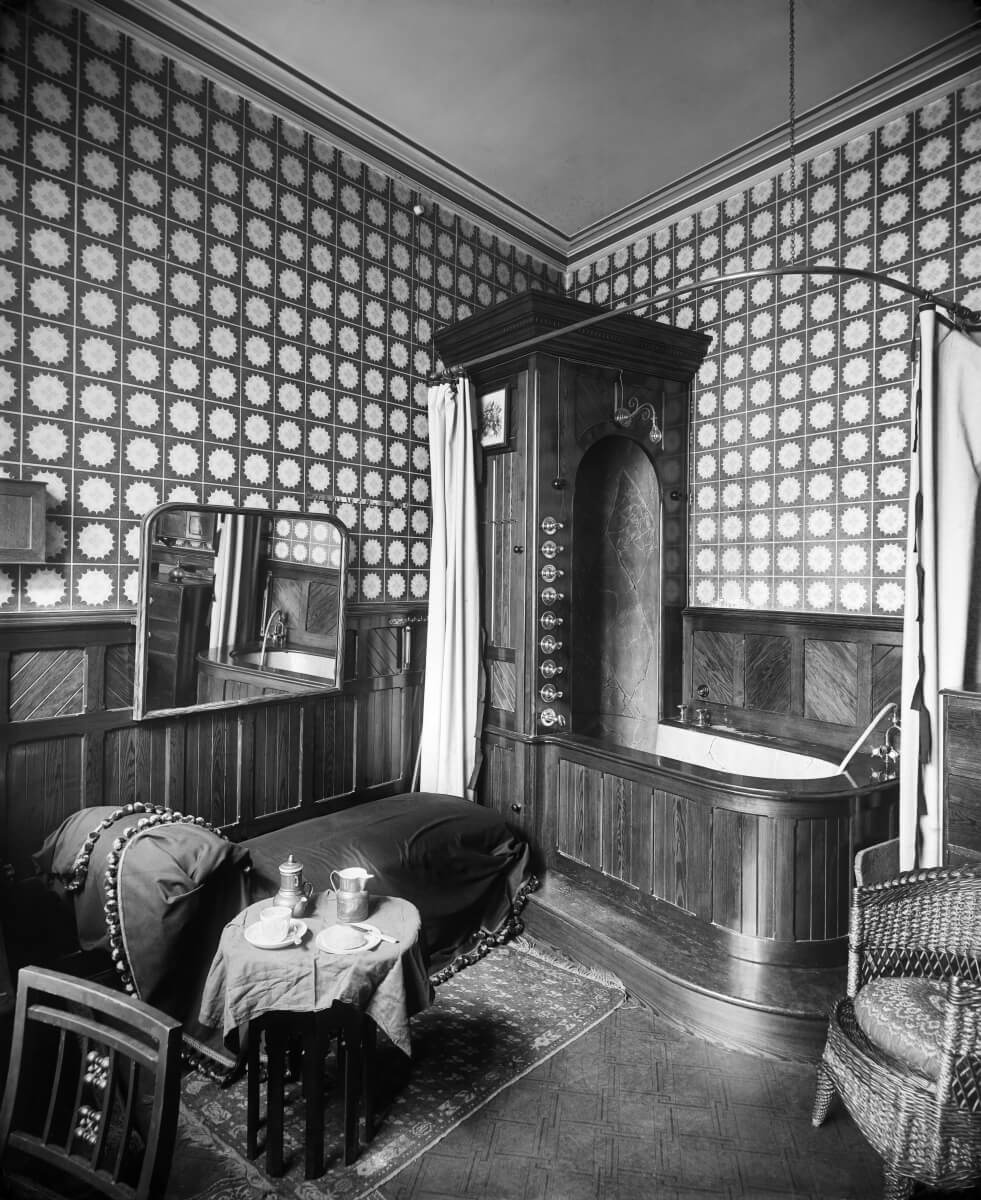 Before the 1880s, bathrooms were decorated similarly to other rooms in affluent homes. Removing those items became popular during the Sanitary Reform Movement in the late 1800s and early 1900s when citizens were urged to opt for items that would not collect dust, which was believed to harbor disease-carrying microorganisms. Wood and carpeting were soon replaced with porcelain, tile, and linoleum. These surfaces soon became highly sought-after in areas of cooking, laundry, bathrooms, and health care. Hospitals, in particular, opted for white subway tile in order to be able to quickly spot any dirt and wipe it clean with ease. White subway tiles have been a part of our collective consciousness for a long time, carrying the connotation of cleanliness.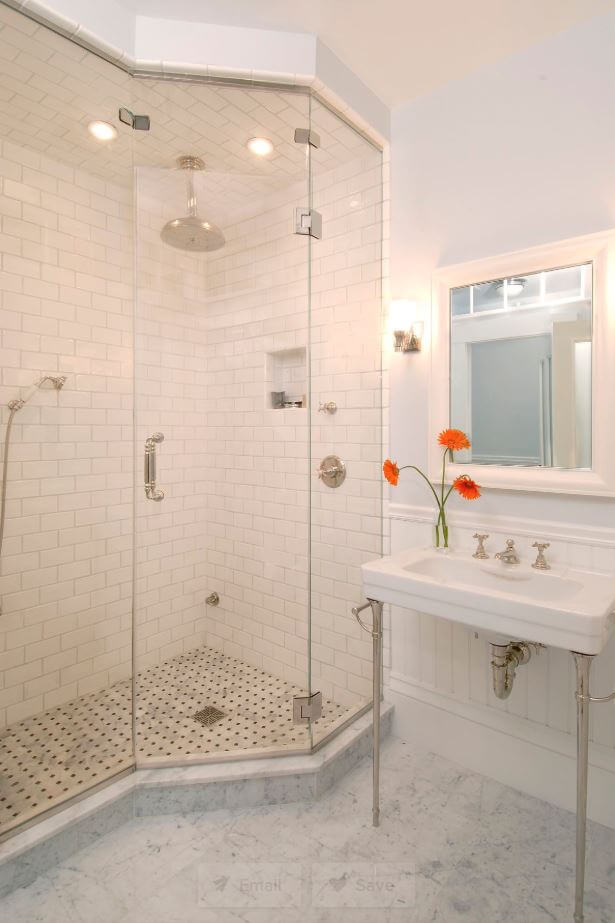 We have also seen an evolution of the subway tile into a more dimensional tile, sometimes mottled, sometimes more reflective, but the general shape and install pattern have stood the test of time.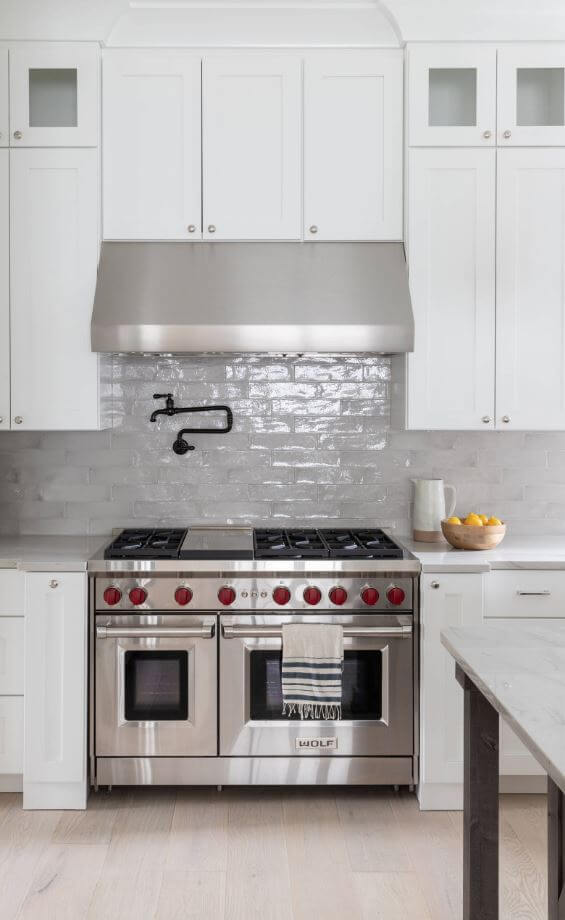 Before refrigeration, most homes had lots of deliveries to their house- ice, milk, etc. Almost daily at least one delivery person would traipse through the home and usually go through the kitchen after having been in many other people's homes that day (including homes where there may be contagious sick people). So imagine the delivery person comes through your kitchen and then asks to use the bathroom. This is where the half-bath came of age.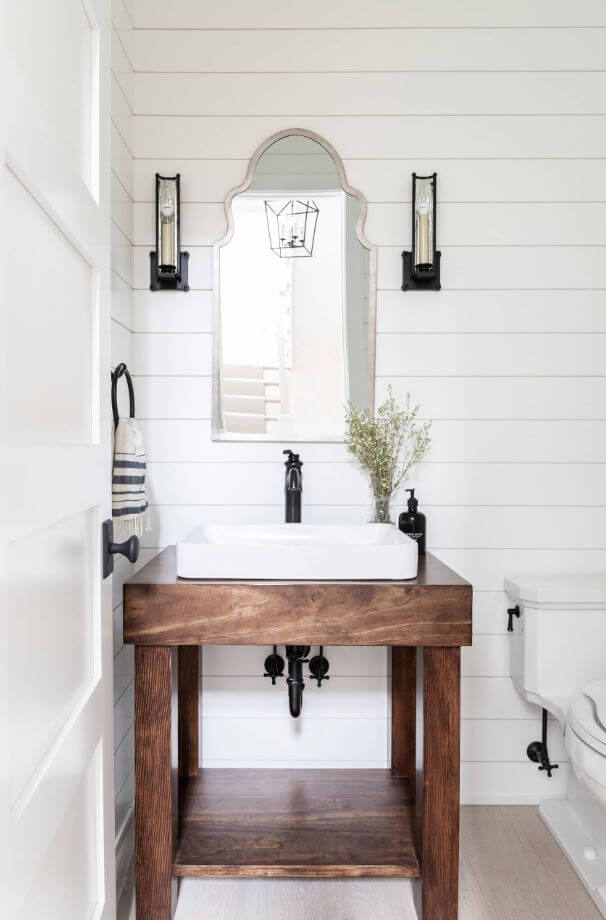 People did not want visitors to use their family bathroom, hence the rise of the powder room. Having an accessible sink on the ground floor of homes made it convenient for people to wash their hands, which was, at the time, starting to be linked to health and hygiene.
In the years before antibiotics, fresh air and sunshine were believed to be the cure for tuberculosis. Afflicted people would flock to mountainside and seaside sanatoriums and to the Southwest and rest outside in 'cure porches'.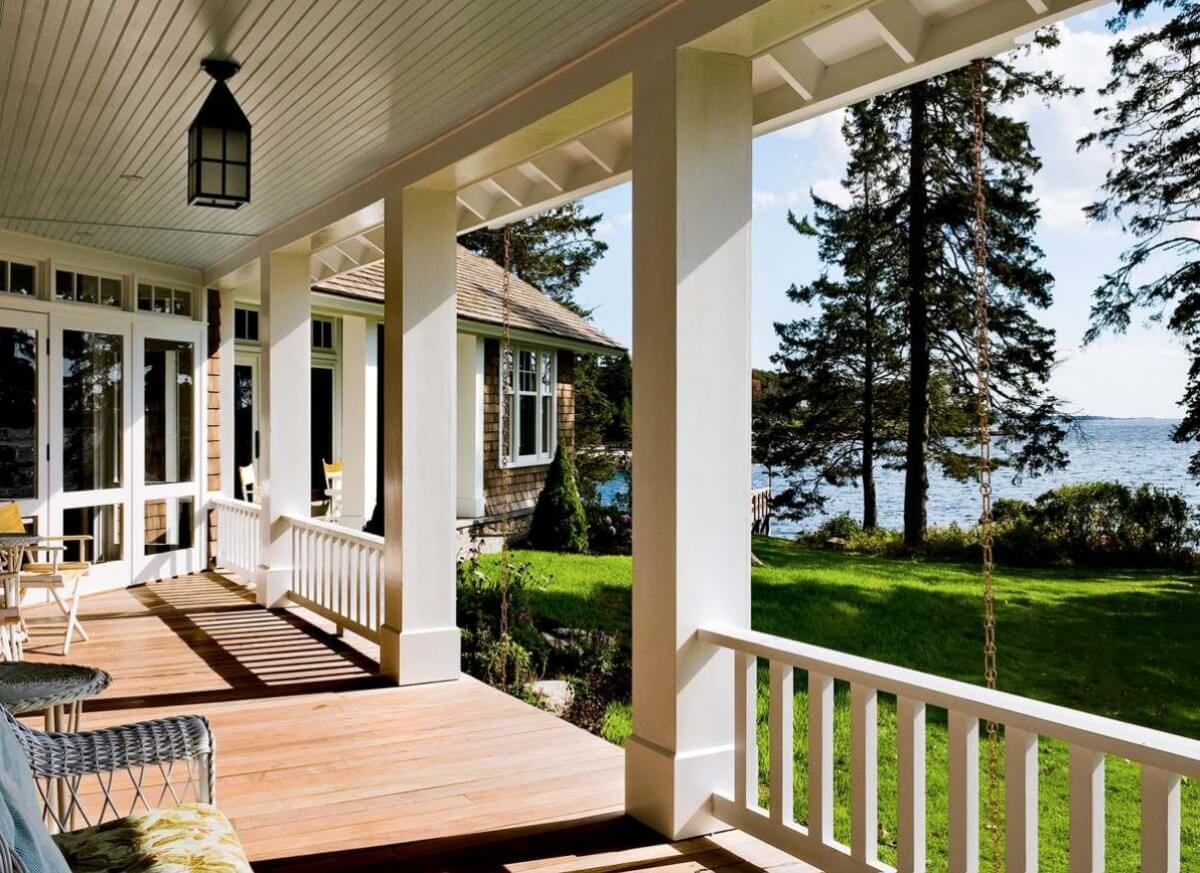 These were basically screened-in porches, usually off the back of the house, also called 'sleeping porches'. These have evolved into 'Arizona rooms' and the three and four-season porches of today.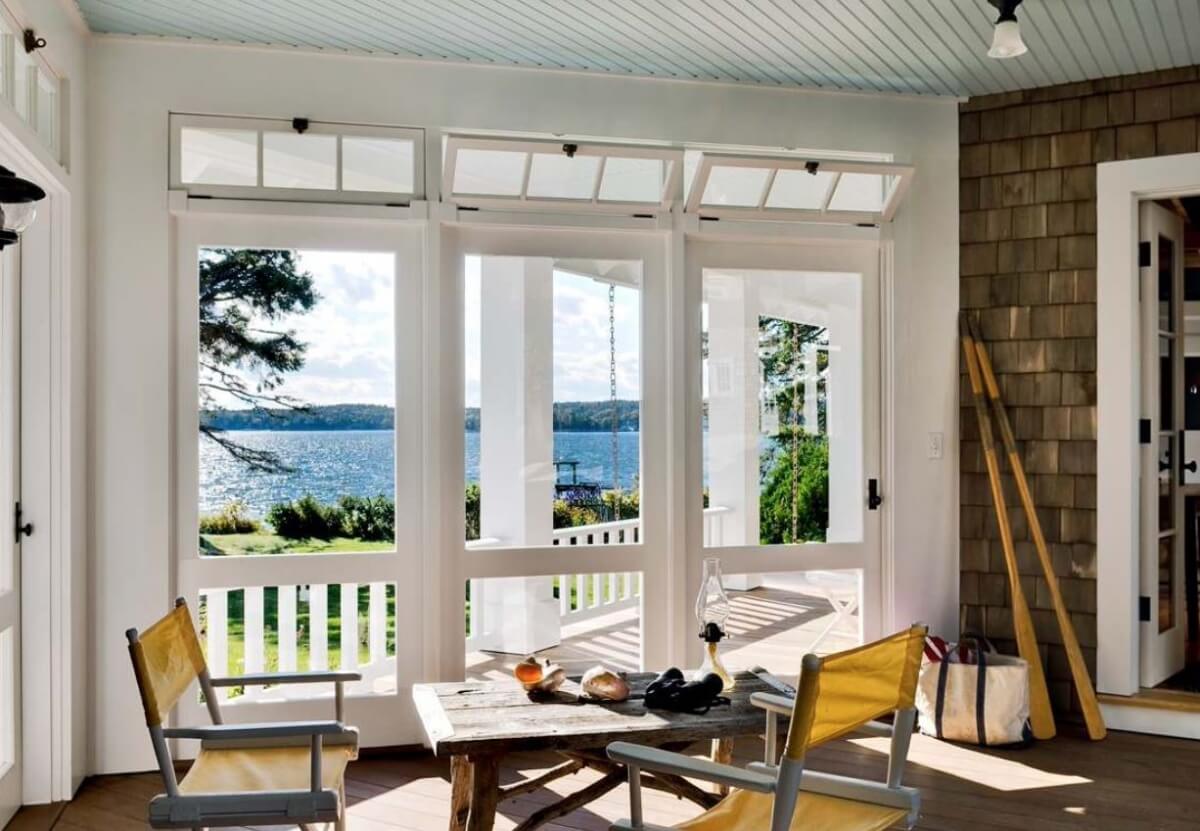 This concept that fresh air was akin to medicine also fueled the push for the construction of Central Park in New York City, where Frederick Law Olmsted, renowned landscape architect, lobbied that Central Park would act as the lungs of the city.
We can attribute the rise of powder rooms, subway tile, 3 season porches, floor tile, and linoleum to past advances against disease. As society learned more about the spread of pathogens and how best to curb the spread, design evolved to meet new social norms, scientific discoveries in medicine, and behavioral trends.
When the COVID19 pandemic is in our rearview mirror, what design trends will emerge? I can see there is a more defined transition between the outside world and the inside of a home. More than ever before, due to news and information so readily available in this digital age, the average person is acutely aware of protective equipment, the need for handwashing, how germs spread locally/globally, and how they transmit person to person. Maybe we will see an uptick in small hand washing sinks or sanitizing areas near the entrance to a home. Cleanliness will be elevated in society, provide peace of mind, and will be prioritized in-home design.
In this photo below, look closely and notice the transitional/hand-washing area off the entrance to the kitchen towards the back. A powder room is just next to that area, out of sight.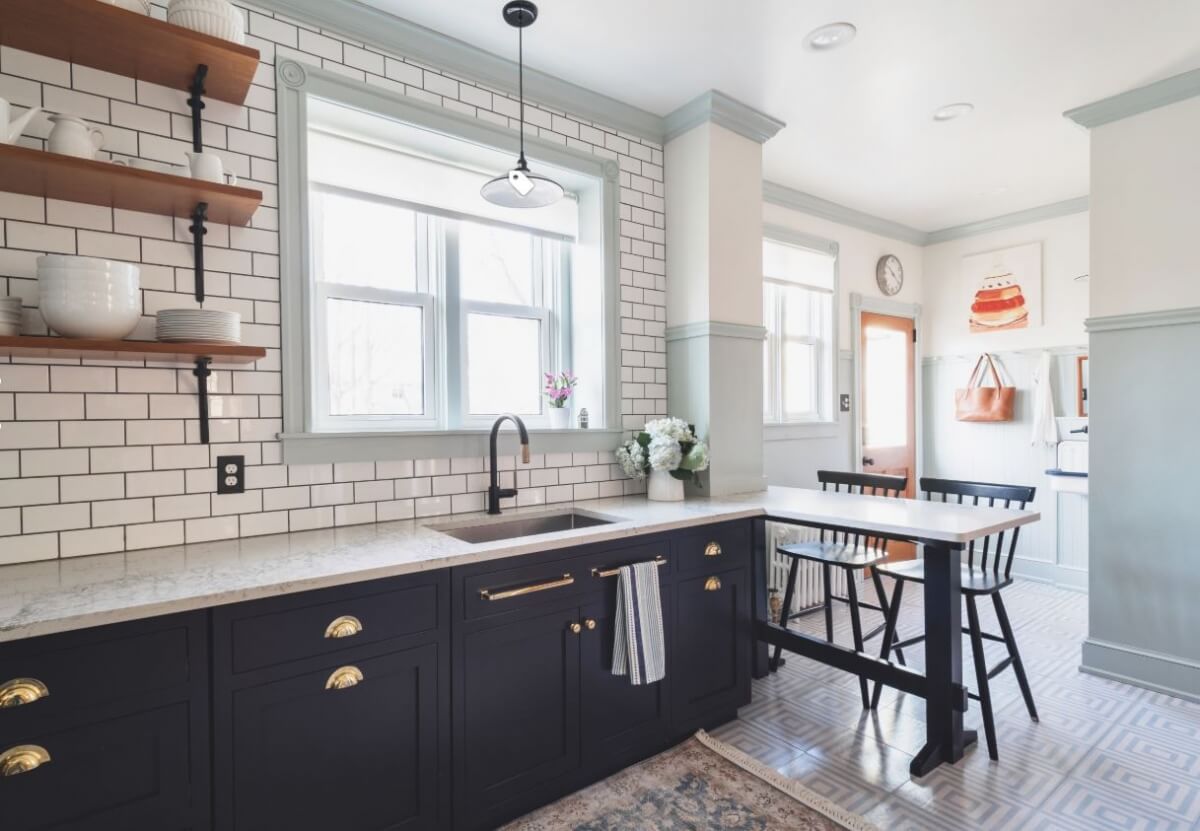 Here is a close-up view of this transition area with sink: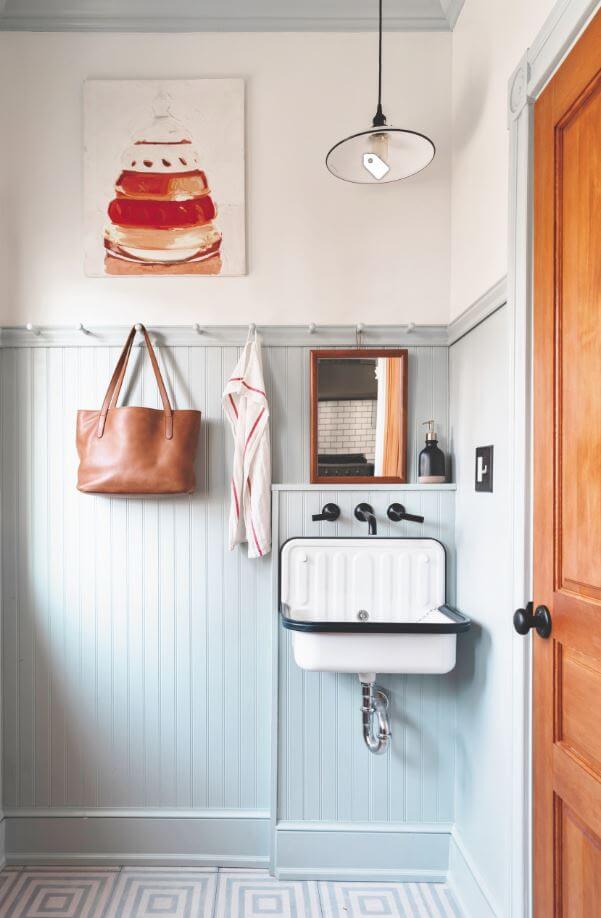 My last prediction- I think we as designers will see an explosion of requests for work-from-home design space solutions. There has always been the office/study/den, but with the millions of people now working from home, many companies may find that it actually is preferable for their business model to have a lighter physical office space footprint. If productivity is good, and people are feeling a healthier home-work balance, there could be a proliferation of work-from-home positions. There may be many workers who will need to carve out a workspace within the existing footprint of their house, and they will be looking for creative solutions from us designers.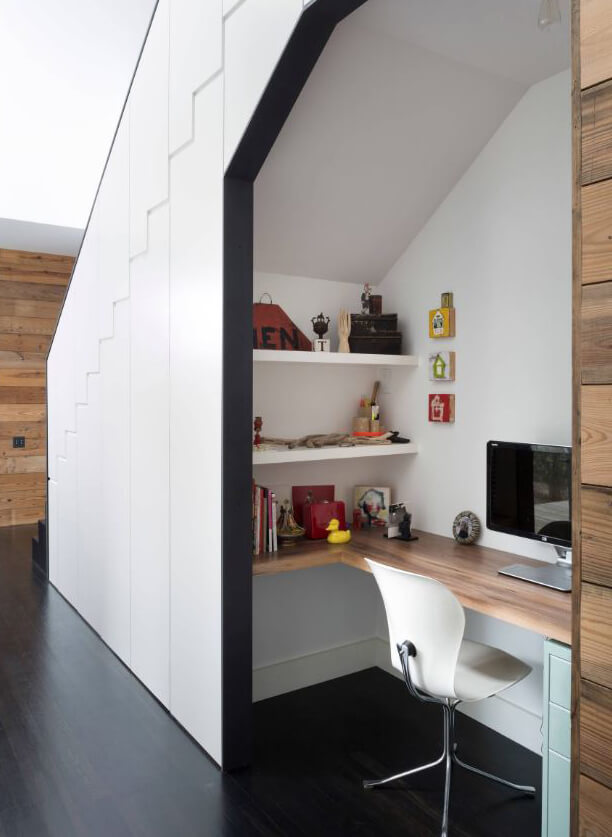 This is a great solution for finding existing space and re-purposing it. Not every work-from-home client can afford an addition to their home. Below is another example of a creative workspace solution carving out space in a multi-purpose room.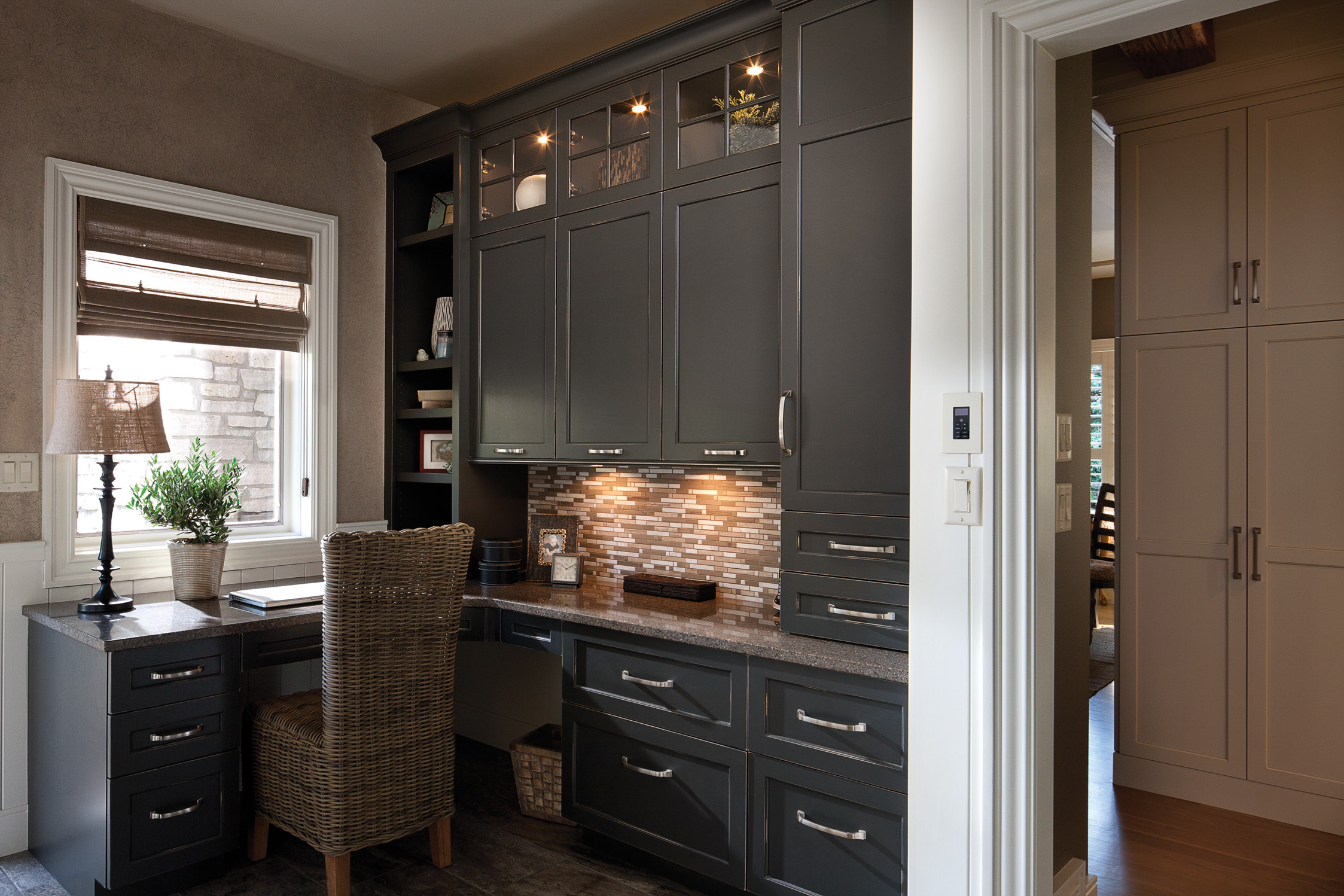 With all the uncertainty in the world right now, one thing is sure- we will emerge from this with a better understanding of humanity, and with that, a better understanding of how to create healthier environments, well adapted to our future 'new normal'. Oh, and we will make sure they are beautiful, too.