As we continue our series about our different wood species, up next is another rustic wood that we offer; Hickory. Dura Supreme Cabinetry offers both clear and rustic hickory, which shows knots and color variations one would expect to see in a cozy log cabin.
Hickory is a dense hardwood chosen for its dramatic, rustic appearance and is known for its color variations as well as its knots, burls, mineral streaks, and pitch pockets. Knots and character marks will be completely random and will be prevalent in all shapes and sizes, both open and closed. (Large open knots will be "filled" so that they do not allow light to show through.) The appeal of Rustic Hickory is the prevalence and variety of "character" marks including color variation and knots. Hickory will have dramatic colors that can range from creamy white to dark brown/black within the same panel. This color variation is characteristic of the species and is completely random.
Hickory does not offer as many stain selections as Alder due to its density, however, we have created a few finishes that work well in today's design trends and into the future. A natural finish will display all the glorious variations you will find in Hickory, while a darker stain will help to even out the tones.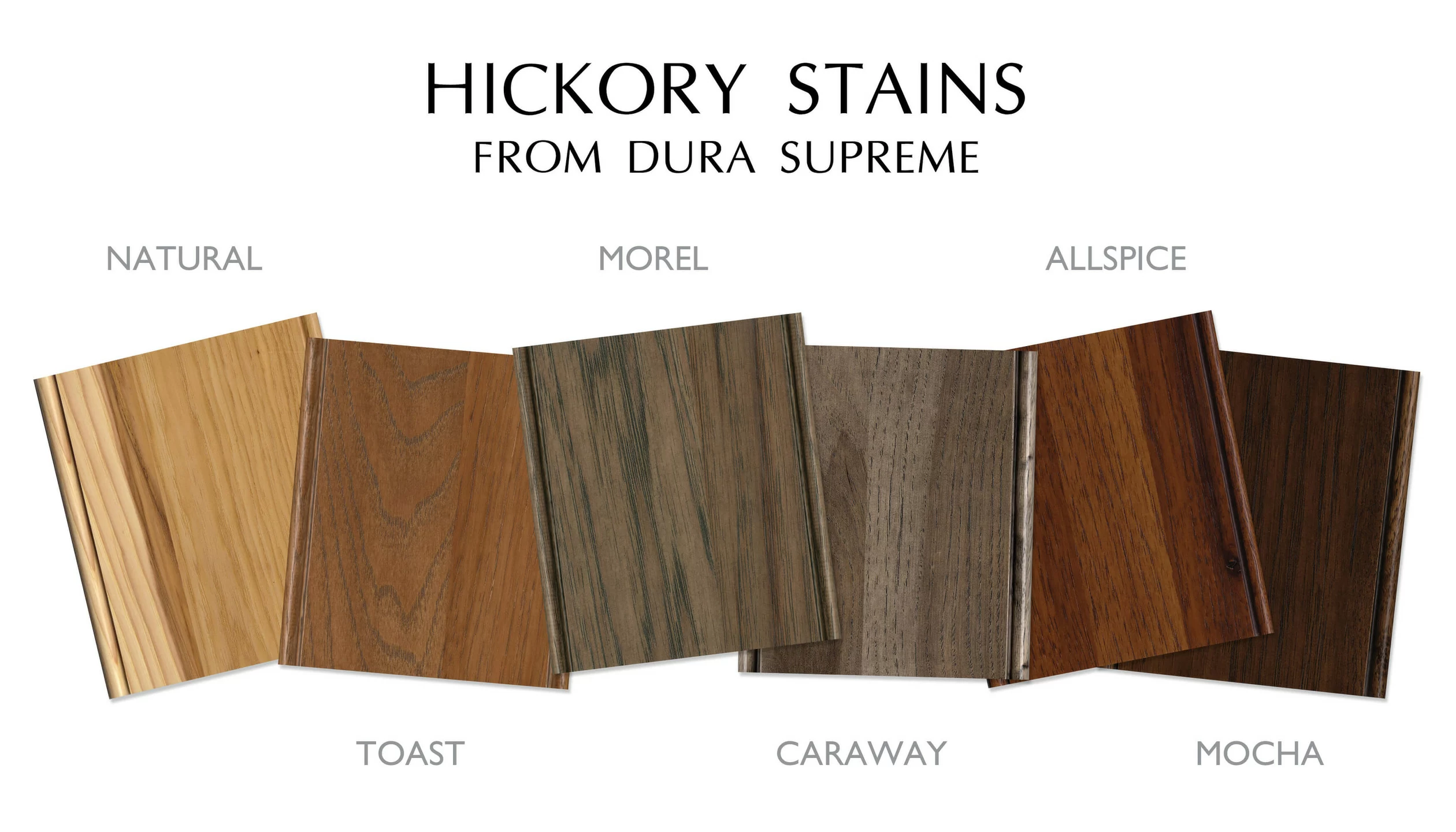 Both Hickory and Rustic Hickory will show the variations in the wood, especially when using a solid wood door, however, Rustic Hickory will have the added characteristics of knots, as shown on the right door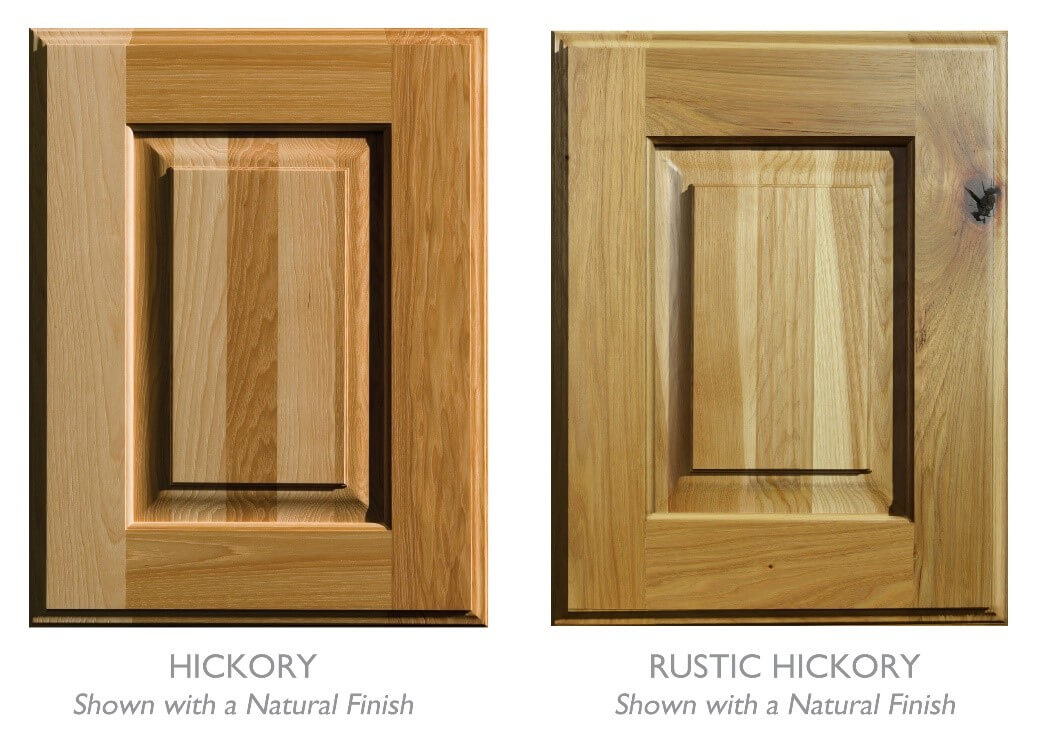 A contemporary styled kitchen with our Morel stain applied to Rustic Hickory adds warmth to this open room. The custom-painted wall behind the cooktop, and lift hinge wall cabinets with opaque glass add to the contemporary details of this inviting room.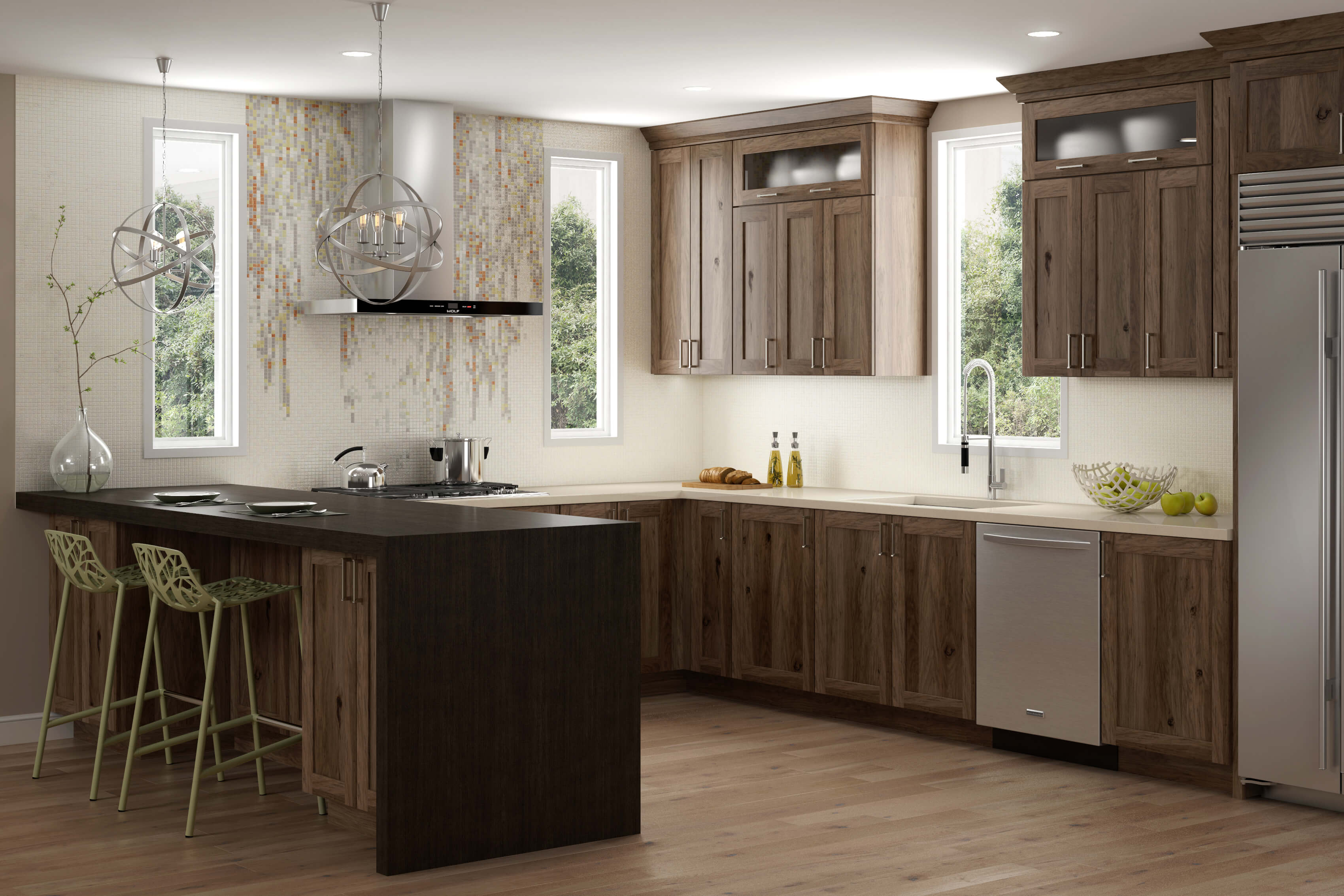 Our ever-popular Morel stain is featured on clear hickory for the perimeter cabinets in this kitchen. Paired with a Black painted Island with rub-through accents, this transitional design has a cozy feel yet its openness makes it a great space for family and entertaining.
Contemporary door styles are not just for laminated or high gloss finishes. In the case of our Rustic Hickory Camden door in the Cappuccino stain, it showcases the graining and variations in color beautifully, while displaying the knots and mineral streaks. Mixing this wood species and finish with our Gale Force curated paint, along with brushed brass hardware and marble subway tile will give any kitchen a modern feel while still adding traditional warmth.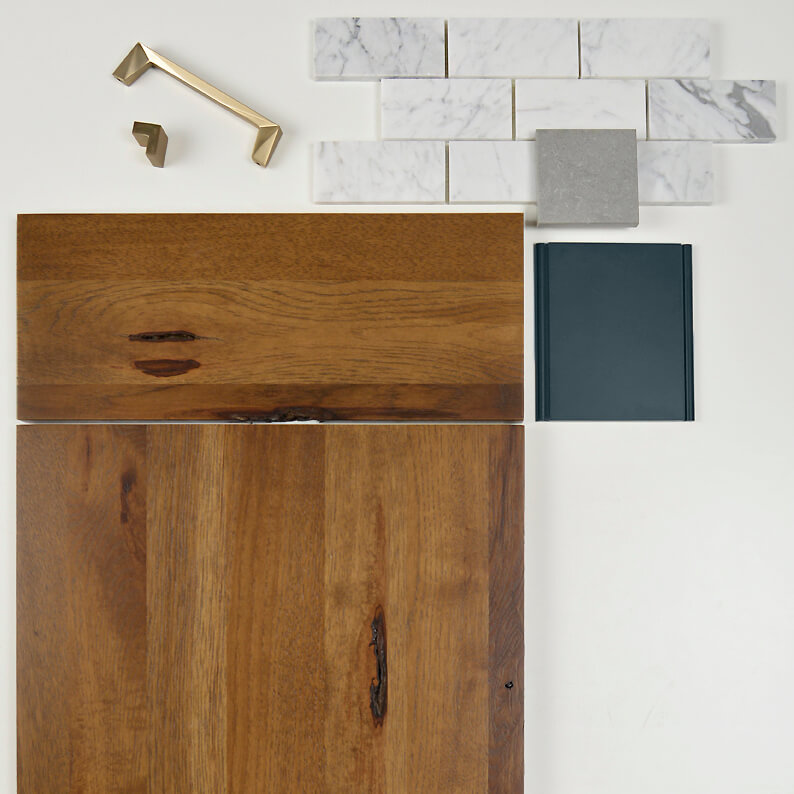 This floating vanity design showcases Hickory doors with the Morel stain, mixing contemporary with rustic in this farmhouse style bathroom. Check out those barn door mirrors hiding the storage behind!
This! This is what hickory is known for. Our Kendall door in a light Butternut stain shows off the beautiful wood variations of this clear hickory kitchen. It is easy to pull in other wood tones with hickory, from light to dark stains. The flooring and trim all mix well with the cabinet finish.
Another view of first photo showing the complimentary island with our hickory cabinets. This two-tone kitchen uses our Bella door style in Rustic Hickory with a natural finish, which is offset by the island cabinets in Maple Smoke. Notice how the dark floors mix well with the variations of the Hickory wood.
This home features warm hickory cabinets with our Morel stain in both the living room and island of the kitchen. The matching hood frieze pulls everything together.
When it comes to selecting a durable yet beautiful wood species for cabinets, remember to "knot" shy away from the rustic appeal of Hickory. Hickory doesn't need to be reserved for just the cabin on the lake and as you can see, this wood species can look great in any décor and home, and it can add a beautiful and timeless look when paired with the right finishes.