A growing trend in the interior design industry is embracing more rustic, character-rich wood species.  When you think of rustic wood species, what do you imagine? 
An old farmhouse?
A cabin in the woods? 
Something like this?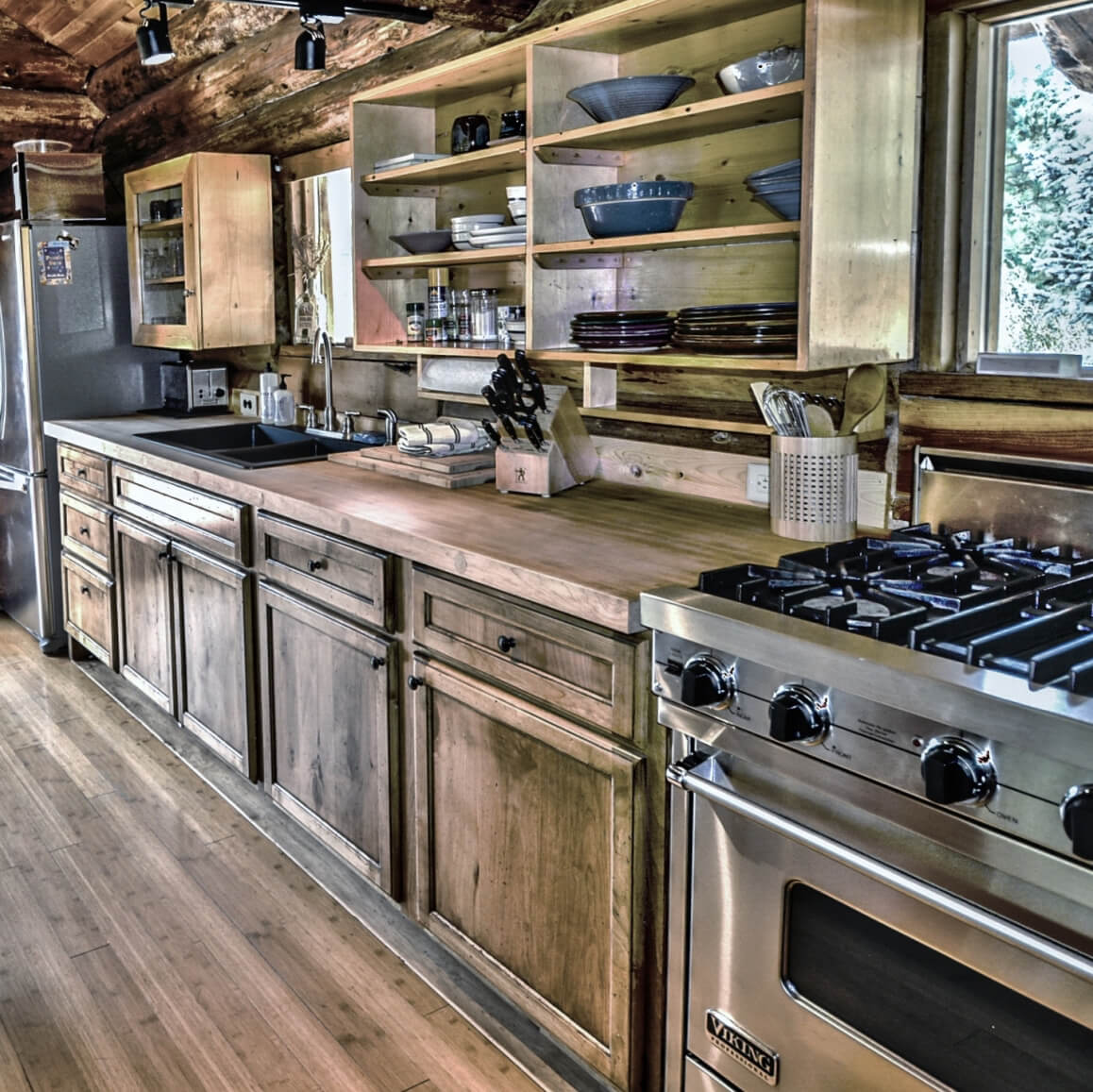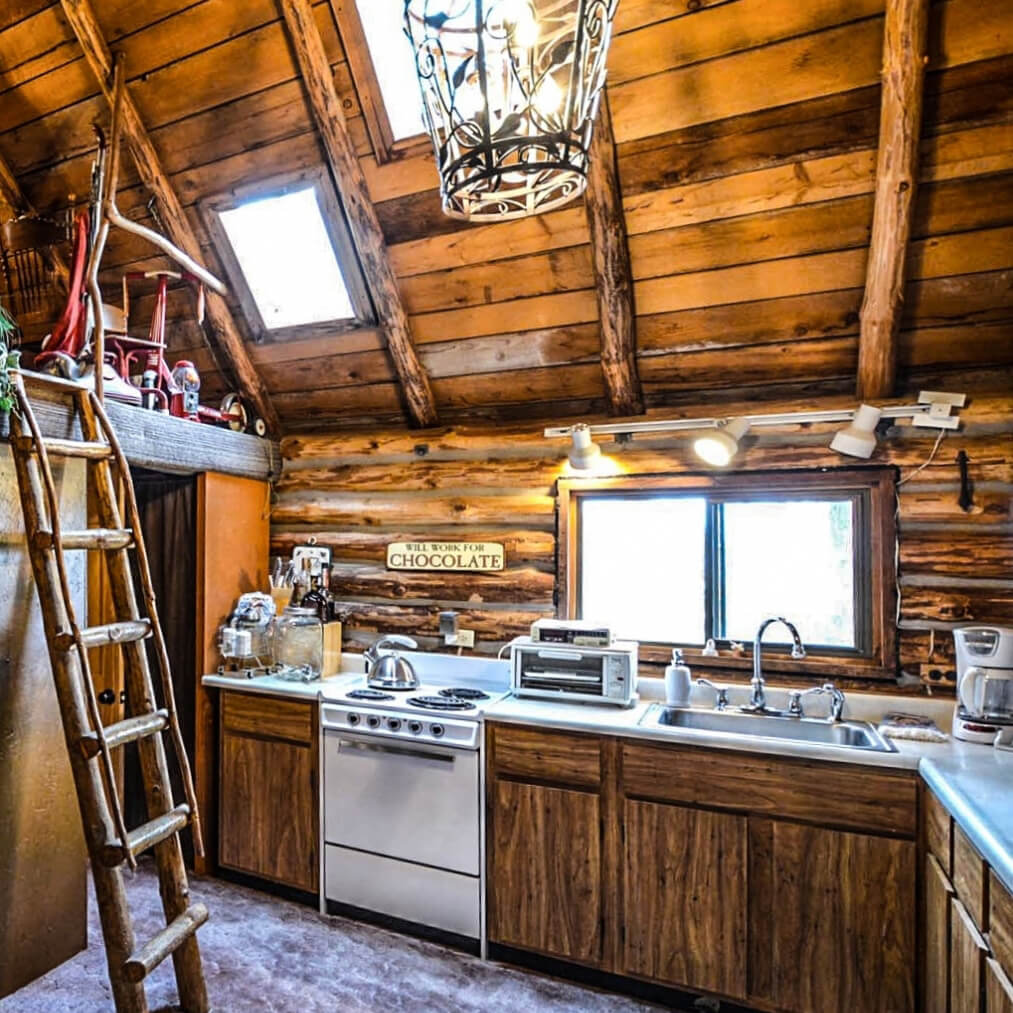 At first thought, character-rich species can seem somewhat limiting in their design potential, catering mainly to woodsy, traditional spaces.  But TODAY I am going to show you some great, updated applications of rustic woods that will seamlessly blend right in with the transitional/contemporary kitchens we are seeing more of these days (really!).
Character-rich Woods in Kitchens Today
Trend forecasters are seeing a rise in the use of wood species with more knots, burls, and grain paired with more contemporary finishes (think paint, acrylics, foils, metals).  With the enormous popularity of the white painted kitchen over the past few years, homeowners are starting to want a little texture, a little warmth mixed in. Integrating some character wood species or textured metals into the design offers some relief from all the white. Here is a great example of this: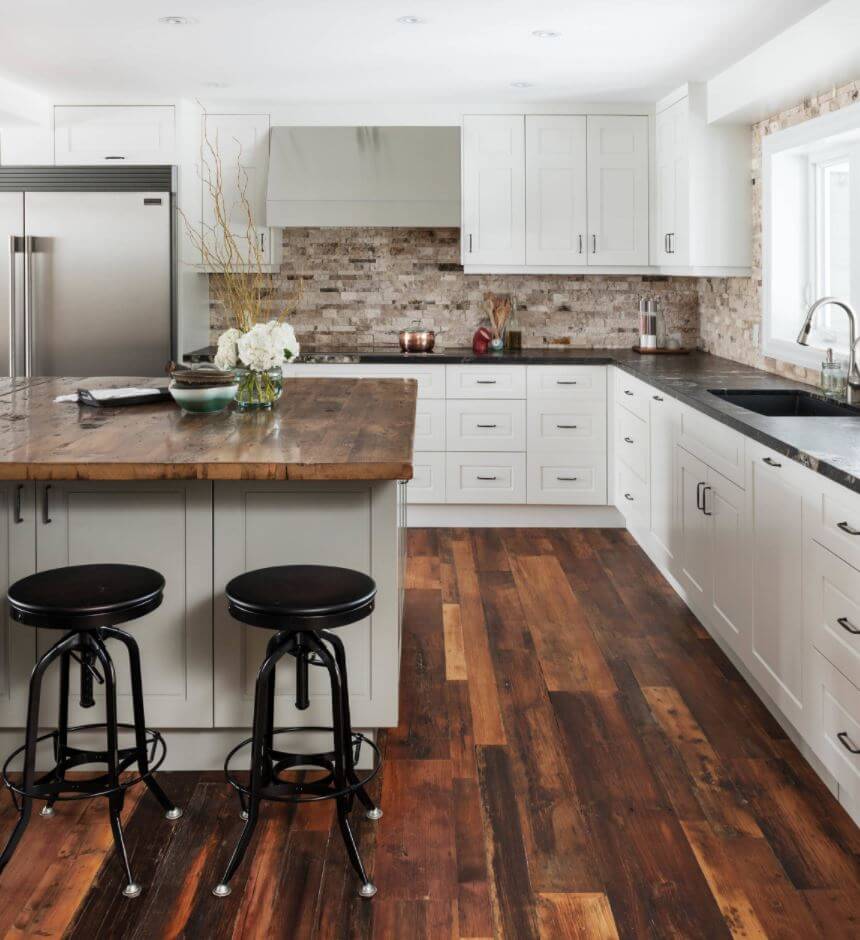 Above we see character and texture introduced in the flooring and the countertop, as well as the backsplash. Below is a transitional Dura Supreme kitchen designed with our Craftsman door style in Rustic Hickory finished in Morel stain and a waterfall countertop, something we wouldn't have seen 3 years ago. Also, note the trending gray undertones in the stain, giving the Rustic Hickory a more current feel.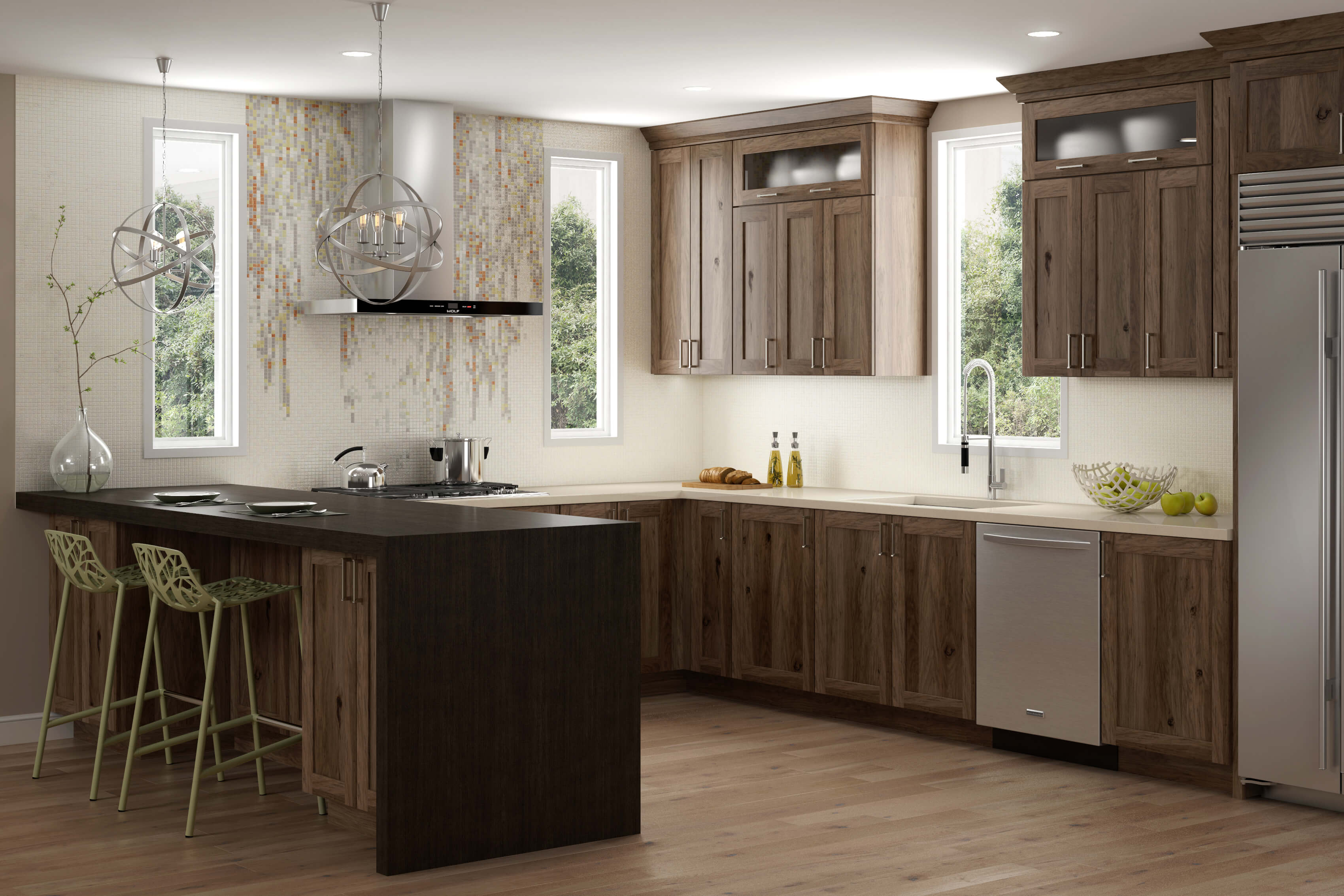 We are even seeing this trend in bedrooms, a place where one wouldn't normally think of woodwork.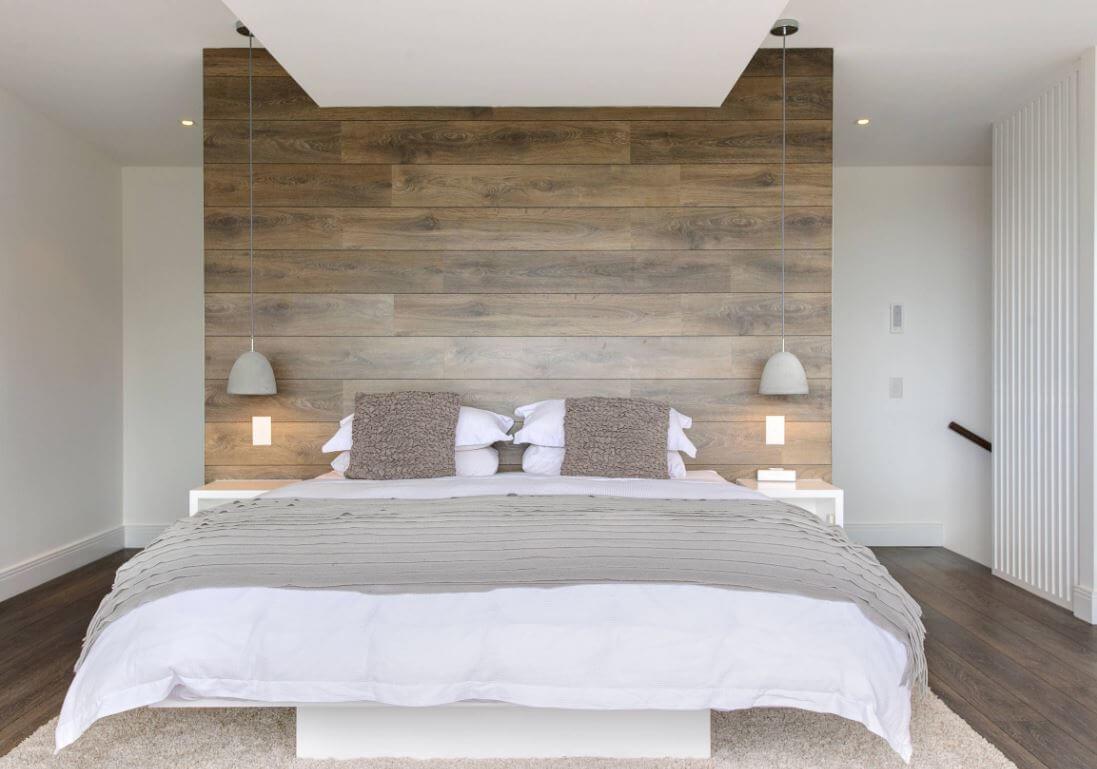 Sometimes contemporary spaces need something to anchor them, as they can sometimes feel too light, clean and airy.
What better than an island with some beautiful sweeping grain pattern and some floating shelves to do the job.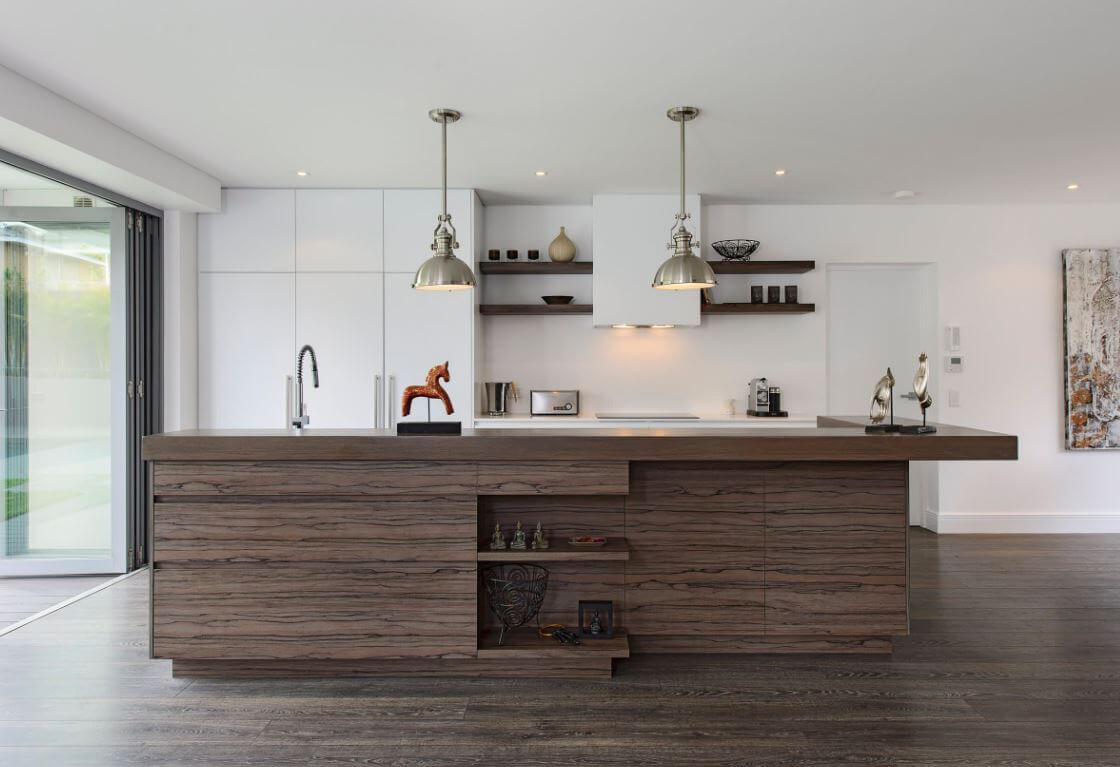 Or work some live edge wood into your contemporary design through the kitchen table.  A beautiful example of walnut live edge below, beautifully warming up this white space.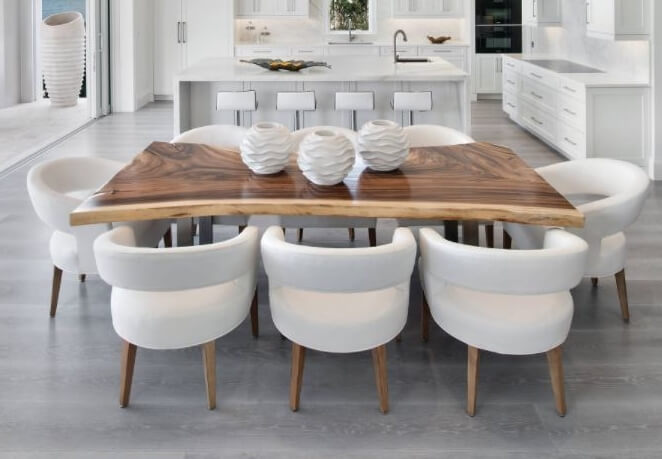 If you're not ready to go all-in on a full wood character piece in the kitchen, perhaps just adding some reclaimed oak shelving (below) will do the trick to add interest and warmth.
So, next time you are pulling together a contemporary or transitional design, consider integrating some character wood species into the project. Whether it's a whole kitchen, an island or just some shelving, the addition of this warmth and texture is sure to draw interest!