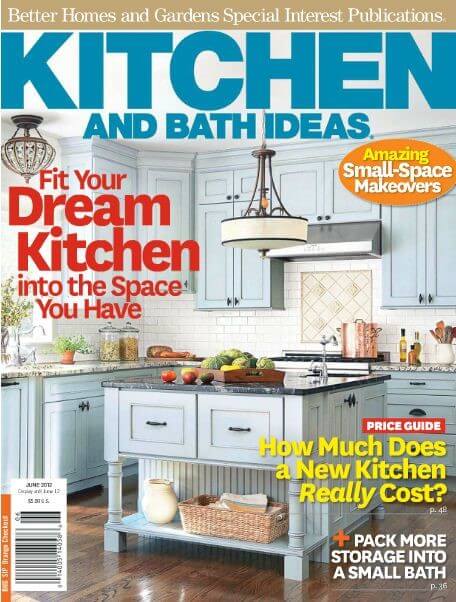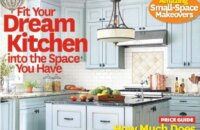 Better Homes & Gardens Cover Story Kitchen
Design by Jenny Rausch of Karr Bick Kitchen & Bath, Missouri.
Better Homes & Gardens Magazine issue on "Kitchen and Bath Ideas" hit the newsstands featuring this beautiful Dura Supreme kitchen on the cover. The kitchen cabinetry features the Silverton door style with a custom paint color.
"The homeowners wanted something beautiful and functional and they were willing to trust me to get them there."  Jenny suggested a [custom paint color that] is a neutral gray tone with a hint of blue to fulfill her client's desire to create a color scheme reminiscent of childhood vacations on Lake Michigan.  "I brought in the subtle, washed-out colors of sand, water and sky to make it feel good when you are in the kitchen.
Glass door cabinets on the window wall make the room look larger than it actually is.  "The kitchen's not that big, but we still fit in everything she wanted, and made the space feel open and airy."  The kitchen island was created with cabinetry that makes maximum use of storage space and organization and also includes a warming drawer, trash roll-out and a prep sink.  On the side visible to the living room, Jenny included an end treatment with turned posts to create an island that looks like a freestanding furniture piece.
One of the more challenging requests from the homeowner wasn't about the kitchen design, rather it was advice for wall paint color in an adjoining two-story great room.  "I picked a warm brown color which was a leap of faith for them.  Sometimes I pick something for a client and I know it will be beautiful but all I can tell them is "just trust me".  I knew it would be beautiful but I was nervous about their reaction.  They loved the color!"
For this remodeling project, Jenny didn't move any walls, but worked within the original floor plan of the kitchen.  "I rearranged the space to make more room for cooking and prepping.  There used to be a desk area in the kitchen but the homeowner wanted to remove it and I was able to use that wall for more appliances including a large refrigerator, microwave and an awesome wine chiller!"
We asked Jenny what she enjoys most about being a kitchen designer … "It's tough and it takes a lot of brain power.  You have to understand construction, math, people and trades and you are basically responsible for bringing every part and every person together.  As a kitchen designer, you don't just have to know stone countertops or appliances, you have to have an in-depth knowledge of all the products and how it's all going to fit together visually and mechanically.  And then you have to be able to communicate that.  It's not easy, but a beautiful end result is an excellent reward!"
We couldn't agree more – we think Jenny Rausch's work is beautiful and we appreciate her talent and professionalism. For more information about Karr Bick Kitchen and Bath, click to www.karrbick.com.