Pizza pans, muffin tins, baking sheets, and cutting boards are necessities that are thin but can be space hoggers. The typical method of pan & tray storage is to include vertical dividers in a section of a cabinet or over a refrigerator. However, there are many more ways to store these valuable kitchen supplies.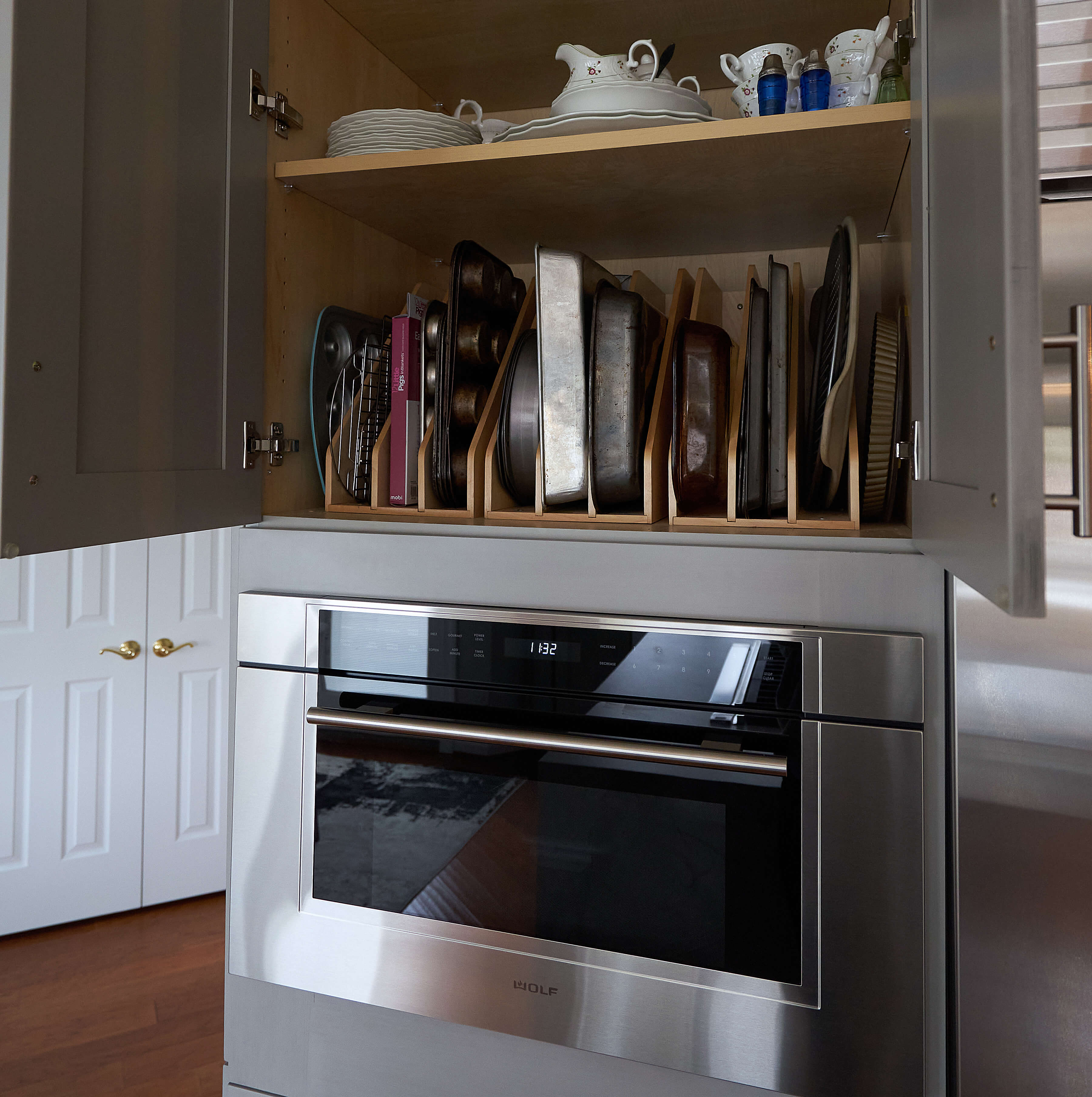 Simple Tray Divider Kits within a cabinet by Dura Supreme Cabinetry.
Kitchen design by Lang's Kitchen & Bath, Inc., Pennsylvania. Photography by Linda McManus.
Storing Trays & Cutting Boards in Toe Space Drawers
Toe Space Drawers make an excellent storage place for trays, pans, and spare cutting boards. This handy storage solution adds additional cabinet storage to an area that is typically unused space.
Horizontal Tray & Platter Storage
If you have delicate serve ware that is best stored flat, a cabinet with extra shelves all spaced a few inches apart works well. This horizontal storage can work in a wall cabinet, tall cabinet, base cabinet, or counter-sitting larder cabinet.
Roll-Out Baking Sheet & Tray Storage
If your only option for tray storage is in a base cabinet, but you're not a fan of squatting down to look at your pan & tray collection, consider an accessible roll-out. Dura Supreme's tray divider roll-out with vertical dividers uses only a portion of the cabinet and keeps trays easily accessible.
Drawer Storage for Pans, Trays, and Cutting Boards
A shallow roll-out above a deep drawer can help divide drawer space into two layers of storage. The top layer is perfect for muffin tins, baking trays, etc. while the lower part of the drawer can be used for strainers, mixing bowls or pots.
These are just a few of the many options for storing flat kitchen supplies (i.e. trays, pizza pans, baking sheets, platters, cutting boards, etc.).  Talk to your Dura Supreme Designer to discover an option that's best for your household.