While every home has its own unique layouts, features and styles, there is one thing they all have in common- the need to utilize electricity. Now more than ever with the explosion of cell phones, tablets and laptops not to mention the standbys we've always had to accommodate- the coffee maker, crockpot, etc.- outlet use is at a premium. How do we best provide for all of this energy use and not have our home and countertops overrun with cords and chargers? I've gathered together some ideas on this to share with you, and hopefully you will be able to incorporate a few of them into your next project.
One of my favorite recent Dura Supreme product announcements of the past couple years has been the introduction of the charging drawer. This is a modification that can be made to almost any drawer we offer, and has outlets and USB charging ports installed in the back wall of the drawer box. With this, everything is completely out of sight, leaving surfaces clutter free- a beautiful thing.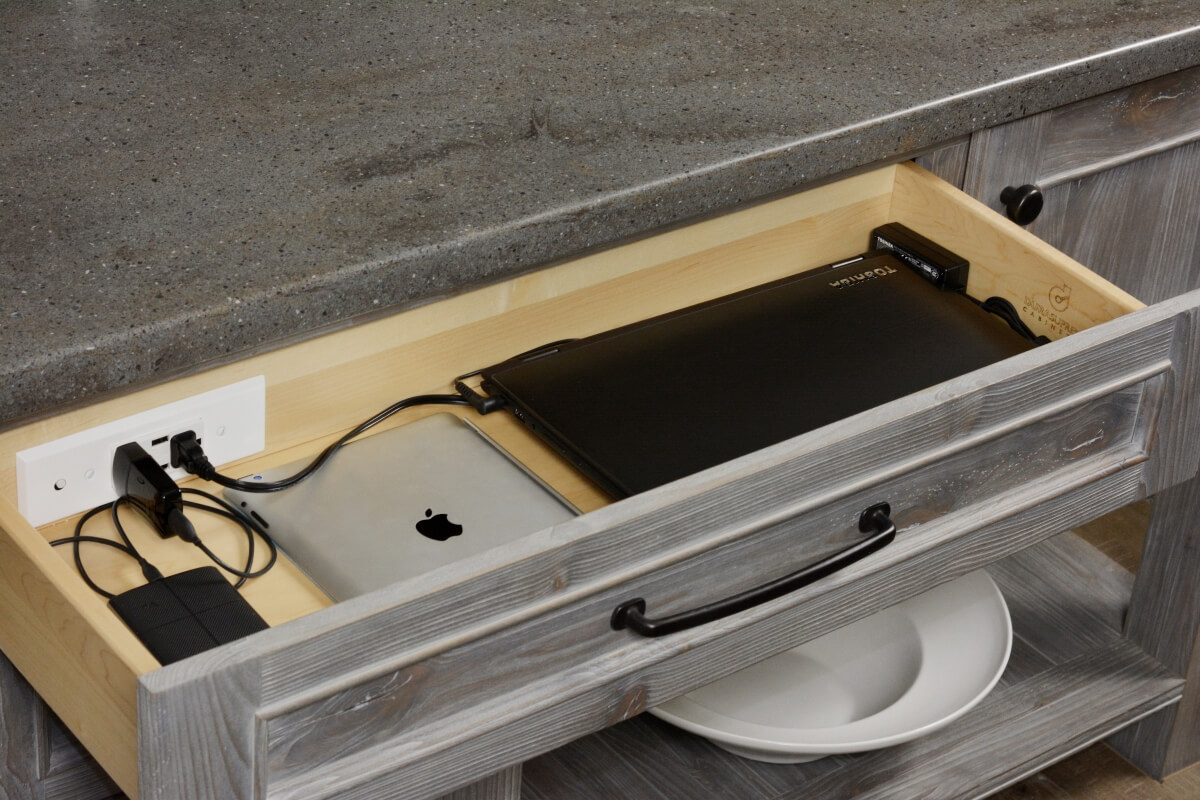 Outside of the kitchen, Dura Supreme has also come up with an ingenious way to corral all those curling iron and hair dryer cords. We now offer a Vanity Grooming Cabinet with a power outlet in the interior. It looks just like the cabinet below, but with an outlet on the interior back panel.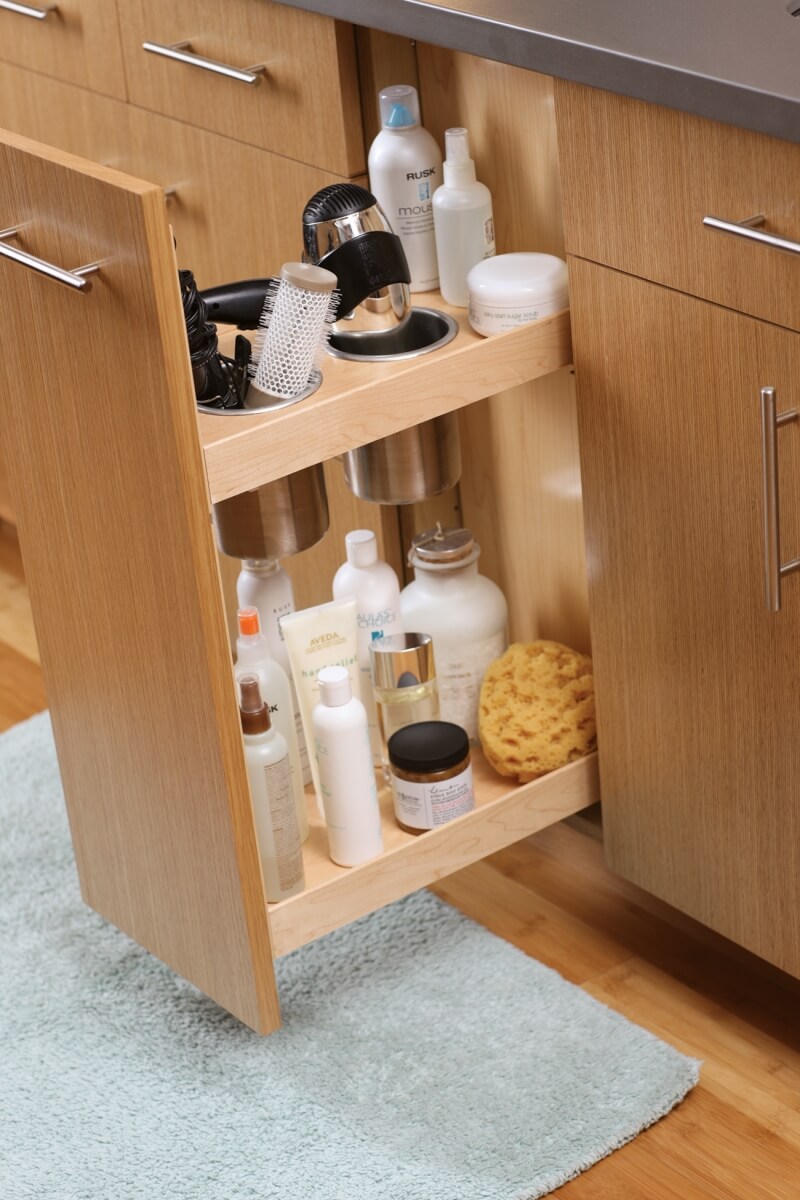 Another way to keep cords out of sight is to plan for them to be installed within a cabinet, such as this creative coffee station below.  When the doors are closed, cords and all are out of sight.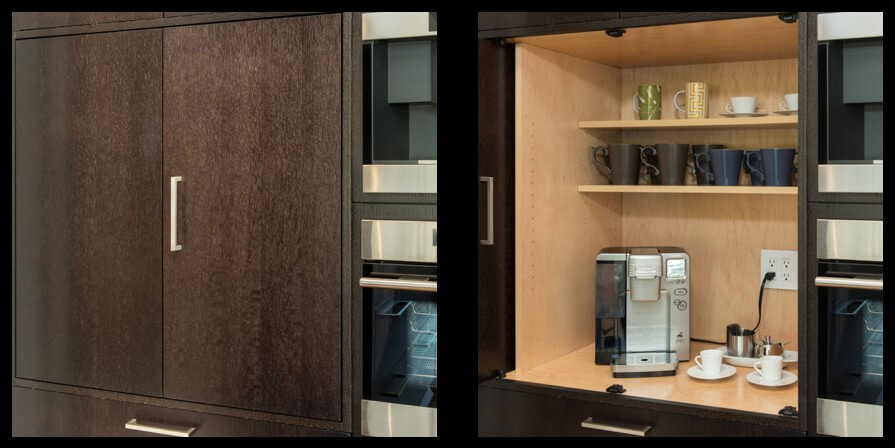 Maybe you only want to see the outlet when you want to use it.  If so the pop-up countertop power outlet may be for you.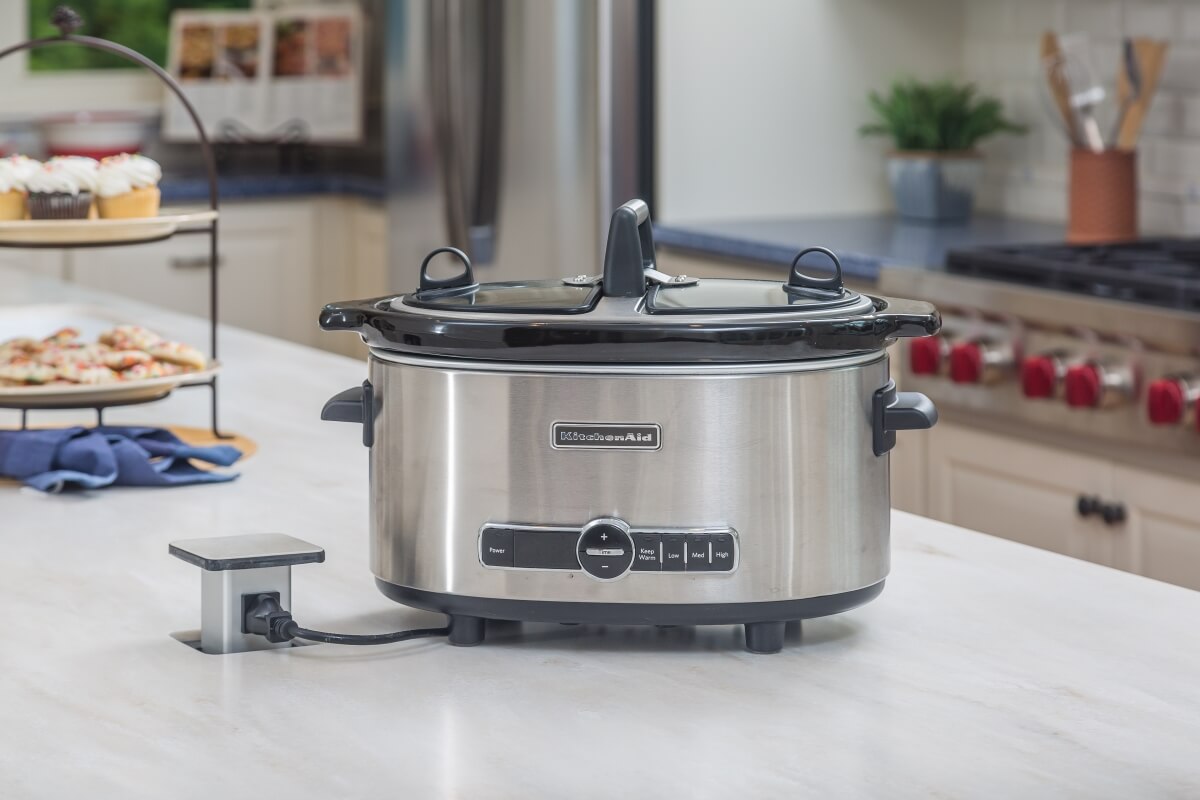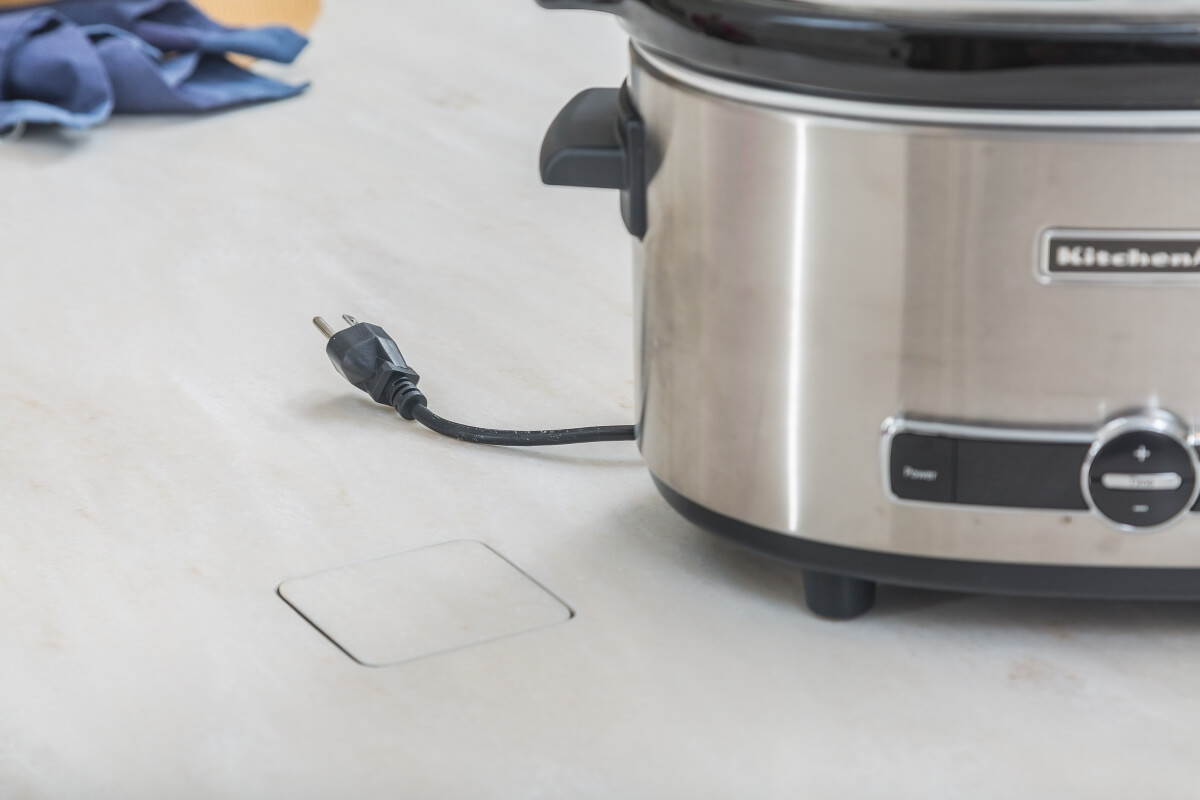 Sometimes it isn't possible to completely hide an outlet. For these situations one might want to consider a power strip installed underneath a wall cabinet, perhaps next to undercabinet lighting. Below, this was chosen so as not to interrupt the beautiful tile wall.
Sometimes, one has no other option but to install an outlet on a tile backsplash wall.  If this is the case, highly consider buying faceplates that blend with the surrounding tile, thereby not interrupting the design. If you cannot find an exact match, consider painting your faceplates. Below is a great example of that.
Another option that may blend with some contemporary designs is stainless steel faceplates, easily available. Tile retailers also offer some faceplates made of tile or stone that can be selected to blend with tilework. The point here is that one is not bound to white, almond and black outlets. The sky is the limit on options.
With the current popularity of white kitchens and a lot of subway tile, consider placing your outlets sideways, to mimic the tiles and keep a clean uninterrupted backsplash.
A final area we can't ignore is the kitchen island. The landing area, home office, homework spot, the party appetizer zone, it is a prime area begging for outlets. If the island is finished in a wood stain, a great option is a wood faceplate stained to match.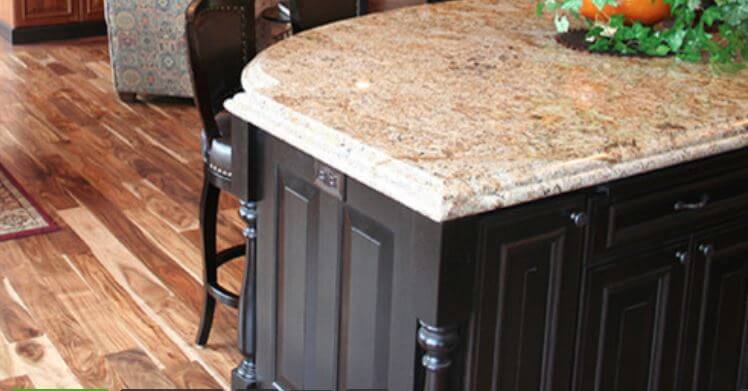 Here is a nice application of a matching power strip tucked up under the countertop, providing lots of outlets.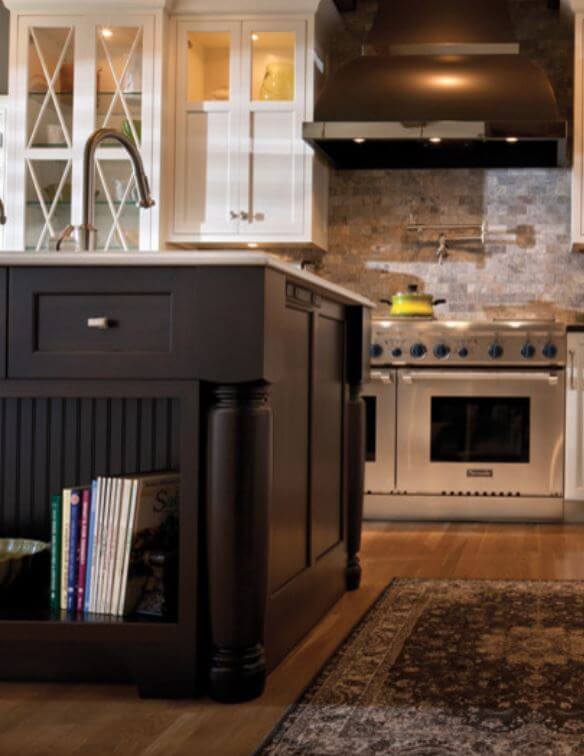 If you have a stationary table-style island that is more open underneath, and you want to have power on it, an option may be to have your installer/carpenter drill a hole up through the leg or turned post and run electricity up that way. Here the island would need to be stationary and attached to the floor.
With a white painted island, the color choice is easy.  Here, placement is important as well. Choose a spot up near the top of the cabinet to minimize distractions to the door style, and close to the seating, so that laptop/tablet cords are not stretched. Having some type of power accessible on opposite sides of the island is a really good idea.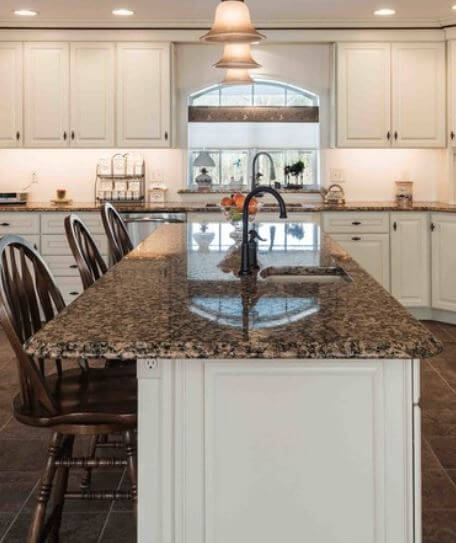 In addition to offering power and charging within drawers and cabinets, Dura Supreme also offers the option of putting an outlet in the back of our roll-out shelves. This is a nice option for gaming systems, charging controllers, or in a kitchen- perhaps a great place for the coffee grinder or the toaster.  I have also seen outlets installed inside of mudroom lockers (charge laptops or iPads for school overnight), and inside bathroom cabinetry to charge toothbrushes.
The key to all of this being successful is to take the time to really think about one's power needs early on in the planning phases and to think about how the homeowners live. Do they work in their home office? Or are they more likely to pull up a stool at the island with their laptop? Will there be a lot of gatherings hosted where outlets on the island for appetizers will be essential? Deciding between pop-up, power strips, in-drawer or standard power needs to be done in the early phases of the design, as it will affect the electrical plan, and the cabinetry choices. With all of the color, finish, and material options for faceplates, matching your power source to your cabinetry or tile should be a breeze, and your outlets will look as they should—unnoticeable.