The work triangle is a design concept that has been around for decades and is a great guideline to use when redesigning your kitchen. Although the topic may seem intimidating at first, it's actually a simple concept that can help you redesign your kitchen to be more efficient and functional.
The National Kitchen and Bath Association (NKBA) describes the work triangle as an imaginary straight line drawn from the center of the kitchen sink, to the center of the cooking surface to the center of the refrigerator and connecting back to the center of the kitchen sink. 
The NKBA suggests you follow these simple guidelines for the work triangle when you are starting your kitchen planning. 
The Kitchen Work Triangle Equation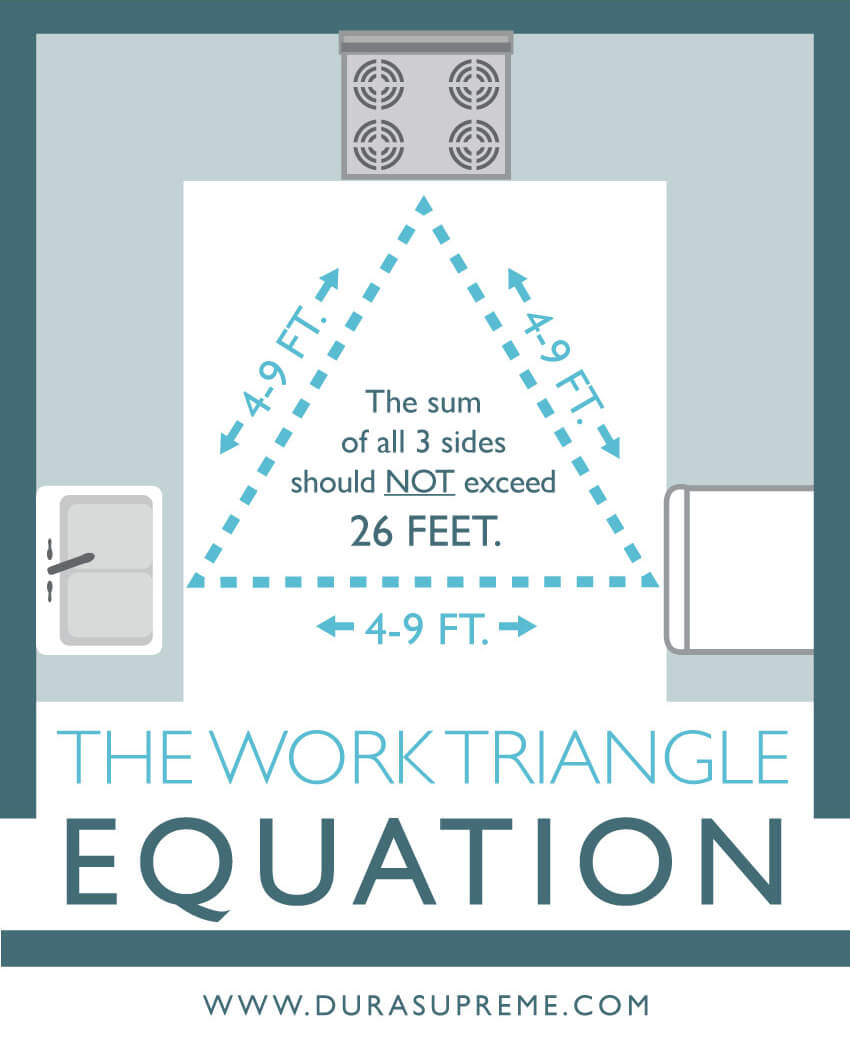 The sum of the work triangle's three sides should not exceed longer than 26 feet, and each leg should measure between 4 and 9 feet. 
Kitchen Islands and Peninsulas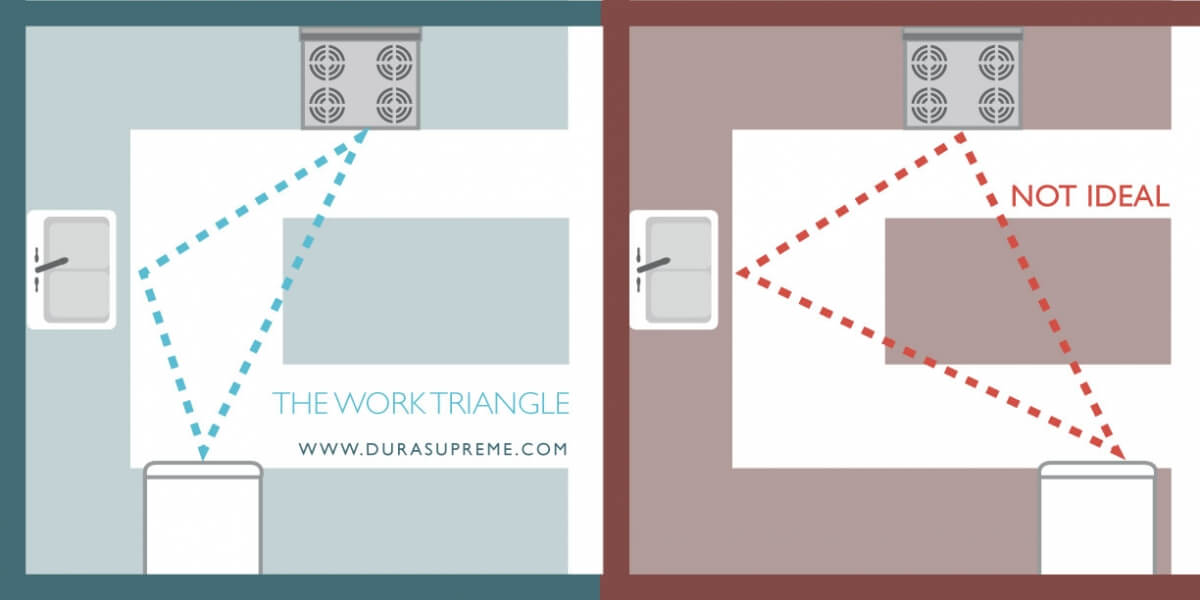 The work triangle should not cut through an island or peninsula by more than 12 inches. A little redirection around your

 

kitchen island

 

or peninsular is suitable, but your work path should never be blocked or disrupted.
Kitchen Sink Placement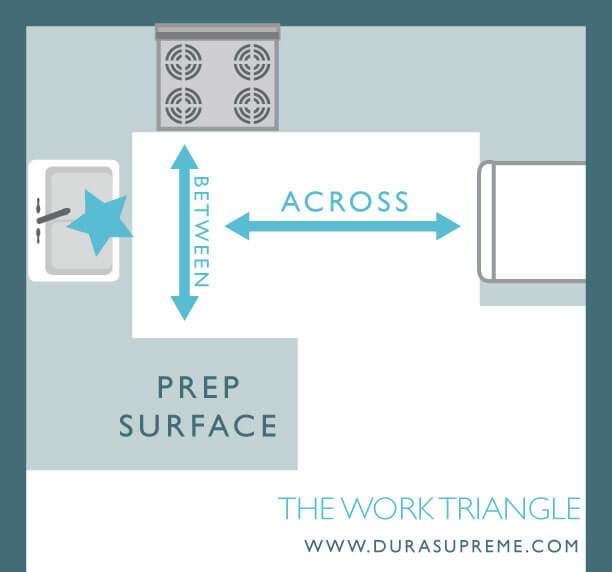 If the kitchen has only one sink, it should be placed between or across the cooking surface, preparation area, or refrigerator. When the kitchen plan includes more than three primary work centers, such as an added prep sink for example, than each additional travel distance to the additional work center should measure no less than 4 feet  and nor more than 9 feet. 
Work Triangle Traffic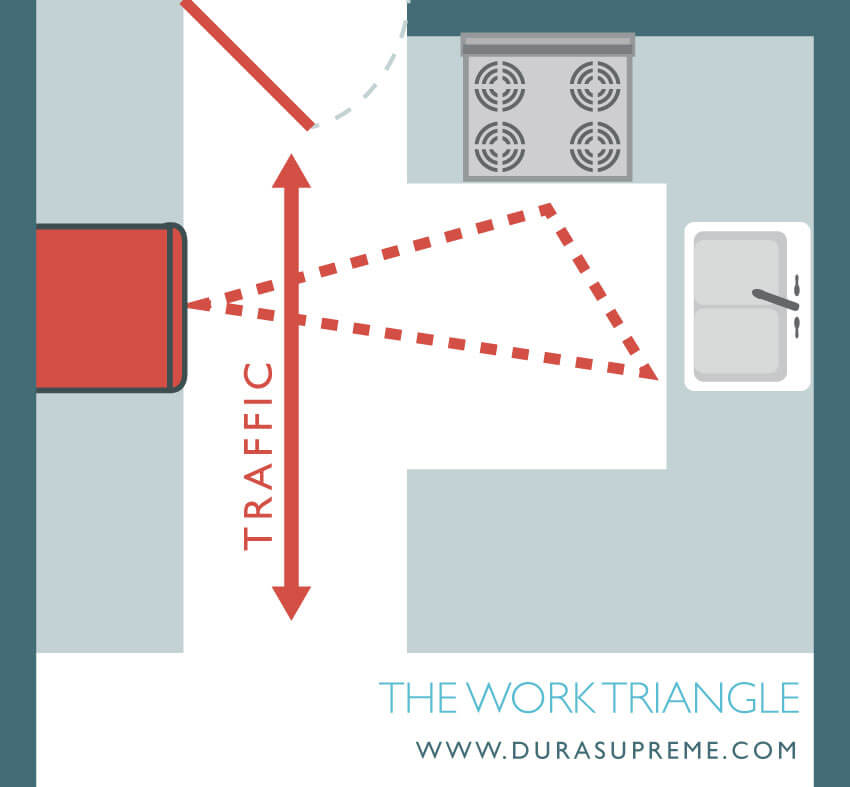 No major traffic patterns should cross through the work triangle.

 

 
The primary goal of the work triangle is to create efficiency within all the major work stations near the cook, without placing them too far apart or too close that they may become restricted. It is also designed to minimize traffic interruptions from outside occupants who may also use the kitchen while the main cook is working. 
Keep in mind, when planning your kitchen layout, the lengths of your work triangle do not have to be completely (or perfectly) even. The shape of your work triangle will be determined by the walls layout and what kind of kitchen shape you have.  Further examples of varied work triangles are shown below. 
Or if you prefer to not to take on the task of kitchen planning yourself, contact your local certified kitchen designer or  local authorized Dura Supreme kitchen designer who will automatically be considering the work triangle as they design your kitchen for the best layout and work flow based on your specific home and the way your family functions in their kitchen.