Cottage styling is focused on carefree living, where every element conspires to create a casual environment for comfort and relaxation. It reminds us of relaxing beach-side destinations; a peaceful waterfront home with windows thrown open to catch the air and the tranquil sound of waves nearby. It's the natural, simplistic, calming design elements that make this style so appealing.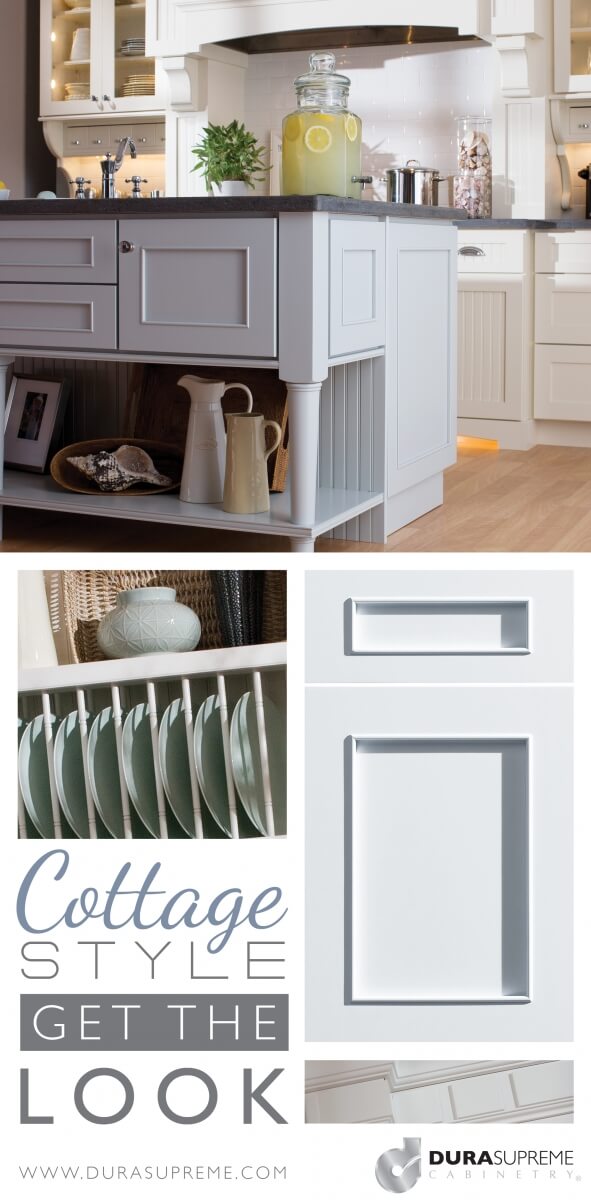 The Cottage Style Color Palette
The color palette is simple and soft and combines crisp, clean hues of white, like sunlight reflecting off sand, and cool blue-grays, the color of sky and water. These calm colors are often set off with brighter spots of color like sunflower yellow, passionate pinks, vibrant aqua blues, or other lively colors found in a blooming flower garden. These bright colors are usually used as accents throughout the room to add a fun, upbeat, and summery feeling to the space.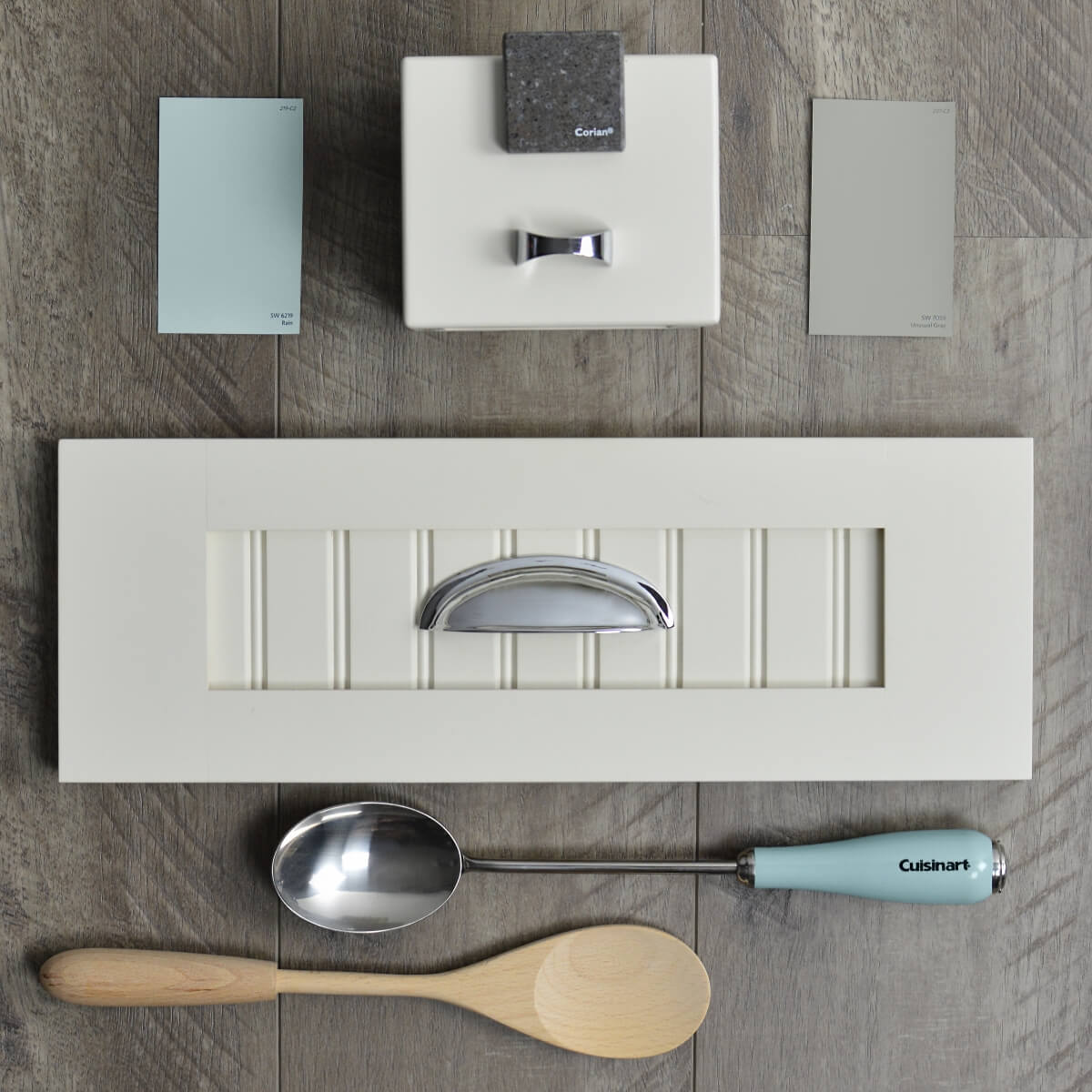 Wood surfaces, cabinetry, and furnishings range from weathered finishes showing the wear of time, to soft painted finishes with crisp, graceful lines. Distressed surfaces are subtle without looking too rustic. Metal finishes can be sleek and simple, or ornate and delicate, sometimes even rusted or worn.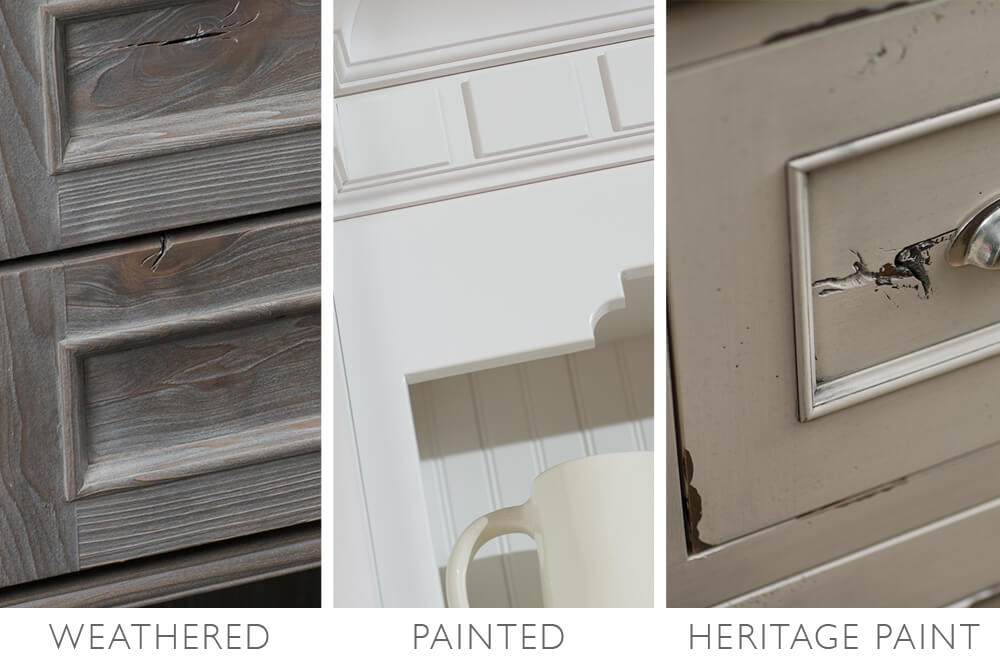 For painted finishes consider a soft painted finish like Dura Supreme's White, Linen White, Classic White, and Pearl, or select a soft hue from our Personal Paint Program.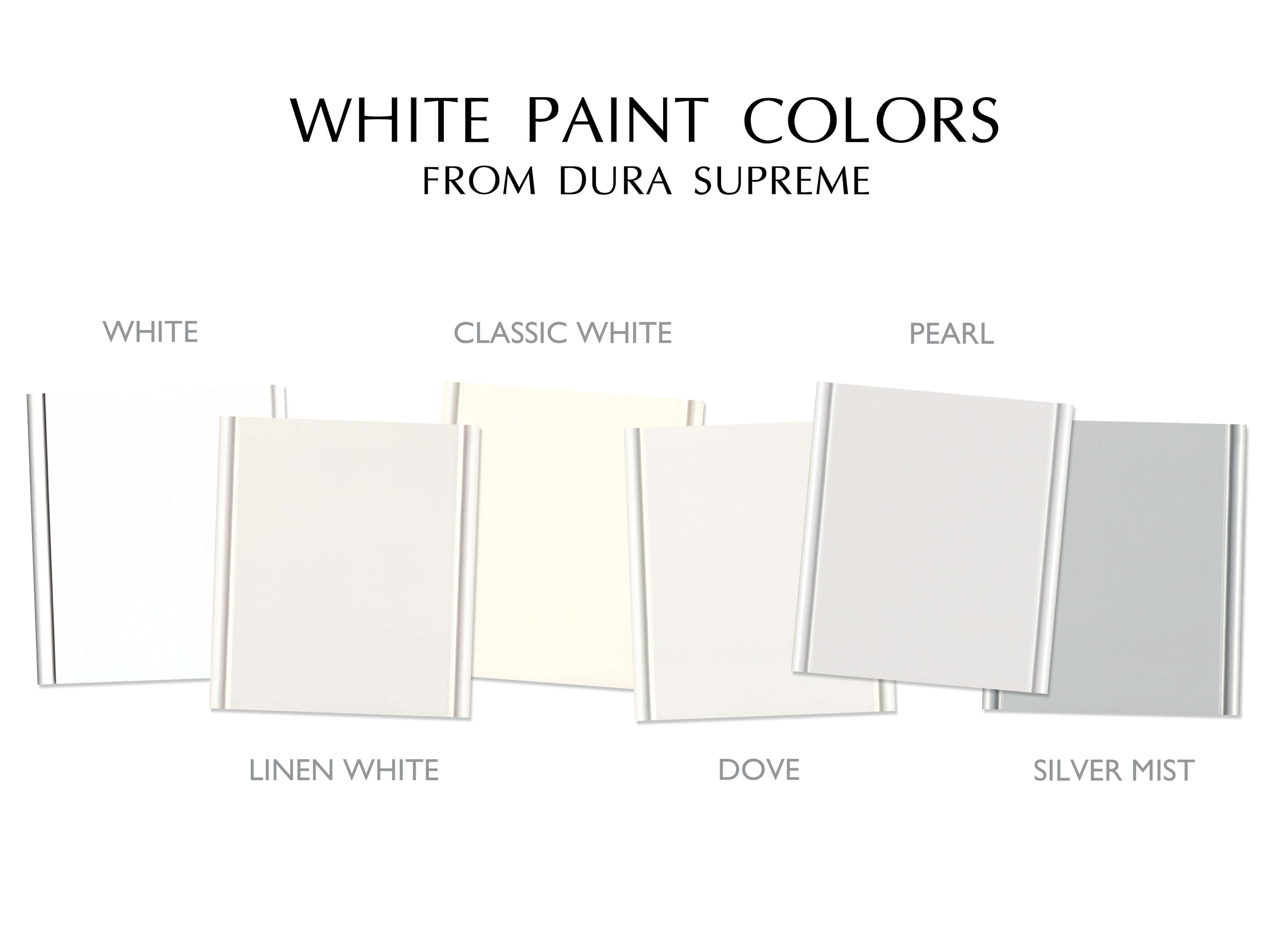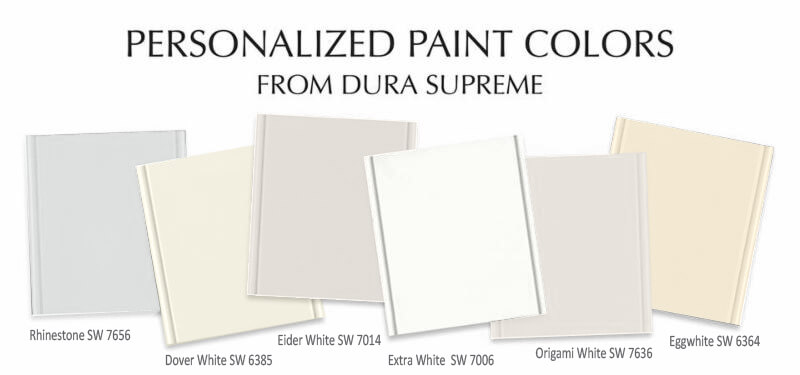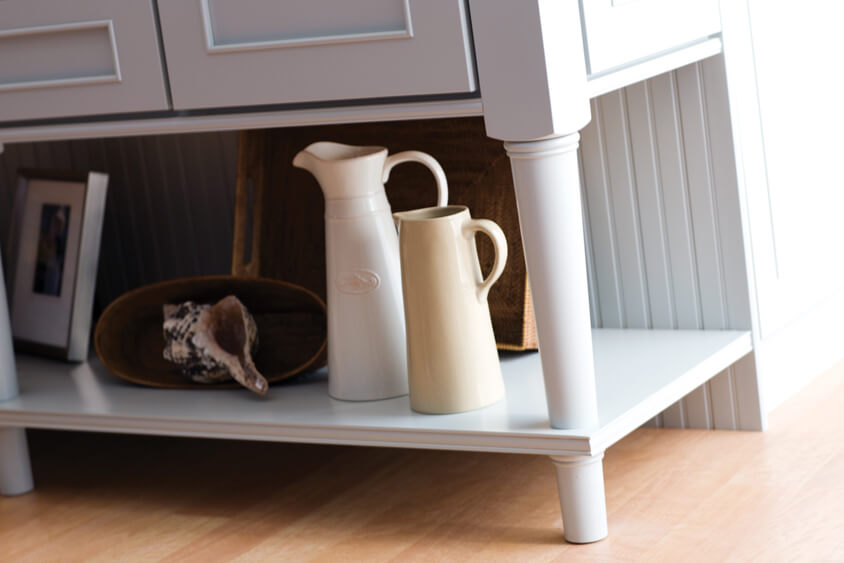 Dura Supreme Kitchen Island Cabinets with a Personal Paint Program finish shown in Lullaby SW9136.
To create a driftwood like element to your design, add a Weathered finish to a kitchen island, a wood hood, or a built-in hutch or other focal point to tie in this texture in to your project.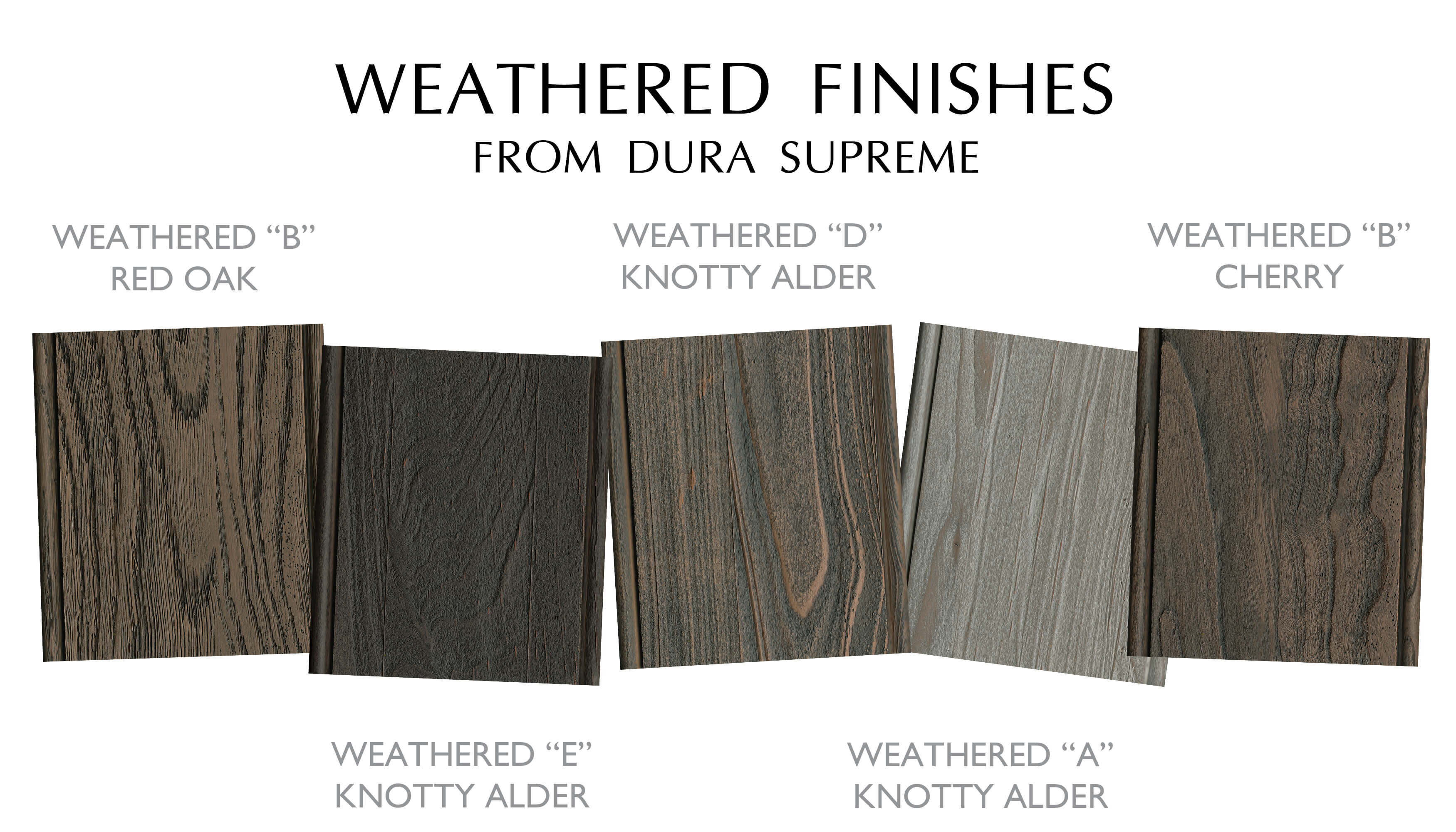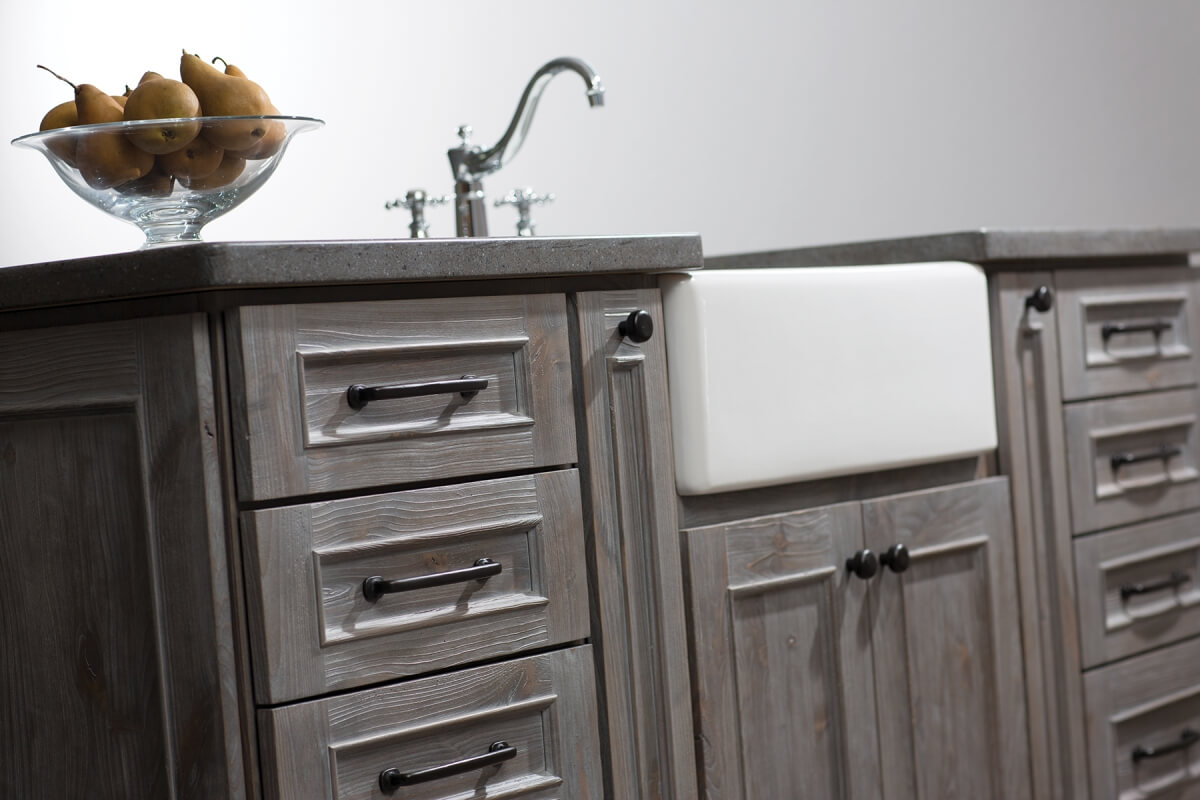 Dura Supreme Cabinetry Kitchen Island in the Weathered "A" Finish on Knotty Alder
To incorporate a distressed paint look, Dura Supreme's Heritage Paint Collection can resemble the look of a well-loved family heirloom that has been refinished and had some wear and tear over the years.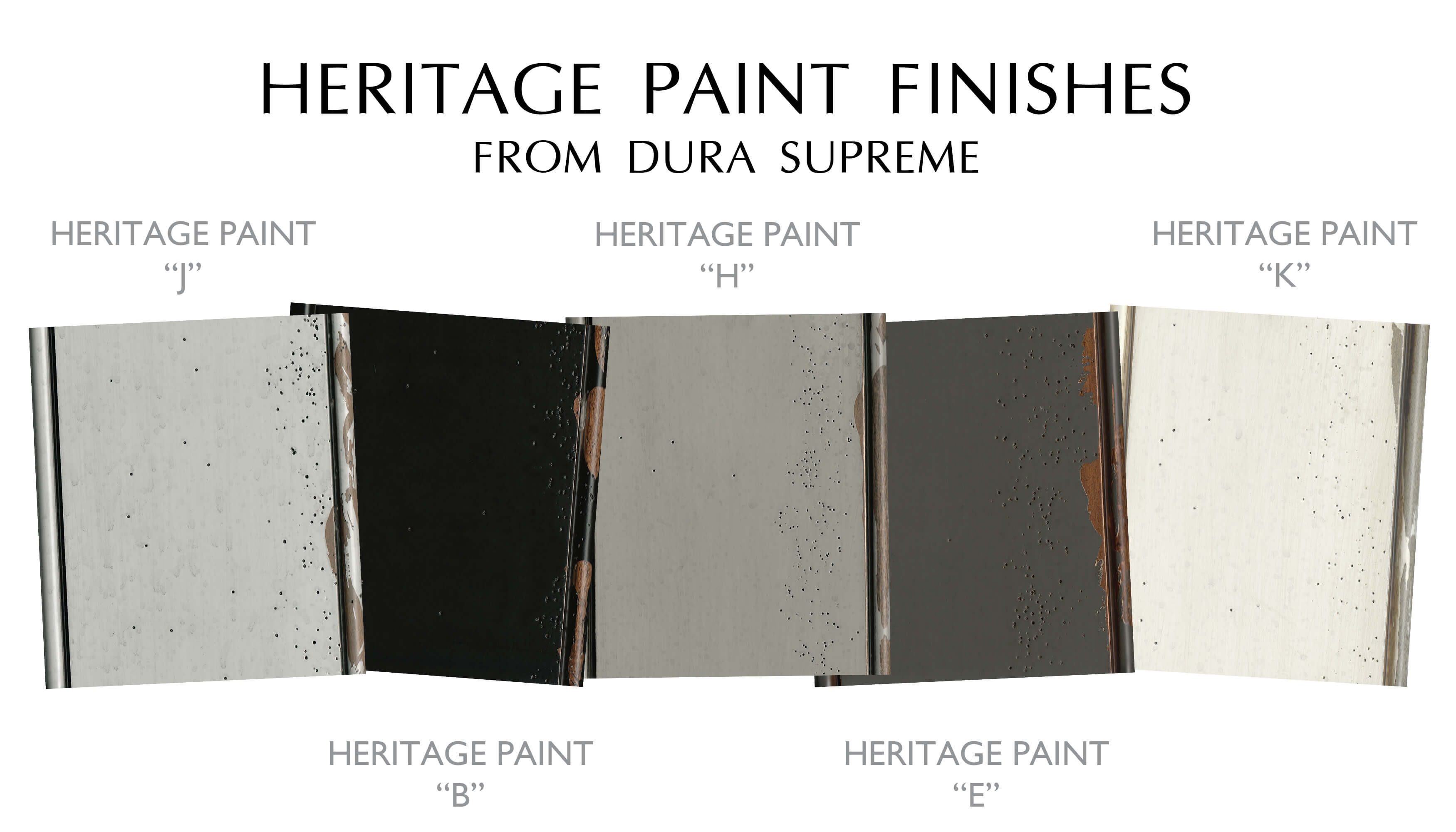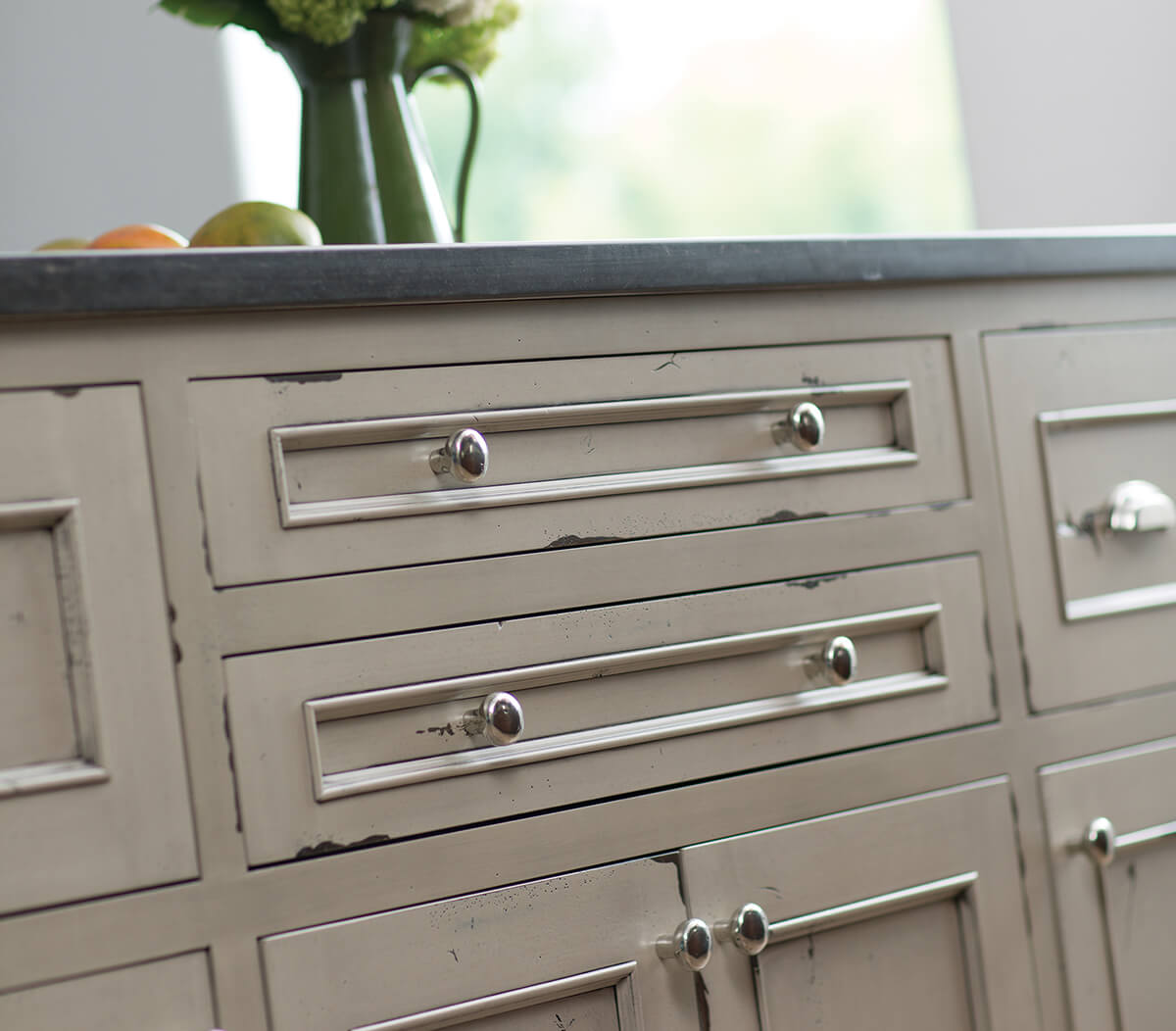 Dura Supreme Cabinetry Kitchen Island in Heritage Paint "K" on Knotty Alder.
Selecting Cottage Style Cabinetry
Crisp white painted cabinetry with simplistic raised or flat panel cabinet doors accented by a few glass door cabinets set the stage for an airy, cottage-styled kitchen or bathroom.  Distressed cabinet finishes like our Weathered Collection, or Heritage Paint Collection, also add drama and texture. Off-white, grays, and blues are also popular selections for painted cabinets. Traditional cabinet construction methods like framed cabinetry (full overlay and standard overlay) and inset cabinetry are chosen for their classic looks. Consider a beaded panel cabinet door throughout the kitchen or as an accent on a kitchen island or built-in hutch.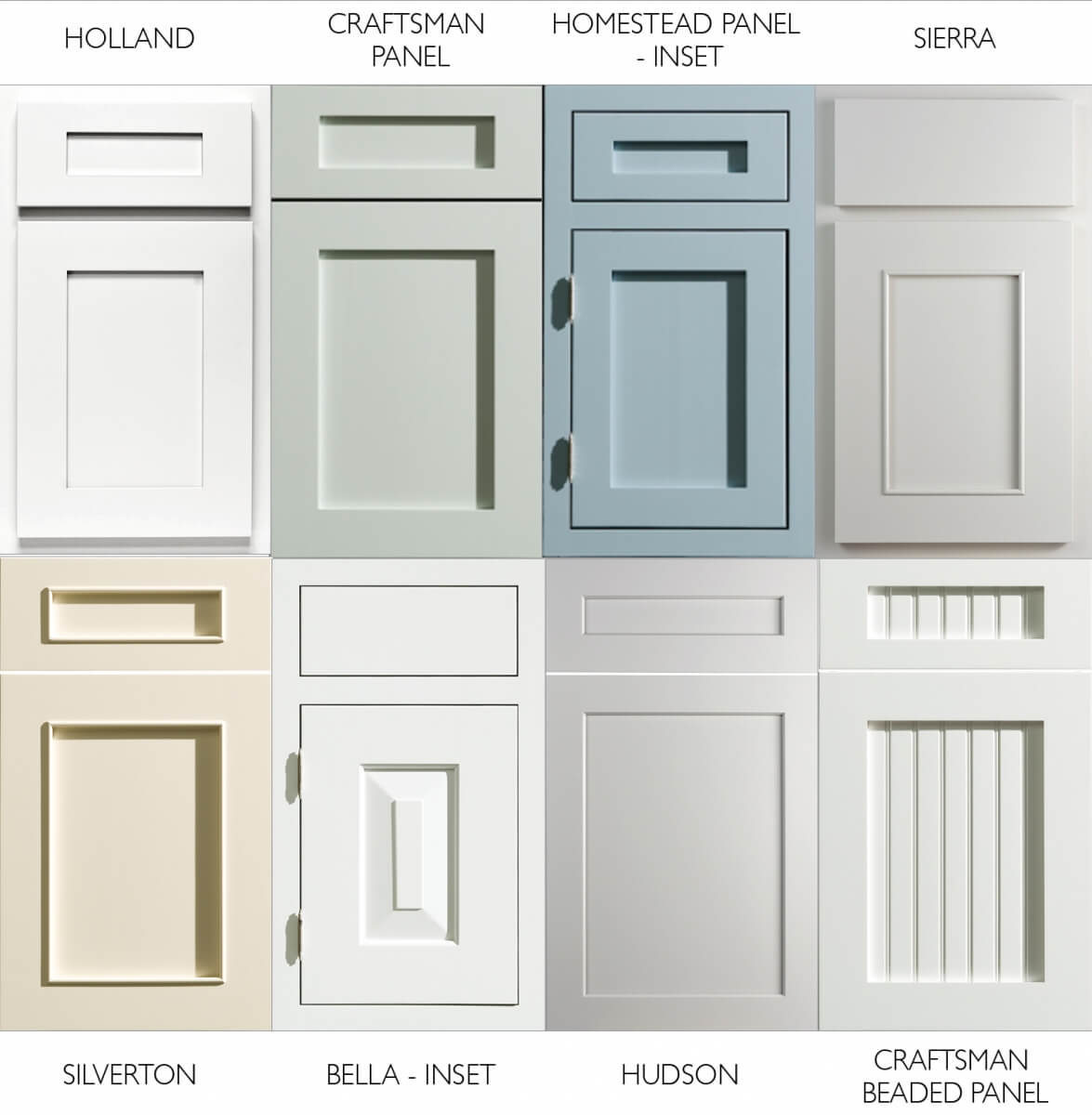 Design Elements for Creating Cottage Style
If you are planning to design a cottage styled kitchen or bath try incorporating some of these fun design elements:
1. Cottage Styled Furnishings and Décor:
Similar to cabinetry, soft painted finishes are a popular selection. There's an eclectic mixture of furniture pieces and home décor ranging from brand-new gems to chic flea market finds, to vintage treasures. Textured design elements like bead board, open weave baskets, burlap fabrics, and wicker are commonly used throughout the décor of a cottage-style interior.
2. Decorative Bead board Accents:
Select a bead board element to your wall, wood hood, backsplash or even door style to tie this into your design. Mixing the Craftsman Beaded Panel door style with the Craftsman Panel door style is a great way to add an eclectic feel and add a the look of bead board as an accent to your design.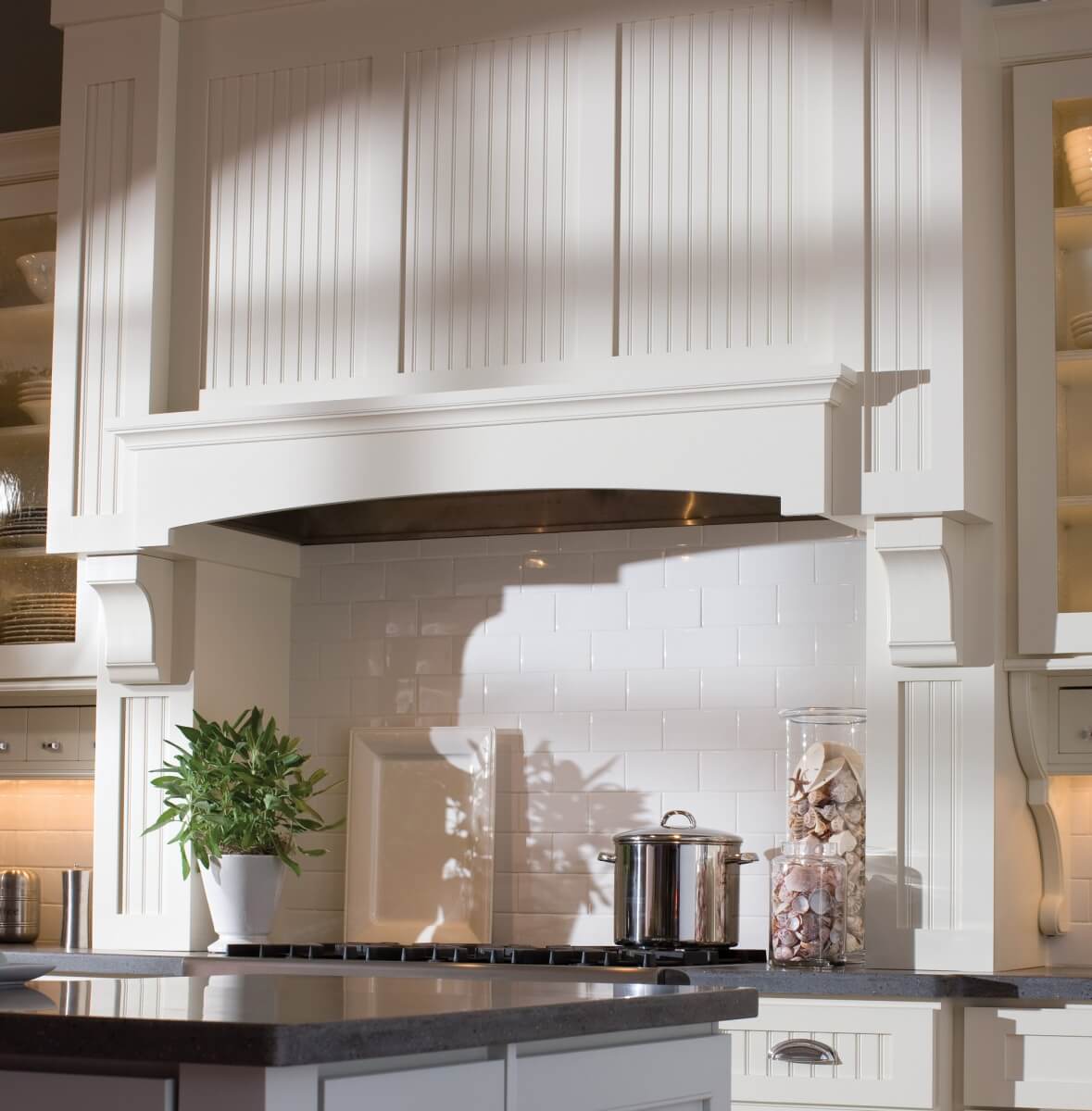 Dura Supreme Cabinetry wood hood with a bead board look.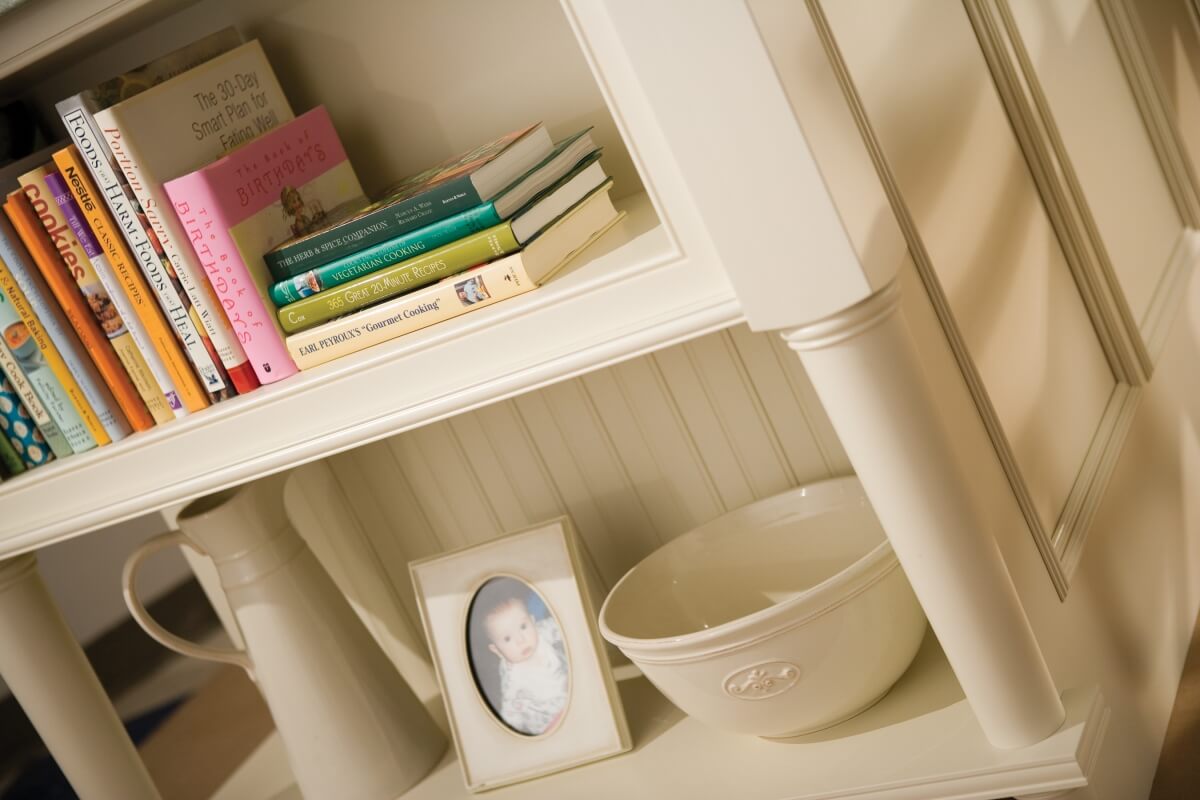 Dura Supreme Kitchen Island shown in a Personal Paint Match finish with Bead board.
3. Glass Cabinet Doors:
Cottage kitchens often display plate ware and crockery through glass doors, which can be a simple clear glass or a hand-blown glass with "seeds" and bubbles.  Mullions or leaded glass add charming detail. Dura Supreme's Mullion Patterns #1 and #9 and our Leaded Glass Insert (LG-52) are just a few of our glass door choices in creating this look.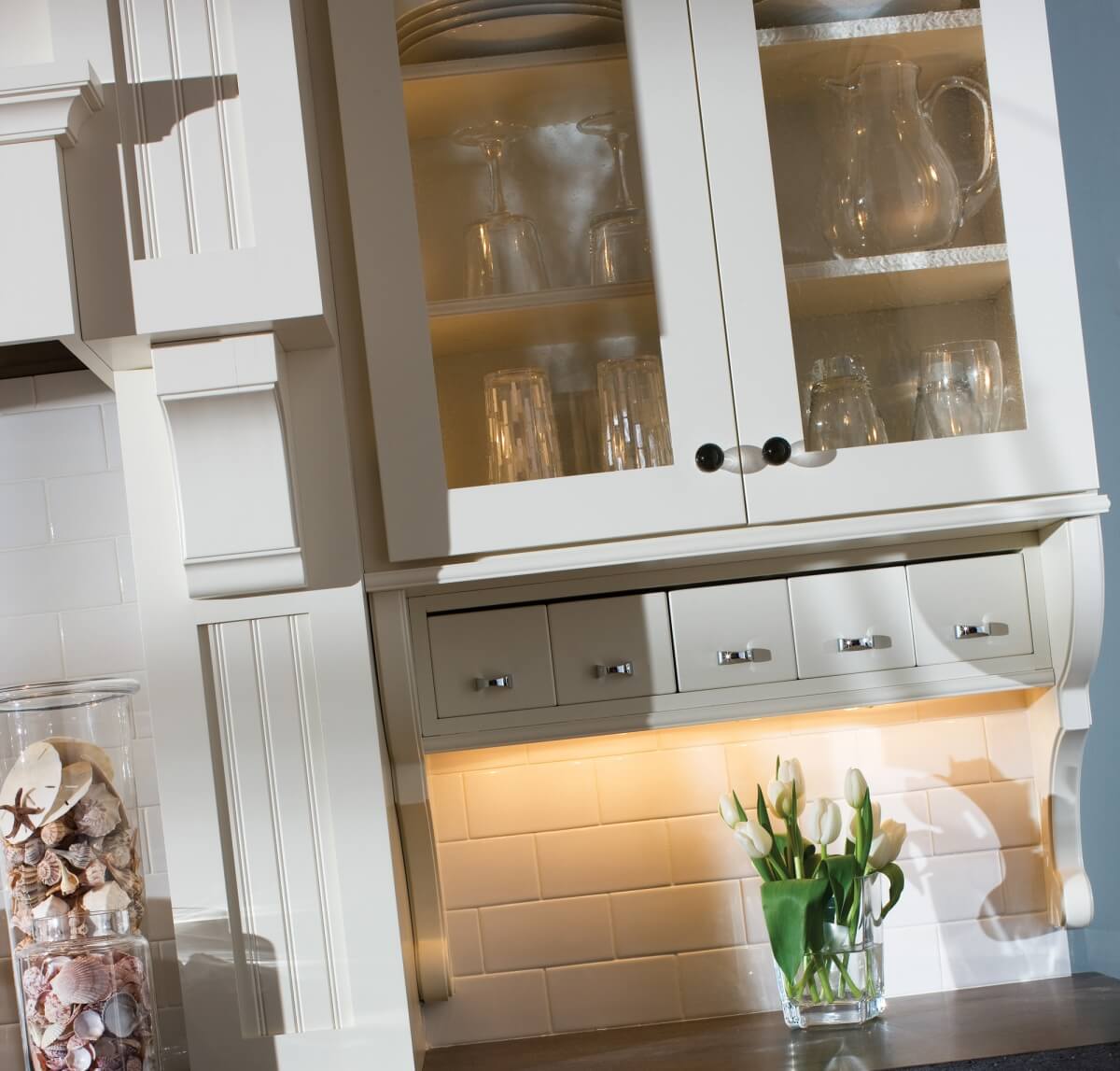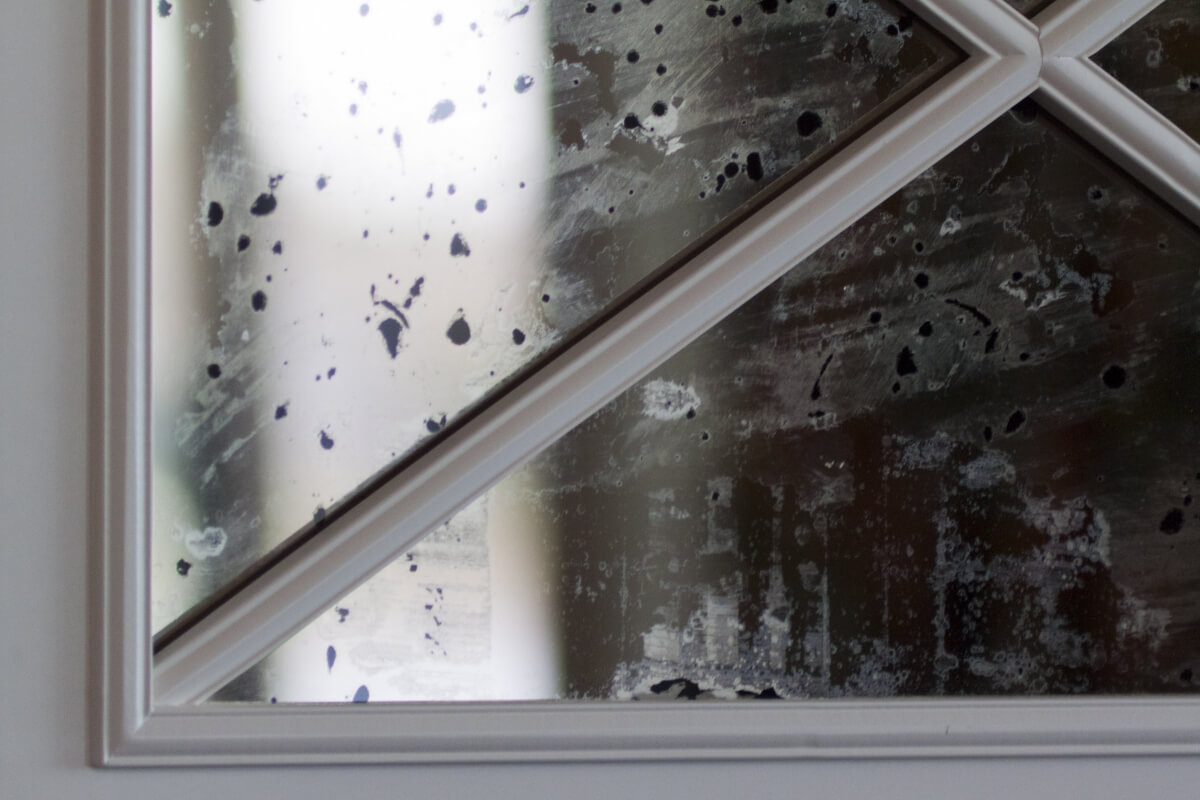 Antique Mirror is another way you can add this look but keep the contents of your cabinets hidden. Dura Supreme Cabinetry design by Nanci Marsman of Standale Interiors.
4. Delicate Turned Posts:
Traditional furniture styled turned posts add detail and dimension to a cottage interior. Try incorporating a traditional styled turned post to create an accent around a sink or an oven, or add a cottage flair to a kitchen island/table. Dura Supreme has a beautiful selection of charming turned posts to select from. Turned Posts B, D, and O are a few favorites to use in a cottage styled design.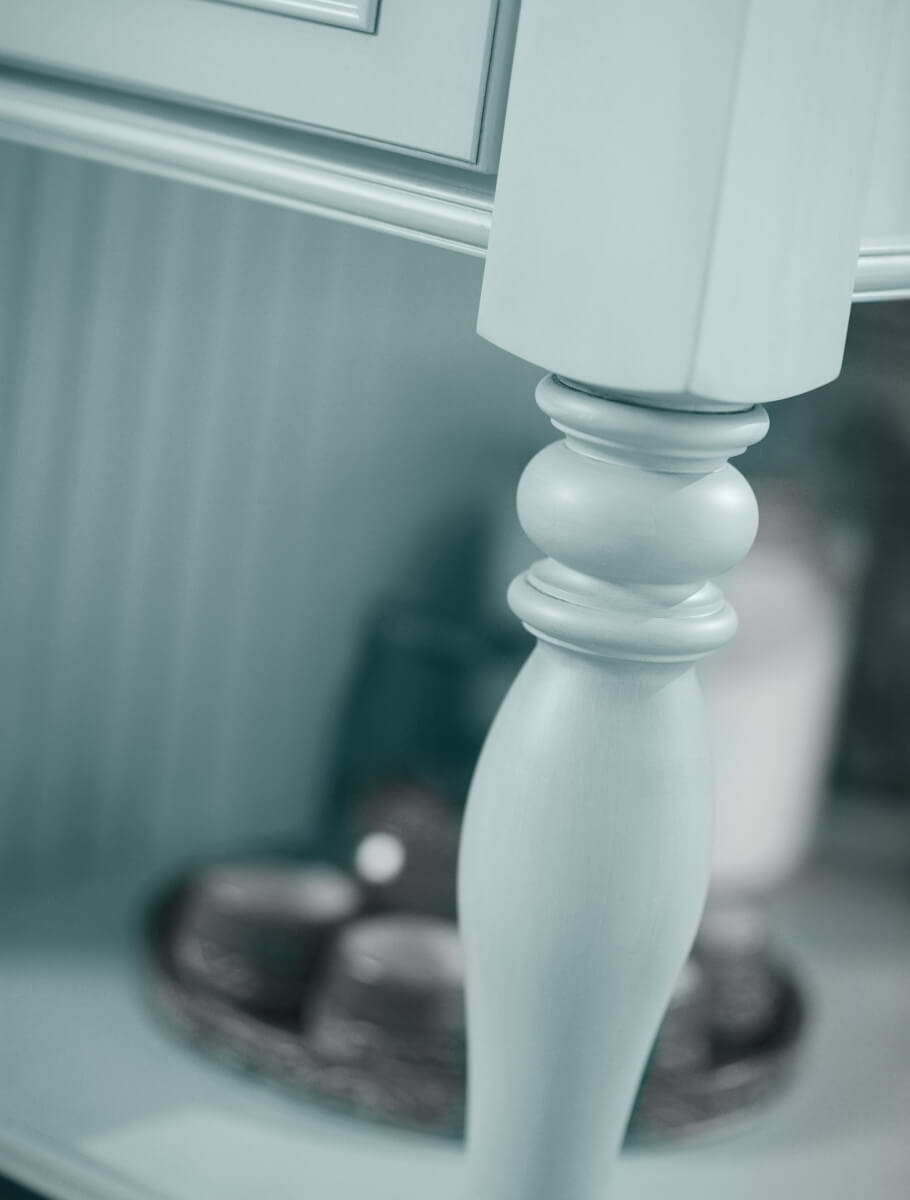 5. Add a Hint of History:
Classic design elements like apron sinks, apothecary drawers or a classic plate rack wall cabinet, bring us back to a simpler time and remind us of cozy historic cottages of the past.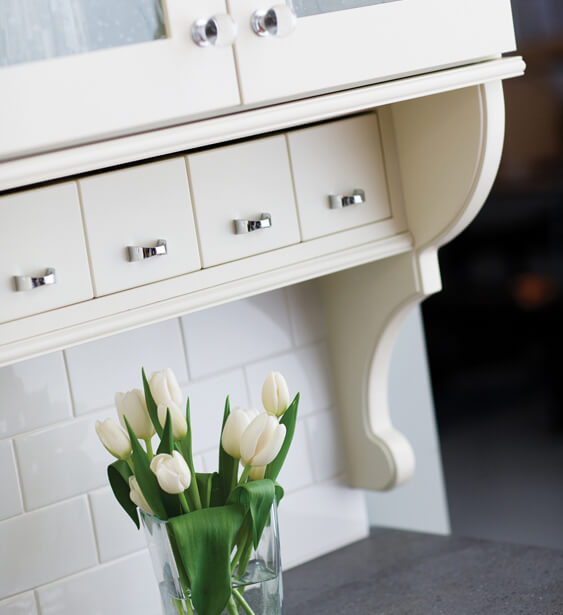 All in all, cottage design is inviting, soft, and cozy blending the old with the new. It combined beauty with practicality.  
Is Cottage style your interior design style?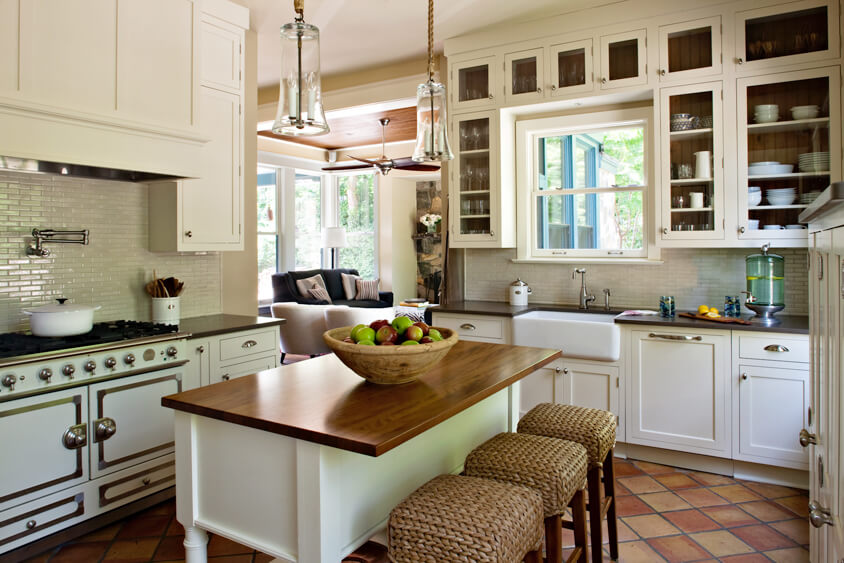 Dura Supreme Cabinetry kitchen design by Sandy Brannock and Cynthia Alsaif-Barthello of NVS Kitchen & Bath Inc.