The saying, "he is an island" generally refers to someone who is all alone, far away from the mainstream of life. The word 'deserted' is often associated with 'island'.  However, in the cabinetry design world, the word 'island' means almost the exact opposite- a gathering place, a hub of activity, the heart of a kitchen.  There are practically as many island designs as there are homeowners, as everyone's needs and sense of style are personal.  I will attempt to illustrate some kitchen island ideas I see trending lately, which can be tailored to many different kitchen sizes and styles.  All but one of the ideas presented here are Dura Supreme Cabinetry designers out in the field, pulling together the wealth of options and finishes we offer in new, creative ways.  So grab a cup of coffee, pull up a stool at your favorite island, and let's take a look at some kitchen island trends!
First, we'll look at this kitchen island below. You will see the island seating area defined by decorative end panels wrapped in the furniture base. Clean, unfussy lines have been gaining popularity for the last few years, and this is a great example of that. The designer chose one of our excellent gray stain finishes to pair with the white and wood tones throughout.
Next, we see another way to define seating within an island, with turned posts at the end of a countertop extension. Turned posts are a great way to infuse a particular style into a room.  With 29 post styles we offer in multiple thicknesses and heights, it is easy to find a transitional, contemporary, or traditional turned post to make that statement. 
Also, if you look towards the back, left of the photo above, you will see additional seating, made possible with Dura Supreme custom benches. These bench designs are also great to integrate into a kitchen island and pair with a pedestal table, which we are seeing more of in island design.
Below is an example of this-
Below we see a more traditional kitchen island, done in one of our Heritage Paint finishes, with columns, fluting, and seating, but here the designer utilized Dura Supreme's angle modifications to the cabinetry, creating a truly unique space that works for this kitchen size and shape.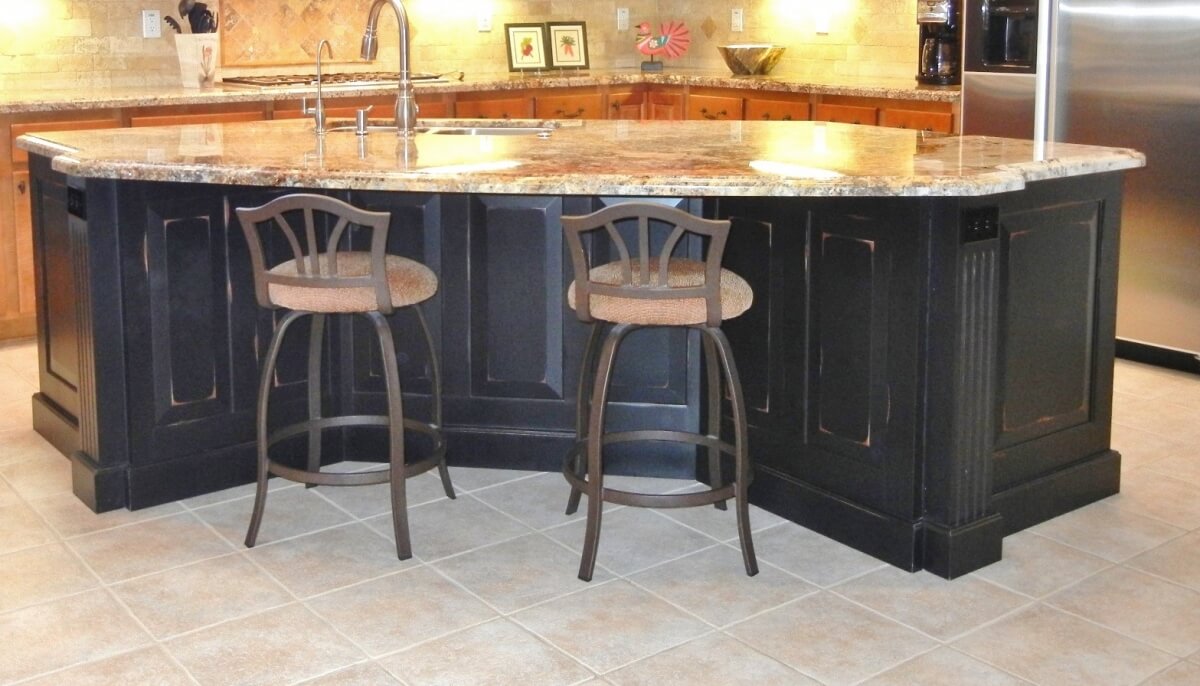 Another design feature we are seeing more of is the waterfall countertop, wrapping around the sides of the kitchen island.  Here, the ends and the seating side of the kitchen island are all smooth, clean lines, and on the cook's side, it is all business, with a sink, dishwasher, and loads of storage and prep space, all hidden from view on the other side.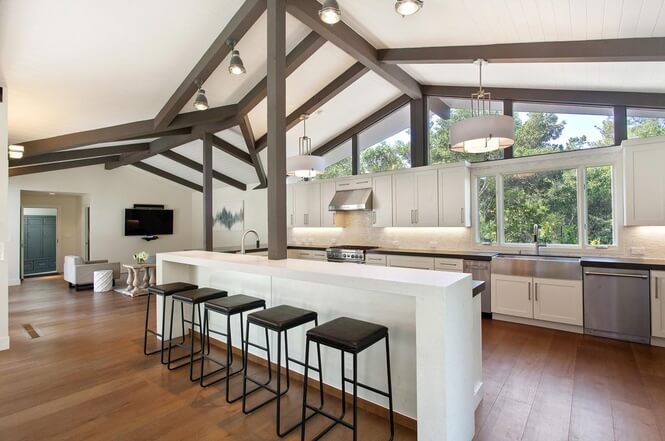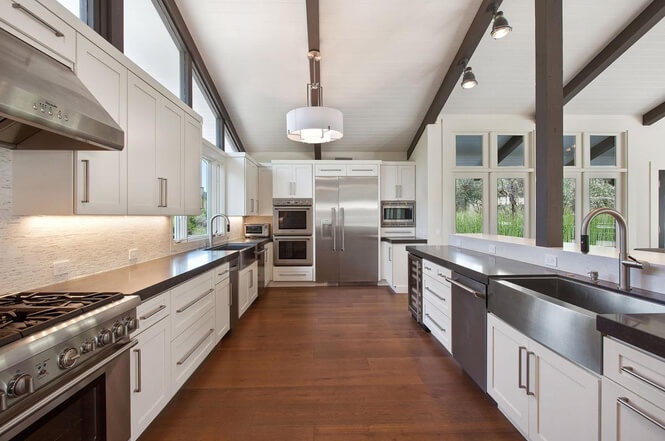 In this beautiful, bright, airy kitchen we see a workhorse of an island, with nicely thought out toe space features, giving it a furniture look. You will notice the microwave in the kitchen island, another trend that has gained traction in recent years. In the second picture, under the countertop overhang, the designer created a tucked away rolling work station that could be rolled to wherever a drink station, prep space, etc. is needed.
In talking about kitchen island design, I would be remiss if I did not touch on Island Endcaps, an entire program created by Dura Supreme to integrate into almost any island plan.  These endcaps are customizable, with various drawer configurations, shelves, and numerous turned post choices; the options are abundant.  Below we see two different island endcaps being used, helping to define seating and provide a more stylized approach to storage. Here it is shown in one of our Weathered wood finishes.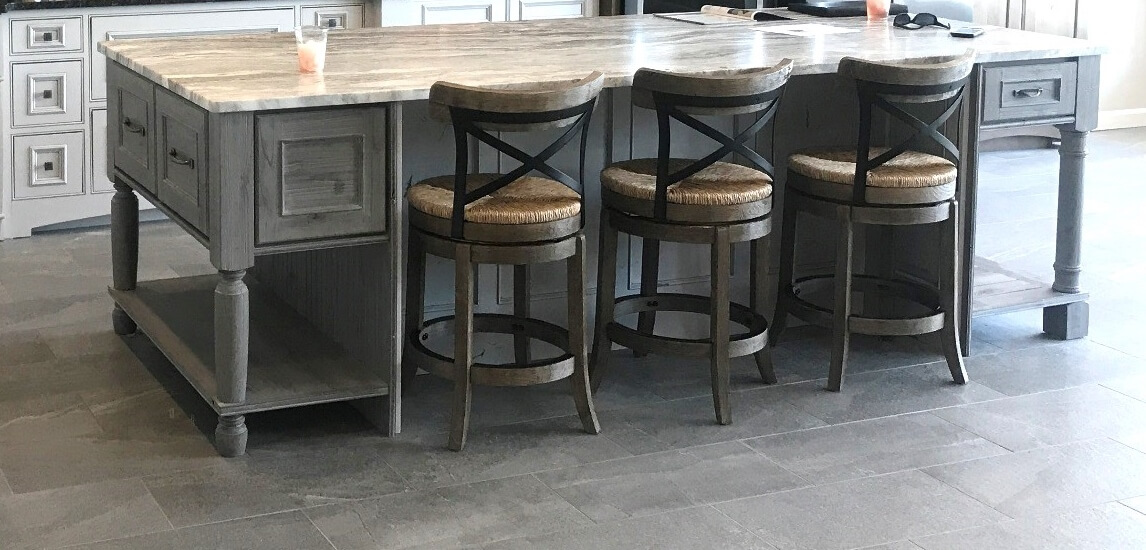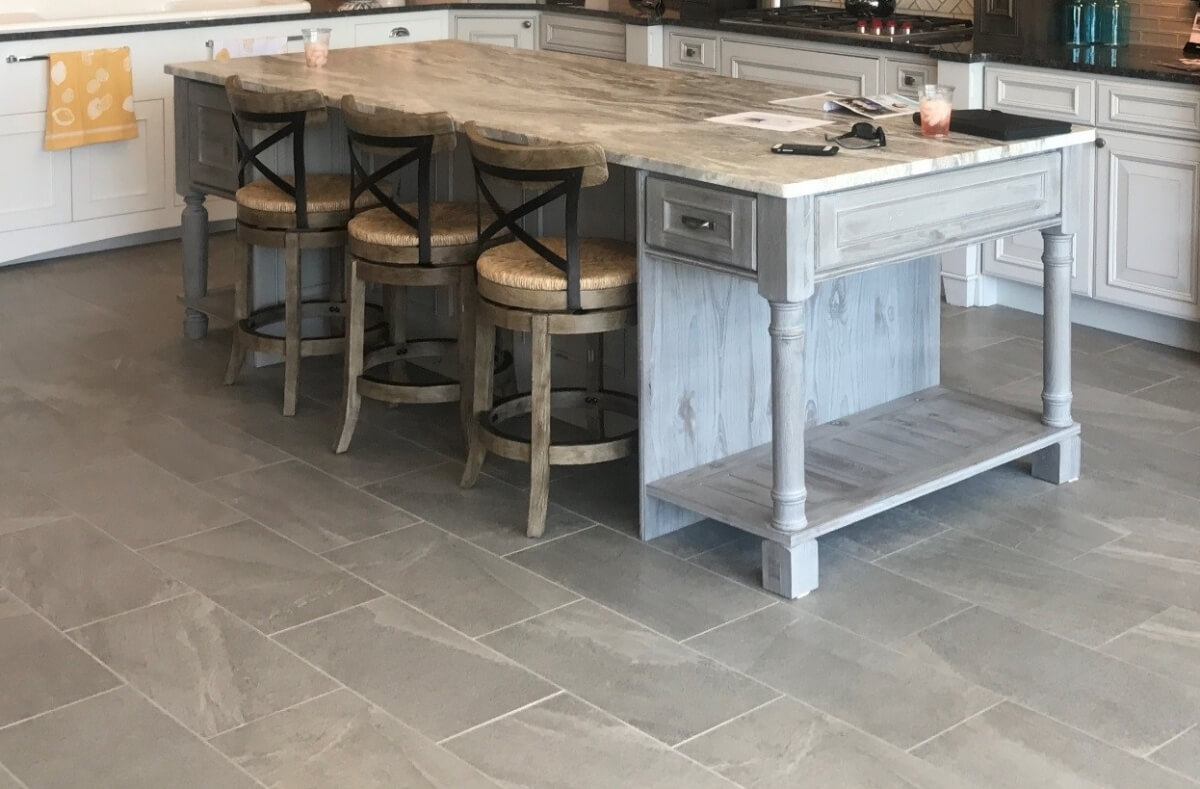 As I mentioned earlier, with Dura Supreme there are a crazy number of kitchen island configurations.  As you design your next kitchen island, consider seating, the tasks that will be done there, and what kind of style statement you are looking to make. Style can be shown through toe spaces, columns, posts, countertop applications, applied molding, not to mention door styles, wood species, and finishes. Hopefully, now you have a few more ideas you can draw on to make your kitchen island one-of-a-kind!