As kitchen trends continue to offer us some of the best products and finishes that we have seen in the last few decades, let's talk about the movement away from traditional Oak and Maple cabinets to woods that are more natural and brown in tones. Reclaimed wood and the farmhouse trend are still strong in design, and one wood species that work well with these trends is Knotty Alder.
Knotty Alder is one of the rustic species we offer at Dura Supreme Cabinetry. Knotty Alder is a smooth hardwood with a straight grain pattern and coloring similar to Cherry, ranging from a light honey color to a reddish-brown hue. Because of the prevalence of knots, it is appreciated for its rustic, informal appearance. Knots will vary in size and distribution and will include tight, sound knots as well as rustic, open, and split knots. Some knots may have open cracks that allow light to show through.
Alder may have some areas of burled wood which will appear darker when stained. Over time and with exposure to sunlight, Alder will actually become a shade lighter (mellowing) in color as the wood ages. One thing to note; it is the softest of the hardwoods, so you will want to consider the use it will get over time.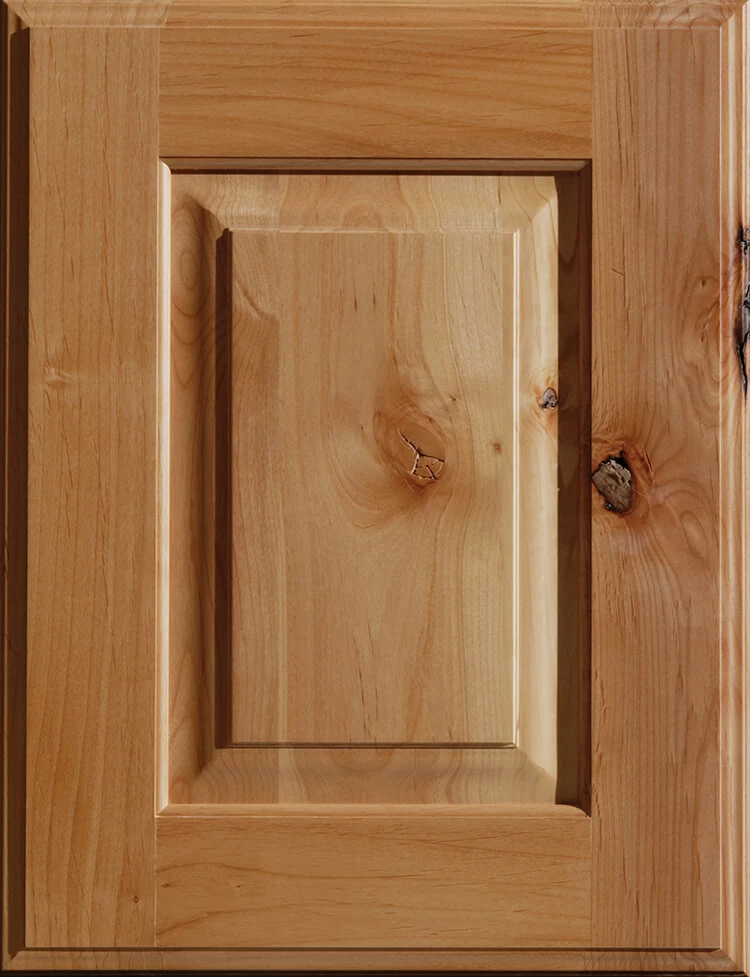 Alder accepts stains really well and therefore can have a light, beachy stain like Coriander, or go as dark and moody as Onyx. There is a stain to match any décor, whether you are complimenting your floor or countertops. The appearance is a bit more subtle than Rustic Hickory, and any knots and burling will be random when viewing a completed kitchen. Here is a sample of what we offer: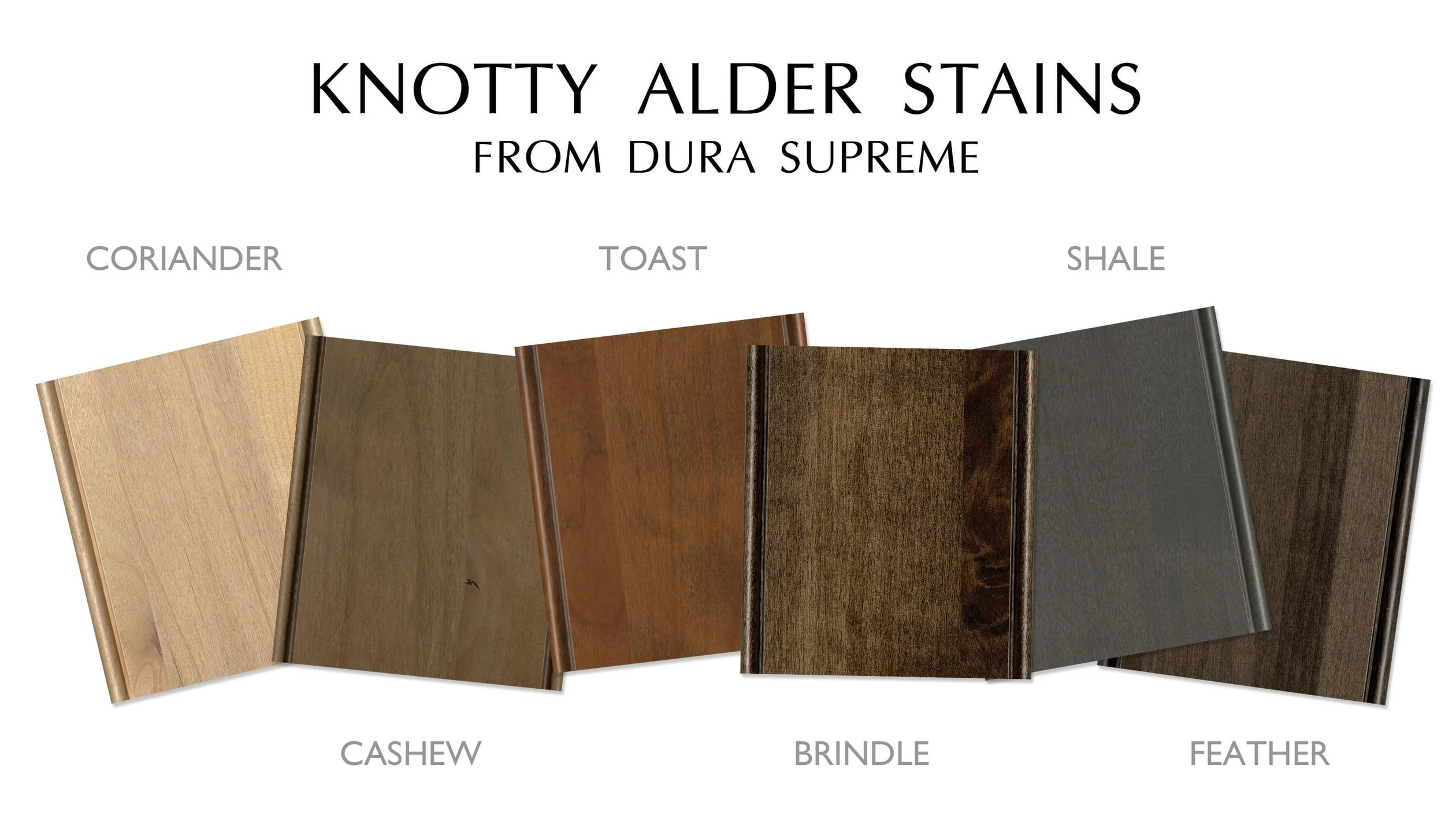 A beautiful traditional two tone kitchen with inset doors using Knotty Alder on the base cabinets and painted white for the uppers. The darker stain helps to even out the different tones of the Alder wood, yet the knots are still visible throughout the kitchen.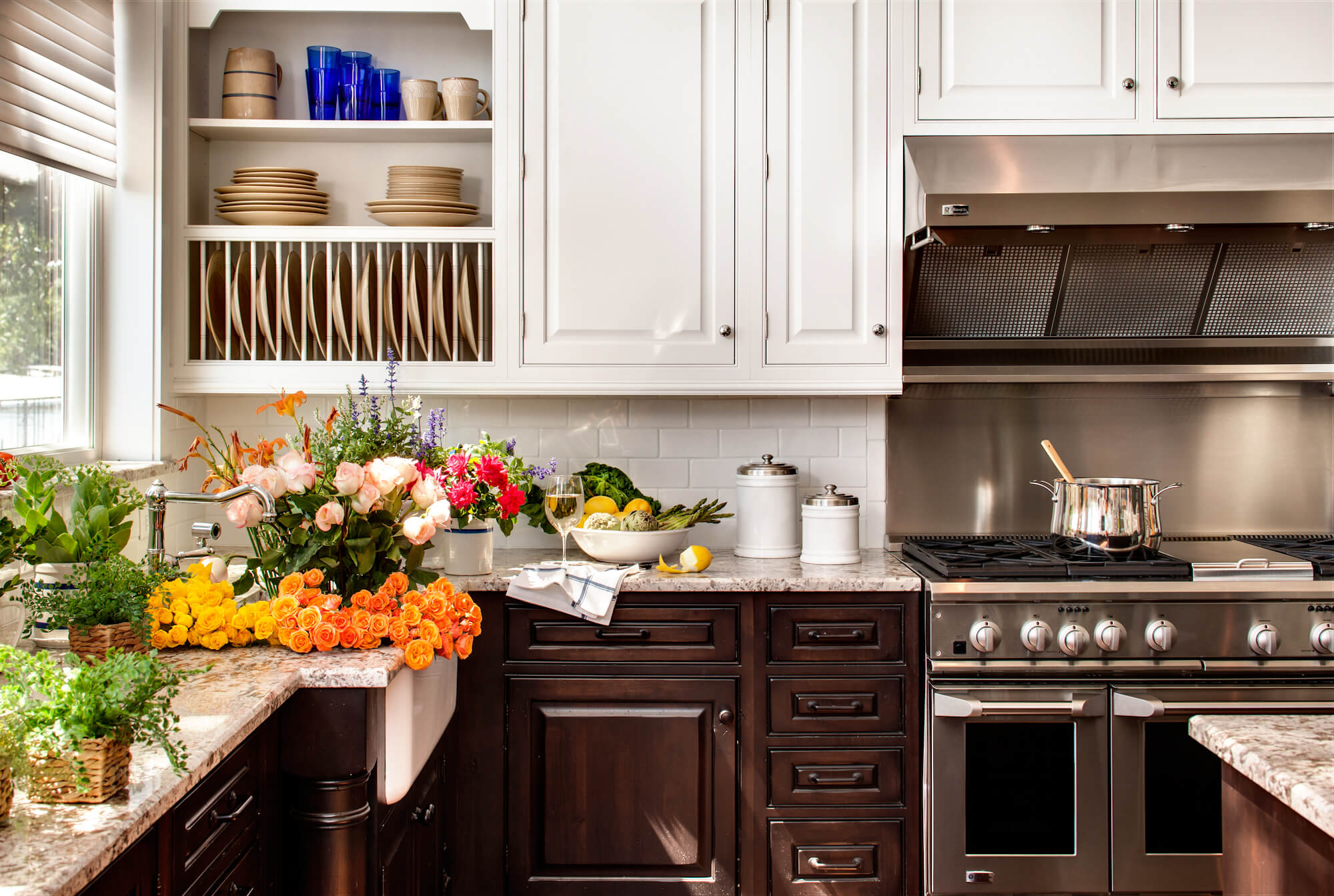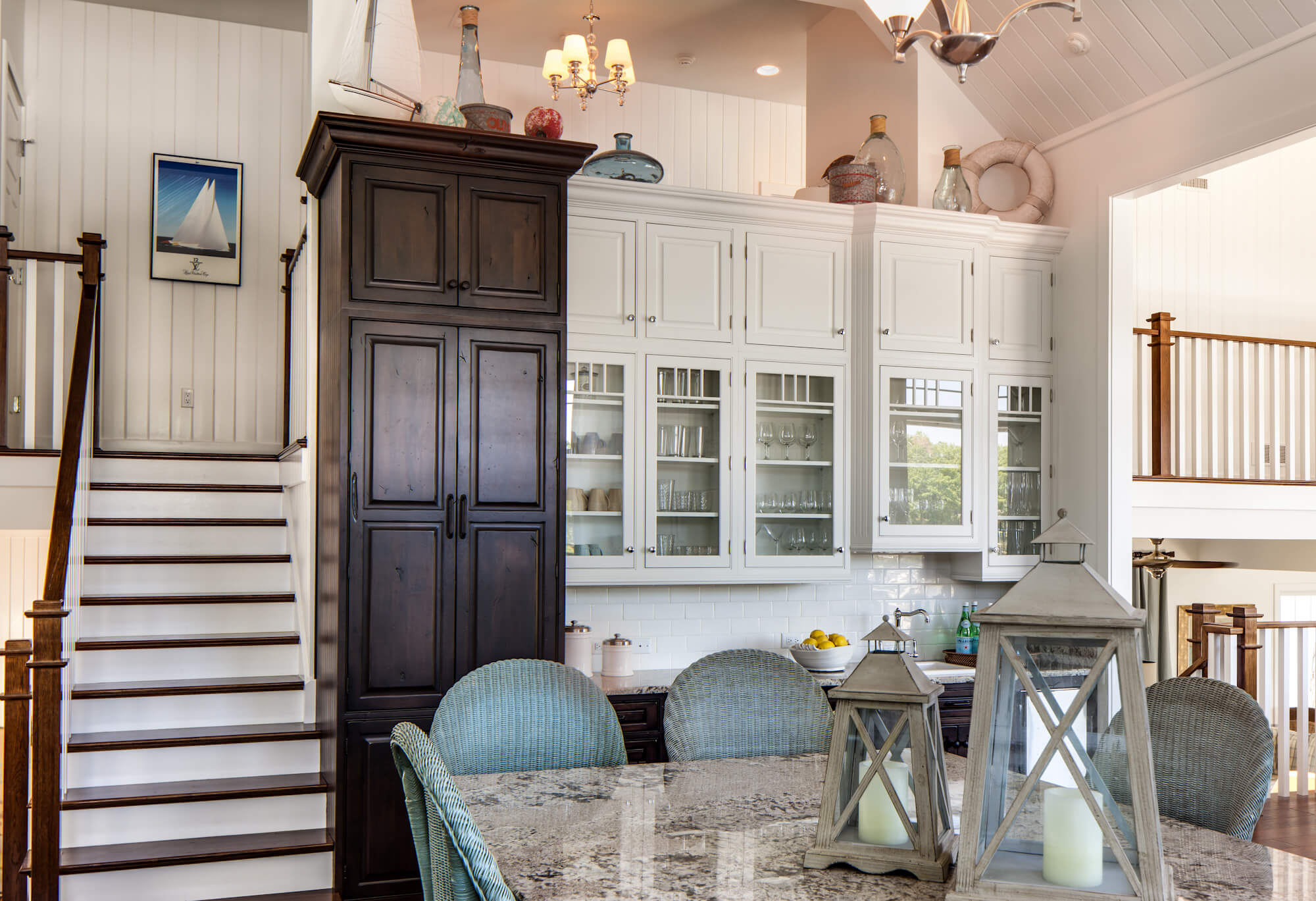 This transitional kitchen shows off the wood variations and knots of our Knotty Alder in Cashew without being too over the top with its rustic appeal. The warm stain with grey undertones is right on trend with today's color palettes.
The stone wall is a great accent to this room and sets off the built-in Knotty Alder cabinets. The stain helps to even out the tone of the wood, yet highlights the knots and burling of the rustic wood.
This two tone dry bar area shows off our weathered finish on the center cabinets, which adds to the overall rustic appeal of this small space that incorporates beverage and wine storage, as well as glass mullion doors.
This soothing and cool green kitchen has added warmth with an island in Knotty Alder in a "winter" stain. Another transitional design that adds character by mixing the wood island with the painted perimeter cabinets, both in a simple shaker door style.
This kitchen uses a mix of old and new styles, using Knotty Alder in a rich dark stain with a gorgeous stainless steel hood with brass strapping details that add to the rustic feel of the room. The brass hardware pulls it together, and the modern stainless steel range blends seamlessly with its surroundings.
This gorgeous two tone kitchen in Knotty Alder with Praline finish is spot on for today's trends as well as into the future. The variations in wood tones on the center island, hood, and dry bar are set off by the bright white cabinets. The navy cabinets peeking from the butler's pantry as another dimension to the colors, and the brass accents of the fixtures pull it all together nicely.
The knots add to the heaviness of this Dura Supreme door style pictured below, giving you the feeling that you are looking at an old piece of furniture that has been lovingly handed down from generation to generation. Paired with pewter hardware and grey tone tiles, it is a beauty to behold!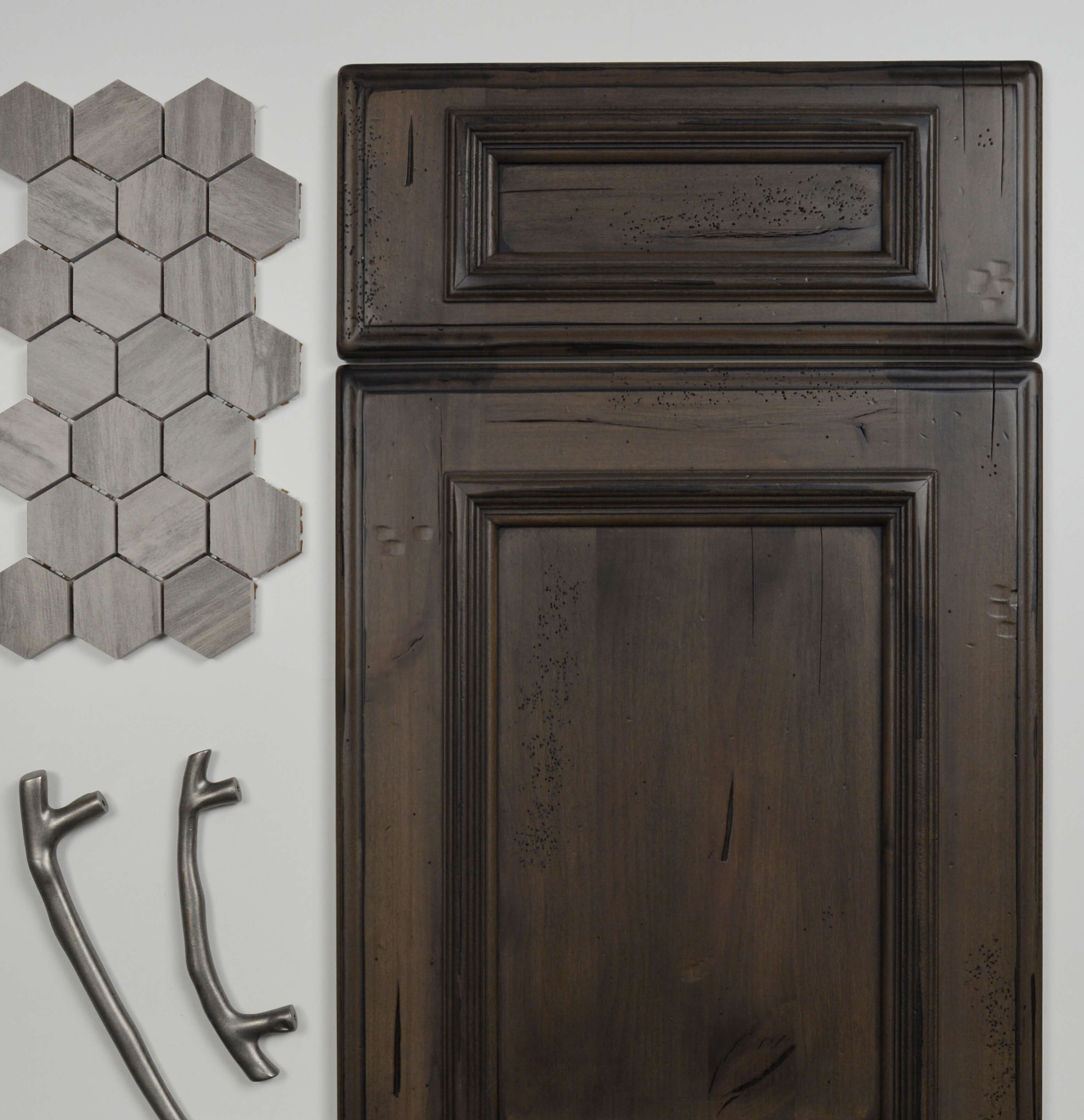 When it comes to your next project, try being a little knotty, and have your client consider using a rustic wood species like our Knotty Alder for their cabinets. By educating them on the unique characteristics, showing the many different stain options, and how it can be used with today's transitional designs, they may discover what they thought was not to their taste is actually a style they will enjoy for years!
Look for my next article regarding Hickory… coming soon!