Ah, Oak cabinets! They bring up fond memories of parents' or grandparents' kitchens, all golden and mellowed with exposed hinges, cathedral arches, and a certain tackiness to the surface around the knobs and pulls. They certainly had their share of the limelight during the 70's and 80's. As housing communities started to develop in suburbia USA, many builders used Oak as the standard. There was a time in my 25+ years spent designing kitchens for clients when I would inwardly groan and roll my eyes at a customer requesting Oak cabinets. It seemed that many home owners, especially if they lived outside the city limits, thought Oak was the only option for them, given the fact that everything in the house was trimmed with it. Even while cabinet trends moved to Cherry, then natural Maple, and now white, some homeowners still think it is the benchmark of wood when it comes to quality cabinetry.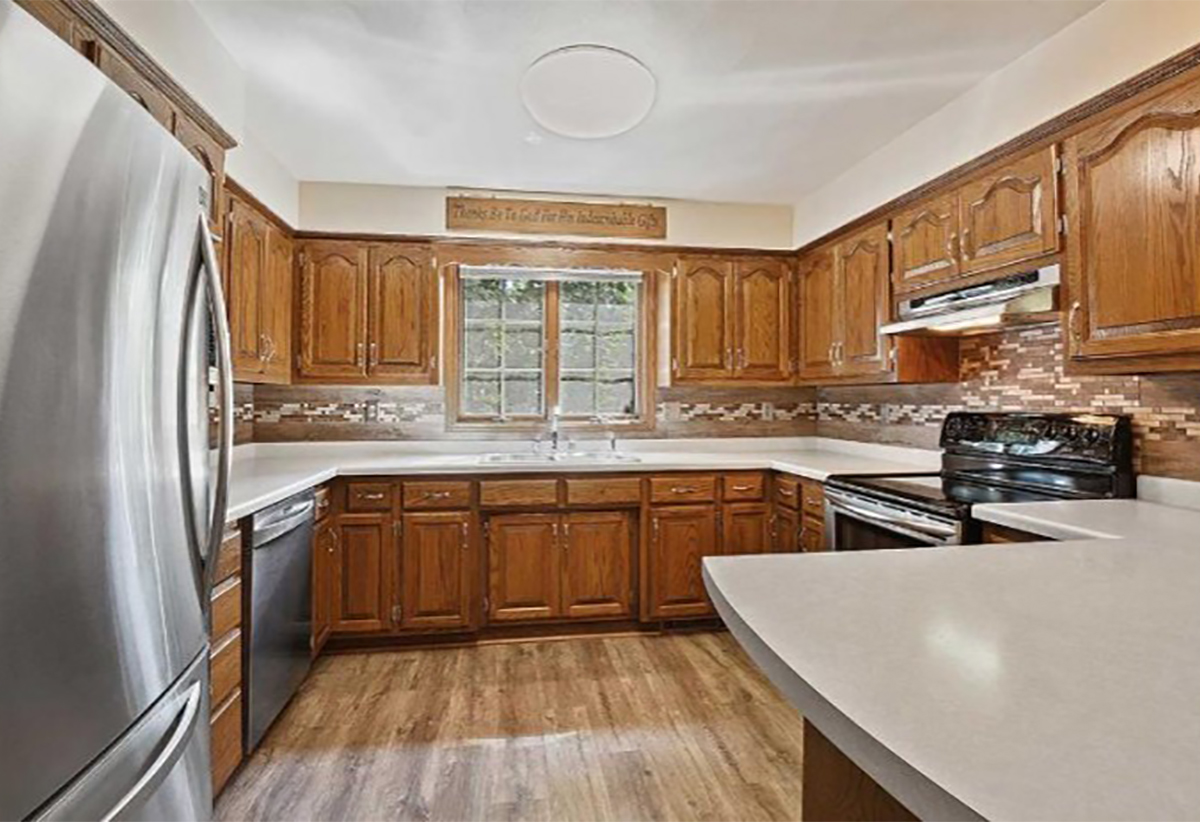 Lately, Oak has had a reawakening, and today's design trends have given me a new appreciation for Oak. Many designers are once again using this classic wood species for cabinetry, but they're updating the look and feel by using darker, warmer finishes as well as cool, gray tones and different cuts of Oak like straight grain or quarter-sawn. With its prominent graining, our special weathered finish or even (gasp!) paint display well on Oak and add visual texture to a room when combined with other finishes. Oak is starting to regain the respect that it once had, and I am welcoming its resurgence back into kitchen design.
Oak comes in different cuts that affect how the graining will look on the surface. Typically you will see plain-sawn, quarter-sawn or rift-sawn when it comes to case goods like cabinetry. Each cut starts with a full log cut at a different angle, which allows for graining to be more open and prominent, or closed and fine. Here at Dura we offer both plain-sawn Red Oak and quarter-sawn White Oak (QSWO).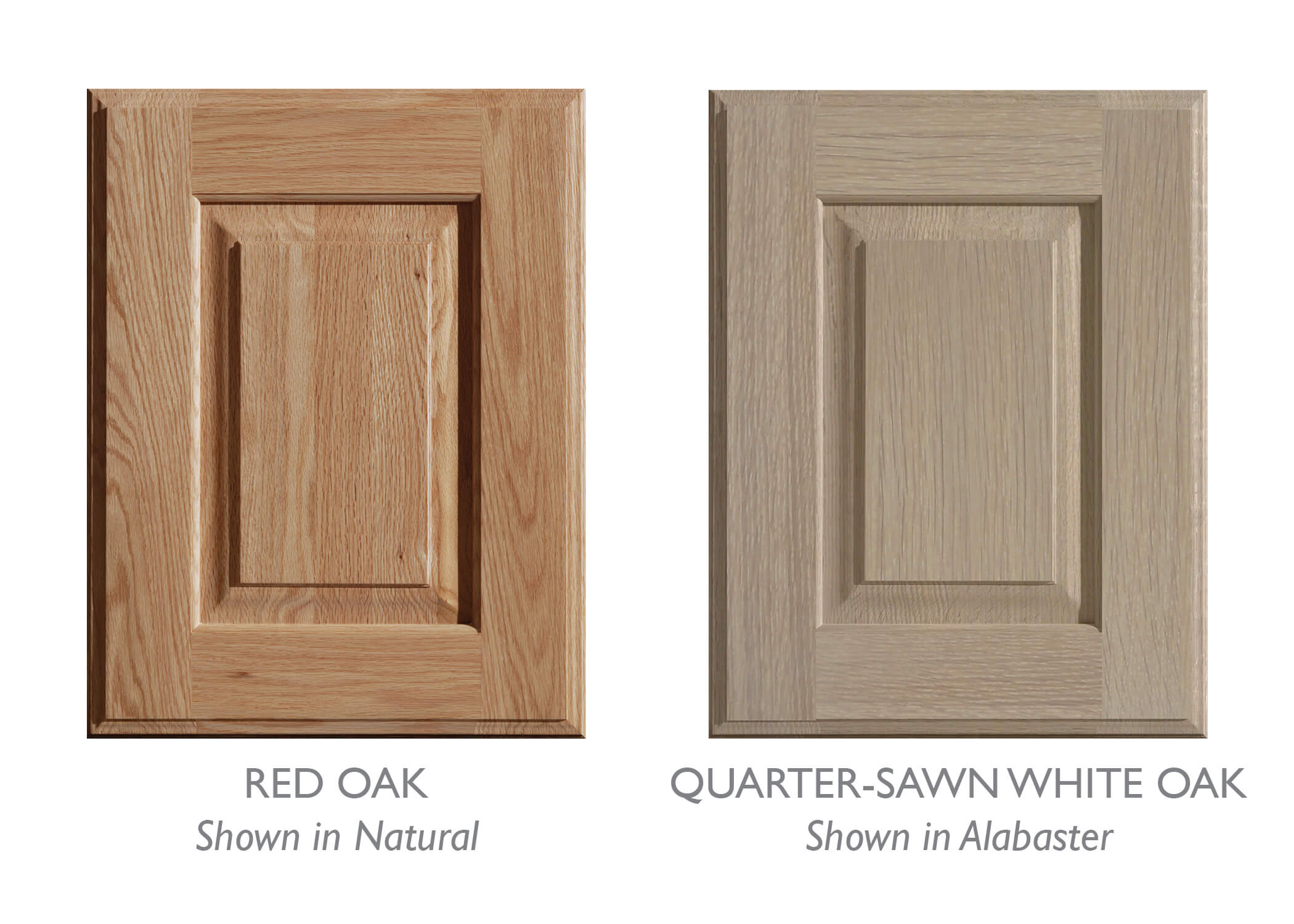 Plain-sawn Oak is used in more traditional designs. It is a premium hardwood recognized for its prominent, open grain pattern and texture, which varies from a tight, straight grain to a distinctive, arched pattern. Color can range from light to medium brown with red hues. Occasional pin knots and mineral streaks may also occur.
Quarter-sawn Oak (QSO) is a premium hardwood that is admired for its distinctive grain pattern, which became especially popular with Arts and Crafts furniture design. The cutting method is more costly but gives planks a consistent, straight grain pattern with an intriguing "fleck" across the grain. Color may range from light to medium brown with red hues.
Both cuts of wood absorb stains readily – from pale browns all the way to deep, espresso-like finishes – due to the large, open grain patterns, and it does not get blotchy with darker finishes like some woods do.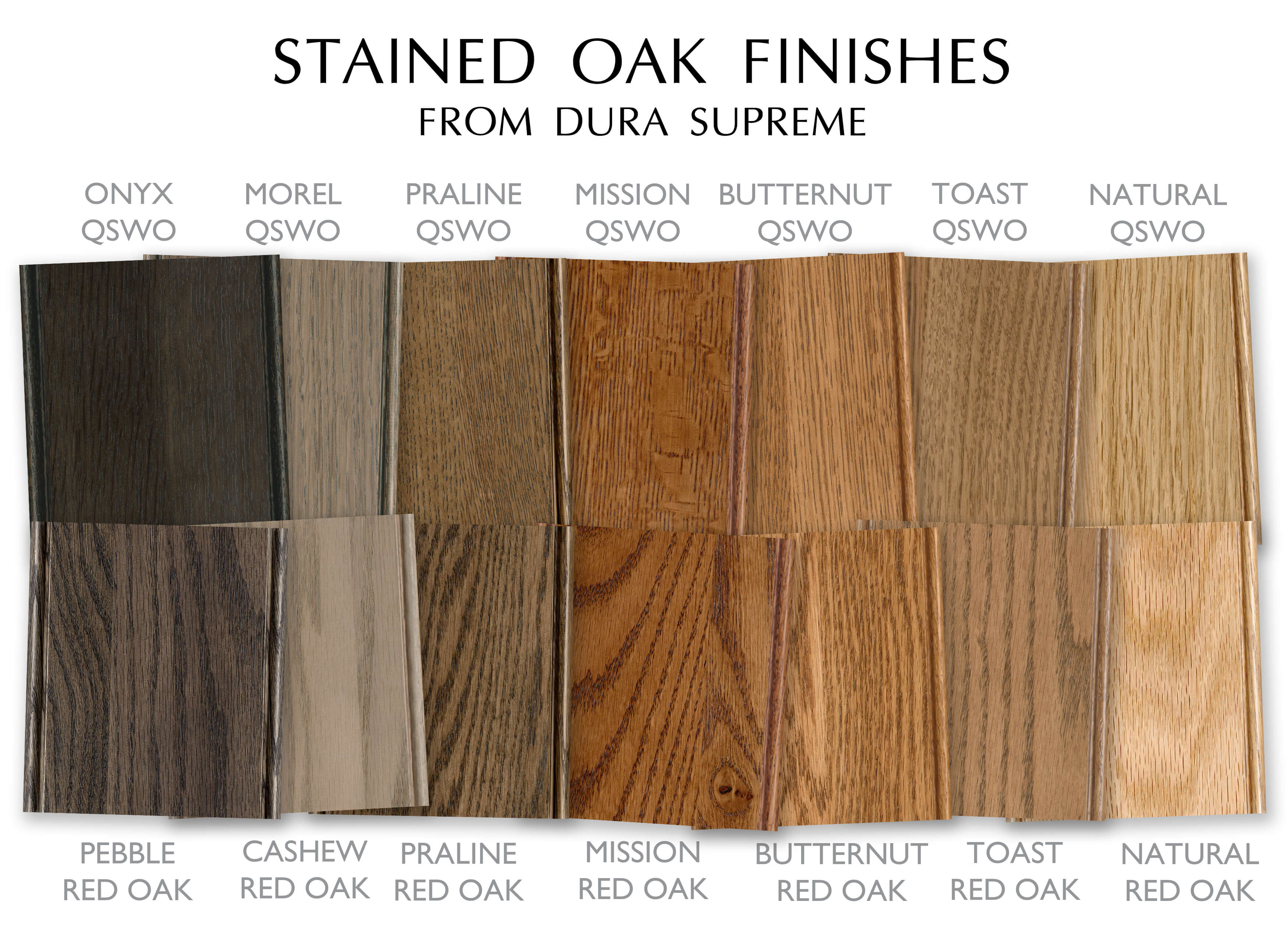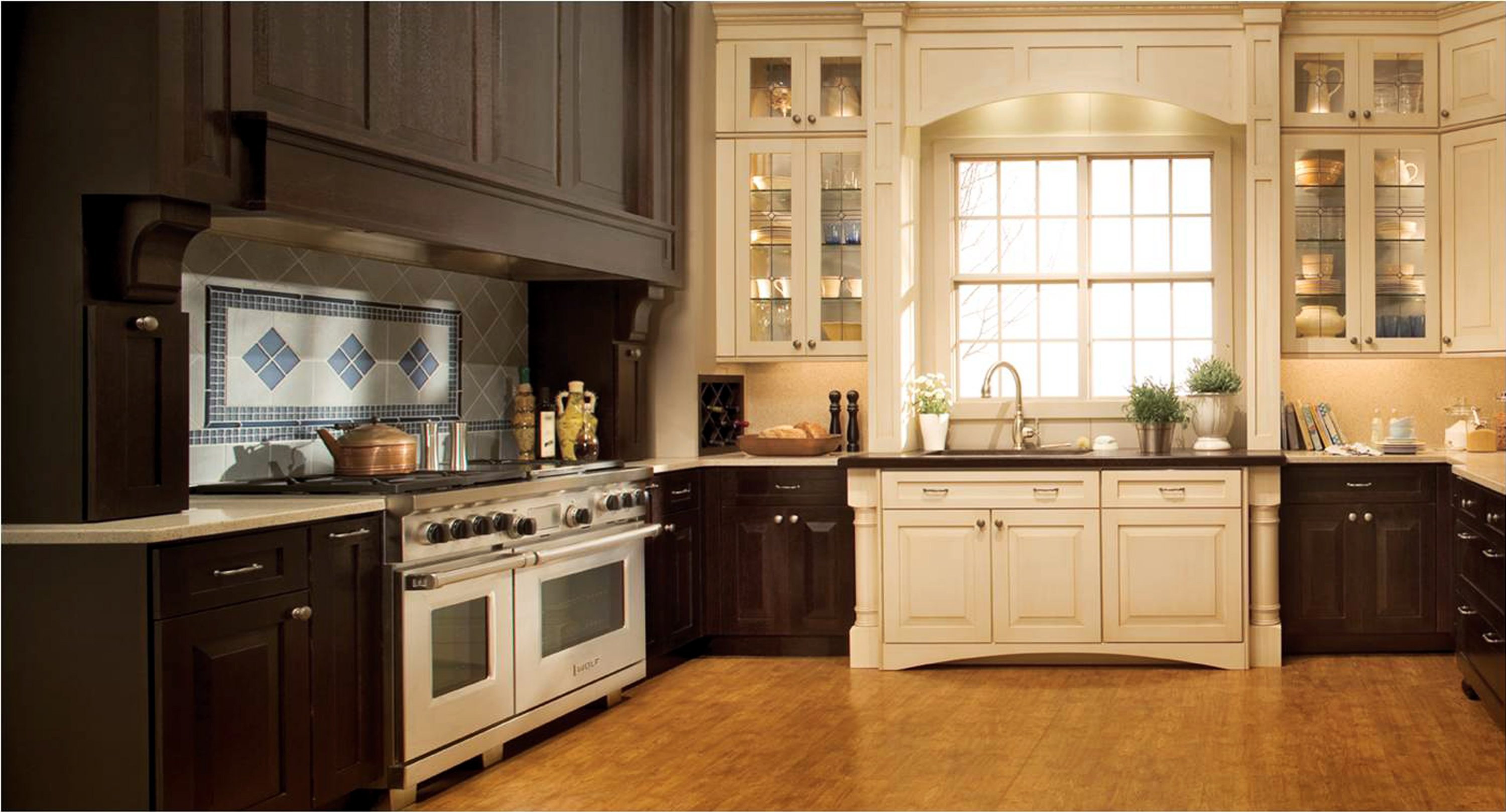 Stained cabinets have been reinvented in the last few years with finishes that are true brown in color rather than red. Gray stains and stains with gray undertones have also started to pop up on the design scene. Our Manchester Panel door in Cashew-stained Red Oak shows off this trend beautifully. The brown tones are muted, and the gray undertones are highlighted in the open graining that is indicative of Oak. Rather than shying away from this wood species, designers are using it in kitchen designs as an accent or statement piece in a bathroom.
This kitchen (installed by our friends at Emergent Construction in Indianapolis, IN) combines both painted and stained cabinets. The island is our Craftsman door style in Toast stained QSWO, and the brown and gray tones add warmth and texture to the cool blue tones of the painted perimeter cabinetry.
Quarter-sawn Oak was essential to the design style of the Arts & Crafts movement, which birthed Craftsman style in architecture, furniture, and other decorative arts in America. The popular architectural style of Bungalow and Prairie homes used a simple, five-piece door (often inset) for kitchen cabinetry, as well as built-ins throughout the home. Our Craftsman door is a timeless design that can be used in many transitional designs, and a warm stain is reminiscent of a bygone era.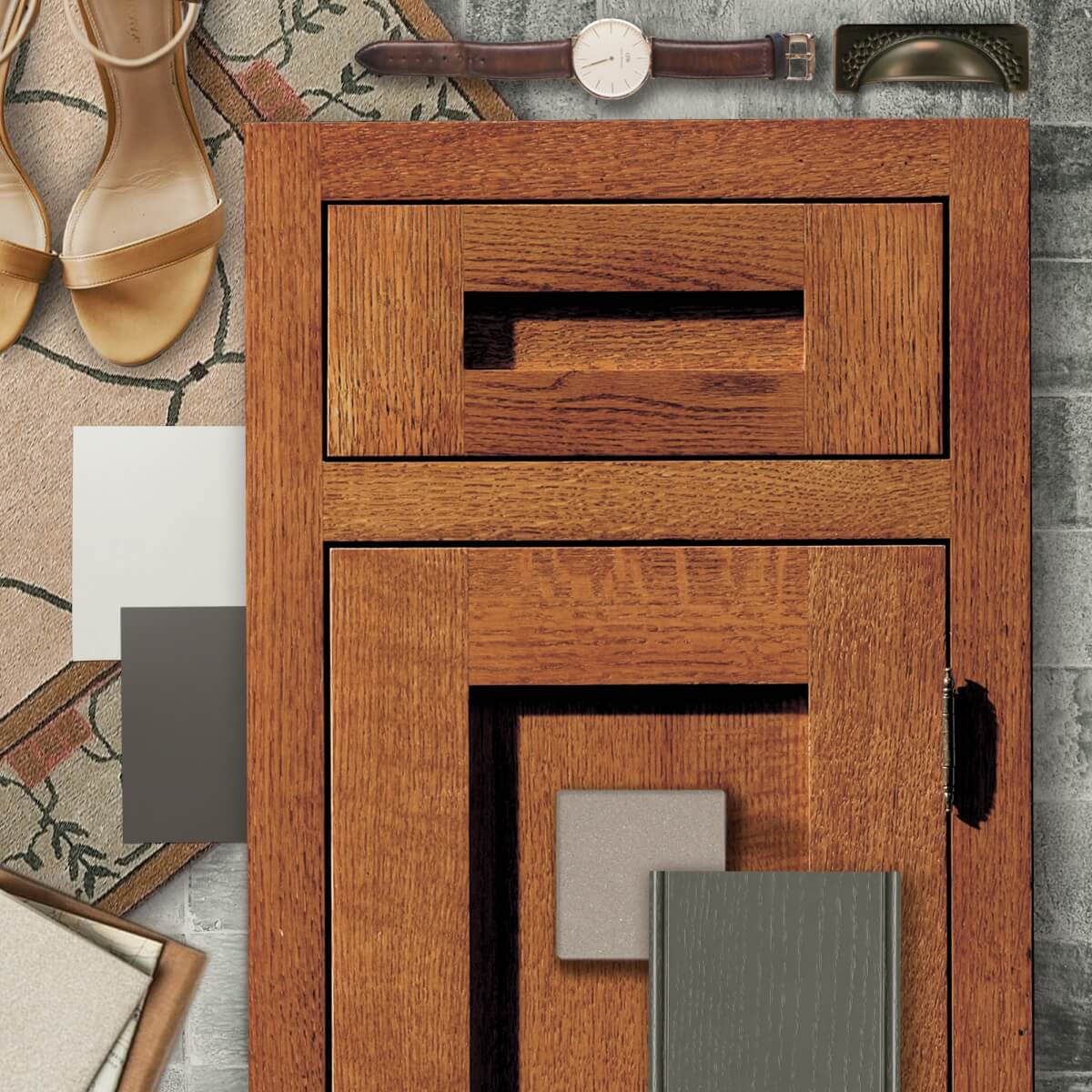 This beautiful wall featuring our Craftsman-Inset door style in our Mission stain is the epitome of Arts and Crafts. The rich, red tones of the stain highlight the tight, iridescent graining of the quarter-sawn Oak. The platform wood hood with decorative corbels add to the wow factor, and the details of the exposed hinges on the inset doors and decorative hardware complete the look and feel of this kitchen.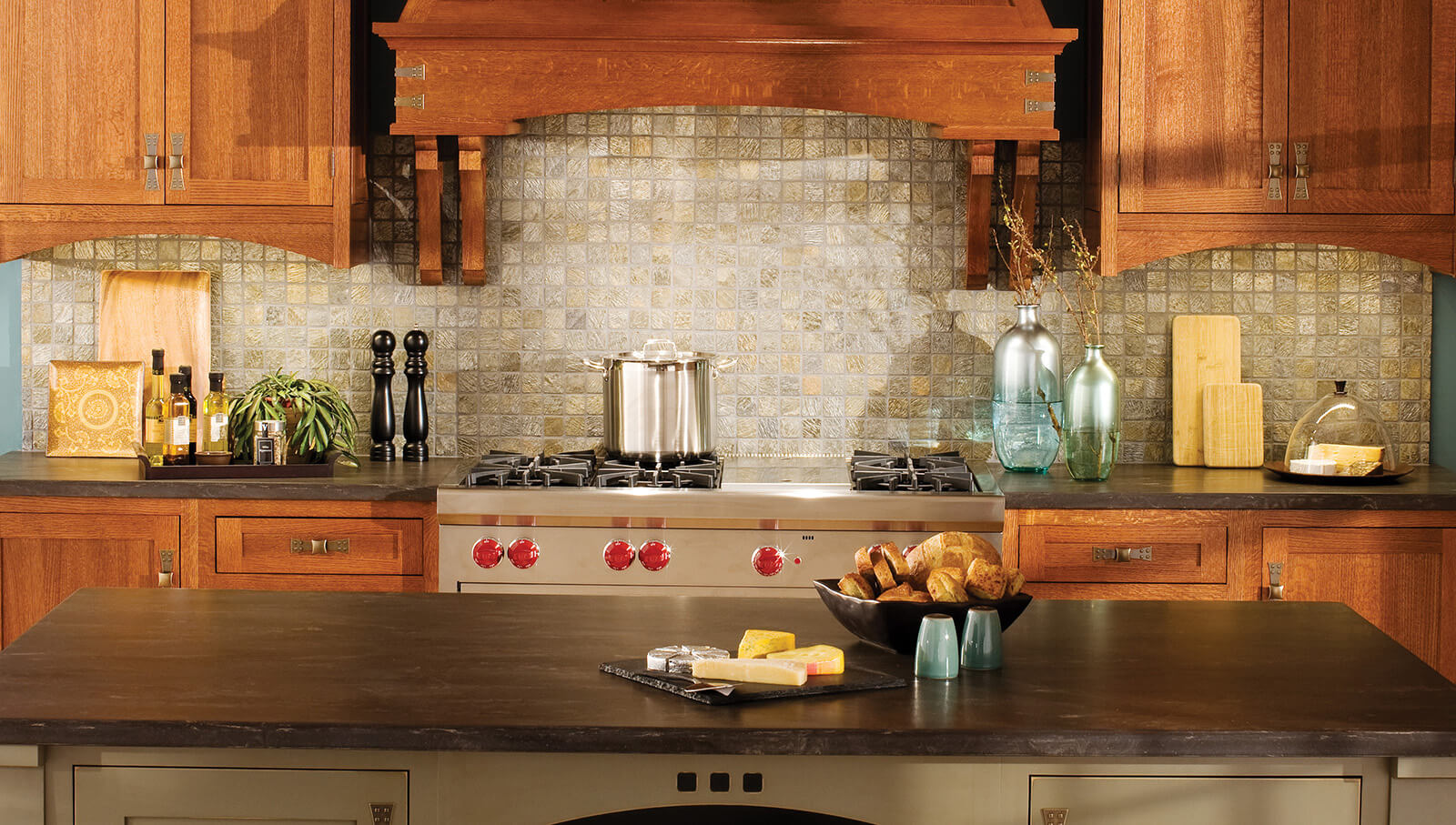 While many people still want a more traditional look, they are also looking for finishes that are new and fresh, mixing them with today's design elements. The below photo is a beautiful example of mixing traditional design with new finishes. The quarter-sawn Oak cabinets in our Arcadia Door are beaded inset with slab drawer fronts. The Sesame stain gives that brown color towards which designs are trending, but also offers a gray undertone that highlights the beauty of the Oak. Clean lines mixed with open shelving and a simple island; it is the perfect blend of old and new!
Below is a transitional style bathroom with a vanity in Dura Supreme's Carson door in Cashew-stained Red Oak. The distinct cathedral graining of the wood is highlighted by the stain and brings warmth and texture for a spa-like feel.
Let's talk painted Oak. Wait, what? Painted Oak cabinets? In my house? Yes, yes and yes! Painted Oak used to be frowned upon, but that line of thinking is slowly dissolving. Typically, paint is reserved for smooth woods such as maple and alder, where you can get consistent cover with no graining coming through, but painting Oak adds not only color but texture to cabinetry. It is subtle, but when light reflects off the surface, it shows off the distinct nuances of the grain.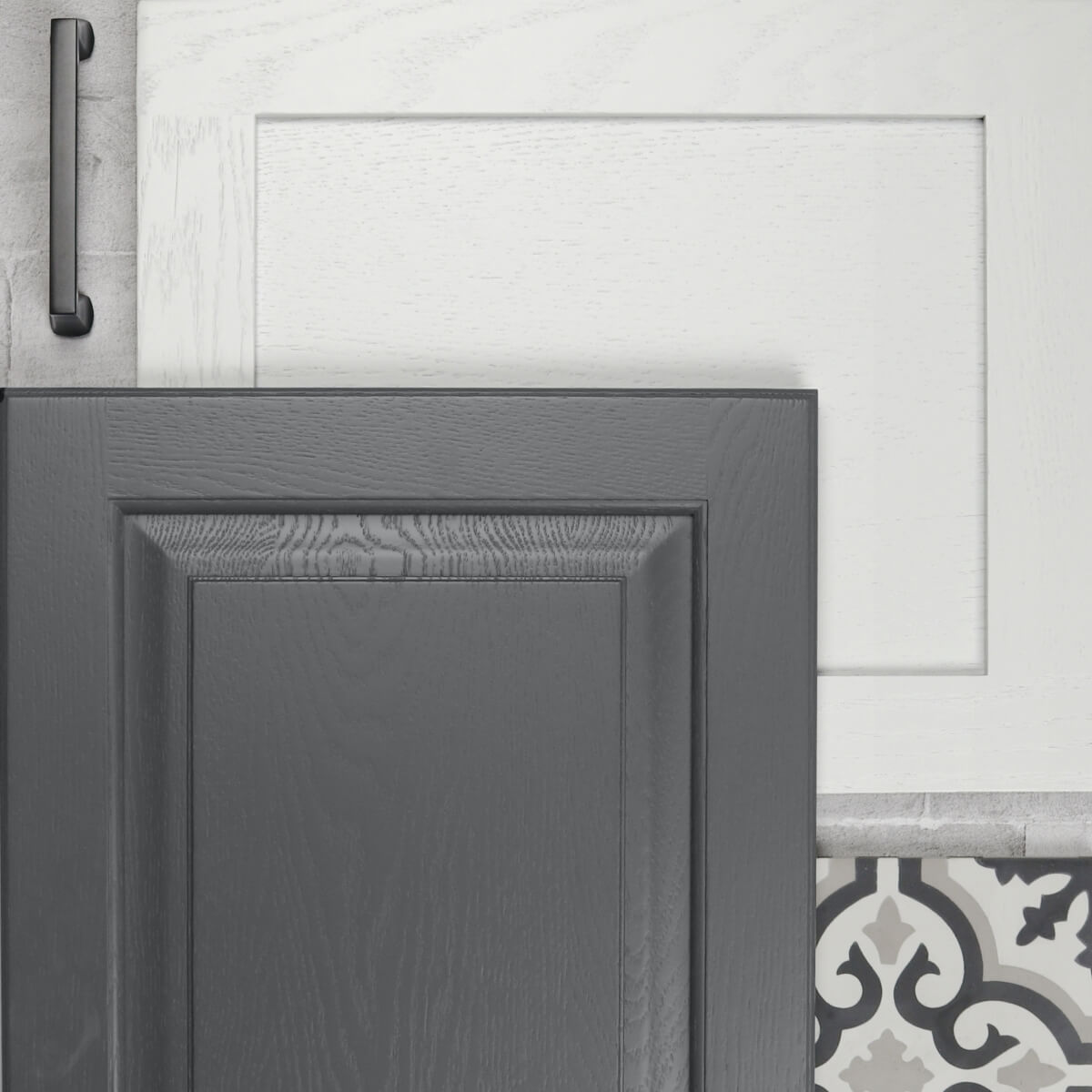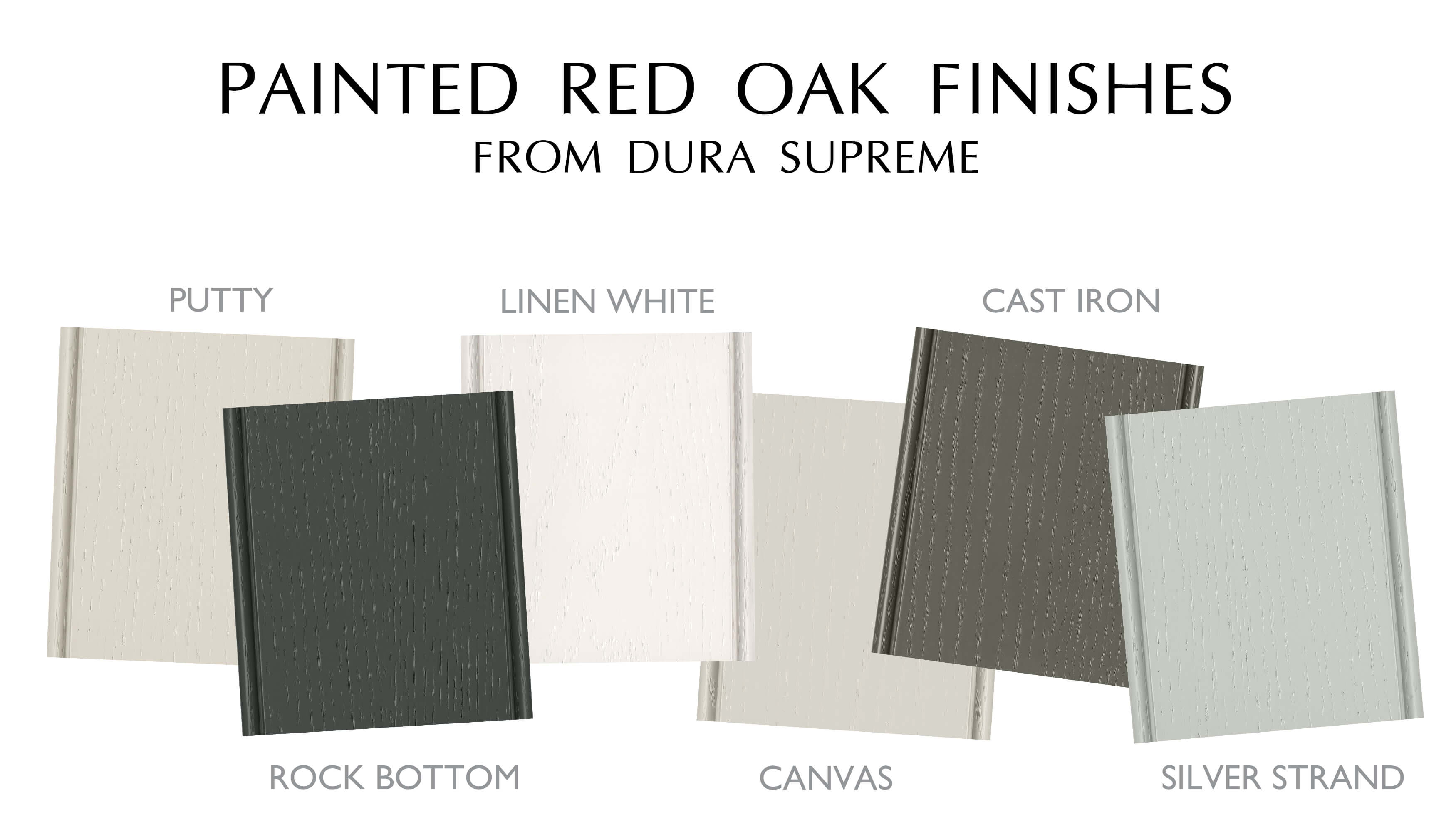 This bathroom – set in a rustic, mountain setting – features our Silverton-Inset door style in Oak with a "White" paint finish. The color is clean and bright, and the texture of the grain adds visual interest. It highlights the character of the Oak without the color variations that you would see with a stained finish.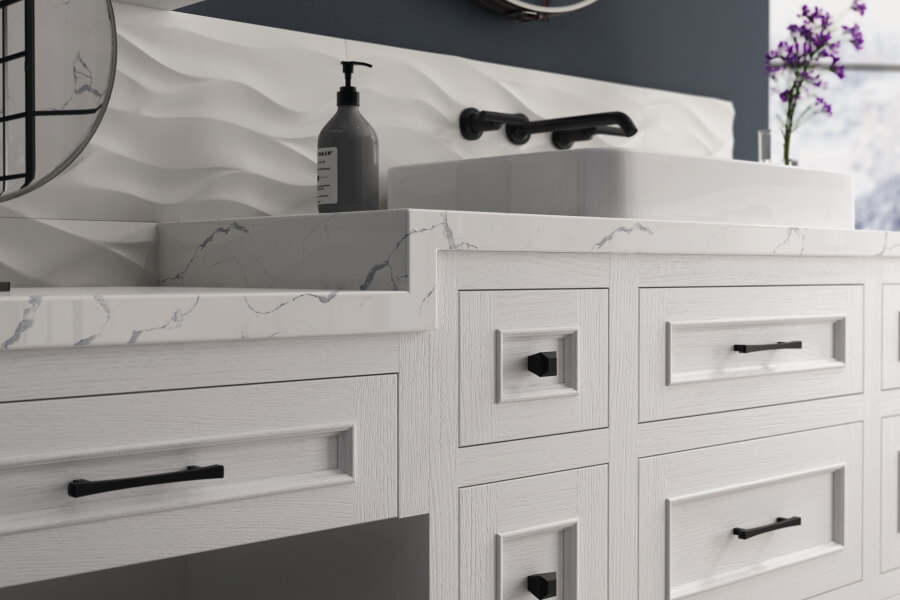 Applying specialty finishes to Oak is also becoming more popular, especially since the characteristics of Oak work well with them. The examples below show how Oak reacts to these finishes and can really add a statement to cabinetry in any room.