Over the past few years we've seen the rise of the wildly popular white painted kitchen. Its classic, timeless style has captivated yet another generation. From transitional white kitchens to sleek contemporary and more recently the modern farmhouse style, white has proven very versatile. We have also seen the rise of black architectural elements, door frames, windows, shower enclosures, as well as lighting and plumbing fixtures. As a result, there has been a steady rise in designs using solely black and white- timeless and bold.  What we are starting to see now are some rustic elements finding their way into these black and white projects, warming them up and adding some textural interest people have been craving.
We see a perfect example of this here-
Notice the light and airy quality of the cabinetry, paired with the strong black wrought iron fixtures and stools. The rough hewn timber across the ceiling at the back wall, the barstool seats and the wood accessories throughout bring a wonderful warm texture into an otherwise cool palette.
Below we see that the warmth of wood can also show up in the flooring of black and white projects to give the same effect.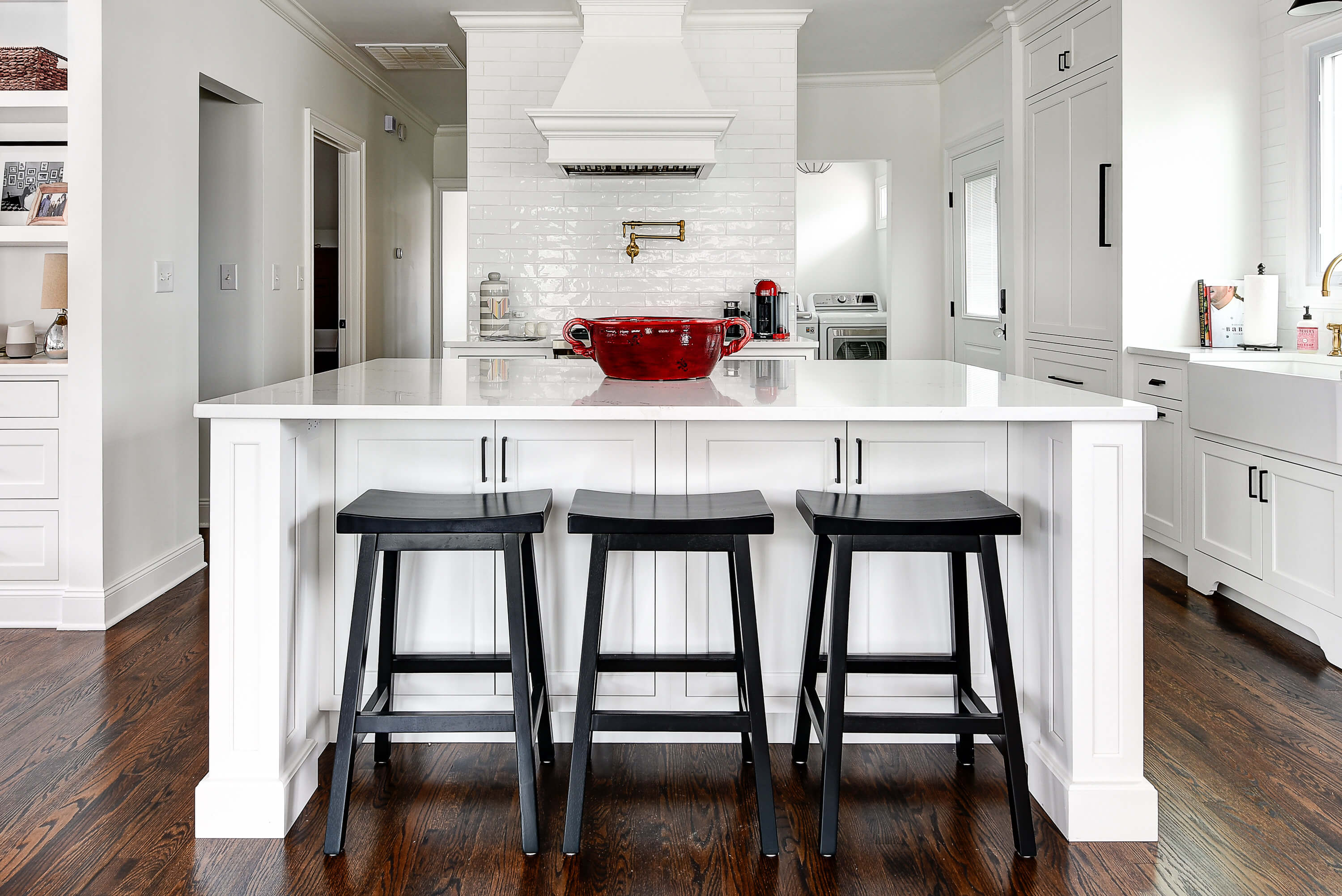 Keep in mind the cabinetry doesn't have to be white, and we can still get the dramatic effects of white/black/rustic. Below we not only get the visual treat of the reclaimed wood shelf and black shaker cabinetry, but an amazing copper sink with the most gorgeous patina. Notice the two-toned backsplash, with the taupe bridging the space between black and white.  Here the gray-black paint on the cabinetry is "Railings" by Farrow & Ball.
Below is a black sink in a slate tiled bathroom with a white framed mirror and artwork paired with character-rich wood vanities. Also, appreciate the black architectural shower enclosure!
Below we see a lighter tone on the timber beam, which lends to the clean, nature-inspired feel of this black and white space. Sinks should not be overlooked when pulling a design together. This striking black farmhouse sink is a signature piece here. Just try to imagine this with a standard, undermount sink in its place…not nearly as jaw-dropping.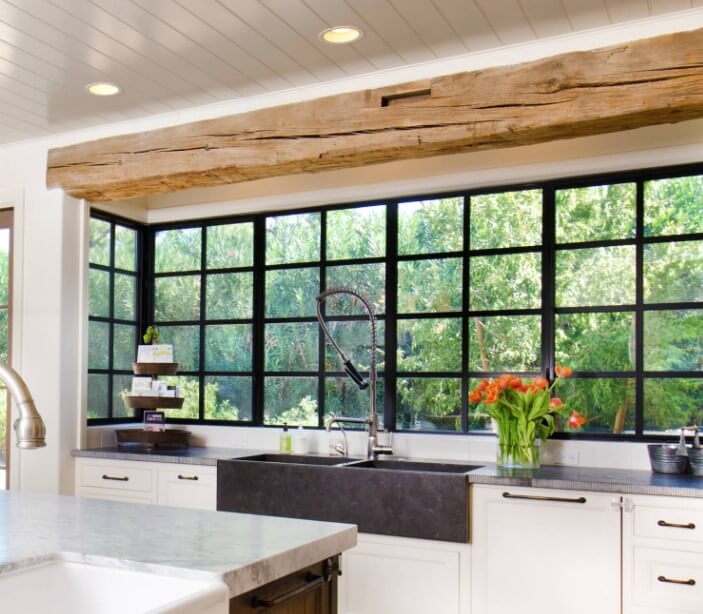 Here is a similar design, but with a more minimalist approach-
I think for many, creating a design in black and white can sometimes feel either too formal, or too modern, devoid of heart.  Hopefully these examples have made designing in black and white more accessible, by incorporating warm, character-rich woods, whether in flooring, shelving, beams or elsewhere. I am looking forward to seeing more of this palette as we go into a new year!