With no end in sight to painted cabinetry's popularity across the board, it seems like a good time to talk about color palettes, finishing processes, and where trends are headed. Dura Supreme is way ahead of the curve on this. We've always offered a great selection of in-house paint finishes, as well as our Personal Paint Match Program and our Custom Color Program. Pulling research from customer demand and future color forecasting we look for strong trends and create a Curated Color Palette of the 5-6 highest trending colors in the industry. This Curated Color collection will evolve every couple of years, staying fresh and current, shifting with prevalent trends. Here I will introduce our six Curated Colors and show some great door styles for pairing. I will also cover our superior finishing processes.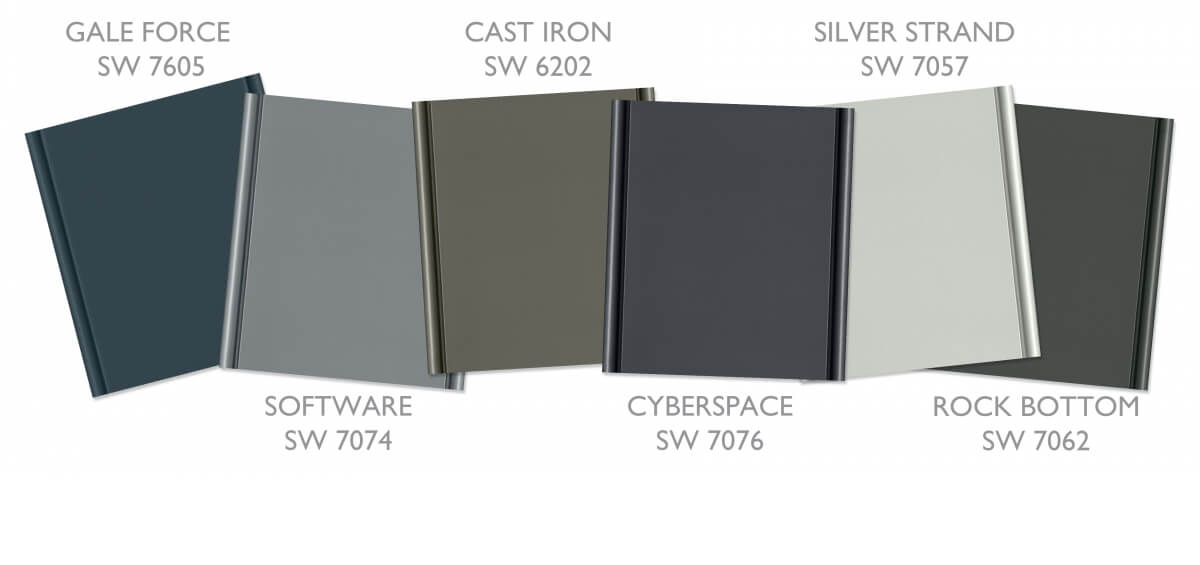 Silver Strand
We will start with Silver Strand, new to the Curated Color Palette line up. It is a clean, fresh gray with a slight, pale green undertone. Here is a master bathroom finished in Silver Strand on one of Dura Supreme's wall hung vanities and a linen cabinet. This color has legs; it looks great in transitional settings such as this but could also be the star in a sleek, contemporary design or a more traditional, cottage setting.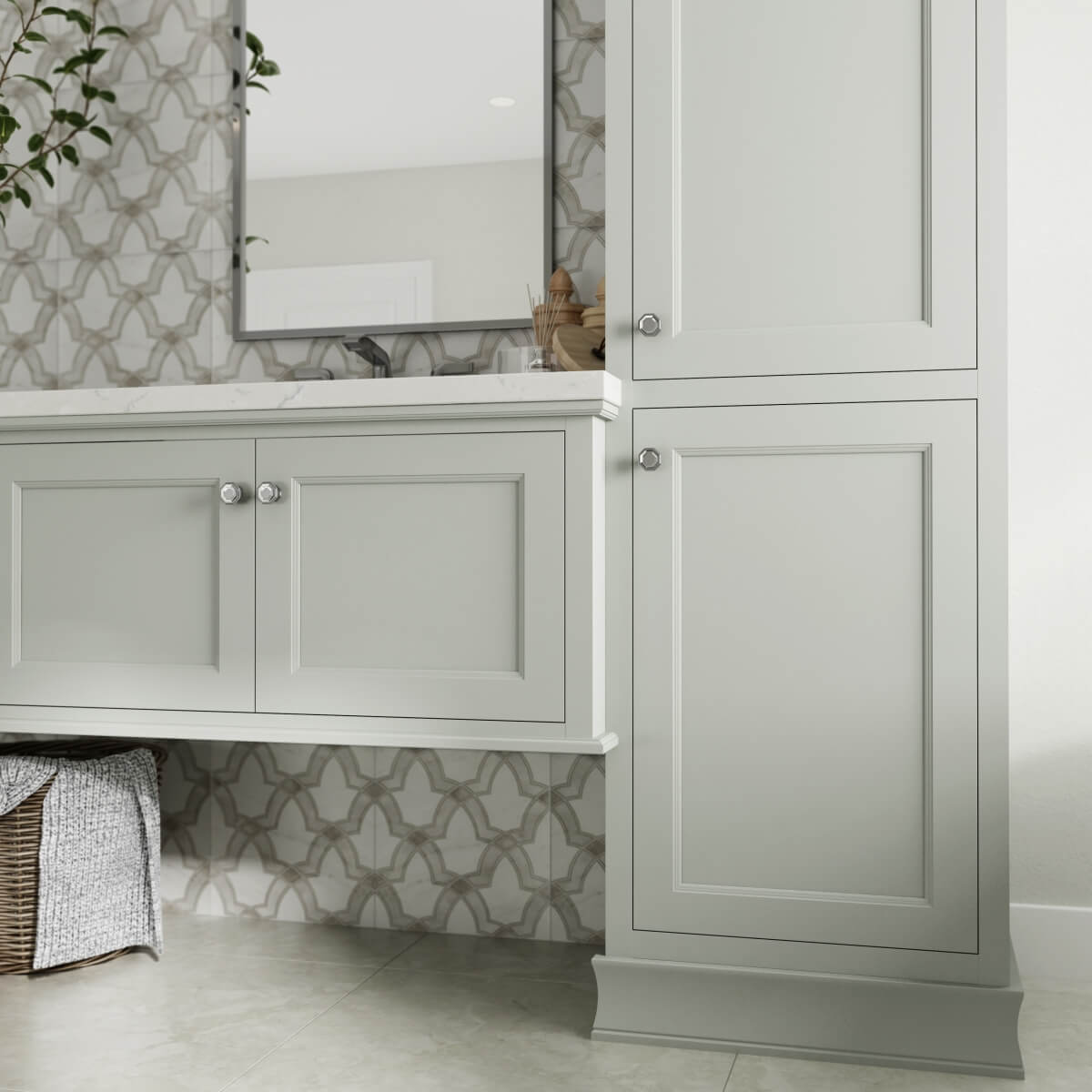 Gale Force
No designer can talk about color these days without talking about blue; it is wildly popular across the country. There are so many shades and directions one can go with this hue: from nautical to muddy to light. Not to worry, Dura Supreme has three unique blues to save you from swimming in a sea of blue color chips!
Gale Force is the truest blue in our Curated Palette, capable of lending a nautical vibe when needed. It looks great opposite medium browns.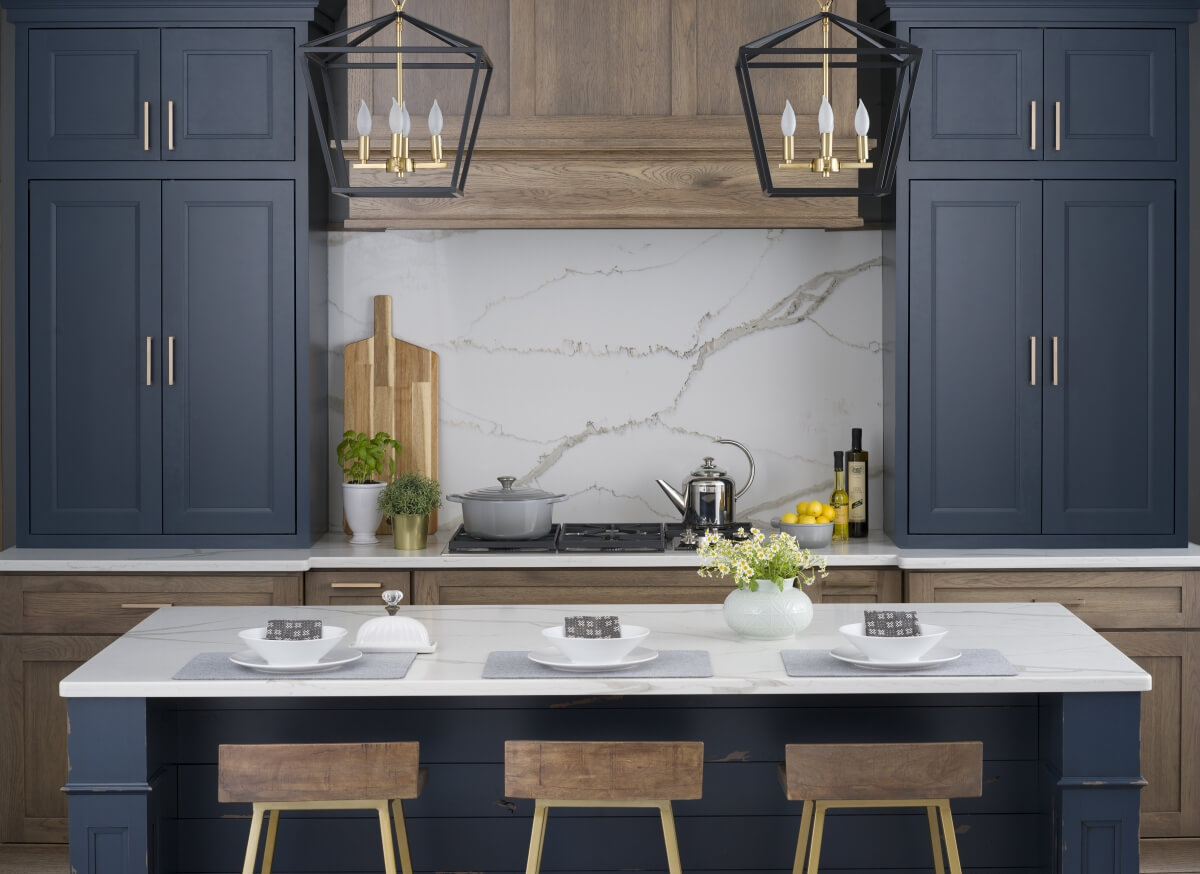 Cyberspace
Cyberspace is a moodier blue that embraces dark gray, almost black undertones. In the right environment it can almost act like a neutral, going undercover as a very interesting gray! Because of this chameleon-like quality it pairs well with lots of styles, looking great as an island, as shiplap on a wall, or in a stylish transitional kitchen.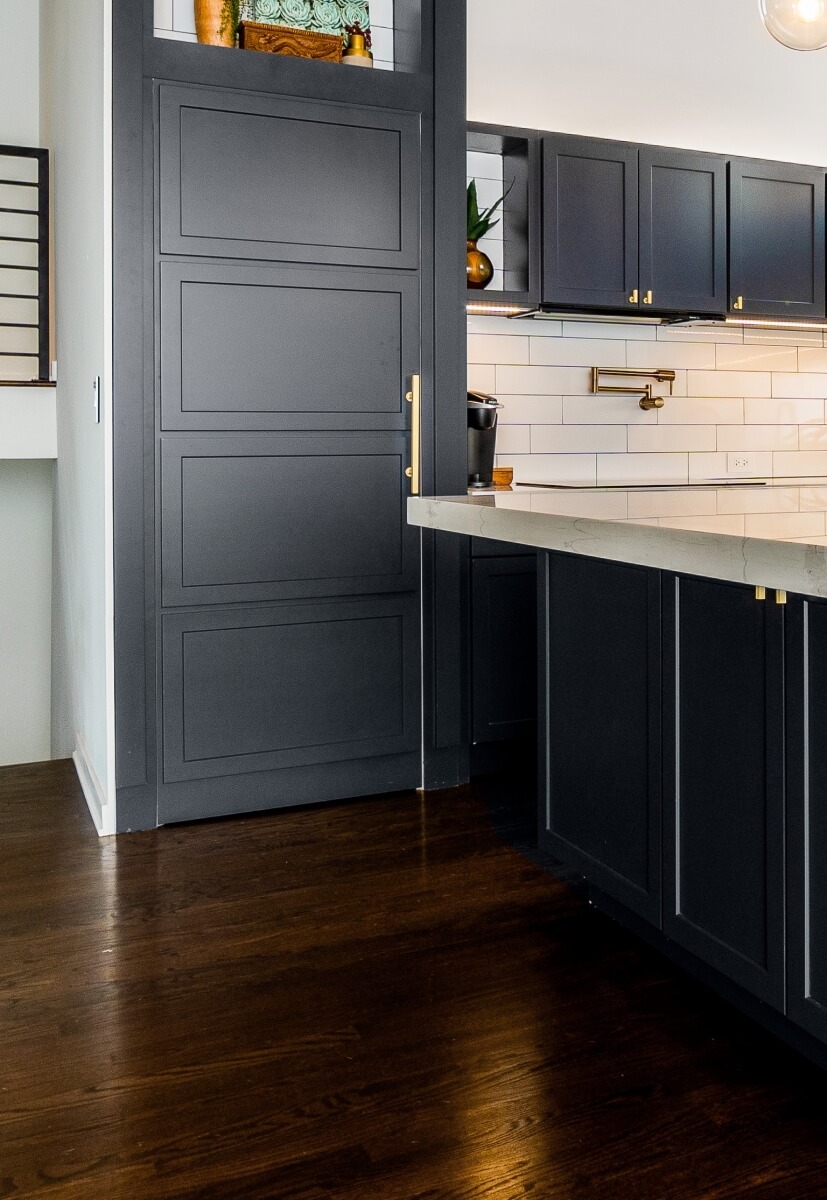 Software
Software is the third blue in this collection, although it can also be classified under gray. It's a richer gray with a slight, stormy blue undertone.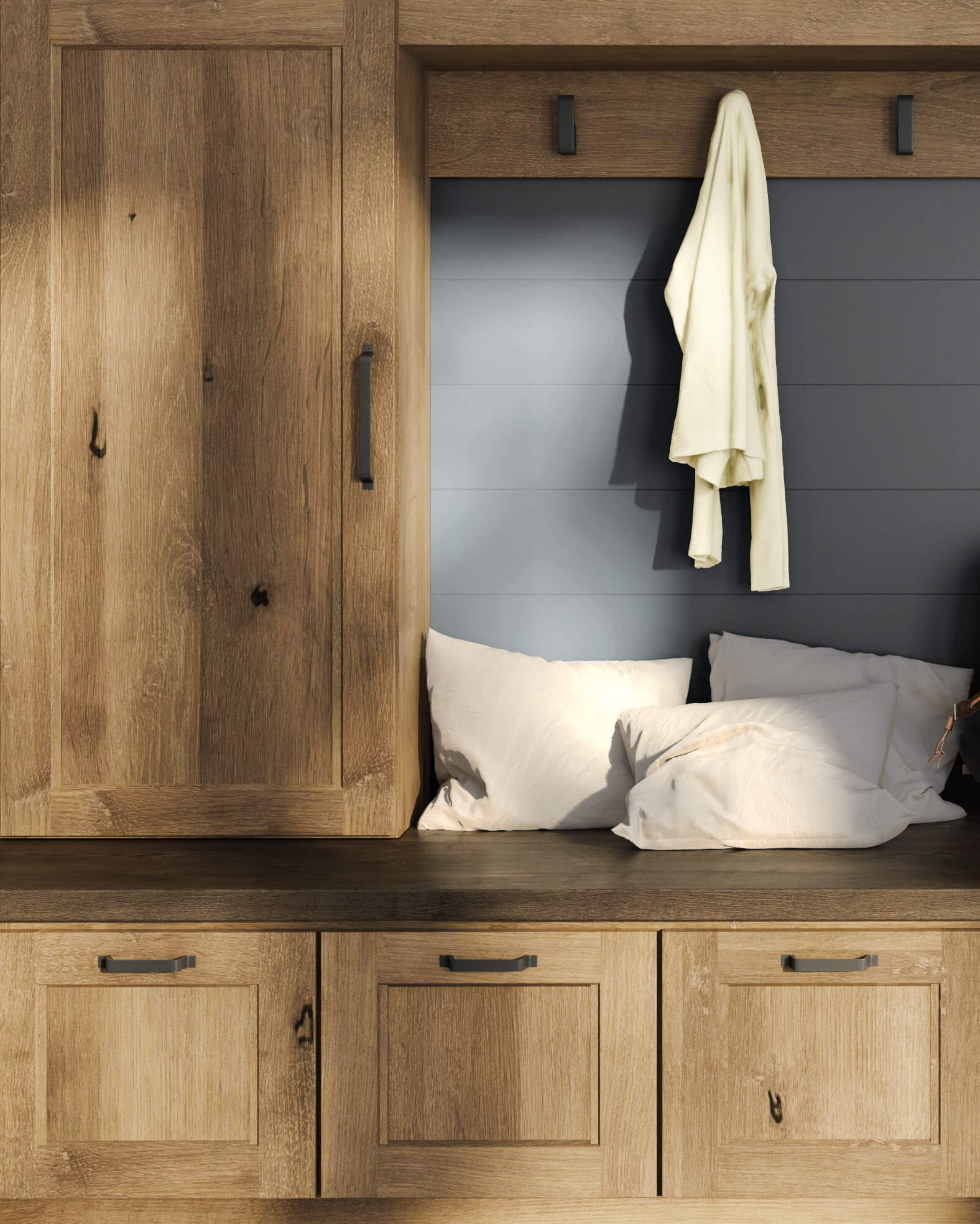 Cast Iron
Cast Iron, shown on a boot bench locker design below, is a modern, fresh take on sage green. It looks great with dark brown stains as well as white paint. Lots of opportunities here.
Rock Bottom
Rock Bottom is a deep, earthy green. It is a great accent color when paired with light to medium stained woods. Here we see it in a Laundry Room application. What a beautiful, warm, rich finish. It is a great choice if you want to make a statement without the drama of black.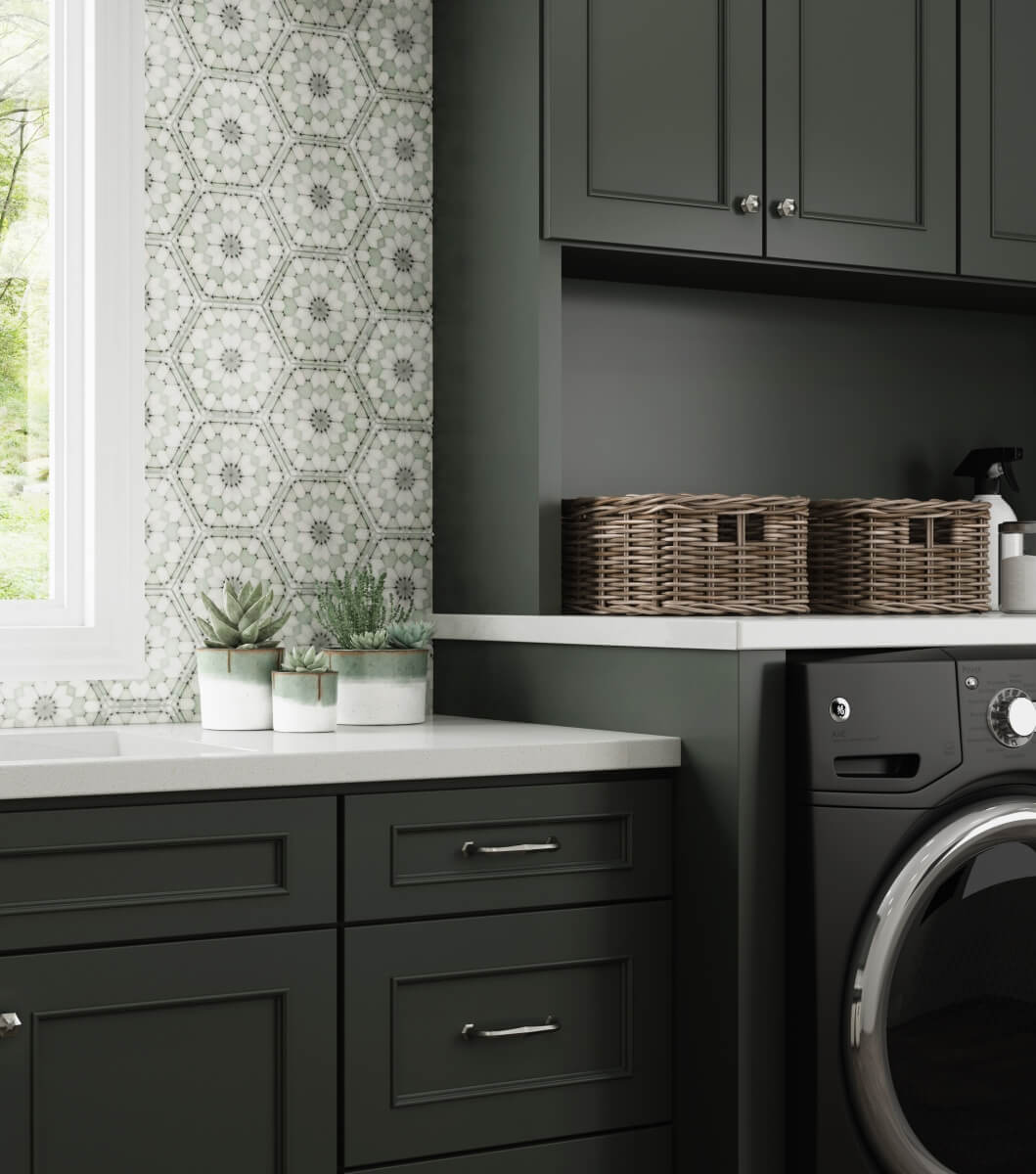 Benefits of the Curated Color Collection by Dura Supreme Cabinetry
The benefits of Dura Supreme curating this custom palette for our customers are twofold.
1) It saves the customer time. Why spend hours weeding through color chips trying to find the perfect blue or green when we've already done the leg work for you? Also, the customer avoids the lag time of having a Color Match paint chip created and mailed to them for approval, saving 8-10 days.
2) It saves the customer money since there is no Color Match fee to create the paint. The color is already in the house! 
Dura Supreme's finish processes are second to none.  From the formulation of our paint to our application and production processes and our environmental responsibility, we have put together a product we are very proud to stand behind.  With the introduction of our updated Curated Color Palette, all the more reason to look to Dura Supreme for inspiration for your next project!