We have made it to the final installment of our series "Cabinetry Construction De-Constructed." Throughout this series, we have been discussing the various materials and joinery techniques that are used for Dura Supreme Cabinetry and today we will going to end the series and go through the construction methods for our various drawer boxes and roll-out shelves. Drawers and roll-out shelves are an important feature of any well-planned design, and as consumers continue to ask for these storage conveniences, it's important to discuss the quality of their construction.
Drawer Box & Roll-Out Shelf Construction Methods
The construction of drawer/roll-out shelf boxes plays an important role in their durability and longevity. That's why it's important to know what to look for when you are purchasing cabinetry for your next home remodeling project.
Not all drawer boxes are created equal – there are many different materials and construction methods available for building drawer boxes. Materials vary from furniture board to plywood to solid hardwoods and even metal! Construction methods can include butt joints, dowelled joints, or dovetail joints.
At Dura Supreme, we have built our reputation on a foundation of quality – solid construction, precision joinery, sound design, craftsmanship, and service.
Standard Construction
Drawer boxes and roll-out tray boxes are both constructed of 5/8″ thick solid hardwood with a clear topcoat and dovetailed joinery at the corners. The bottom is 1/4″ thick, veneered on both sides and fully captured. 
Premium Drawer Box
Our premium drawer box is an available upgrade to all of our base cabinets with drawers.  The premium drawer box is constructed of solid maple with dovetail joinery. The dovetailing is sanded smooth, and the exposed top edges of the box will have an eased edge. The entire box is then finished with a clear coat, giving a luxurious look and feel.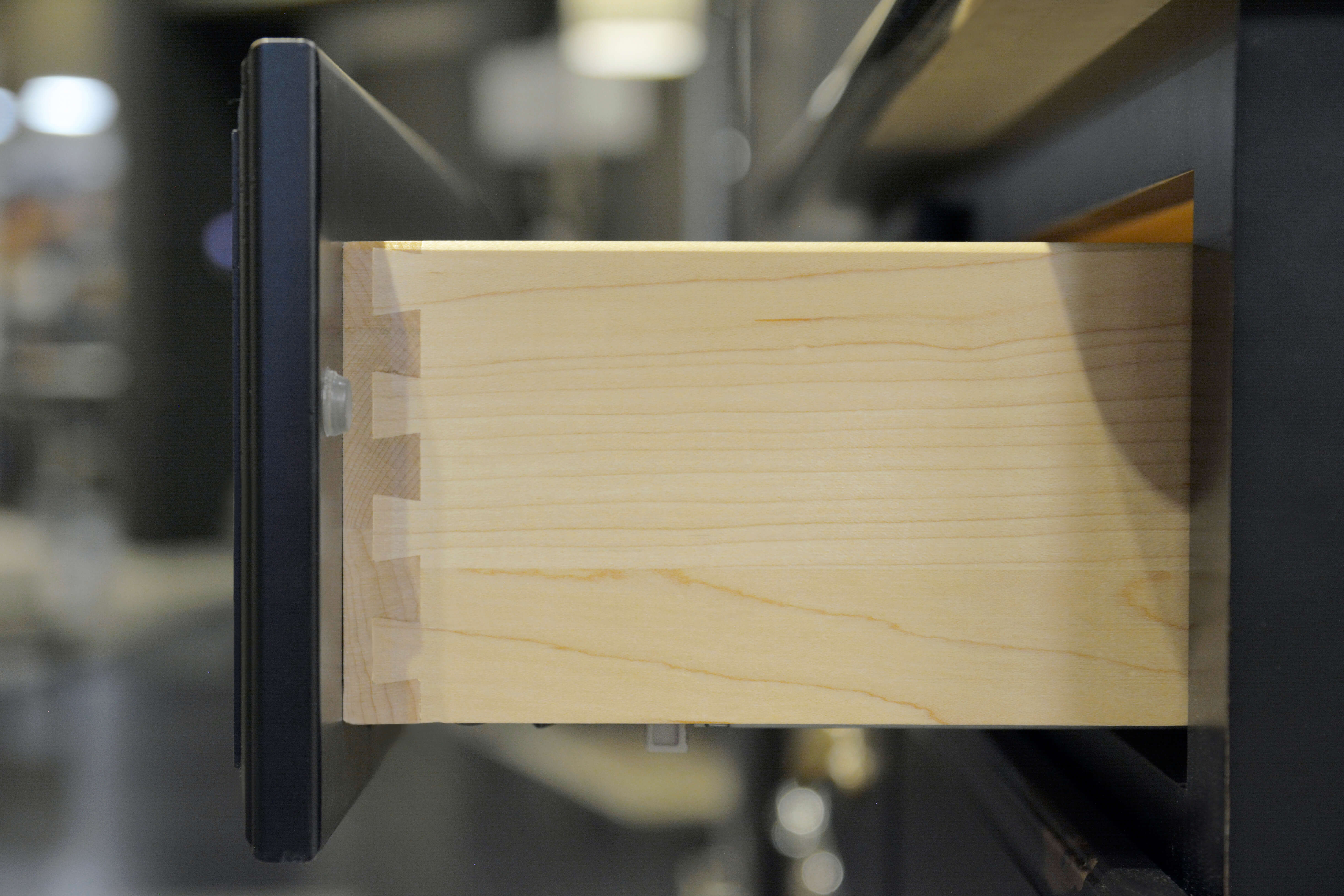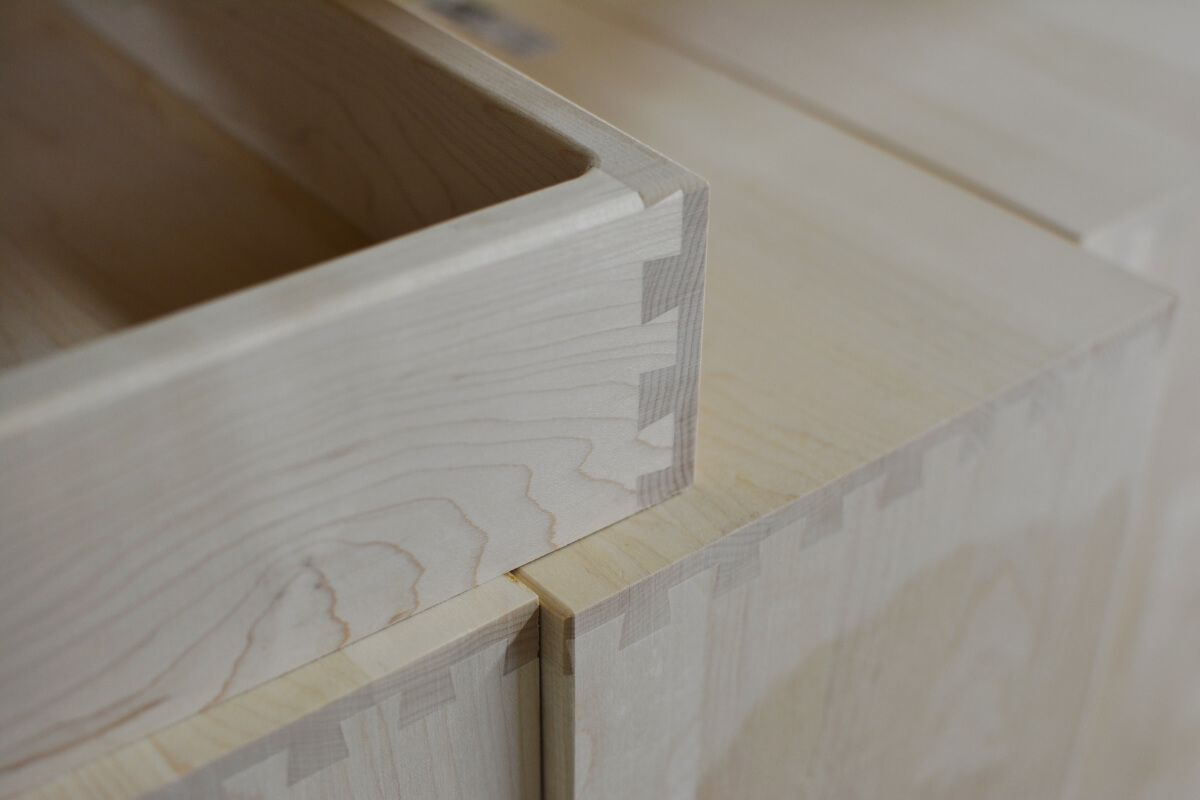 Another thing to note on our wood drawer boxes…The boxes consist of four sides and the bottom panel sits within those sides.  This type of construction makes for a better and stronger drawer box as the decorative drawer front is attached to the box itself, rather than being a part of the box.  The bottom of the drawer box is 1/4″ thick veneered plywood and is dado'ed, or "captured" in all four sides of the box, making it structurally sound as well as adding to the strength.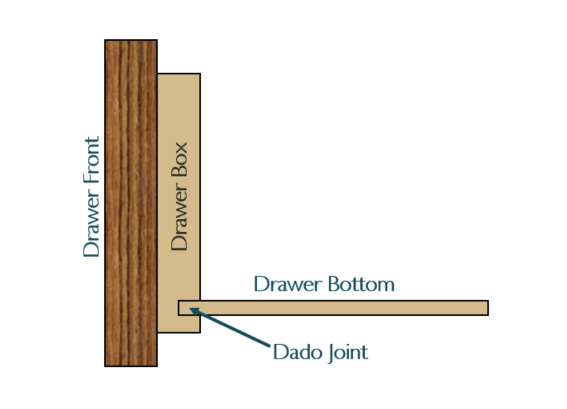 Our wood drawer boxes and roll-out trays are available in both our Crestwood and Bria cabinetry product lines and all feature undermount soft-closing Blum guides standard; no need to ask for an upgrade! The load capacity is 100 lbs. when the drawers are static or 75 lbs. dynamic. 
You can be sure the construction of the boxes for our drawers and roll-out shelves will be able to handle the busiest of households for years to come!
That concludes our series on Cabinet Construction De-Constructed. Thanks for following, reader! I hope you have found how cabinets at Dura Supreme are constructed to offer you the quality and durability one looks for in a well-made cabinet. We take pride in our products and hope you can take all the info over the last few blogs and use it when discussing what to expect when one uses Dura Supreme to fulfill their cabinet needs. Until next time, be well!