The Mediterranean Minimalism style continues to gain popularity as it combines several things we've all been longing for in the past year: travel, togetherness, and tranquility. The aesthetic gives a nod to Mediterranean geography and climate, which have profoundly influenced the materials and designs of the region. The Mediterranean's culture, centered around family meals and slow living, makes it not only a bucket list destination but an aspirational lifestyle for many. So let's talk about how to bring that retreat-from-the-heat,  good conversation, simple-living style to your kitchen.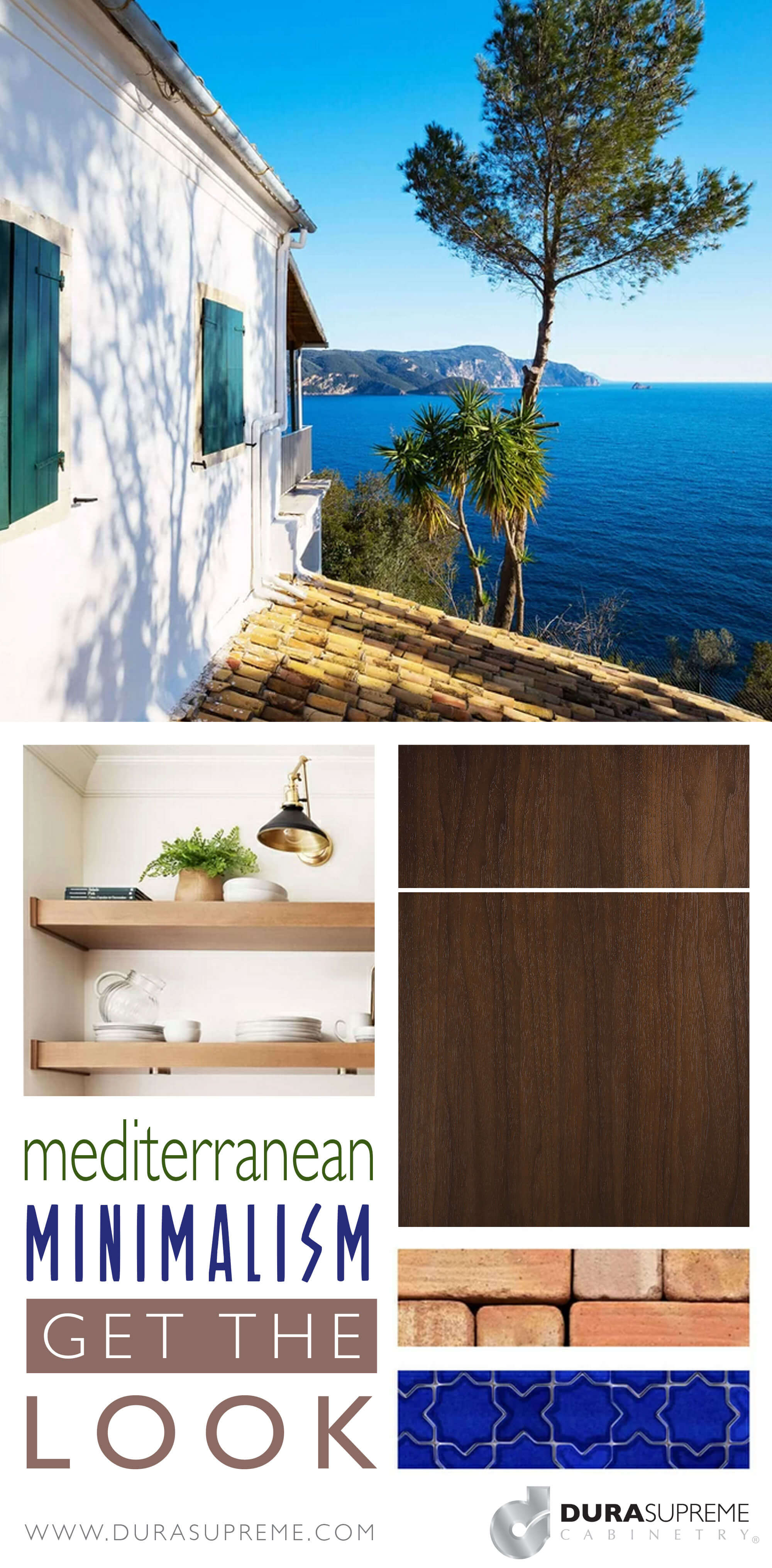 With temperatures sometimes soaring above 120 degrees Fahrenheit during summer months, natural materials like stone, brick, and marble plus soft, whitewashed surfaces are key to staying cool and achieving a Mediterranean Minimal look. Rugged wood surfaces and curved natural lines mirror the Mediterranean coastline and landscape, maintaining a strong connection with nature, while arched motifs (window and door openings) echo back to the Roman and Moorish history of the area.
The Mediterranean Minimalism Color Palette
To get that Mediterranean look think minimal but natural and rustic. Whitewashed color palettes keep the focus on texture and form.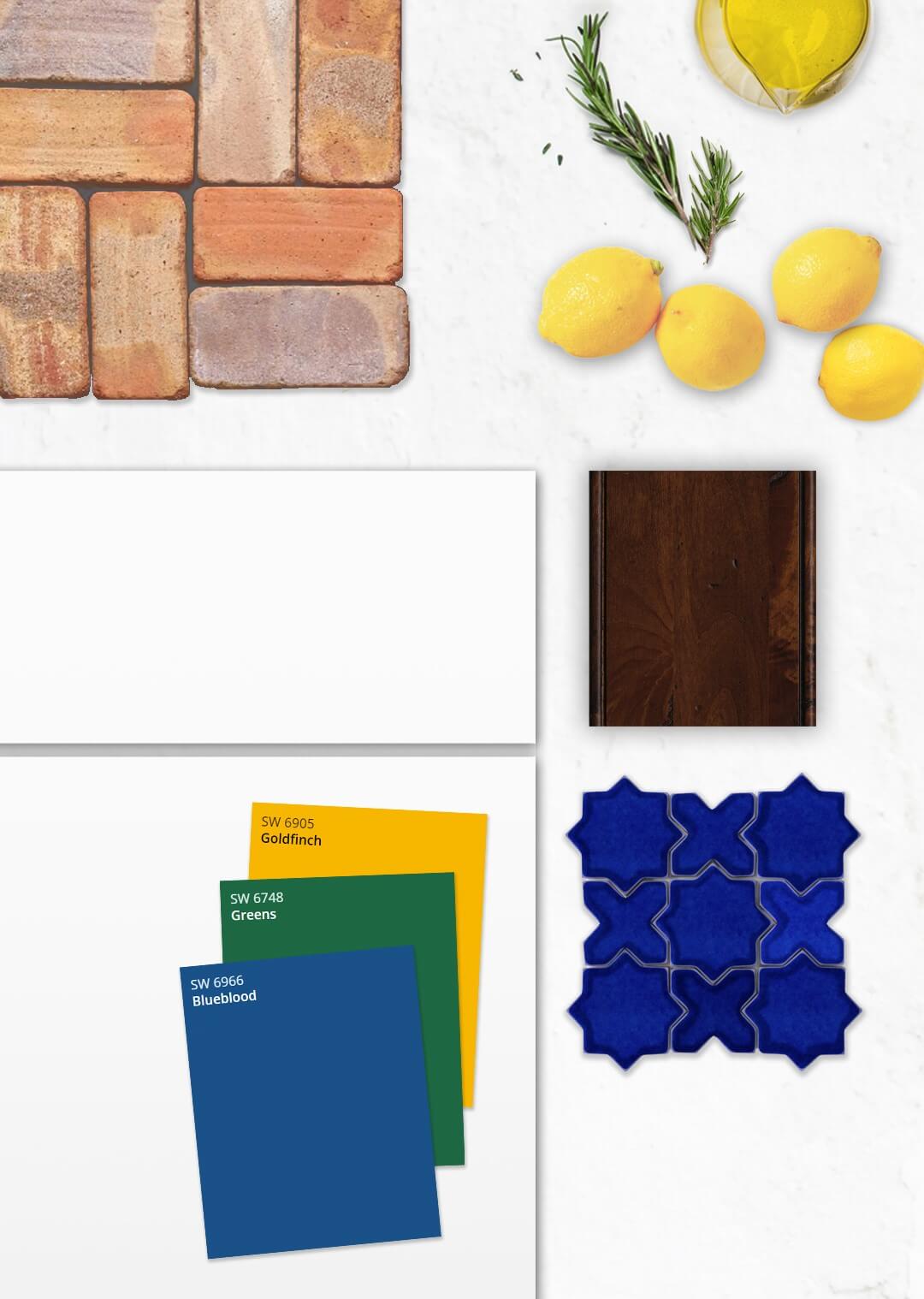 White, matte cabinetry and walls are optimal, with smooth or textured surfaces. Beautiful accent paint colors to consider would be blue (like Sherwin-Williams' Blueblood 6966), yellow (like Sherwin-Williams' Goldfinch 6905), and green (like Sherwin-Williams' Greens 6748).
Stained finishes could range from natural to dark to showcase the grain and character of the wood species like Knotty Alder or Rustic Hickory. A glaze will bring out the grain and add even more visual texture. Heirloom "K" on Knotty Alder achieves that rustic look, and Dura Supreme's Walnut veneer is a strong, sustainable choice.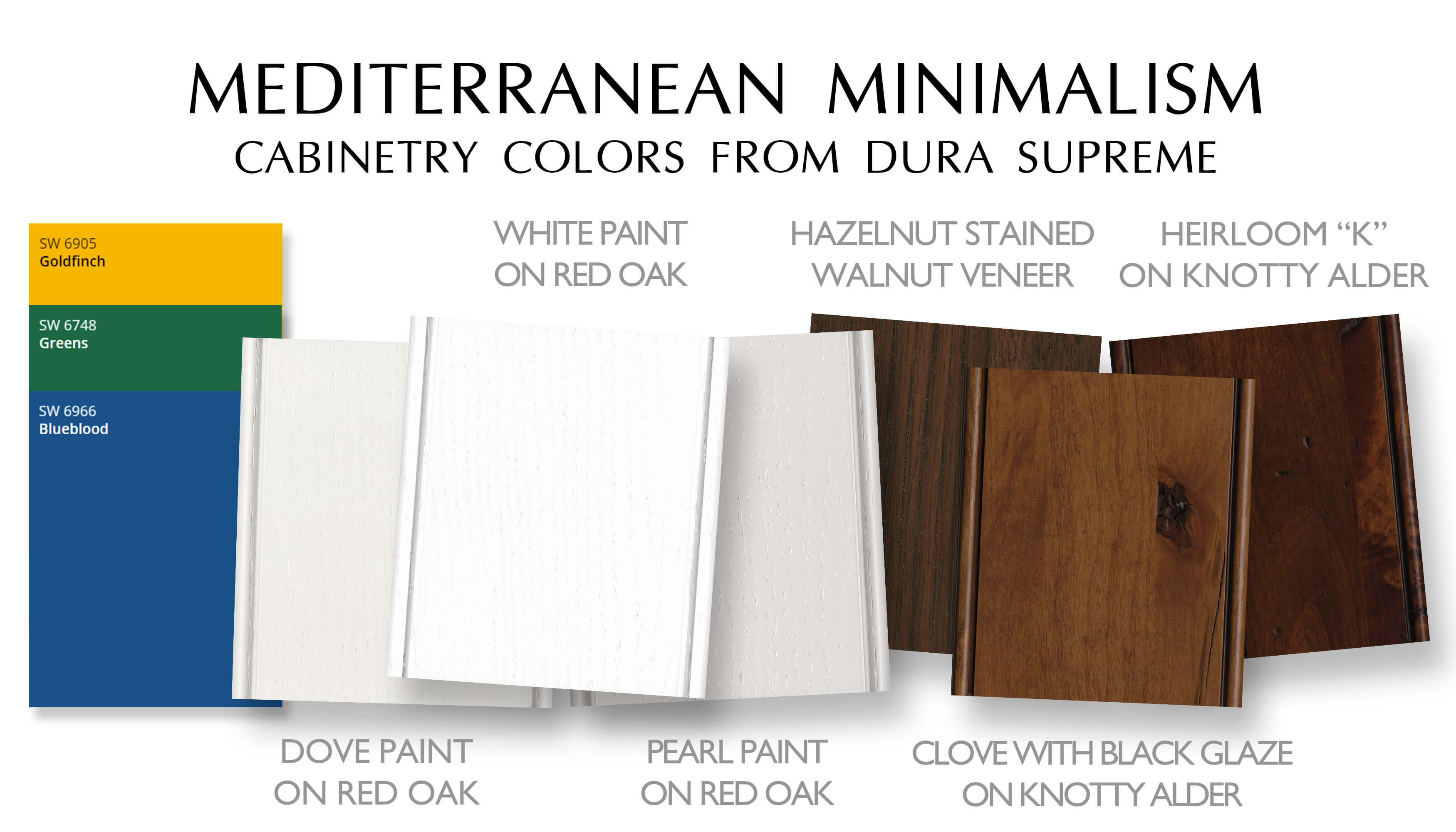 Design Elements of Mediterranean Minimalism
If white slab cabinetry like Chroma is too minimal for you, add some interest with the Hampton Panel door in a white paint. The arched panel is reminiscent of both Roman and Moorish architecture – two styles found throughout the Mediterranean.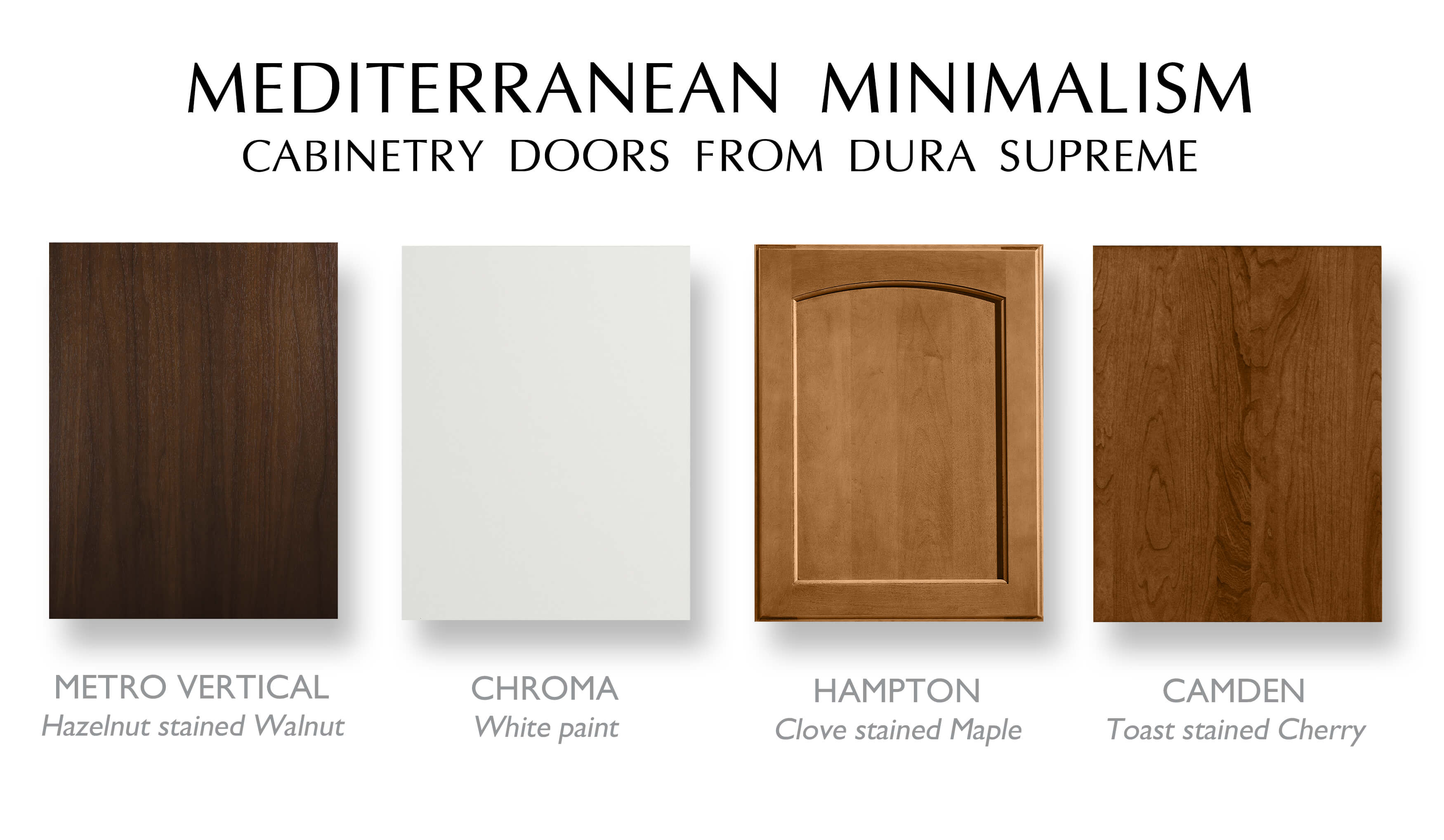 A focus on form and texture means that Mediterranean interiors feature architectural elements. Incorporating an arch in your cabinet door or as an architectural element in a niche area is a beautiful design solution.
A white wood hood is a stunning architectural element to add to your kitchen. This white Dura Supreme wood hood blends into this beautiful kitchen.
Floating shelves in white paint or one of the darker, natural stained woods are another design element to include. This Dura Supreme cabinetry features minimalistic floating shelves.
Finally, appliance panels will ensure your appliances blend in seamlessly with the rest of your Dura Supreme cabinetry like the refrigerator in this kitchen remodel.
Other materials to consider using in your space are natural, light-colored brick and colorful tile with a Mediterranean pattern. Brick is a great way to add texture, and intricate tilework is one of the only places you'll see color and pattern in Mediterranean interiors.
Décor should be simple and utilitarian. Try displaying some artisanal dishware or antique kitchen utensils.
Mediterranean Minimalism is all about creating a sanctuary that reconnects you with nature, history, and loved ones, so…
Is Mediterranean Minimalism Your Interior Design Style?