What would you say are two primary concerns most people have about their kitchens? If you said 'Keeping things clean' and 'Keeping things organized', then you would be in sync with the hundreds of homeowners I have come into contact with throughout my years as a designer! There is a growing trend now towards 'centers', which are geared towards addressing both of these important concerns. Centers are dedicated portions of the kitchen geared towards a specific function. Examples of this could be a Baking Center, Beverage Center or Breakfast Center to name a few. The beauty of the Center is that everything you need for that specific purpose is all contained in one space, saving time on the front end prepping/gathering before and on the back end putting away/cleaning after. I think the best way to describe this is with pictures, and I've got the perfect example kitchen created with all Dura Supreme Cabinetry to show you…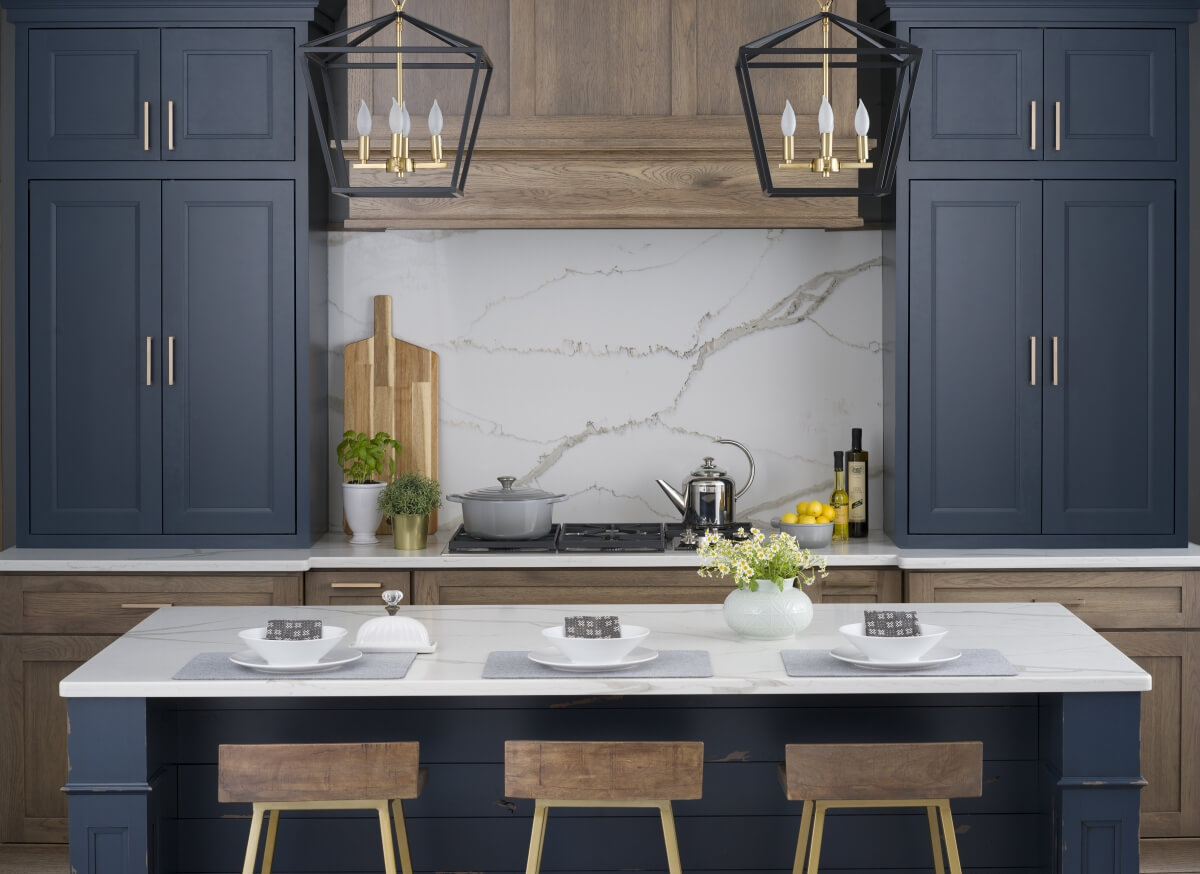 Little would you know that the left side is a Beverage and Breakfast Center, and the right side is a Baking Center! Here is the left side, set up as a Beverage Center, with Pocket Doors- for either Coffee/Cocoa, OR as a Bar-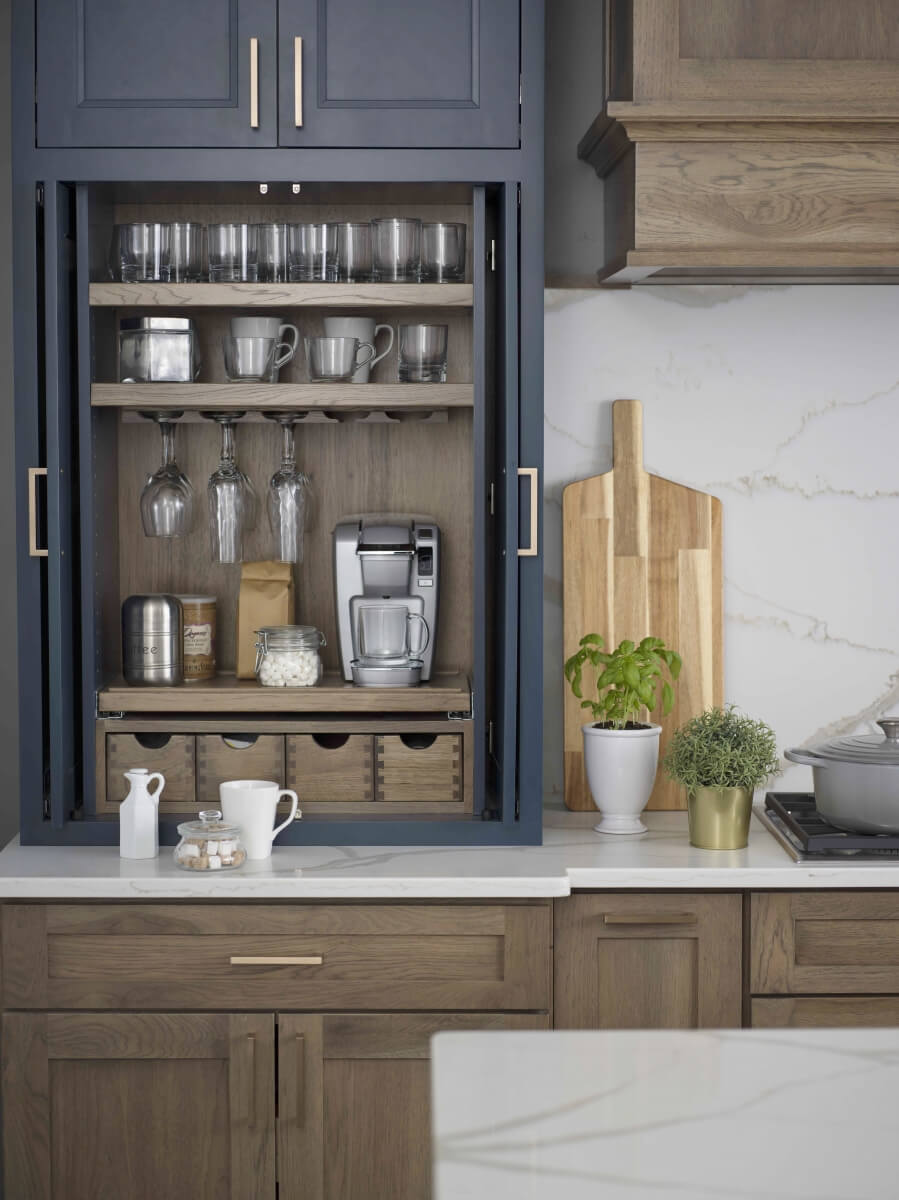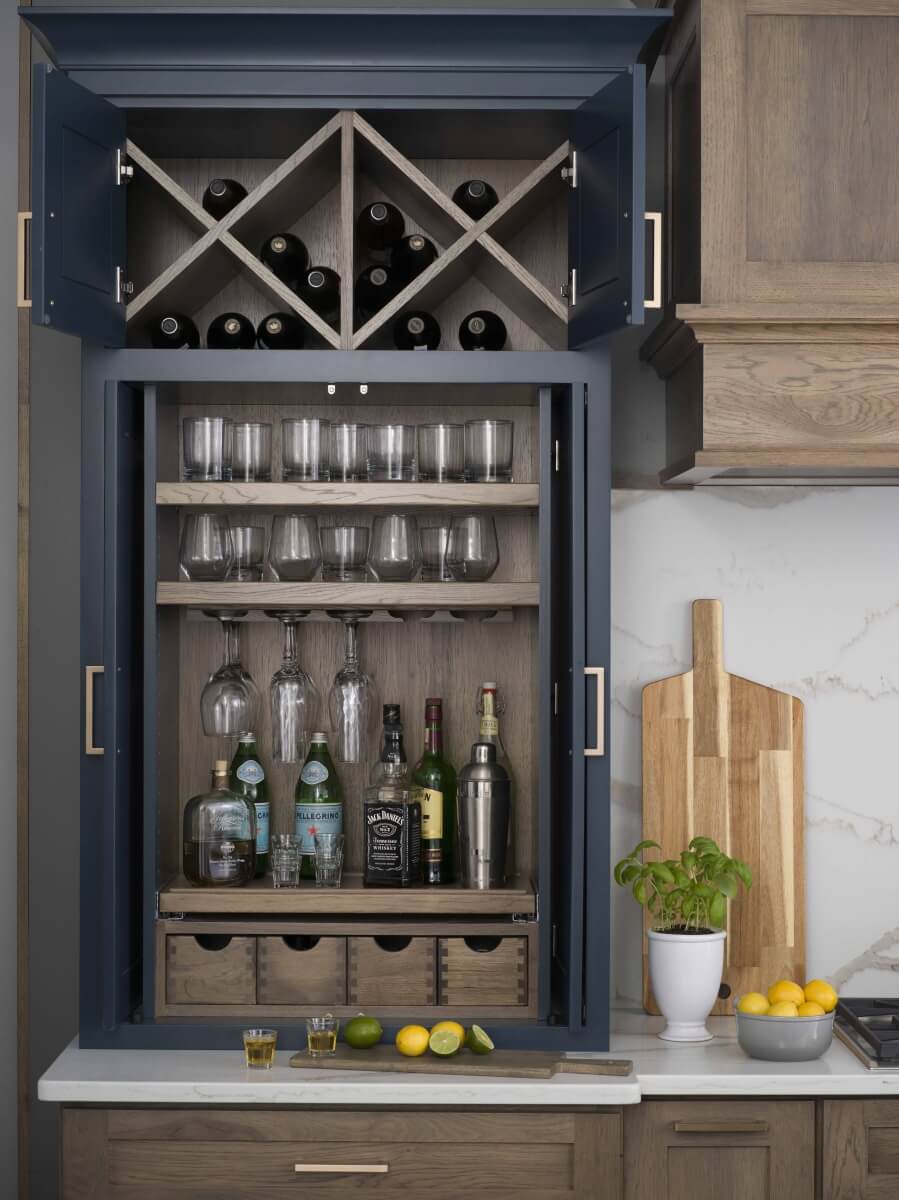 Notice just underneath the Flat Roll-Out with Lip (yes– the coffee machine is on a Roll-Out to make filling it with water a breeze!), the horizontal Apothecary Drawers storing tea, sugar and cocoa packages.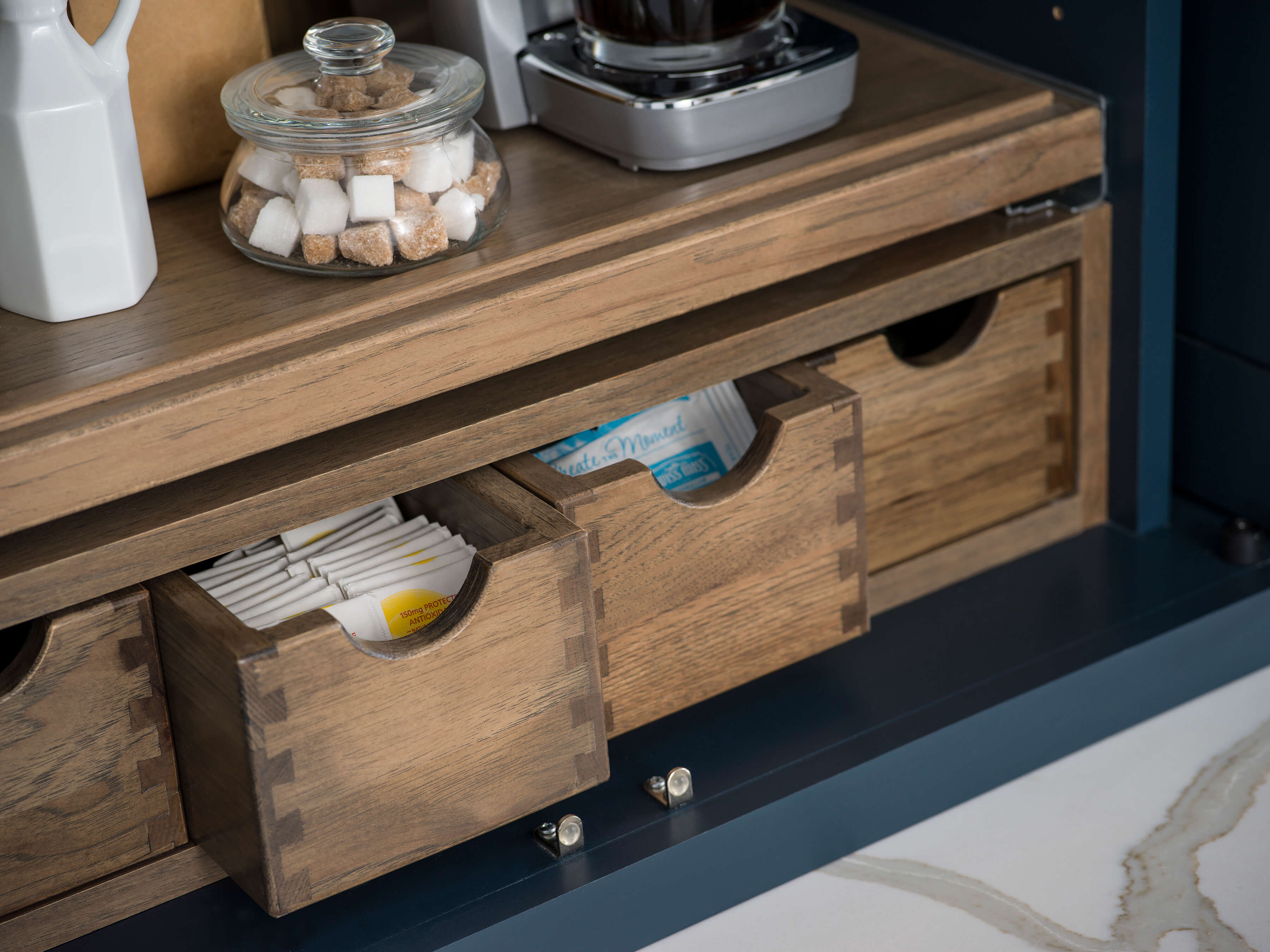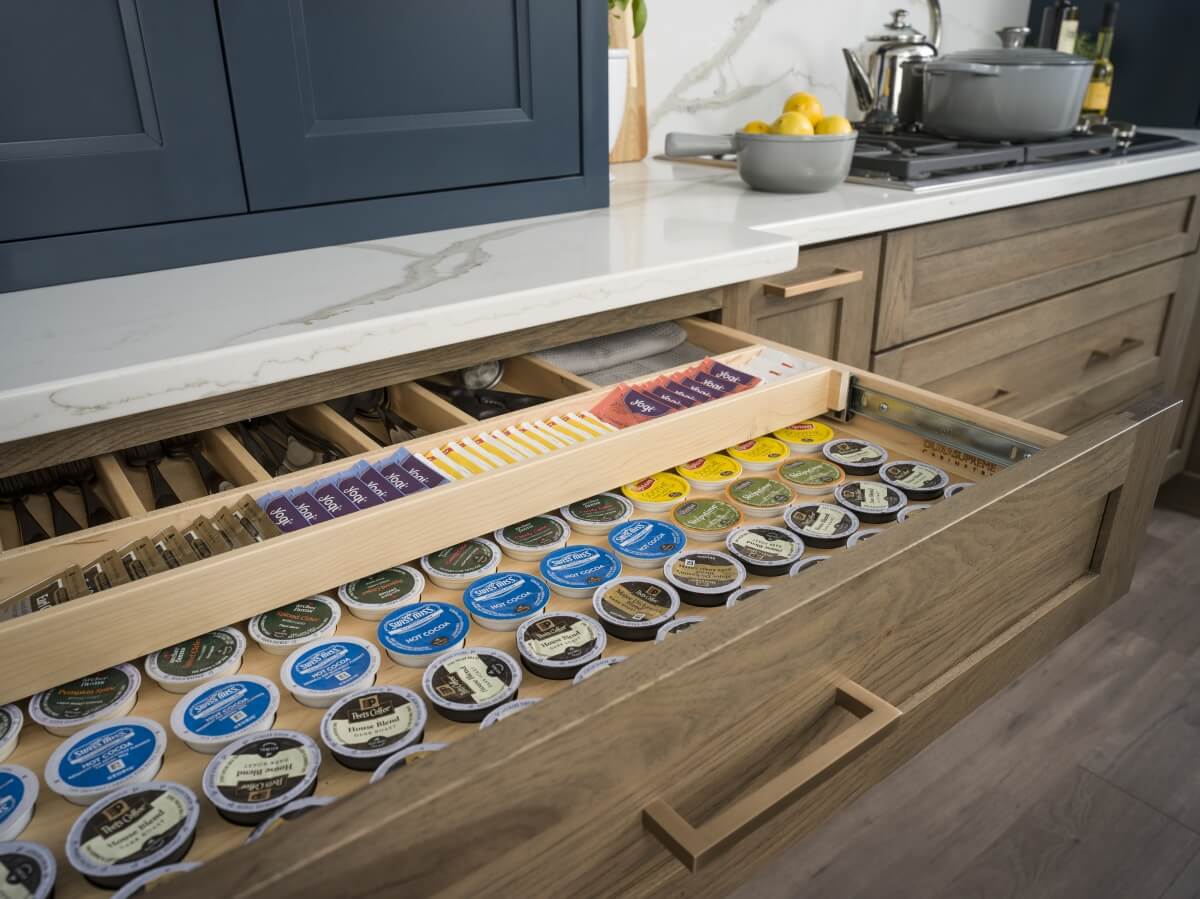 Below the drawer we see Roll-Out Shelves ready for breakfast, with integratedl power for the toaster or a smoothie blender if that is your thing! Adjustable dividers within the Roll-Outs keep everything organized, whether its cereal, bagels or jam.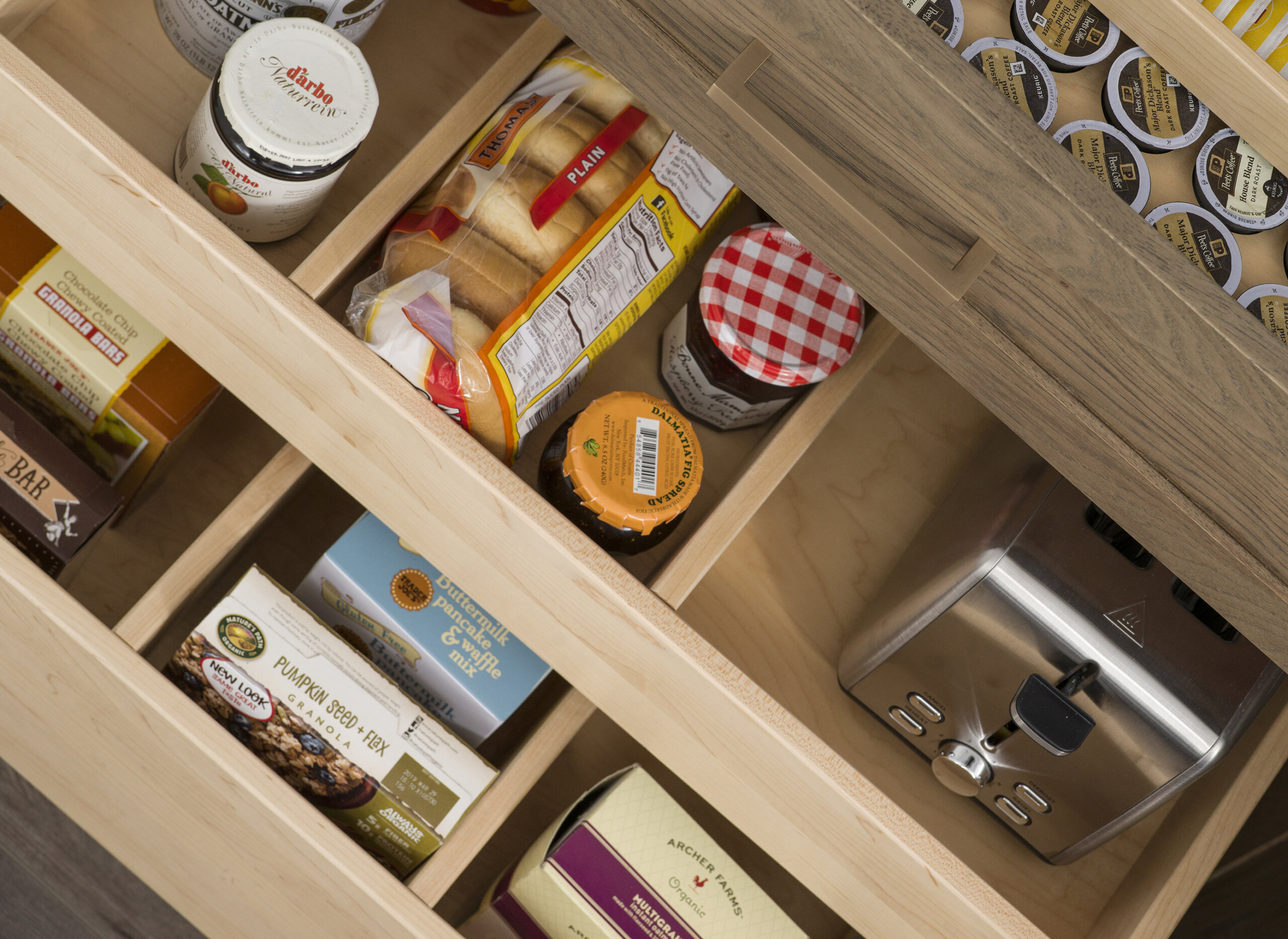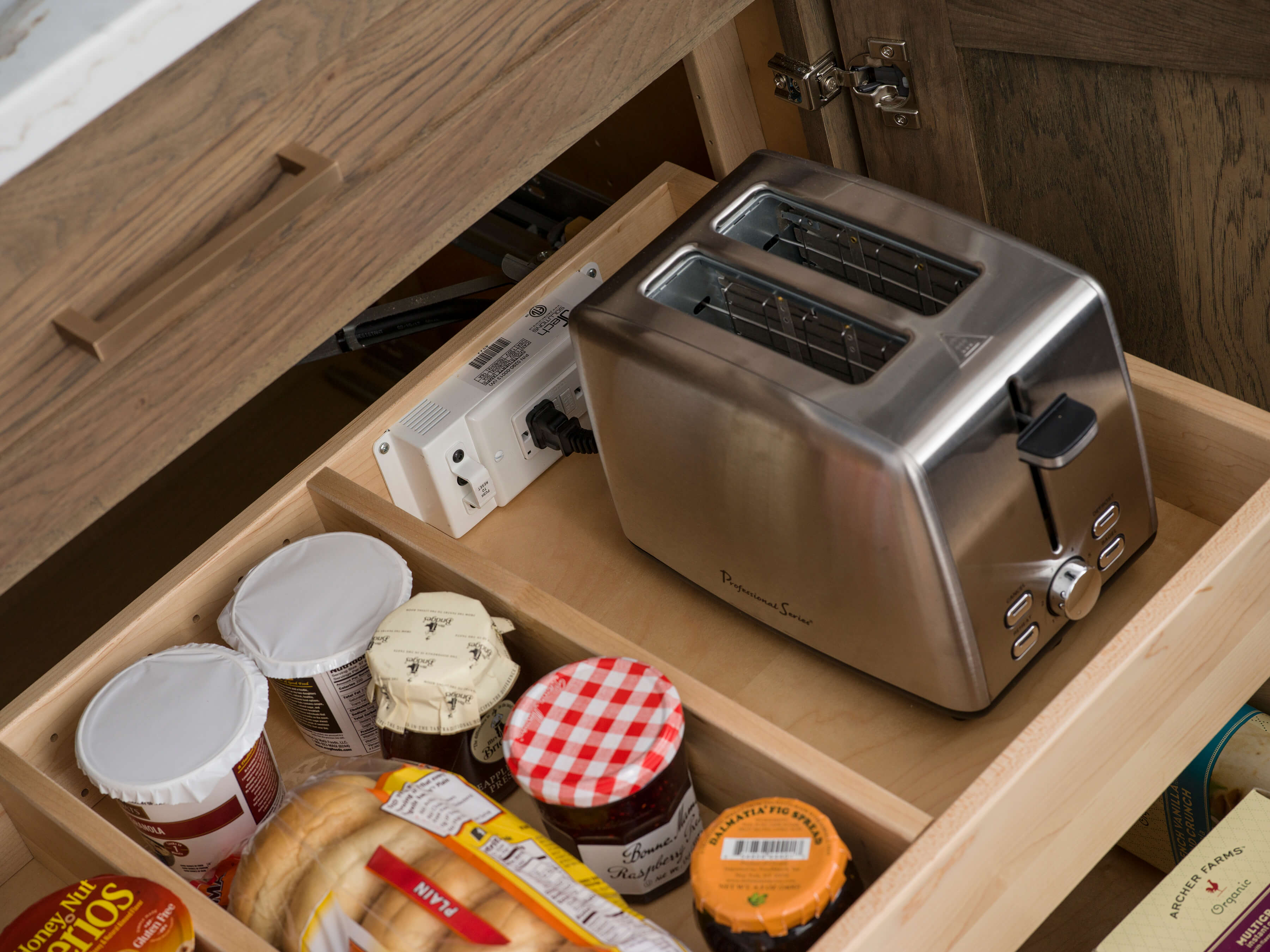 Just imagine the ease of your morning routine, not even having to take more than a step or two to fix coffee and breakfast.  And when you are done, you can just close it all up!
On the right side we have a Baking Center, with one Bifold Door that opens to the right.
Notice some similar features – a Flat Roll-Out to access the mixer, and this time we have vertical Apothecary Drawers, holding cookie cutters, measuring spoons, frosting tips, etc. Great storage here for cookbooks, flour, sugar and at the very top are vertical partitions for baking sheets and platters. The drawer below holds spatulas, wax paper, tin foil, etc. and below the drawer there are three different sized Roll-Outs, 2", 4" and 8", housing a flour sifter, mixing bowls, rolling pin, etc.  All of these supplies are within arm's reach, making baking a breeze. And again, putting everything away afterwards takes no time at all!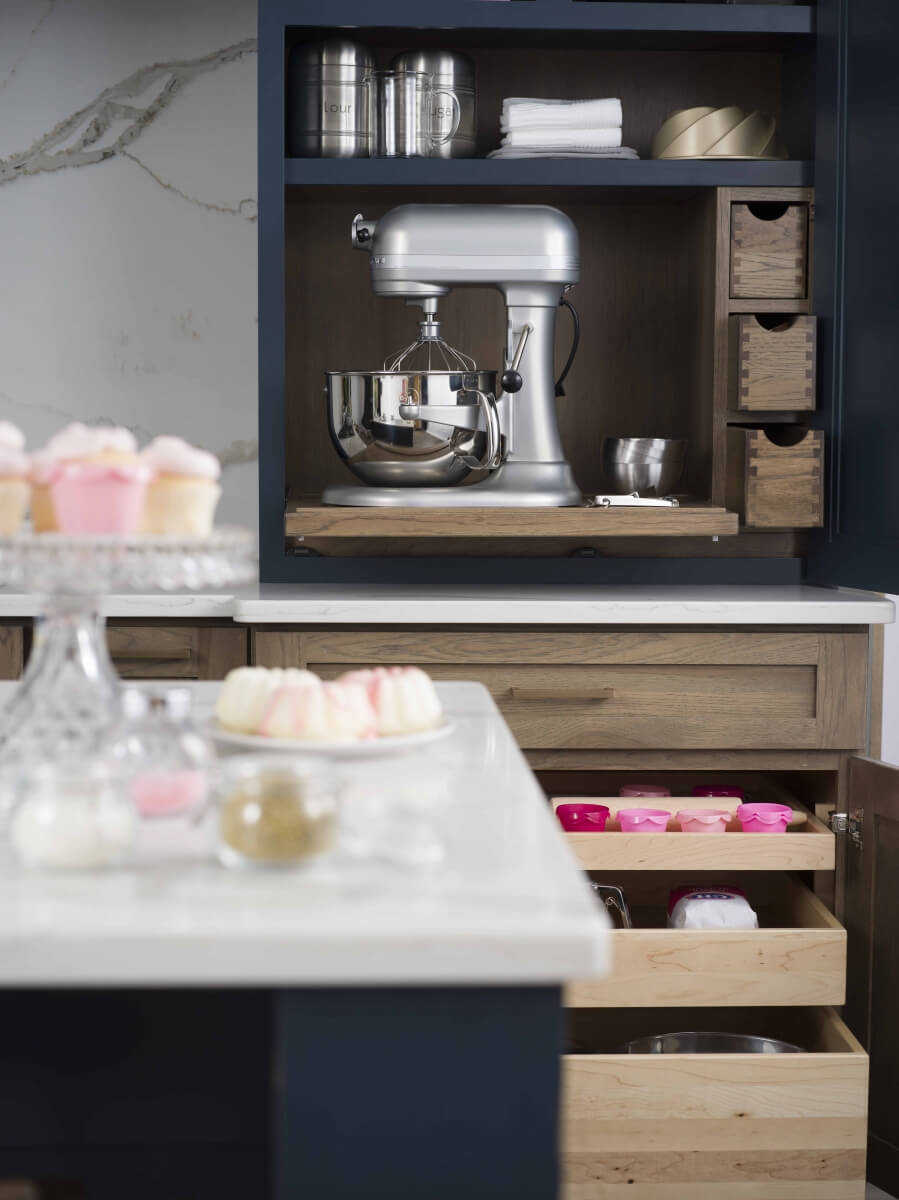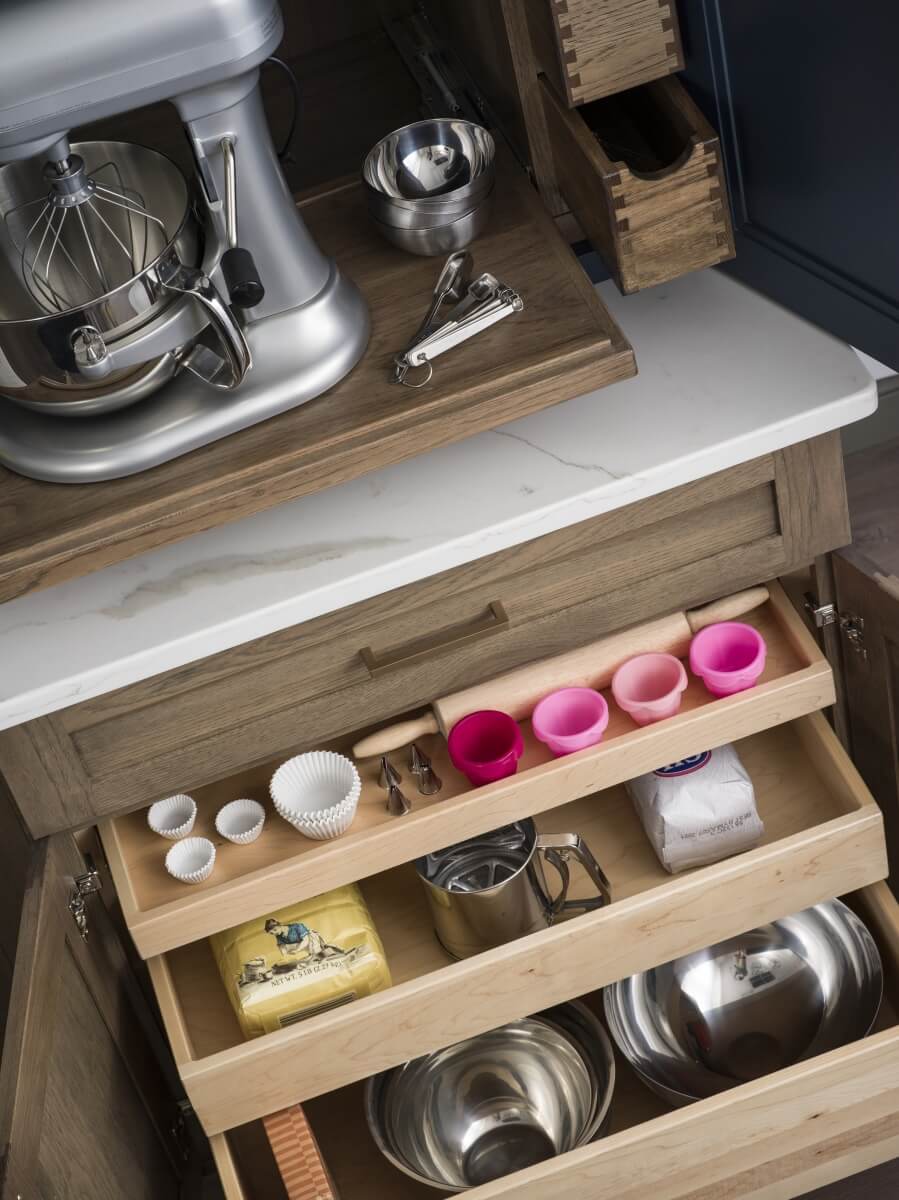 Let's take one last look at everything after breakfast and baking are finished and everything is closed up again…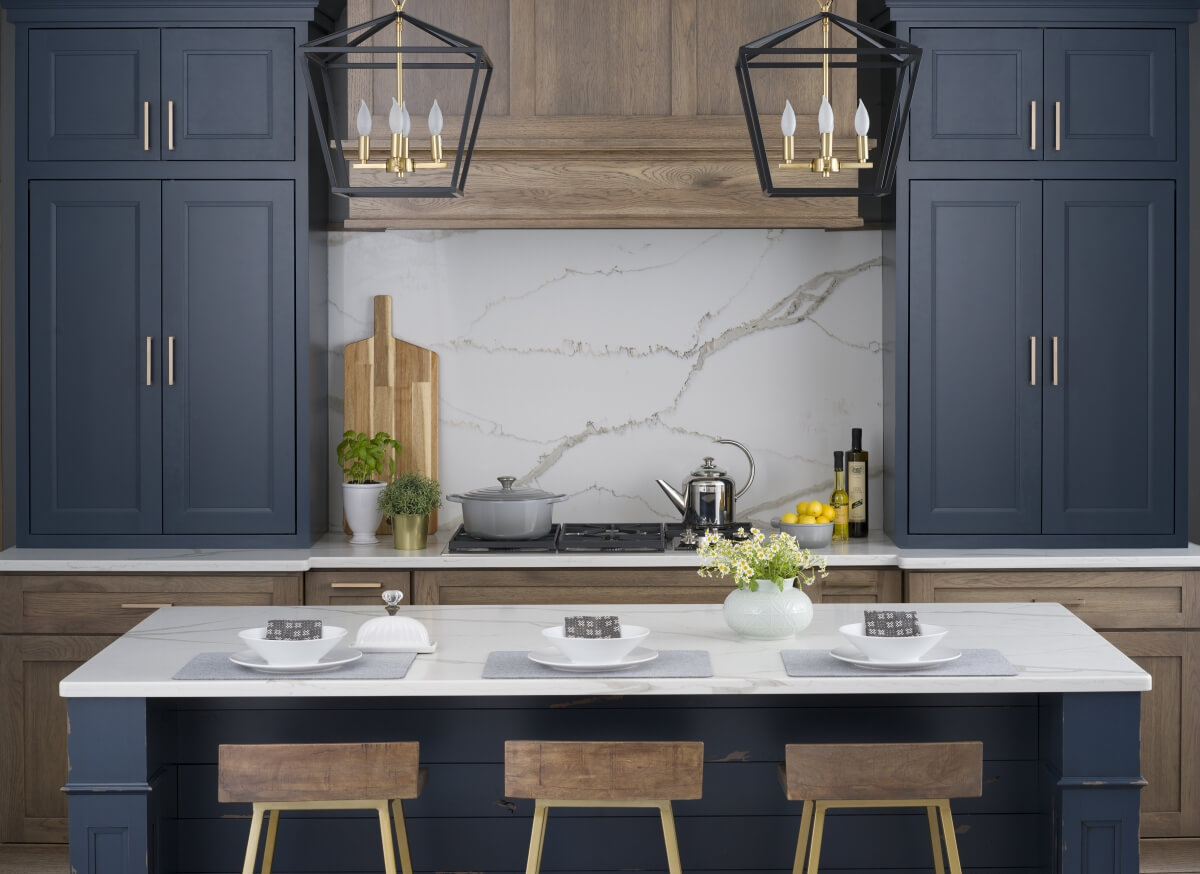 Finally, I should mention here that form does not need to be sacrificed in the name of function. The Dura Supreme Curated Color paint finish Gale Force on the Dempsey door style pairs beautifully with Hickory finished in Morel stain on the Craftsman door style. The blue undertones in the grain of the Hickory are pulled out effortlessly by the Gale Force. The countertop and backsplash are Zodiaq Calacutta Natura and all metal surfaces are a soft brushed brass, with pulls from Top Knobs.  I especially love the countertop and backsplash because the veining has both gray and brown in it, which is hard to find, and I think does the tricky job of bridging across warm and cool color tones very well. Circling back, this idea of creating Centers in your kitchen really addresses many people's two primary concerns of organization and tidiness. So the next time you are planning a space, group functions together and save yourself some steps!