Today we will be looking at a kitchen transformation dreamt up by a designer for her own home.  As a designer myself, I find this type of renovation particularly interesting, because as designers, we are always focused on creating spaces based on others' needs, and turning that focus inward can be challenging.  The options are so numerous because as a designer that is all you look at, day in and day out- choices!  It's like when someone in IT builds their own computer, or an accomplished chef makes Tuesday night dinner for their family- I am always fascinated to learn how they approach their decision-making when seemingly infinite choices are on the table. So when I saw the results of designer Mira Thor's own home renovation, I couldn't wait to dig deeper and find out how and why she chose what she did.  Today I will share what I learned, as we peer into a full kitchen reno through a designer's eye.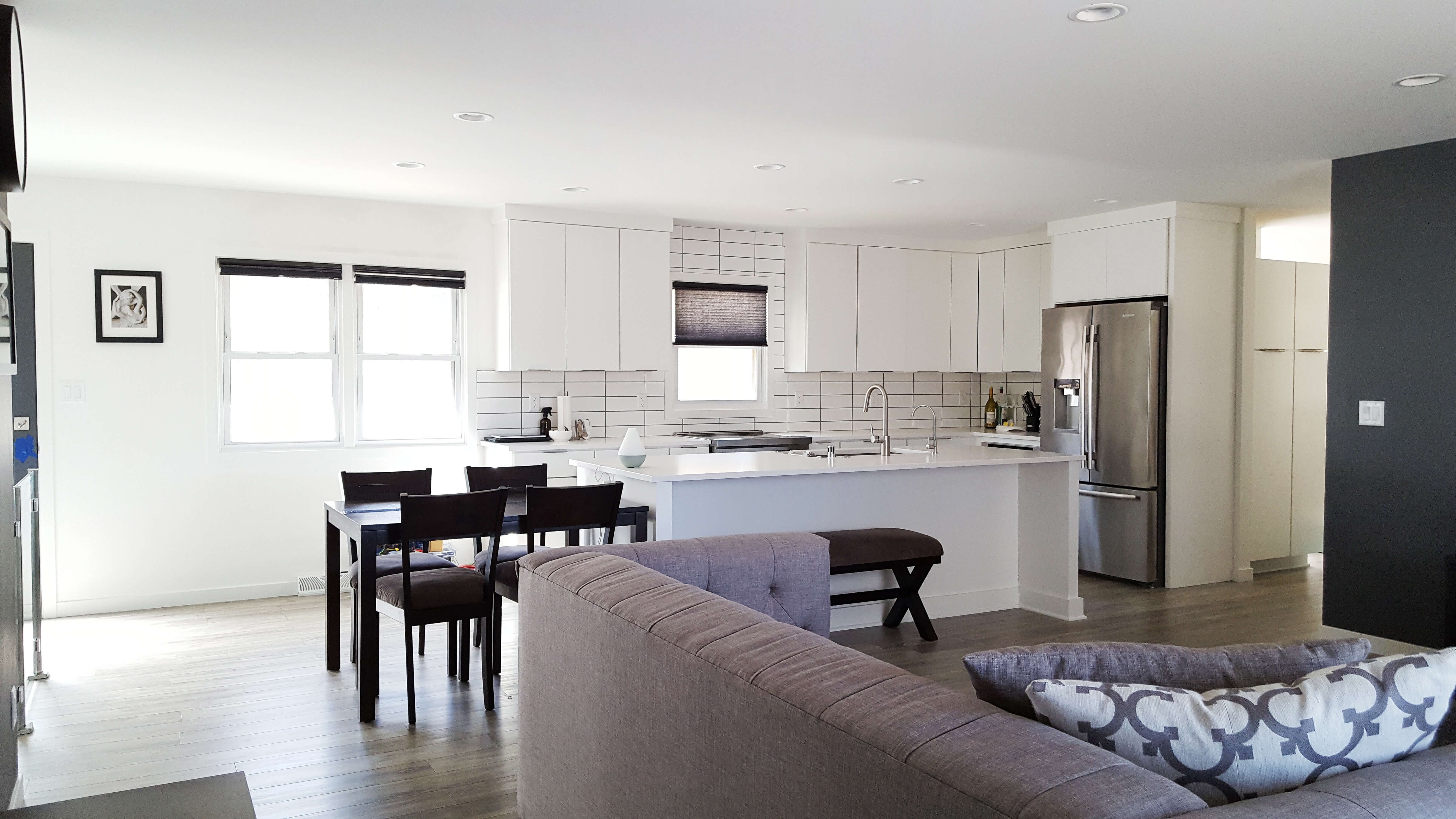 As designer Mira Thor was house shopping in New Berlin, Wisconsin, she had a clear vision of what she wanted in an open concept space. When she saw this house, it was not really an open concept kitchen, but she could see past the multi-tier see-through shelf wall and realized that she would be able to work with it. I should note here, that Mira's sense of style leans toward Modern.  So, for her to walk into this circa 70's-80's Golden Oak home and think "Bingo!" says a lot about her ability to see the opportunities in a space (and another great reason for homeowners to strongly consider hiring designers for big projects like this).
Here we see the view towards the kitchen from the living room-

The first thing you notice is the removal of the wall separating kitchen and living room.  Next notice the change in flooring. Carpet was removed and wood flooring was extended throughout the space, in a new, more pale finish with gray undertones. Having the same floor treatment throughout will always make a space appear larger, a good move.  Spaces can be further defined by rugs if desired (as we will see later).  Also notice, all red undertones have been removed by switching the trim work, cabinetry and flooring. This is in lock step with what we are seeing trending right now. The backsplash is a 4"x12" white matte subway tile. You may have also noticed, behind the refrigerator, more cabinetry. These tall cabinets serve as a pantry and broom storage in the mudroom/laundry room. All cabinetry is Dura Supreme's Chroma door style finished in White, and all countertops are Cambria's Newport in Matte finish.
Another view has us looking towards the staircase to the basement- 

In this view we see an opportunity that really caught Mira's eye- the half wall by the staircase. She has always wanted a glass staircase wall and here was a great spot for that. This really helped her design stand solidly in the Modern/Contemporary style she so loves. A bonus was having it be in such a prominent place in the home, where she can appreciate it from multiple rooms. Here is a little closer view of the glass walled staircase-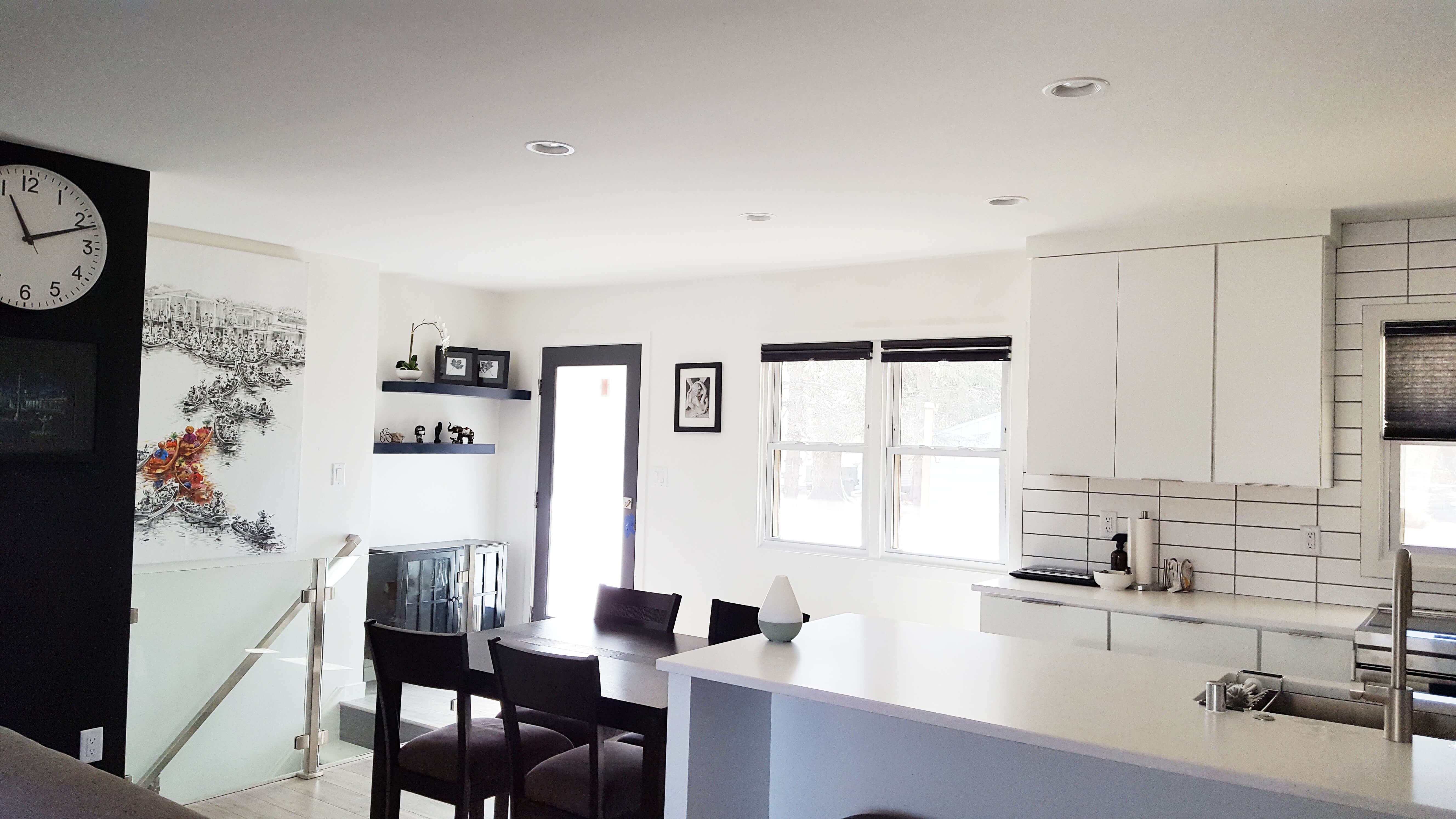 After
Glass staircase half wall, design by Mira Thor of Drexel Building Supply
Here we also see a big trend on the rise with the black architectural door frame. Many window and door replacements are being done in either white or black these days, and less in wood. We also see some beautiful floating shelves from Dura Supreme and a furniture piece near the door, making good use of a tricky space.
Below we change our viewpoint and look back, towards the refrigerator. Here we get a better view of the functional side of the island. Notice the refrigerator, range and sink all shifted to new positions within the kitchen, yet still preserving the work triangle. This view also gives a great perspective on switching from a peninsula to an island.  Mira wanted a large island for seating, something peninsula spaces could not offer. Even though the square footage has not changed a bit, the space looks larger, more inviting and easier to maneuver and work in.

You'll notice the sink and dishwasher were moved from below the window over to the island, making food prep and clean up a little more social. Under the window now, the JennAir induction slide-in range has a downdraft ventilation system and the counter-depth refrigerator (with an Obsidian interior) was moved out of the main trafficway when the wall was removed.  Mira also opted for a below counter microwave, which cleaned up the sightlines. Below is a closer view of the working side of the island and the range wall with a pantry pull-out. Mira chose easy to use pulls from Hardware Resources.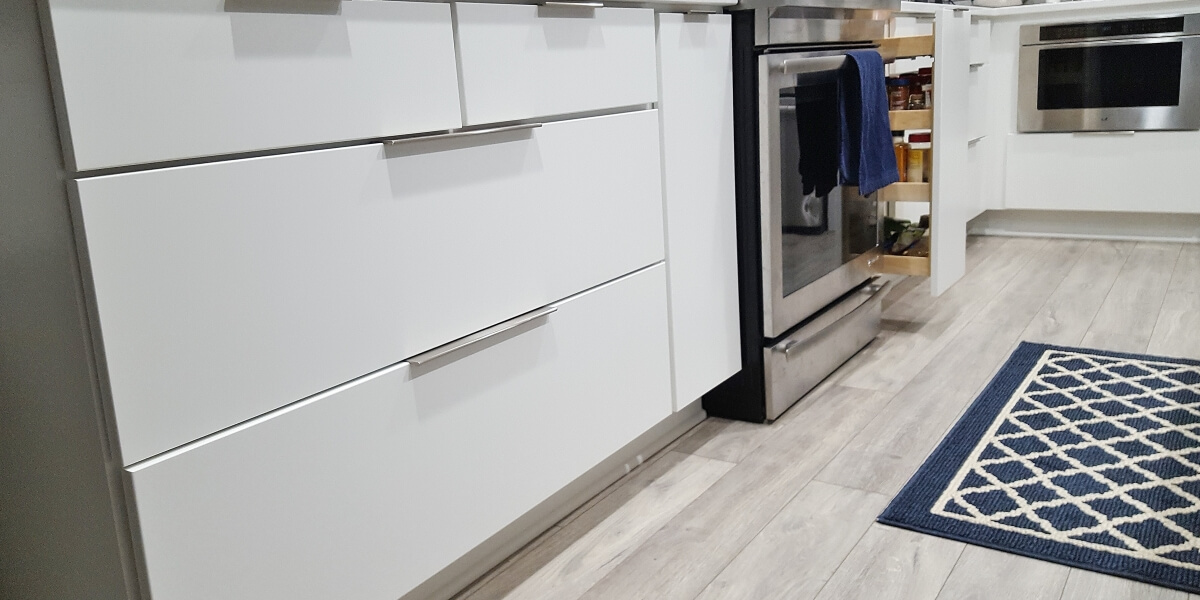 After
Dura Supreme Cabinetry, Range wall with Pull-Out cabinet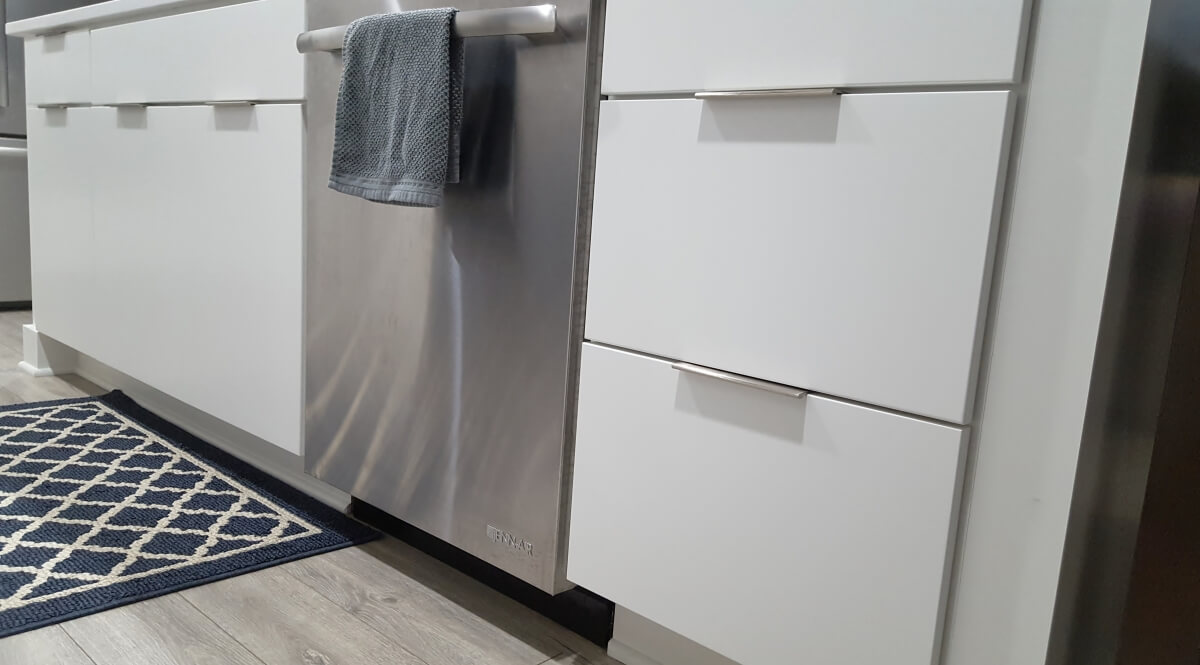 After
Dura Supreme Cabinetry, working side of island
Mira's main focus in this remodel was functionality. In talking with her I believe that goal was met.  She told me she loves her kitchen and loves working in it. It has even inspired her to bring out cookbooks and try a different recipe almost every night due to the functionality of her kitchen. How great is that?!