Having your own washer and dryer in your home is a luxury that any former renter appreciates. Once you move away from the communal laundry rooms, with their pay to play appliances, spilled detergent, and a basket of random clothing items that have been left behind over the years, you make it a point to never go back to sharing that space. In fact, many higher end apartment buildings built in the last decade understand how real the struggle is and include a washer and dryer in each rental unit. 
Regardless of how big or small your space for laundry is, here are five must-haves to create a space for removing the toughest denim grass stains, caring for the most delicate of silks, and everything in between.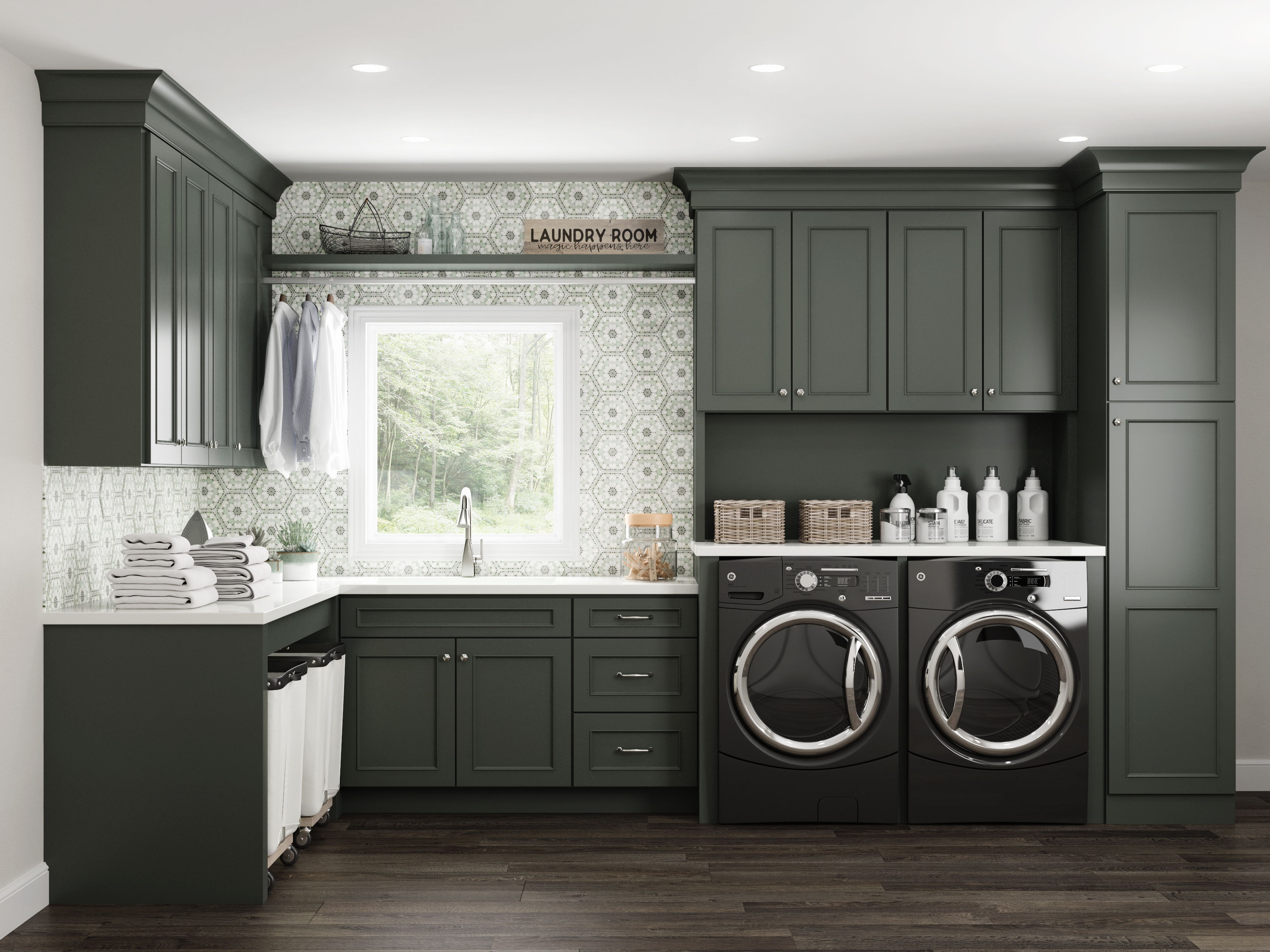 Storage!
Every laundry room should have some type of storage space, and that can be achieved in several different ways depending on the room size. When planning or remodeling for a laundry room, take into consideration what is needed for storing items like laundry detergent and fabric softener. Often times the laundry space is used for additional linens, or as dry pantry storage. Adding wall cabinets or open shelves above a washer and dryer in a closet is a great way to utilize the space. For larger laundry rooms, base cabinets can house bulky or rarely used kitchen appliances such as crock pots or large mixing bowls. And let's not forget drawer storage. Often times drawers in a laundry room can act as your "junk" drawer, and everyday household items such as batteries and hand tools can be easily accessed without taking up space in the kitchen.
Utility Sink!
If you're able to plan for a sink, DO IT! A sink in the laundry room is so convenient for cleaning items you wouldn't want to wash in your kitchen or bathroom sinks such as bathing a small pet, soaking laundry or hard to clean household items, or cleaning paint brushes and tools. It can also act as a secondary sink when entertaining.
A sink in the laundry room just makes sense! Even if you have to stack a washer and dryer to fit in a sink, this designer and home improvement maven highly recommends it. (This is coming from someone who used to have to wash her paint brushes and rollers in her kitchen sink all the time.) You will not regret the decision or the cost of adding one.
Clothes Rod!
A clothes rod is an absolute must-have in a laundry room, and here are a couple of reason why: if you are like me and loathe ironing clothes, you will want to take certain items out of the dryer and hang them promptly. I do this for all of my ironable clothing items, and once they are all hung, I can take them directly to my closet. One less chore that has to be completed. Of course, the same rod can be used for hanging items that need to be air dried as well. 
Folding Station!
And by folding station, we mean countertop space. While this can be difficult in smaller spaces, a countertop to set laundry on (in a pile or basket) instead of the floor makes a huge difference. Countertops provide a smooth, level surface – especially over front loading machines, and they can act as a work surface for crafts, sewing projects, or small repairs. They also help prevent items from slipping between your washer and dryer and walls – no more lonely socks!
Great Lighting!
Every laundry room or closet should have great lighting for spotting those… well… spots! Trying to find the coffee stain you know is on your favorite sweater can be difficult with poor lighting. Ensuring you have enough light, especially above the washer and dryer, will help you with pre-treating as well as fluffing and folding. Not to mention when you have to look inside the washer to make sure you grabbed that last dark sock stuck to the side of the tub! Whether you have recessed, can lights or a striking, flush mount fixture, having adequate lighting can make a huge difference and maybe make laundry less of a chore.
Below are just a few more photos of laundry spaces that incorporate a few, if not all, of the 5 items above.