For many years now, the Master Bathroom has been designed as an oasis for the masters of the home to retreat to; a place away from the hustle and bustle of the rest of the house where they can peacefully bathe and prepare for their day or evening. In most home designs the master bath has included the toilet, walk-in shower, possibly a separate tub, and two vanity sinks. But why two sinks? Is there some design rule out there that states all master bathrooms must have two sinks? I've never come across that rule in my years of designing, and it seems a bit outdated today. While having two sinks can be a nice feature, you really have to ask yourself how often there are two people in the same bathroom needing to use a sink at the same time. Some spaces might be better suited for just one sink. 
I have a friend that is looking to remodel the main bath of their home. The original bath has a 72″ long double bowl vanity. There is no separate master bathroom in the house and she would like for this space to have more of a master bath feel. Right now the only people using the bathroom is her and her 10 YO daughter. The remodel will be a long-term investment for at least the next 10-15 years. As I have been working on this, my designer brain is selling her on the idea of having just one sink rather than two. In the examples below you can see how they differ.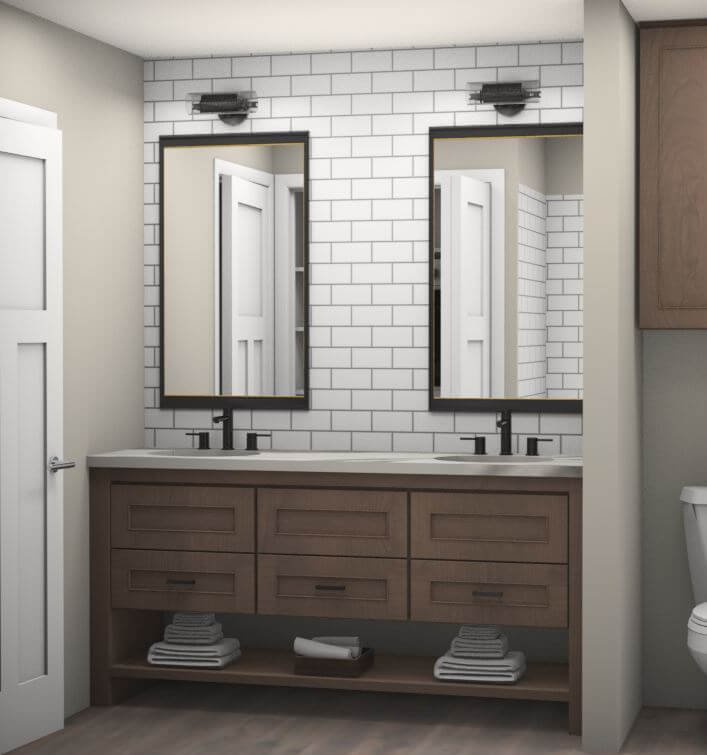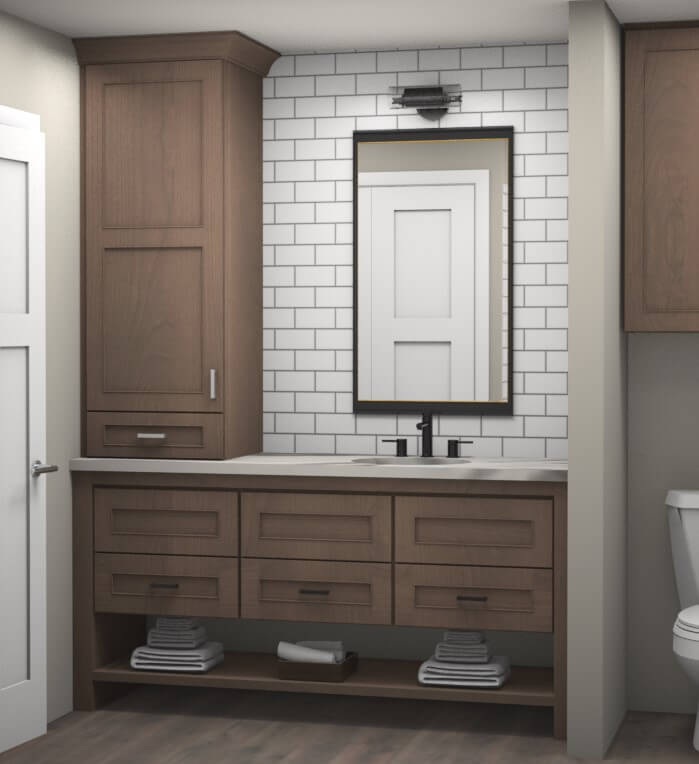 The rendering on the left shows two bowls which are typical, however, the left sink is right by the door into the bathroom. If someone were standing there and the door opened…well, someone is getting hurt. There is also not a lot of storage for linens as the current closet (across from the vanity) will be converted for a stackable washer and dryer. The rendering on the right shows a single bowl vanity, with the sink being moved away from the door and a tall wall cabinet set on the countertop for additional storage. This alleviates the traffic jam at the door as well as allowing more countertop space. 
Single Bowl Vanities
Converting a smaller bedroom into a master bath can be a challenge, especially when windows are in play.  In the below bath, a single sink was centered between two existing windows rather than removing them for a traditional two sink bath.
This transitional master bath uses floating vanities to help open the room and a single bowl sink which allows for extra drawer storage and countertops
Another master bath with our Furniture Vanity Style 6 in a Personal Paint Match for a unique look. A single sink allows for more drawer storage to help keep items organized and clutter-free in smaller shared baths
This bright and white master bath chose a single vanity in order to add additional storage with a tall linen cabinet. Check out that mirrored door!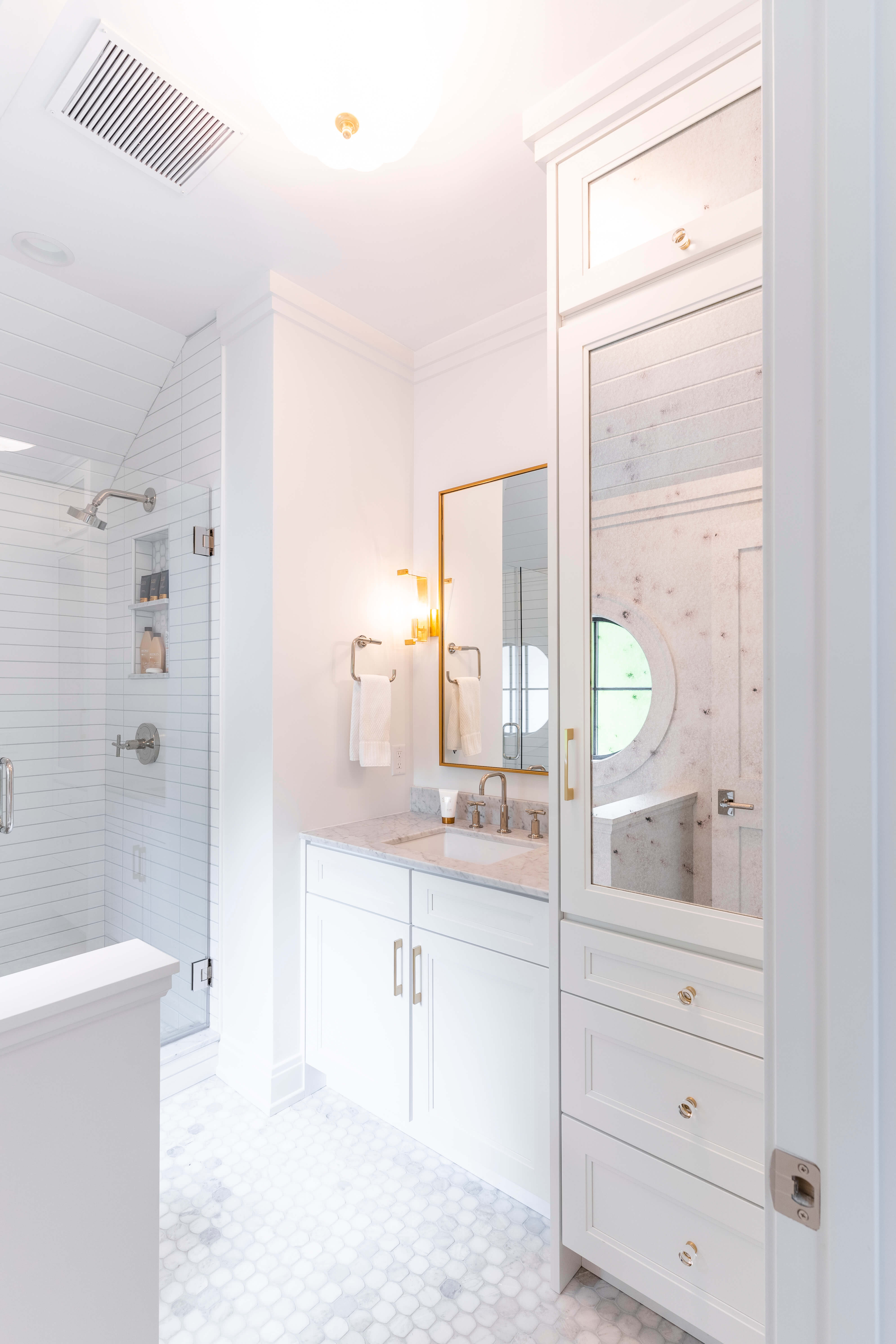 Double Bowl Vanities
When you have the space double bowl vanities make sense, especially when two people will be using the space at the same time. In the design below the master bath is large and spacious and can accommodate the double bowl floating vanity anchored by tall linen cabinets.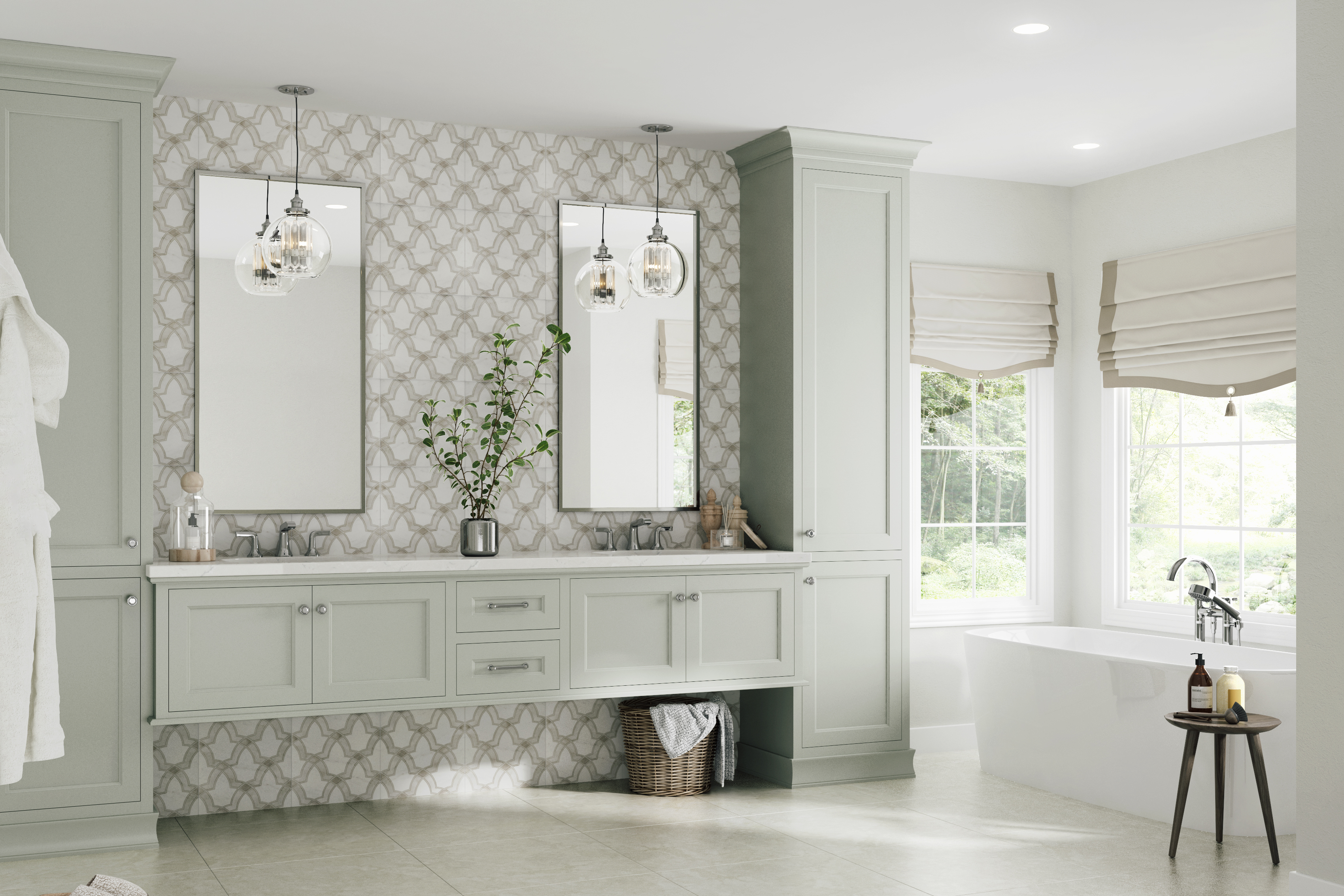 This master bath has so much storage! Double vanities are flanked by tall storage with lots of drawers for organization.
Another floating vanity with double sinks in a warm wood tone was selected for this bath.
Now here is the best of both worlds…One large single sink that two people can be at! Trough sinks add an interesting focal point and drama to master baths made for two.
No matter what you choose to design with in a master bath, always consider your options based on space available and what is important to you and the homeowner. Each one has its benefits and there is no right or wrong way to design a master bath, but you do have the option for a single bowl in lieu of double bowls to help optimize the space.