When we think about cabinetry, our designer minds generally drift toward kitchens and baths. Well, I am here to tell you that if you limit your creativity to those two rooms you are doing yourself a disservice. Other highly utilized rooms also deserve some love, such as the laundry room, office, and mudroom. However, there is one space that everyone uses, every single day, a work-horse of a room, that can influence a person's mood from the beginning to the close of a day. This hallowed space is… the closet.  Let's dig into all of the beautiful and functional options that Dura Supreme has to offer for closet spaces!
Drawers
Consider taller heights, such as our 40-1/2"H drawer bases. Also, keep in mind we offer 5-drawer bases, 2-drawer bases, and everything in between, and the heights of these drawers can easily be modified to meet specific storage needs. Within the drawers, our adjustable drawer partitions can be ordered in any quantity needed, and placed at any position within the drawer. These are great for keeping folded stacks of clothing from leaning/melding into other folded stacks. They can also work great as dividers for undergarments, which are often difficult to keep organized.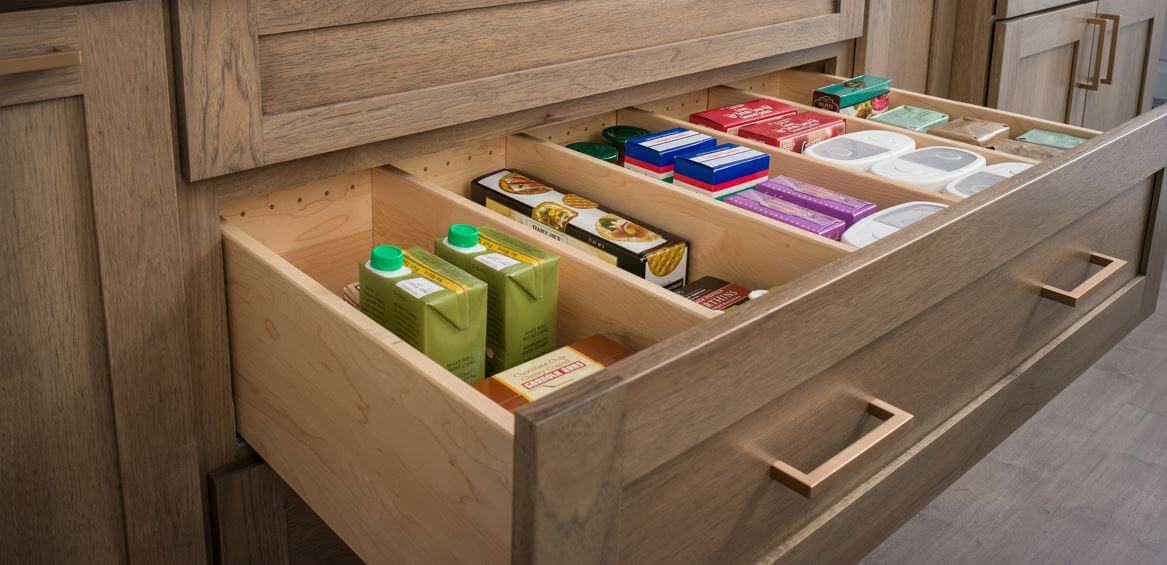 Shelving
Using our tall utility cabinets or pantry cabinets, you can get lots of shelf storage. These can be adjustable or fixed, depending on your needs, and you can go with the standard ¾" thick shelves, or upgrade to a flush furniture shelf (1-1/2" thick), or shelf and rail style (1-1/2" at front and back). All are perfect for folded jeans, purses and sweaters. You can also specify a tall vertical divider, to double your shelves, with them being adjustable on both sides of the divider.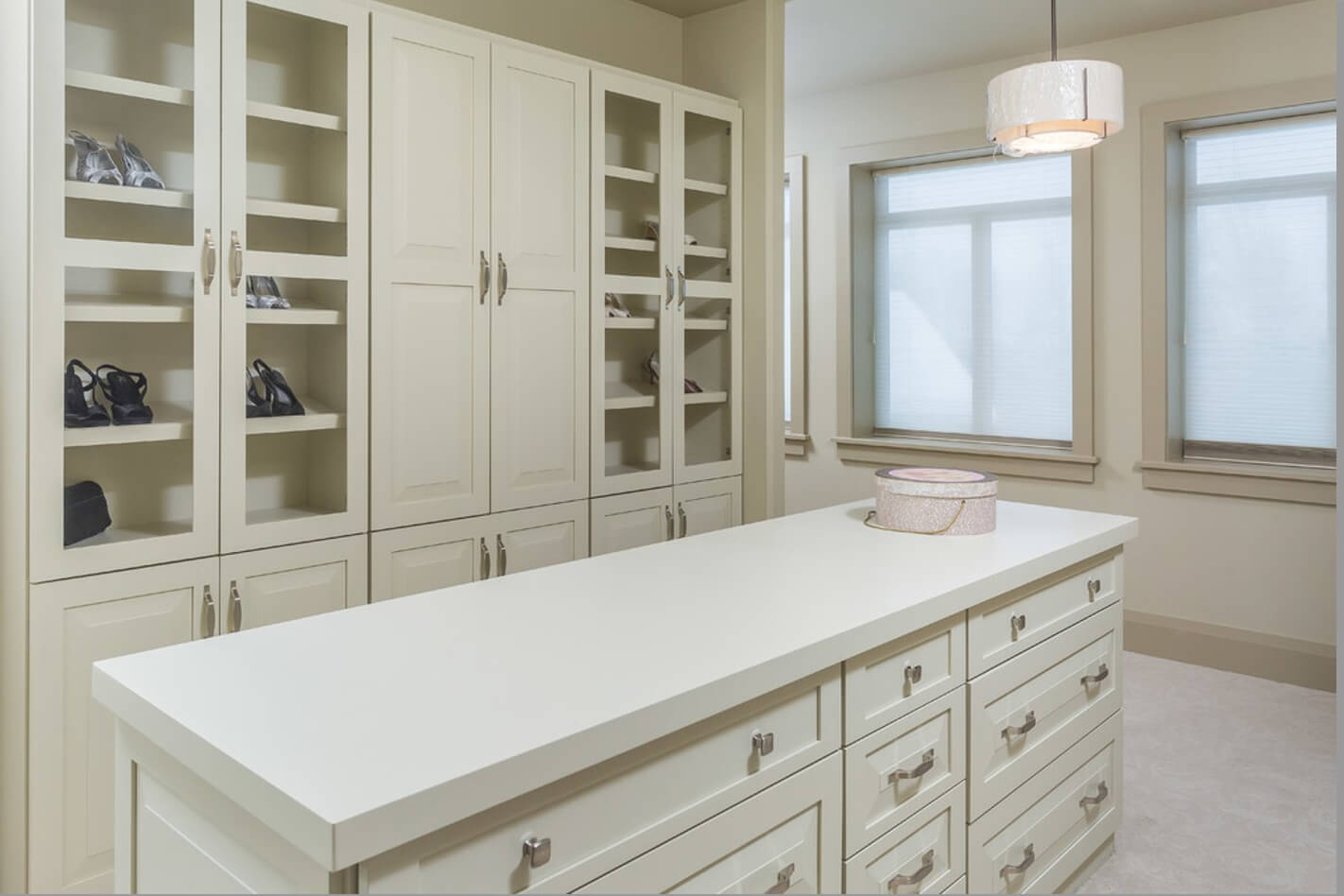 We also can't forget the utility of a roll-out shelf, especially if cabinets are 24"D. If you choose to use a utility cabinet with roll-out shelves, and omit the doors, this can be great shoe storage. In this instance, I would use 2"H roll-outs (increasing the quantity of them), and order loose drawer fronts to attach to the front of the roll-outs that match the rest of the closet finish, as roll-outs will always be a natural maple finish.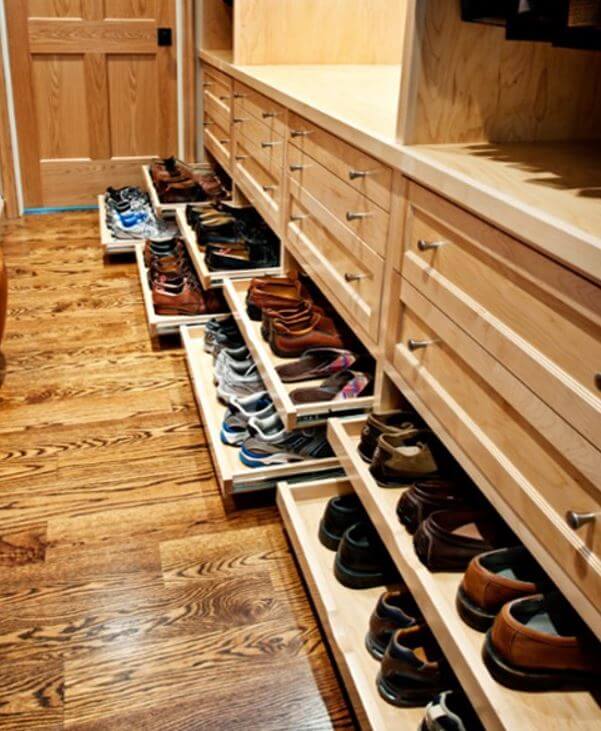 And of course there is the ever-popular floating shelf, which can be your friend anywhere in the closet. These go up to 96" long, are available in almost any one of our finishes, and come with the invisible hanging hardware. Keep these in mind especially if you have tall ceilings- these can be hung above the rest of the clothing storage and hold seasonal clothing, overnight duffels, etc.
Hampers
Putting a hamper in a walk-in closet is the perfect way to contain clothing in one space. We offer a base hamper pull-out, and a hamper that is part of a tall linen cabinet. Both have a removable basket, so clothes can be easily transported to the laundry room. I generally place these near the door to the closet.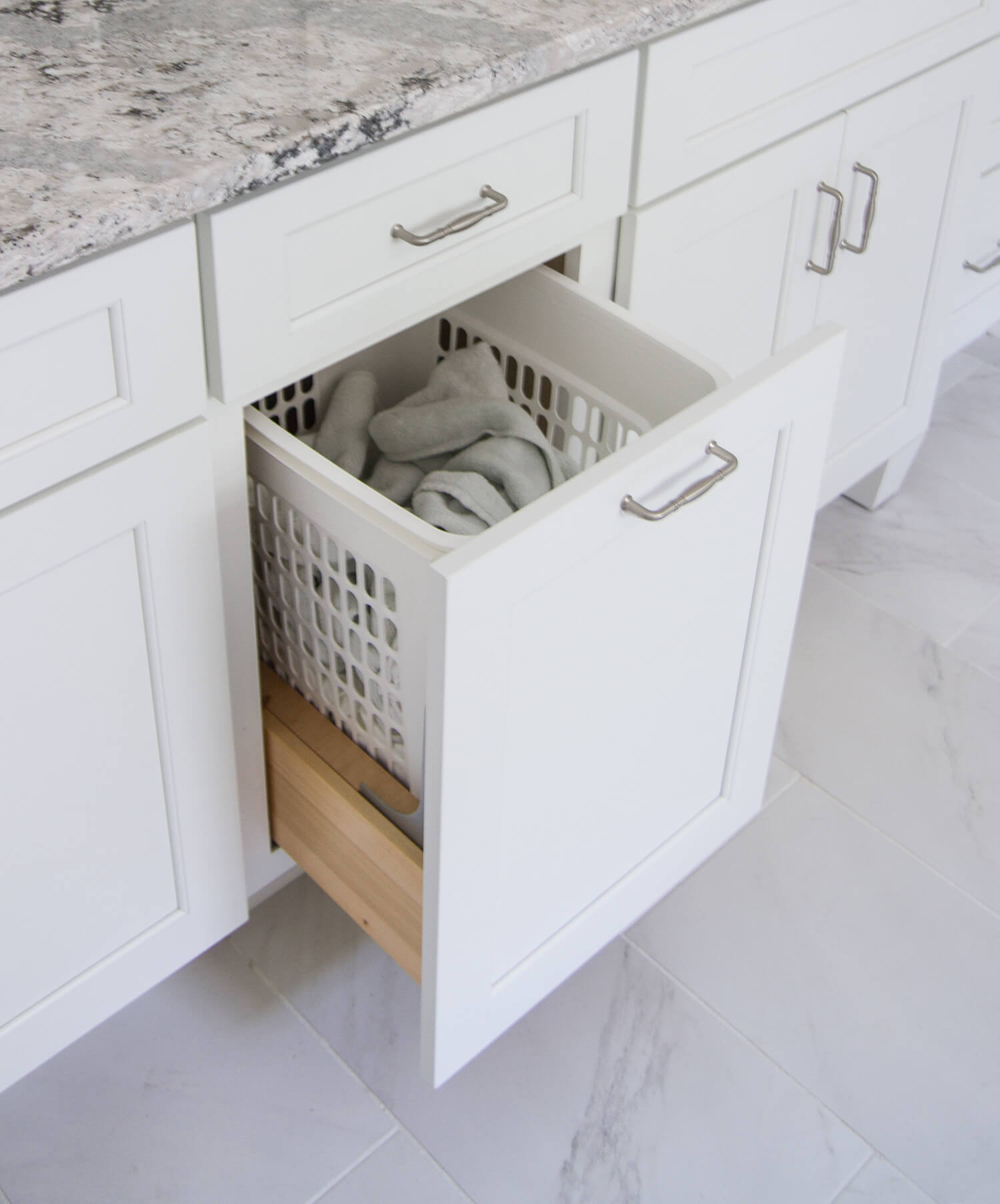 Mirrors
Whenever I design a closet, I always try to work mirror inserts into some doors, the taller the door the better. Also keep in mind we offer framed mirrors (up to 48"x30") as well as just framing for larger mirrors (up to 48"x60") that would be sourced on-site. It's a good way to keep finishes consistent and coordinated throughout the space.
Hooks
Our coat hoot racks and coat rack organizers aren't just for mudrooms and entryways.  In a closet, these can be the perfect solution for purses, scarves, robes, etc.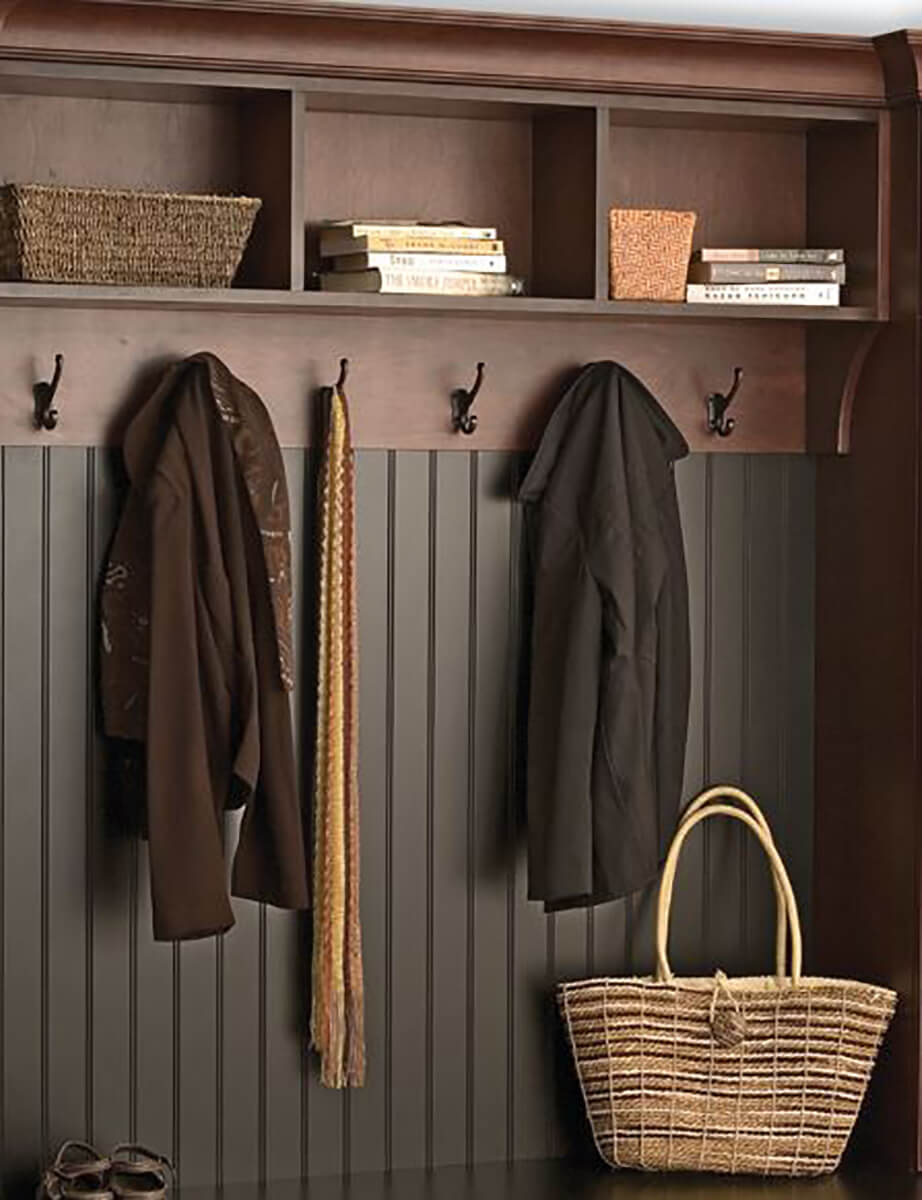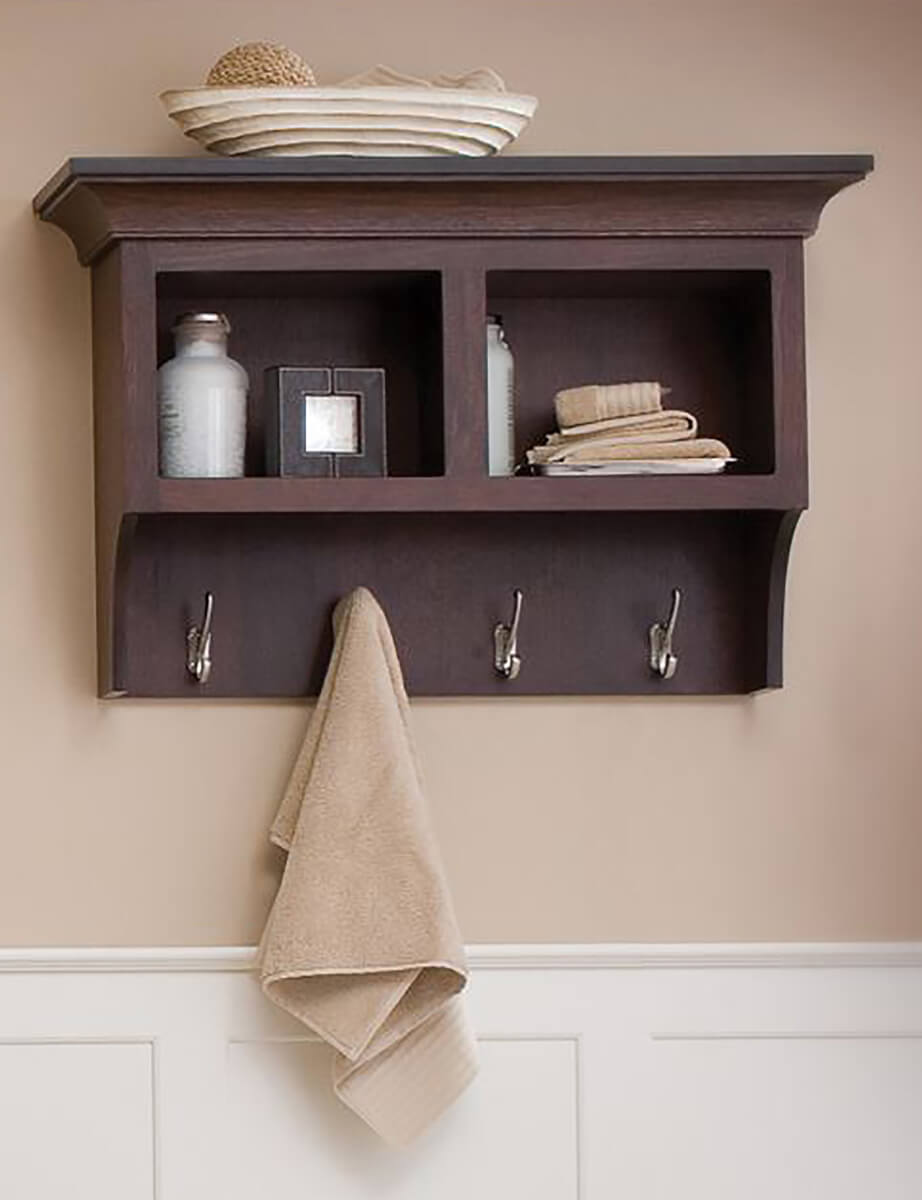 Seating
If there is room in the closet, it is always nice if you can incorporate seating. It makes putting on socks and shoes a bit easier. If there is a window in the closet, making it difficult to hang shelving or a rod, a bench can be a great solution for that area. Our boot benches are made for this situation, and can be specified with a deep drawer below, open space below a shallow drawer, or a decorative front panel with a bench top that opens for storage (anyone say seasonal clothing?).
Finishes
This is an area where you can really let your creativity soar. You can have the closet match an adjacent primary bathroom, you can go with stain, paint, laminate, anything your heart desires. Think about using our aluminum frames (they come in 8 finishes, multiple frame widths and dozens of inserts) for a clean look, especially beautiful when paired with a stain. You can have a matching finished interior, our Supreme Coat in natural maple or white, a contrasting finish of your choosing, or a maple veneer. You can also easily apply our ship lap panel or individual ship lap strips within the design, perhaps in a coordinating finish.
Styling
As I mentioned earlier, tall utility cabinets, pantry cabinets, tall storage cabinets, and even oven cabinets are perfect for closet storage. They can be made up to 36"W, and 96"-120"H depending upon material chosen. Omit some doors and add a rod of your choosing and you've created some efficient clothing storage, with drawers/doors/shelves above and/or below the rods.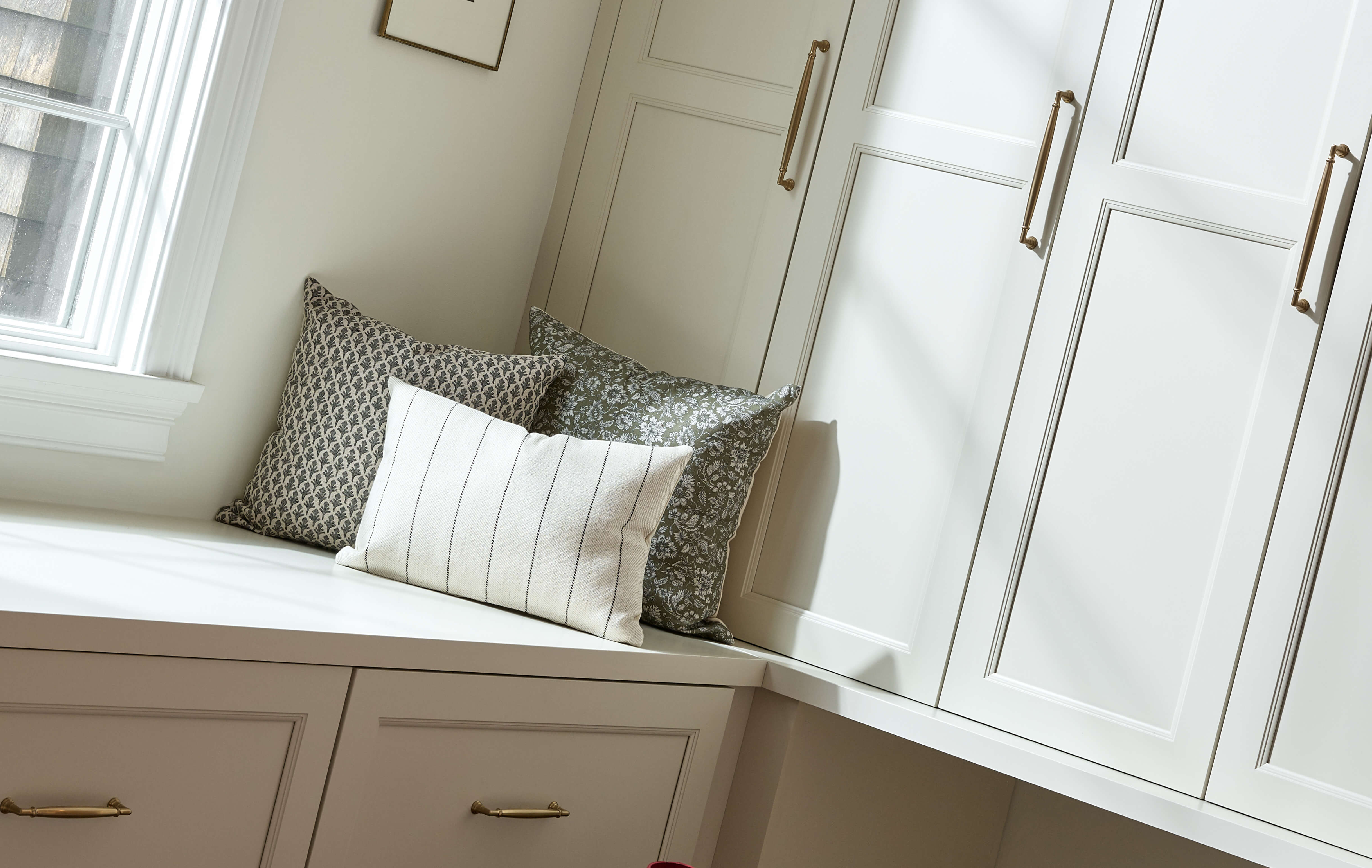 Generally, frameless cabinets are used in closet design to maximize access, but framed cabinetry can also be very lovely if you are looking for more of a furniture look. When butting frameless tall cabinets together, I always apply a piece of trim molding or solid stock to hide  the long vertical seam. Choose something that compliments your door style.
You also need to think about your toe spaces. If the ceiling height is an issue (which it often is in a closet), you should order the toe to be shipped loose. Also consider applying a loose decorative toe that would span multiple cabinets, making them appear as one large, wide cabinet.
And, just as with other spaces in the house, really (really) think about the lighting.  Oftentimes, people are in their closets before the sun comes up and after the sun goes down. Lighting is super important in this room, so in addition to overhead ceiling lights, in-cabinet lighting is a game changer, especially to a bleary-eyed homeowner at 6am.
Next time you are designing, be sure to consider ALL of the rooms in the house, not just the kitchen and bath. As designers we strive to improve the quality of our clients' lives, and a  well-appointed closet has the power to mentally set a positive tone for the day for its owner.