A few weeks back I wrote about the different lift door options that are offered with Dura Supreme Cabinets. In today's blog, we're going to look at a couple of other great options for accessing cabinets: the Bi-Fold Door and Pocket Door. Just like the lift doors Dura Supreme offers, these door options are another great way to access the interiors of cabinets without having doors open towards you or be in the way as you prepare meals or clean.
Bi-Fold Doors
Bi-Fold doors are becoming a more popular option we are seeing requested, especially when it comes to creating storage for different workstations within a kitchen. Most of our 2 door cabinets can be modified and converted to Bi-Fold doors for ease-of-access, especially with larger cabinets. Rather than having two doors open towards you, you can have the doors swing to the side just like a bi-fold closet door. They are great for hiding all your countertop appliances as well as boxed and canned goods.
The below project was a custom Bria cabinet that was thoughtfully created by Nancy Jacobson of Kitchen Design Partners of Northbrook, IL. The bi-fold doors open to the left and right revealing a large coffee station behind with plenty of easily accessible storage. 
Our popular Larder cabinets can be modified to have bi-fold doors as seen below on our Baking Center Larder.
Another great use for Bi-Fold doors is on a 2-door cabinet going into a corner.  When you have a 2 door cabinet, one of doors will open into into you, which can make it difficult to access the cabinet as you have to reach around that door.  Modifying the cabinet to have Bi-Fold doors that can open away from you will make it much easier to take things in and out of the cabinet.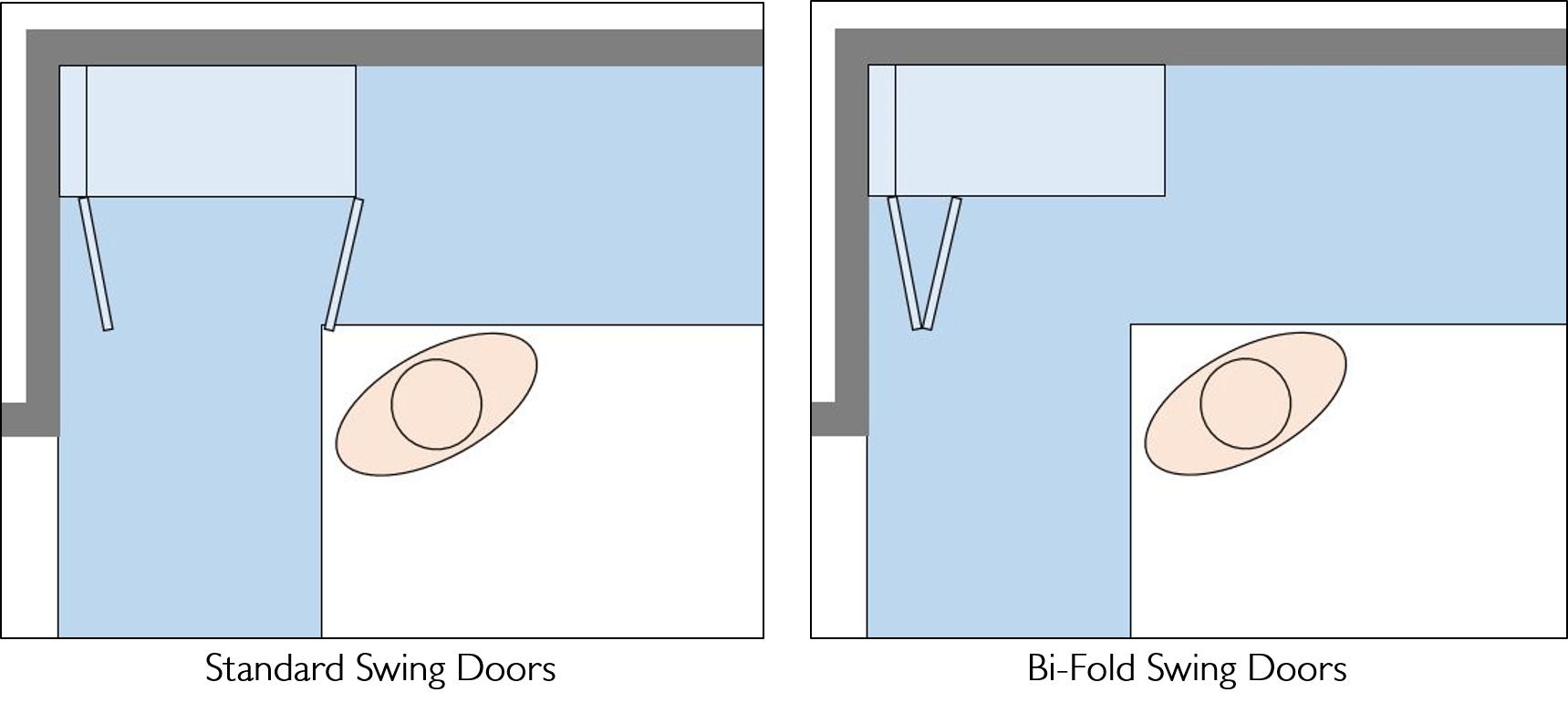 Below is another project by Kitchen Design Partners that showcase a bi-fold door that has been added to a wall cabinet that goes straight into the corner making it easier to reach inside, as well as giving you full access to the cabinet.
Another example of bi-fold cabinet doors that swing towards a deeper, taller cabinet, allowing the countertop space to the left to be open and easily accessible.
Pocket Doors
The option of having pocket doors for cabinets has long been a popular go to for many designers when creating thoughtful storage. Bi-fold doors open and tuck away along the sides, almost hiding them while keeping the doors out of the way. Often seen on TV cabinets to create an armoire look in the past, they are gaining popularity within the kitchen space to create hidden storage for coffee/beverage stations, as well as hiding other appliances that are used daily. The cabinets can remain open while in use, then easily closed up to hide the busyness and (probably) the mess behind!
The below project showcases a popular trend in design; pocket doors that reveal a beverage center, complete with a working pot filler for quick and easy filling of the water reservoir for your coffee maker. 
Oh, hello! Another Larder cabinet, with our Storage Style "A", modified to have pocket doors. One thing to be aware of when requesting or designing with pocket doors is how much interior space you lose within the cabinet when using the partitions with shelves option. The interior is reduced by 8.5″ so be aware of how much room you need for whatever you are storing so you can account for it and order the proper cabinet width.
The below project features our stacked wall cabinets with pocket doors for the bottom portion. Another example of creating a beverage station, in this case, a dry bar area that can be opened up when entertaining, then closed when it's not in use. Using pocket doors keeps them stored and out of the way.
The design below features side by side tall drawer storage cabinets with pocket doors. A beautiful example of how the doors can be opened and tucked away as you are working in the kitchen, preparing meals, setting the table, or putting groceries away. This kitchen was designed by Sandra Daubenmeyer of KSI Kitchen & Bath, McComb, MI. You can read more about this project here. 
There are many parts to designing a functional kitchen, and how you access the interiors of cabinetry should be one of the elements to consider. Bi-Fold and Pocket doors can be a great feature to add for ease of access.  If you are considering these cabinet door options make sure to talk about it with your Dura Supreme Designer. Don't have one yet? You can find one in your area HERE!
Until next time, Be Well!