What is -Pull-Out Storage?
Pull-out storage refers to cabinet storage that is attached to the cabinet door or drawer front and can be opened with one single motion when opening the cabinet. Where a Roll-Out is an internal storage accessory, unattached to the cabinet door or drawer front, and requires a second motion to reveal the storage.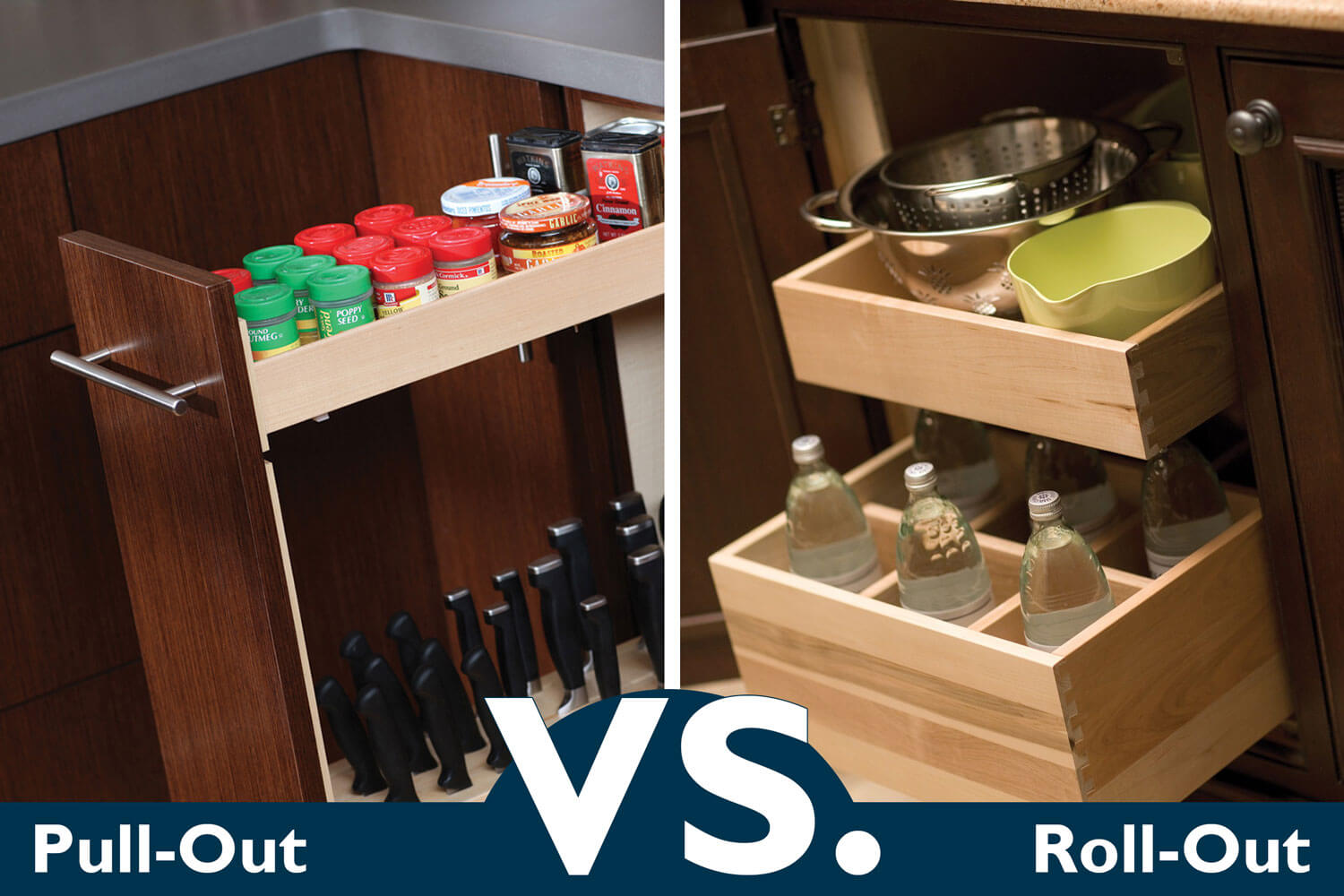 Benefits of Pull-Out Cabinet Storage
Small spaces offer a surprising amount of kitchen storage when you use Dura Supreme's pull-outs for spice storage, tray dividers, towel bar, or cutlery. 
Oftentimes, these ingenious pull-outs can be tucked behind a decorative turned post or column for exceptionally clever use of space. The full-extension slides are concealed for a sleek look and the soft-close, self-close feature is an added bonus.
There are many ways to use Pull-Out Storage
There are unlimited ways to use pull-out storage in your kitchen cabinetry and throughout your entire home. Here are a few of my favorite Pull-Out Storage solutions from Dura Supreme Cabinetry.
A shallow tray above the cutlery block offers convenient storage for small items and spices. Individual slots in our Pull-Out Knife Block protect blades and keep handles accessible tucking it behind a decorative post disguises the storage cabinet.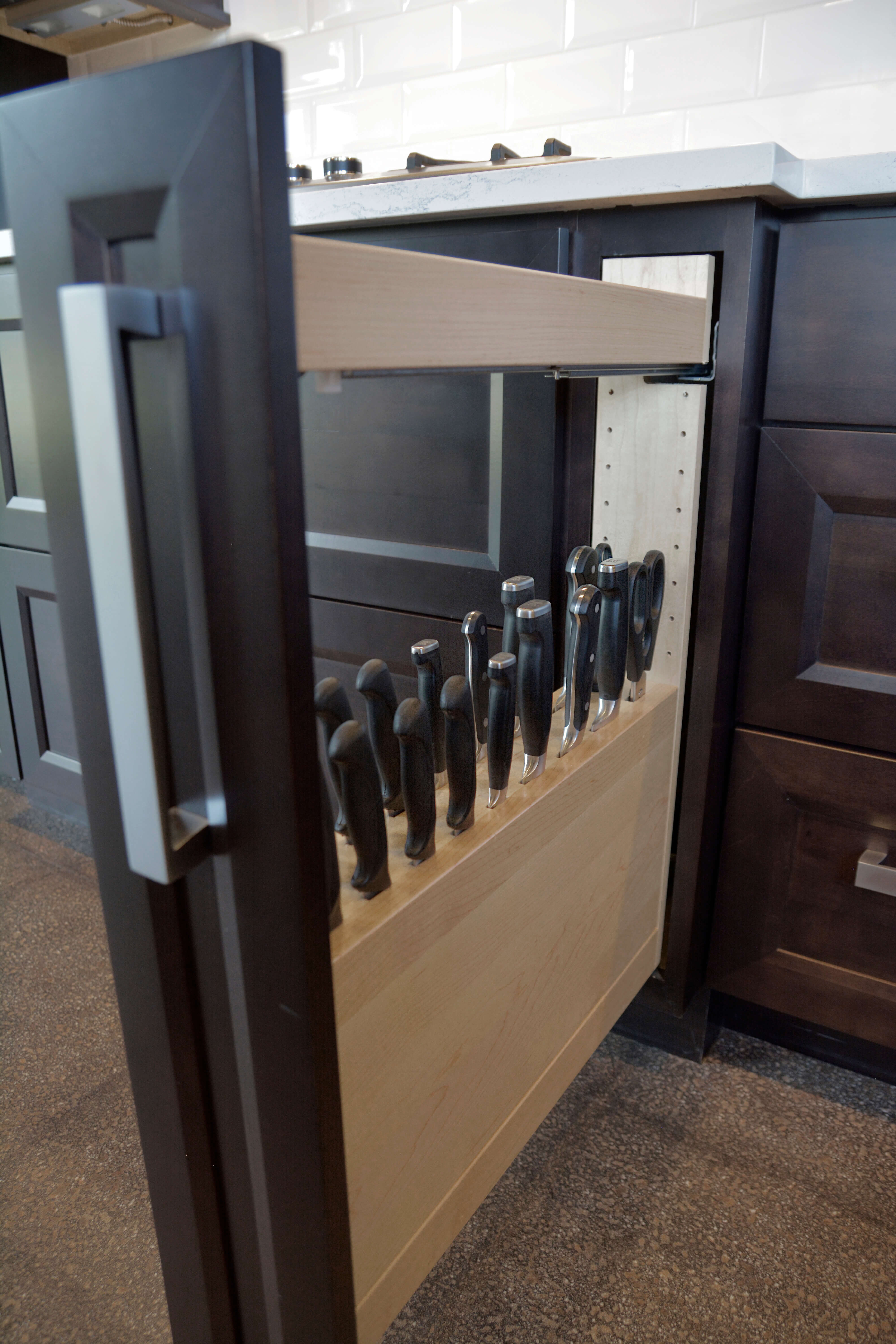 Dura Supreme's Pull-Out Slotted Knife Block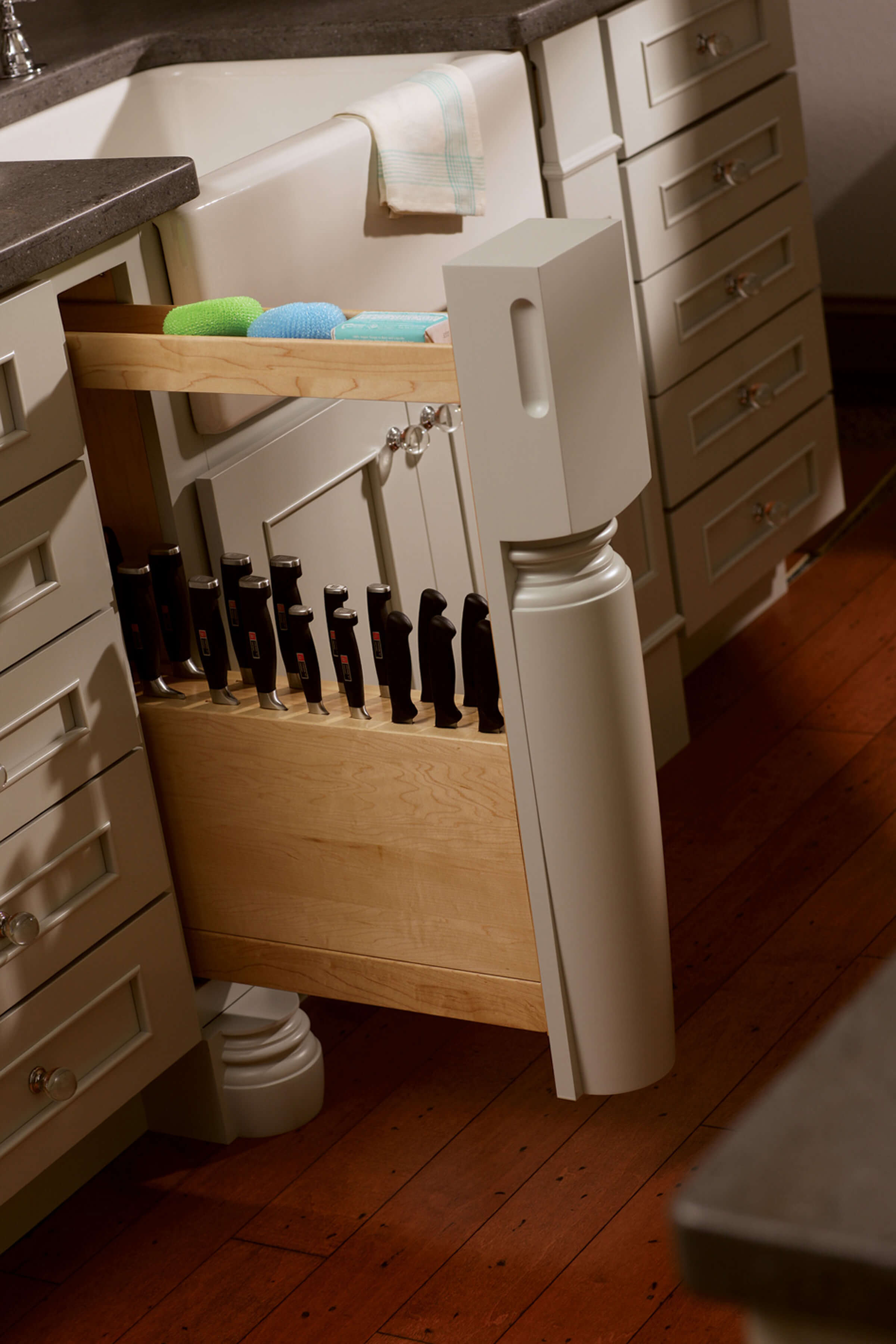 Dura Supreme's Pull-Out Slotted Knife Block behind a decorative Turned Post.
One of the most popular Pull-Out storage accessories is the Base Recycling Center. It's a great way to keep your kitchen waste and/or recycling tucked away, yet easy to access. At Dura Supreme, our standard Touch Latch mechanism allows you to open this cabinet easily hands-free with the touch of a knee when your hands are full, or wet to help keep your kitchen looking spic and span. For additional hands-free opening and closing assistance. An optional SERVO-DRIVE feature is available to electronically open and close this cabinet with a touch of a knee. (Select from a single 50 qt. wastebasket, double 23 qt. wastebaskets, or double 50 qt. wastebaskets.)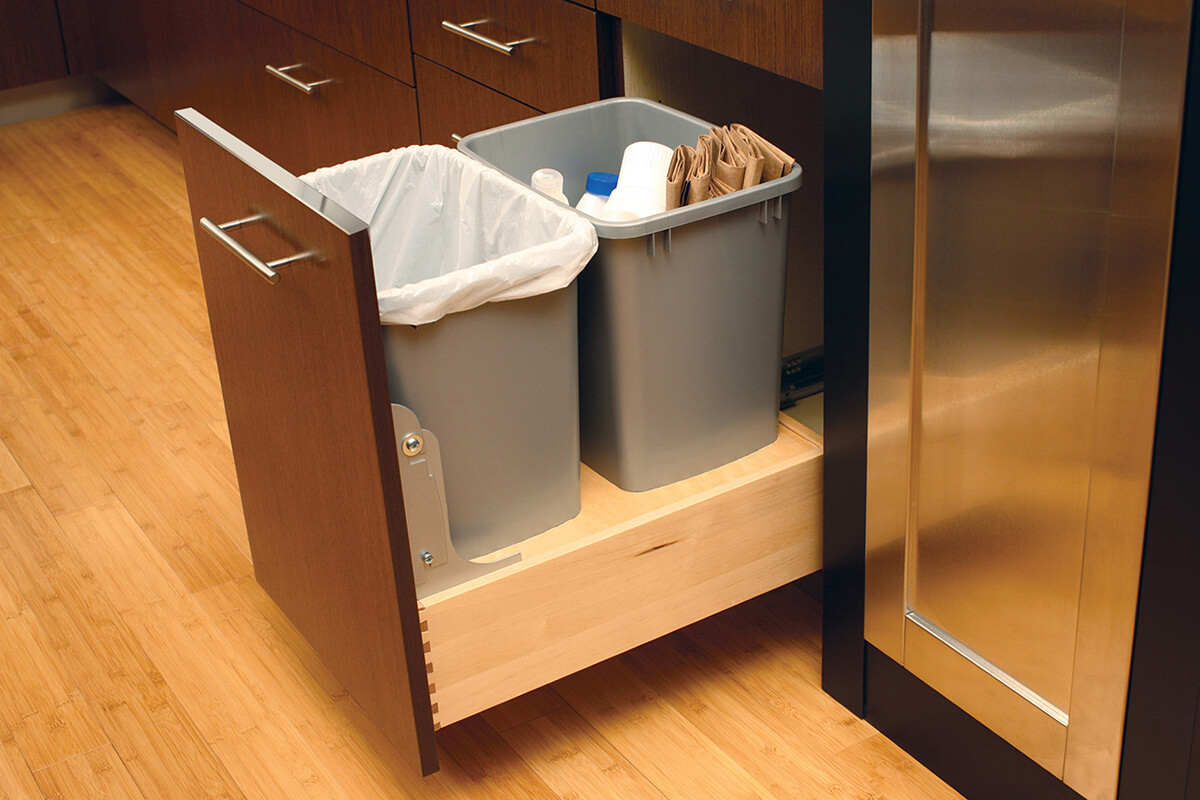 Base Recycling Center by Dura Supreme Cabinetry
Organize an entire collection of spices in only a few inches of space with our pull-out spice rack.
A Base Utensil Pull-Out keeps frequently used utensils close at hand. The shelf below provides additional storage space for pantry items, small appliances, and more.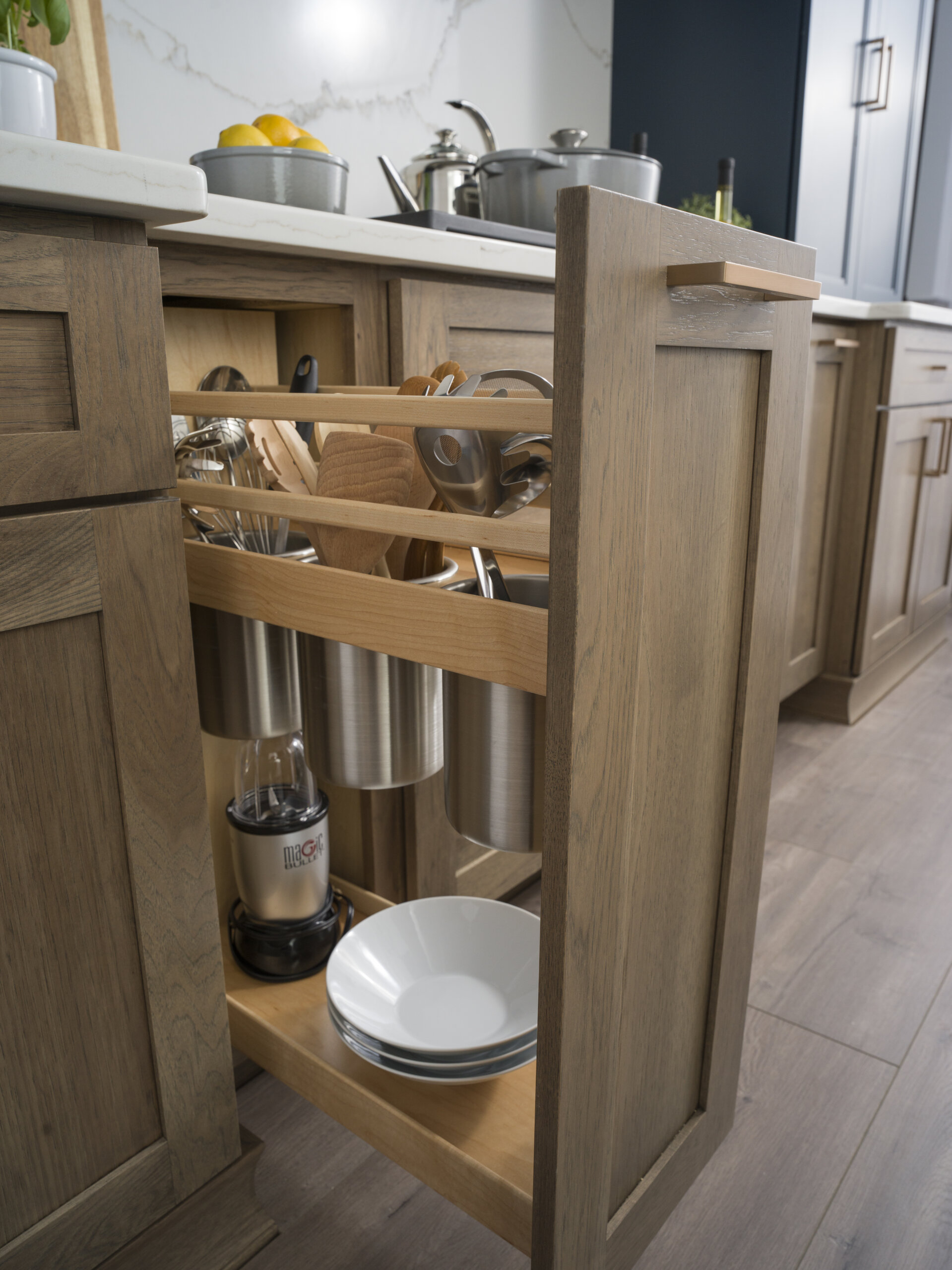 Tray storage in a pull-out offers practical and convenient use of space.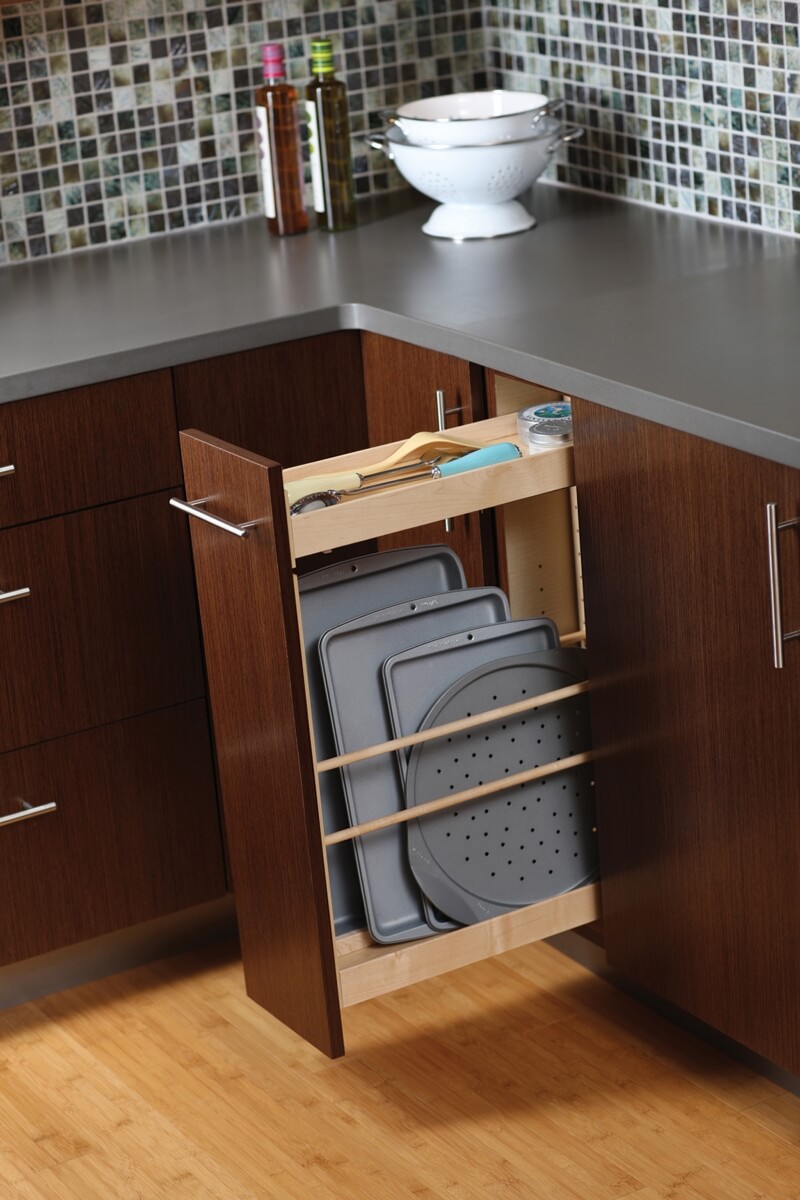 A pull-out towel bar next to the sink provides a convenient place to hang damp towels.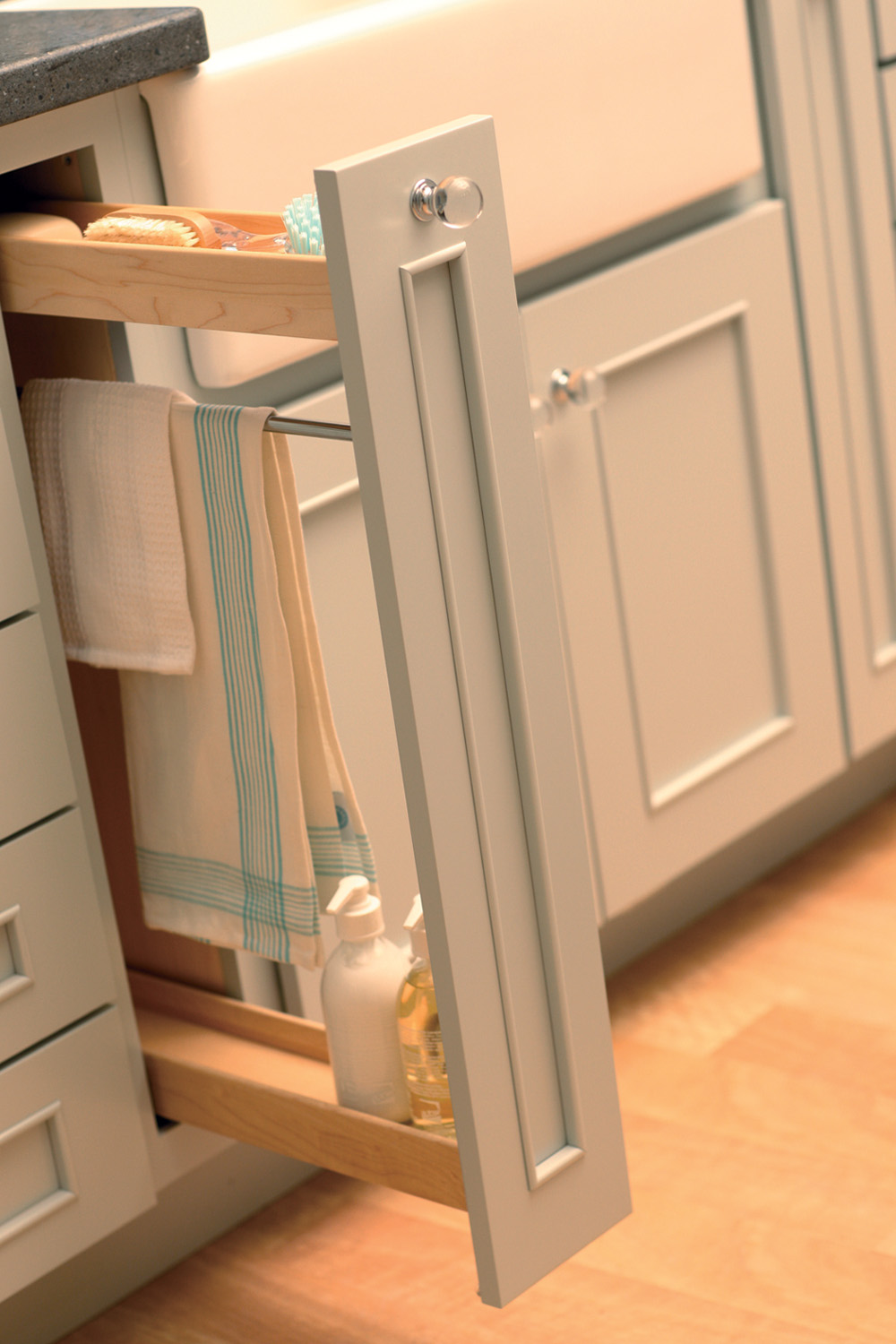 A Tall Pull-Out Pantry provides an amazing amount of storage from top to bottom on full extension glides. Available with wood or wired (shown) shelves.
For the bathroom, simple Pull-Out vanity cabinets with shelving can provide storage for a wide range of bathroom supplies. A Vanity Grooming Cabinet pull-out is a must-have for storing and organizing a blow-dryer and a set of curling irons and straighteners. Select the optional in-drawer electrical outlet to quickly power personal care products. Or hide used towels or dirty laundry in a Pull-Out Hamper.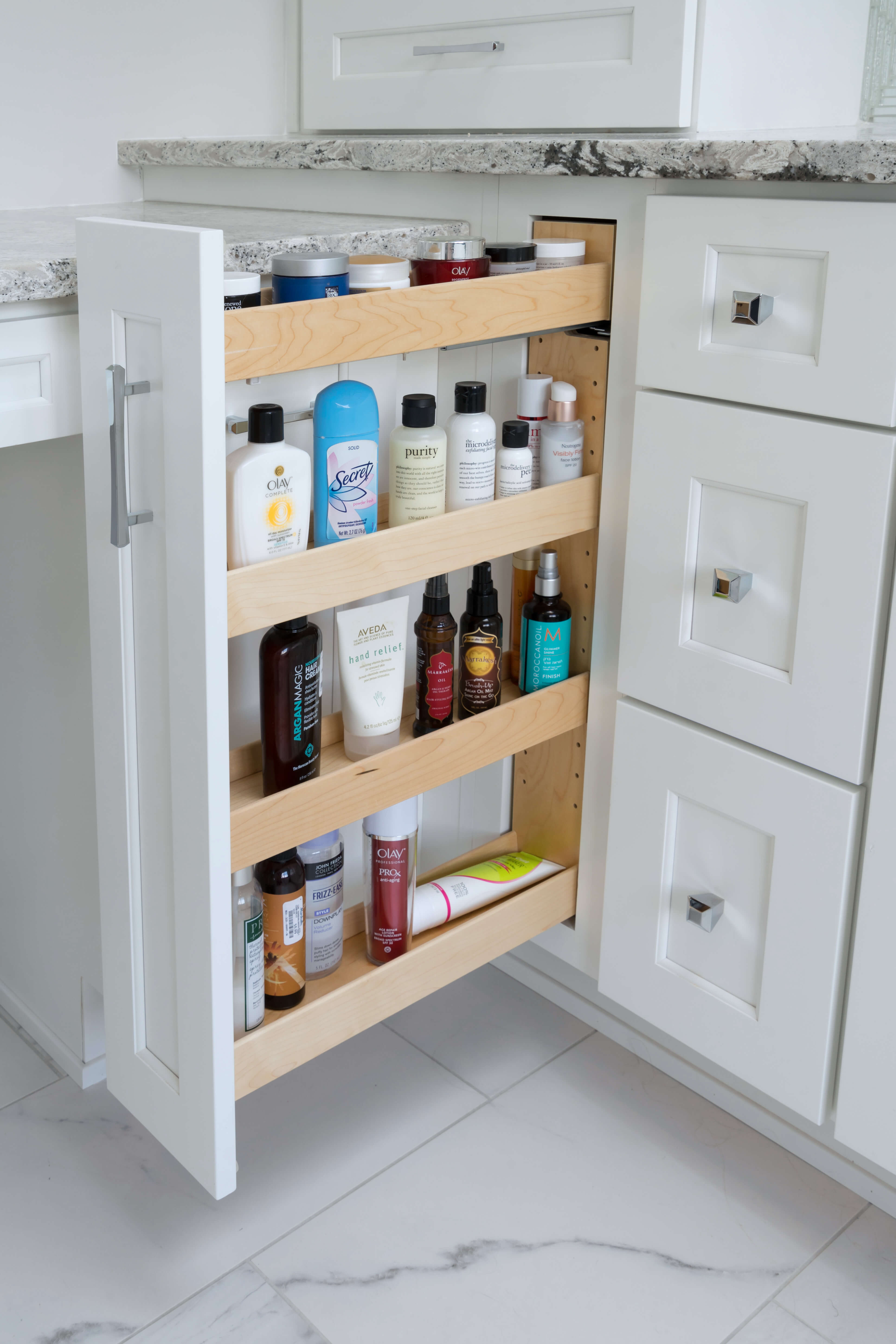 Dura Supreme's Pull-Out Storage used in the bathroom. Design by Lang's Kitchen & Bath, Inc., Pennsylvania. Photography by Linda McManus.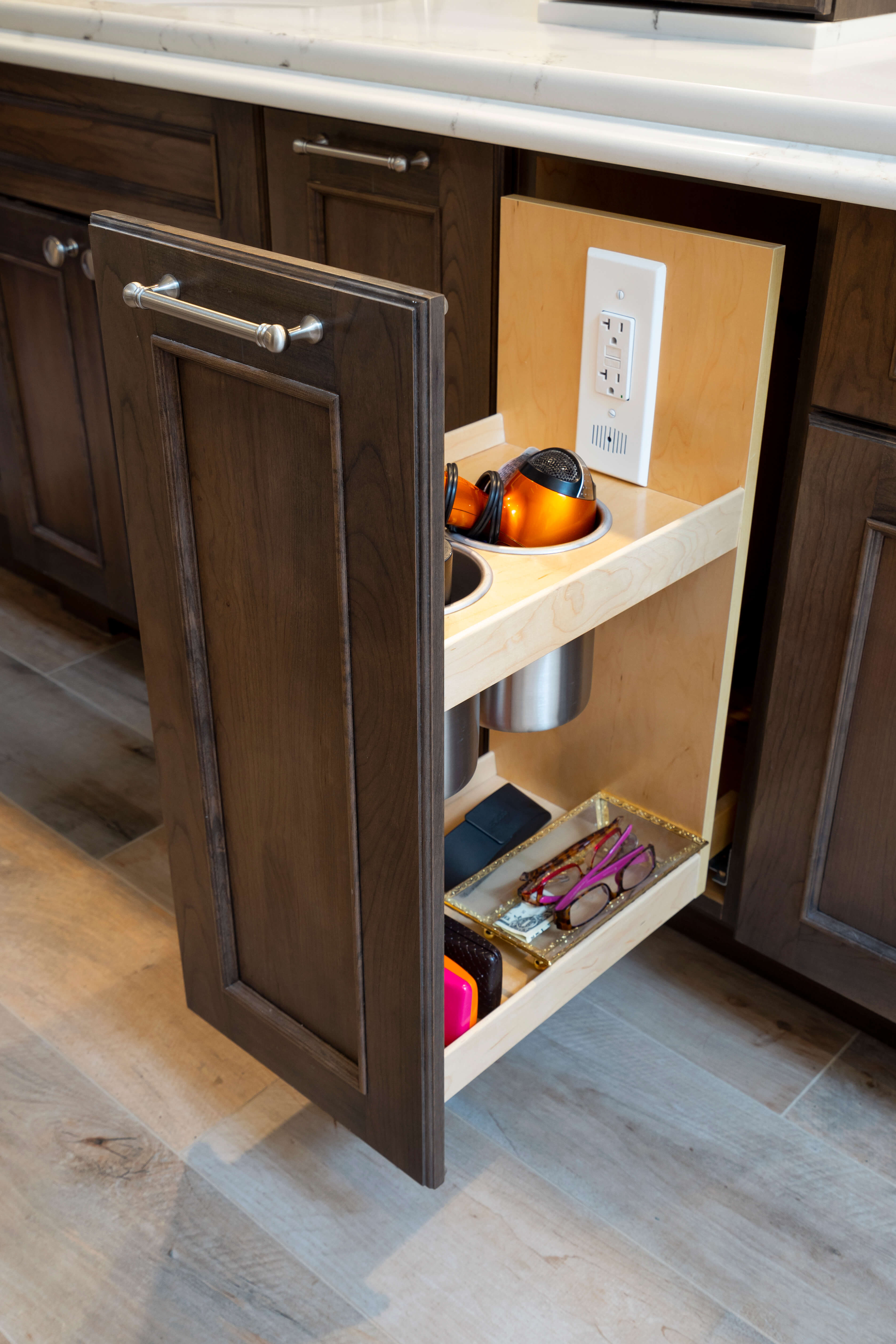 Dura Supreme's Pull-Out Vanity Grooming Rack. Design by Lang's Kitchen & Bath, Inc., Pennsylvania. Photography by Linda McManus.

Will Pull-Out storage be the solution to your storage dilemma?