What do you imagine when you hear the words Danish Style? If you thought clean lines, uncluttered spaces, monochromatic, light color schemes, connection to nature, and slab door cabinetry you would be right on target. Oh, and did I mention uncluttered spaces?? Anyone out there in this Work From Home environment wanting more uncluttered spaces?? If so, then this blog installment will be eye candy for you- and hopefully provide some inspiration to craft your space in a way that gives you peace AND productivity!
And while it might sound easy to design with less color and more slabs, getting it 'right' is a real challenge, requiring subtle restraint and a high level of sensitivity to undertones. A good designer knows there are hundreds of shades of white, with undertones varying from yellow to lavender to blue and green. When these whites get paired with a lightly stained wood, which also has its own undertones, the challenge begins.
Let's take a look at some beautiful examples of great Danish design, and go over some Dura Supreme door styles, species and finishes you can use to create your own authentic Danish look.
We will start with a modern Danish styled cottage in the Hamptons. This has a classic clean color scheme and a connection to nature that is all around the home.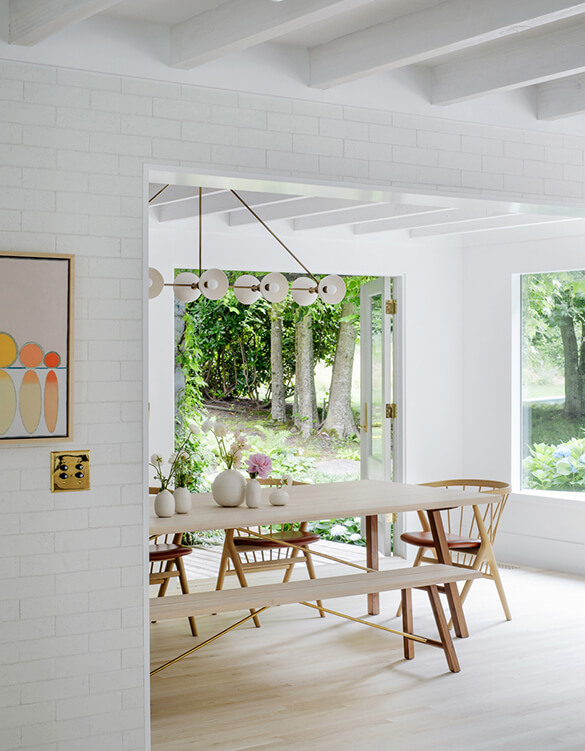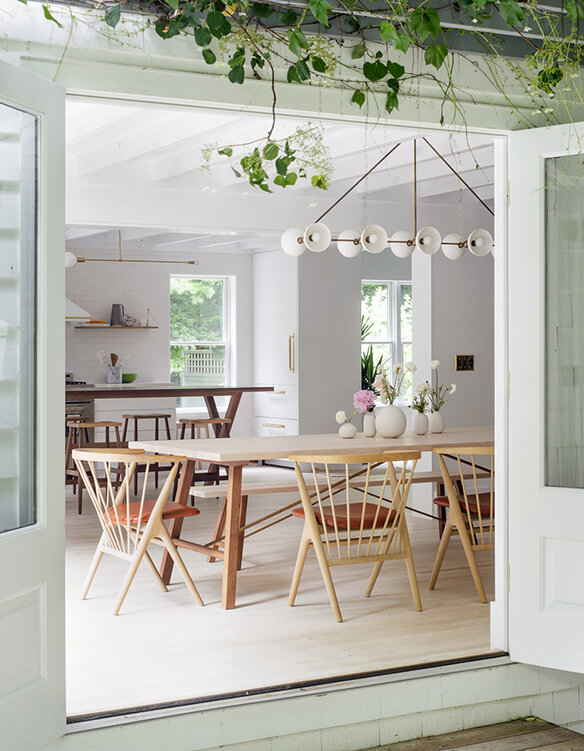 In the 2nd photo, we get a glimpse into the kitchen…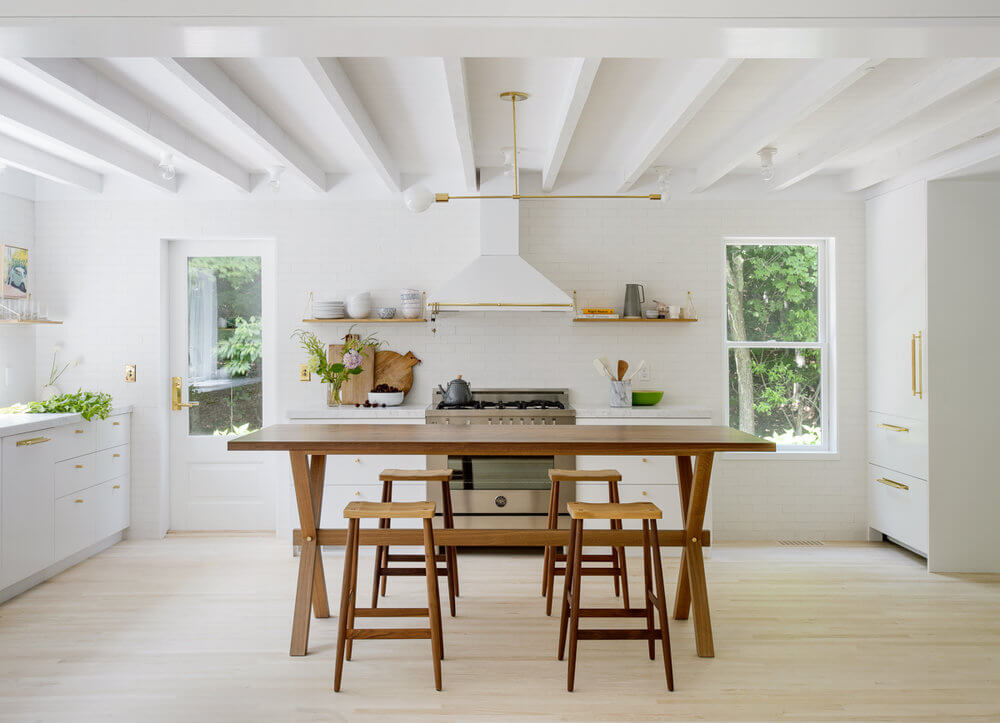 Very unfussy, functional, and uncluttered. You will notice in many kitchens of this style the table is one of the most notable pieces in the kitchen. Also, let's take a moment to appreciate the symmetry achieved with the window-sized perfectly for the glass door.
Another hallmark feature of the Nordic aesthetic is a pop of color against this monochromatic color scheme, oftentimes (but not always) in the blue or green color family. This can show up in upholstery, artwork, pillows.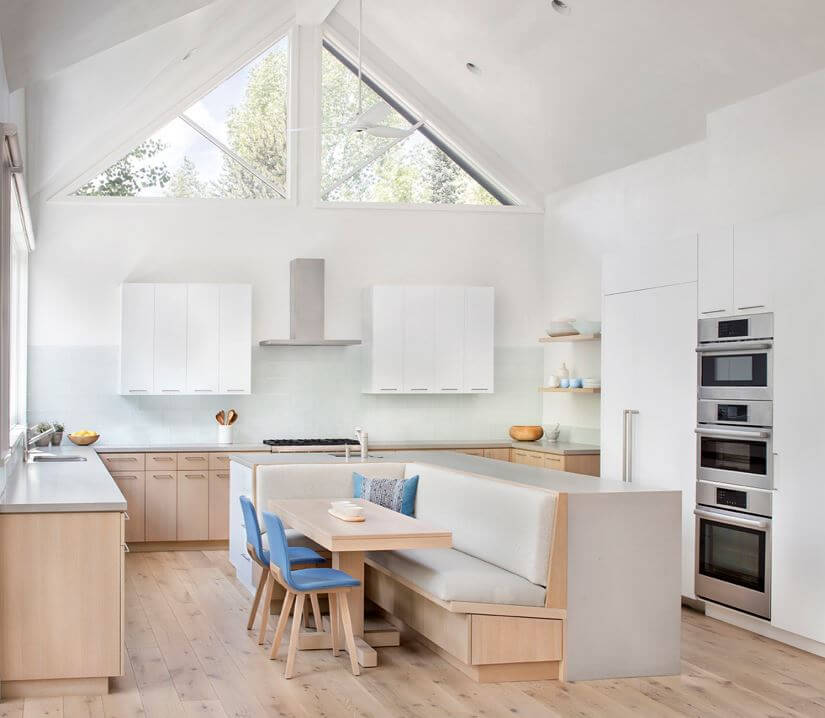 Below a child's study area provides an uncluttered space with a pop of color in the green chair. Even though there is a lot of white going on here, it really lends itself to showing off all the artistic treasures on the organic shelves on the wall. Rarely you will see flooring other than wood in the main living spaces with tile in the bathrooms. If there is any type of carpet, it is a no-pile, tightly woven one as in this image.
Accent pieces are simple, functional, and integrate more character-rich woods into the design which can have a weathered, rustic or cerused finish.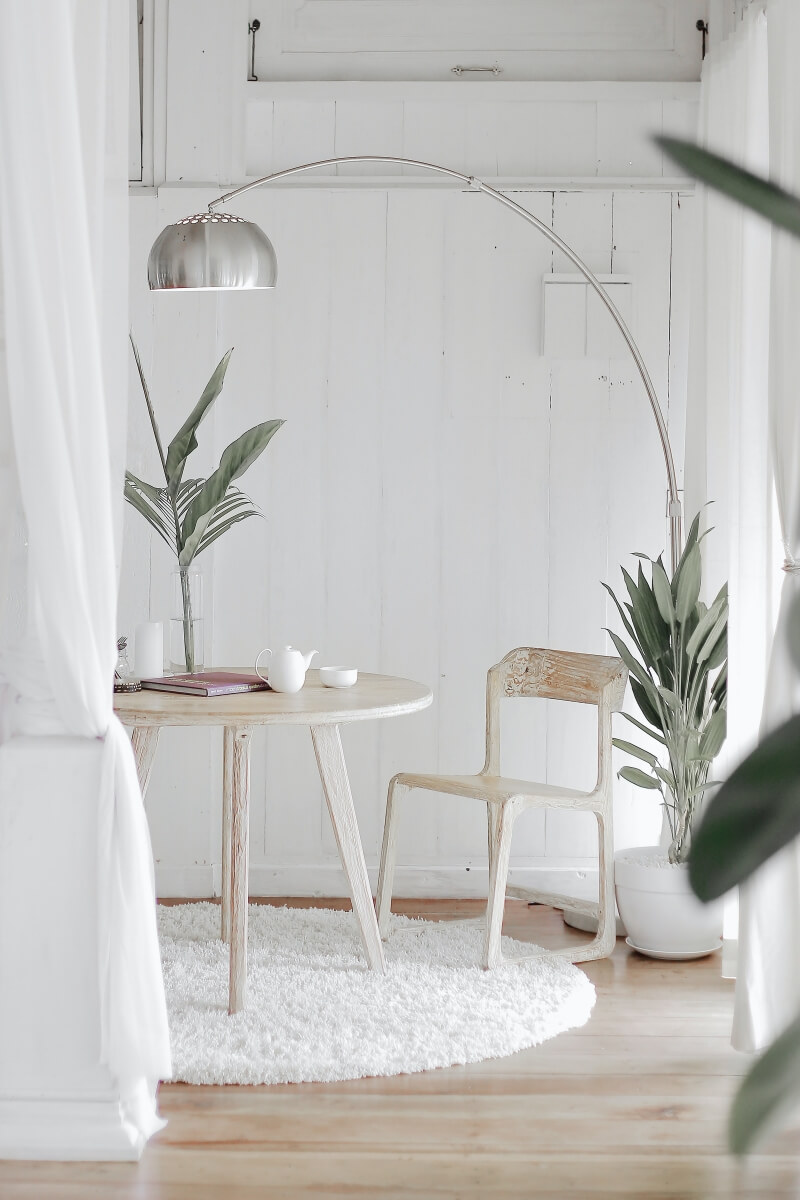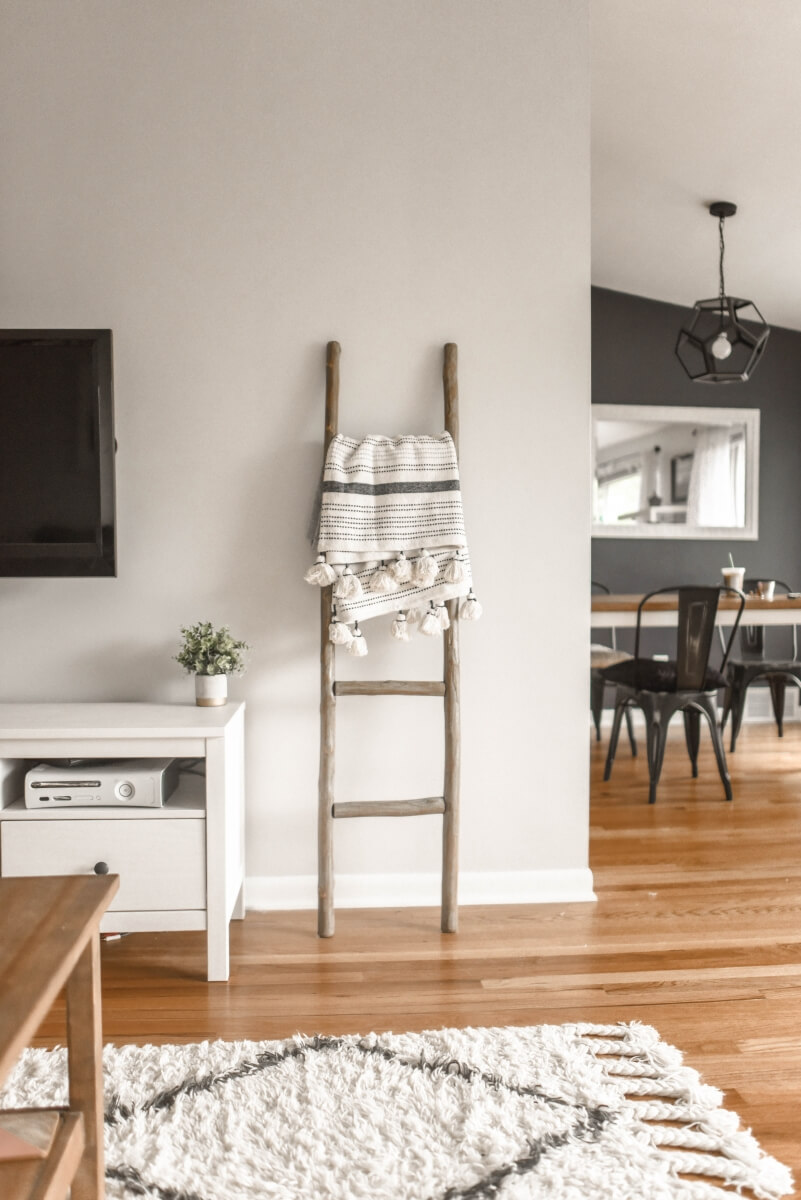 With all of the smooth clean lines, the texture is brought in to increase interest, whether that be through the woods introduced, or in the fur, chair throws at the kitchen table below.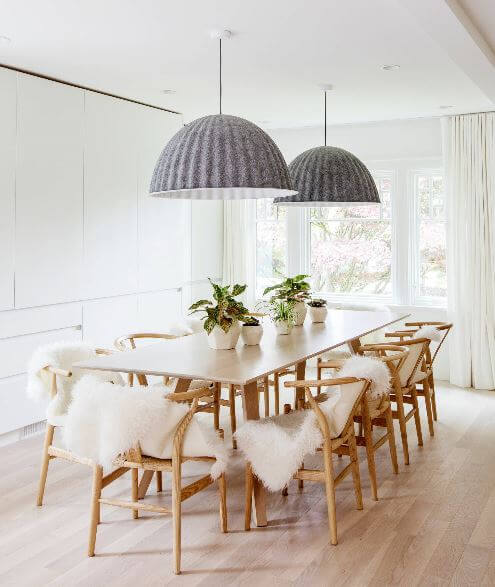 Notice the nod to nature, and the perfectly oversized pair of light fixtures in a blueish gray textured weave, such an organic vibe.
Next to this table, we can see the kitchen-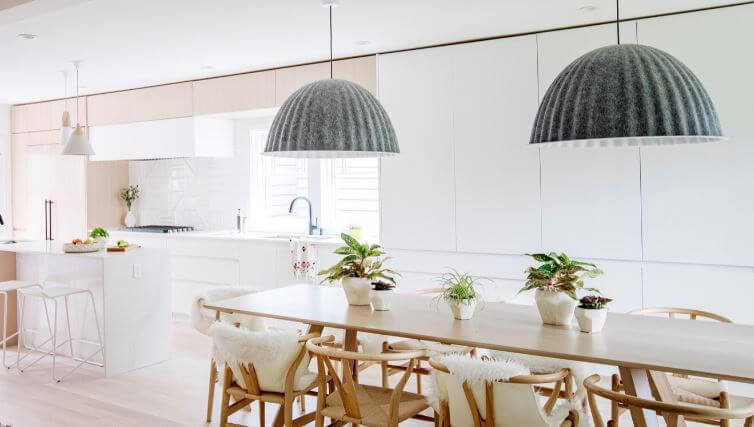 And below a closer peek at this kitchen.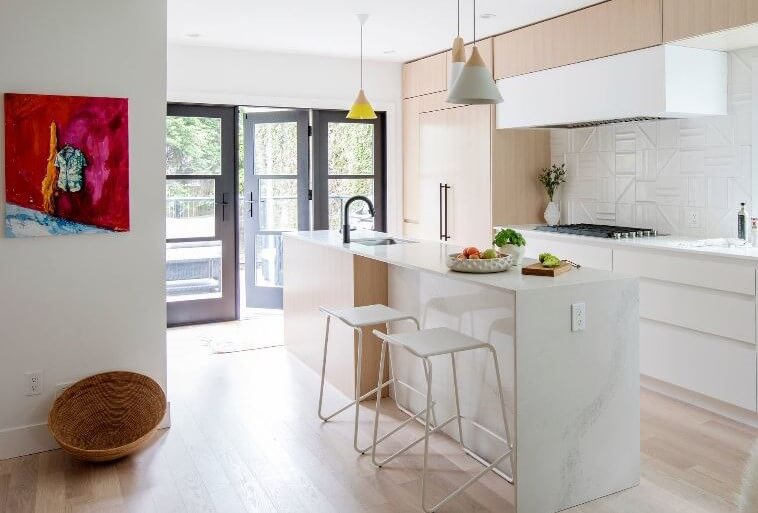 Two things to note here, the dimensional yet all-white tile backsplash adding an interesting texture, and the colorful artwork on the wall- much easier to appreciate when it doesn't have to compete.
Finally, a staircase where we see light wood floors, white walls, and black accents, with the delightful surprise of tile applied to the vertical rise of each step. This is a classic example of how attention to the seemingly small details can really make a design sing.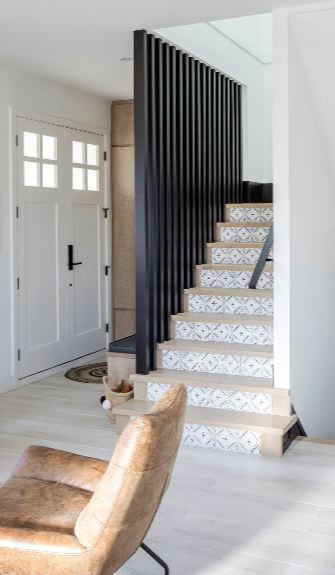 Let's turn toward Dura Supreme and see how our door styles, species, and finishes can contribute toward the perfect Danish-inspired design.
This is just one collection of Dura Supreme door styles and finishes that, when grouped, lend a definite Danish flair. The vertical V-grooves of the Linea door style have those clean, simple lines we are looking for. Above we also see the Natural Straight Grain Oak Exotic Veneer, which can be specified in vertical or horizontal grain and has the optional integrated hardware shown. Integrated hardware and touch latch opening are popular in Nordic design, as decorative hardware is considered too fussy. I also added 2 Sherwin Williams colors that speak to the pops of color so often seen in Danish design. Not shown here which would also be perfect choices for this style are our two slab front style doors- Camden (for wood stains, we have some great light tones), and our Chroma door style (for paint, choose from our many popular whites and grays). Dura Supreme can also color match any hue you need with our Personal Paint Match program, guaranteeing the perfect cabinetry for your specific project.
Hopefully, it has been inspiring looking at all of these simple, clean, uncluttered spaces. As you spend more time in your homes these days, maybe you can find a few ideas here to incorporate and create some uncluttered Danish-Zen spaces for yourself!