If you're like me, with the turning of the calendar to August, the mind looks to the beginning of the end of summer, the beginning of a new school year, the inevitable transition to Fall.  A subtle shift away from the carefree come-and-go of summer to the more regimented schedule of school and work. It's not all bad really.  I think I am better at buckling down every Fall because I had such a fun summer with my kids and friends and family. Conversely, I can more fully appreciate Minnesota summers after emerging from a Minnesota winter. Change, seasons, and variety are the spice of life! Without these transitions, whether they are academic, seasonal, or personal, life would just be one big monochromatic landscape. At this point, you may be wondering how all this life-transition talk translates into home design.  The link between the two is actually very strong!
The better your home is able to adapt to change and accommodate your lifestyle, the better the design is. For example, a thoughtfully designed boot bench locker storage area in a mudroom or an entryway should be able to adjust to your changing needs. Maybe the locker that stores a fishing rod or day trip bag during the summer, houses a trumpet or a lacrosse stick at other times of the year.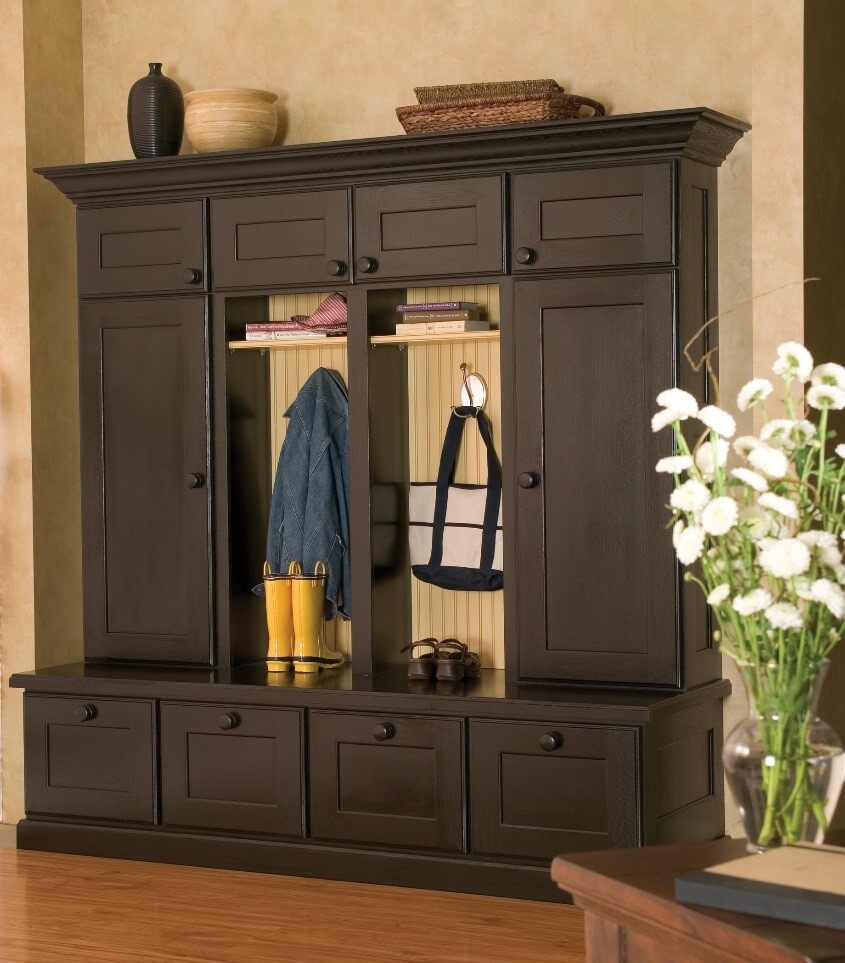 Designing for storage of winter hats and mittens can translate to bike helmets or swimming goggles in the summer. Think hard about doors vs. drawers vs. open shelving when designing these areas. Do you like to see what is stored at a glance or do you prefer the clean look of closed doors? If you choose open shelving, will you use cloth, woven  or wire baskets?  If so, is there a certain style basket you prefer? Make sure the opening you are designing will be the right size for them. It is not crazy to buy the baskets before the cabinetry is built.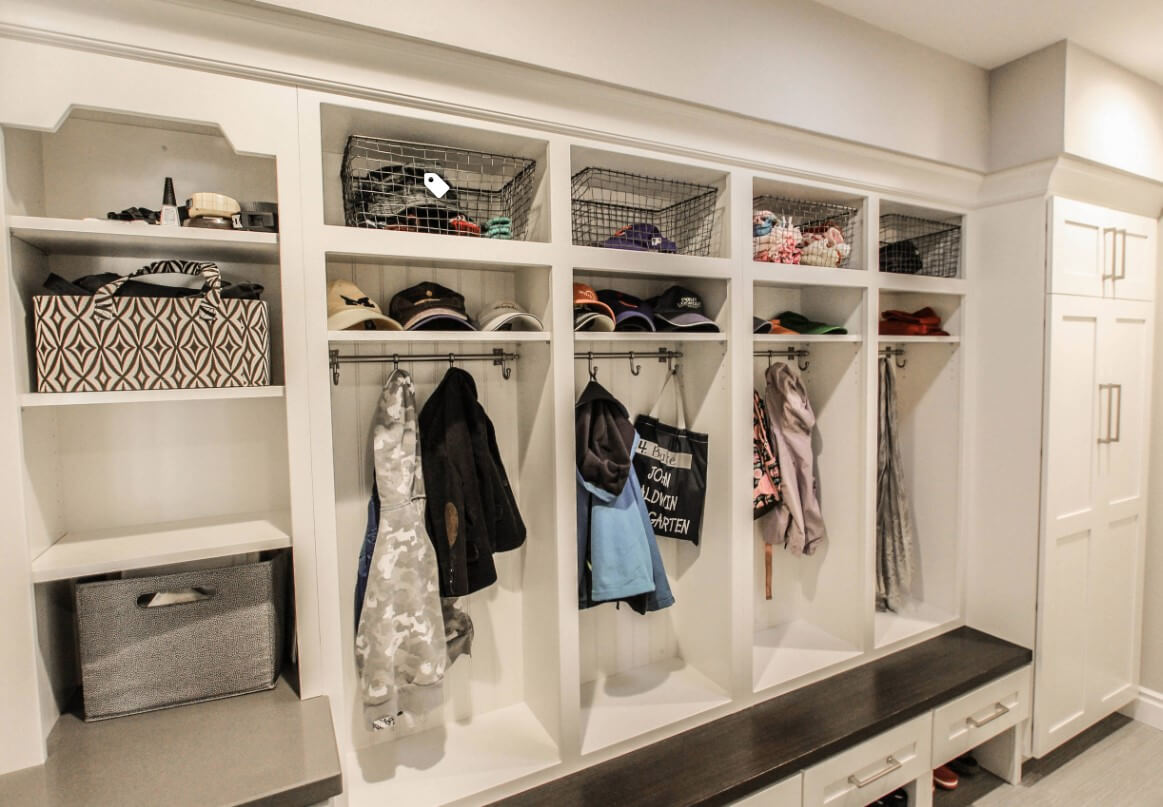 Consider the sizes of the items you will store- think about the size of today's school backpacks (larger than back in my day!) and how that will fit next to a winter coat (affecting locker width and hook placement).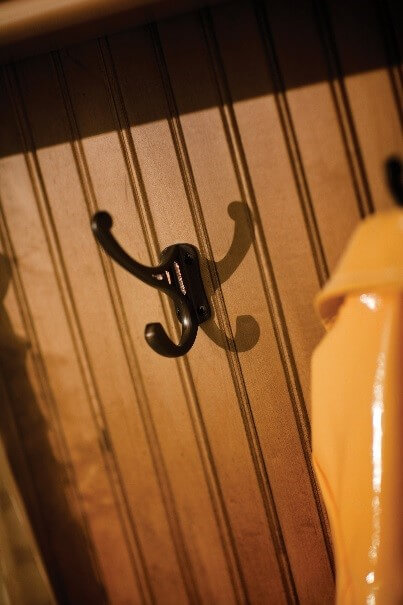 Maybe a rod with sliding hooks will work for your situation, as in the example below.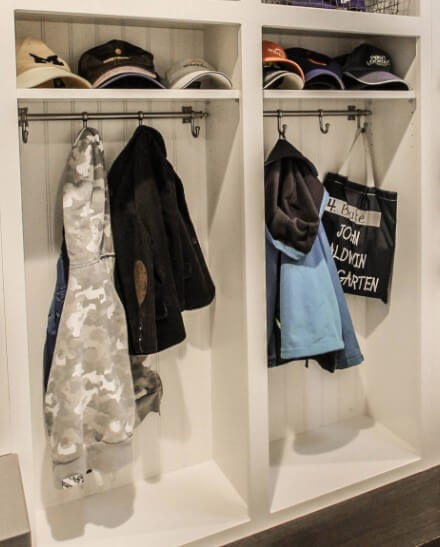 Consider if you will charge devices overnight within these areas, if so our integrated charging drawer may be a good choice, with power outlets and USB ports. Whether you have kids with school-issued iPads, a laptop for work or just your cell phone, all need to be fully charged to start the day, and easily grabbed when heading out the door.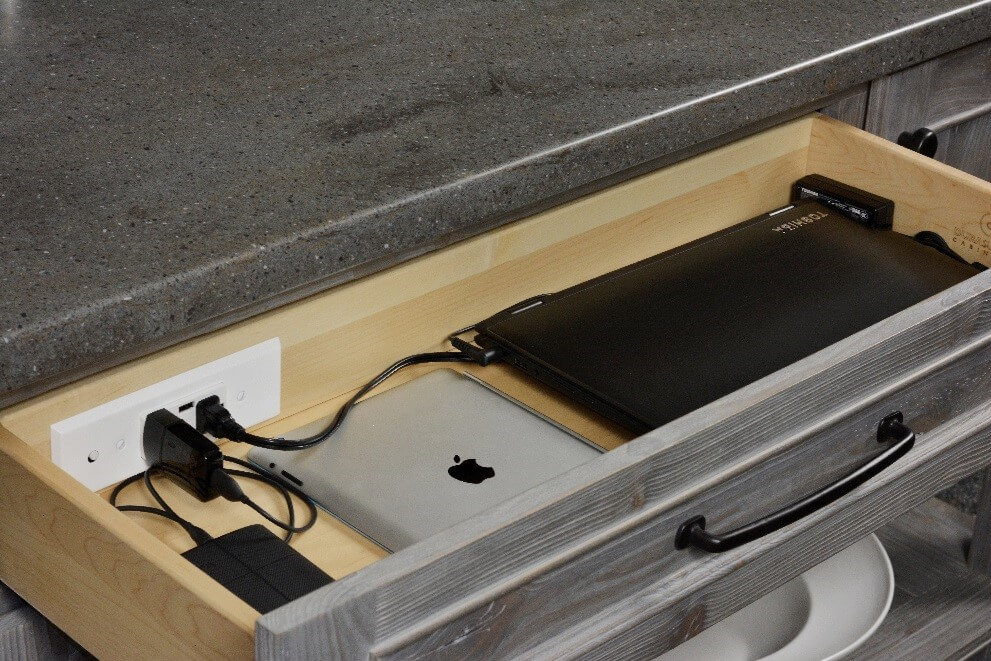 I have also seen something as simple as incorporating a 4 or 5 drawer base cabinet near a drop zone, used as an ingenious way to wrangle the paper avalanche. Each family member is given a dedicated drawer of their own, keeping countertops free of that clutter.
Maybe a combination of some open and some closed storage makes sense for your home.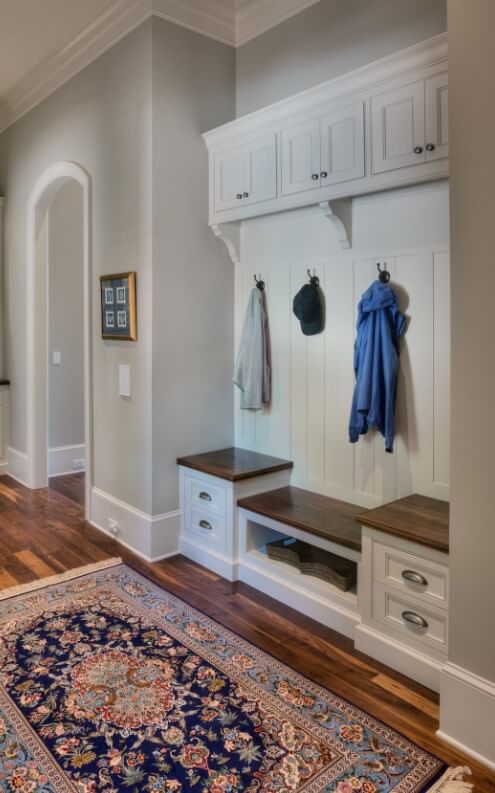 Notice the open area in this boot bench below, with the ability to store shoes and boots underneath.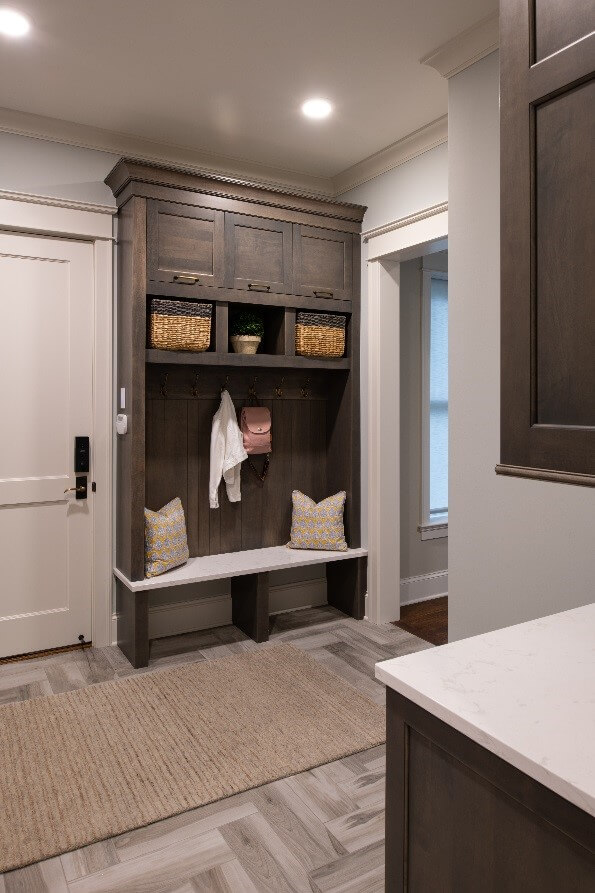 These ideas are not just the challenges of households with school-aged children. We all have lifestyles that change over the seasons, work cycles, etc. Taking the time on the front end of the design to really assess how you want the space to work for you will pay high dividends later. I have always valued Function over Form, and I love spaces designed to work in sync with their inhabitants!