The modern family today is busier than ever, between school activities, appointments, grocery shopping, running errands, paying bills, signing permission slips, and homework, it's no wonder it feels like a full-time job keeping everyone organized. On more than one occasion all that stuff, (bills, paperwork, home, etc.) that coincides with our busy lives ends up overflowing onto our kitchen counters and kitchen islands. But how does one keep your family organized without sacrificing space in your kitchen?
The Solution: The Kitchen Command Center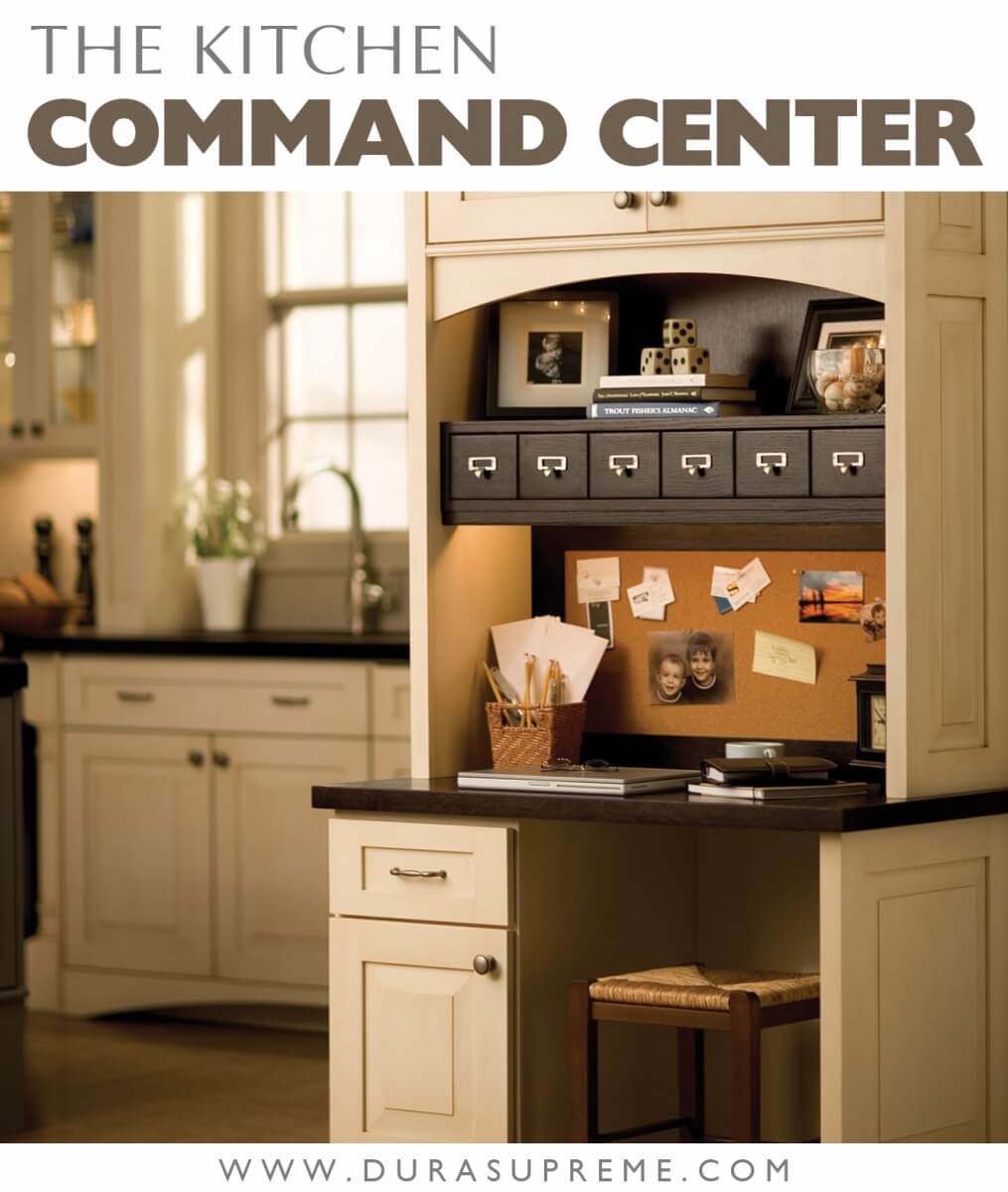 The Kitchen Command Center is a designated place within your kitchen or home that helps you simplify and streamline your family's line of communication and scheduling needs. A well-designed Kitchen Command Center should include both open and closed storage to accommodate a variety of organizational needs. For example, I personally dislike heaps of mail, bills, or paperwork cluttering up my kitchen counters (my office space on the other hand is another story….) so, I recommend an ample amount of closed storage so that you can "hide" unsightly clutter when guests are visiting. However, incorporating some open storage for organizational bins or baskets as well as leaving space for a chalkboard, bulletin board, or calendar to organize schedules and appointments is essential as well.
The photo below illustrates a charmingly designed command center work zone with plenty of open and closed storage. The bulletin board is beautifully framed in the same wood specie and finish as the apothecary drawers to complement the overall design. In addition, the apothecary drawers are a great way to organize notes and messages for your family – in fact, each family member could have their own drawer!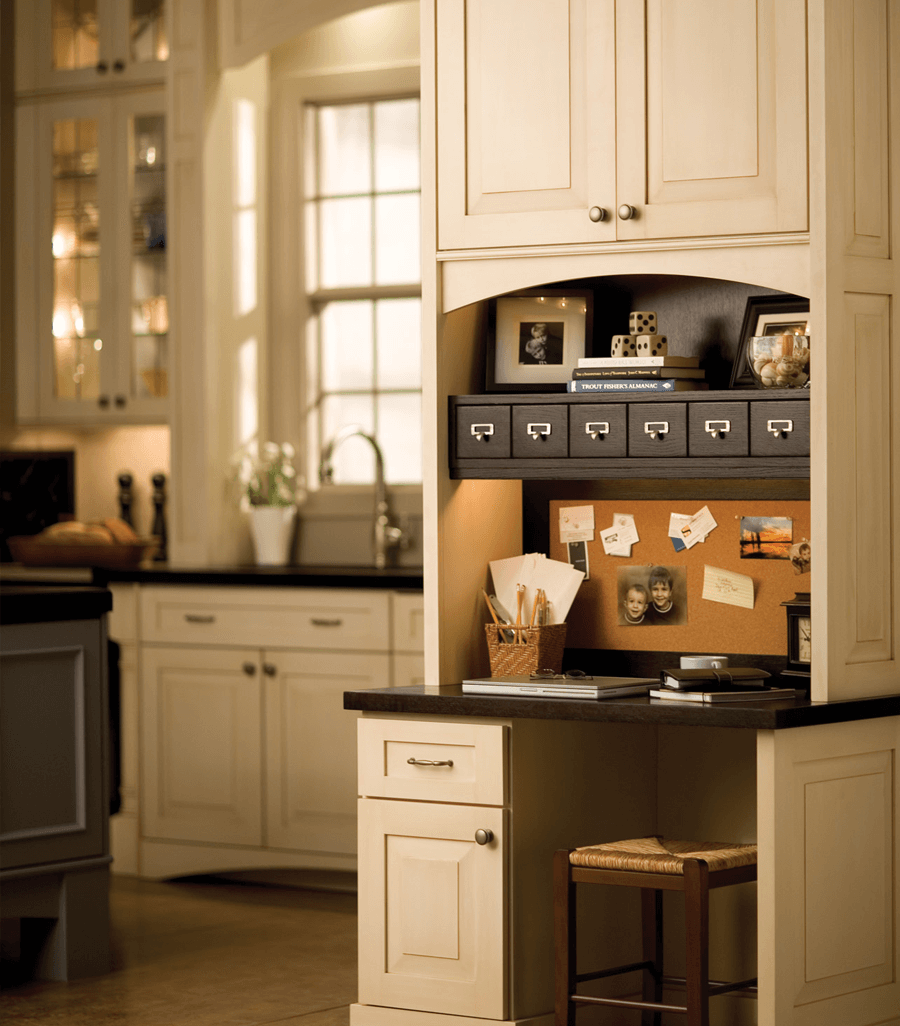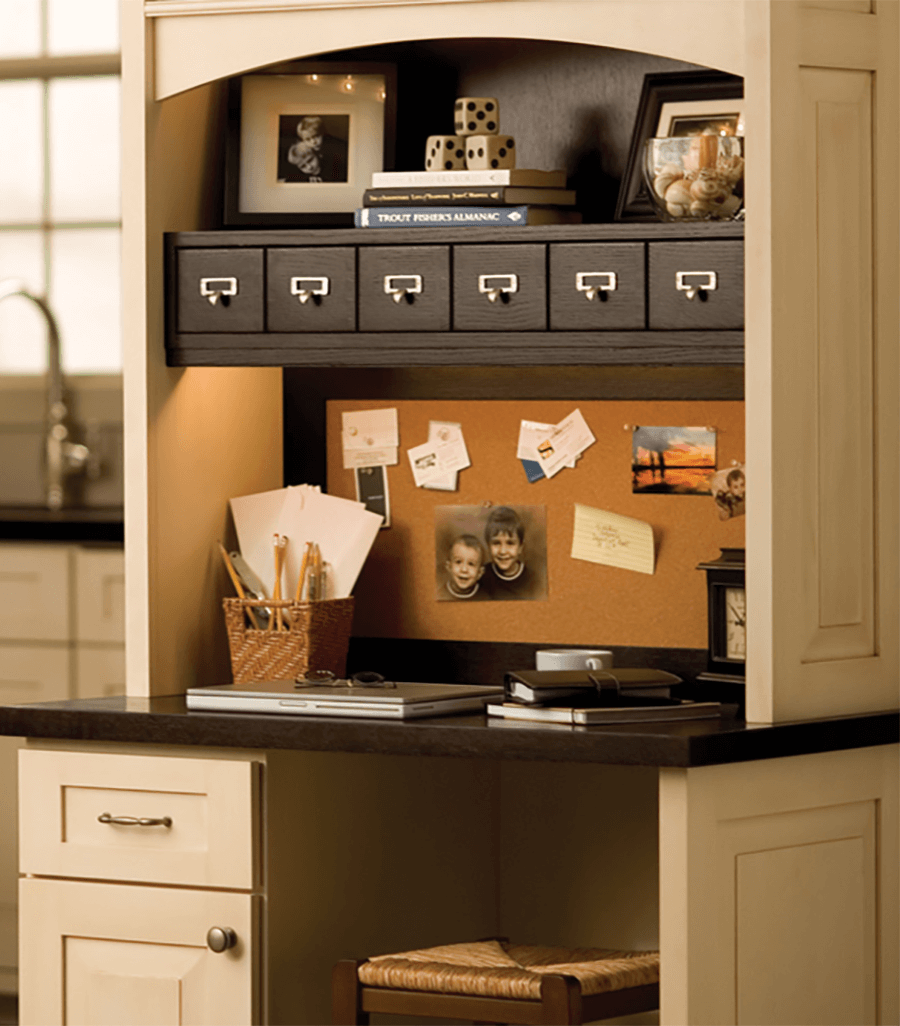 A Kitchen Command Center can do more than just organize your family's communication and commitments.  Consider adding a small desk to create the perfect place to work on your laptop to browse the internet, search for new recipes to try, or even pay a few bills.  
For example, this beautifully designed Kitchen Command Center features a hidden compartment that conceals the family's laptop when it's not in use.
Be sure to include adequate electrical outlets and USB ports/plugs as needed to increase functionality of this space.  I know in my own home, I have many "gadgets" that need to be charged on a regular basis and my kitchen countertops are cluttered with all our modern technology.  Why not create your own customized "charging station" for all of your family's, cell phones, iPads, AirPods, etc. by incorporating a Dura Supreme charging or power station?