With the desire to relocate to a convenient and central downtown location, Dave and Marie were looking for a major lifestyle change. They dreamt of being closer to their careers, their friends & family, and the perks of downtown living, but most of all having more quality time with one another. "Dave & Marie are fans of Industrial Chic design. They fell in love with the wood beams, brick walls, arched windows and concrete floors of a newly renovated, historic warehouse and wanted the kitchen to work and perform beautifully!" explained designer Leslie Meyers of Studio M Kitchen & Bathroom in Plymouth, MN. 
After finding an ideal architectural space in a downtown location to plant roots, the couple quickly sold their suburban home and moved in. After they unpacked their bags, they brought their dreams of a luxury "Industrial Chic" kitchen to designer Meyers to help them achieve their vision.  "The kitchen was a critical part of the floorplan, consuming a quarter of their entire space so it needed to be multi-functional.  It needed to have a sleek contemporary look to blend with the architecture, fulfill their love of cooking and create a warm, intimate space for the couple to share dinner or entertain friends," explained Meyers.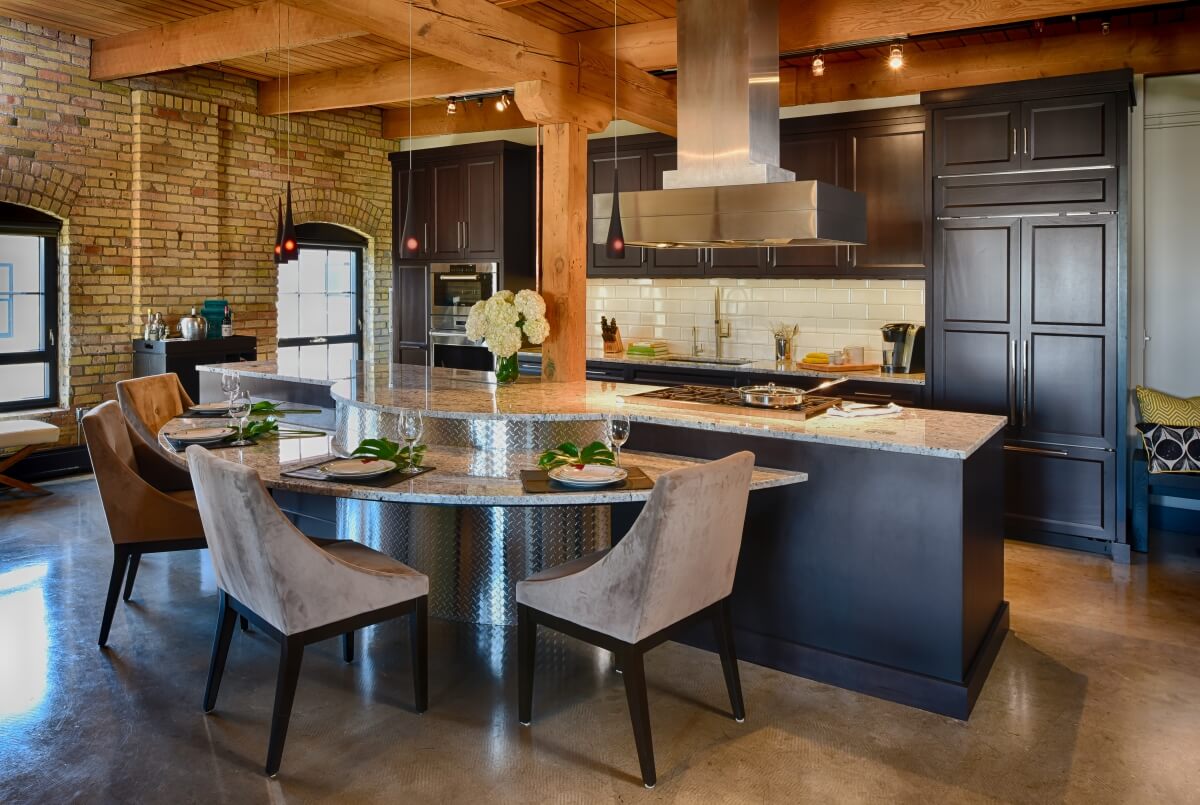 Because of the unique, architecture of the converted warehouse, Meyers carefully planned the kitchen design to work fluidly with the existing structural elements, beams and rooftop access for venting.  The couple also wanted specific areas in the kitchen for cooking and food prep, dining and computer work – a true multi-tasking space.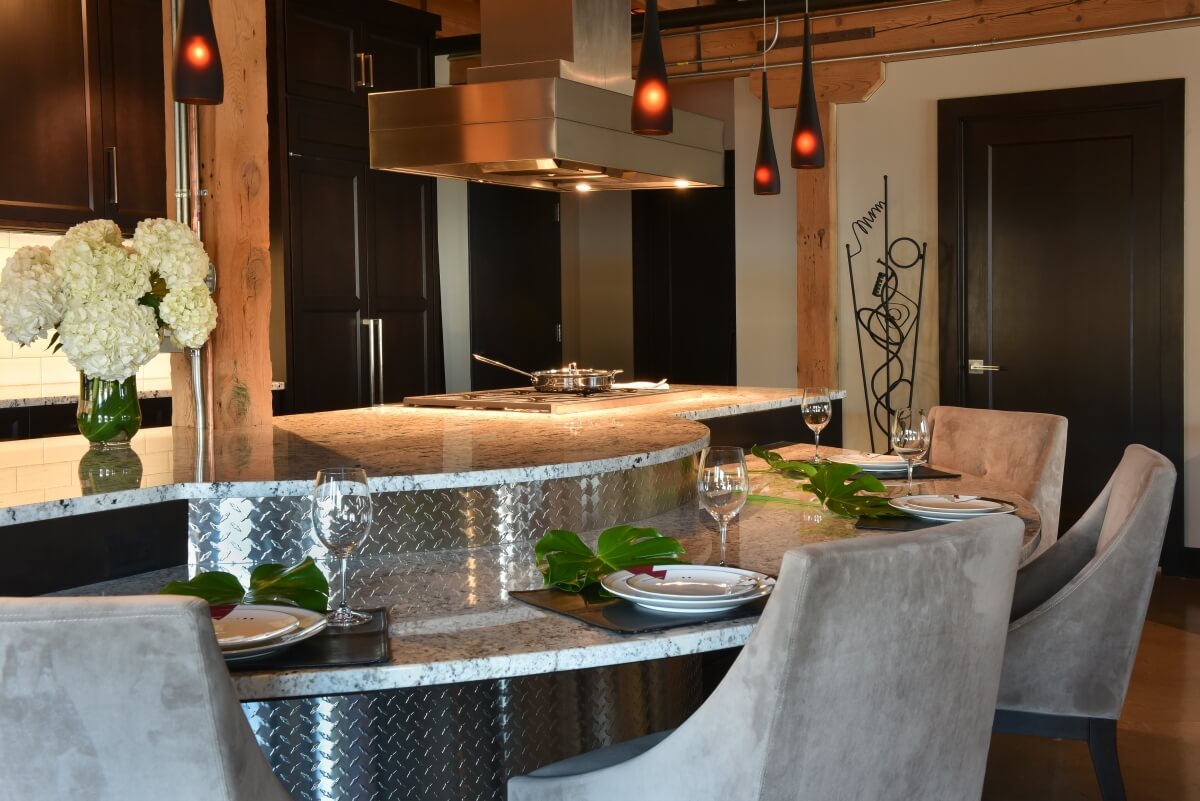 Homeowner Marie explained, "The warehouse was built in 1903 and converted to lofts in 2006.  It's a mixture of old and new, modern and industrial.  The exposed brick walls and concrete floors along with the modern kitchen and the marble bathroom provide the timeless feeling that we love!"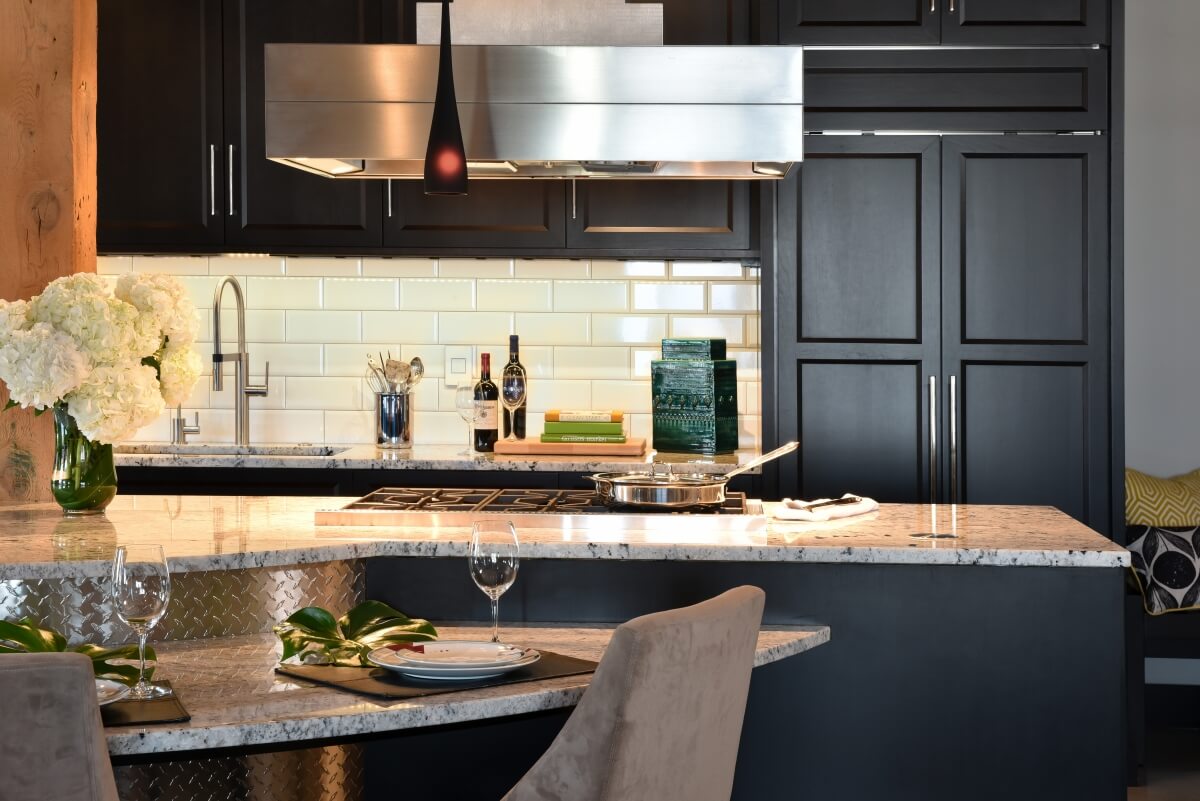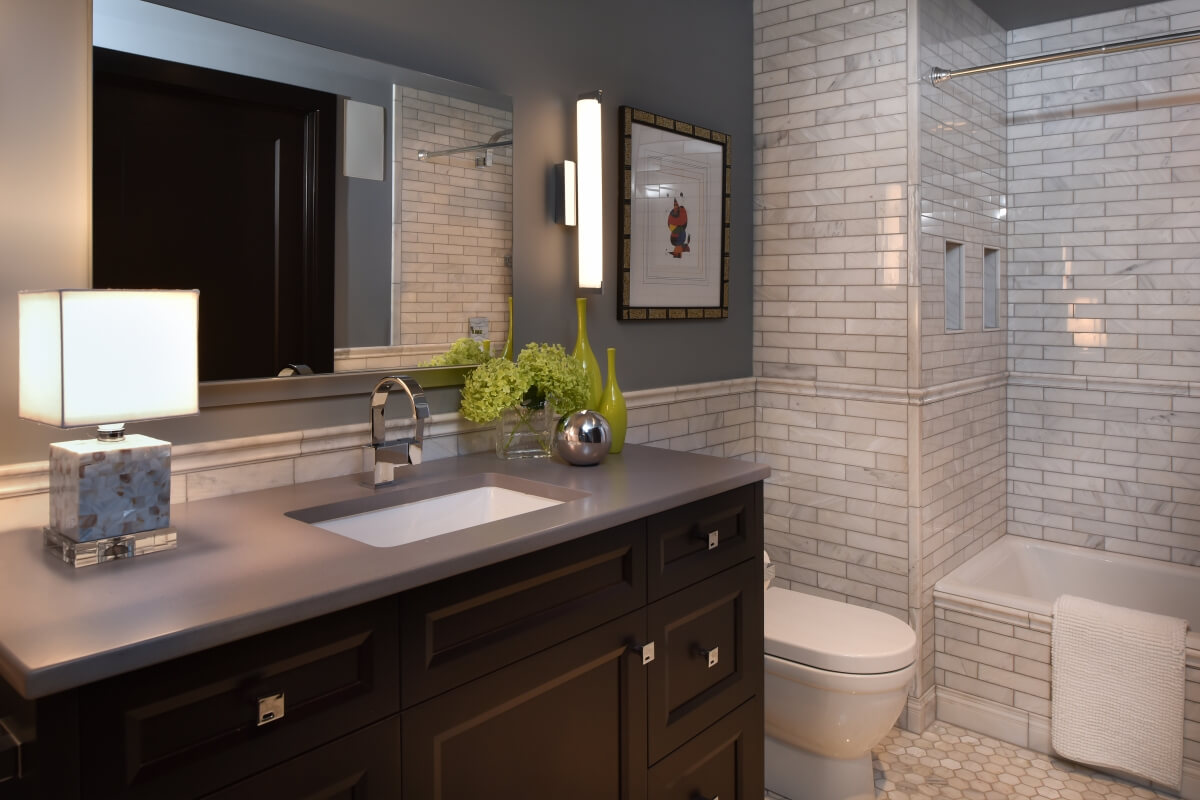 The couple wanted to come home to a comfortable kitchen where they can spend time together or enjoy the company of their dinner guests as they prepare food. To make their wishes come to life, Meyers redesigned the floorplan, finetuning every detail including seating that faces the cook, well-placed storage solutions to optimize each step of the cooking process and a layout that accommodates multiple chefs.
"Dave loves to cook and appreciates interacting with friends and family while cooking and trying out new recipes.  The kitchen island design became a focal point as the circular design created some separation between the cooking area and where guests mingle, but still encouraged interaction between the cook and his guests."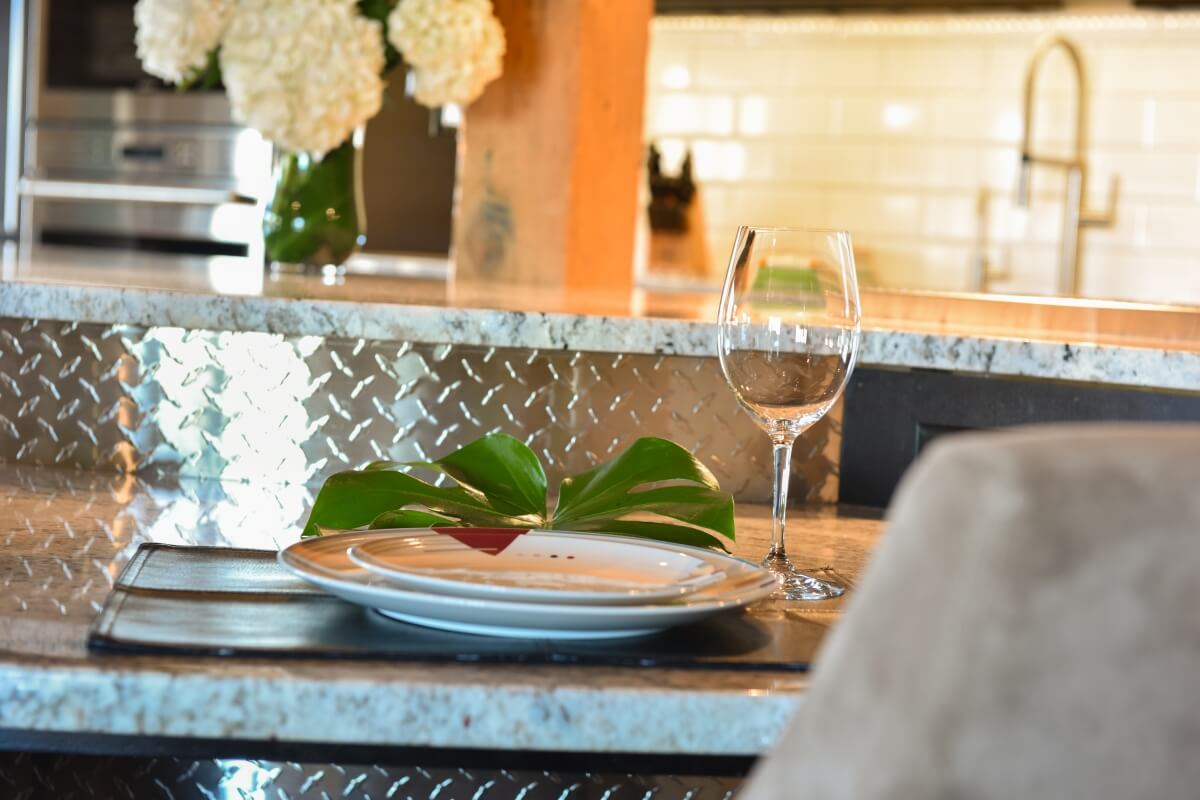 Since the remodel, their dinner parties have drastically changed from Dave being tucked away in the kitchen alone preparing the meal while the guests mingle in another room to an event where several guests can participate in the preparation of the meal or sit across from the cook and have a conversation. "We've had over 6 chefs all preparing food at one time and no one was bumping into each other. It still felt spacious and functional and our guests had a blast," said Dave.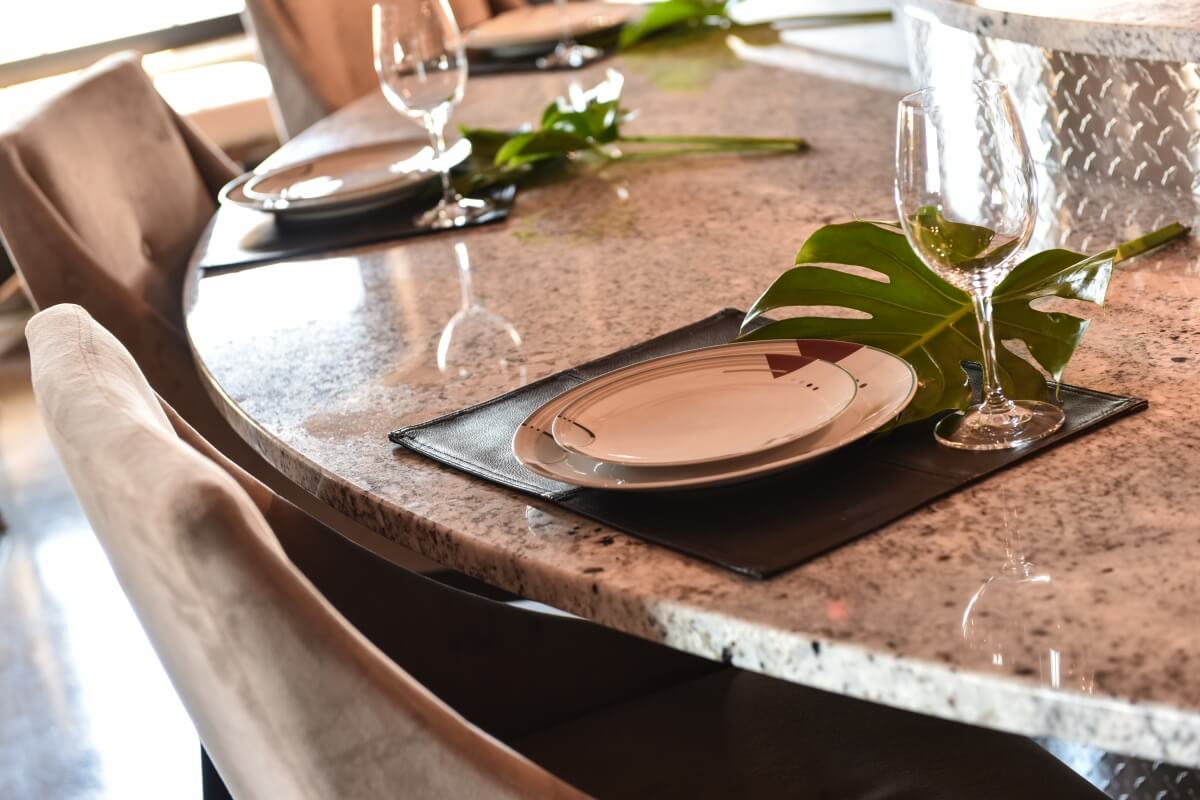 It's been a few years now since the remodel and they enjoy the space every day. When asked how he feels about his kitchen remodel, Dave replied "Now that we've been in our space a while, we realized that we really met all of our design objectives. The look is fantastic, the quality, the features… Really everything about our kitchen is fantastic. We really love our Dura Supreme kitchen."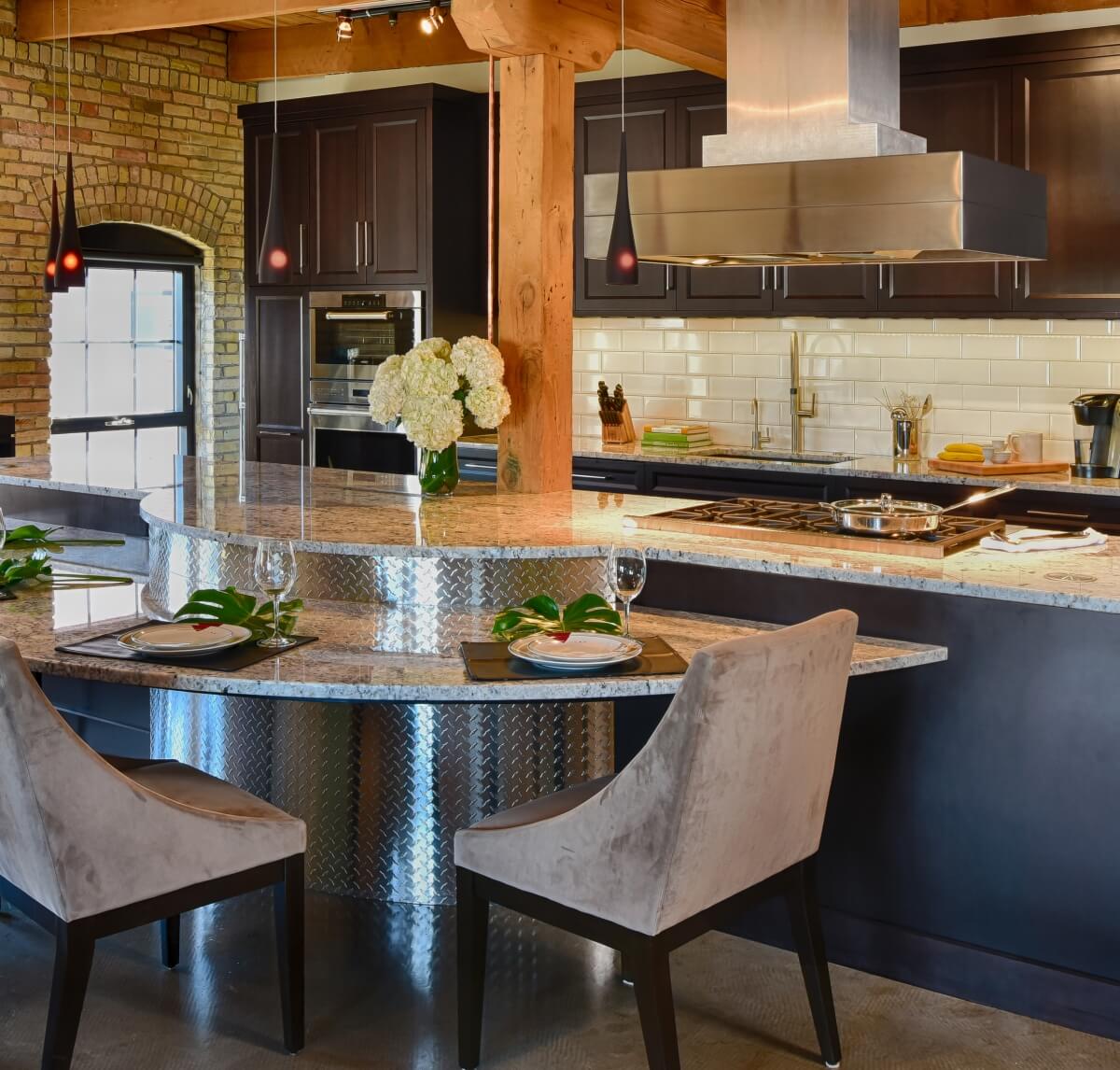 For more information about Studio M Kitchen & Bath showroom in Plymouth, MN, click to their website at www.studiom-kb.com.