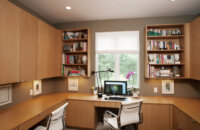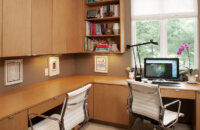 Zen Inspired Modern Home Office
Design by Bella Domicile, Wisconsin.
Work from home in a modern White Oak home office with Dura Supreme Cabinets. This sleek and stylish den uses Dura Supreme's Bria Cabinetry (Full-Access Cabinets) with the Metro door style in White Oak exotic wood veneer with Vertical Grain and a Natural finish.