It's spring! And with the change of the seasons comes spring cleaning for many families; a time to get rid of items you no longer use, need, or want. But with the last year being what it was, and all of us cooped up inside our homes due to the pandemic, you might be like me and want to get rid of ALL the things, especially if you have children. Let's face it; between homeschooling and the need to entertain our children at home, their stuff is everywhere. From books and tablets for schooling in the kitchen to all the toys and puzzles and games and more toys are strewn around the house, you just might be ready to throw it all away. But wait! If you're already thinking of remodeling your kitchen, or looking to expand your storage, consider these solutions. In this article, we'll take a look at some creative ways you can store your kids' stuff that not only keeps them organized and accessible but makes clean-up a breeze. 
Kids bedrooms are the most obvious areas for creating storage space. Most times storage does not need to take up much room, and by adding shallow built-ins around a window you can create a retreat that your young ones will enjoy as they entertain themselves
Consider the space under the bed as well. Often times this area can become a black hole that collects not only dust bunnies and shoes and socks, but also cars, game pieces, and the occasional monster. Creating a platform bed using our boot bench drawers provides additional storage and organization while keeping items from getting lost. No more searching on your belly for those lost items, and no more place for the bogeyman to hide.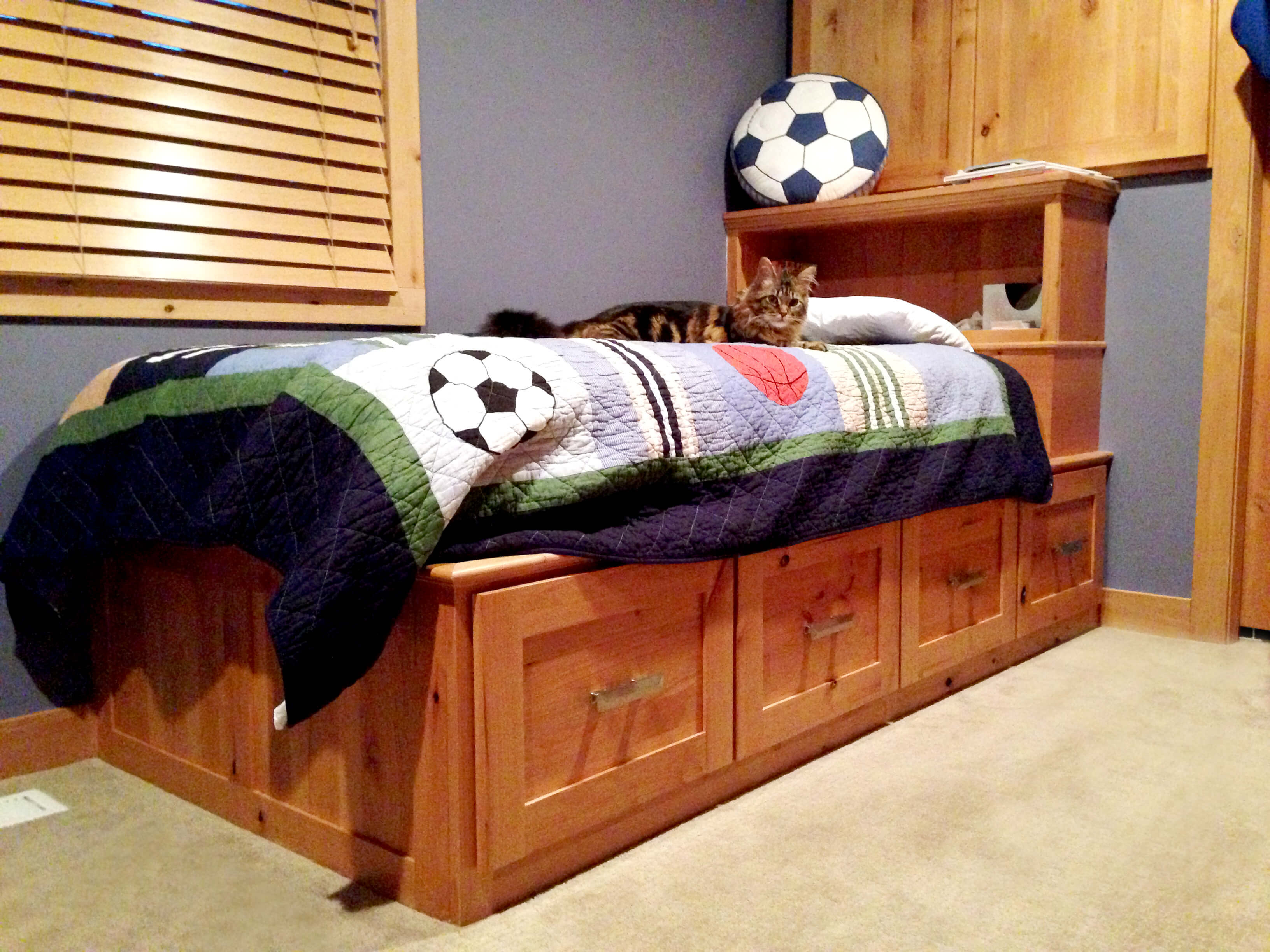 As children become teenagers and young adults, storage space will still be a must have for them. Toys will be traded in for books, computers and gaming devices, and storage will still be needed as their closets begin to expand.
No matter where the space is, cabinetry is a great way to organize and hide kid's stuff. Having the right amount of storage in a convenient and accessible area helps keep everything organized, rather than having to dig through a giant toy box. Children or more apt to clean up after themselves when they know where everything goes, and there is no risk of losing or damaging the most precious of toys or dolls.
In the photo below, an unused portion of the basement was transformed into the kids space where they can hang out away from the rest of the house
A bench off the dining room serves as seating as well as storage for craft supplies, coloring books and school supplies for the kids
Look for places in your home that can be dual purpose. In the case of this living room, built in cabinetry was added to both sides of the fireplace, creating a furniture look with display shelves while adding storage below for toys and games.
Even the smallest and most challenging space can have additional storage created. Dura Supreme Cabinetry offers a toe space drawer that utilizes the dead space under base cabinets. You can take advantage of all that real estate a create storage in your kitchen for supplies and activities that kids can engage in while you prepare meals. A touch latch system comes standard on these drawers so all you have to do is tap it with your toe to open. No knobs or pulls are necessary!
There are many things to consider when planning on creative storage for all your children's stuff for all stages of their time at home, and Dura Supreme Cabinetry can help you with those options. Visit a Dura Supreme Showroom and start the conversation with a designer that can help you with planning and designing these solutions for your young ones.