For those who favor a traditional, tropical kitchen design theme, the iconic elements of the "West Indies" design style offer a sumptuous visual treat! It's a historic look that's outlasted centuries. Its intricately carved moldings and corbels are a signature look.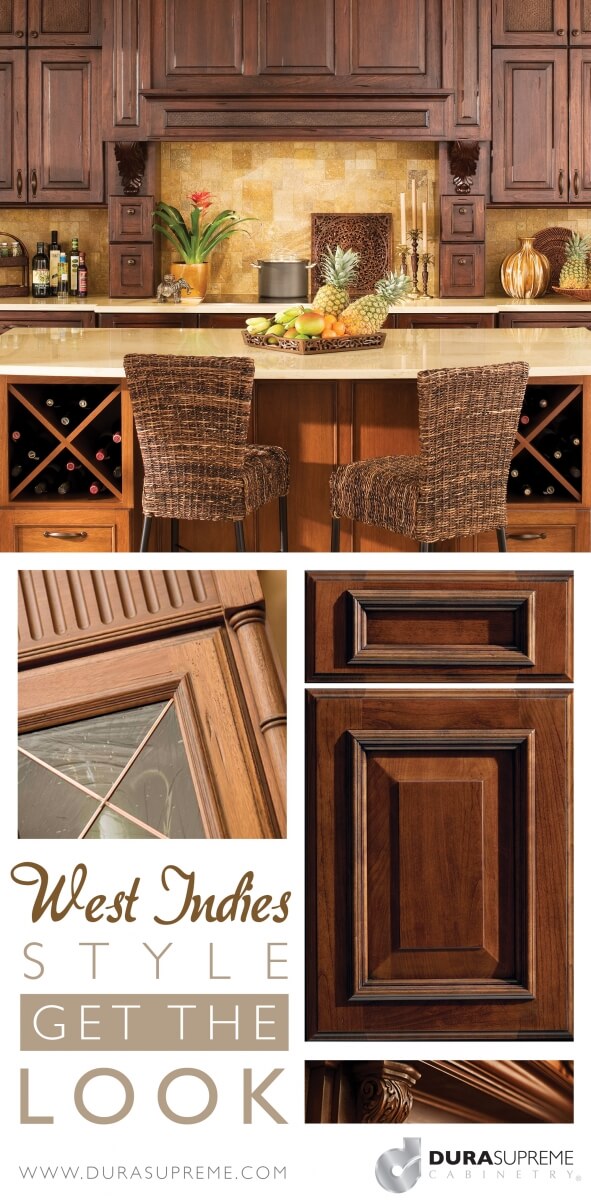 History of West Indies Style
This exotic design style originated from the exploration of the new world and the establishment of the world trade routes. Christopher Columbus' quest to discover a western trade route to the exotic spice ports in the East Indies, led to the discovery of the tropical islands in the Caribbean that became known as the West Indies (hence the name). Despite the variety of architectural and design influences from Europe, there are several indigenous design elements that are iconic to these islands.
West Indies style is truly an eclectic mix of the blending of cultures brought together for threw these historic trade routes. This style calls to a time where interior design influences from British Colonial, India, Africa, China, South Asia, and of course, the Caribbean intertwined for the first time.

The West Indies Design Style Color Palette
An assortment of sun-baked colors and rich wood species, like Cherry with dark stains that remind us of old-world Mahogany, are popular choices for West Indies kitchens. Tropical inspired cabinet finishes are typically stained wood finishes selected from a darker color palette with warmer undertones. Distressed wood finishes are appropriate as well and give a tropical styled kitchen the added historical touch that West Indies is known for. 
Dura Supreme's Louvered door style in the "Allspice" stain on Cherry paired with a sample of "Harvest" stain on Cherry.
Selecting Tropical-Inspired Cabinetry for a West Indies Kitchen
For West Indies styling, choose cabinet door styles that are heavily detailed and ornate. Raised panel or detailed flat panel cabinet door styles are great choices.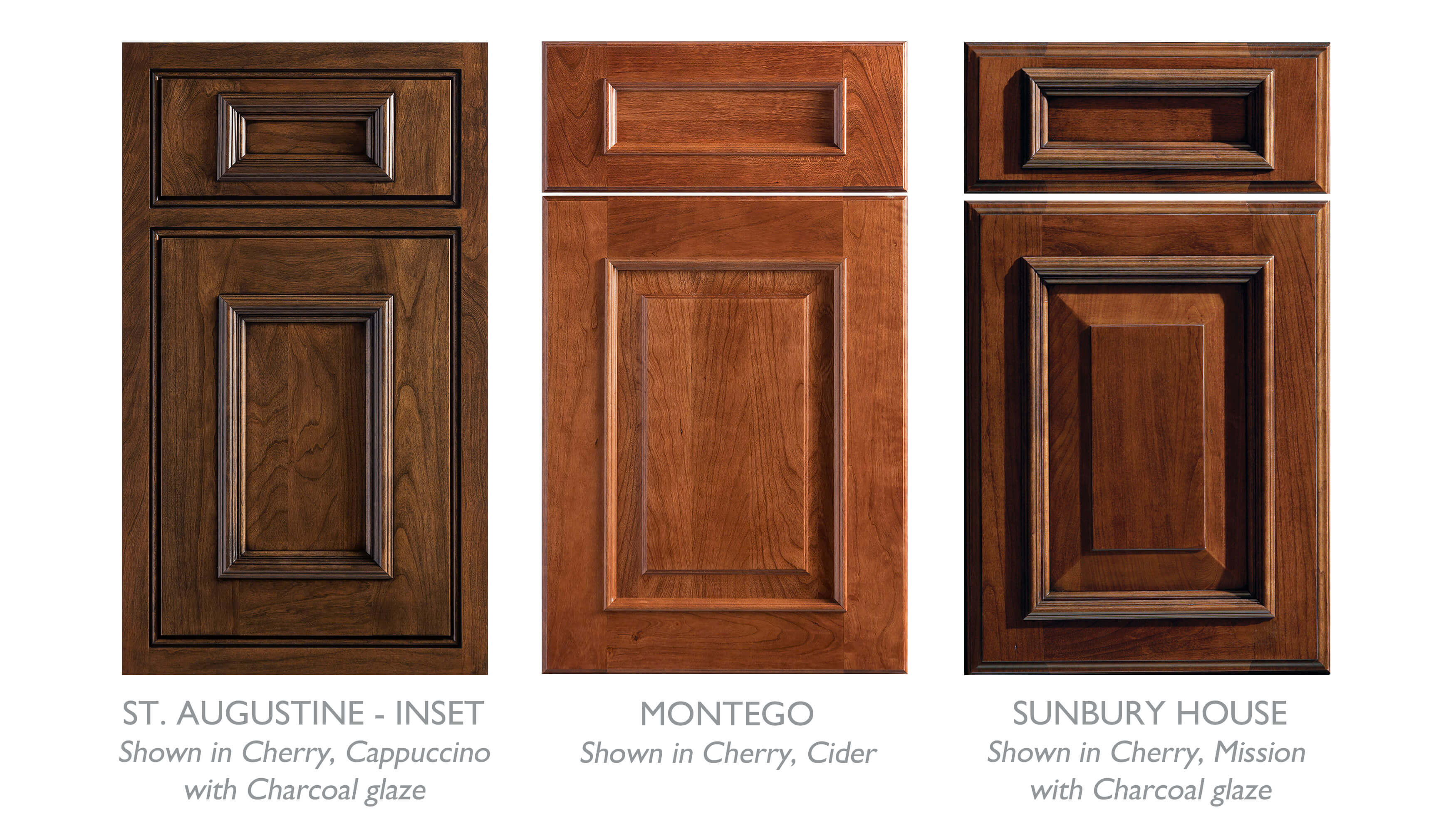 In the tropical climates of the West Indies, louvered cabinet doors, shutters, and woven rattan promote airflow and can be used as accents. In addition, an "X" pattern is a classic tropical island motif and can be featured in a leaded glass cabinet door.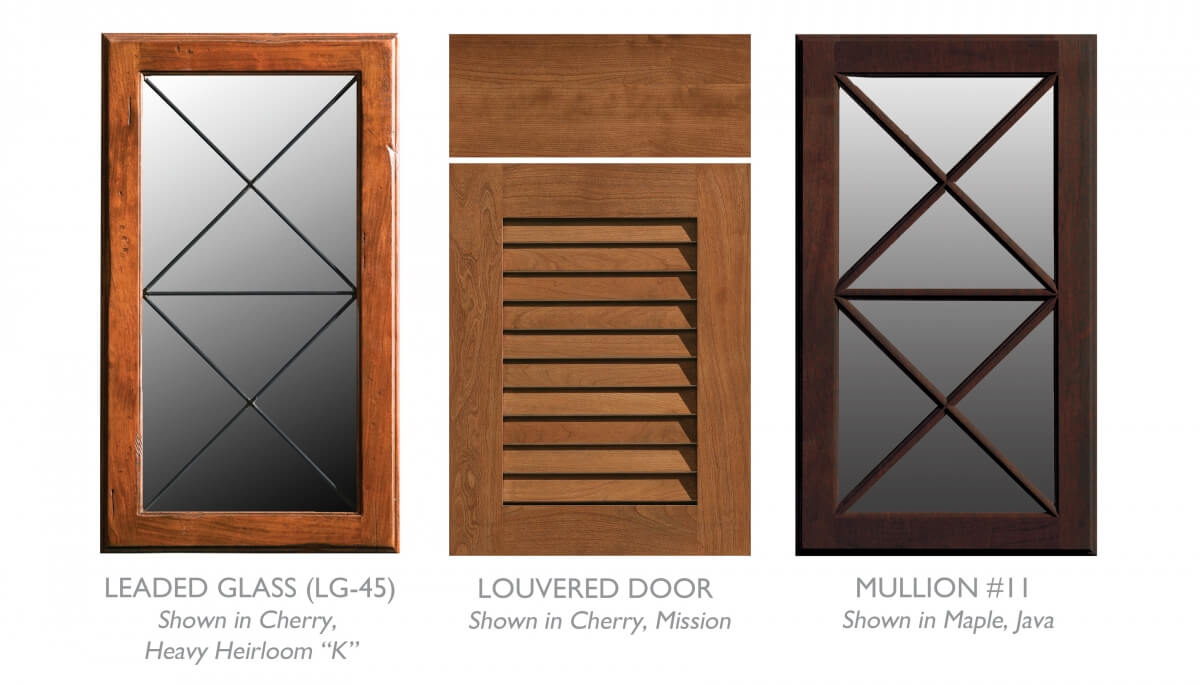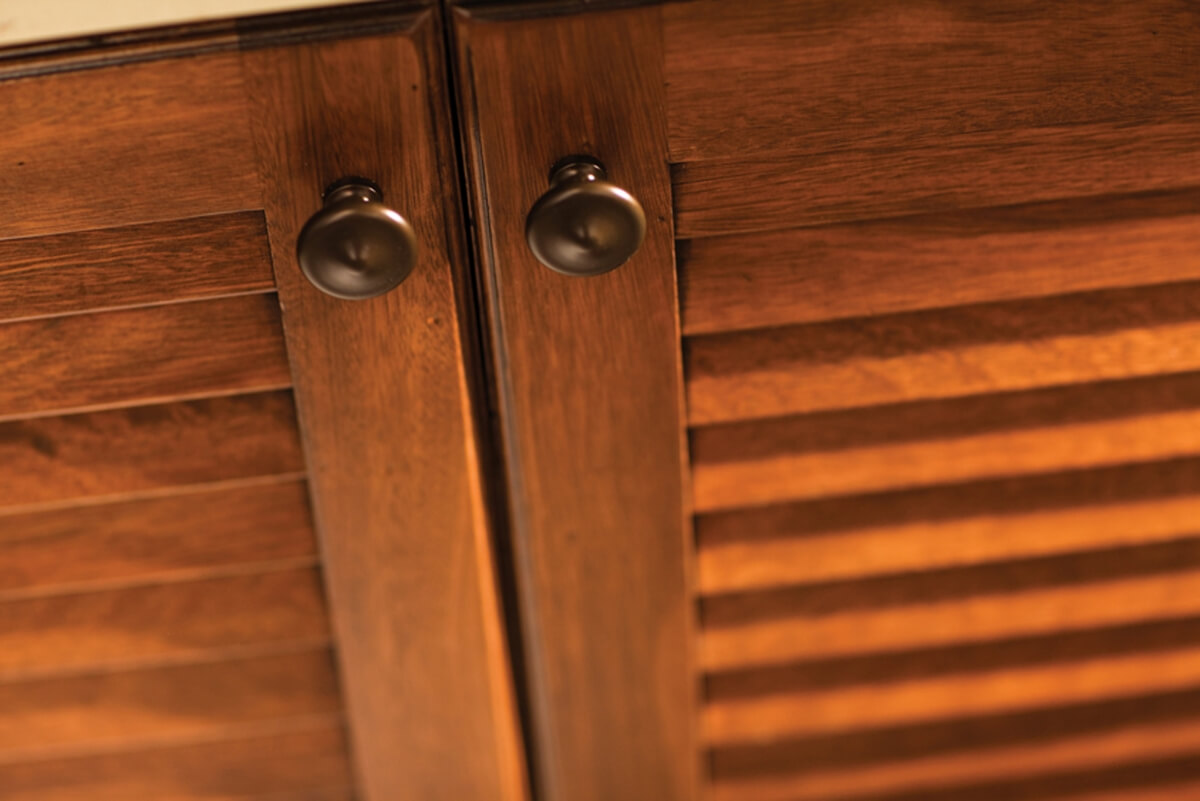 Louver cabinet doors and rattan can be used as accents to create texture and interest. They are a great option for promoting airflow in areas like under a sink or in a bathroom.
Planning space for ornate cabinetry details like turned posts, corbels, and elaborate molding stacks will help pull this tropical look together.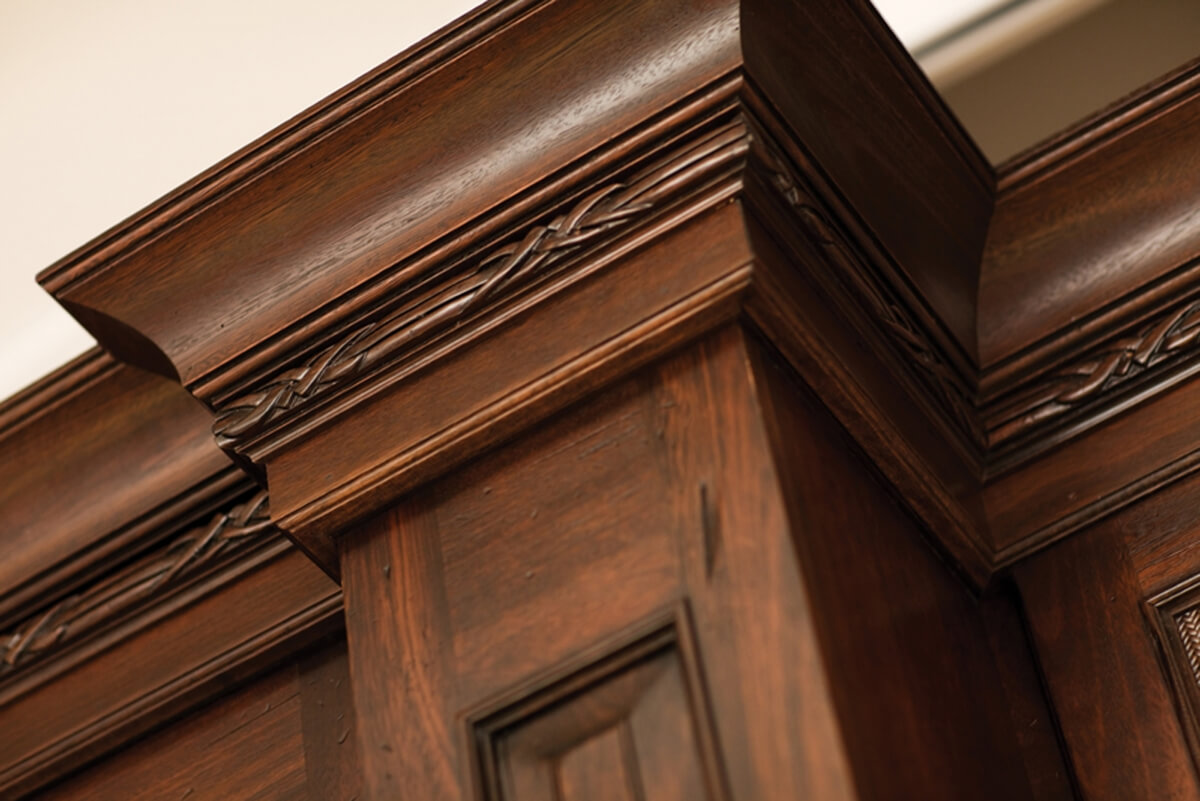 An intricate carved molding accents the molding stack.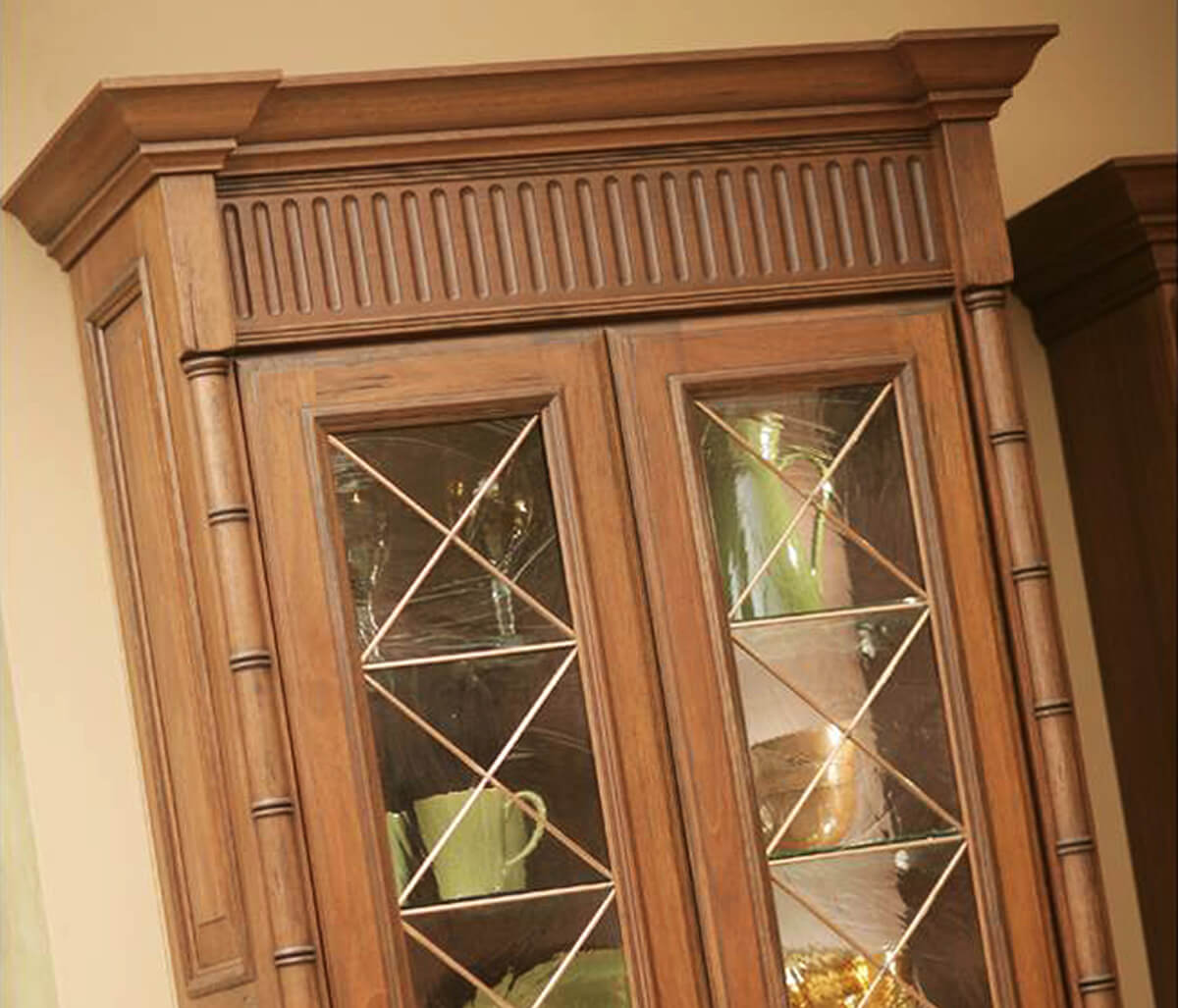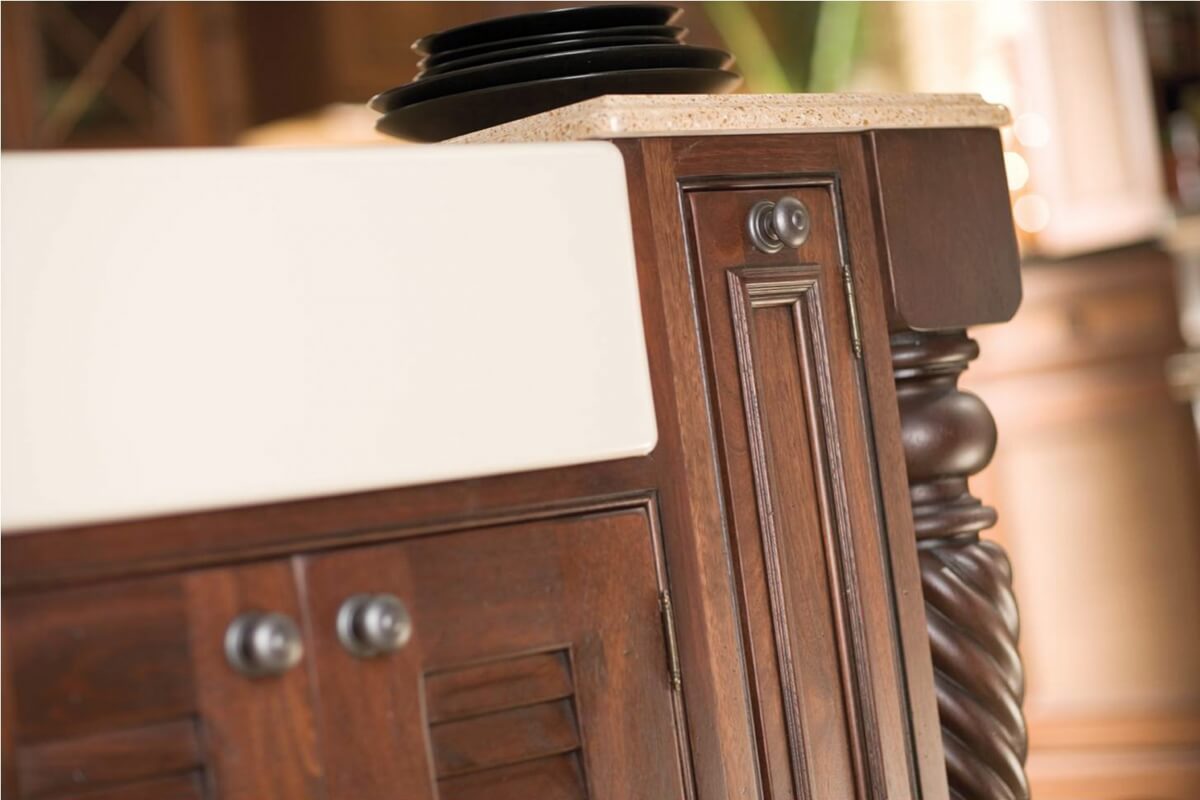 Inset cabinetry with decorative barrel hinges can help create the look of a historic piece of furniture.
Tropical Design Elements of West Indies Style
Woven cane and rattan furnishings were airy and light in this humid, tropical environment. Gauzy fabrics, sun-baked colors, and louvered shutters were hallmarks. Heavy woods, like Mahogany, held up well in the tropics and rich, dark finishes were common. Many West Indies homes bring the outdoors inside with a variety of luscious houseplants housed in artistic pottery. Caribbean islanders commonly used tropical motifs in their furniture carvings, decor, and art – palm fronds, pineapples, and other island flora.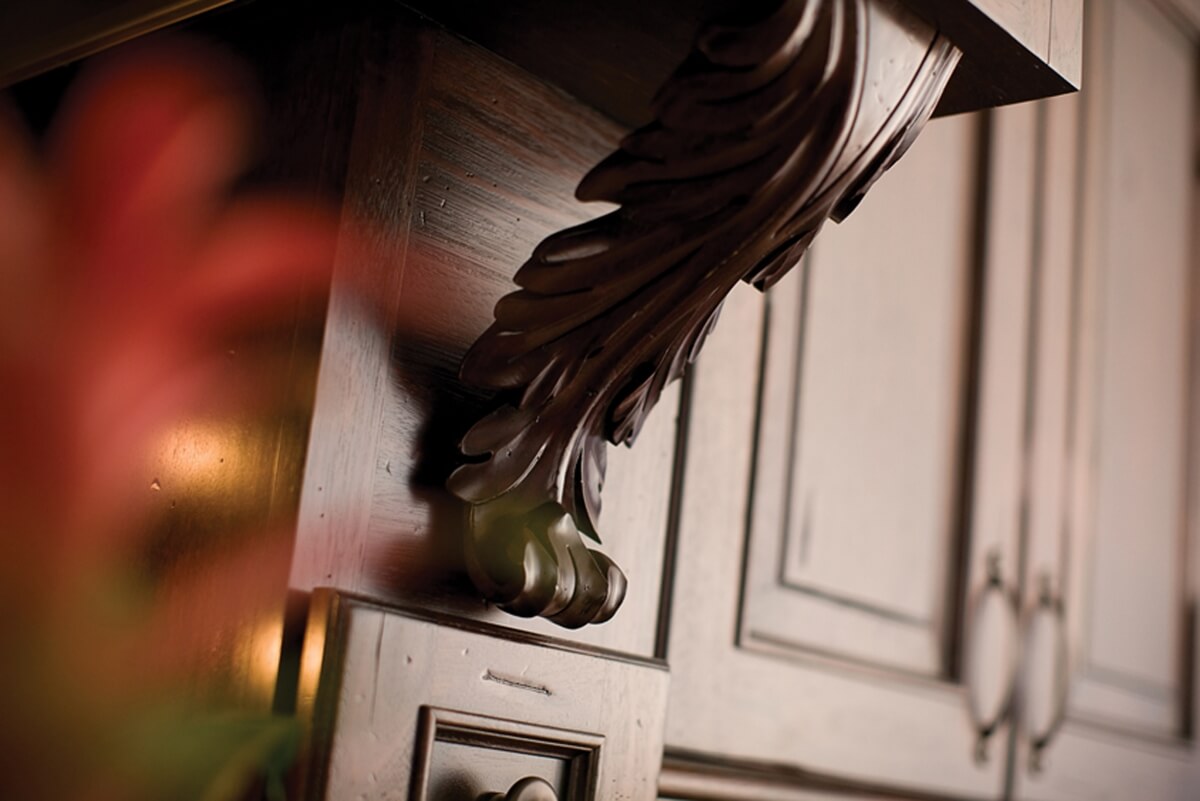 A corbel shaped like a palm frond was selected to add a West Indies look to the mantel hood above the cooktop.
Bamboo inspired turnings offer an attractive island motif, while the "X" pattern can be incorporated in leaded glass or even a wine rack.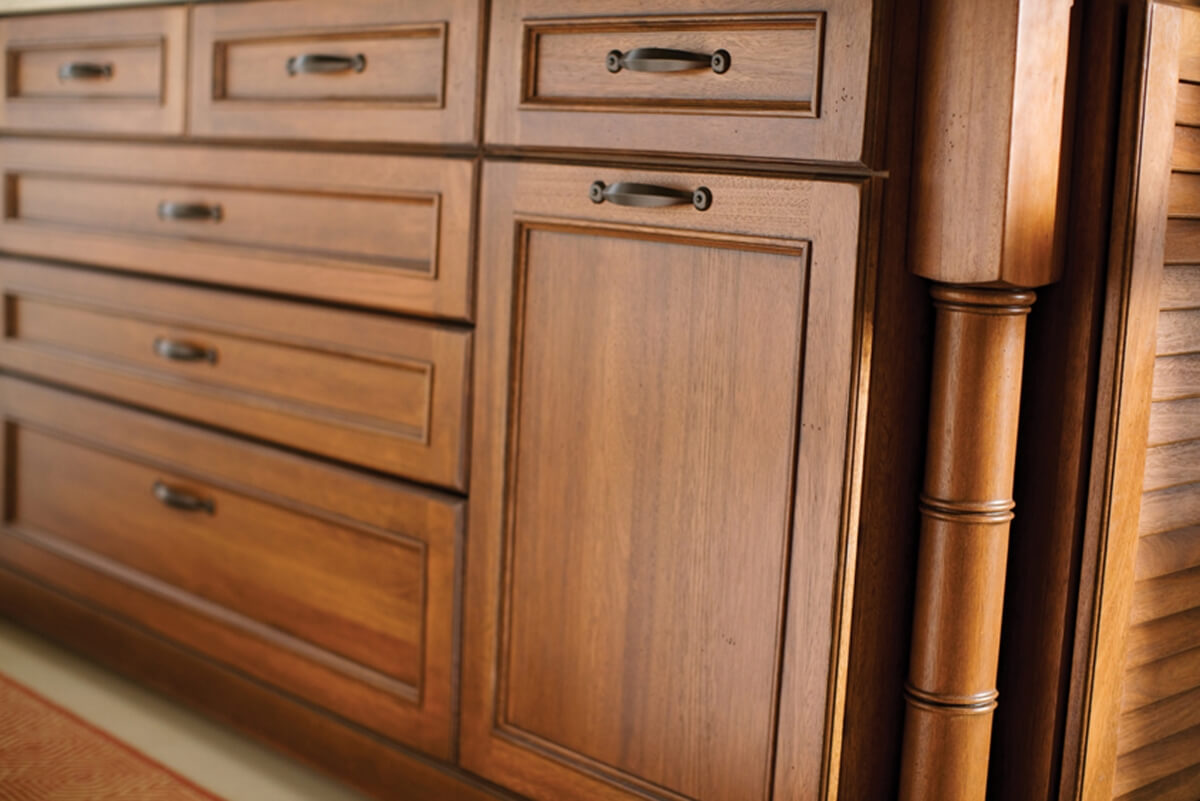 A bamboo-styled post is featured on this kitchen island to add hint of tropical flare.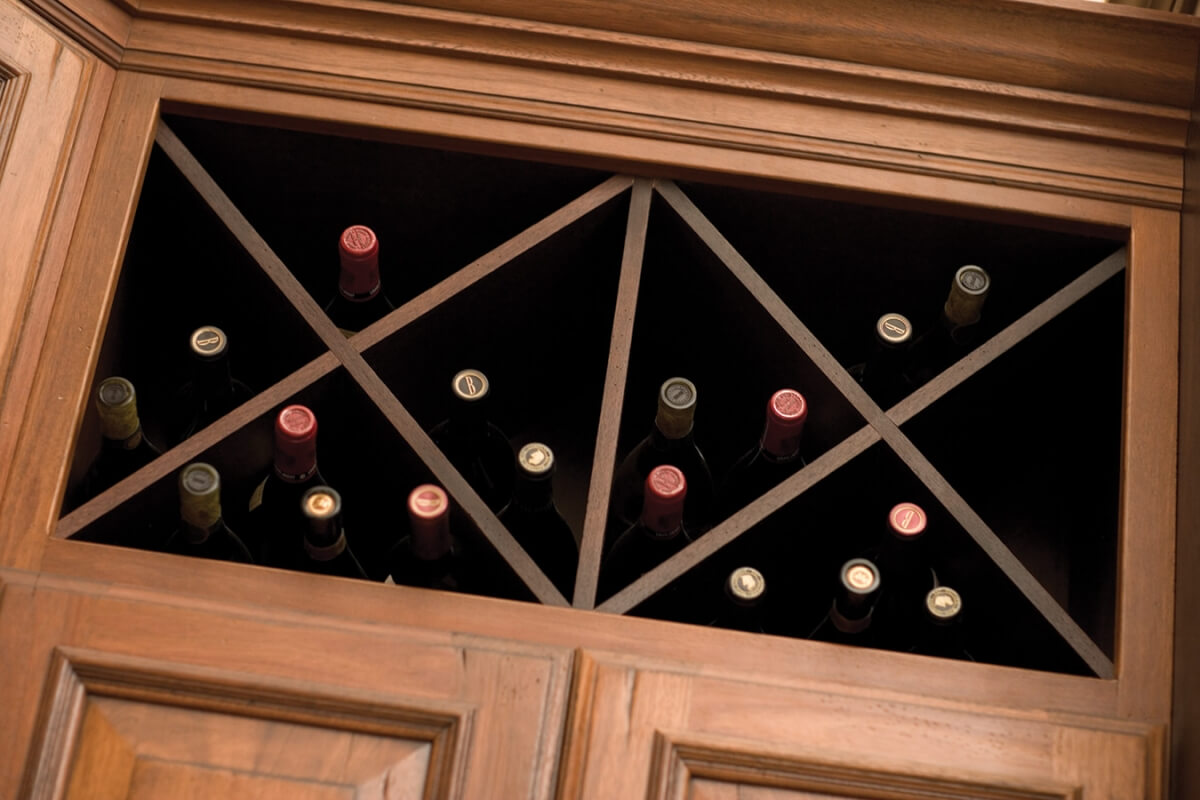 An "X" wine rack in an open kitchen cabinet offers convenient and beautiful wine storage.
Is West Indies your interior design style?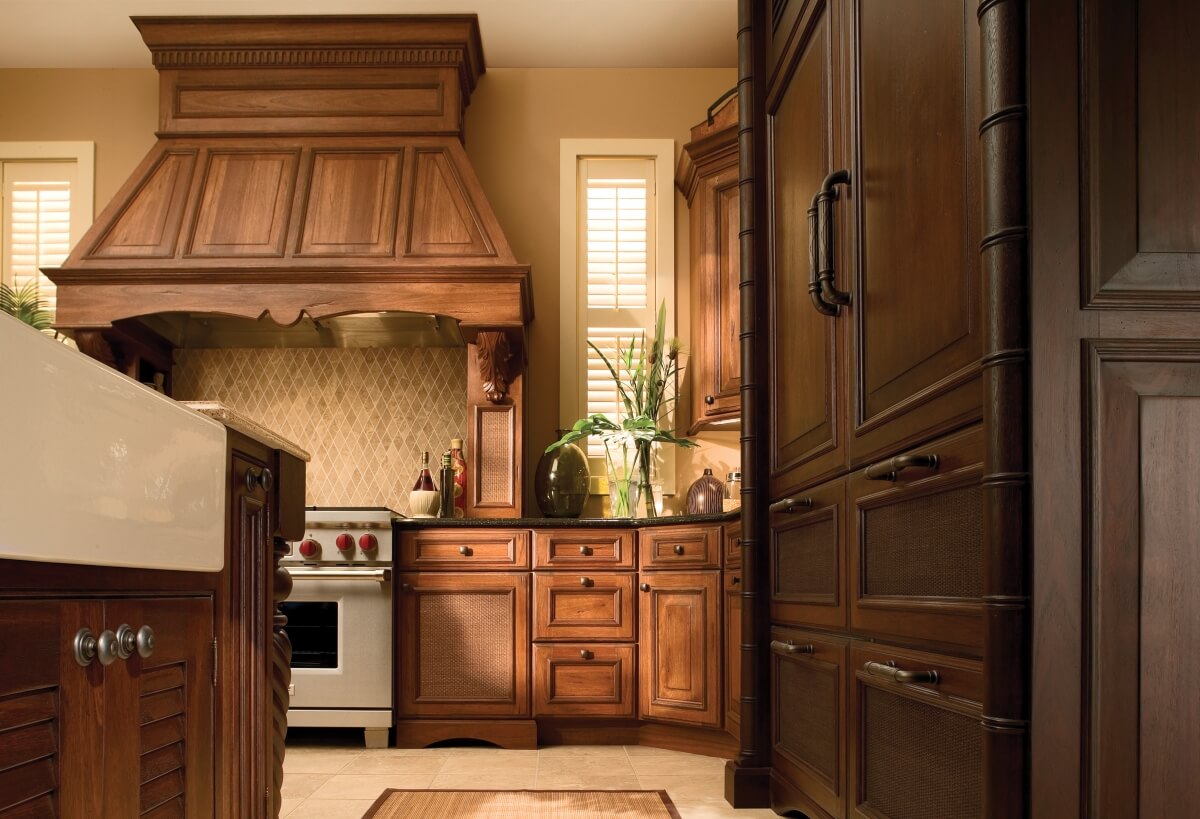 The right mix of woods, cabinet finishes and decorative elements creates a tropical island ambiance.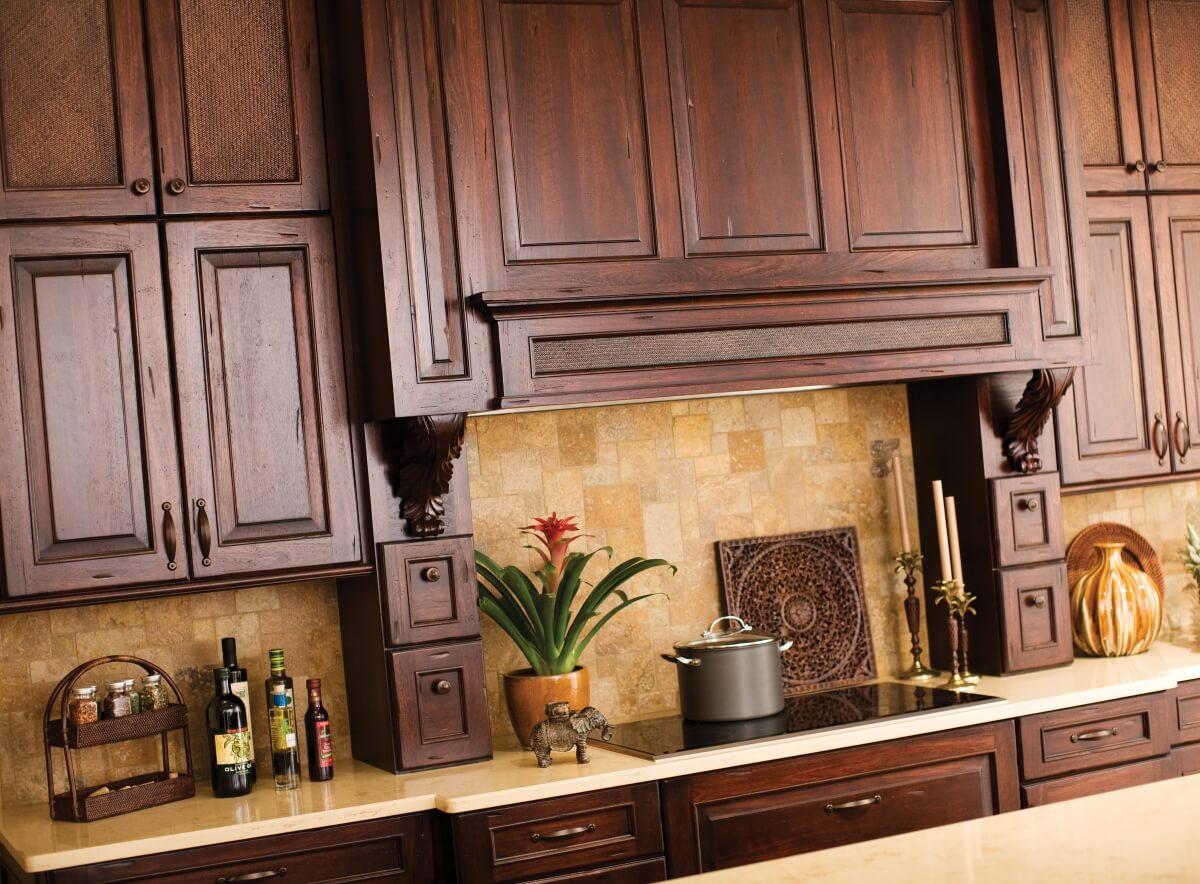 Grand wood hoods with intricate detail create a stunning focal point for a West Indies kitchen.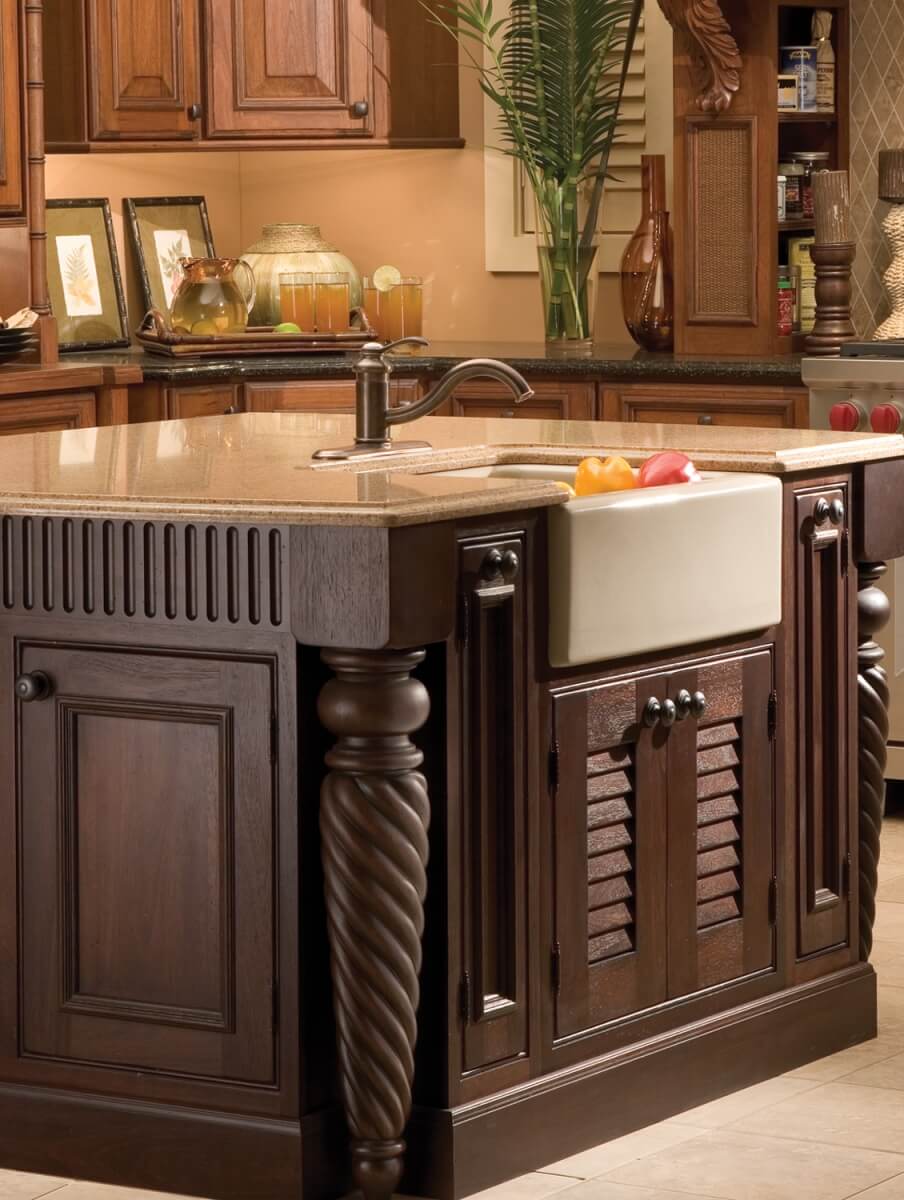 A traditional furniture-styled kitchen island with decorative turned posts and well-planned molding can create a centerpiece for your tropical-inspired kitchen.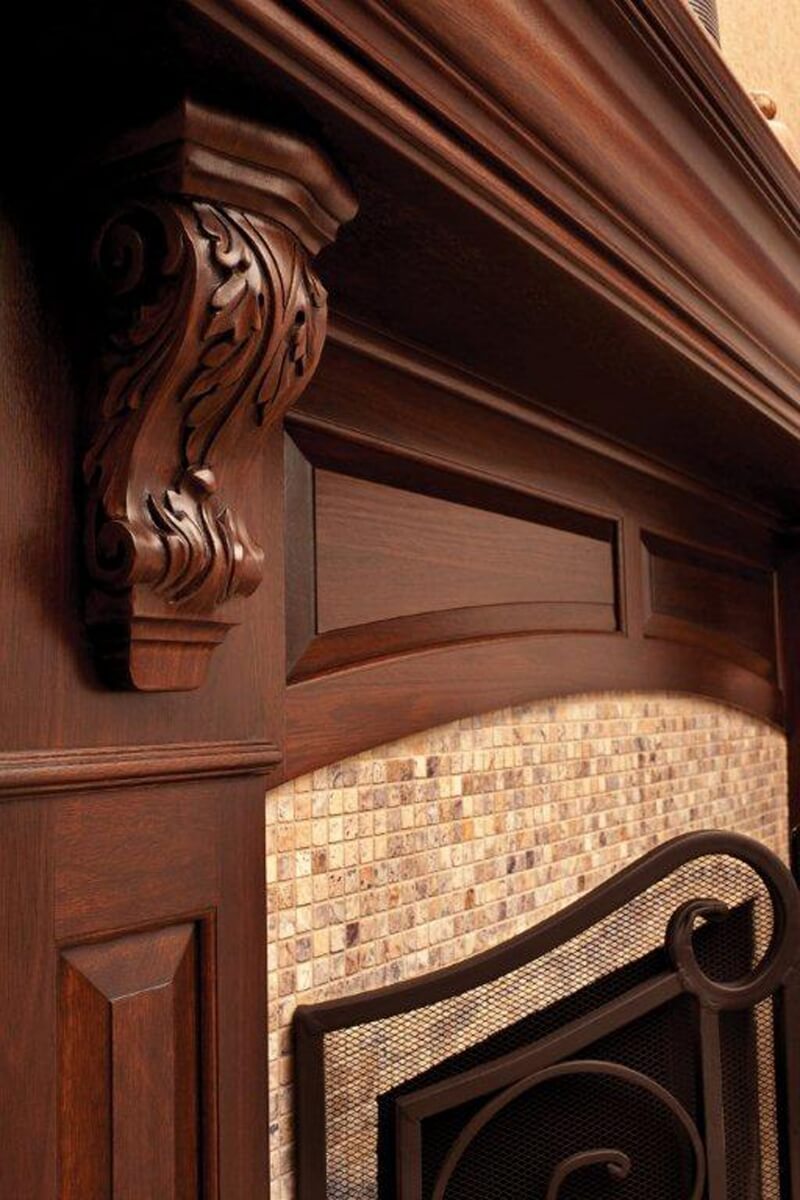 Decorative details like corbels and moldings can be implemented throughout the home to seamlessly transform a home into a West Indies abode.