Texture is back. We've seen it in rough-hewn ceiling beams, the introduction of more character-rich wood species in cabinetry, and in dimensional wall tile. We also have the enormous popularity of painted cabinetry. The perfect marriage of these two overwhelming trends is painted Oak. Here we get the clean look of a painted surface (color-matched to your heart's desire), with the beauty of wood grain coming through, giving the surface more interest.
Dura Supreme saw these two trends converging and began offering paint on not only our HDF (leagues better than the competitor's MDF) but also offering paint on our Red Oak wood species. Below are some of our most popular requests for paint on Oak, but we will finish cabinetry in any paint color requested by the designer.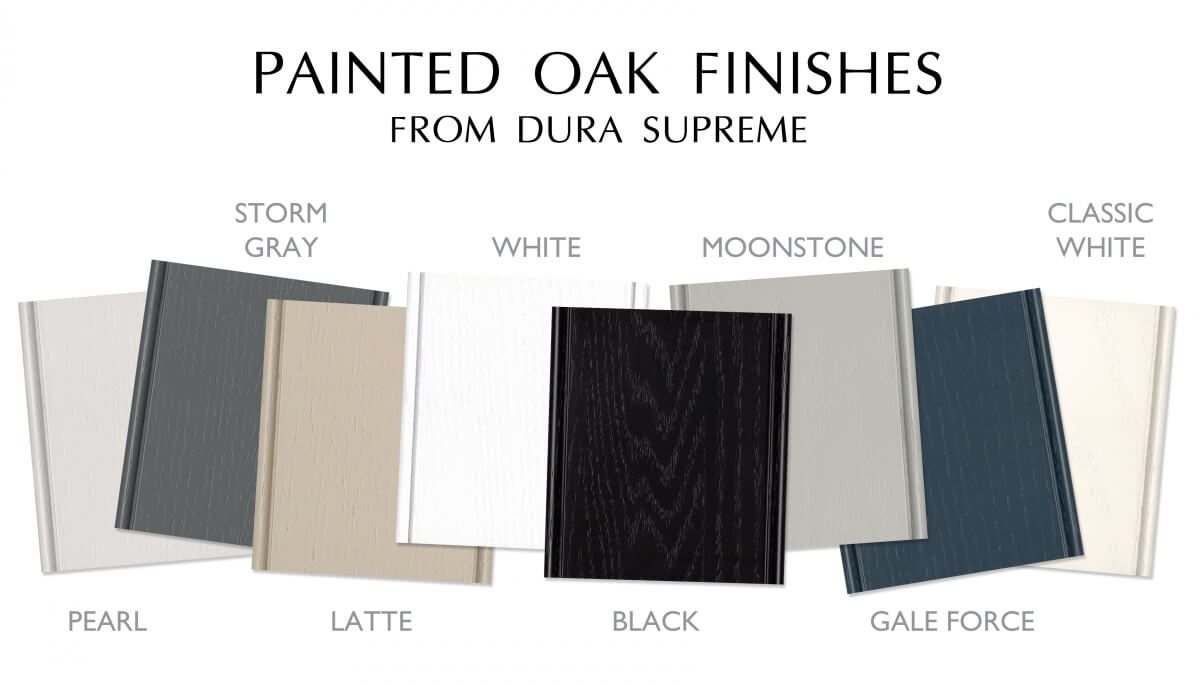 Popular Painted Oak Finishes from Dura Supreme Cabinetry
The result is stunning. Painted Oak pairs beautifully with stained cabinetry, or other painted cabinetry. Let's take a look at some examples.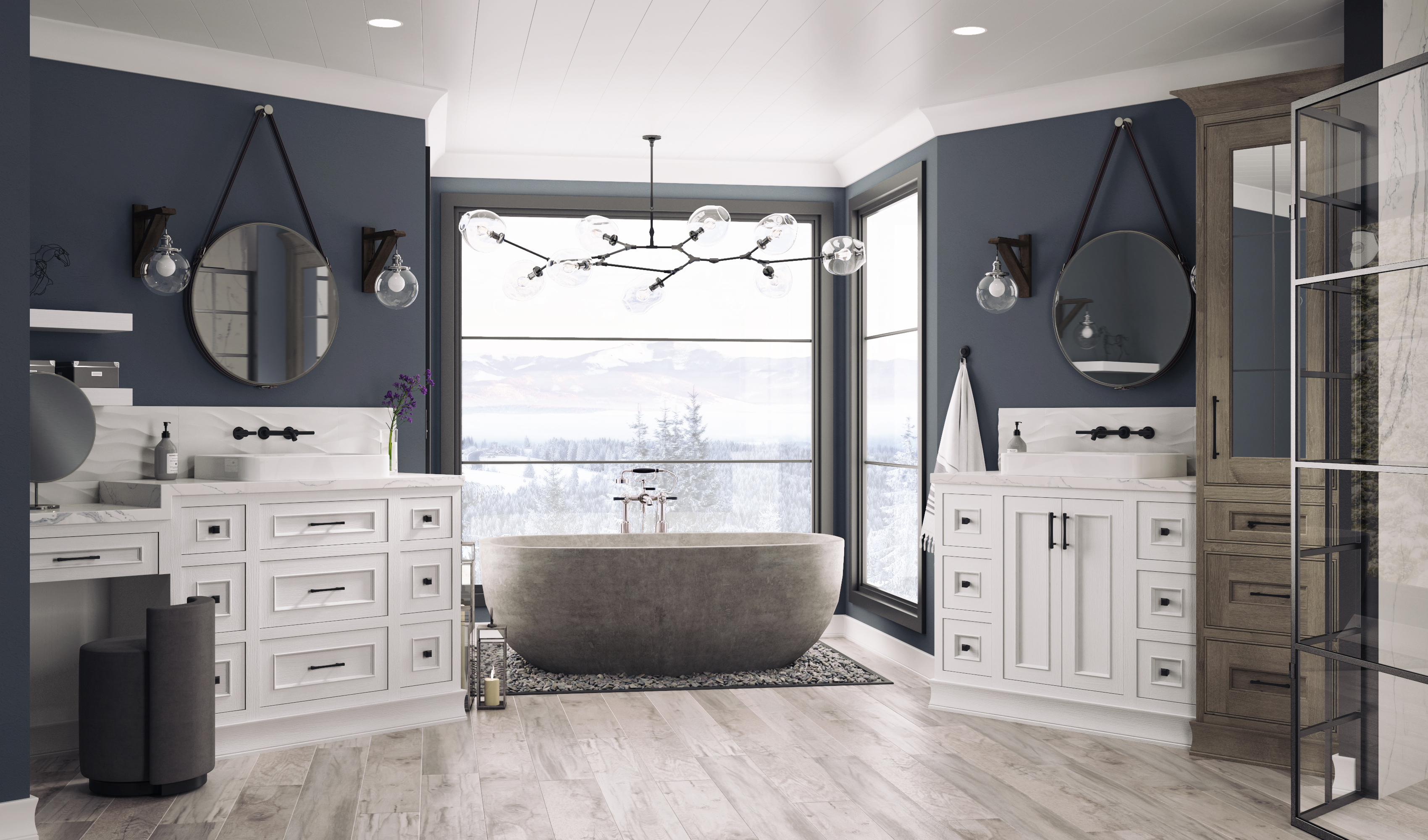 Master Bath in Dura Supreme Cabinetry finished in White Paint and Knotty Alder finished in Heather Stain, all Inset styling
Above is a bathroom in Dura Supreme's White paint on Oak, paired with a Linen Cabinet in Knotty Alder with a Heather stain. Notice the "5th Wall", the ceiling, also painted the same White, but on shiplap panels in HDF. The rustic moodiness of this space still feels airy, in part due to the painted oak lending itself in both directions, and of course the beautiful windows and view.
Let's take a closer look at the details in this room.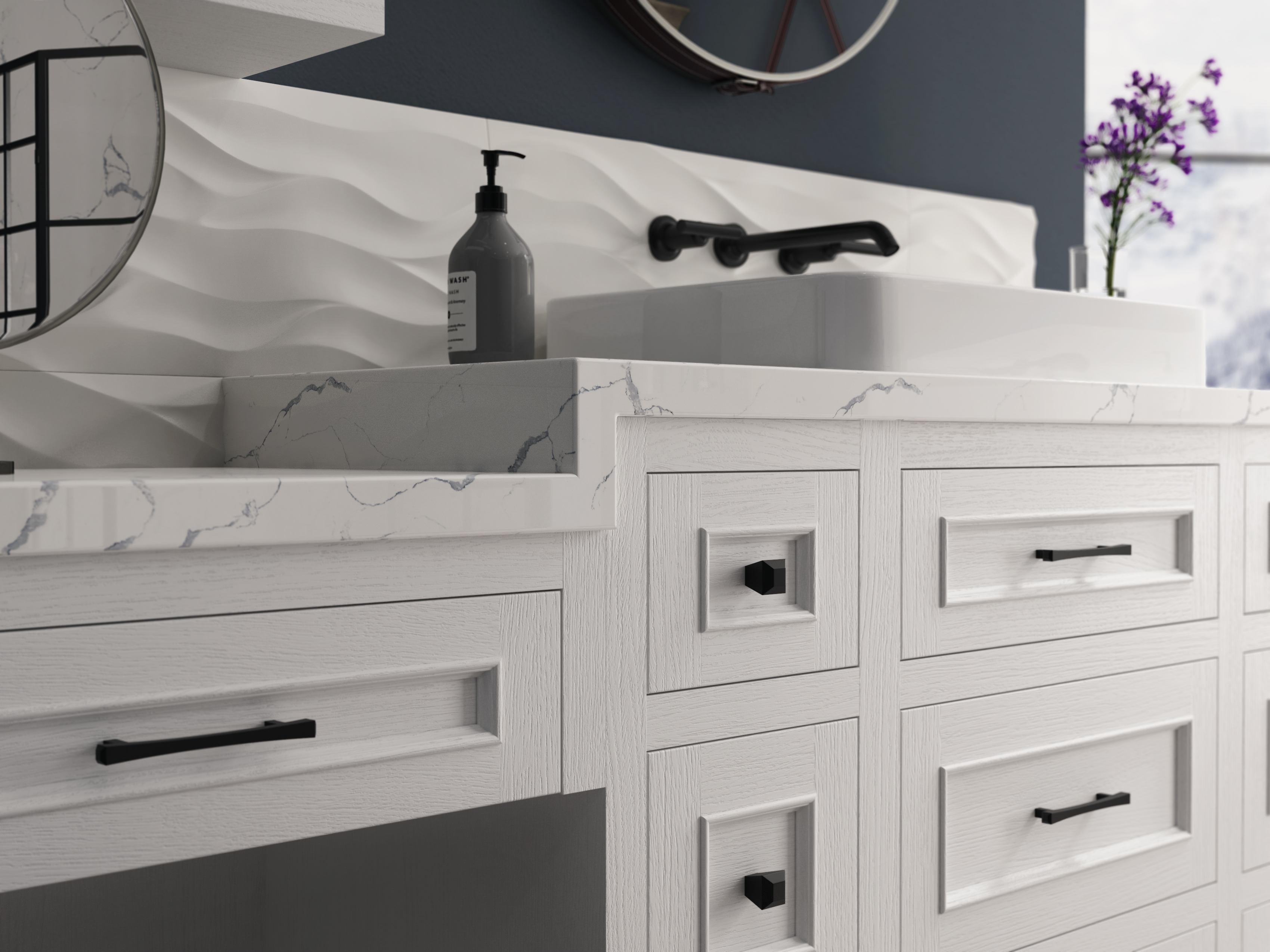 Close-up view of "White" Paint on Oak on Dura Supreme Inset cabinetry.
Here, we look closer at the sitting area to the left, and you can see the grain of the Oak showing through the paint on these timeless inset drawers. A more subtle texture is also seen in the wavy backsplash tile.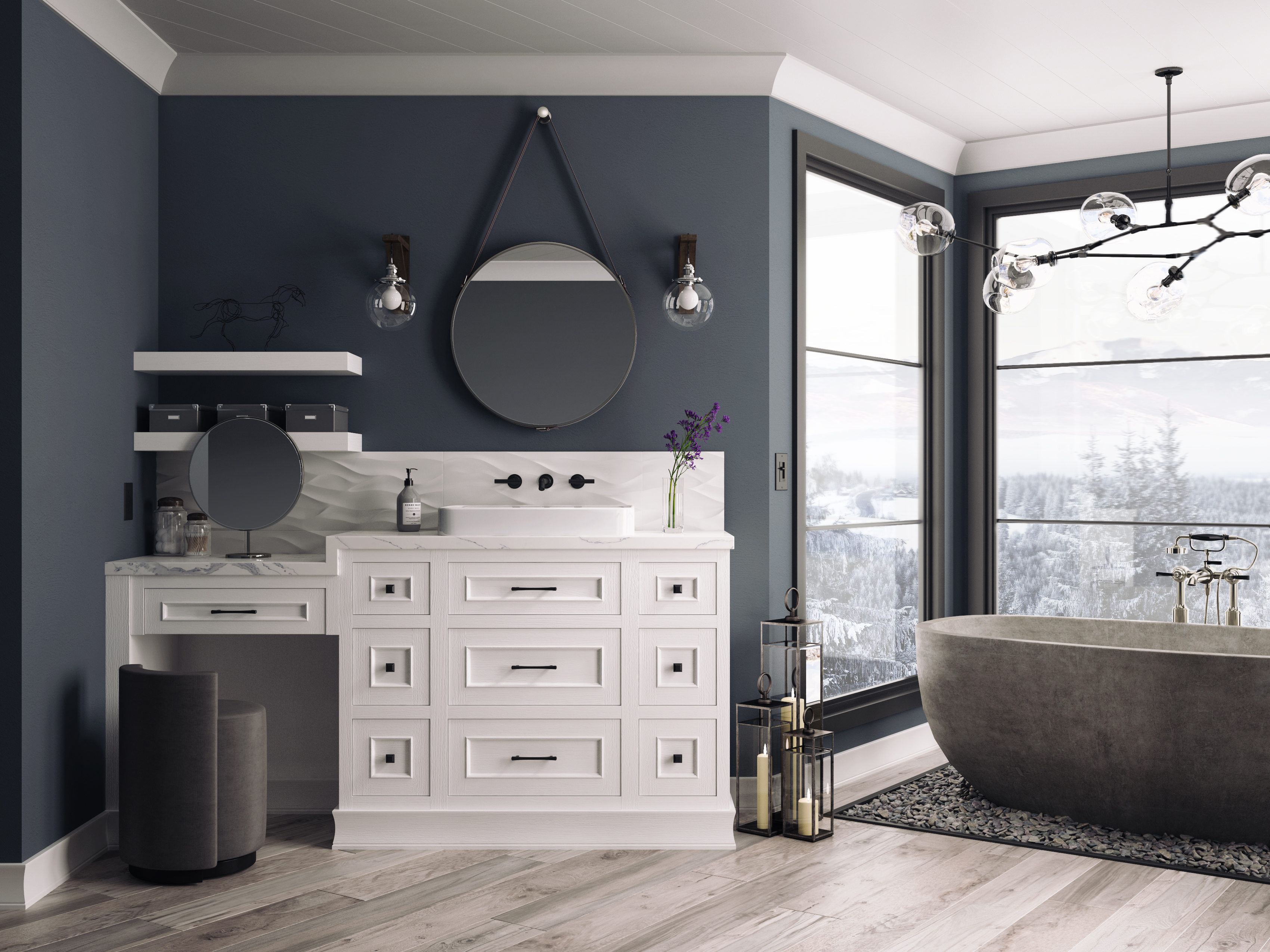 Sitting Area in Vanity, White Paint on Oak, Dura Supreme Cabinetry
Waterfalling the countertop provides less disruption of the 'waves' in the backsplash here.
On the other side of the room, we get a closer look at the other painted Oak vanity, and the Heather stained Knotty Alder linen cabinet. The degree of character in the Knotty Alder is the perfect match for the painted Oak.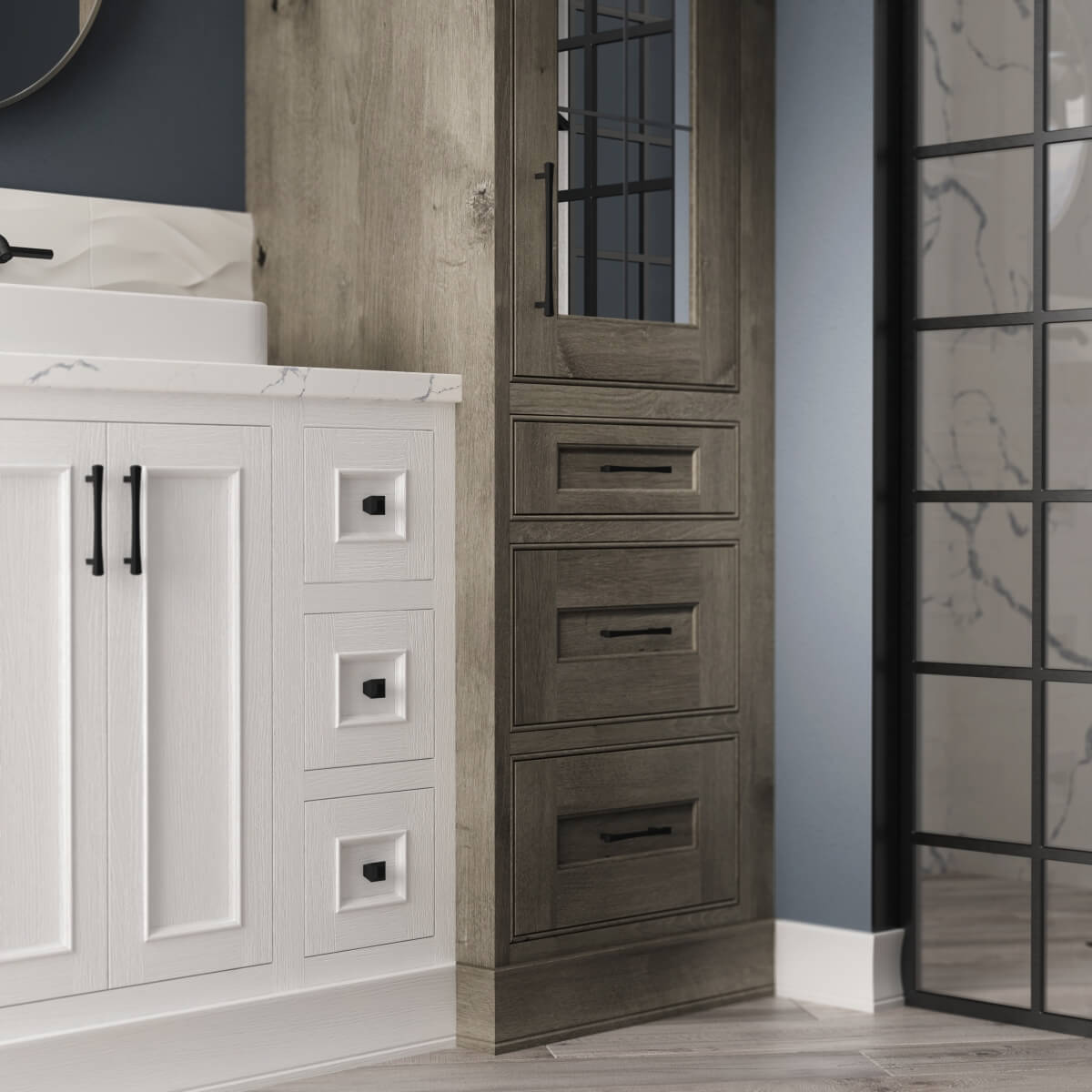 Note the leaded glass caming echoing the black mullions on the outside of the shower. This bathroom wouldn't be half as visually compelling with a smooth white surface.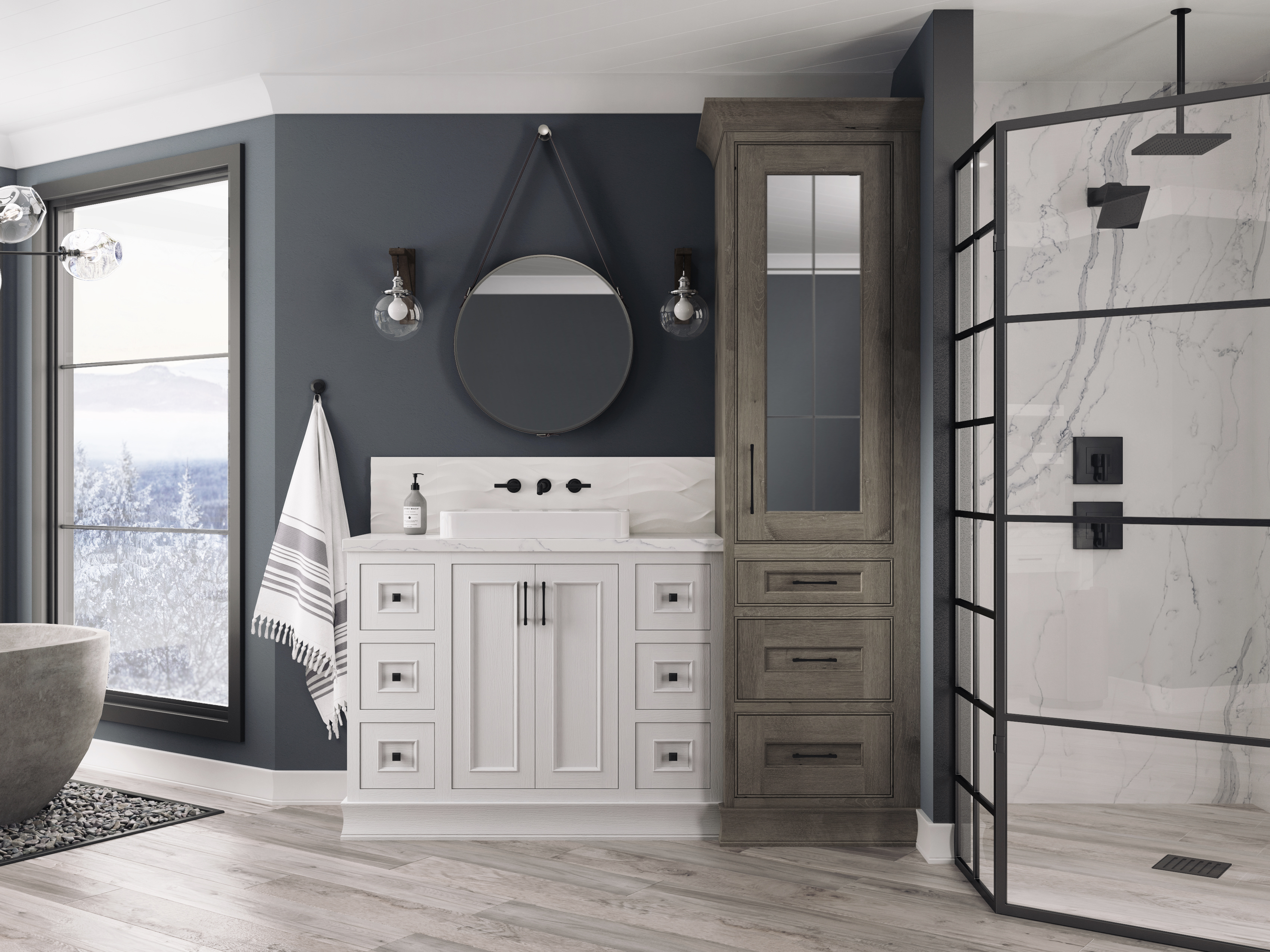 Vanity and Linen cabinet, White Painted Oak and Knotty Alder in Heather stain, Dura Supreme Inset styling
Below we see the same White painted Oak, but this time on our Homestead door, paired with our Curated Color Cast Iron. These two look great with the gray-brown barn wood behind them that we are seeing so much of these days.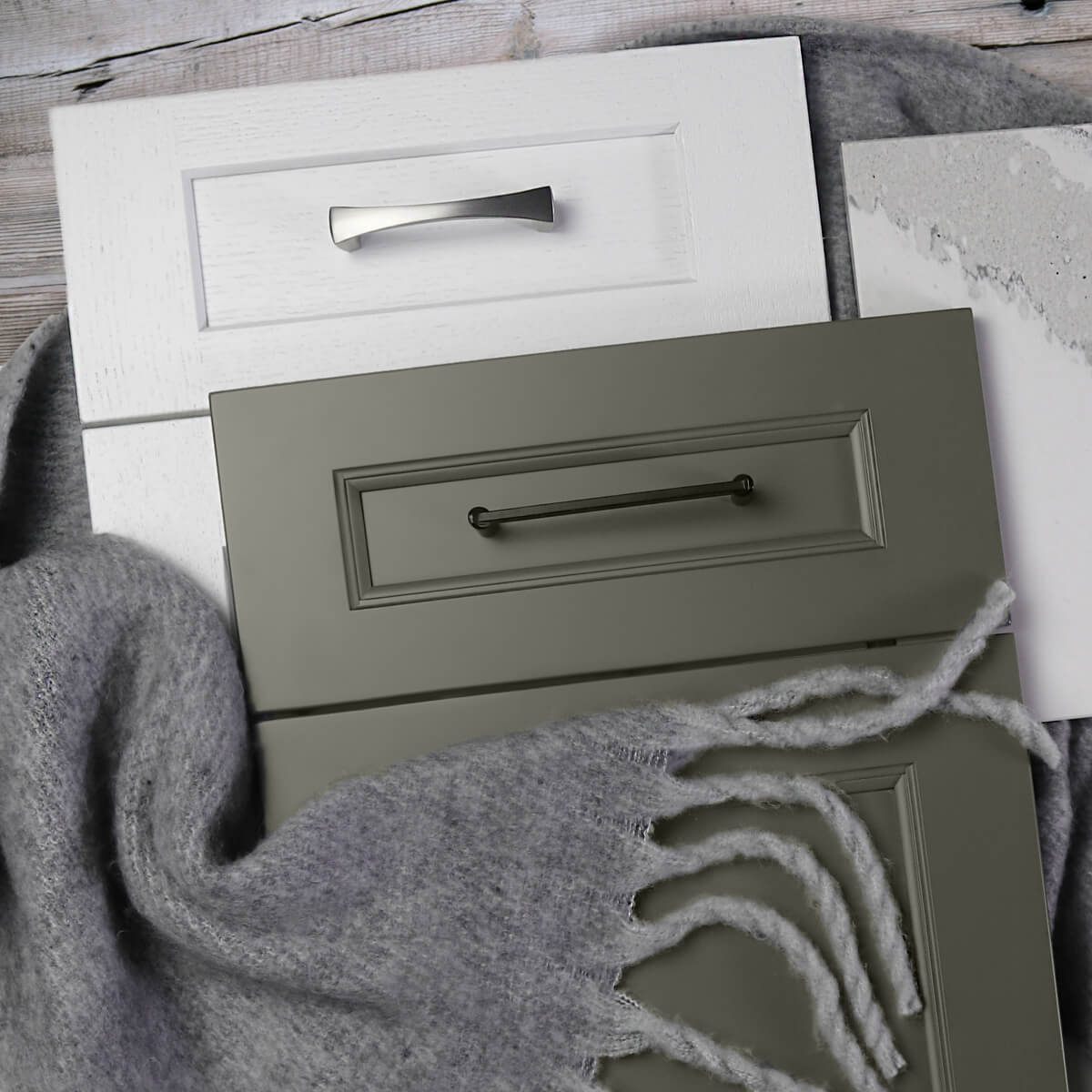 Below we see two of our Curated Colors, Cyberspace (on Oak), and Software, on our Dempsey door in Inset styling. Again, a great way to have two different painted surfaces in the same space while keeping it interesting with texture.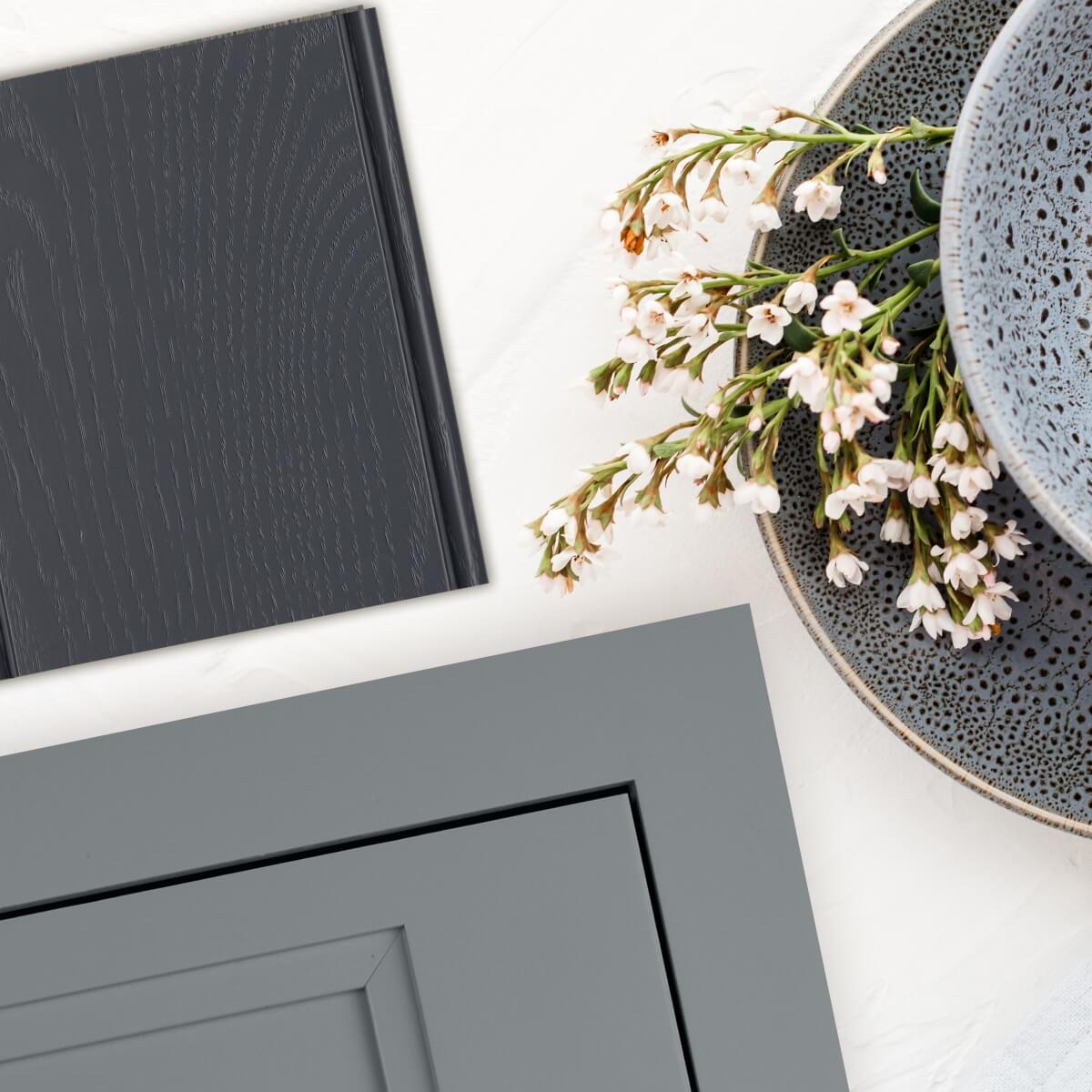 Two of Dura Supreme's Curated Colors: Cyberspace painted on Oak, paired with Software on the Dempsey door in Inset Styling.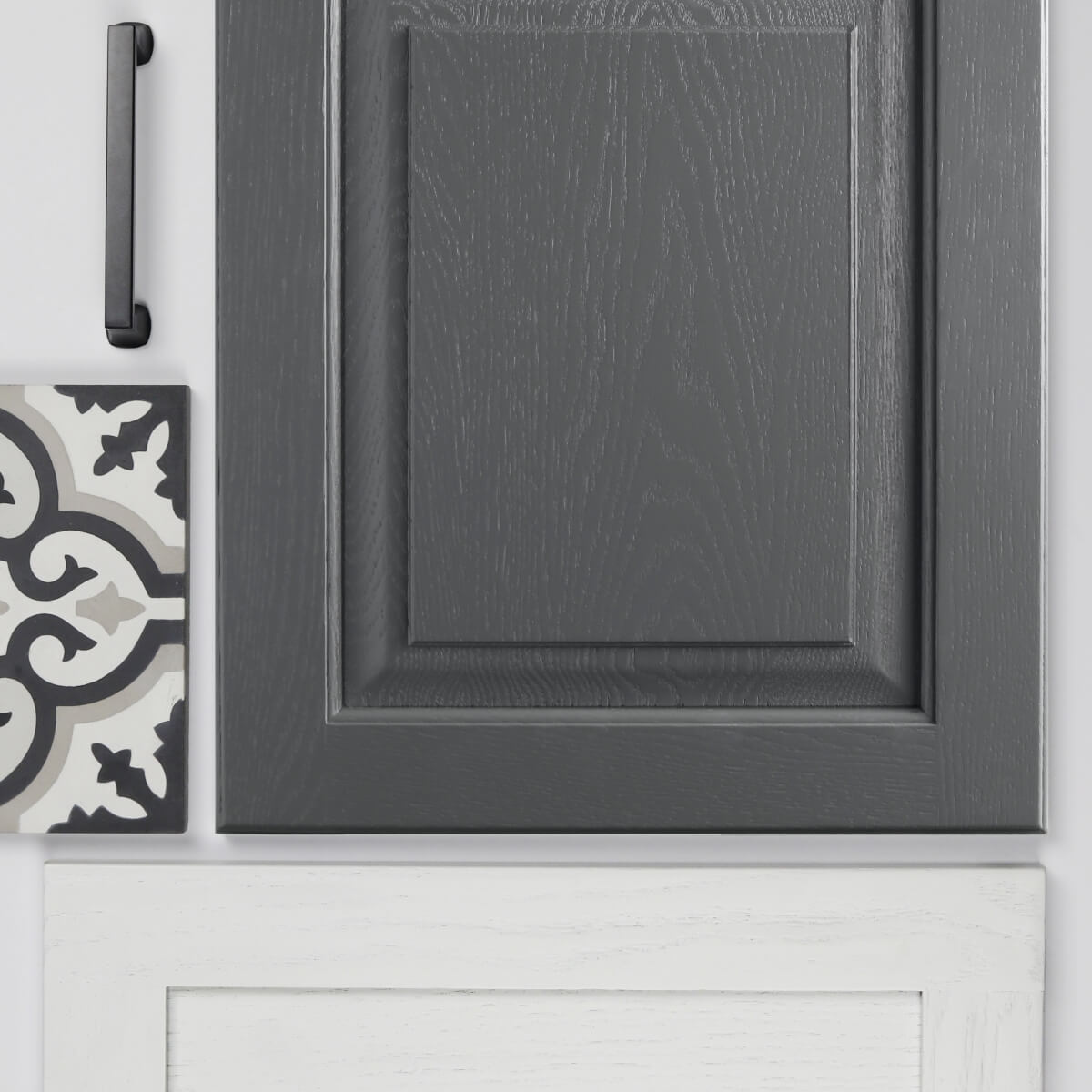 Two Painted Oak doors- Kendall door painted Storm Gray, and Hudson door painted White, Dura Supreme Cabinetry
Above we see two painted doors, this time both on Oak, playing off of the caustic tile. Both our Kendall door style painted Storm Gray, and our Hudson door style painted White pair perfectly since they have the same rail and stile widths.
So go ahead! Take your painted cabinetry to the next level with painted Oak. Dura Supreme can help you make it the perfect design choices with our Personal Paint Match or Custom Color Program- or choose from our carefully curated selection of Dura Supreme's paint offerings. You are sure to create a custom space like no other.