Unless you've been living under a rock, you may be aware that blue is wildly trending in interiors. I have been seeing it in every element of design, and it seemed like a good time to share with you all the myriad of ways to incorporate blue into your home. Seeing as I write this blog for Dura Supreme Cabinetry, you may think I would focus on blue cabinetry here.  While I will definitely touch on that, I also want to show how inserting blue into the non-cabinetry components of your design can actually breathe life into your non-blue cabinetry and bring it on-trend.
Adding Blue to the Entryway
This can start from the moment one walks in the door of a home, with a beautiful front door.
Blue Appliances, Fixtures, and Stoneware
Below, we see the same home, with blues carried into the kitchen in the refrigeration, lighting, and dishes, unifying the design throughout.
Dazzling Blue Sinks

Or maybe you need colorful motivation while washing dishes? Below is a beautiful double sink that pairs perfectly with deep character-rich woods we've been seeing more of as well as a brushed bronze fixture and crisp whites.
Home Offices with a Splash of Blue

Home offices can be a great place to be a little more daring with color, as their purpose is to primarily accommodate the home's owner. Don't be afraid to bring in a color that motivates and grounds you as you sit down to work.
Blue Furniture Pieces, Seating, and Backsplashes

Seating provides another opportunity to infuse color, and is less permanent should your tastes change.
Also consider, instead of painting an entire run of cabinets your favorite shade of blue, perhaps just a furniture-styled piece, like a hutch, below. Also note the opportunity for color in the backsplash.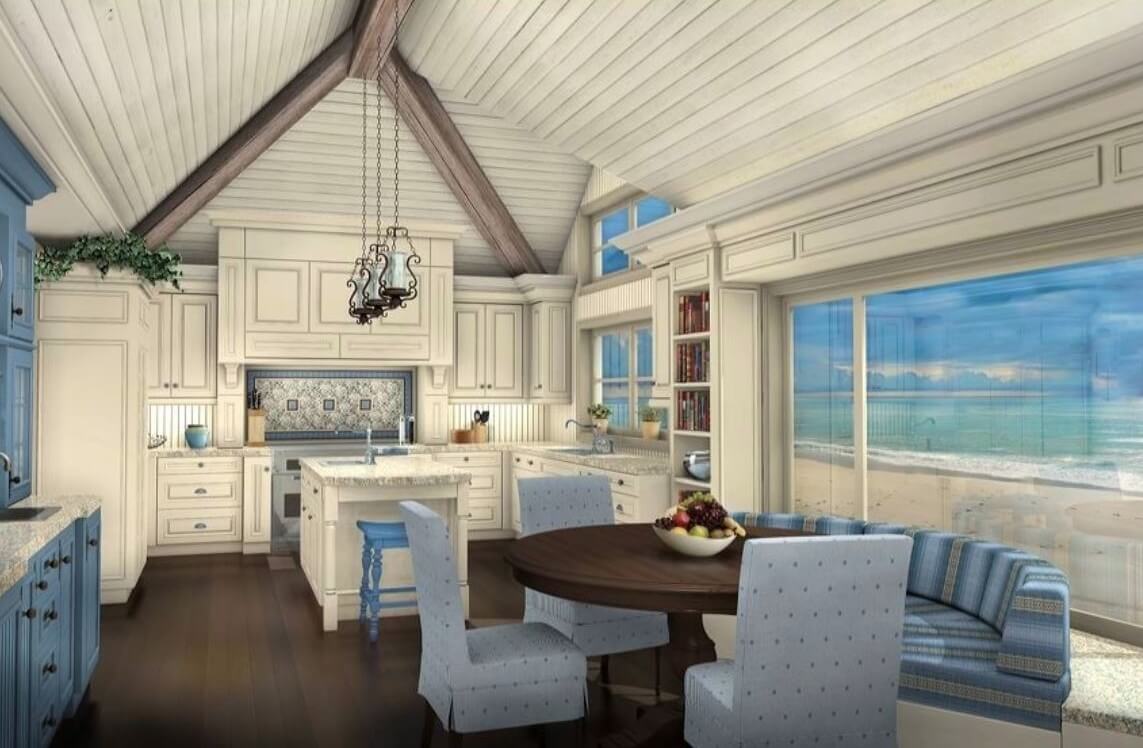 Blue Panel Inserts for Cabinet Doors
Substituting the center panel of a door with blue painted grids, patterned wire or blue back-painted glass is another option to consider.
Flooring and Decorative Rugs with Blue Hues
There are a lot of creatively patterned cement tiles that could be just the pop of blue you need in the flooring.
Or, if you are at the low end of the Color Commitment Scale… a rug does the job as well!
Blue Cabinetry

Finally, when designing with blue, keep in mind the undertones in the wood grain adjacent to it.  Here we see Dura Supreme's Gale Force from its Curated Color Collection paired with Hickory Morel stain.
Notice the grain in the Hickory has a blue undertone. The kitchen island is a custom Heritage finish with Morel rub-through and Gale Force with a Charcoal Glaze over the top.
How Will You Use Blue in Your Kitchen or Bath Design?
Now you are armed with some of the best ways to infuse a little or a lot of blue into your home- whether it be an icy winter blue, deep nautical navy blue, or somewhere in between, it is not difficult to find just the perfect hue you can use to update your home!