Did you know your surroundings can affect your mood? That's why selecting a color scheme that reminds you of a positive experience can not only personalize your space but make it more comfortable. I've found as each season unfolds, the celebrations and the natural elements that surround that season are full of colors that strongly resonate with our emotions. With that said, winter is one of the most extravagant shows of nature in my book!
This mood board features Dura Supreme Cabinetry's Weathered "A" finish on Knotty Alder and "Pearl" paint paired with Sherwin-Williams Fired Brick SW 6335.
Winter is a bold and eventful season that makes us reminisce of family gatherings, dramatic snow-covered landscapes, and cozy evenings near the hearth with hot cocoa. If you're in love with the dazzling colors of winter and can't help but smile when you see the first snowflakes … perhaps you should look at pulling some of Winter's hues into your home.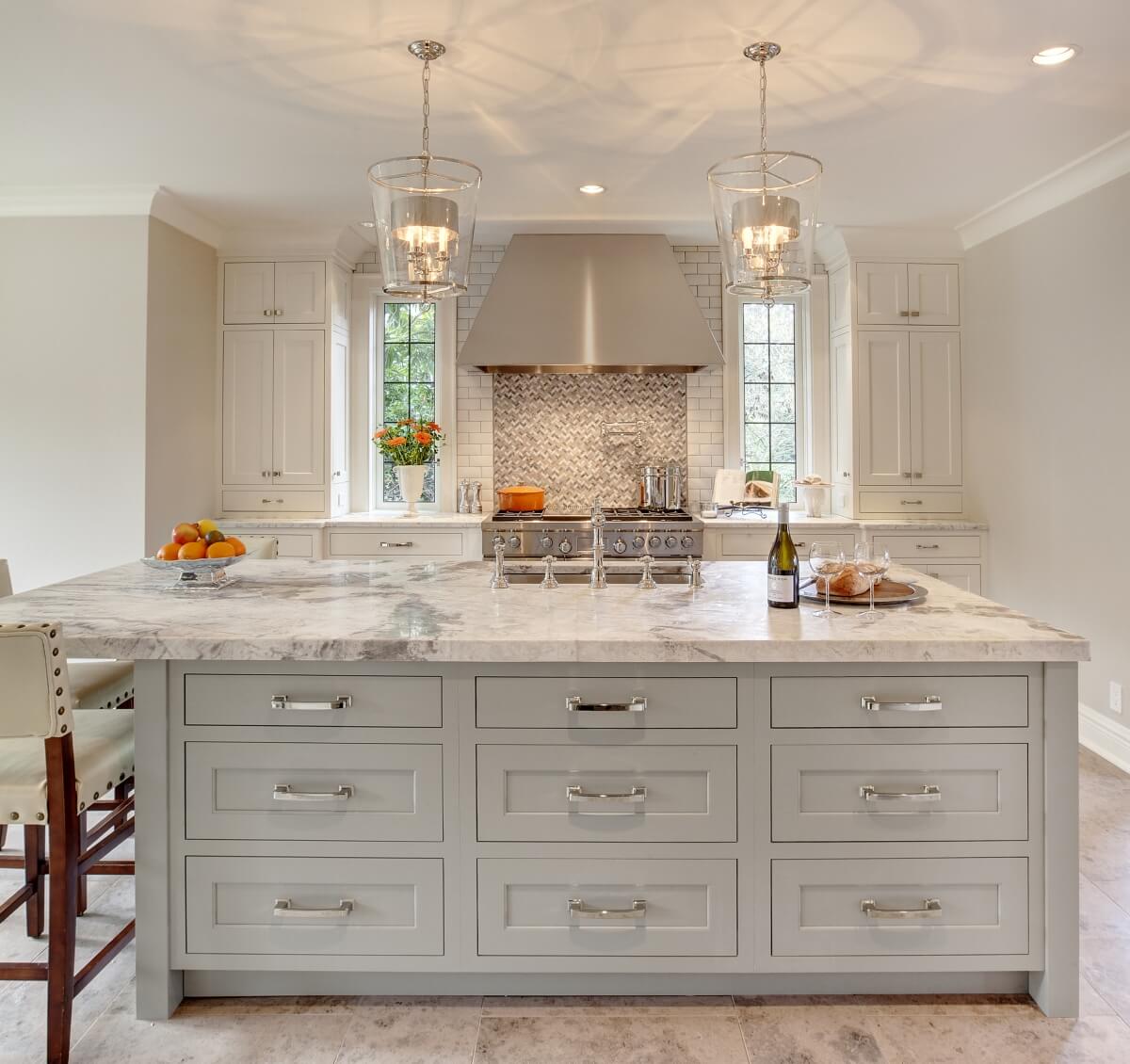 Dura Supreme Cabinetry kitchen design by Beverly Bradshaw Interiors, photography by Tom Marks Photo, cabinetry by Collaborative Interiors. Showcasing Dura Supreme Cabinetry in the Classic White and Zinc painted finishes.
Dazzling Winter Mornings Color Palette
Gazing at the sunrise on an early morning walk can inspire a warm, white and dazzling kitchen design. Combine Dura Supreme's Zinc and Classic White painted finishes to create a breathtaking kitchen design that inspires you year round.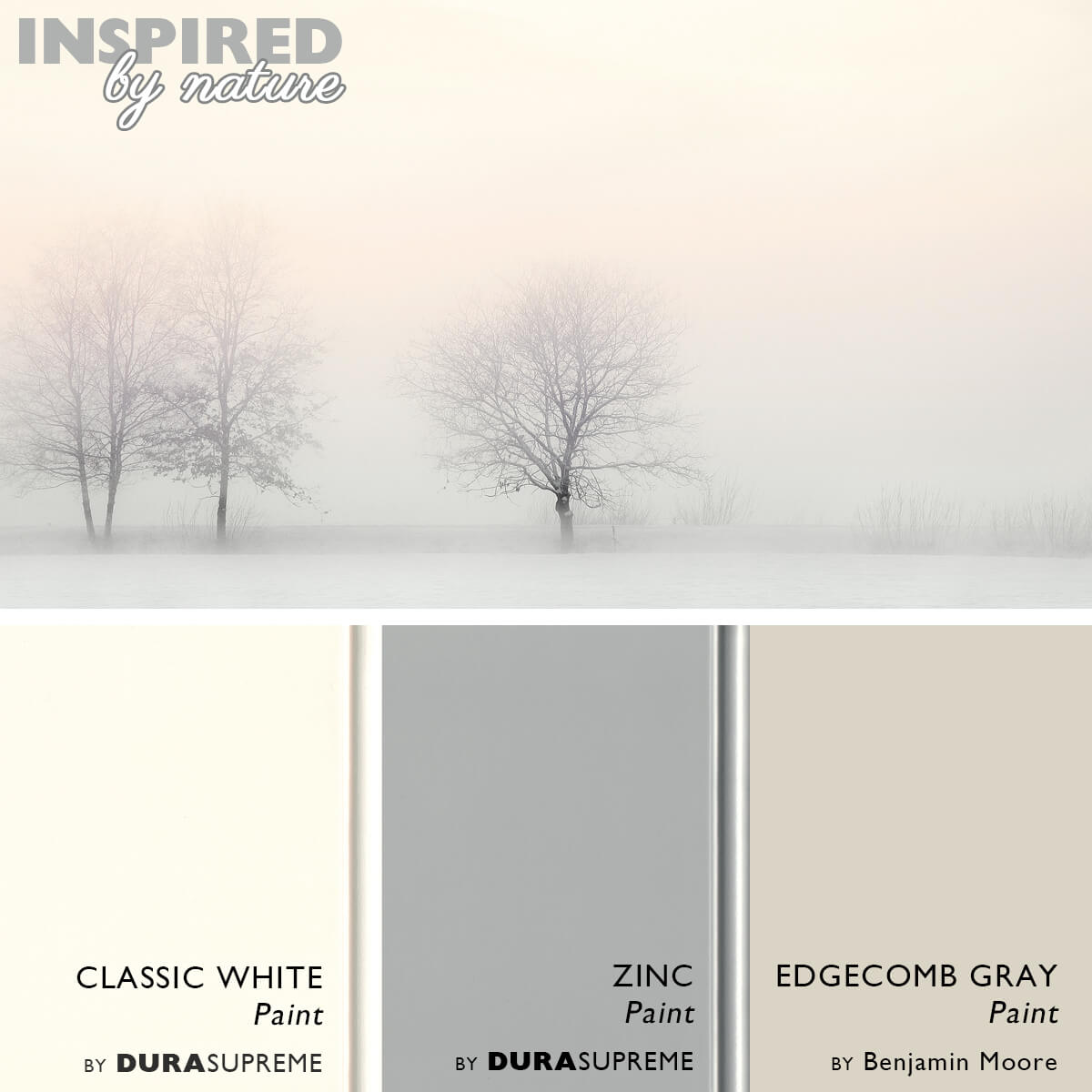 Snow-covered Forest Color Palette
Inspired by a first snowfall in the forest, this finish palette combines Dura Supreme's White paint and Weathered D finish on Cherry with Sherwin-Williams Upward (SW 6239) paint. This combination of finishes is bright, crisp and breathtaking just like the first dusting of snow on the branches of a tree.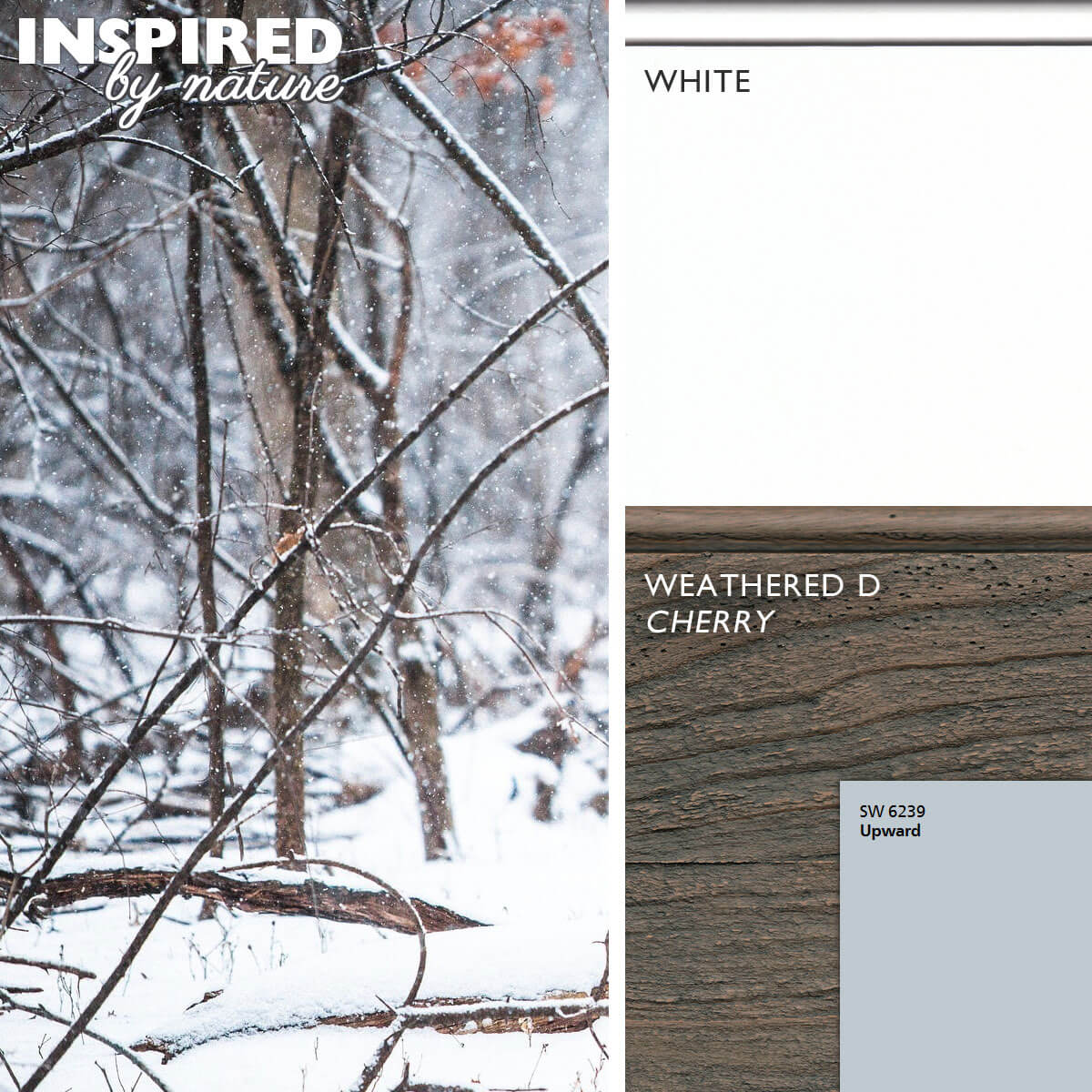 Rustic Pine Cone Color Palette
The sight of a charming pine cone inspires a heartwarming color palette. This cozy color palette combines Dura Supreme's Natural Knotty Alder, Clove stain, and Black accent finish on Knotty Alder and Linen White paint. It reminds me of Christmas trees, ornate holiday wreaths, and all the joyous family gatherings that happen around them.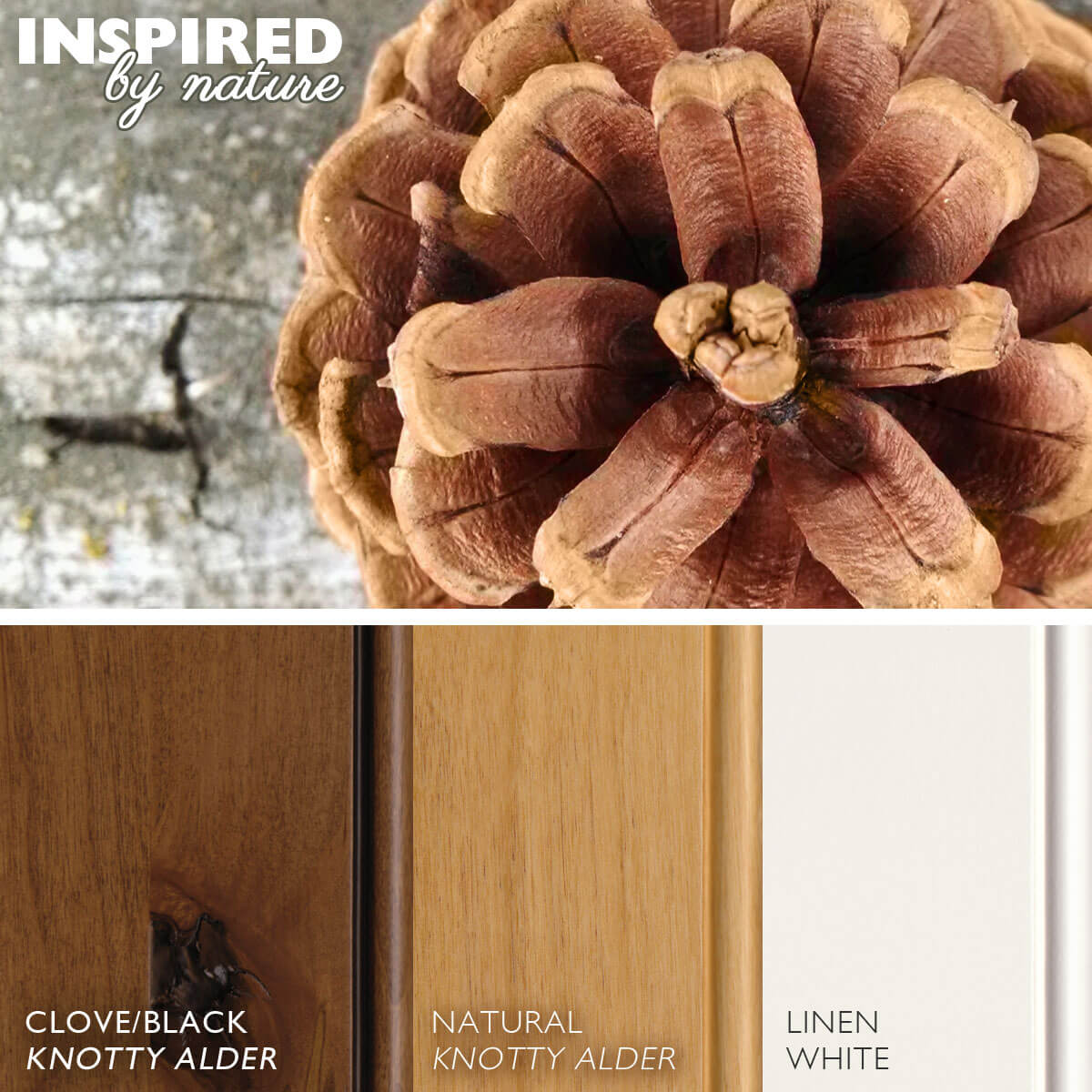 Snowy Mountain Color Palette
A brisk hike on a snow-covered mountain reminds us of fresh cool air, bright open skies, and dramatically contrasted treetops against wispy snow caps. In this color palette, Dura Supreme's Smoke stain with a Shadow Glaze on Maple contrasts with the White paint like trees contrasts the snow. While Dura Supreme's Personal Paint Match finish in Smokey Blue is a beautiful complimenting finish for a feature piece like a kitchen island and Sherwin-Williams Evening Shadow SW 7662 for the walls resembled cool winter skies. This color palette can create a design that feels spacious, bright, and calming.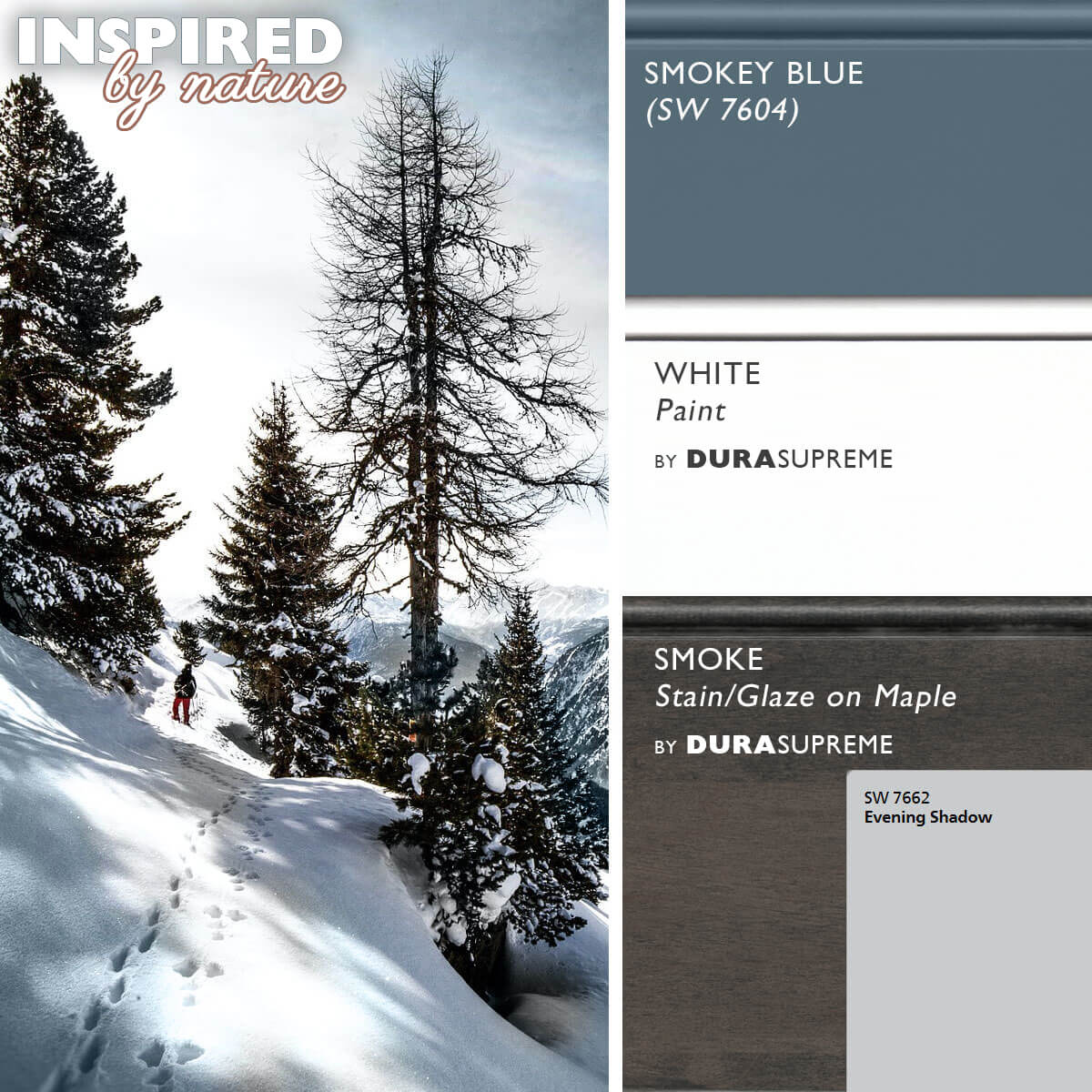 With white kitchen and bathroom cabinets being so popular today. I can't help but think that it is possibly related to our love of bright, white, dramatic winter landscapes and our fond memories of the holidays that surround the season.