Let's face the fact that while entertaining family and friends can be rewarding and filled with multitudes of laughter and memory-making, it can also leave a mess behind. This means after all your friends and family have departed after a day or evening of festivities, you're left with the aftermath and mess to clean up, especially in the kitchen.
In previous blogs, we discussed the design concept of the work triangle and how it is a great guideline to use when redesigning your kitchen.  However, as today's' kitchens continue to grow in size and open up into connecting rooms it's only natural for the work triangle to evolve into separate functioning work zones/areas. Those primary zones are the Prep Zone, Cooking Zone, and Clean-up Zone.  In addition, other separate zones such as a Baking Center, Command Center Zone, or an area for pets might also be included in the kitchen depending on its size and available space.
Today we are going to focus on the Clean-up Zone.
The kitchen Clean-up Zone generally consists of an area that includes a sink and dishwasher that is separate from the Prep and Cook Zone and is often where items that were used during the cooking process are cleaned.
When designing your new kitchen, the Clean-up Zone should be centered around the kitchen's primary sink. While the size and shape of the actual sink may vary, a deep sink is ideal for both washing large items and for hiding dirty ones from guests until they can be washed. In addition, ample countertop space should be provided on both sides of the sink. Plan for 24" on one side and a minimum of 18" on the other. This provides ample countertop space to be utilized as a landing area for dirty dishes or other items while hand washing or loading the dishwasher. 
Locating the trash, compost, and recycle bins within reach of the Clean-up zone is beneficial as well, to allow for easier access to scrape off any remaining food or waste into those bins prior to washing or loading the dishwasher.
If your kitchen has a dishwasher, it is recommended that it be located within 36" of the sink. Ideally, the dishwasher will be located adjacent to the sink for easier hookups to plumbing and close proximity to the primary sink.
One of the questions I often get asked is which side of the sink should the dishwasher be located? There is no right or wrong answer to this question, it comes down to a matter of preference on where the user prefers the placement of the appliance. However, in some cases the exact layout and position of the kitchen sink and available space next to it will determine the location of the dishwasher and whether it is placed on the left of the right side of the sink.
Of course, no work zone would be complete without adequate storage for commonly used items, such as cleaning supplies, garbage, and recycling bins, and dish towels.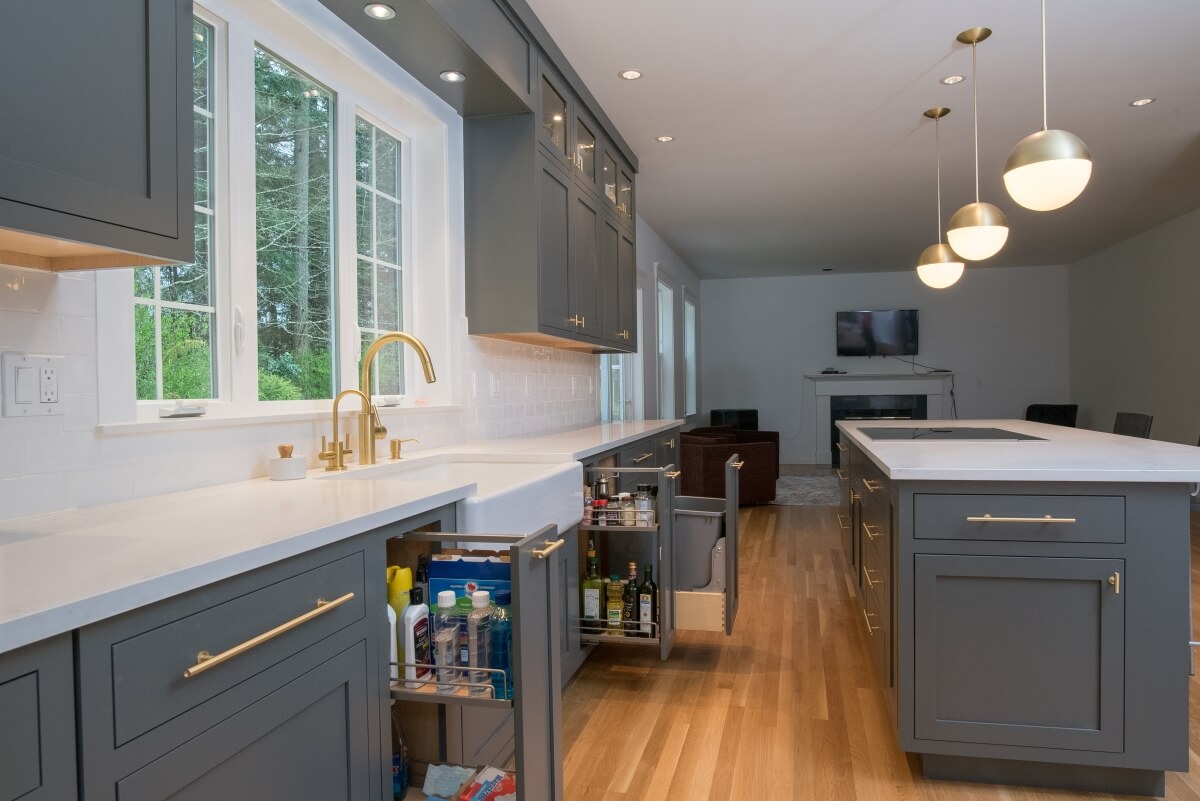 Organize cleaning supplies in our convenient pull-out caddy with detachable, portable basket (SBPOC).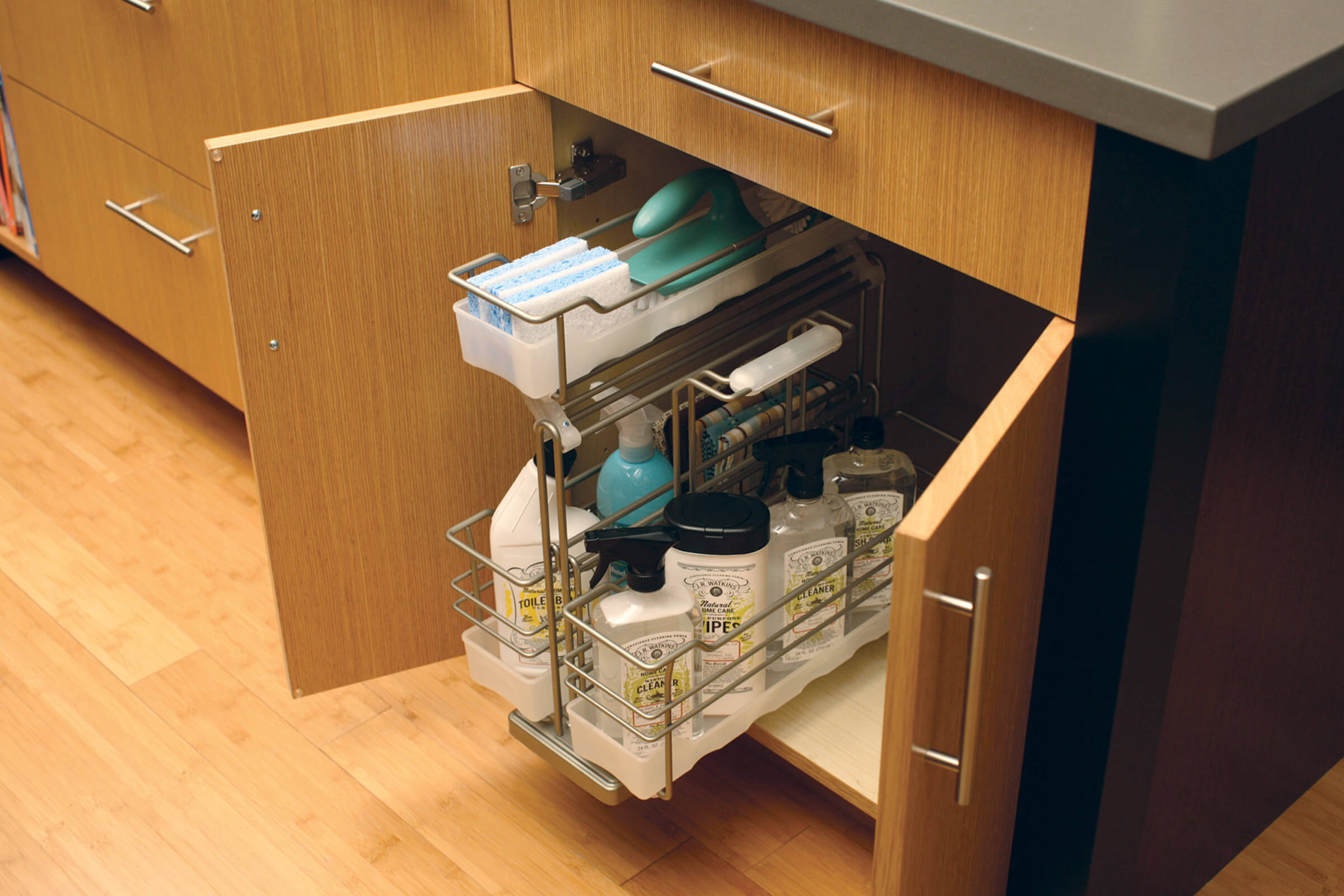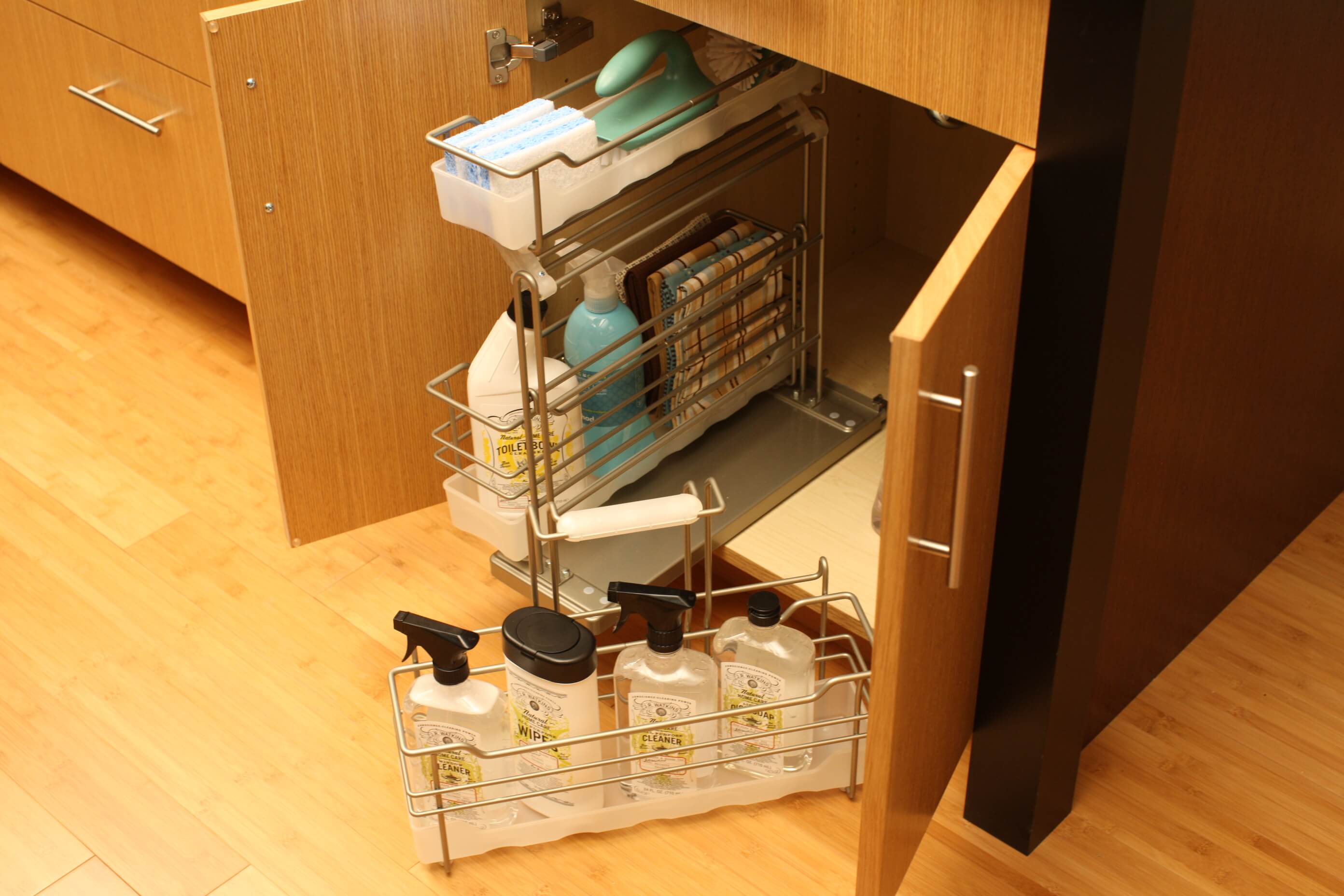 Neatly conceal all your scrub brushes and dish scrapers when they are not in use with this tip-down sink tray (TDFS).
What about incorporating this thin, pull-out next to your primary clean-up sink that has a towel bar, so dish towels can dry after use (BPOF-TB or BPOC-TB).
Or how about a convenient sink base door rack (SBDR) for quick access to cleaning supplies you use on a daily basis.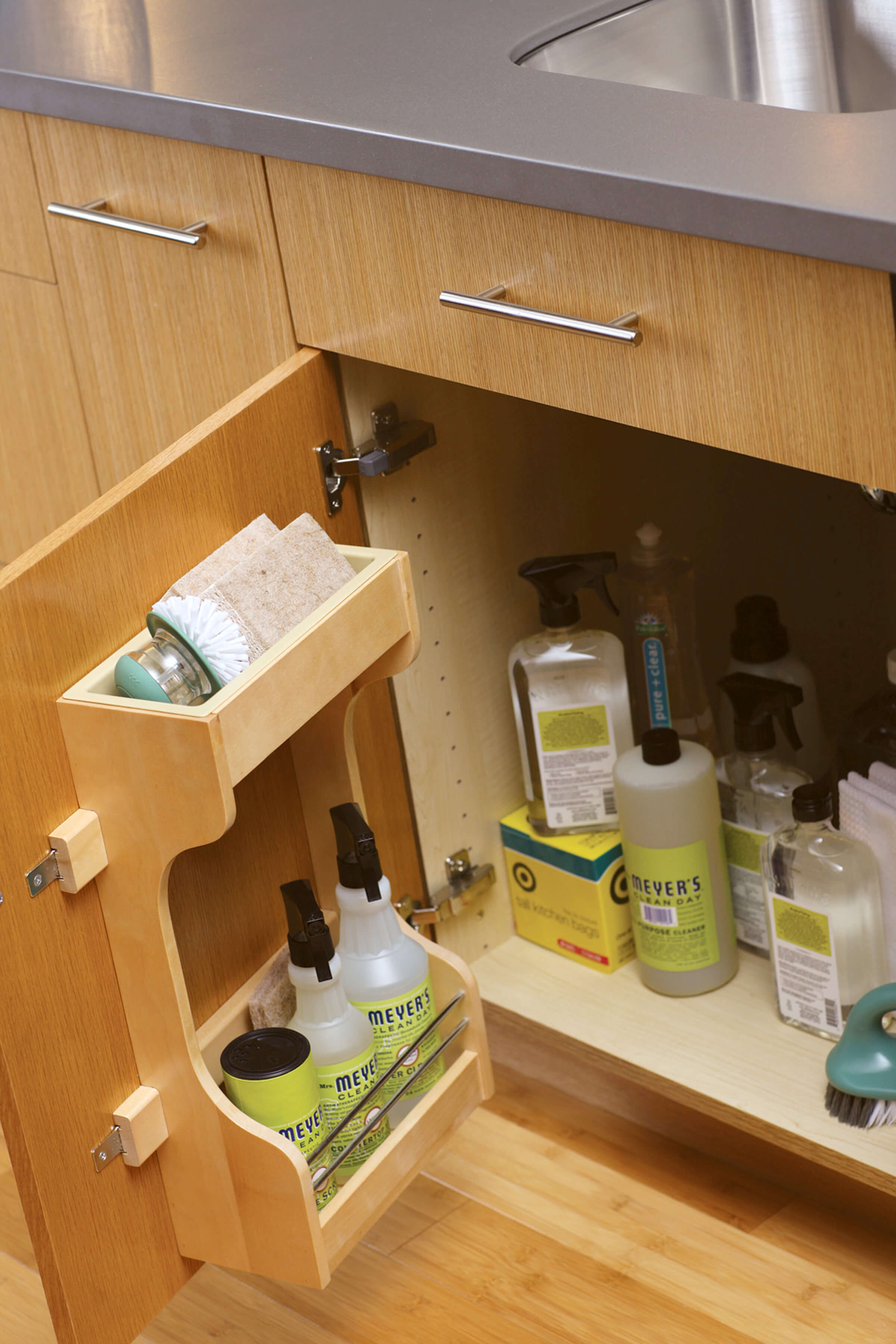 Talk to your Dura Supreme designer today to discover the best clean-up zone options for your kitchen remodel.