Solid, slab drawer fronts on the top drawers with five-piece drawer fronts below is a look that has been around for a while. Years ago drawer fronts on kitchen cabinetry were most often a slab drawer of some type – either wood or metal. As design preferences and manufacturing processes evolved, decorative five-piece drawer fronts gained in popularity.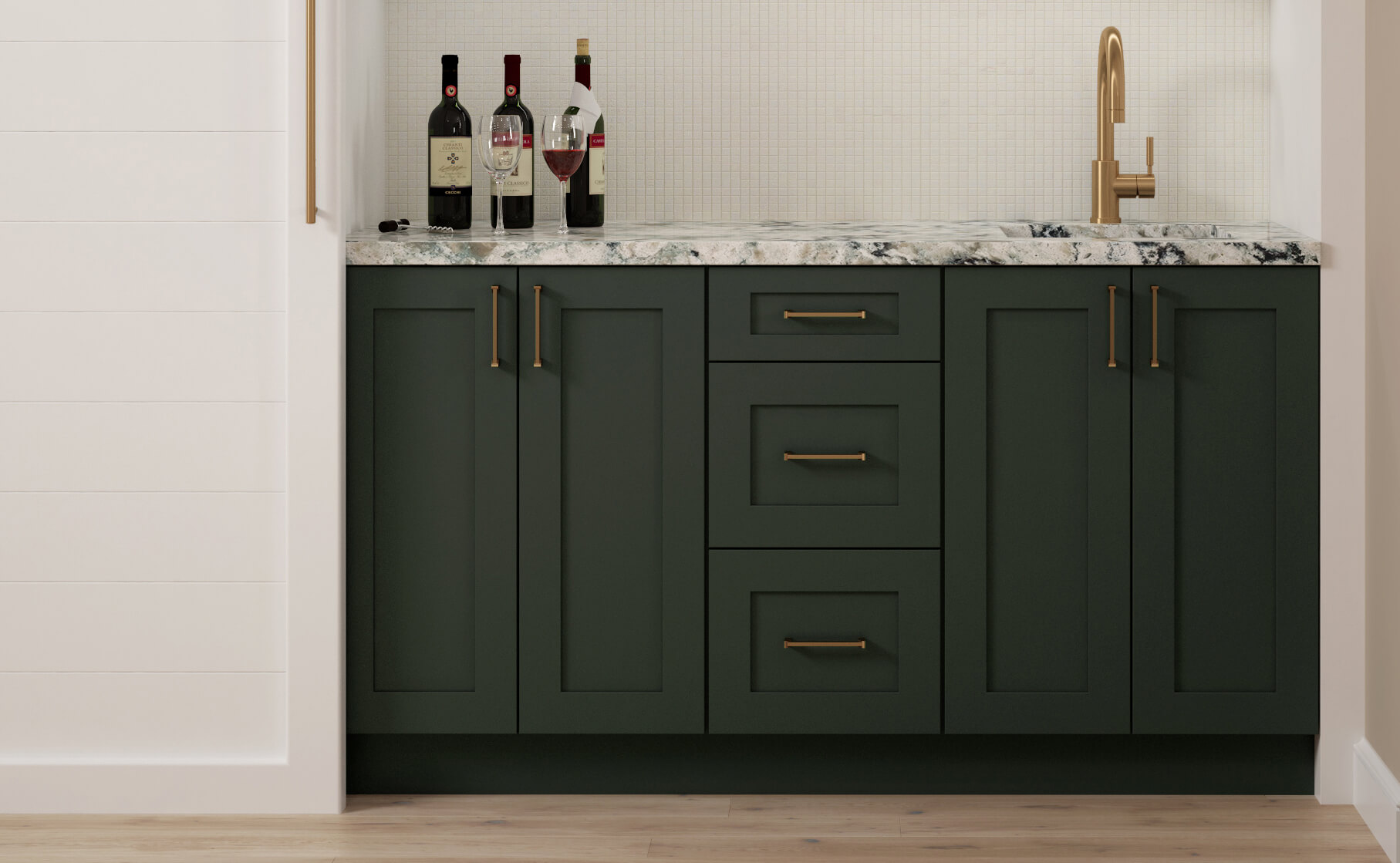 Base cabinets with all five-piece cabinet drawers and doors.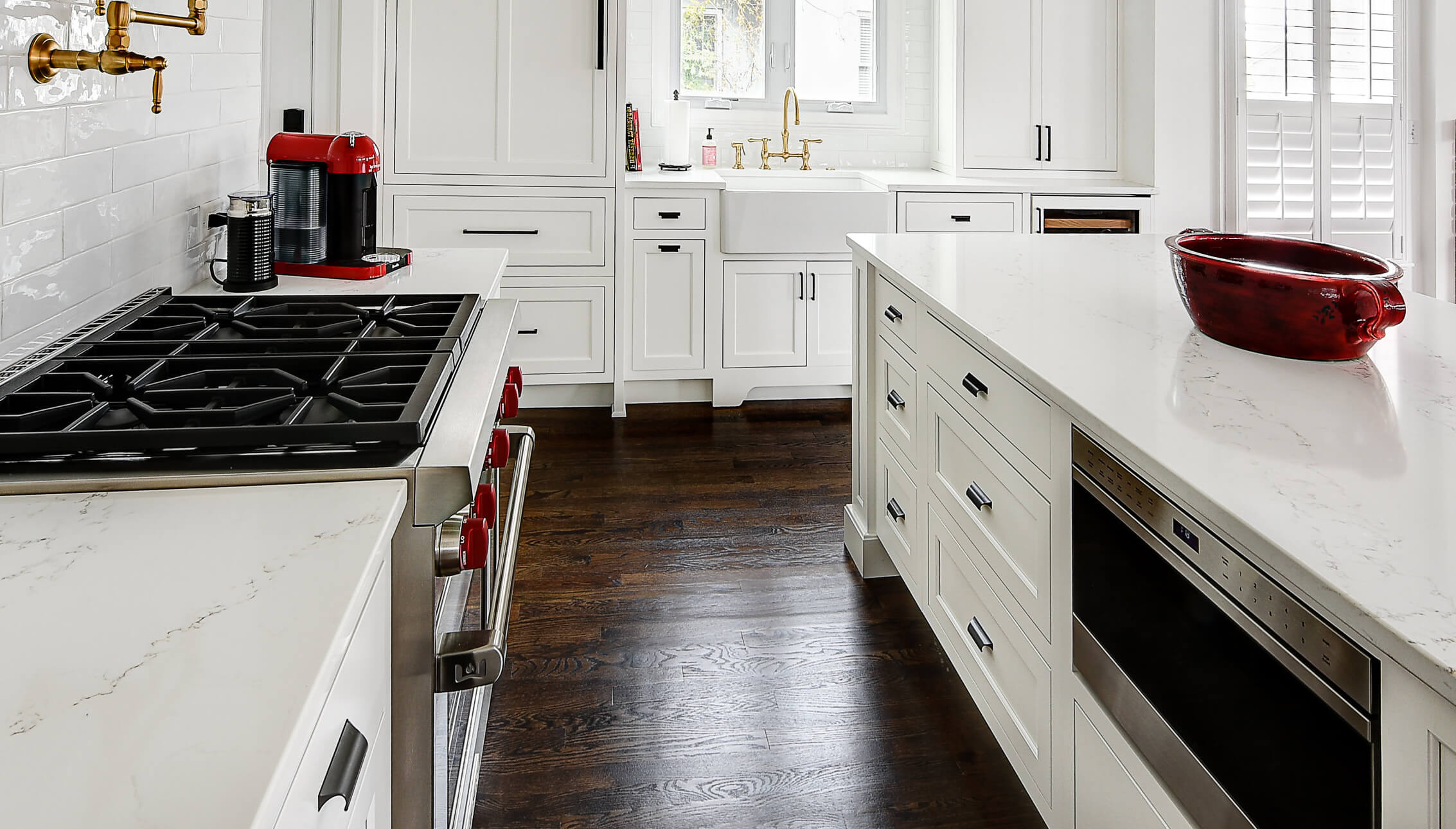 Working with Drawer Rails and Stiles
With today's popular transitional styling, wider rails and stiles on doors and drawer fronts are common. This decreases the space in the center panel of a top drawer and can make finding the right knob or pull a challenge. Often times the width of the rails on the top drawer front are modified to match the proportions of the door style.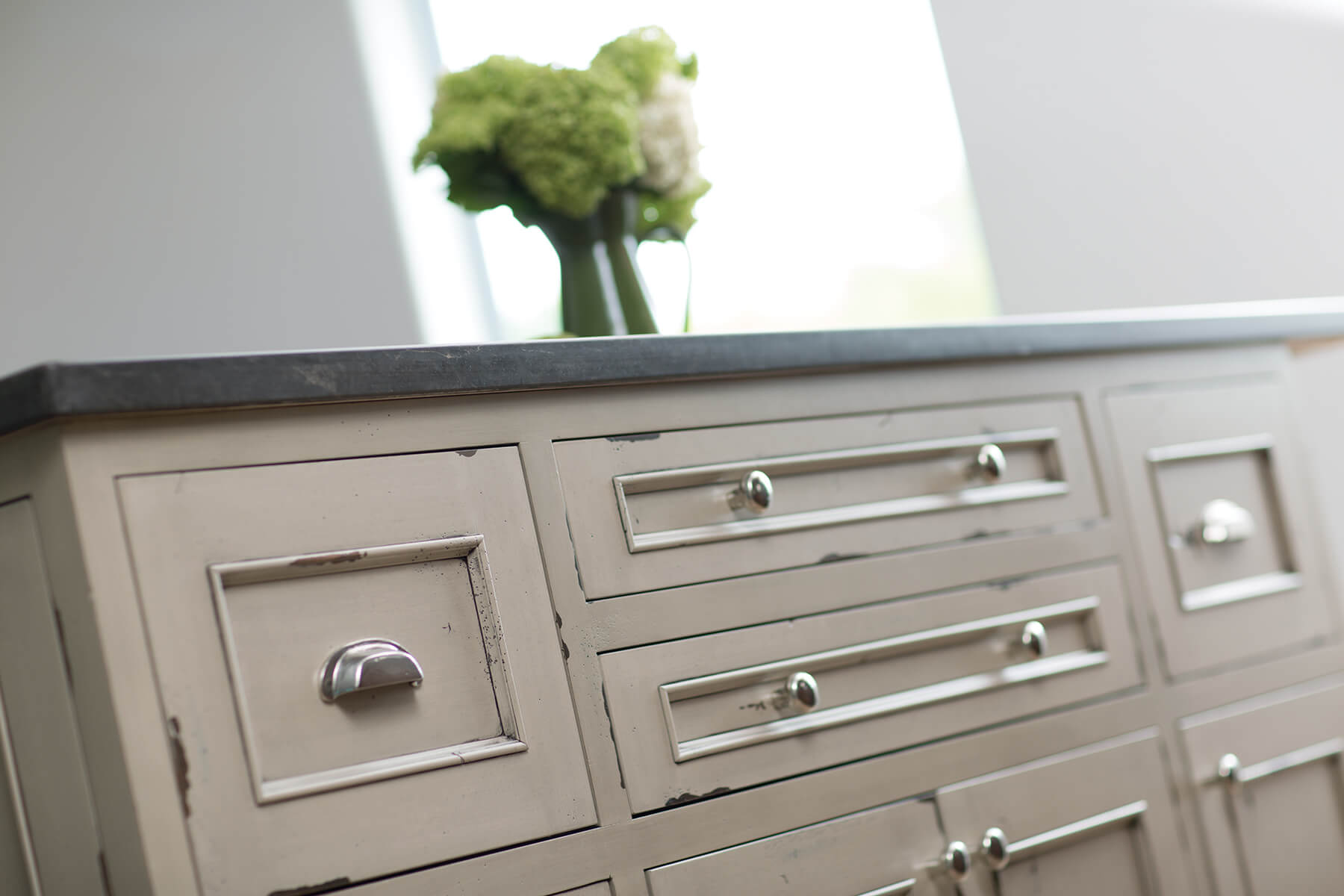 Using Flat Slab Drawer Fronts As the Top Drawer
Most of Dura Supreme's full overlay door styles are available with a standard, coordinating five-piece drawer front or an optional solid slab drawer front. Specifying the optional solid slab drawer fronts for the top drawers provides a uniform look across the top of the base cabinets while keeping the design detail of the larger drawer fronts below. This gives the flexibility to personalize the style of the cabinetry at an additional level.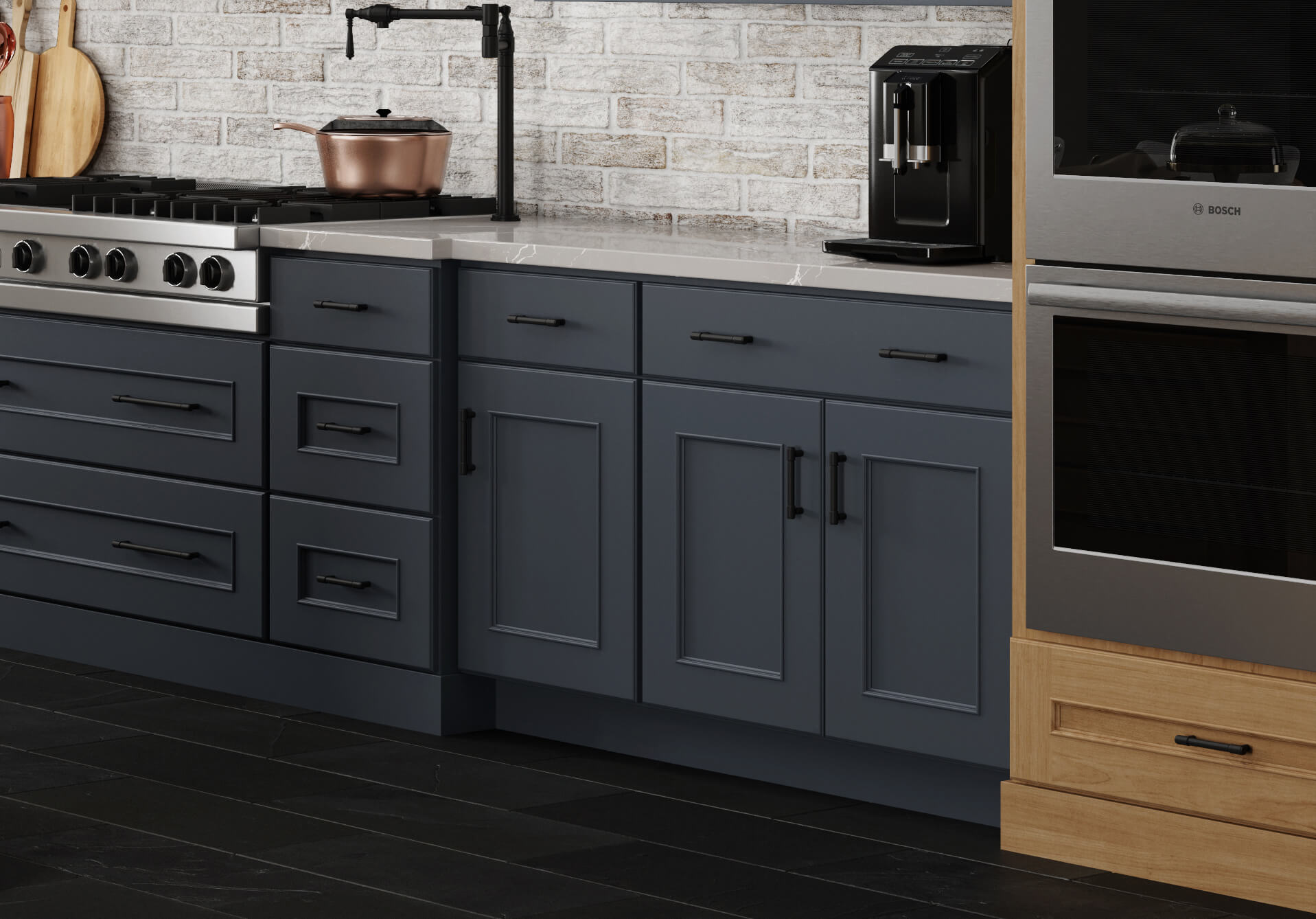 The Optional Slab Drawer fronts used on this kitchen design give the space more of an Old English Style that the homeowners were looking for. You can see that if the top drawers used the same door style details as the rest of the cabinetry this kitchen would have an entirely different style.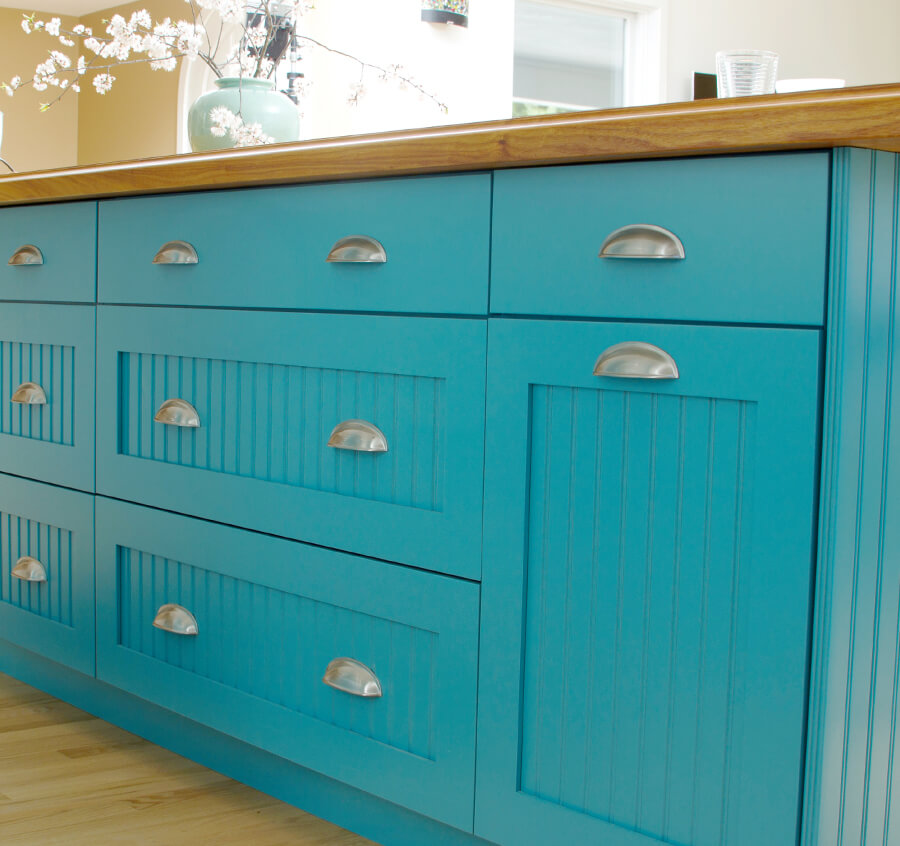 Dura Supreme Craftsman Beaded Panel door style with the Optional Slab Drawer Fronts creates a clean look across the top of the row of cabinets on this kitchen island.
Dura Supreme Cabinetry design by Diana Weisner of Lampert Lumber, Chetek, WI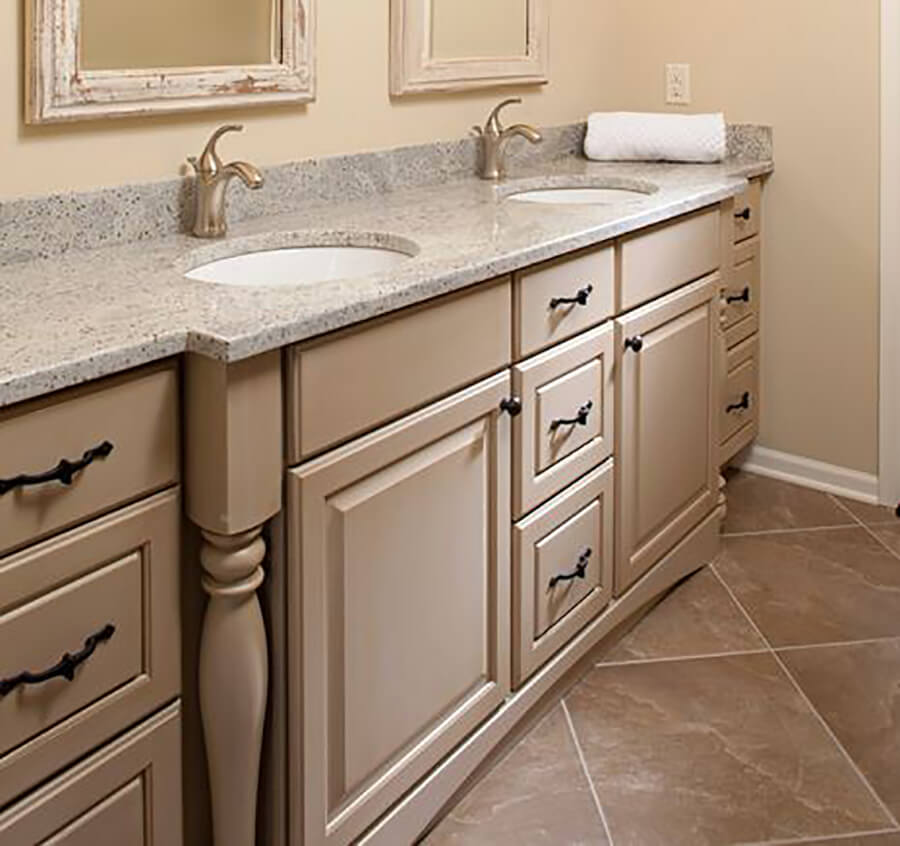 The optional slab drawers create a sleek look at the top of the cabinets and sink panels while the rest of the drawers and cabinet doors feature a detailed raised panel door. This combination creates a traditional furniture style look to the bathroom vanity.
Dura Supreme Cabinetry design by Michels Homes, MN.